C
ybersecurity, the practice of defending mobile devices, computers, networks, servers, electronic systems, and data from malicious attacks has become very important, not only amongst gadget users and tech enthusiasts but every individual. Data is also becoming more at risk of damage and theft, owing to the constant emergence of viruses, malware, and other malicious threats. To ensure sensitive data, intellectual property, government, and organization information systems are well protected, technology users must be aware of the latest new threats and happenings in the security space. One of the best ways to stay up to date on the latest developments is through blogs and websites. This article focuses on the best cybersecurity blogs and websites in 2022.
Cybersecurity blogs and websites provide information on cybersecurity and, with the knowledge acquired, readers can prevent security attacks and breaches, build a culture of security, enhance technological defenses and prevent loss of data. These websites and blogs publish lots of news, analysis, information, and data about cybersecurity, including vulnerabilities, malware, cybercrime, risks, compliance, threats, security strategy, etc. Blogs and websites also offer reviews, how-to guides, videos, articles, etc. on various aspects of web security to increase security consciousness, knowledge, and skills.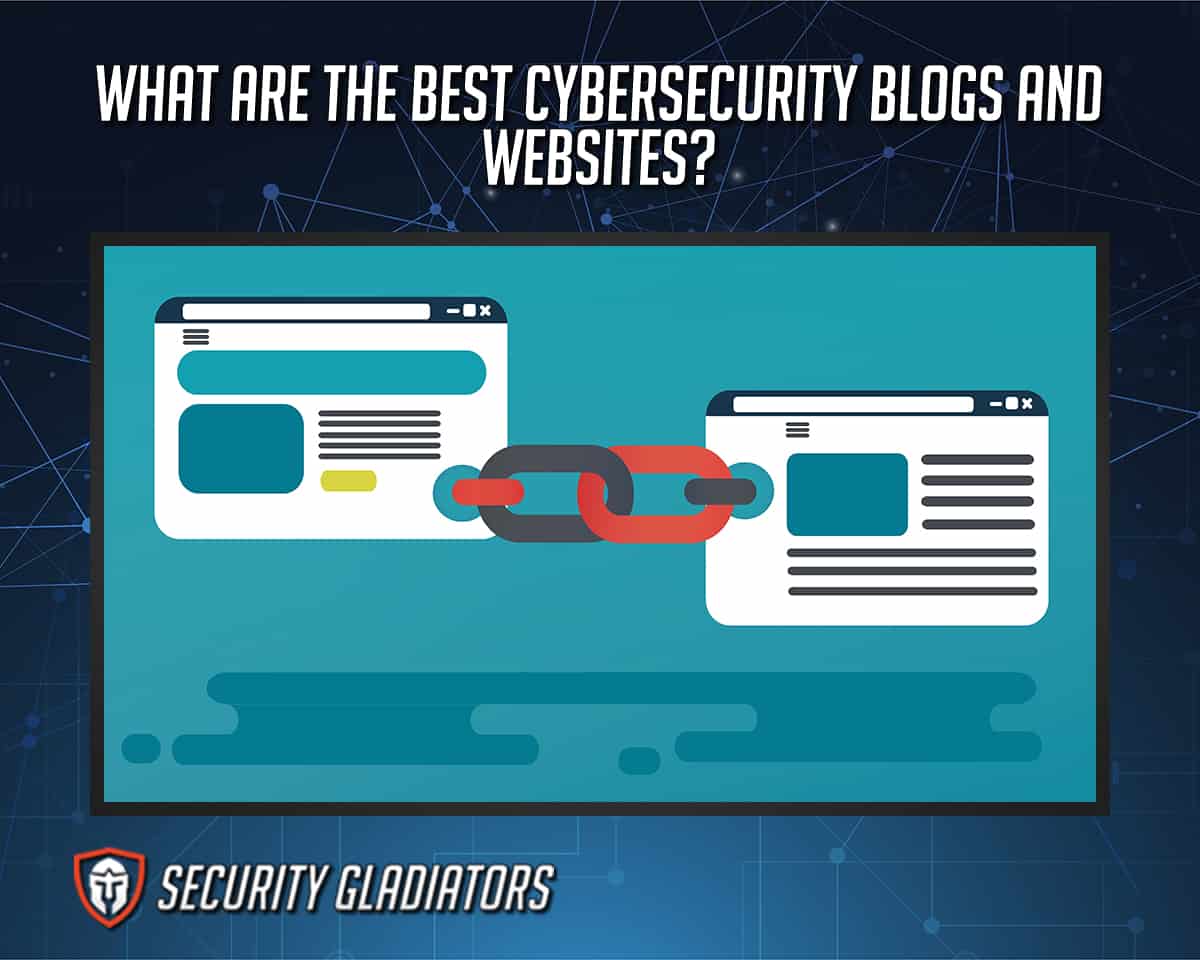 The best cybersecurity blogs and websites are outlined below:
SecurityGladiators: This cybersecurity website offers the latest news, reviews, and how-to guides, alongside market analysis and quick takes across a wide variety of security topics.
Information Security Buzz: Information Security Buzz provides professional analysis, opinions, and comments on the latest security information. The website publishes information on phishing scams, internet safety, etc.
The Hacker News: This is a trusted, widely read website that publishes news and articles on the latest cyber-attacks, hacking, cybersecurity, and computer security.
ThreatPost: This is a long-existing, independent source of analysis and news about the security space, covering threat research and breaking news, vulnerability analysis, malware, long-term trends, and more.
Inside Cybersecurity: The premium blog provides news and updates on policy experts that need to be aware of emerging government policies to protect vital infrastructure from external threats.
CyberArk: CyberArk is a blog dedicated to publishing articles and information on identity security and access management. The blog provides privileged secrets and credentials.
CNET: This American media site publishes news, reviews, blogs, podcasts, and videos on consumer electronics and technology.
Veracode: This new site provides a common ground for security experts and developers to discuss trends and exchange ideas in secure development and AppSec. The article brings awareness to software security, potential risks, and security breaches.
SecurityWeek: This online website provides necessary information on insights, analysis, and security news from industry experts.
Dark Reading: Here, decision-makers and enterprise security staffers can learn about vulnerabilities, technology trends, and cyber threats. The blog provides a variety of news and information across various cybersecurity topics.
1. SecurityGladiators
SecurityGladiators s is one of the best and most popular cybersecurity websites available. The cybersecurity blog is a source for cybersecurity reviews, the latest news, and how-to guides. SecurityGladiators also publishes cybersecurity stories and reviews a wide variety of freedom and security tools. This security website provides information on cybersecurity via product reviews and comparisons, quick takes, in-depth how-to guides, and market analysis.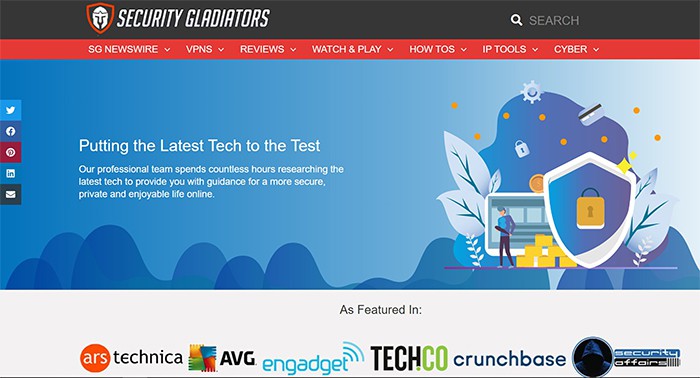 SecurityGladiators, being a source of security awareness, aims to make the internet a safer, more secure, reliable, and informed place. The site reviews systems and products in a practical, comprehensive, and educated manner to help people make better decisions when buying devices, apps, or software. The website also aims to be a source for everything relating to internet security, gaming, online streaming, and consumer technology.
SecurityGladiators was established in 2014 as a place for tech enthusiasts to share and gather knowledge and experience on online security, while also offering top-notch information and tools to make people have a more enjoyable time on the internet.
SecurityGladiators is owned and managed by Leading Edge Marketing, a company registered and based in Australia, Level 15, 440 Collins Street, Melbourne, Victoria 3000.
Note:
Security Gladiators is one of the best cybersecurity websites for many reasons. The site does not just publish any security news, review, or information to the public but makes thorough research and tests on products and services associated with web security.
The blog gives unbiased opinions; since the company's inception in 2014, the site has published over 1,350 articles, reviews, and guides, making the site a fountain of knowledge for several web security topics.
Security Gladiators has a pool of high-quality and skilled editors, researchers, and writers with experience in journalism, computer science, and engineering. Thus, visitors can be sure that any information received from the site is authentic, well researched, and relevant. The site offers excellent features that make for a great user experience. The site is easy to navigate and the texts and information are easy to comprehend. Furthermore, the company continuously builds the website and visitors are increasing by the day.
Security Gladiators has an open policy that allows for complaints and feedback to be given and the website can be contacted anytime via the site's contact page.
SecurityGladiators publishes articles and information on VPNs, reviews, IP tools, cybersecurity including privacy and security, and How-Tos. The website also has a section dedicated to watching and playing videos.
---
2. Information Security Buzz
Information Security Buzz (ISBuzz News) is an independent resource website that offers expert analysis, opinions, and comments on current cybersecurity topics and news. The blog provides the latest news on information technology.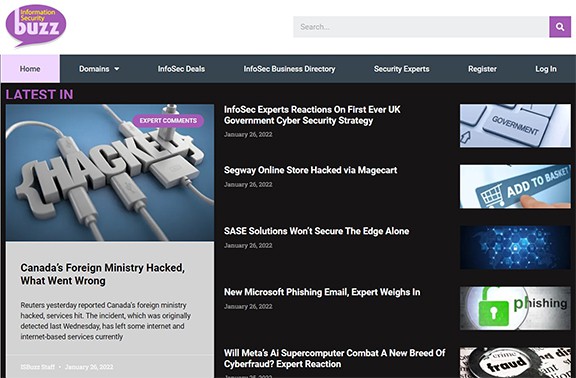 Information Security Buzz aims to be the number one location for cybersecurity information. The blog aggregates information from lots of credible sources which are then carefully selected and sorted to provide readers with the latest, and most authentic threat trends and cyber information. The website also offers practical solutions on cybersecurity issues, insights, advice, and hot topics from around the universe.
ISBuzz was established in 2013 and is owned and operated by ISBuzz Pty Ltd, an information security marketing and advertising company with a valid business address.
Information Security Buzz provides everything cyber enthusiasts require; from the latest vendor announcements and technical advice to industry research and forecasts. The blog boasts competent writers, researchers, and engineers who work hard to bring authentic and relevant cyber information to the public.
ISBuzz News is easy-to-read and the interface is intuitive, making for a great user experience. Many useful links help people from around the world connect to like-minded people and users can get advice on career, training, and qualifications. There is an independent panel of experts set up to provide answers to questions and a community of cybersecurity experts that provide insight and comments on all cybersecurity news and topics.
As stated, ISBuzz provides expert analysis, comments, and opinions on the latest cybersecurity news and information. This cybersecurity information covers internet safety, phishing scams, and the NSA. Also featured on ISBuzz News are top info security opinions and news on network security and IT certifications.
---
3. The Hacker News
The Hacker News (THN) is a trusted, popular independent source for cybersecurity news, infosec trends, and hacking trends. With over 10 million visitors per month, THN is an ideal website for researchers, hackers, IT professionals, cybersecurity enthusiasts, and technologists to get relevant information on cybersecurity.
THN aims to ensure users are well educated on the safe ways to use the internet. The site was founded on November 1 2010 by Mohit Kumar. The company, which is also known as Hacker News, THN, or Cybersecurity News, has the blog's headquarters situated in the Greater New York Area of the United States.
The site is well recognized for many reasons. In the years following the company's establishment, THN has risen to be one of the best information security platforms and has built a bridge between communities of geeks, security researchers, business graduates, CISOs, and many more security professionals. The company also organizes conferences, in-person meetups, and events that bring together the best hackers and IT experts from around the world.
The Hacker News has a good user interface and information about cybersecurity and articles are published frequently. Users can sign up for the site's newsletter and have the letter delivered straight to the user's inbox; this way, a reader never misses out on the latest information. Users can also contact the blog directly through an email address. The Hacker News is all about the latest cybersecurity news and the current infosec trends that are changing the world.
---
4. Threat Post
Threat Post is one of the best cybersecurity sites with a long-running history of delivering news and information on cybersecurity. Like the others, Threat Post is an independent source of information and analysis that covers threat research and breaking news, cloud security and vulnerability and malware analysis, along with every long and short-term trend rocking the world of cybersecurity.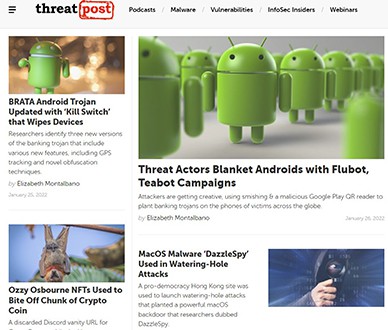 While the blog reaches more than 8 million audiences monthly, ThreatPost aims to reach an even greater audience, increasing the awareness for online safety and consciousness. The cybersecurity site also aims to ensure internet users are well educated on the benefits and dangers of the internet.
ThreatPost was established on August 9th, 2017 with the company's headquarters at the Greater Boston Area, East Coast, New England. The company was founded by Kaspersky, a Russian security company.
ThreatPost is a site to be reckoned with; not only does the company bring the latest news on cybersecurity, but the company's editorial team also has won several awards, a testament to ThreatPost's outstanding performance. The editorial team produces high-quality, high-impact, and unique content, including podcasts, eBooks, security news, webinars, videos, Q&As, feature reports, roundtables, insider columns, and many more. The blogsite has been referenced as a thought leader by prominent news outlets such as National Public Radio, USA Today, The Wall Street Journal, The New York Times, and MSNBC.
ThreatPost has a simple interface, with the latest and most relevant news articles, reviews, and other information featuring most prominently. Readers can also subscribe to the company's newsletter to stay updated on the latest breaking news regarding online security.
ThreatPost provides information on mobile security, RSAC, vulnerabilities, malware, privacy, and cryptography. The site also covers areas such as cloud security, web security, and critical infrastructure. Beyond words, the site also uses videos, podcasts, slideshows, summits, etc. to provide information.
---
5. Inside Cybersecurity
Inside Cybersecurity is a cybersecurity blog that delivers reporting and news on the government's effort to curb cyber threats and protect vital infrastructure from foreign threats. This cybersecurity blog is a subscription-based news service that's ideal for policy professionals; the blog brings an update on evolving federal policies to protect businesses.
Since its inception, Inside Cybersecurity has aimed to provide round-the-clock information and analysis on cybersecurity. The site provides online access to crucial policy documents that facilitate effective decision-making.
Inside Cybersecurity was founded in 2013 by Charlie Mitchell and Rick Weber. The emergence and consistency of Inside Cybersecurity have forced the government to react, prompting the establishment of the Cybersecurity and Infrastructure Security Agency (CISA), located at DHS. There are now regulatory requirements for the purging of the US IT supply chain with adversaries such as Iran, North Korea, Russia, and China at the receiving end. Inside Security has also developed several innovations over recent months, including Cyber Regular Watch, a weekly report on the latest regulatory policies that are sent every Wednesday; Cyber Congress, a weekly analysis of all legislative information from Capitol Hill, sent every Thursday. There's also Inside CISA, an analytical update on the latest events, policies, and initiatives by the Cybersecurity and Infrastructure Agency, which is sent every Tuesday. Finally, spelled there is Voice, a new feature that allows individuals to access practitioners and industry leaders through exclusive interviews.
Inside Cybersecurity has an aesthetic page for an easy and enjoyable read. The company also provides solid customer support as users can reach out to the site through email or phone calls. Also, the editors' and founders' details are displayed on the site for easy communication.
Inside Cybersecurity is focused on serving the cybersecurity community with authentic news, and analysis on government laws, policies, and regulations to protect businesses, systems, and data.
---
6. CyberArk
CyberArk is an identity security platform that offers a total Identity Security Platform to safeguard all identities end-to-end. The publicly traded data security organization offers identity management and the technology is primarily utilized in healthcare, retail, energy, government, and financial institutions.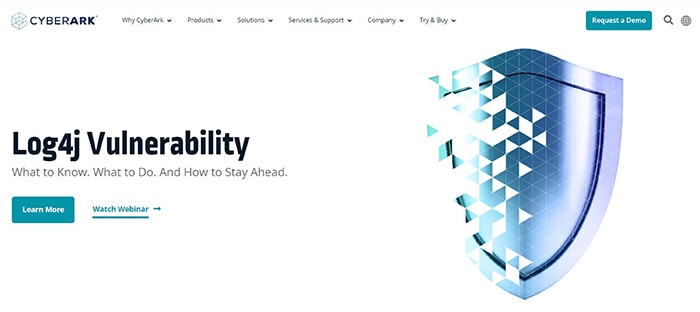 Note:
The objective of CyberArk is to securely manage, rotate and save privileged accounts while also enabling its users to access privileged accounts safely. CyberArk prevents the malicious utilization of privileged SSH keys and passwords, thus protecting and bringing to order vulnerable accounts.
CyberArk was established in 1999 and was founded by Alon N. Cohen and Udi Mokady.
CyberArk isn't primarily a cybersecurity website or blog but rather an organization. The platform features cybersecurity tools that provide a great way to securely save and access remote passwords for third-party vendors and remote support teams. CyberArk offers Secure Privileged Access, a tool that can be used to isolate and prevent privilege attacks before these attacks become malicious; the cybersecurity site also gives users access to business resources via strong password-less access and AI to keep out threats. CyberArk also provides the automation and application tools necessary for innovation. Furthermore, the platform not only offers this cybersecurity solution but also provides articles covering topics such as identity security, the rise of AI-Powered identity security, risk management in the digital era, etc. All of these features make CyberArk one of the best cybersecurity blogs and websites available.
CyberArk has all the features that make for a great user experience. This includes robust resources, solid and diverse contact support that includes training & certification, product security, EPM SaaS Register/Login, and customer support. The articles are informed and easy to read.
CyberArk has a unified platform that is dedicated to identity security and access management solutions. The company has investor relations, a board of directors, a newsroom, various office locations, and a trust center. CyberArk also engages in corporate responsibility and has forged partnerships with others.
---
7. CNET
Computer Network (CNET), is one of the best sites for tech news, reviews, blogs, articles, and videos. The site provides expert advice on tech products and home electronics that users intend to acquire. Users are also provided with up-to-date news and information on products intended for purchase, and news from other fields such as finance and wellness.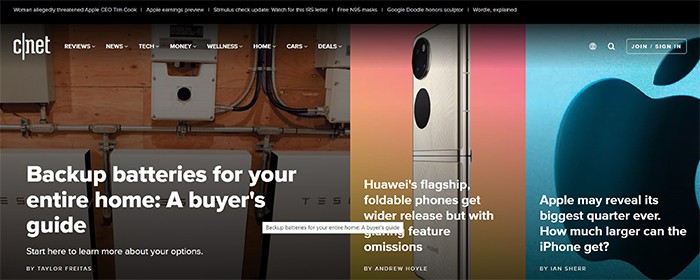 Originally intended for providing radio and television with content, CNET now uses computational media distribution methods such as podcasts, blogs, and the site's internet television network (CNET Video) to reach millions of users and provide these users with valuable tech information.
CNET was developed in 1994 by Halsey Minor and Shelby Bonnie. The site was formerly a brand of CNET networks until October 30, 2020. The latter was then acquired by CBS interactive in 2008, transferring ownership of the site to CBS interactive.
Being the one-stop destination for tech information, CNET helps users stay up to date with the ever-changing world. Combining editorial picks with trending topics, this site offers the most important news in the tech world. Furthermore, the tech site also keeps its readers updated with current information in the tech world, releasing more than 100 pieces of new content daily.
In addition to these, CNET offers a broad range of beautiful pictures in galleries that can be easily viewed by the user on a single page. With CNET, the user also gets notified of news and other fresh content, personalized according to the taste of the user, in real-time.
This tech news hub has an interface covered with beautiful pictures of the most important news in the tech world, giving the site an aesthetic look. The site also has an app with a gallery section where users can visit and view pictures of their favorite products and appliances. With various categories and sections spelt at the top of the site, the user can also navigate the site easily, choosing categories that are of interest to the user. The user can also sign in to join the ever-growing community of CNET users.
CNET has a mission to improve the day-to-day living of users with various reports on trending and important news that cuts across various sectors such as tech, home, health, culture, and the climate.
---
8. Veracode
The new Veracode site offers a common ground for security experts and developers to discuss trends and exchange ideas in secure development and AppSec. Veracode provides awareness to its users on topics including software security, potential risks, and security breaches.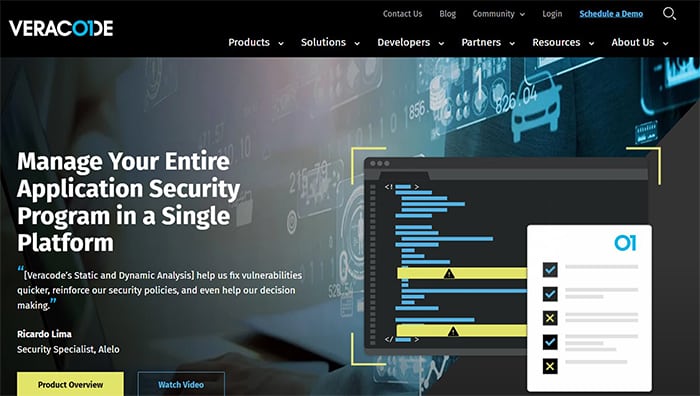 While the company was founded in 2006 by Chris Wysopal and Christien Rioux, former engineers in ATstake, a security consulting firm based in Cambridge, Massachusetts, the blog was formed only recently. Veracode has its headquarters in Burlington, Massachusetts.
Beyond being a cybersecurity blog, Veracode provides a single platform that offers multiple application security services to users. Also, the company is the pioneer of application security companies and leads all other companies in this industry. Furthermore, this security-based company has scanned over 45 trillion lines of codes and fixed over 68 million flaws, providing security to companies since 2006.
The company also boasts of customers in top organizations of the world, including 6 out of the 10 largest healthcare organizations in the world and one-fifth of fortune 100. The site also supports over 77 languages.
The site has a very informative user interface filled with mind-blowing features of the site and other relevant information. The site also provides users with one-click access to various services that users may wish to perform. In addition to these, the site also grants users easy access to various sections and subsections accessible at the top of the site.
Note:
Users of this security-based company can also join the community of coders and other businesses that make use of the company in securing apps. Another striking feature is the resource center where users can access various resources that the company has to offer and an effective customer support system that allows users to chat with a representative or fill and submit user complaints in a form.
Veracode aims to provide software companies with trustworthy security that allows such companies to achieve company objectives and maintain a competitive edge. For Veracode, building an advanced security program that not just reduces security risk, but also accelerates business is at the core of the company's operation.
This security-minded company also focuses on helping businesses not just find potential vulnerabilities, but also fix these vulnerabilities. This is achieved with a combination of integration, process, speed, and automation to give users accurate and reliable results.
---
9. SecurityWeek
SecurityWeek is a blog that provides data about security insights, analysis, and news from experts. The blog also covers online security, cybercrime, compliance, and other cybersecurity trends.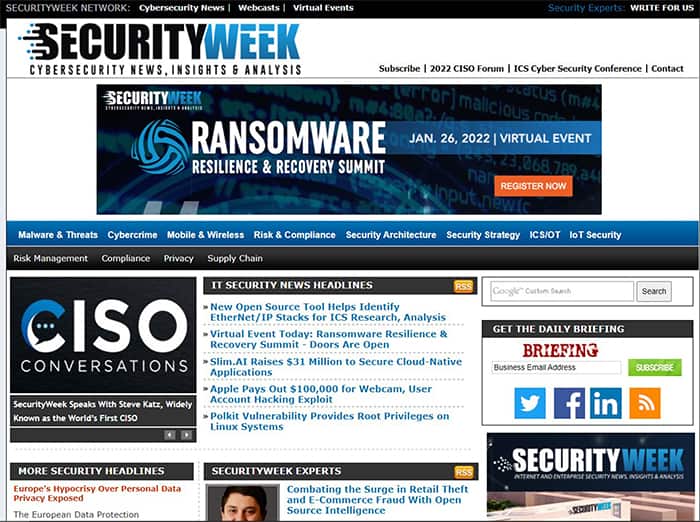 The website aims to provide timely information, analysis, news, and experiences from people in enterprise security. The site also aims to provide awareness to cybersecurity, create sensitivity to the threats associated with the internet, the vulnerabilities of computer systems, and present ways to protect user data through authentic reportage and news.
SecurityWeek has no known founder and date of establishment, however, the blog is well known as one of the best websites that brings news and information on malware & threats, cybercrime, mobile & wireless security, risk & compliance, security architecture, security strategy, ICS/OT, IoT security and lots more. The frequency and consistency with which the site publishes news also make SecurityWeek one of the best websites in this category.
SecurityWeek's site is loaded with the latest information and news on cybersecurity. Like the others, users can subscribe to the newsletter to get daily information. Also, the blog is connected to a Security Community comprising of CISO forum, virtual cybersecurity events, webcast library, IT security, and newsletters. The platform also provides a strong customer support system that includes Facebook, Twitter, LinkedIn Group, RSS Feed, Submit Tip, Cyber Weapon Discussion, and Security Intelligence Discussion.
SecurityWeek is focused on information, news, and data about vulnerabilities, viruses & malware, email security,
IoT security
, threat intelligence, and endpoint security. The blog provides up-to-date information and breaking news to keep tech gurus updated on the latest happening in the world of cybersecurity.
---
10. Dark Reading
Dark Reading is one of the most popular cybersecurity news sites on the internet. The online community is ideal for IT and security professionals hoping to broaden knowledge and stay updated with cybersecurity news. The website features articles on technology trends, vulnerabilities, and cyber threats.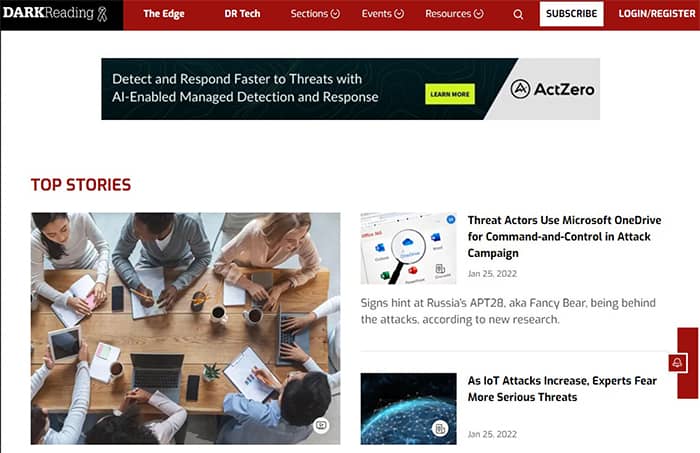 Dark Reading has a single goal—to challenge readers to be more aware of cybersecurity by offering strong, albeit sometimes unconventional viewpoints, supported by in-depth research and reporting, expert knowledge, and hands-on experience that only comes as a result of many years of being in the cybersecurity industry.
The Dark Reading information security website was established in 2006 and has been around for more than 15 years. While the founder of the news site isn't known, it is public knowledge that Dark Reading is a subsidiary of Informa Tech, an IT research site.
Dark Reading isn't just an information security website but also a community where decision-makers and enterprise security experts come together to learn about the latest vulnerabilities, cyber threats, and trends. The blog provides a platform where readers engage Dark Reading editors on new ideas, solve pressing issues and discover answers to IT questions. Besides, the blog site features about 10 communities and each of these communities dig deep into cyber security challenges; from application security, data leaks & insider threats, attacks & breaches, and endpoint security & privacy. There's also mobile security, network & perimeter security, security management & vulnerabilities, risk management & compliance, and threats. Because Dark Reading features news on all these, the blog has become one of the best cybersecurity blogs.
Dark Reading has all the features that make for a great user experience. The site's community provides an enabling environment for stakeholders to share ideas, ask questions and communicate. Users can also register for an account on the site and subscribe to the site's newsletter for constant updates and top stories. The blog also publishes constant newsletters on all social media platforms including Facebook, Twitter, LinkedIn, and more.
Dark Reading provides insight across various security information topics including application security, analytics, IoT, cloud security, and more to ensure humans have better protection while surfing the internet or using gadgets.
---
Why Should You Follow Cybersecurity Blogs and Websites?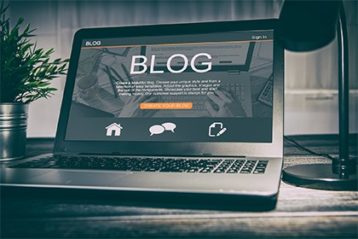 In today's world, many store sensitive information such as financial data and passwords on their computers, phones, and other internet-linked devices. To ensure this information is kept safe and private, users need to have the right information about cybersecurity. One of the best and easiest ways to gain the knowledge needed to ensure online safety is through cybersecurity blogs and websites. Thus, following cybersecurity websites and blogs is of the utmost importance for online safety enthusiasts. While many experts and tutors charge huge fees to teach cybersecurity, clients can gain the same information and more from cybersecurity websites and blogs without having to pay so much; many of these sites provide security tips, news, and information at no cost.
There are many things to learn from these sites. Users can learn all about DDoS, malware, phishing, and virus attacks. Readers can also learn the dangers these attacks pose and how to avoid these attacks. Furthermore, can keep themselves updated about the latest happenings in the world of cybersecurity and learn more ways to stay protected online.
Can Cybersecurity Blogs Help You with Cybersecurity Education?
Yes, cybersecurity blogs help readers with cybersecurity education. This is thanks to the plethora of educational materials available on the internet for free. Many cybersecurity blogs are littered with How-Tos, videos, guides, and articles that educate people on several aspects of cybersecurity such that with time, dedicated readers become experts in the field.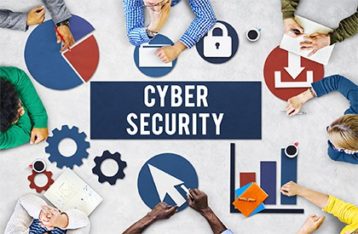 Education is needed for cybersecurity because the more educated and aware people are about cybersecurity, the more these cyber warriors can leverage technology for invention without cyber threats or disruptions. The best Cybersecurity School degree programs provide cybersecurity awareness and cultivation of an online safe culture and with this knowledge of safety, people will not only be able to protect personal interests and businesses but will also be able to protect others, the community, the country, and the world at large. Cybersecurity education also educates people on the potential risks faced when internet communication tools including online gaming, chats, social media, instant messaging, etc. are used and ways to avoid these dangers.
Note:
Blogs are important for education because the platform is easily accessible to everyone. Also, for many who cannot afford to pay for cybersecurity education, blogs and sites are a great alternative. These sites feature all that's needed to be a cybersecurity professional and use lots of materials to educate the audience ranging from videos, and guides, to reviews, presentations, and slides.
What Skills Can You Gain by Following Cybersecurity Blogs and Websites?
Several skills can be gained from following cybersecurity blogs and sites. These acquirable cybersecurity skills include:
Problem-solving skills: Many sites and blogs write on the problems and threats posed by cybersecurity websites. Readers can thus learn problem-solving skills that can play a great role in everyday activities. With the knowledge gained, people in the field can fix complex security problems across various new and existing digital environments.
Technical Aptitude: Cybersecurity sites feature lots of articles and guides across various topics such as troubleshooting, implementation of security solutions, etc. This technical knowledge can be learned by individuals who read articles or watch videos published on these sites.
Cybersecurity knowledge across various platforms: Cybersecurity sites and websites also give security information on various operating systems including mobile devices, computer systems, wireless networks, and cloud networks, and bring an update on each field to readers.
Understanding of Hacking: To better protect infrastructures, networks, and data, there is a need to be aware of how individuals or groups can be exploited. Cybersecurity blogs and sites teach how to "ethically hack". This equips people to have the same skills as hackers, this way users are fully aware of how a system can be breached, and this, in turn, enables users to be able to prevent the attack before it occurs.
With tons of articles, videos, How Tos, podcasts, guides, presentations, and slides that cybersecurity blogs and sites put out every day, readers can improve and learn new skills that can help these individuals become cybersecurity experts. Besides, these blogs are easily accessible and many do not require payment, thereby ensuring that readers can get the skills required.
Can You Follow News about Cybersecurity from Blogs?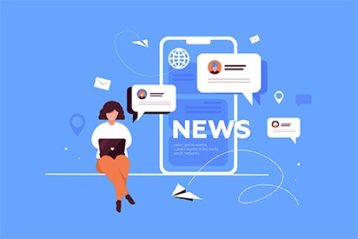 Yes, a cyber enthusiast can follow news about cybersecurity from blogs. Many blogs and websites have news columns on the websites, and news and updates are released as events occur over time. Also, many blogs and sites have newsletters that readers can subscribe to so that breaking news, analysis, and updates can be sent to emails directly.
Examples of websites that give cybersecurity news include SecurityGladiators, Information Security Buzz, The Hacker News, Threat Post, CyberArk, CNET, Veracode, Security Wreck, Dark Reading, etc.
Who are the Best Cybersecurity Experts that have a Cybersecurity Website?
There are many top-notch cybersecurity experts. The best cybersecurity experts include:
Daniel Miessler: Daniel Miessler is a cybersecurity leader and writer who owns Daniel Miessler, a cybersecurity website that brings information on security, technology, and society.
Graham Cluley: Graham is an award-winning security researcher, blogger, public speaker, and podcaster. Graham has previously worked at McAfee and Sophos before birthing Graham Cluley cybersecurity. Graham specializes in blogging, social media relations, computer security, pedantry, etc.
Scott Schober: Scott N. Schober, is a cybersecurity expert, presenter, author, inventor, and the CEO of a leading security and wireless technology firm. Scott owns a website called ScottSchober.com, a site dedicated to cybersecurity, hacking, and wireless technology.
Troy Hunt: Hunt is an Australian-born web security expert and consultant popular for outreach and education on web security issues. Troy created "Have I Been Pwned" and also owns Troy Hunt, a website dedicated to cloud development and online security.
Brian Krebs: Brian is a former Washington Post reporter and is the author of "Spam Nation". Brian has also been featured in Business Week, Poynter.org, and The New York Times. Krebs owns a website called Krebs on Security, a blog that covers security investigation and news.