A virtual private network (VPN) creates an encrypted private network for the user's data to travel through from a public network. In this way, VPNs can provide VPN users with anonymity, security, and privacy. VPNs also hide the user's real Internet Protocol (IP) address. When a user's IP address is hidden and data is encrypted, they become untraceable in cyberspace.
In fact, VPN services are so competent at encrypting users' connections and securing their data that they can even use public WiFi networks at an airport or library without fear of data theft or privacy loss.
For more on how VPNs work, refer to our article exploring the question, "what is a VPN?"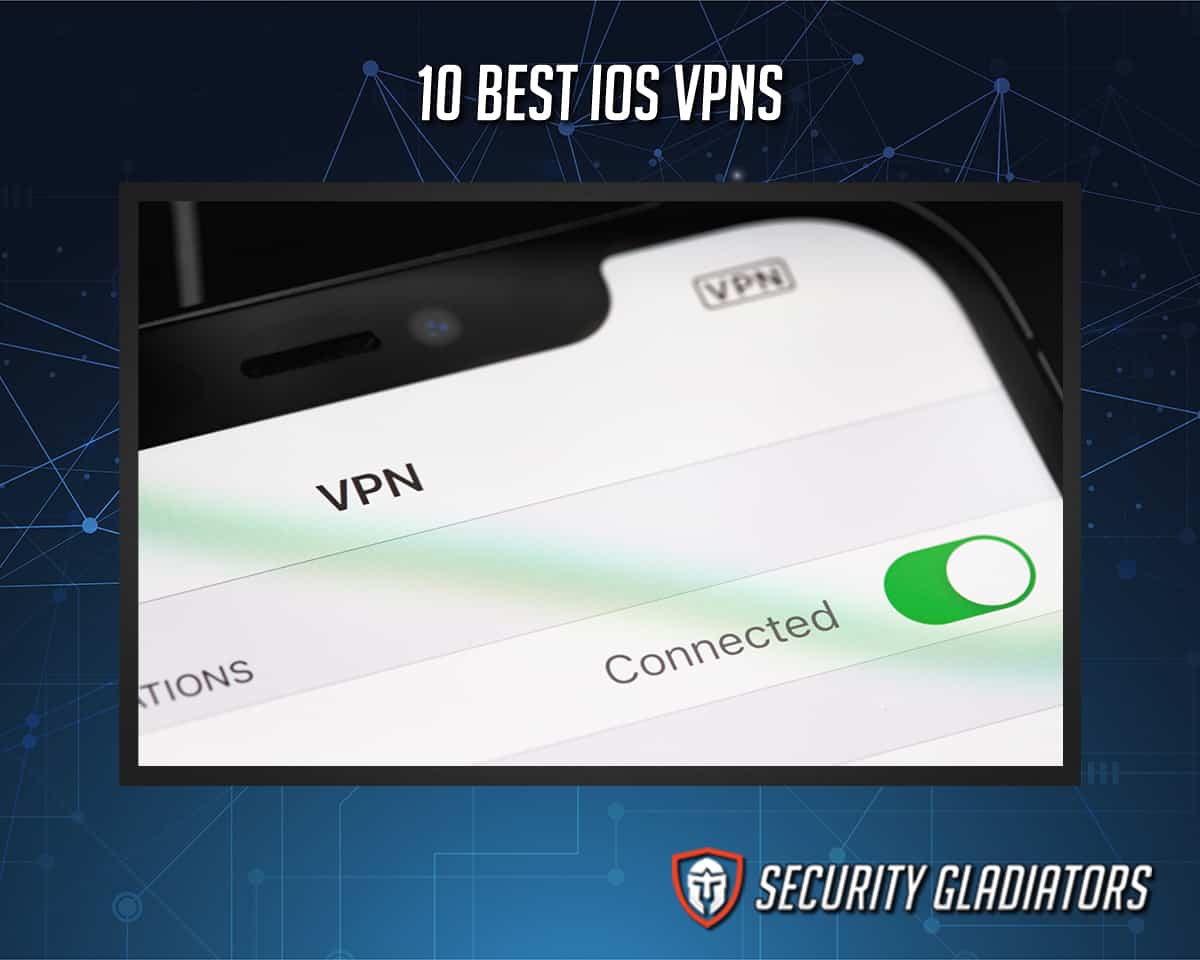 Around 30% of mobile users worldwide rely on the iOS operating system to carry out daily tasks. Even if they aren't the majority of smartphone users, iOS device owners need to protect their privacy and anonymity regardless of what operating system they use. A VPN is the best way to do that.
Certain qualities constitute the best free VPN for iOS and the best VPN for iOS. The first thing to look for in the best iOS VPN candidate is price. Some users put price over everything else. The best VPNs will offer a generous money-back guarantee and a free trial. Moreover, iOS VPNs offer discounts on long-term subscriptions. Hence, for someone on a budget, a low price will form the basis of the best iOS VPN.
Another feature that good iOS VPNs offer is simultaneous connections. A good iOS VPN would ideally allow users to protect their iPhone and their iPad and desktop computer, along with their optional Android device.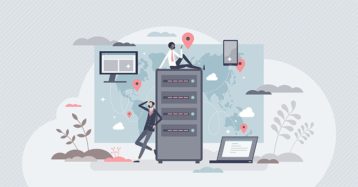 The number of servers and locations is another factor to consider when selecting the best VPNs for iOS. Generally, the higher the number of servers and locations, the better. Apart from the number, users should also pay attention to the server placement. Ideally, an iOS VPN should offer more servers in places like the United States and the European Union. The best iOS VPNs will offer servers in all corners of the globe.
Whether or not an iOS VPN is offering specialized servers is another factor to look at. VPN users might get a better streaming experience on servers meant for streaming. Similarly, torrenters will want specialized torrent servers, while security-conscious users will want extra-secure servers or Double VPNs.
Another factor to take into consideration is where the VPN is located and operates. For better privacy, users should go with VPNs not located in the EU, the U.K., or the U.S. These regions have strict data retention laws.
Bandwidth limitation is another factor that determines whether an iOS VPN is good. The best iOS VPNs offer unlimited bandwidth.
The best iOS VPNs offer the most protocols and cover the latest versions coming out on the market. OpenVPN is the current king, and if a VPN is not offering this protocol, users should stay away from it. For iOS devices specifically, users should look for the iKEv2 protocol.
A given iOS VPN's privacy policy can also show if the VPN offers high-quality standards of data protection. The best iOS VPNs would keep zero logs, meaning they don't collect user data.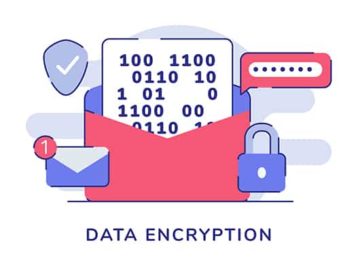 Finally, the encryption standard is essential. All the best iOS VPNs offer AES 256-bit encryption, and that is what iOS users should keep an eye out for.
Apple device owners should keep these best iOS VPNs in mind when researching the market for the best VPN for iOS:
ExpressVPN
NordVPN
ProtonVPN
Surfshark
IPVanish
Private Internet Access
Mullvad VPN
CyberGhost
Windscribe
TunnelBear VPN
1. ExpressVPN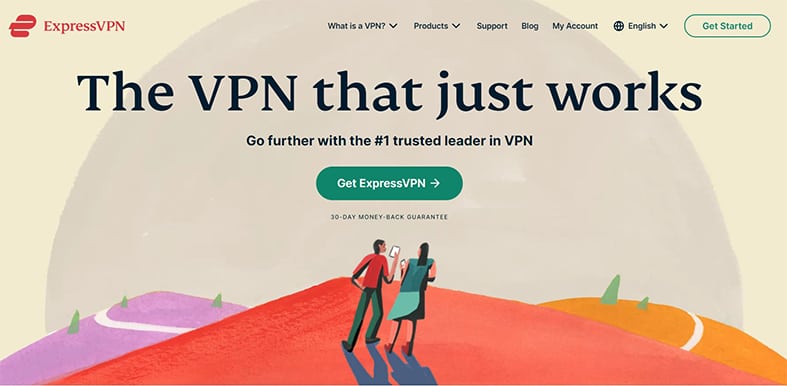 Peter Burchhardt founded ExpressVPN in 2009. ExpressVPN has its headquarters in the British Virgin Islands, which is great for privacy and anonymity in addition to data security. ExpressVPN's main usage is to unblock streaming sites and websites, which is why this VPN is a huge hit with travelers and streamers.
Pro Tip:
ExpressVPN doesn't use any virtual users and operates servers on secure hardware, offering more privacy and data security.
The main advantage of using is that this service provider owns all of its servers. ExpressVPN's apps are another one of the service's advantages since they are light and slick. ExpressVPN also offers the split tunneling feature and a huge server network with modern VPN apps.
The main disadvantage of using ExpressVPN is its price and lack of advanced security features like multi-hop connections.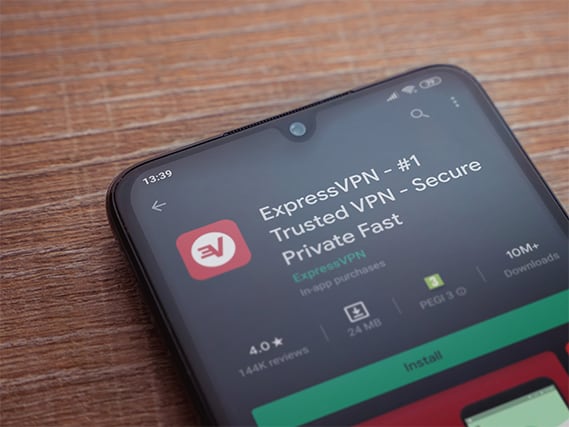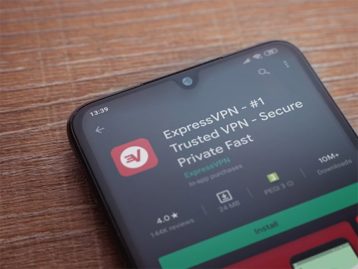 ExpressVPN costs $12.95 per month on the monthly package and around $8 per month on the yearly package.
In terms of compatibility, ExpressVPN offers dedicated apps for iOS, Android, Windows, and macOS.
With a vast server network in place, ExpressVPN is bound to offer great speeds. Expect download speed to drop up to 60%, which is close to the industry average.
ExpressVPN has gone under independent audits, has a tight privacy policy and a kill switch feature. These factors make ExpressVPN a reliable VPN service.
---
2. NordVPN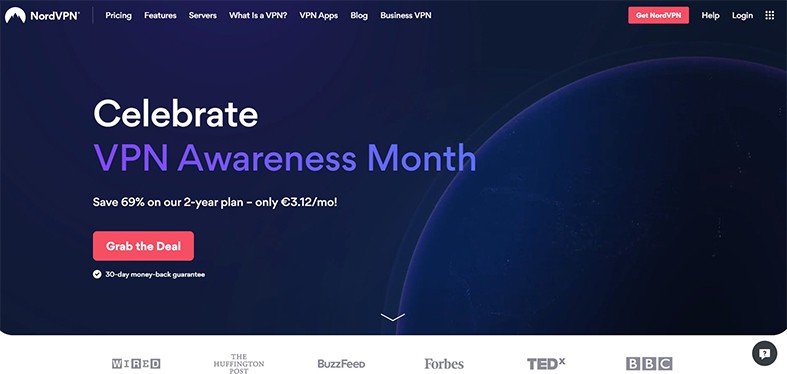 Tom Okman founded NordVPN in 2012. The company's headquarters are in Panama, which is a great territory for privacy.
The main usage of NordVPN is for those who are looking for a complete package at a reasonable price. There is hardly another VPN competitor that does everything well. NordVPN can unblock all streaming sites, including Netflix, and offers specialized servers for peer-to-peer (P2P) and torrenting activities. Not only that, NordVPN provides support for Bitcoin for faster and anonymous payments.
Additionally, has great apps for the iOS platform. The iOS app is almost as good as its desktop app. On the iOS version, NordVPN offers split tunneling and VPN over Tor features.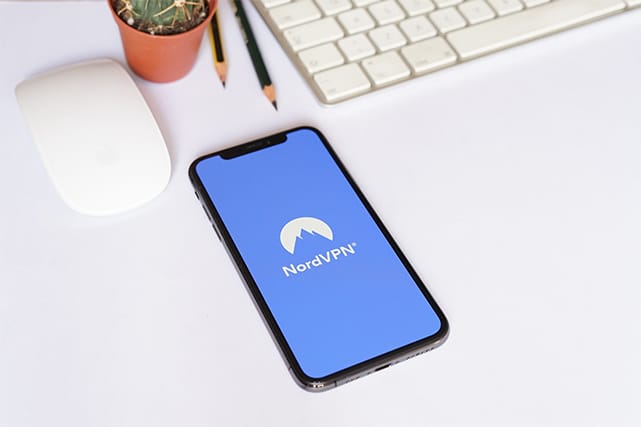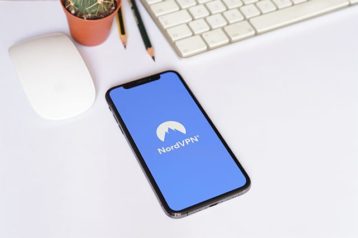 In terms of privacy, NordVPN is water-tight. NordVPN is one of the few VPNs offering the WireGuard VPN connection on iOS.
The main disadvantage of using NordVPN is the price and the aging user interface, along with questionable user experience decisions on the iOS platform.
NordVPN charges $12 per month on the monthly package and $3.30 per month on its two-year package.
NordVPN has a dedicated iOS app and offers even more apps for Windows, macOS and Android.
In terms of performance, expect NordVPN to drop speeds by 30% on average.
NordVPN offers a kill switch feature, a VPN over Tor feature, a double VPN feature, reports from independent auditing firms and a clear privacy policy. All of this makes NordVPN a very reliable VPN service.
---
3. ProtonVPN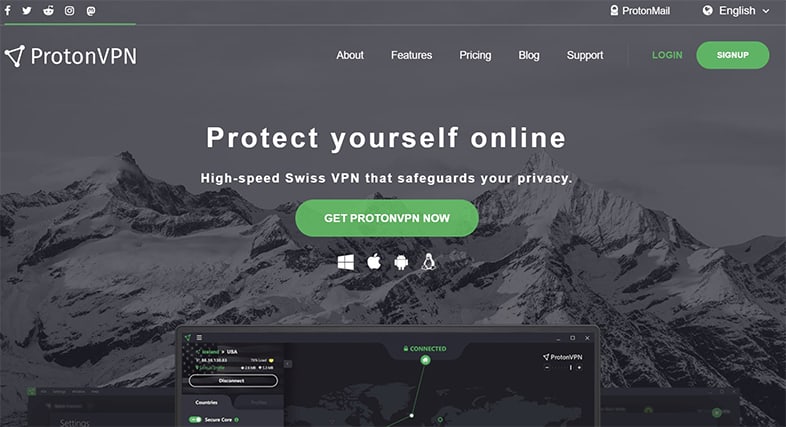 ProtonVPN was founded by a group of scientists working at CERN and has been in the business since 2014. The employee-owned company operates out of Switzerland.
ProtonVPN is for people who want security and privacy over other things like streaming and speed. The main reason people use ProtonVPN is because of its free tier feature and affordable packages. The iPhone app is straightforward for any iPhone owner.
ProtonVPN's main advantage is its free tier offering. The paid packages are affordable as well, and they offer great customization options. offers plenty of privacy-enhancing tools, and the iOS client is modern and easy to use. There are bundles where users can sign up for ProtonMail, an encrypted email service.
The disadvantage of using ProtonVPN is that this VPN does not have a big enough server network. The locations available are also limited. ProtonVPN doesn't offer the WireGuard protocol on its iOS version, and the company hasn't undertaken an independent audit to confirm its security capabilities.
The one-month ProtonVPN plan costs $10 per month, while the two-year plan brings the price down to $6.63.
In terms of compatibility, ProtonVPN offers a dedicated iOS app, along with dedicated apps for Linux, Android, macOS and Windows.
ProtonVPN has a clear privacy policy document, a kill switch feature and a good reputation. ProtonVPN has not undergone an independent audit, though. This makes ProtonVPN a fairly reliable VPN service.
---
4. Surfshark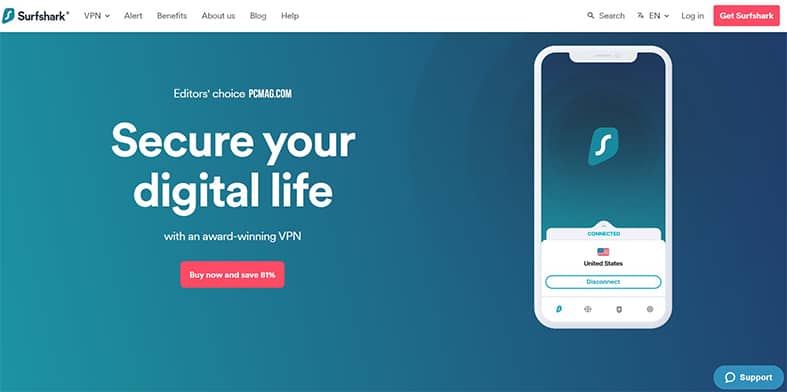 Par Kaz founded Surfshark in 2018 and now serves as the CEO of the company. Surfshark has its headquarters in the British Virgin Islands, which is great for privacy and data protection.
VPN users who go with Surfshark usually do so because of its history. The company has remained very consistent in offering a quality iOS VPN service. Surfshark puts no limit on the number of devices one can protect per account, while providing advanced features such as the kill switch. This VPN is also very affordable.
The main advantages of using on an iOS device are a quality user design experience, offering simplicity, polished buttons and a smooth experience on par with the desktop client. Surfshark also offers static servers, split tunnels and multi-hop VPN connections.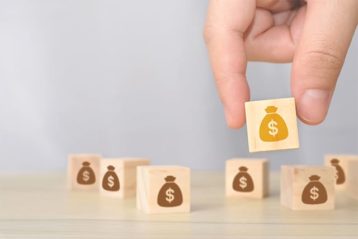 The main disadvantages of using Surfshark are the lack of audit reports and a pricey monthly plan. Surfshark is also not the fastest VPN users can get on the iOS platform.
Surfshark costs $12.95 per month on the monthly package and $2.49 per month on the two-year package.
In terms of compatibility, Surfshark offers dedicated apps for iOS, Android, Windows and macOS.
With over 3,000 servers located in 65 countries, Surfshark should offer excellent performance. But this VPN barely touches the industry average, with download speeds dropping 60% on average.
Surfshark has a simple and effective privacy policy, offers a kill switch feature and other security protections, even without an independent audit. Overall, Surfshark is a reliable VPN service.
---
5. IPVanish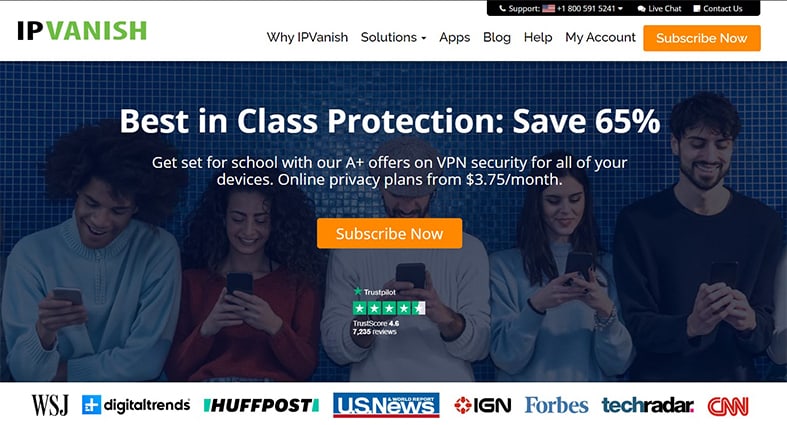 Mudhook Media Inc. founded IPVanish back in 2012. IPVanish has its headquarters in Florida, which isn't great since the U.S.'s data privacy laws aren't very consumer-friendly.
Superior speed performance is the main reason people sign up for IPVanish on the iOS platform. IPVanish also has a good reputation for being a legitimate VPN service that does not serve ads or put user data at risk.
The advantage of using is its attention to detail. IPVanish shows the user all the information needed to stay private on the internet and maintain good speeds at the same time. IPVanish allows users to connect an unlimited number of devices per account, which is another major plus.
The disadvantage of using IPVanish is the service's inability to unblock streaming services like BBC iPlayer. Also, because IPVanish shows users so much information about their VPN connection, sometimes the screen gets cluttered. Another drawback is the lack of advanced privacy tools like multi-hop and VPN over Tor.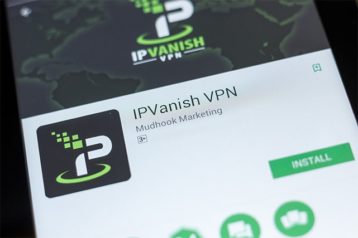 IPVanish costs users around $10.99 per month on the monthly package and $3.20 per month on the one-year package.
This VPN supports all major platforms, including iOS, Android, Windows and macOS.
With over 1,500 servers in 75 countries, users are likely to find a server close to them that isn't overloaded. Expect IPVanish to decrease download speeds by up to 60%.
IPVanish offers a kill switch feature and solid privacy features but has an unclear privacy policy and hasn't yet undergone an independent audit. But because of IPVanish's good reputation in the industry, this VPN service is somewhat reliable.
---
6. Private Internet Access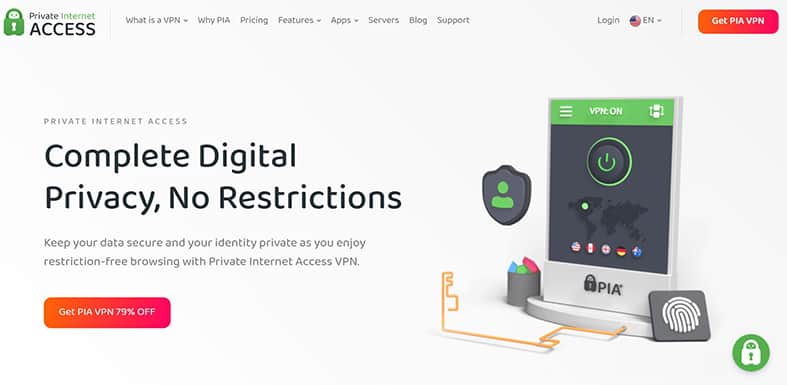 Andrew Lee founded Private Internet Access in 2010 and then later merged the company with Kape Technologies in 2019. Private Internet Access operates out of the U.S.
The Private Internet Access iOS app offers a decent set of features and high quality of service. This VPN app has a huge server infrastructure network, attracting users who want access to lots of servers.
The advantages of the iOS app are that the platform offers ad-blocking for Safari and thousands of servers available.
The disadvantages of Private Internet Access include relatively slow speeds, an interface that's difficult to use for a long period of time and few server locations.
The service is also surprisingly affordable, at $9.95 per month for the monthly package or $2.19 per month for the three-year package.
In terms of compatibility, Private Internet Access covers all the four major platforms, including iOS, Android, macOS and Windows.
With access to over 35,000 servers in nearly 75 countries, Private Internet Access is able to keep download speed loss to under 15%.
With a kill switch feature available, a detailed privacy policy page yet no independent audit, Private Internet Access is a partially reliable VPN service provider.
---
7. Mullvad VPN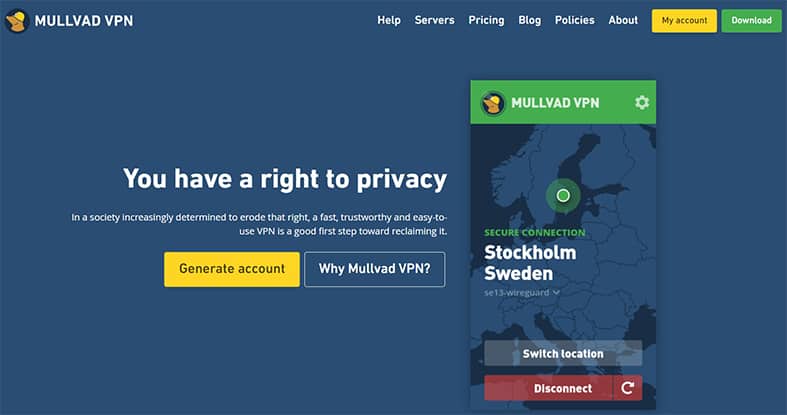 Daniel Berntsson and Fredrik Stromberg founded Mullvad VPN in 2009, and the company has operated out of Sweden since then.
Mullvad VPN's main perks are in areas where users want top security and privacy but at an affordable price with no marketing techniques and upsells.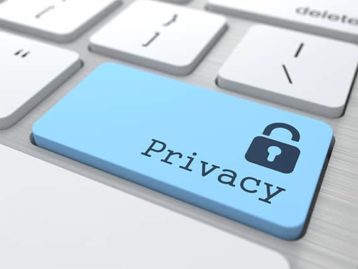 The main advantage of using is the focus on transparency. Mullvad goes one step beyond every other VPN service when it comes to privacy, making its position on data collection and online privacy crystal clear. Mullvad does not require an email address for registration and offers advanced features like multi-hop connections.
The disadvantage of using MullvadVPN is the lack of extra features. Mullvad's apps look basic and are rough around the edges. The registration process is a bit confusing, as MullvadVPN relies on an account number rather than an email address.
Mullvad charges $5.95 per month regardless of what package the user signs up for. Mullvad VPN has dedicated apps for iOS, Android, macOS, Linux and Windows.
With around 800 servers in close to 37 countries, Mullvad does not have the biggest VPN server network. But surprisingly, Mullvad decreases download speed by just 20% on average.
With a kill switch feature, a very transparent privacy policy and multiple independent audit reports, Mullvad VPN is a very reliable VPN service.
---
8. CyberGhost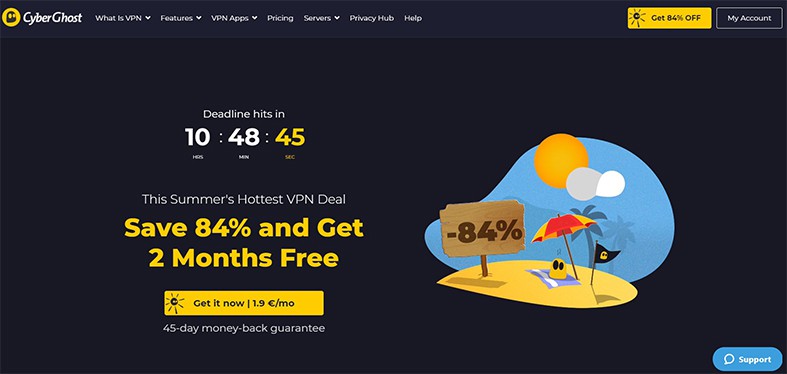 Robert Knapp founded CyberGhost in 2011, and the company is headquartered in Romania. CyberGhost VPN is mainly used for spoofing locations and streaming video content because of CyberGhost's large server network and fast servers. This VPN is also suitable for users who want to gain security by using the latest protocol, WireGuard.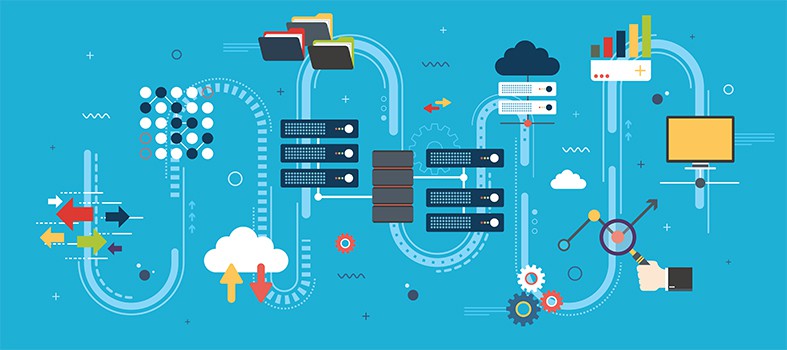 The main advantages of using CyberGhost are access to a large server network and tons of locations. Users can connect up to seven devices per account and take advantage of extra features such as antivirus and ad-blocks. is one of the fastest VPNs in the market today.
The main disadvantages of using CyberGhost VPN are expensive packages, a complicated privacy policy and the lack of an independent audit.
CyberGhost VPN costs $12.99 per month on the monthly package and $2.25 on the two-year package. CyberGhost offers dedicated apps for Android, iOS, macOS, Windows and Linux (CLI).
With access to over 7,300 servers in 91 countries, CyberGhost is one of the fastest VPNs around. Expect the app to decrease download speed by less than 15% on average.
With a good privacy policy (though hard to understand for beginners), a kill switch feature and a lack of independent audit reports, CyberGhost is mostly a reliable VPN service.
---
9. Windscribe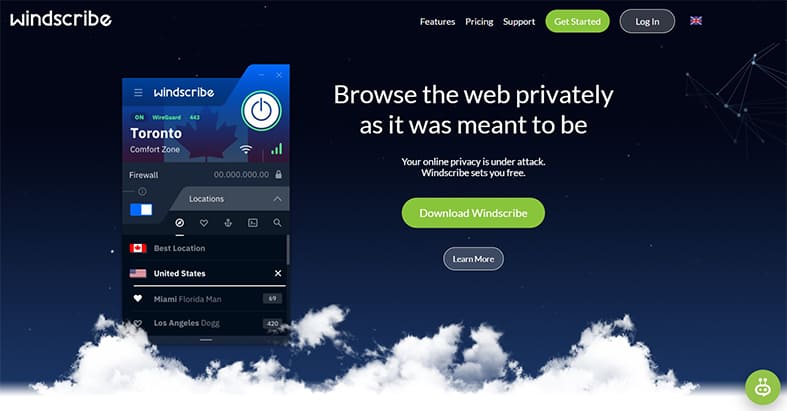 Yegor Sak founded Windscribe in 2015. The company operates out of Richmond Hill, Canada. The primary purpose of Windscribe VPN is to have protection at a decent price. This VPN offers users many extra features and a free version for those undecided about paying for a premium VPN experience.
The main advantage of using Windscribe is the ability to protect an unlimited number of devices per account. The iOS app is configurable and very modern-looking. Moreover, offers access to modern protocols such as WireGuard, which also makes its connections fast. Windscribe also provides access to a malware blocker, an anti-tracker and an adblocker.
The primary disadvantage of using Windscribe is the lack of good customer support (with no 24/7 live chat) and no kill-switch feature.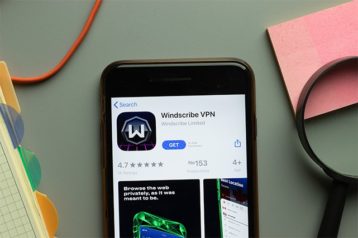 Windscribe charges users $9 per month on the monthly plan, while the yearly plan brings the price down to $4.08. For compatibility, Windscribe offers dedicated apps for iOS, Android, Windows and macOS.
Windscribe doesn't qualify to be included in the list of fast VPN services for iOS, as the app regularly decreases download speeds by 80% to 90%.
With a good privacy policy document, the lack of a kill switch and no independent audit reports, Windscribe is not the most reliable VPN service in the market today.
---
10. TunnelBear VPN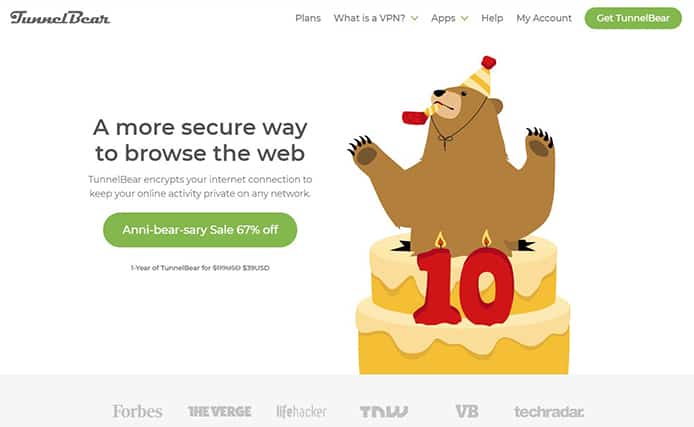 Ryan Dochuk and Daniel Kaldor founded TunnelBear in 2011. The company operates out of Toronto, Canada.
People mainly use TunnelBear for its privacy and protection. This VPN offers a pleasant user experience with bright colors and a welcoming interface.
The primary advantages of using TunnelBear on the iOS platform include a very functional design, a solid privacy policy and budget-friendly packages.
The disadvantages of using TunnelBear are the lack of advanced security features, lack of support for modern protocols such as WireGuard and a small server network.
has a free tier that comes with a 500 MB data transfer limit per month. This VPN also offers a monthly package for $9.99 per month or $3.33 per month for the three-year deal. TunnelBear offers dedicated apps for Android, iOS, macOS and Windows, along with web browser extensions for both Chrome and Firefox.
With over 3,000 servers in over 41 countries, TunnelBear doesn't have the biggest of VPN networks—especially considering that some are even virtual servers. Expect TunnelBear to drop download speeds by up to 55%.
TunnelBear has a good privacy policy and has undergone multiple independent audits. But without a kill switch feature on the iOS platform, TunnelBear is only somewhat of a reliable VPN service provider on the iOS platform.
---
What Is a VPN for iOS?
A VPN for iOS is a VPN that specifically caters to people using iOS devices and offers them privacy and online security. iOS is the official operating system for all Apple devices. An iOS VPN creates a private VPN tunnel for iOS users on a public internet connection, granting them anonymity and data security.
The demand for VPNs on iOS has increased because more hackers are learning about the loopholes allowing them to inject malware into iOS devices. A VPN for iOS stops hackers, internet service providers (ISPs) and advertisers from monitoring the user's browsing habits.
iOS users who want to remain private and anonymous in the online world must use a VPN for iOS. Even though modern cellular internet connections have some form of protection via encryption protocols and are difficult to hack, hackers can still bypass them with advanced police-grade tools and data dumps.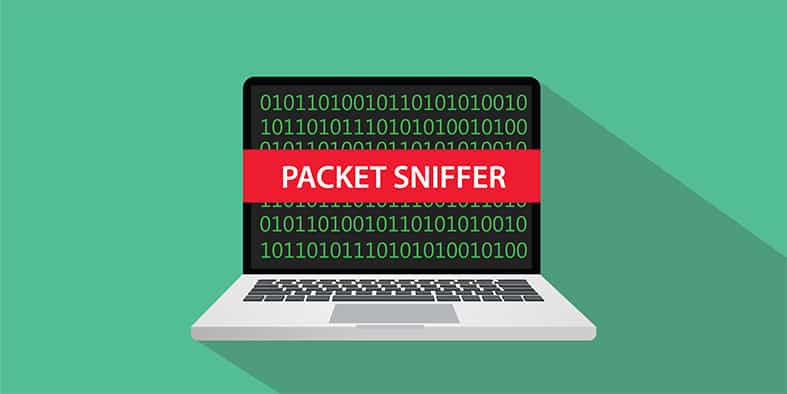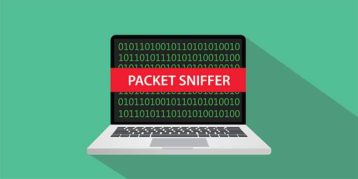 When iOS users are outside their homes, sometimes they have to use public WiFi networks. The owners of these networks could install packet sniffers on their networks at airports, coffee shops and local libraries. From there, the network administrator can track iOS users even without advanced sniffing tools. Even ISPs collect data on their customers and sell that data after anonymizing it.
Note:
To protect against all that, iOS users must use a VPN for iOS. It's also important to use VPNs for iOS since the device's default settings automatically connect to public networks the user has connected to before without verifying if the network is legitimate. That can be a huge problem for privacy and information security.
How to Setup a VPN on iOS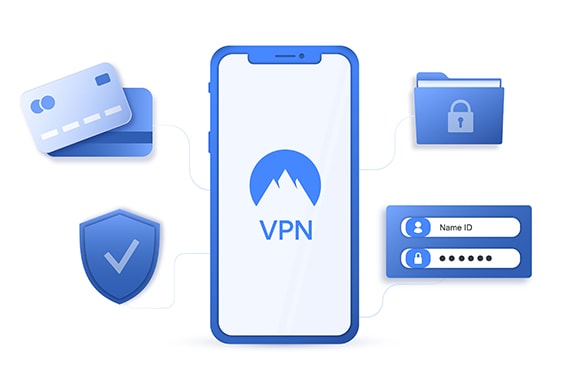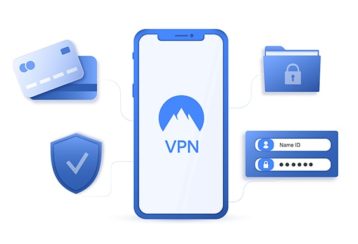 Here are the steps users need to complete to set up a VPN on iOS:
Pick a VPN service of choice.
Purchase a subscription package.
Install the iOS app from the Apple App Store.
Give the app the permissions needed to establish a VPN connection.
Log in.
Connect to the desired server.
Users can manually set up a VPN on iOS as well using these steps:
For IKEv2 connections, go to the official website of the desired VPN service and download IKEv2 certificates after signing up for a package and logging in with valid credentials. Usually, the website would have a dedicated page for manual configuration files. The user should get the files for the IKEv2 protocol.
Copy the IKEv2 connection credentials, which are different from the user's account username and password. Usually, this information is listed near where the IKEv2 certificates are.
On the iOS device, go to Settings.
Click on the "Profile Downloaded" option.
Install the IKEv2 certificate profile.
If the iOS shows a warning message, click the button that says "Install" one more time.
Click the "Done" button.
Pick server information, such as Description, Server ID and Remote ID, from the VPN's website.
Then, go to Settings on the iOS device.
Then click on "General."
And then on "VPN."
Hit the option for "Add VPN Configuration."
Input the details copied in step 8.
After that, click "Done."
Go to the iOS Settings menu.
Click "General."
Then click on "VPN."
Pick the connection created in Step 14.
To set up an OpenVPN connection on iOS, follow the steps given below:
Get the VPN credentials from the official website of the desired VPN service. Usually, there will be a dedicated area for manual setup. The credentials for manual setup are not the same as the username and password chosen at the time of registration.
Go to the Apple App Store.
Download OpenVPN Connect and install the app.
Get OpenVPN configuration files from the VPN service's website.
Extract the configuration files if the files are in compressed format.
Launch the OpenVPN Connect application.
Hit the button that says OVPN Profile.
Click on "Add" and then pick the .ovpn file downloaded in step 4.
Input credentials copied in step 1.
Hit the button that says "Add."
Use the toggle button to turn on the VPN, then you can begin surfing the web privately and anonymously.
How to Turn a VPN Off on iOS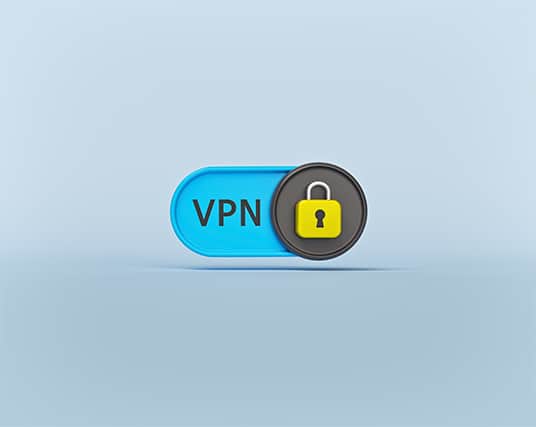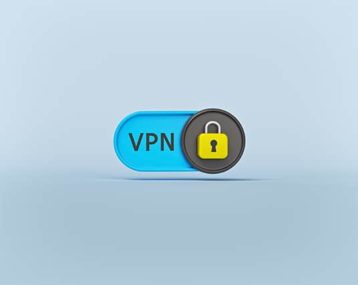 To turn off VPN on iOS, the user can go to the VPN app installed on the device and click the "Connect" button so it turns red. Almost all VPNs have a "Turn OFF" or "Turn ON" button on the main menu. The user has to change the status of that button to "TURN OFF."
Apple iOS devices also have a VPN Turn OFF button in the Settings menu, which users can try if they can't access their VPN app.
Another method to Turn OFF VPN on iOS is to go to Settings and then to the "General" tab. Click on VPN, then click on the icon that says "i" in front of the name of the VPN in question. Switch off the button in front of "Connect on Demand," go back one screen and then switch off the "Status" button so it says, "Not Connected."
What Are the Benefits of VPNs for iOS?
Here are the benefits of a VPN for iOS: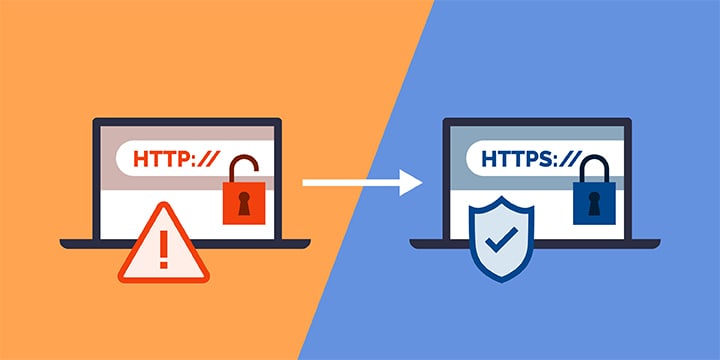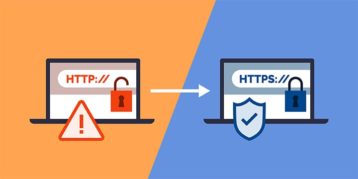 A VPN for iOS encrypts user data and hence protects it as it travels through the internet.
VPNs anonymize user data.
Users can change their IP address with a VPN.
Apple iOS VPNs can unblock content from any website.
VPN services are also great at protecting users from tracking.
iOS VPNs preserve user privacy and protect sensitive information.
Some iOS VPNs can also block ads.
VPNs can nullify bandwidth throttling.
Apple iOS VPNs can also stop internet censorship.
Any VPN gives users the opportunity to get the best deals on any product, no matter what their real location is.
Are There Any Free VPN Services for iOS?
Yes, there are free VPN services for iOS. The best free VPN services for iOS are:
ProtonVPN
Windscribe
TunnelBear
Hotspot Shield
Note:
Free VPNs don't come without risks, though. Free VPNs usually show users a lot of ads, which can ruin the user experience. Free VPNs have also been known to sell user data, which is one of the ways these companies make money in the absence of subscription revenue.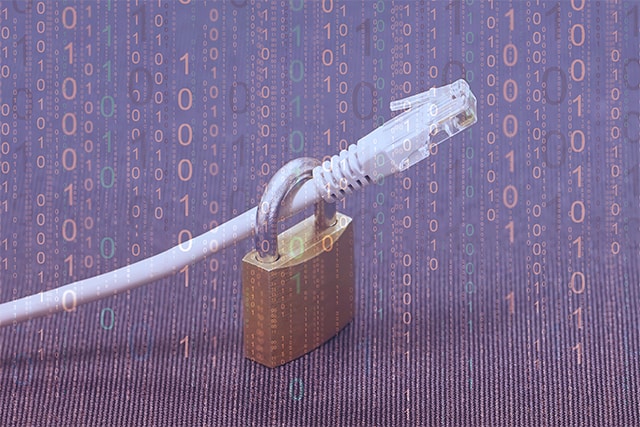 Free VPNs also restrict bandwidth, which means users can't stream movies when connected to them as streaming usually eats up a significant amount of data.
Apart from that, free VPNs are usually slow because they don't have many servers or other infrastructure necessary for speed.
Users should also know that free VPNs don't unblock streaming services like Netflix or Amazon Prime Video, as they don't have the resources to implement unblocking technologies and update them.
VPNs that are free usually offer no extra features, such as a kill switch and/or multi hope connections. That is because these features require money and technical skills, both of which free VPNs can't afford to have.
Free VPNs are also usually not good at implementing encryption technologies and VPN protocols, putting user data at risk even further. Securing server infrastructure requires money, and free VPNs don't have that.
Is It Safe to Use a VPN on iOS?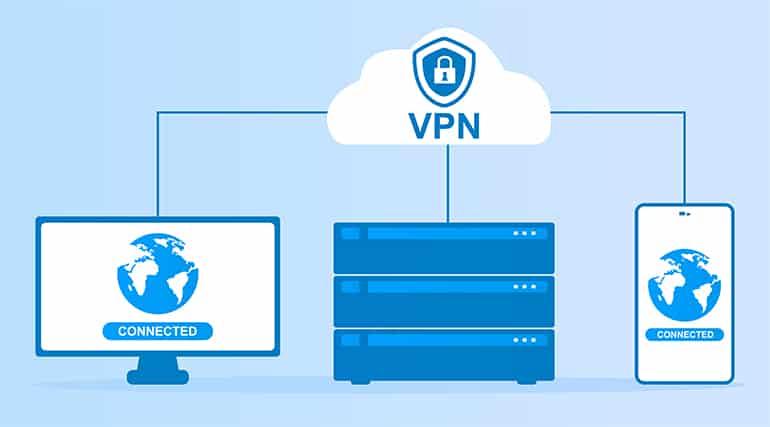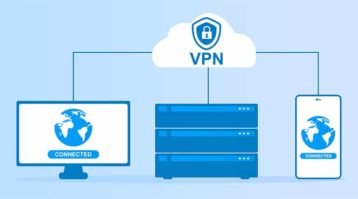 Yes, it is safe to use a VPN on an iOS device. To minimize risks and avoid malicious VPNs, users should only sign up for reputable VPN services. Users can find those by searching online for VPN reviews and checking VPN ratings on the app store before installing them.
Another risk is that unscrupulous VPNs can use their customers' IP addresses for launching Distributed Denial-of-Service (or DDoS) attacks. Hola VPN, for example, formed a VPN network by using its own customers as peers, thus consuming their bandwidth while launching DDoS attacks.
Another risk in using VPNs is that they can inject malware and ads into the users' browsers. And if a VPN service doesn't work perfectly all the time, that VPN can leak user data.
A VPN service provider might appear good on the surface, but there is always a risk of that VPN operating from a country with strict data retention and intelligence-sharing laws forcing companies to share data with international law enforcement agencies.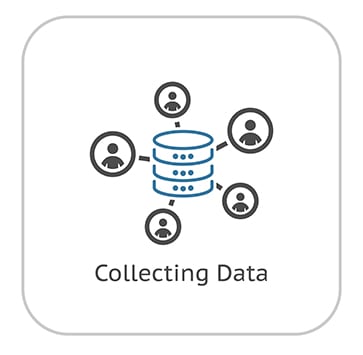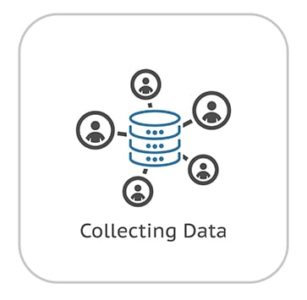 Another red flag users should guard against is a bad privacy policy, which provides a legal cover for collecting and selling user data. Users should always read the privacy policy documents of the VPNs they're interested in before subscribing.
Some VPNs log user information to use for their own products and services. Therefore, it is a must to only sign up for a zero-logs VPN.
One lesser-known risk of using a VPN on iOS or any other platform is that some websites and services may ban people who use VPNs to hide their IP address and identity because they think such users have malicious intentions.
What Are the Fastest VPNs for iOS?
ExpressVPN and Surfshark VPN are generally considered the fastest VPNs for iOS. Of course, several factors go into determining the speed a particular VPN can provide.
The factors that affect VPN speed include: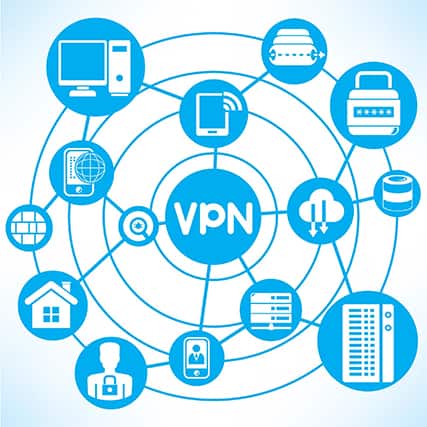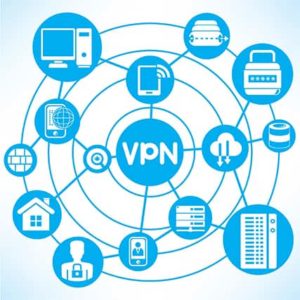 Distance of the user's location from the server.
The total number of servers.
Load on the server at any given moment.
The VPN protocol implemented by the user.
The actual speed of the user's internet connection.
Encryption strength used.
Whether or not an ISP is throttling bandwidth.
Any background apps that may be consuming bandwidth.
Whether or not the user is on a wired or wireless connection.
The processing power of the device the user has.
Whether or not the user has turned on extra security features, such as VPN over Tor and Double VPN.
What Is the Difference Between iOS and Android VPN Services?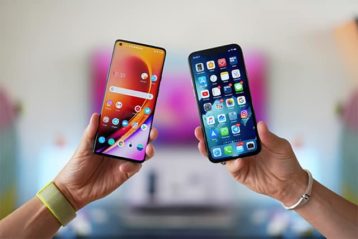 The difference between iOS and Android VPN services is that the best Android VPNs only deliver performance on devices running on the Android operating system. Similarly, iOS VPNs only work on devices running on Apple's iOS operating system.
Due to the more open nature of the Android operating system, Android VPNs are able to offer more protocols and security features than iOS VPNs. Because iOS is a closed operating system, it can streamline the workings of any app better than Android.
The Apple App Store is more strict about the technologies app developers use for the iOS platform and hence generally offers apps that take care of privacy. iOS VPNs also offer better performance on the same hardware when compared to Android VPNs.
Compared to iOS, Android developers have to consider many more device types and operating system versions when designing VPN apps, which can sometimes affect the user interface or performance. The Android platform is also more forgiving when it comes to dealing with user data and selling it. Therefore, iOS VPN apps have an easier time protecting user data as iOS is much more strict at shutting down apps that don't protect user data.
Another difference between an Android VPN and an iOS VPN is that users can install Android VPNs in multiple ways (such as from the official website, the Google Play Store or the .apk file taken from third-party app providers). No such function is available for the iOS platform without jailbreaking.