PrivadoVPN is a Swiss-based VPN service that places a premium on user privacy through a strict no-log policy. As a privacy-focused VPN, PrivadoVPN simultaneously provides fast browsing with top-notch security.
With an average monthly price of $4.99, PrivadoVPN makes cybersecurity accessible to every internet user. The VPN simplifies pricing by offering a variety of alternative packages and deal names. PrivadoVPN offers a free plan, a monthly plan and a 12-month plan. As of this writing, PrivadoVPN is offering a discounted 12-month plan, saving subscribers 38%.
The average download speed of PrivadoVPN is 70 Mbps, but this varies based on the server selected and other speed factors. Users can stay connected to any device because of the VPN's unlimited compatibility with major platforms. PrivadoVPN is compatible with Windows, iOS, macOS, Linux, Android, smart TVs, routers and SOCKS5 proxy servers.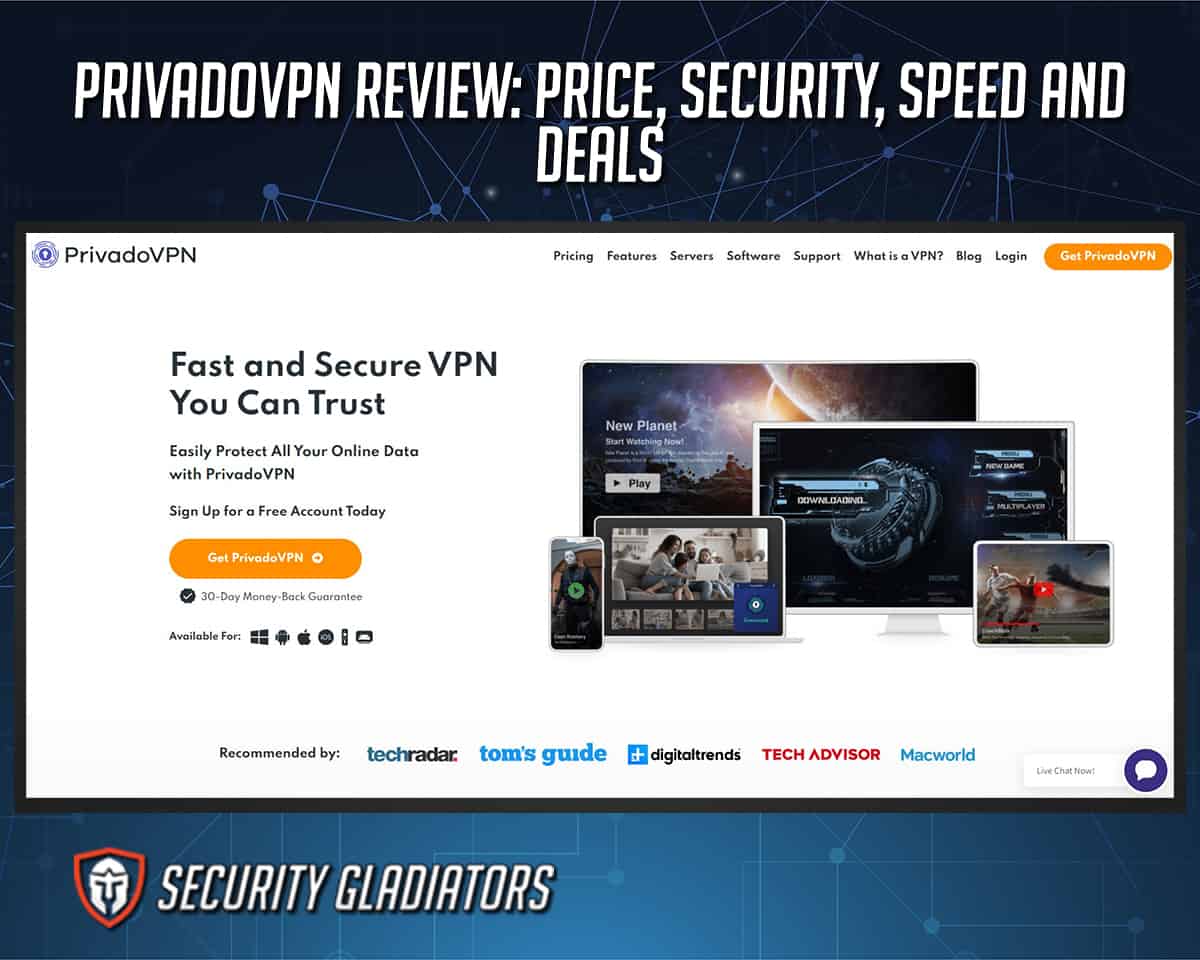 PrivadoVPN is available in 46 countries and has hundreds of servers worldwide. Notably, PrivadoVPN employs the most established VPN protocols, providing users with the optimal balance of speed and security. With PrivadoVPN's strong protocols and privacy policy, the major purpose of using the VPN is to maintain uncompromised privacy and security.
PrivadoVPN provides users with an essential customer service concept. PrivadoVPN's UI is excellent and intuitive across all devices, from websites to apps. The VPN is simple to install, and anyone can navigate the VPN with ease.
This privacy-focused VPN is popular among internet users for a variety of reasons. For instance, the VPN supports all main platforms and enables peer-to-peer (P2P) traffic on all servers. As a result, individuals can use PrivadoVPN to reinforce privacy, download files and browse securely from anywhere.
What is the Cost of PrivadoVPN?
The average monthly price of PrivadoVPN is $4.99. However, the price of the VPN varies according to the package selected and the intended use. As of this writing, PrivadoVPN costs $59.88 annually, invoiced every 12 months. The ongoing sales discount offers users a 38% discount on the actual price, $95.88.
People might also ask: how much does PrivadoVPN cost per month? PrivadoVPN is available for $7.99 a month. As one of the affordable VPNs, users may also obtain the service for $4.99 per month by opting for the 12-month subscription billed at a flat rate of $59.88. PrivadoVPN offers a free package that allows users to browse the internet safely. However, the free plan has several limits, including a monthly bandwidth cap of 10 GB, access to only 12 servers out of hundreds available, a single device connection and no streaming support.
| Free Plan | 1-Month Subscription | 12-Month Subscription |
| --- | --- | --- |
| $0.00 | $7.99 per month | $4.99 per month |
Note:
Prices may differ from the ones shown as new plans and deals are launched on a regular basis. Please be sure to check the most current price on the official website.
What are the Deals of the PrivadoVPN Service?
PrivadoVPN offers amazing deals, which are outlined below.
Free Package: The free package involves the fastest speed, P2P downloads, zero-Logs and unlimited device compatibility. This package requires no payment.
Monthly Package: This monthly plan involves unlimited data, servers in 60 Cities, 10 Simultaneous Connections, streaming support, the fastest speeds, P2P downloads, strict no-logs policy, 30-day money-back guarantee and unlimited device compatibility. The cost is $7.99 per month.
Annual Package: This is a 12-month plan that involves unlimited data, servers in 60 Cities, 10 Simultaneous Connections, streaming support, fastest speeds, P2P downloads, strict no-logs policy, 30-day money-back guarantee, unlimited device compatibility and a discount. The cost is $59.88 ($4.99 per month) billed every 12 months as of this writing.
PrivadoVPN costs $4.99 per month, billed $59.88 annually because of the ongoing VPN discounts.
What are the Advantages of PrivadoVPN?
The advantages of using PrivadoVPN are listed below.
Fast and Security-oriented Servers: PrivadoVPN provides a network of encrypted servers to ensure users' online security. Each server is compatible with P2P, OpenVPN UDP/TCP, IKEv2 and SOCKS5. With the servers' lightning-fast functionality, users can choose a location that provides the best combination of speed, security and privacy.
Effective Kill Switch: PrivadoVPN comes equipped with a kill switch for added security. The VPN secures users' internet connections using a kill switch that activates during a VPN connection failure. Users' data is safeguarded against spoofing by the kill switch.
Strict Privacy Policy: Switzerland is known for having the world's strictest data protection laws. PrivadoVPN is a Switzerland-based VPN that adheres to a no-log policy. Additionally, the VPN does not track the user's online behavior.
Great Free Plan: The VPN provides an exceptional service that enables internet users to remain secure without committing. While the free option does come with some limits, consumers still get privacy, speed and security.
Supports Torrenting: PrivadoVPN is compatible with torrenting and protects P2P files from eavesdropping.
Multiple Device Compatibility: One characteristic contributing to PrivadoVPN's popularity is its compatibility with popular platforms. Windows, iOS, macOS, Android and Linux are among the most popular platforms.
Secure Encryption: Encryption is a critical component of every VPN. PrivadoVPN uses industry-standard VPN protocols such as OpenVPN, IKEv2 and WireGuard to ensure a fast and secure internet connection.
Excellent Customer Support: PrivadoVPN's customer support team is always available to respond to clients' enquiries and complaints 24/7.
Simultaneous Connection: Only a few VPNs focusing strongly on privacy allow users to connect up to 10 devices. PrivadoVPN enables users to connect to the VPN with any compatible device without compromising performance. The most significant benefit is that users can keep an encrypted connection across all devices.
What are the Disadvantages of PrivadoVPN?
The disadvantages of using the PrivadoVPN are highlighted below.
Limited Number of Features: PrivadoVPN lacks anti-virus protection, split-tunneling and ad-blocking features.
Limited Number of Server and Country Count: PrivadoVPN has a small server count compared to other privacy VPNs in the market. At same time, this limited server count may influence the VPN's speed.
What Features does PrivadoVPN Provide?
Below are the features of PrivadoVPN.
| | |
| --- | --- |
| How is the speed of PrivadoVPN? | Blazing speed. |
| Does PrivadoVPN Provide Fast Connection? | Yes. |
| How is the security of PrivadoVPN? | High-end security by using zero-log policy. |
| What encryption technologies does PrivadoVPN use? | AES encryption with strong protocols. |
| Is there any leak that is detected for PrivadoVPN? | No. |
| Does PrivadoVPN have a kill switch? | Yes. |
| Does PrivadoVPN provide DNS Privacy? | Yes. |
| How many simultaneous connections can be created with PrivadoVPN? | 10. |
| Is PrivadoVPN safe to use? | Yes. |
How is the Settings Interface of PrivadoVPN?
PrivadoVPN includes a settings component that enables users to adjust certain features. Users can customize the VPN because of the intuitive interface. Additionally, users can select any chosen protocol to ensure internet speed and security.
The kill switch configuration prevents users from gaining unauthorized access during a VPN outage. The OpenVPN, IKEv2, AES-256-CBC encryption, DNS and IPv6 leak protection provided by the VPN are all excellent. However, connection times for different protocols may vary.
How is the Speed of PrivadoVPN?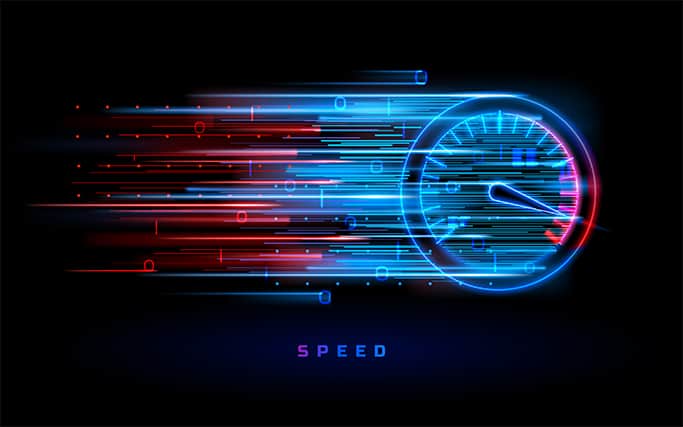 While utilizing the internet, PrivadoVPN shows excellent speed. This VPN connects at a rate of 60 Mbps on average. Users may expect a minimum download speed of 30 Mbps and a maximum download speed of about 150 Mbps. Users may have varying experiences with speed test results because of various speed-related factors. The selected server location, VPN protocols, user location, server load, network type and encryption strength all affect VPN speed. For example, using PrivadoVPN with OpenVPN results in 160 Mbps–180 Mbps. With the same condition with Hotspot Shield, 400 Mbps–410 Mbps were obtained.
Does PrivadoVPN Provide Fast Connection?
Despite being a relatively new VPN provider in the industry, Privado is already one of the fast connection VPNs. The VPN supports fast P2P transfers. However, users may feel a difference in surfing performance when using Privado. Even with fast connection VPNs, the results differ. Speed factors such as the VPN protocol selected, server load, network provider interference and server location can all affect how fast users connect to the internet. Users can use Privado's recommended server location.
How is the Security of PrivadoVPN?
PrivadoVPN's mission is to provide users with a private browsing experience free of data leaks. As a result, the VPN includes IP leak protection, which guards against the leakage of users' personal information. Users can rely on the VPN's security because the encrypted tunnel protects users' internet behavior. Although PrivadoVPN lacks an antivirus function that protects users from malware attacks, the VPN's premium infrastructure secures users' data from harmful activity.
Note:
As a no-log VPN, Privado safeguards user data against third-party intrusion. This privacy statement applies to all users, free and premium. Additionally, Privado has robust protocols and encryptions to ensure a secure back end.
Privado optimizes user privacy and security by utilizing innovative protocols, industry-leading technology and dedicated human resources. As one of the VPNs for high security, Privado secures user data by using the OpenVPN, IKEv2 and WireGuard protocols. The VPN uses physical servers to protect user data in case of a virtual server failure.
What Encryption Technologies does PrivadoVPN Use?
PrivadoVPN protects users' online privacy by utilizing the industry's best, most trusted, and strongest encryption choices, including a 256-bit AES cipher and VPN protocols. The encryption protocols used by PrivadoVPN are outlined below.
These protocols and encryption are what give each VPN its security. Additionally, these protocols enable users to use the internet for various purposes. Encryption protocols assist PrivadoVPN in balancing transfer speed and security to fulfill the needs of its users.
PrivadoVPN relies on these encryptions to provide users with security, privacy and speed.
Is There any Leak Detected in PrivadoVPN?
PrivadoVPN does not expose user data online via IP or DNS. Privado protects users' IP addresses by redirecting data to the VPN's global servers. The VPN prevents DNS leaks by encrypting users' data and transmitting it via an encrypted tunnel to the VPN's DNS servers.
Pro Tip:
Users must be proactive when selecting a VPN. A reputable VPN must be capable of protecting users and preventing data leaks. A VPN that leaks exposes users to an inexhaustible number of cyberattacks, damaging the user's reputation or bankrupting the user.
Does PrivadoVPN have a Kill Switch?
PrivadoVPN has a kill switch. The kill switch is a privacy and security feature activated when a VPN connection is lost. Using PrivadoVPN's kill switch prevents eavesdropping third parties from accessing transmitted data during VPN disconnection.
What are the Privacy Policies of PrivadoVPN?
The privacy policy enables PrivadoVPN to engage with users transparently. A privacy statement demonstrates Privado's compliance with data policy regulations.
A privacy policy is a legally binding document that outlines how a company will handle users' data. PrivadoVPN ensures customers' anonymity through a stringent no-log policy. Additionally, being a Swiss corporation, the VPN service is under no obligation to provide users' data to the government or any third party.
Does PrivadoVPN provide DNS Privacy?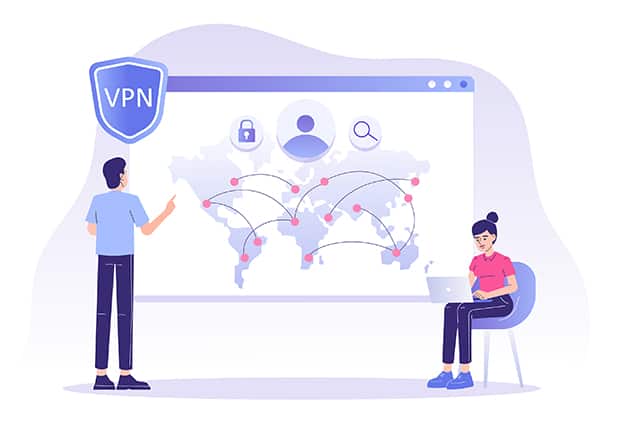 PrivadoVPN offers excellent DNS privacy. DNS privacy entails accessing the internet using an encrypted internet connection, preventing eavesdropping. A DNS records IP addresses visible online while not using a VPN. However, when a user connects to the PrivadoVPN, the DNS is encrypted to avoid DNS leaks.
By encrypting users' connections, PrivadoVPN prevents DNS leaks. As a privacy service, Privado makes this offer available to all users, free and premium. In addition, the VPN employs a kill switch as an emergency safeguard in the event of a VPN disconnect. PrivadoVPN succeeds in DNS leak protection thanks to encryption, protocols and security features.
What Operating Systems are Compatible with PrivadoVPN?
The following operating systems are compatible with PrivadoVPN.
Windows
iOS
Android
Linux
macOS
Smart TV (Android TV and Amazon Fire TV)
Router
SockS5 proxy
The fact that people can use PrivadoVPN on various operating systems demonstrates broad applicability. Privado is compatible with major operating systems, allowing users to connect many devices to a secure network. This means that users can stay secure on any compatible device. Furthermore, PrivadoVPN will be able to support more users, boosting the VPN's popularity.
Similarly, users can connect routers and internet switches to the VPN, and safeguard many devices by simply installing PrivadoVPN on the router.
PrivadoVPN is excellent for streaming services. Unlike some VPNs that block streaming services, PrivadoVPN allows users to access services such as Netflix, Hulu and others from anywhere in the world, regardless of device.
PrivadoVPN users can access the privacy-focused service on various platforms despite the lack of browser add-ons.
Which Devices does PrivadoVPN Have Apps For?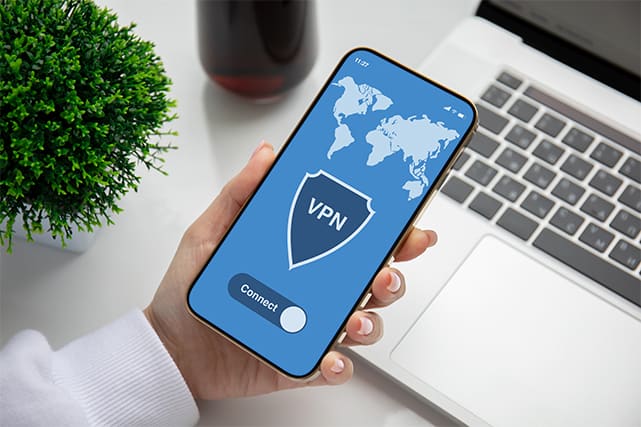 PrivadoVPN includes apps for most major devices and operating systems. Some PrivadoVPN apps are available for Windows, Android, macOS, iOS, Fire TV and Android TV. This does not imply that Privado exclusively supports the platforms listed. PrivadoVPN, for example, supports Linux but does not have an application for Linux.
iOS and Android have user interfaces that are similar and simple to use. The Windows client is basic and straightforward, contributing to the VPN's prominence. Users can access the settings, for example, by clicking the three horizontal dots at the left top of the app.
Users can access additional settings by navigating to General, Protocol, GUI, Account and Support in the settings menu. However, comparing the mobile client with the other clients, the kill switch is missing from the mobile version.
Can I Use PrivadoVPN on my Router or Internet Switch?
PrivadoVPN can be used on routers and internet switches, enabling users to enjoy the full benefits of the VPN. Any router-connected device will benefit from concealed IP and encrypted browsing as well. Even while connected to the router, various devices can use different servers. However, go to PrivadoVPN's website and download a compatible router to use the router. PrivadoVPN supports the following routers: Asus, DD-WRT and pfSense. Users will also require an OpenVPN configuration file for the server to connect to the router.
Is PrivadoVPN Good for Streaming Services?
PrivadoVPN is suitable for streaming services like Netflix, Amazon Prime, Hulu, Disney+ and others. However, depending on several conditions, such as network, server speed and so on, users may have varying streaming experiences. PrivadoVPN claims to provide safe content viewing without a location barrier. PrivadoVPN is one of the best VPNs for streaming services, as it provides fast streaming.
Contrarily, some users experienced an inability to access Netflix through the VPN.
How many Simultaneous Connections can be Created with PrivadoVPN?
PrivadoVPN allows premium users to create up to 10 simultaneous connections using the same account information. This special deal is an important factor to consider when selecting a VPN. With PrivadoVPN's multi-connection capability, families and friends can maintain internet privacy. Not only that, but everyone can use multiple servers on different devices without experiencing a reduction in speed performance.
Note:
However, a premium account is needed. PrivadoVPN allows users to connect to different laptops, desktops, tablets, phones, streaming TVs and even routers.
What are the PrivadoVPN Locations?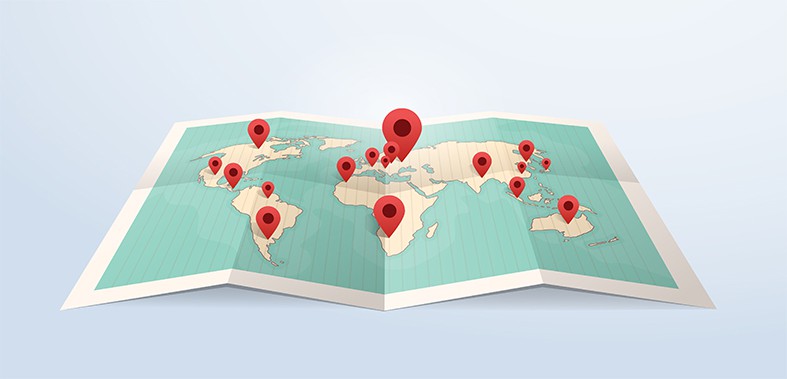 PrivadoVPN servers are located in 46 different countries. Despite having fewer locations than some VPNs, such as Surfshark, ExpressVPN and NordVPN, Privado still provides outstanding service. PrivadoVPN has servers in Argentina, Australia, Belgium, Brazil, Canada, France, Germany, with a total of 60 cities.
PrivadoVPN allows users to access geo-restricted websites from everywhere. PrivadoVPN can effortlessly bypass a georestriction, allowing users to view Hulu, Netflix and other services.
Does PrivadoVPN have a Georestriction?
PrivadoVPN is one of the best VPNs that can bypass government censorship and unblock geo-restricted content. To access restricted content, users need to select a different server.
Does PrivadoVPN Have a Free Plan?
PrivadoVPN provides a free plan. This free package enables any internet user to surf securely without paying. Features of the free plan include fast surfing speed, P2P downloads, a no-log policy and interoperability with numerous devices. While other VPNs provide a limited-time free trial, PrivadoVPN provides a free plan. In essence, users can choose when to upgrade to the premium plan at any time.
What are the Limitations of the PrivadoVPN Free Plan?
The limitations of PrivadoVPN free plan are listed below.
10 GB of data every 30 days.
Access to servers in 12 cities.
One connection.
No streaming support.
Does PrivadoVPN Have a Browser Add-On?
PrivadoVPN does not have a browser add-on.
What are the Alternative Browser VPNs to PrivadoVPN?
While PrivadoVPN does not offer a browser extension, several VPNs can be used as alternative browser VPNs. Some of these VPNs are the best Chrome VPNs, while others are the best Firefox VPNs. The browser VPN alternatives to PrivadoVPN are Tor, ProtonVPN, Mullvad, Windscribe, TunnelBear, NordVPN, Hotspot Shield, CyberGhost, Private Internet Access and many more.
However, several of these VPNs have unique features. CyberGhost VPN enables users to browse the internet securely and freely. NordVPN provides military-grade encryption, allowing users to surf the internet securely and without restriction.
How to Download PrivadoVPN to your Computer?
Downloading PrivadoVPN to the computer is easy. Follow the instructions below to download PrivadoVPN.
Visit the PrivadoVPN website.
Choose the desired package.
Select the computer's compatible version and click the download button.
After downloading, install the app.
Follow the on-screen prompts to complete the Privado app installation.
Start the VPN and connect to a server.
How to Log In to PrivadoVPN?
Follow the instructions below to log in to PrivadoVPN.
Visit the VPN website.
Click on the login button.
Enter the information used to register with PrivadoVPN, such as the username and password.
Then click the login button.
What is the PrivadoVPN Company Information?
Definition of Company Information
Company information is generally defined as information that contains a company's knowledge or data.
Importance of Company Information
Company information is usually useful for potential investors or clients who want to learn more about the company.
Name of the CEO
Not available.
Company Address
PrivadoVPN headquarters is ‌at Landis + Gyr-Strasse 1, Zug, Switzerland, 6300.
Customer Support Phone Number
PrivadoVPN does not provide a phone number for support and further inquiries, instead users can complain or make an inquiry through email ticketing.
Foundation Date
PrivadoVPN was founded in 2019.
Country of Registration
PrivadoVPN was established and registered in Switzerland.
Who is the Owner?
A team of security experts and programmers.
Number of Employees
PrivadoVPN has 25 employees.
PrivadoVPN Social Media Accounts
Facebook: @PrivadoVPN
Twitter: @PrivadoVPN
LinkedIn: PrivadoVPN
Instagram: @PrivadoVPN
What is the Logo of PrivadoVPN?
What are the Connection Issues of PrivadoVPN?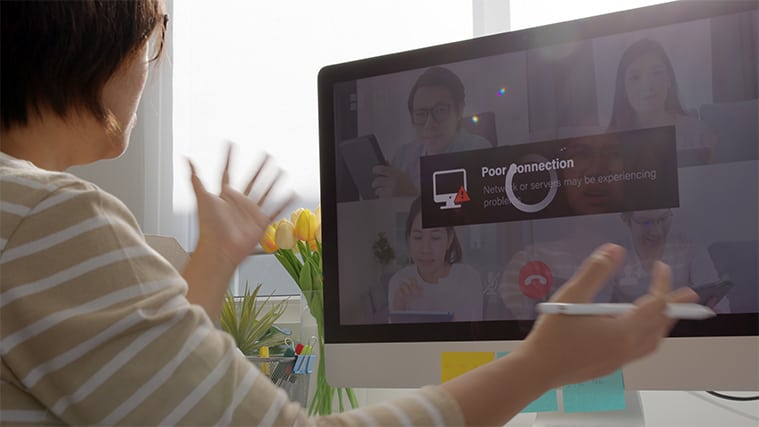 PrivadoVPN ensures consistency in fast connection and users' internet privacy and security. Since glitches are unavoidable in any system, Privado provides a kill switch. There are many factors responsible for the connection issues of PrivadoVPN. An unstable internet connection is one issue that might cause PrivadoVPN to stop. The fact is that PrivadoVPN requires an internet connection to create an encrypted tunnel for users' data. So, whenever there is a low connection signal, PrivadoVPN might temporarily shut down.
Restarting the system can also cause PrivadoVPN connection issues. The restart might result from a system update or some technical issues. This might disrupt the VPN's connection because of a change in system settings. However, the kill switch secures users' data from unauthorized access and any connection issues.
Who is the Owner of PrivadoVPN?
While the VPN does not have a specific owner, a team of security experts and programmers manages the VPN. A group of individuals passionate about internet security and privacy created the VPN in 2019.
Where is the PrivadoVPN Headquarters?
PrivadoVPN headquarters is located at Landis + Gyr-Strasse 1, Zug, Switzerland, 6300.
How many employees does PrivadoVPN have?
PrivadoVPN has 25 employees according to zoominfo and only one employee on LinkedIn.
What are the Social Media Accounts of PrivadoVPN?
The social media accounts and usernames of PrivateVPN are listed below.
Facebook: @PrivadoVPN
Twitter: @PrivadoVPN
LinkedIn: PrivadoVPN
Instagram: @PrivadoVPN
Reddit: PrivadoVPN
Is PrivadoVPN Safe to Use?
PrivadoVPN is safe to use. PrivadoVPN uses strong encryption technology, AES 256-bit encryption, as a highly secure VPN. Also, the VPN depends on OpenVPN, IKEv2 and WireGuard protocols to balance speed and privacy. To keep users' data safe during VPN downtime, PrivadoVPN offers a kill switch feature to keep users' data safe.
The PrivadoVPN location and the strict no-log policy make the VPN one of the leading privacy-focused VPNs in the industry.
What is the Logo of PrivadoVPN?
PrivadoVPN's logo consists of a key at the center of a purple circle with continuous or multiple swirls around the circle.

What are the Alternatives to PrivadoVPN?
The alternatives to PrivadoVPN are listed below.
Windscribe
Mullvad
ExpressVPN
WindscribeVPN
ShieldMeVPN
ShimoVPN
CyberGhost
PureVPN
GooseVPN
TunnelBear VPN
CyberGhost VPN outperforms PrivadoVPN. CyberGhost is a very strong VPN that offers additional security and antivirus features. PrivadoVPN also demonstrates high security and privacy power to internet users, even with hundreds of servers. Also, CyberGhost's numerous server counts make the VPN speedy. However, with a PrivadoVPN vs CyberGhost price comparison, PrivadoVPN ($7.99) is more affordable than CyberGhost ($12.99).
ExpressVPN outperforms PrivadoVPN in terms of server count and geographic coverage. PrivadoVPN is a good VPN with simultaneous connections that allows premium users to secure multiple devices. ExpressVPN offers exceptional streaming performance and fast browsing speed. In the PrivadoVPN vs ExpressVPN monthly pricing comparison, PrivadoVPN is cheaper than ExpressVPN.
Surfshark outperforms PrivadoVPN in a diverse feature set, such as simultaneous connections, server count, speed and split-tunneling. PrivadoVPN also has a slew of cool features, such as improved customer service and torrenting. Surfshark is a well-known VPN service that provides excellent security and performance. In terms of price, PrivadoVPN vs Surfshark revealed PrivadoVPN as the affordable VPN.
NordVPN also outperforms PrivadoVPN. NordVPN has a much larger server network, faster speeds and more robust security features than most VPNs. PrivadoVPN also allows fast P2P transfer and encrypts users' transmission. However, when comparing PrivadoVPN vs NordVPN monthly plans, PrivadoVPN is less expensive ($7.99) than NordVPN ($11.95).