Roku TV is one of the most popular streaming devices available, offering various entertainment services, such as the Roku player, Roku TV, and Roku speakers. Roku TV provides access to over 500,000 movies and TV series, with tens of thousands of channels and services to choose from. However, like the vast majority of streaming platforms, Roku employs geo-restrictions on their content, meaning certain content is only available in specific locations. This is predominantly due to costing and licensing reasons.
Using a VPN for Roku is one of the best ways to unblock geo-restricted content on Roku TV. Users also gain the additional benefit of having their internet traffic encrypted and secured from hackers. It is important, however, to choose a specific VPN to unblock Roku TV as, while many VPNs are available, few VPNs on the market can unblock geo-restricted content. Using a good quality VPN is also important for online safety. This article discusses the top VPNs for Roku TV.
The best 9 VPNs for Roku are outlined below.
UltraVPN for Roku Streaming
CyberGhost for Roku TV
PrivateVPN for Roku Platform
VyprVPN for Roku
SaferVPN for Roku
NordVPN for Roku
IPvanish for Roku
ExpressVPN for Roku
Zenmate for Roku
1. UltraVPN for Roku Streaming
UltraVPN for Roku is uniquely built to provide secure and private access to various types of content. UltraVPN is very user-friendly and allows for unlimited device connections to safeguard all its user's devices. UltraVPN successfully serves common countries such as the United States, the United Kingdom, Spain, Greece, Canada, etc.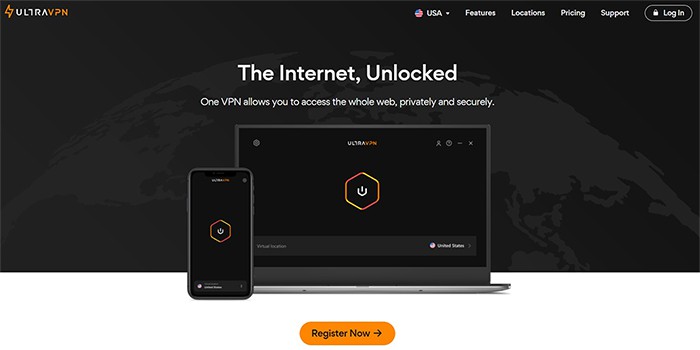 The main advantages of UltraVPN advantages include virtually unbreakable encryption, unlimited internet access, good speeds, simple usage, an automated kill switch, a dependable refund policy, a strict no-logging policy, reasonable pricing, excellent customer service, and multi-device compatibility. Some significant UltraVPN disadvantages include a restricted number of servers, the resultant likelihood of server congestion, and general slowness.
Some of the unique features of UltraVPN include limitless bandwidth, budget-friendly pricing levels, the ability to circumvent government censorship, in-built virus protection, a secure firewall, powerful encryption, and a reliable connection. The key strong sides of UltraVPN are its simple installation, basic features, unfettered access to global servers, and reasonable pricing structure.
UltraVPN emphasizes user security and anonymity, employing 256-bit AES encryption with protocols such as IKEv2 and OpenVPN to safeguard users' online identities. An automatic kill switch and a no-logging policy are further security elements.
UltraVPN is cheaper than the majority of premium VPNs for Roku, with three pricing options available. UltraVPN costs $7.99 per month when billed monthly, $4.99 per month billed annually and $2.99 per month when billed every 24 months. The technology company Aura owns UltraVPN.
Prices may differ from the ones shown as new plans and deals are launched on a regular basis. Please be sure to check the most current price on the official website.
UltraVPN is designed specifically to provide internet users unlimited access to restricted content. As it is compatible with Roku TV, UltraVPN enables users to stream a wider range of interesting and engaging content from around the world. UltraVPN employs encryption technology to conceal the internet activity of its subscribers, making browsing anonymous. For a full UltraVPN review, visit the official website, ensuring to take note of user reviews.
UltraVPN works with Roku to unblock restricted content and allow streaming of various channels from anywhere in the world. The built-in features of UltraVPN contribute to the VPN's efficacy in conjunction with Roku.
2. CyberGhost for Roku TV
CyberGhost has been in existence for more than a decade, having surpassed its competitors in terms of server count and geographic reach, with 8000 servers in 9 countries. Given the number of servers and the extent of coverage, users are unlikely to face server overload. CyberGhost enables access to content such as Amazon Prime, Netflix, HBO Now, and of course, Roku.
The main advantages of CyberGhost are secure internet encryption, excellent streaming speeds, unlimited bandwidth, support for torrenting, no activity logging, a dependable refund policy, seven simultaneous device connections, a kill switch, exceptional customer care, and a multitude of payment choices. CyberGhost's disadvantages include costly monthly plans, the absence of a free plan, the lack of an independent security audit, and inconsistent speed performance.
CyberGhost's unique features include many servers, a browser plugin, DNS privacy, split tunneling, torrenting, unlimited bandwidth, access to popular streaming platforms, optimized streaming services, anti-censorship, WiFi protection, and a money-back guarantee. CyberGhost's strong sides include simple usage, user-friendly interfaces, a router app, cross-platform compatibility, and customizable pricing options.
When selecting a VPN, security and privacy are of utmost importance. As a result, CyberGhost prioritizes its users' online security and privacy. Leveraging advanced security, encryption, and unblocking capabilities, CyberGhost is very compatible with Roku. CyberGhost uses 256-bit AES encryption and robust mechanisms to provide the highest level of security.
CyberGhost's flexible pricing structure allows users to select based on several variables. A monthly CyberGhost subscription costs $12.99 but this is reduced to $3.25, $2.49, and $2.29 when billed annually, every 2 years, or every 3 years, respectively. According to this CyberGhost VPN review, Kape technologies owns CyberGhost.
CyberGhost allows unfettered streaming with Roku TV. By masking the users' real locations and assigning a new IP address, users can easily access restricted Roku content. CyberGhost also protects its users' online information, preventing unauthorized third-party access to its user's data.
3. PrivateVPN for Roku Platform
PrivateVPN is one of the most rapidly expanding, trustworthy, and user-friendly internet security solutions for the Roku platform. Despite having 200 servers in 63 locations, PrivateVPN still guarantees dependable protection and anonymity. PrivateVPN is compatible with Roku, macOS, iOS, Android, Windows, internet browsers, and routers.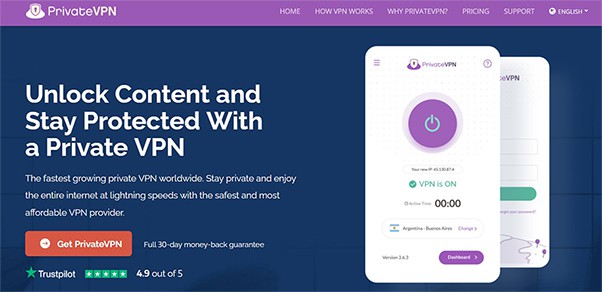 PrivateVPN for the Roku platform offers several distinct advantages: ten simultaneous connections, 24/7 live chat, a no-logging policy, dependable speeds, a 30-day money-back guarantee, industry-standard encryption, robust protocols, a user-friendly interface for beginners, an automatic kill switch, and access to geo-restricted content. The main disadvantages of PrivateVPN are the limited server count and the lack of a free plan.
PrivateVPN's unique features include a robust privacy policy, powerful encryption, a dependable server, ten simultaneous connections, excellent customer service, customizable pricing plans, port forwarding, and complimentary remote assistance. In addition, some standout strong sides of PrivateVPN are the ease of use of the platform, multi-device compatibility, quick connection times, and a cost-effective longer-term plan.
PrivateVPN ensures the security and privacy of Internet users through the deployment of military-grade 2048-bit encryption with AES 256-bit and robust protocols. In addition to a kill switch and DNS leak prevention, PrivateVPN prevents user data from unauthorized access.
As mentioned in a recent Security Gladiator's PrivateVPN review, PrivateVPN's pricing is available in three packages: a one-month plan for $8.99 per month, a three-month plan for $6.00 per month, and a three-year plan for $2.00 per month. PrivateVPN is also one of the most cost-effective premium VPNs that gives discounts for longer-term subscriptions. The firm in charge of PrivateVPN is PrivateVPN Global AB.
PrivateVPN works with Roku to unblock multiple media platforms, such as Netflix, Hulu, HBO, and Amazon Prime Video. However, individuals can use PrivateVPN to access geo-restricted media content on Roku. The VPN protects users by encrypting the IP addresses to grant users unrestricted access to content online.
4. VyprVPN for Roku
VyprVPN is a user-friendly VPN for Roku that protects users' internet privacy and security without sacrificing performance. VyprVPN provides 700 updated and speedy servers in 78 countries. This VPN also has a smart DNS with proprietary control over the VPN's infrastructures, including its servers. VyprVPN unblocks content from Netflix, Hulu, Amazon Prime Video, BBC iPlayer, and, of course, Roku.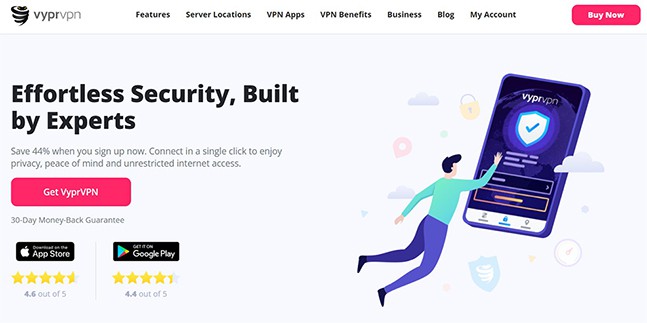 VyprVPN's advantages include unlimited connections, multi-factor authentication, private DNS, simultaneous connections on five devices, a no-logging policy, cutting-edge encryption, robust protocols, excellent customer service, circumvention of government censorship, and P2P file sharing. The disadvantages of VyprVPN include the absence of smart DNS, uneven speed performance, the lack of a free plan, and pricey subscription plans.
VyprVPN's unique features include an integrated router app, the absence of third-party interference, dependable security and privacy protections, and a no-logging policy that has been publicly audited. VyprVPN's strong sides include its unique Chameleon technology, unlimited simultaneous connections, access to blocked online content, a kill switch, public WiFi protection, high-speed streaming, and 24/7 customer support.
The security features of VyprVPN include some unique features, such as the VyprVPN Chameleon for circumventing prohibited content, VyprVPN DNS, and VyprVPN cloud. In addition, VyprVPN employs AES 256-bit encryption and robust protocols, including PPTP, L2TP/IPsec, IKEv2., WireGuard, OpenVPN, and Chameleon. For added data security, Vypr also provides DNS protection.
VyprVPN is available with two main subscription packages, including a monthly plan, costing $15.00 per month and a 2 month plan, which costs $8.33 per month. The Golden Frog organization owns VyprVPN.
VyprVPN is fully compatible with Roku. Once users are subscribed to the VPN, VyprVPN modifies the viewers' IP addresses to circumvent geo-restrictions and allows streaming from anywhere. According to a recent Security Gladiator's VyprVPN review, using a VPN also ensures the best levels of privacy and security while streaming. Importantly, with VyprVPN, viewers may access all their favorite Roku shows from any location worldwide.
5. SaferVPN for Roku
SaferVPN, which is now changing its identity to StrongVPN, is a Roku-specific VPN ideal for streaming. With SaferVPN it is possible to adjust the VPN's speed by switching to a nearby server from more than 950 servers available. As a streaming-specific VPN, SaferVPN is compatible with services such as Netflix, Hulu, Sling TV, Amazon Prime Video, Kodi, and more.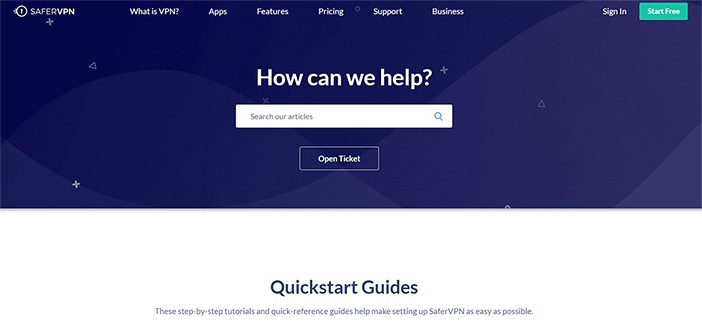 SaferVPN's advantages include optimized servers for streaming, an automatic kill switch, robust encryption, a dependable privacy policy, simultaneous connections for five devices, a lightning-fast connection, simple usage, excellent customer service, and a refund policy. SaferVPN's disadvantages include the VPN's location (the United States), restricted torrenting support, the absence of a free plan, and a limited number of servers.
SaferVPN's unique features include prompt customer service, the safety of user data, a 30-day money-back guarantee, smooth streaming with Roku, military-grade encryption, and a user-friendly interface. The strong sides of SaferVPN include fast streaming, user-friendly tutorials, self-managed servers, browser add ons, and unlimited bandwidth.
SaferVPN operates with military-grade 256-bit AES encryption and robust protocols such as OpenVPN, IKEv2, L2TP/IPSec, and PPTP. A kill switch is also employed to protect users' network traffic in the event of a VPN connection disruption. Finally, DNS leak protection maintains the online security of user data.
SaferVPN has both monthly and annual pricing options: the monthly plan costs $12.95 per month, 1 year costs $65.88, 2 years cost $78.96, and 3 years cost $89.99. However, StrongVPN is now taking over SaferVPN. The StrongVPN monthly subscription costs $11.99 per month or $3.66 per month when billed annually. J2 Global's NetProtect owns SaferVPN.
By encrypting users' IP addresses, SaferVPN effectively simplifies Roku streaming and enables a limitless viewing experience. A detailed SaferVPN review by Security Gladiators also showed that the VPN encrypts its users' Internet data to prevent snoopers and hackers from stealing any sensitive information.
6. NordVPN for Roku
NordVPN is an amazing VPN for Roku that provides robust security, remarkable speed performance, and dependable privacy features. Over 5000 ultra-fast servers are located in 60 locations across the globe. According to Av-Test's recent speed Tests, NordVPN was the fastest VPN available today. Further, NordVPN has undergone two independent audits, demonstrating its authenticity. NordVPN is able to stream several services, including Netflix, BBC iPlayer, ABC iView, Hulu, and Roku TV.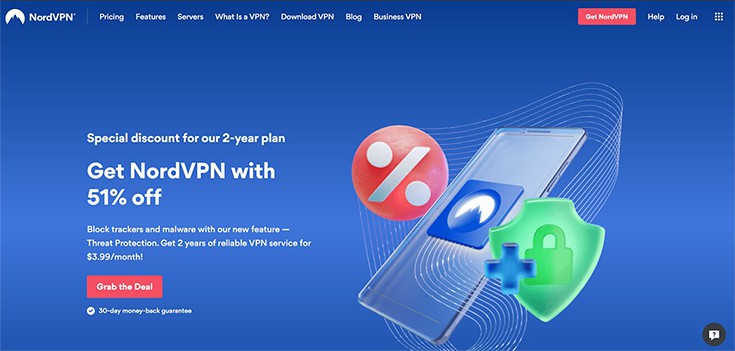 NordVPN can offer benefits such as speed, privacy, and security. Other advantages of NordVPN include a very high server count, robust encryption, unlimited bandwidth, split tunneling, torrenting, a 30-day money-back guarantee, a kill switch, prompt customer service, a no-logging policy, and the ability to circumvent restrictions. The disadvantages of using NordVPN include poor speeds on some servers, the absence of a specialized router application, and costly monthly rates.
The unique features of NordVPN are a truly excellent streaming performance, helpful guidelines on router usage, up to six simultaneous connections, multiple payment choices, and limitless bandwidth. The strong sides of NordVPN are consistent quality performance, the safety of user data, obfuscated servers, access to unrestricted internet usage, optimized servers for users' needs, and threat protection.
Security Gladiators' NordVPN review discussed that users may rely on the VPN for optimum online security because NordVPN has been shown to consistently prioritize its users' protection and respect individual privacy. NordVPN's security features include next-generation encryption, a strong protocol, a strict no-logging policy, multi-factor authentication, and double protection.
All three packages of NordVPN's pricing options include complimentary threat prevention, malware protection, tracker blocking, and ad blocking. The packages consist of a one-month plan costing $11.99 per month, a one-year plan costing the equivalent of $4.99 per month, and a two-year plan costing $3.99 per month. Currently, NordVPN is managed by Nord Security.
NordVPN ensures swift and secure streaming with Roku TV. The VPN can provide a seamless streaming experience owing to its significant built-in capabilities. When individuals subscribe to NordVPN for Roku, the VPN enables many security features, including obfuscated servers, military-grade encryption, and the Nordlynx protocol to conceal users' IP addresses and enable unfettered internet access from anywhere in the world.
7. IPvanish for Roku
IPVanish is one of the most dependable VPNs for all devices, including Roku. IPVanish provides a moderate number of servers (2000 and counting) in 75 locations but provides swift streaming and secure Internet connectivity. IPVanish unblocks streaming platforms like Netflix, Hulu, CNN, and Amazon Prime with ease.
The advantages of IPVanish for Roku include safe servers, access to more than 40,000 IP addresses, unlimited bandwidth, 24/7 live chat, a dependable refund policy, a certified no-logging policy, and secure WiFi security. IPVanish's disadvantages are its lack of an anonymous payment option, its pricey monthly plan, the absence of a free plan, and its headquarters location (US).
IPVanish's unique features include antivirus, secure access to blocked websites, limitless device connection, advanced encryption capabilities, user-friendly interfaces, and compatibility with Roku, Windows, macOS, iOS, and Android. IPVanish's strong sides include the ability to unblock geo-restricted content, dependable security features, risk-free yearly plans, and unlimited bandwidth.
IPVanish is a security-conscious VPN that also has strong in-built security features. These include military-grade encryption with multiple VPN protocols such as WireGuard, OpenVPN, IKEv2, L2TP, and IPSec. IPVanish also allows users to experience advanced IP address privacy protection with the SOCKS5 proxy. Other security features include DNS leak protection and a VPN kill switch to protect users during sudden VPN disconnection.
According to this Security Gladiators' IPVanish VPN review for Android, IPVanish offers flexible, competitive pricing and enhanced features. The pricing plans are offered in monthly, quarterly, and annual packages costing $10.99, $5.32, and $3.99, respectively. J2 Global owns IPVanish.
IPVanish VPN provides unrestricted internet access and unlimited streaming across multiple platforms, with Roku compatibility that doesn't degrade performance. Once users select one of the IPVanish pricing plans, the VPN will hide users' real IP addresses to circumvent restrictions. With the capabilities mentioned earlier, IPVanish can allow sweat-free streaming.
8. ExpressVPN for Roku
ExpressVPN is one of the most popular VPNs available for Roku. ExpressVPN provides a comprehensive experience that includes fast streaming, secure browsing, and unlimited internet access from anywhere in the world. With 3000 servers in 94 countries, ExpressVPN is able to unblock streaming services like Netflix, Amazon Prime Video, BBC iPlayer, YouTube, Disney+, NBC, HBO GO, and Hulu.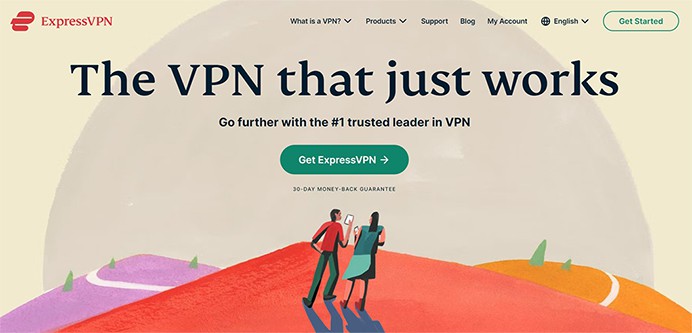 The advantages of using ExpressVPN include impressive speed performance, unlimited bandwidth, a dependable dedicated router app, multi-factor authentication, dynamic IP addresses, support for browser extensions, flexible pricing plans, simultaneous connections on five devices, and a zero-logging policy to ensure the privacy of users' data. The disadvantages of ExpressVPN are the costly monthly subscriptions and the unavailability of a free plan.
The unique features of ExpressVPN include a 24/7 live chat, fast servers in 94 countries, a 30-day money-back guarantee, cutting-edge encryption, no connection logs, and a discount on the 12-month membership.
ExpressVPN's strong sides include consistent quality streaming, a strict privacy policy, limitless high-speed bandwidth, user-friendliness, and compatibility with Roku, macOS, iOS, Apple TV, Windows, Android, Chrome, Firefox, and some Routers.
ExpressVPN is a renowned VPN that provides industry-standard security measures to protect its users' data and ensure personal anonymity. ExpressVPN also employs various protocols and military-grade 256-bit encryption to ensure that any cyber threat to user data is impossible. ExpressVPN utilizes VPN protocols Lightway, OpenVPN, IPSec, IKEv2, PPTP, and WireGuard. Kape Technologies owns ExpressVPN.
The monthly ExpressVPN subscription costs $12.95, six months cost $9.99, and twelve months cost $6.67 per month. The 12-month subscription also provides users with additional benefits, including three months free and one year of free unlimited cloud storage from Backblaze. For full details of the available plans, see this ExpressVPN Review.
In general, Roku does not support VPN usage directly. As a result, only a few VPNs are compatible with Roku. ExpressVPN's 3000+ server network and special cutting-edge capabilities make Roku streaming simple and efficient.
9. Zenmate for Roku
Zenmate is one of the best streaming VPNs for Roku that is simple to use and enables affordable streaming. With 4200 servers in 80 countries, Zenmate provides sophisticated server infrastructures for the optimal digital living experience. Zenmate also offers specialized streaming servers that enable users to access services like BBC iPlayer, Netflix, Showtime, HBO GO, Amazon Prime Video, and more.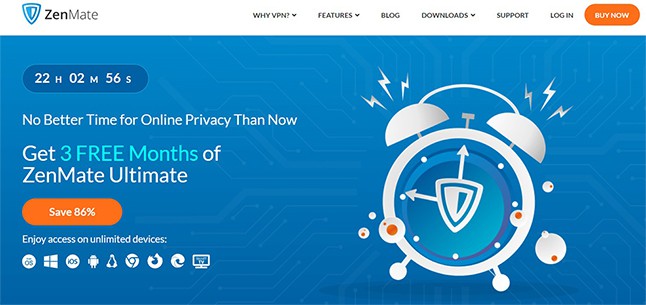 Zenmate's advantages include dedicated streaming servers, compatibility with popular platforms, quick speeds, strong encryption, DNS leak prevention, dependable privacy policy, unlimited device protection, a reliable refund policy, superior customer service, and a 7-day free trial. The main disadvantages of Zenmate for Roku are the costly monthly plan, limited payment choices, and the small number of servers compared to its competitors.
Zenmate's unique features include unlimited connections, a cost-effective long-term subscription, support for torrenting, a 30-day money-back guarantee, powerful encryption, lightning-fast speeds, and excellent security features. Zenmate's strong sides are its simplicity, limitless bandwidth, user-friendliness, one-click security and privacy for all Internet users, and unblocking of streaming devices such as Roku.
Zenmate VPN encrypts user traffic with security features like AES 256-bit encryption and advanced protocols like OpenVPN, IPSec, IKEv2, and L2TP. Also included are DNS leak protection, an automatic shutdown switch, and a no-logging policy.
Zenmate has several pricing structures for various browsers and devices. Therefore, the price plan for all devices includes three payment options: a monthly rate of $10.99, an annual rate of $4.49, and a three-year rate of $1.15 each month. Zenmate is owned by Kape technologies.
The Zenmate review by Security Gladiators explained that Zenmate aims to provide internet freedom to users by unblocking geo-restricted content. Zenmate is a VPN service exclusively built for Roku streaming devices. With a single subscription, users can connect an unlimited number of devices to the VPN service, which provides swift browsing. The VPN employs military-grade encryption to ensure that no one can access users' data even while accessing restricted information.
Note:
Prices may differ from the ones shown as new plans and deals are launched on a regular basis. Please be sure to check the most current price on the official website.
How to Set Up and Use a VPN on Roku?
U
nfortunately, Roku does not support VPN usage on the device directly. However, there are multiple options for users to configure a VPN on Roku. Users can set up a VPN on any WiFi network, create a WiFi hotspot connected to a VPN on a laptop, or connect an Android smart smartphone to a VPN and then screencast to a Roku.
Despite the seeming complexity of these approaches, installing VPN services on a Roku device only requires a few steps. Follow the below instructions to configure a VPN on Roku.
1. Setting up a VPN on the router. To configure a VPN on the router, first, visit the VPN provider's website and download the manual OpenVPN configuration files for the preferred location to stream Roku. Then follow the instructions below.
Input the router's IP address, typically 192.168.1.1 or 192.168.100.1, into the browser's address bar.
Enter the username and password associated with the router.
Check a few settings before beginning, disable IPv6 and the firewall, and change the ISP data to Google so that the VPN may operate without interruption.
Select VPN by navigating to Services.
Enable the OpenVPN client and enter the VPN server's IP address in the server IP (visit the VPN website for this information).
Input the username and password for the VPN, and save the changes. Then, reboot the router.
Wait a few minutes for the OpenVPN connection installation to complete.
Check the status of the VPN connection before use.
The IP address would have changed to that of the chosen location by now.
2. Using a VPN on Roku: To use a VPN with Roku, both the VPN and Roku's IP address must be set to the same location. Once the IP address has been found, proceed with the subsequent steps.
Launch Roku's Settings and then scroll to Network.
Then, click WiFi, select a preferred network, and input the VPN password.
Click the connect button. Then, access services like Hulu, Netflix, etc.
Users can reset Roku to factory settings or disable VPN on the router to disable VPN on Roku.
What to Look for in a VPN for Roku?
Privacy: opt for a VPN that offers a strong privacy policy. The VPN must offer capabilities such as DNS leak protection, kill switch, etc., to ensure anonymous browsing.
No-log policy: some VPNs retain user information, while others merely require login credentials. Therefore, a VPN must have a trustworthy no-logging policy. Some VPNs are also located in regions where governments may request user data. Before choosing a VPN in these regions, users must conduct extensive research.
Server coverage: good server coverage is essential so that the performance is not impaired or overloaded by many users connecting to a small number of servers.
Unblocking ability: due to restricted channels, the majority of Roku users employ a VPN. Therefore, a VPN for Roku must have robust capabilities to evade government censorship and unblock numerous channels.
Possibility of router installation: certain VPNs prohibit router installation. By choosing a VPN that is compatible with routers, the hassle of installation and configuration can be avoided.
Reliability: performance stability is an additional crucial factor to consider when picking a VPN. To prevent connection failures when users are streaming, the VPN must provide good performance constantly.
What are the Benefits of Using a VPN for Roku?
The benefits of using a VPN with Roku are similar to the general benefits of VPNs. With this said, the top three benefits of using a VPN for Roku include circumventing censorship, the ability to unblock all restricted content and streaming services, and protection of user privacy. The majority of Roku VPN users circumvent censorship to access additional content. Additionally, users require internet security when accessing desired web content. A powerful VPN may simultaneously provide all of these benefits.
What are the VPNs that don't work with Roku?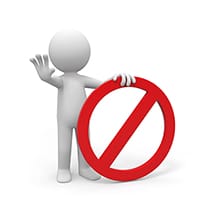 Some VPNs are incompatible with Roku; however, most VPNs make Roku streaming simple and fast. Some of these VPNs are effective in terms of security and anonymity. But when considering bypassing restrictions or unblocking geo-restricted content, many VPNs fall short. Due to limitations on sophisticated capabilities, most free VPNs are incompatible with Roku. Similarly, TorGuard, Mullvad, and AirVPN are not compatible with Roku.