Secure Sockets Layer VPN (SSL VPN) is a data security and privacy tool that enables safe remote access to an organization's network without requiring users' devices to run any additional security software. This unique service enables employees to safely access an organization's application or critical data from any device without the fear of being exposed to security dangers. SSL VPNs have become an important cybersecurity tool, especially during the epidemic, when most internet users choose to work or study from home. This increase in internet usage also led to an upsurge in cyber threats, necessitating robust measures to deter criminal conduct. Therefore, data access is limited to authorized individuals and information technology (IT) administrators alone by incorporating an SSL VPN. However, enterprises need to select a robust SSL VPN compatible with the user's goals. This article is the perfect guide to making such a choice.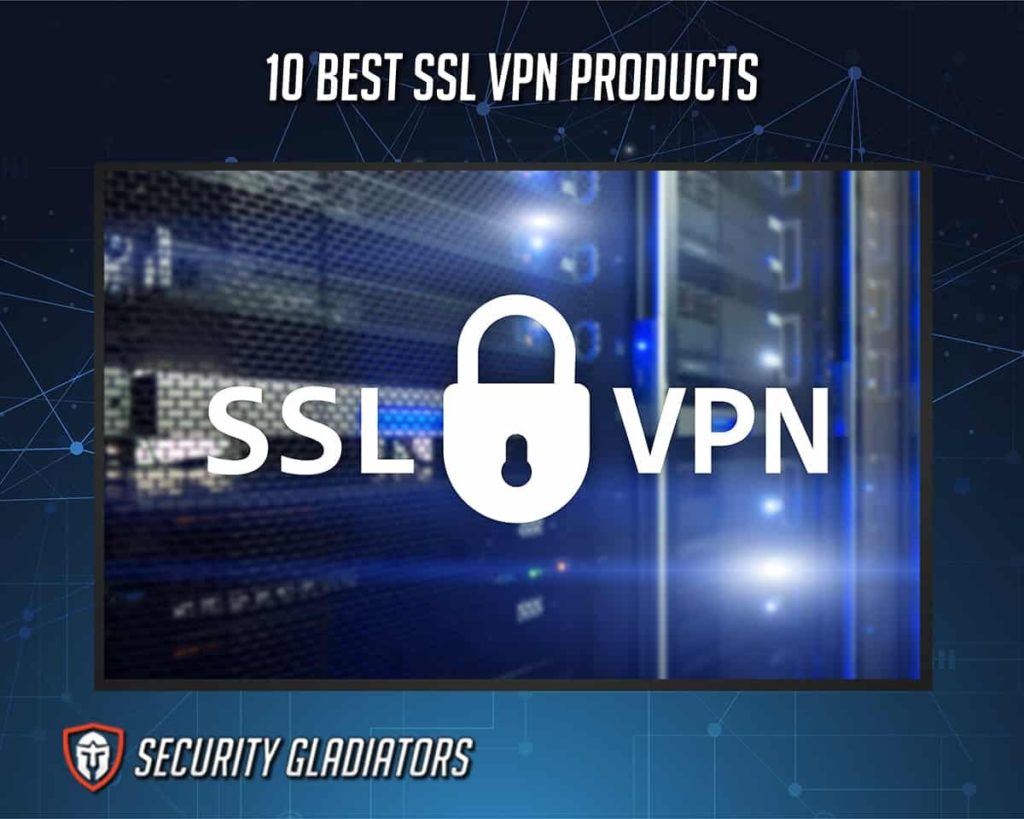 SSL VPNs are becoming increasingly important daily, much more so during the epidemic, when most internet users are choosing to work or study from home. As a result, the cyberthreat level has also heightened. However, data access is limited to authorized individuals with an SSL VPN, and information technology (IT) administrators have complete control over user data access. SSLs, like conventional VPNs, enable secure communication across all devices. However, enterprises need to select a robust SSL VPN compatible with the goals of the user. This article is the perfect guide to making such a choice.
The best SSL VPN products are listed below.
Pulse Connect Secure
Citrix Gateway
SonicWall SMA
Cisco IOS SSL VPN
Hillstone E-Series
Sangfor SSL VPN
Barracuda SSL VPN
F5 BIG-IP Access Policy Manager (APM)
FortiGate
Check Point Quantum Security Gateway
1. Pulse Connect Secure
Pulse Connect Secure (PCS) is a leading SSL VPN solution that enables secure hybrid IT access to enterprise data from any location. This solution enables data security by resolving daily business difficulties associated with third-party worker access to sensitive data that could jeopardize business continuity. Pulse provides over 24,000 organizations with TLS and on-the-go VPN solutions.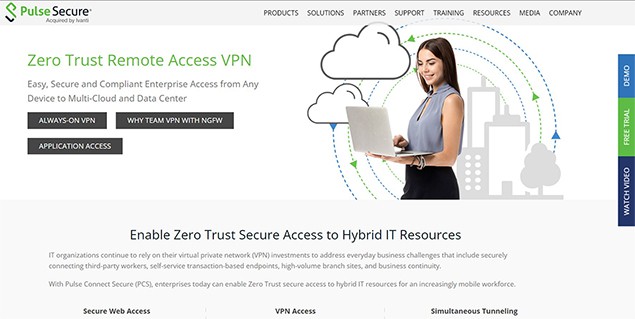 The advantages of this zero-trust secure access include secure internet access, 24/7 VPN access, concurrent tunneling, data, multi-cloud access, business compliance, supervisory control, multiple verification and digital certificates. On the other hand, there are disadvantages: difficulty logging in due to the multiple authentication steps, the lack of mobile apps and a high price.
Similarly, there are drawbacks, like a lack of a mobile app and high pricing.
Pulse Connect Secure is distinguished by ease of use, flexibility, setup, high stability, documentation of security best practices, decrease in administration complexity, clientless access and dedicated security solution for enterprises of any size. The SSL VPN's strong points are broad compatibility, flexibility, endpoint location-based services, always-on VPN and productivity maximization.
PCS is a secure service that acts as an application layer entry point between the public internet and an organization's internal resources. This solution ensures that all requests entering the PCS are encrypted using SSL/TLS by the target user's device. Users are urged to keep the service updated regularly to avoid any vulnerability.
Although this enterprise solution is not free, PCS does offer a free trial period during which users can evaluate the VPN before committing fully. Pulse Connect Secure is a business product owned by Ivanti – an information technology security company.
PCS strives to ensure the security of all data. Pulse Connect Secure accomplishes this by interposing a layer of protection between the data that passes between external services and the company's internal infrastructure.
2. Citrix Gateway
Citrix Gateway is another zero-trust security solution that enables remote workers to keep working without any risks to security. Citrix also helps increase staff productivity by enabling remote access. Employees may securely access any work data or application, regardless of geographic location. The VPN encrypts all traffic using industry-standard SSL and TLS encryption which allows users to access on-premises or cloud-based data securely.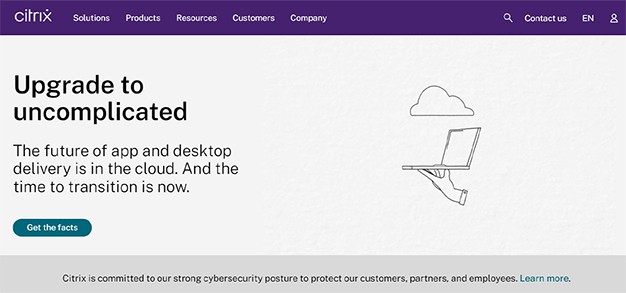 The VPN encrypts all traffic using industry-standard SSL and TLS encryption, enabling users to access cloud-based app data.
Citrix Gateway benefits include remote access for a variety of application types, centrally controlled security and policies, the reduced total cost of ownership, end-to-end accessibility, multiple levels of authentication, single sign-on access, complete access to a company's data from any location, ease of use, a quick and simple installation procedure, reliability and a variety of features.
Citrix has several negatives, including advanced capabilities that may be difficult to master for beginners, a high price, automation challenges and cloud constraints.
Citrix Gateway has certain distinguishing characteristics, including reliability, secure access to company resources by third parties, user experience stability, content collaboration and a digital workspace. Citrix SSL VPN's strong points include quick access to businesses' data from any device, server load balancing for users, site filtering and user statistics.
Citrix Gateway is safe, encrypting data access using industry-standard TLS and SSL. Keeping workstations up-to-date with security updates is one of Citrix's security best practices. Additional protocols supported by Citrix Gateway include HTTP, SSL, FTP and SOCKS.
Citrix pricing is a little high, with a perpetual license starting at $995. Users can, however, contact support to inquire about the price of the subscription licenses. Ed Iacobucci is the originator of Citrix Gateway.
Citrix Gateway is available on-premises, in a hybrid cloud or in the public cloud. This SSL VPN consolidates remote access resources to give secure access to all applications. Users can select between full tunnel VPN and clientless VPN to access apps and data deployed on-premises or in a cloud environment.
3. SonicWall SMA
SonicWall Secure Mobile Access (SMA) is a simple-to-use SSL VPN that works with Amazon Web Services (AWS). This solution's primary objective is to safeguard an organization's workforce by enabling authorized users to access resources from any device, anywhere in the world. Additionally, SMA supports data centers that are on-premises, hybrid, or cloud-based.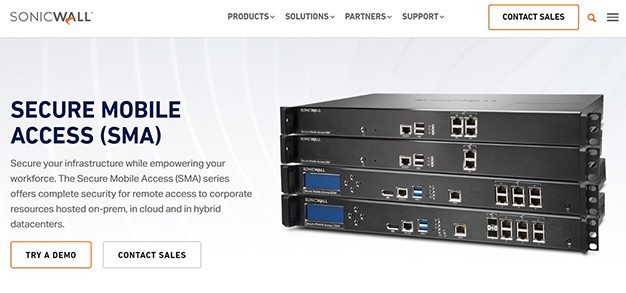 Secure Mobile Access's advantages include ease of use, user authentication, threat and attack prevention, versatile usage options, speedy and secure remote access, a central administration server, high stability, an intuitive user interface and excellent customer support.
The downsides of SMA include an additional price for additional functionalities, detailed logs, interrupted updates and a difficult setup procedure for beginners.
SonicWall SMA's unique features include protection against firewall attacks, wireless network attacks, WAN acceleration, VPN clients, email security and remote access attacks. The SSL VPN has several strong points, including threat screening and diagnostic, analytics, FIPS 140-2 certification, various proxy settings, a sandbox and rapid alerting.
SonicWall SMA is a secure SSL VPN that adds a layer of security to help enterprises meet business security objectives and avoid cyber threats. SMA works with the SonicWall Capture ATP multi-engine cloud-based sandbox to scan all documents.
SonicWall SMA is offered in various configurations, including appliances, customized machines and public cloud service. Additionally, the program enables users to test the live demo for free before making a payment commitment. However, pricing for the service is only available via contacting sales via the website's "How to Buy" link.
Francisco Partners and Elliott Management jointly control SonicWall SMA – the private network security company.
Note:
SMA acts as a specialized and secure remote access solution. SSL VPN establishes secure connectivity to corporate networks and enables security features to be customized. However, employees will be able to access company apps and resources simply and securely from any location.
4. Cisco IOS SSL VPN
Cisco IOS SSL VPN is a router-based SSL VPN that operates without additional devices. This solution leverages industry-leading encryption and routing capabilities to provide users and ITs with transparent security. As a result, any employee with an internet connection and a web browser can securely access company resources and data. Additionally, IT people can tailor access to different employees or persons based on particular tasks, whether third-party or in-house employees.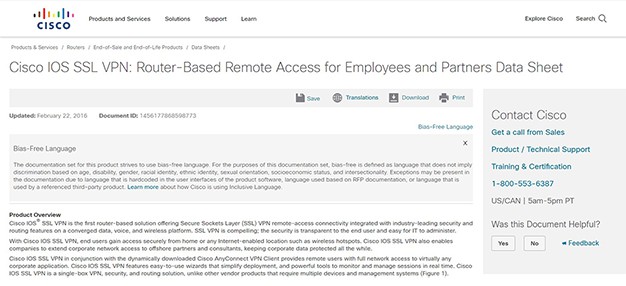 Cisco IOS SSL VPN benefits include secure connection, threat management, increased staff productivity, compliance with regulations, ease of setup and use, network access control, client-side certification verification and user authentication capabilities. On the other hand, Cisco SSL VPN's negatives include sluggish browsing speeds, high pricing, authentication upgrade difficulties and lack of support for large companies.
The distinctive characteristics include support for mobile devices, extensive technical support, ease of use, dependability, longevity and an advanced option for network access control. Similarly, the SSL VPN has several good points, including an attractive user interface, advanced tools for real-time tracking and ease of interaction with third-party service providers.
Cisco's end-to-end encryption is secure and requires authentication and approval before use. Users may enjoy a reliable, secure connection with AnyConnect, which is programmed to be available at all times, even when roaming across networks.
Cisco IOS SSL VPN is a licensed feature for which users need to contact customer support for the price quote. However, product listings state that the Cisco IOS SSL VPN costs $300 for 10 users. Cisco Systems international is the firm in charge of Cisco IOS SSL VPN's operations.
Cisco SSL VPN establishes a secure connection between remote users and an organization's internal network resources by utilizing SSL protocols and cipher suites.
5. Hillstone E-Series
Hillstone E-Series is a comprehensive corporate solution that enables advanced application control regardless of protocol or port. This SSL VPN enables businesses to mitigate against potential attacks linked with certain applications. The Hillstone E-Series Walls deliver excellent performance with complete security and innovative functionality.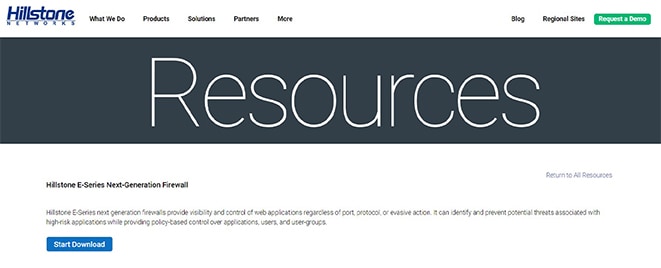 The benefits of employing this SSL VPN include security management, intrusion detection, security auditing, malware detection, reliability, ease of management, log data transformation into security intelligence, real-time visibility and responsive technical assistance. The disadvantages of this SSL VPN are a high price tag and feature complexity.
Nonetheless, the Hillstone E-Series is distinguished by several unique capabilities, including edge protection, cloud protection, server protection, application security and security management. Similarly, the enterprise VPN's strong points include exceptional performance, granular reporting, in-depth threat analysis and scalable security.
Hillstone is secure, relying on network security and sophisticated firewall technologies such as URL filtering and antivirus to stop malicious and untrusted traffic.
The price of the Hillstone E-Series next-generation firewalls ranges from $500 to $2,000 per unit. Hillstone Networks is in charge of the service.
The Hillstone E-Series next-generation firewalls govern data traffic to protect against threats. While the solution secures workplace networks, Hillstone also provides policy-based control over apps, users and user groups.
6. Sangfor SSL VPN
Sangfor SSL VPN is one of the best enterprise security systems available, with extensive configuration options for restricting user access based on either IP or MAC address. The VPN's primary objective is to provide a secure and superior user experience for remote work from any location. Sangfor is a famous SSL VPN service with over 18,000 subscribers.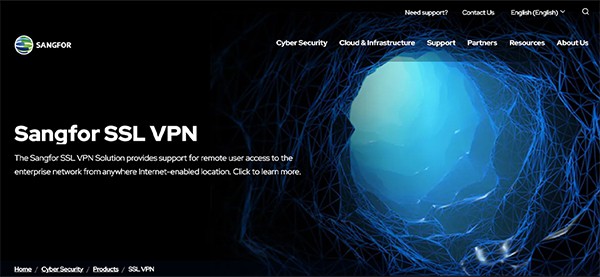 Sangfor SSL VPN's advantages include restricting user access, the convenience of use, responsive customer assistance, affordability, ease of setup and security reinforcement. The downsides of employing an SSL VPN include the possibility that some functionality will lag, necessitating improvement.
Sangfor SSL VPN's distinctive features include the ability to restrict user access using MAC and IP addresses, mobile adaptability, cloud storage and ease of maintenance. Similarly, this VPN's strong points include rapid integration of VPN capabilities, ease of connection and enterprise mobility management.
Note:
Sangfor SSL VPN connects to the internet using SSL and encrypts data. Additionally, this VPN employs seven distinct modes of login authentication to ensure data protection and mitigate threats.
Sangfor's pricing structure is reasonable and a typical plan enables up to 30 users. Sangfor is the firm accountable for this SSL VPN.
Sangfor SSL VPN works by incorporating Byte Cache software into SSL VPN connections, which efficiently reduces up to 90% of redundancy on SSL VPN lines and enables employees to connect quickly from any location.
7. Barracuda SSL VPN
Barracuda SSL VPN is a simple-to-use company security solution that enables businesses to connect to internal resources and information flexibly and securely. Users can access the company's files from anywhere in the world using a web browser or any mobile device.
The benefits of this VPN include ease of use, excellent features, broad compatibility with any device, built-in antivirus, affordability, a free trial and security with multi-factor authentication. On the other hand, Barracuda's drawbacks include inconsistent updates, a lack of pricing information and inadequate web filtering reports.
This SSL VPN is distinguished by improved security, threat intelligence, adaptability, usability, virus scanning, mobile support and virtual keyboard. Similarly, Barracuda's strong points include sturdy hardware, support for Google authenticator, compatibility with popular mobile platforms, single sign-on and health management.
Barracuda SSL VPN is a twenty-first-century cybersecurity product that adds additional layers of security to remote work access. Additionally, there is an integrated virus scanner that discovers viruses. Further, Barracuda supports authentication tokens such as SecurID, VASCO, Safeword and CryptoCard.
Barracuda SSL VPN offers a free trial period during which users can evaluate the service. However, the pricing structure is quite complicated, as the price quotation depends on the users' intended use and other considerations. However, the VPN client is $2,886 for a one-year subscription, $7,376 for a three-year subscription and $11,548 for a five-year subscription.
Barracuda Networks is the firm responsible for the Barracuda SSL VPN, whereas Thoma Bravo, LLC is the owner.
Like other popular VPNs, Barracuda SSL VPN enables secure remote access for desktop and mobile users. This VPN enables remote workers to connect to the office network and access critical files and applications regardless of location. However, this VPN is a little more complicated than others due to the business-oriented functionality.
8. F5 BIG-IP Access Policy Manager (APM)
F5 BIG-IP Access Policy Manager (APM) is a zero-trust access management solution that enables safe remote access to all an organization's activities. This product is simple to install and has a variety of robust security measures. This SSL VPN collaborates with premier security, information technology and infrastructure suppliers to enable next-generation identity and access management solutions.

The advantages of F5 BIG-IP APM are adaptive split tunneling, API protection, centralized management, identity-aware proxy, encrypted remote and mobile access, third-party integration, AAA server verification and classic validation. On the other side, the negatives of using SSL VPN include underdeveloped cloud services and an exorbitant price tag.
F5 BIG-IP APM is distinguished by ease of use, free trial, consistency and scalability, adaptive multi-factor authentication and powerful security. The VPN's strong points include zero-trust application support, single sign-on and an encrypted connection to back-end components.
F5 BIG-IP APM security supports Datagram Transport Layer Security (DTLS) mode and DTLS 2.0, enabling remote connections and tunnel time-sensitive applications. BIG-IP encrypts traffic between branch offices and data centers using IPsec. Additionally, the solution includes an SSL Orchestrator that enables powerful SSL/TLS decryption/encryption.
F5 is a premium product with a free trial available. Additionally, the solution provides variable price alternatives based on the user's requirements. However, users may contact the sales representative to obtain the price of the F5 option selected. F5 Networks is the backbone underlying F5 BIG-IP APM's operation.
Note:
F5 BIG-IP works by establishing a secure link between an organization's application and other users. This software restricts access to authorized individuals while safeguarding the virtual infrastructures of the business.
9. FortiGate
FortiGate is an enterprise-class security solution that excels in performance and multi-layer protection. Fortinet FortiGate has a firewall feature that supports a variety of operating levels, including integration with IaaS cloud platforms and public cloud environments.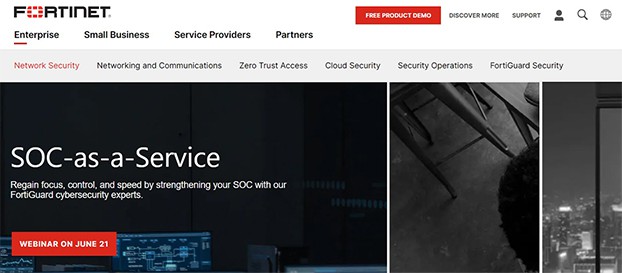 The benefits of using this product include sophisticated security features such as web filtering, SSL inspection, algorithmic threat protection, intrusion prevention, an intuitive management console, real-time antivirus updates, leading security technology and additional FortiGate integrations. FortiGate's shortcomings include cumbersome update procedures, high pricing, inadequate technical assistance and reporting that could be improved.
FortiGate's distinctive features include software control, easy management, detailed logging, NextGen firewall integration and support for large organizations. Similarly, this SSL VPN's strong points include granular application control, visibility, threat prevention, SSL inspection, different security settings, customized reporting and threat detection.
FortiGate is a network access security system protecting enterprises' networks against malware and other security threats. Additionally, FortiGate has capabilities such as a sandbox, virus outbreak protection and content disarm/reconstruction that enhance the service's security and threat management.
Additionally, FortiGate offers a free product demo that enables users to test the product before making a purchase. However, users must fill out a form before gaining access to the demo. Similarly, the product is pricey, and customers can contact the sales team for a quote. Fortinet founders Ken and Michael Xie own FortiGate.
FortiGate protects enterprises' networks against assaults by filtering traffic. The security product checks and verifies all data passing through the network infrastructures of an organization.
10. Check Point Quantum Security Gateway
Check Point Quantum Security Gateway is a powerful proactive security product protecting businesses' networks and remote users from cyberattacks. This solution enables remote VPN and IoT security access through enhanced security features. For scalable security, the security gateway appliances are offered in various capabilities.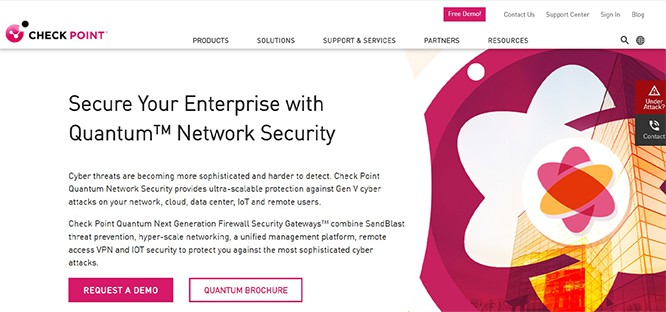 The benefits of this device include sandblasting threat prevention, a single management platform, remote access VPN, protection against cyberattacks, cyber security for the Internet of Things, branch virtual security gateways and high-performance CPUs. On the other hand, Check Point Quantum's shortcomings include complex features, a hefty price tag and a log size that could be improved.
Similarly, the secure gateway's unique characteristics include centralized security monitoring, threat intelligence, great efficiency, cyberattack mitigation, an appropriate management strategy, unbeatable security and a thorough guide. The strong sides of this VPN are on-demand threat prevention, quantum lightspeed, a data center and straightforward troubleshooting.
Check Point Security Gateway is secure and goes beyond any next-generation firewall in terms of security. To combat cyber threats, Check Point relies on the intelligent data threat technology ThreatCloud. Additionally, the system protects users from any attack, regardless of location, with creative and effective internet security on-premises, in the subsidiary and the data center.
Check Point is a high-priced security solution. The user's purpose determines the total price, and after completing a form, users can contact the sales team for a quote. Similarly, the SSL VPN provides a free demo in the same manner. Check Point Software Technologies Limited is the business that manages Quantum Security Gateway's operations.
Note:
The Check Point Quantum Security Gateway secures network traffic by allowing only trusted resources or files to flow while blocking all potentially malicious data packets.
How Safe is an SSL VPN?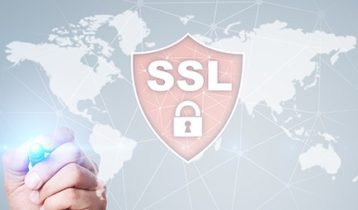 An SSL VPN is mostly used on a large scale to provide safe and encrypted data transfer and access on all devices, from anywhere. When users connect to another device over an SSL VPN, the interactions with other devices on public or private networks become secure. This is because SSL VPNs are encrypted using SSL or TLS. Additionally, SSL VPN enables remote workers or employees to enjoy the benefits of office work from home in terms of data access and security.
Users must also maintain a high-security awareness when utilizing an SSL VPN due to the inherent weaknesses. The majority of SSL VPNs use unsafe 1024-bit keys for RSA certificates. Generally, any RSA key length less than 2048 is deemed insecure due to the RSA certificate's weakness.
What is the Best Type of SSL VPN?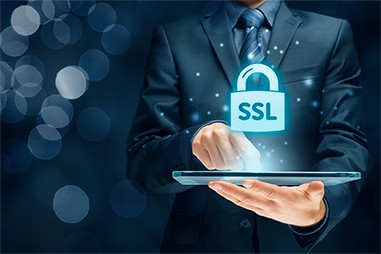 Different versions of SSL VPN are available to provide consumers with options. There are two types of SSL VPNs: portal VPNs and tunnel VPNs. While an SSL portal provides a single connection to a website, an SSL tunnel VPN enables a browser to connect to many network services via a tunnel. However, the best SSL VPN relies on the user's objective. Additionally, the optimal SSL VPN should incorporate interoperability, authentication, digital certificates, controls, virus scanning and integration.
Who Should Use an SSL VPN?
Organizations should use an SSL VPN. While individuals may wish to use an SSL VPN, the security solution is geared toward businesses. Enterprises utilize SSL VPN to provide remote access to internal resources and data for employees. Additionally, organizations utilize SSL VPNs to secure business employees' internet access, preventing unauthorized third parties from snooping or eavesdropping. As a result, an SSL VPN is ideal for business use rather than for personal use.
What are the Alternatives to SSL VPNs?
Regular VPNs such as NordVPN, Atlas, NordLayer, FastestVPN, CyberGhost, IPVanish, TunnelBear, OpenVPN, PureVPN, SaferVPN, PrivateVPN and CactusVPN are some of the alternatives to SSL VPNs.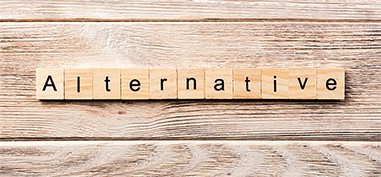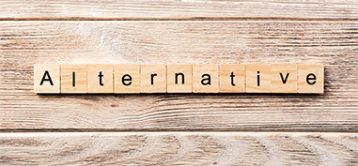 IPSec is another possible alternative. IPSec, or Internet Protocol Security, is a secure network protocol used in virtual private networks (VPNs) to authenticate and encrypt data packets for safe communication. Furthermore, the goal of an IPSec is to enable authentication and many layers of security. Within an enterprise, the IPSec protocol safeguards sensitive and confidential data. Additionally, this type of protocol is frequently used for end-to-end security in VPNs.
What is the Difference between a Regular VPN and an SSL VPN?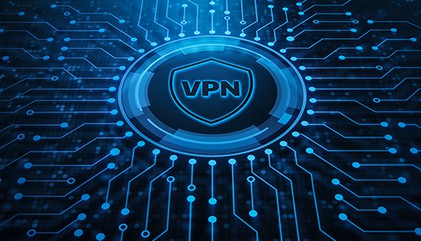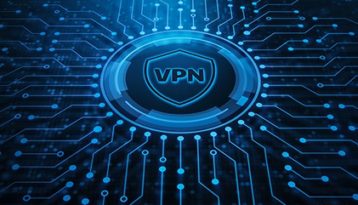 VPN is a broad term for internet security that encrypts data sent between users' computers and a remote server. SSL VPNs are encryption and authentication technologies used to secure and authenticate data traveling over the internet. Most notably, SSL VPNs are utilized for remote work that requires access to a company's files, resources, and data from home or another location. VPNs and SSL VPNs, in general, have a similar emphasis on security and protecting users' devices from cyber dangers.
Additionally, corporations employ SSL VPNs to protect web applications, whereas VPNs are used to secure web and other applications. An SSL VPNs restricts users' access to only authorized activities within a company, whereas a VPN provides complete access to everything on a network. Another reason SSL VPNs are enterprise-focused is that the solution enables enterprises to quickly limit and grant users access to specified resources depending on respective qualifications and roles.