S
treaming is any media content, live or recorded, sent over the internet to mobile devices and computers and replayed in real-time. Common types of digital streaming content include podcasts, webcasts, motion pictures, television shows and music videos. Video, audio, and other forms of media content are arranged and sent in a logical sequence for immediate streaming. Media items are automatically deleted after each play, compared to conventional downloads, which are kept on the streamer's device. For a complete stream, all users need is a dependable and fast internet connection, access to a streaming site such as an app and a suitable device. Video and audio data are split into data packets and dispatched over the internet. Each packet comprises a portion of the file, and a video or audio player on the user device interprets the stream of data packets as audio or video.
Data interchange over a network uses the User Datagram Protocol (UDP) or the Transmission Control Protocol (TCP). Although UDP has a quicker transfer speed, TCP is often a more reliable protocol. When speed is more important than reliability, UDP is more appropriate, while TCP is ideal when reliability is more important than speed. Consumer streaming services commonly use TCP, while UDP is best for virtual meetings.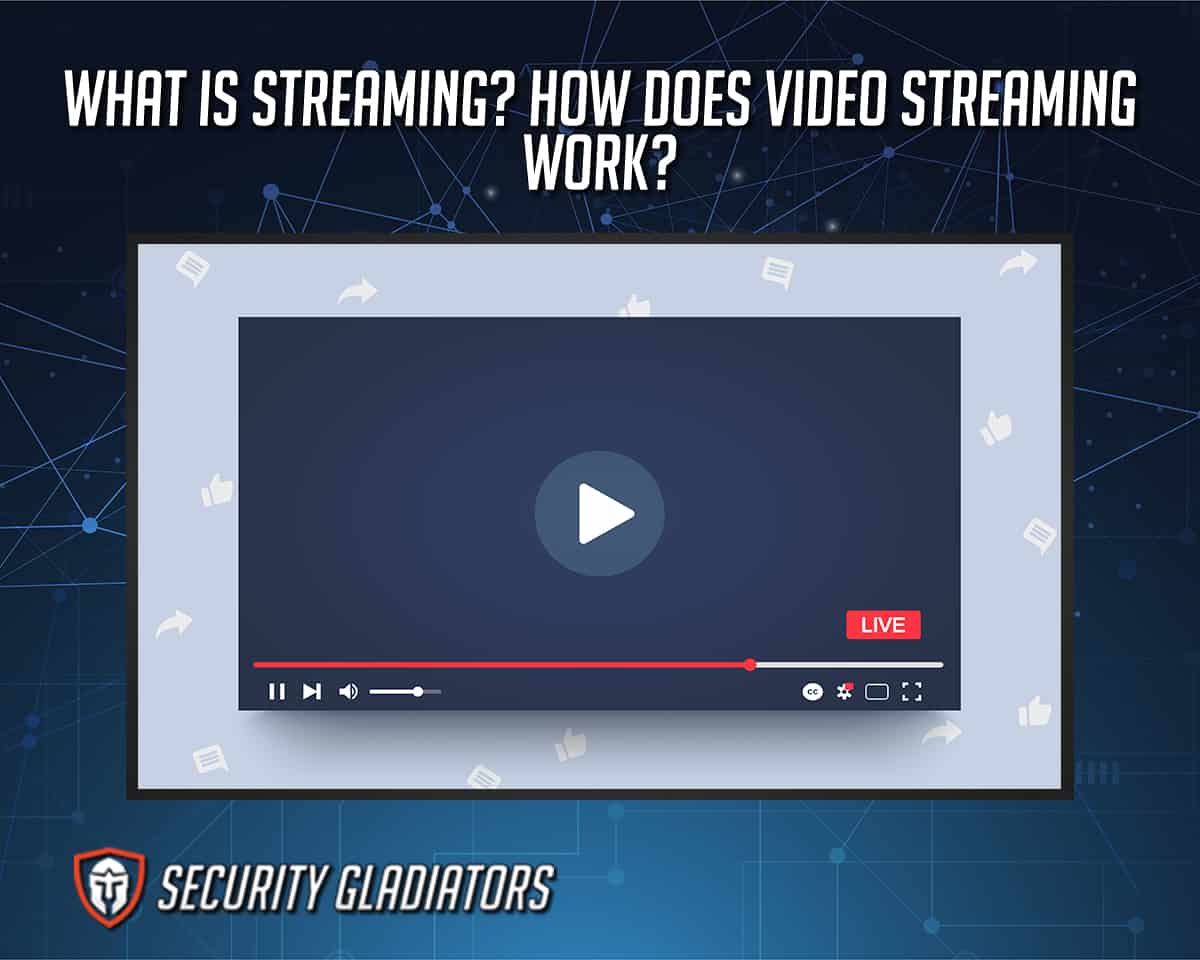 Although video streams can also be disseminated as part of a live broadcast feed, streams are often sent from an already-recorded video clip. In a live broadcast, the visual signal is compressed into a digital signal sent via a specialized web server that simultaneously distributes or multicasts the same file to many people. Users can watch content from desktop PCs, mobile phones, tablets, smart TVs and other gadgets like Apple TV or Chromecast. A streaming app software downloads the required files as needed, rather than installing files on a computer beforehand. Several streaming programs are available, including YouTube, Amazon Prime Video, Netflix, Disney+ and Twitch. Services like YouTube offer free video streaming and are ad-supported, whereas Netflix relies on paid user subscriptions. Most current streaming services, apps and platforms support 4K resolution.
The number of viewers who are concurrently video streaming online is known as the streamer count. Any person watching a live video is counted as a viewer, whether in a streaming account or not. That quantity decreases as soon as viewers quit streaming the video online. The streamer count may not update for up to a few minutes after a viewer quits watching a live stream. Some popular streaming services, such as YouTube and Netflix, experience higher user count than others in the market.
What Is the Definition of Streaming?
Streaming is the constant sending and receiving of data packets over a network. Streaming allows playback of content to start whereas the remaining data is still coming. Audio, video and games are the most frequently streamed content online. Streaming services supply music, movies or news that send the content to the viewer's computer, TV or mobile device. Examples with a lot of notoriety include Netflix, Hulu, Amazon Prime Video, Spotify and Apple Music.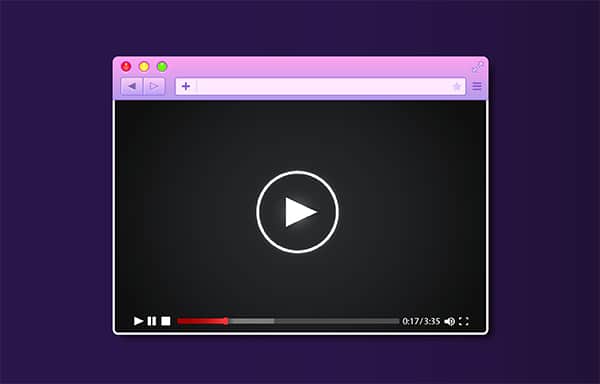 For instance, the user can begin watching a movie when the necessary data for streaming arrives on the device. The remaining data is transferred to the viewer's device as the video continues to run. Streaming services allow for the live transmission of media and the pre-recorded and subsequent playback of the data. Movies, television programs, webcasts, podcasts and music videos are a few examples of various streaming materials available. As long as the user has an active internet connection, everything happens in real-time at the user's request without requiring the end-user to download anything.
When streaming, the digital material being played on the user's device is kept off-site on the servers or cloud infrastructure of the content providers. Instead of moving all at once, the stored data leaves the cloud or servers in chunks known as packets. Because the packets are smaller, these packets are sent across the internet one at a time, enabling different sections of the file to reach the user's device much faster. The device's media player decodes the data as these packets start "buffering" or recombining data.
This buffer shows how much data has arrived that the user hasn't yet watched, allowing the viewer to keep streaming while the next section of the data downloads in the background. If the user's real-time consumption exceeds the buffer because of slower internet connections, the viewer may need to wait until additional data has arrived before moving on.
This is important:
Streaming service providers may need a license to stream. The terms and conditions of a streaming license vary from one country to another. The cost of the license will also depend on the streamer's country. A statutory license is what the government requires in the U.S. The primary licensing bodies in the U.S. include ASCAP, BMI, SESAC and SoundExchange. In the U.K., licenses are made simpler. U.K. licenses have one-off fees, in contrast to the U.S., which bases license costs on public performances. The major licensing bodies in the U.K. are PRS and PPL.
Free streaming solutions certainly sound great and are excellent for a brief time, but streamers don't get the full value of streams. Since the sites are free, there is no operational support and no one to ask for assistance when the streamer wants to maximize site usage or put together a top-notch show. The streamer is alone in this situation. A paid stream is much better for a high-quality, polished broadcast, providing viewers with a better experience.
If the streamer selects a streaming platform or service provider, the streamer will have to pay. But the services the user receives will differ depending on the provider chosen. Despite paying for the platform, some suppliers give very little help. The user might only receive email help in some circumstances, leaving the streamer to monitor the broadcast and identify issues. Many providers make estimating bandwidth consumption into a guessing game by using a live streaming cost estimator to calculate an approximate monthly or event cost. One of the major contributors to the expense of live streaming an event is the bandwidth because the more people that view a live stream, the more bandwidth the stream uses. These suppliers base live streaming prices on variables, such as the number of events planned for streaming, the intended bit rate and the expected audience size.
When Did Video Streaming Start?
The beginning of streaming was in the 1990s. In the late 1980s and into the 1990s, academic institutions, businesses and even common individuals began to connect over the internet as technology and protocols were being standardized. Second-run films and TV shows were initially offered as a supplemental option to digital download and DVD offerings on streaming services. These services complemented the cable TV shows throughout the initial and subsequent runs. The loss of traditional cable has been accelerated by faster internet connectivity and the growth of media streaming gadgets. More and more individuals are abandoning cable in favor of specialized streaming options.
When Did Video Streaming Services Start?
StarWorks, which debuted in 1992, was the first product to offer a streaming video for sale. At the time, only local area networks were supposed to use the product. RealNetworks, which was established in 1994, was a pioneer in creating streaming media that was significantly more compressed and thus possible to distribute over the internet, even via the dial-up links that were common then. Macromedia Flash, subsequently known as FutureSplash Animator, was introduced in 1996 and was used to broadcast animated presentations before eventually being expanded to stream video. This was another significant advance for streaming. But those weren't streaming services as we know them now.
In 1998, NULLsoft released the SHOUTcast audio streaming protocol. By 2000, an online resource of internet radio channels played music mostly and used the protocol. Although there were no subscription fees and everything was free content, that may be considered the first streaming service. Other popular streaming service providers came up, such as YouTube, which started video streaming in 2005, TED in 2006 and Netflix in 2007.
How To Perform Digital Streaming?
Content creators need to follow the following process to stream content.
Connect the streaming device to the video and audio sources that record the content for streaming (PC or laptop).
Set up the encoder, which converts audio and video files into streamable ones that can be distributed online.
Use the stream key and URL provided by the streaming platform to link the encoder and streaming platform.
Test the upload speed of the internet connection.
Stream away!
What Is a Video Streaming Platform?
A streaming platform is an online site that offers on-demand TV shows, movies, music, podcasts, games, fitness content, radio, in-person shopping and more. Some of the best streaming platforms are in more detail below.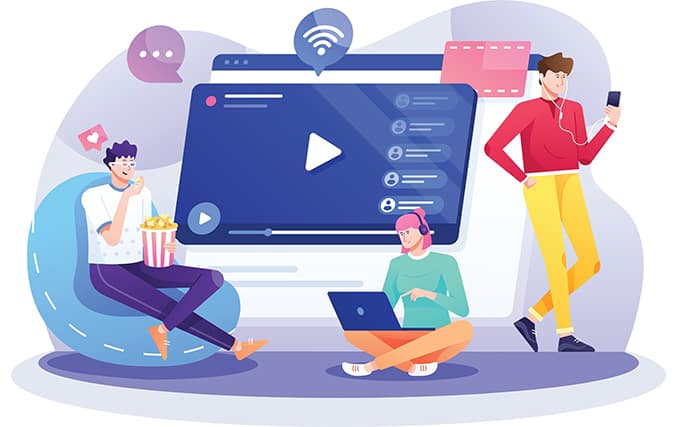 Game live streaming is a relatively recent development that gained popularity in the middle of the 2010s. Twitch was the first game-specific live streaming service to enter the market, and the platform has since grown to include a larger range of streaming video activities and consumers. Following Twitch's lead, other websites like Huya Live and platforms like YouTube and Facebook have also become popular gaming streaming platforms. Although these platforms sometimes give the impression of being just for fun, this sector has much business potential.
Similar to gaming, fitness streaming is frequently done live and then replayed at a later time. To achieve the goal of simulating a real fitness class, there is a comments section for participant questions. FWFG is one of the successful companies that incorporate streaming services into business tactics. The platform provider offers free condensed stream sessions on social networks and sells a paid video streaming platform on the website. This clever marketing funnel converts devoted viewers from free streaming sites to premium subscriptions.
The most competitive market segment in the streaming industry is probably the video-on-demand (VoD) streaming. To sustain market share, major players like Netflix, Max, HOB, Huu, Apple TV, Disney + and Amazon Prime Video constantly compete for the attention of viewers worldwide. These services require a subscription, while some platforms offer free plans for interruption advertisements.
Live shopping video streams are frequently held on social media platforms like Instagram, where companies and influencers with a built-in audience present products. Some consumers love live shopping, where everything from kitchen utensils to vehicles may be advertised on the feeds. Amazon has launched a live shopping platform, Amazon Live, where the organization collaborates with influencers from well-known brands to promote products.
What Are the Best Online Video Streaming Platforms?
Currently, the most widely used platforms for self-hosting and sharing videos are geared toward consumers (B2C). The main competitors in this space include Facebook Live and YouTube Live. These services are convenient for beginners, but the programs lack several essential features that most enterprises and professional broadcasters need. Both have shortcomings. For instance, because YouTube and Facebook are viewed as social media networks rather than just video platforms, many schools, workplaces and other settings ban using these networks. Streaming content over the most frequently restricted worldwide sites is not a good idea if the content creator wants to access the intended audience or increase viewership. Professional video streaming solutions might be used in this situation. Professional video distribution solutions enable streamers to give viewers access to videos in a controlled and polished environment.
One of the best streaming platforms is Dacast. Dacast is an integrated streaming service that offers both live and recorded media. Users can use the best live streaming CDNs (content delivery networks) with Dacast to reach people worldwide. Some of the platform's broadcasters are small to medium-sized businesses, large corporations, media companies, religious community networks, TV stations, sports leagues, e-learning organizations and governments. Dacast is a secure worldwide content distributor with industry-leading video hosting. All platform plans include 24-hour technical assistance, including a live chat and email. For enhanced video security, the platform includes AES encryption and password protection. Users can use the VoD platform to scale on-demand business and monetize content. There is little latency in HTML5 video streaming channels. The platform also offers access to the player API for third-party player integration and the video API for premium plans. Dacast has no-ad streaming.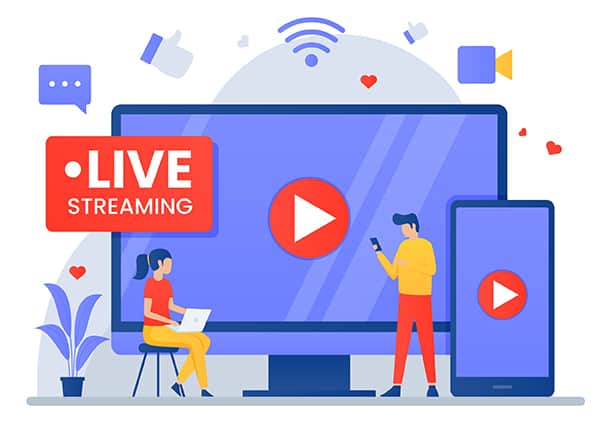 Another example is IBM Cloud Video. IBM Cloud Video provides a variety of essential features that improve video streaming. One of the primary services IBM Cloud Video offers is HD live streaming with no bit rate resolution limits, enabling the content creator to give HD content to the viewers. The platform offers complete mobile streaming compatibility, making videos accessible across all platforms, screen sizes and bandwidth. The live chats and Q&A features, which include use, moderation, management and user upvoting, are other noteworthy features. By doing this, the creator provides the audience with an interactive experience.
Wistia is a platform for video marketing. The platform supports video content hosting, analysis, creation and marketing. The platform offers access to cutting-edge video analytics, which the content creator can use to grow the audience. Wistia helps track the viewers, engagement and how that affects the marketing funnel. To find the most appropriate thumbnail for the content, the marketer can do A/B tests. Wistia can be incorporated with other marketing tools. Wistia offers Soapbox, a web-screen recorder that simplifies the recording screen. Wistia has a straightforward video trimmer that supports basic video modifications. The platform provides various security features, including hosting with password protection, domain limitations and email gating.
The last example is JW Player. JW Player is a complete internet video hosting platform that offers live streaming and video-on-demand. The platform allows streaming in HD up to 1080p. JW Player provides multi-bitrate and customizable streaming to give the audience a high-quality viewing experience and worldwide content delivery. The platform also provides advertising-based monetization. JW Player offers digital rights management for individually priced Enterprise plans, enabling enhanced content security. JW Player also has personalized video galleries for modifying the video experience. To keep visitors interested in the content, the platform even offers a video recommender system that generates "see next" suggestions.
What Is a Video Streaming App?
A video streaming app is a program that helps users access prominent figures, social media influencers, subject experts and other creators. The software links content producers with the audience and offers a platform for monetizing live streams through advertising, collaborations and other methods. There are three categories of video streaming apps based on the content distribution method.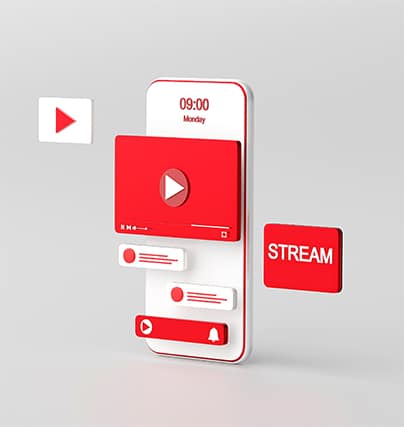 Traditional TV and cable providers now offer video streaming apps. These companies are looking for new strategies to reach the target audience as the subscriber number declines. The most well-known U.S. examples of these streaming services are Sling TV and AT&T TV Now. Other applications of this strategy, which offer access to extensive collections of TV channels, include YouTube TV and Hulu. Sling TV does not create any original content. The service provider offers real-time access to television channels featuring movies and episodes during the broadcast. Cox and Comcast also offer streaming apps accessed on any device far from home as long as the apps are registered and linked to a home-based television subscription plan.
On-demand video streaming apps are one of the most popular streaming services. Everyone is familiar with Netflix, the biggest video streaming service in the world as of the end of 2019. As of that date, Netflix had 61 million subscribers. The platform began as an online alternative to DVD rentals in 2007 and has since developed into one of the top players in the video streaming market. Another example of such a platform is Hulu, which focuses more on TV shows as opposed to movies.
There are also apps for streaming independent TV networks. Despite being standard add-ons for every TV subscription plan, Disney TV, HBO and CBS also have apps. For instance, HBO offers two service options: HBO NOW, which works without a cable package, and HBO GO, which is included with any cable TV package that includes HBO. Both applications offer access to popular shows made specifically for these platforms and well-known films. Another option is Disney+, which offers the film libraries of Marvel, Star Wars and Pixar, as well as platform-specific content.
What Are the Video Streaming Apps?
The development of video streaming apps is far too common today. With ‌streaming apps, VCRs, CDs and DVDs have vanished. The most popular streaming apps include Netflix, Hulu, YouTube and Amazon Prime Video.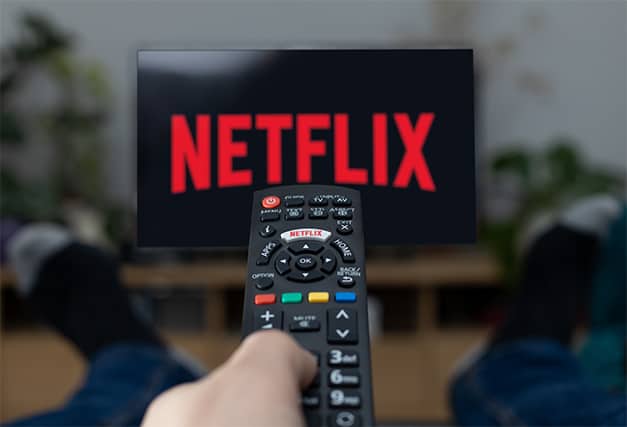 Netflix has the most content of any internet streaming service. Netflix is a service accessible in many countries and offers various titles in many languages. Native content availability is where Netflix draws more profit. Dolby Vision, 4K, HDR and subtitles are all supported on Netflix video. Gaming consoles, Smart TVs, Miracast, Chromecast and other streaming devices support streaming on Netflix. Parents can filter inappropriate content for children. Customers can also watch movies and TV shows offline.
Amazon Prime Video is one of the best streaming apps worldwide. The app allows users to browse specific video categories like thrillers, dramas, romances and action. The site provides an excellent selection of regional films in every genre, style and language. A feature of Amazon Prime Video enables users to watch the chosen video later, even with no internet connection. Users can use the service across platforms and gain access to music, movies and other premium services by becoming an Amazon Prime member.
Hulu is a popular video streaming app that allows streaming for other content like movies, series and anime and provides live streaming TV. With an expansion option, Hulu offers multiple channels. Six user-created profiles are available on Hulu, where viewers browse episodes, networks and movies. Viewers can personalize the content on Hulu by adding shows to personal favorites. The app is compatible with tablets, smartphones and TVs. The app also offers Showtime, HBO and Cinemax video streaming services.
YouTube is rapidly developing into a viable streaming service. The app's frequent content is constantly improving. Some people find YouTube Originals entertaining. The platform also has YouTube Kids and YouTube Gaming experience. The app includes music videos and instructional videos. In addition to providing the best cloud DVR of every live TV and supporting Chromecast, this app offers over 70 channels. With a specialized music streaming service independent of the rest of YouTube, YouTube Music makes the app ideal for streaming.
What Are the Streaming Devices?
A streaming device is often referred to as a streaming stick or media streaming device. Through the TV's HDMI connector, the viewer can stream entertainment items like movies, music, TV shows and images directly on the TV. A streaming device expands the viewer's options for watching. Although certain content from services like Netflix or Amazon Prime requires a subscription, the viewer may also use these devices to watch content from a smartphone, such as pictures or movies.
Streaming devices provide quicker processors because the units' design is solely for streaming. This shows that the gadget loads the material faster than a typical Smart TV that isn't connected to a streaming device. Streaming devices offer streaming apps and services at a reasonable price. Most of the information from local channels is available on streaming services. So these devices make a cable connection unnecessary. Any movie, television program or music video can be paused, rewinded and replayed at the user's pleasure. These devices allow the user to download preferred content. Streaming devices also function to provide advanced security and privacy.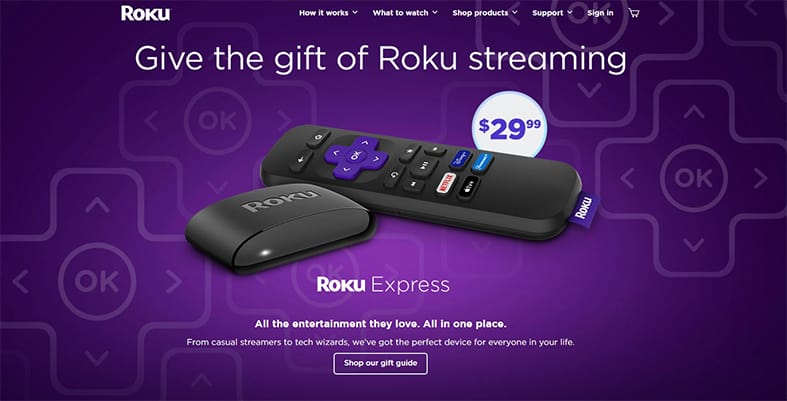 Roku is the best choice for most users looking for an advanced media streamer because of the easy assembly of the device. Roku provides a broad selection of streaming services, including all the major U.K. channels and services like Netflix, Disney+, Apple TV+, NOW, Prime Video and many more. The device is small, quick and simple. ROKU supports 4K quality, including Dolby Vision HDR.
The Apple TV 4K unit is one of the best streaming devices with the best visual and sound quality. The user will need to be a part of the Apple ecosystem to use everything the device offers. Apple TV 4K has an HDMI 2.1 connector and a better remote than the one that came with previous Apple TVs. Despite having a Siri button, the device's remote is not as intelligent as expected since the remote doesn't have an accelerometer for features such as gaming and does not support AirTag technology, which would aid in locating the device.
TiVo now supports streaming. The Stream 4K uses Android TV, an outdated Chromecast version of Google TV. TiVo has a menu that divides recommendations by genres rather than services. Android TV also divides recommendations into streaming services. The live TV guide on TiVo can be integrated with YouTube TV or Sling if the user has either of those services, allowing the viewer to watch all live TV options at once. The user can search for all services easily. Although there is a Google Assistant button, there is no voice-to-text function for long emails and passwords.
The Fire Stick 4K Max is an Amazon-based device that allows the user to pull up the security camera feeds while watching TV and supports Wi-Fi 6, which is an improvement over the earlier Fire Stick 4K Stick. The device runs quickly, the excellent Alexa voice remote functions flawlessly, and the Max has twice as much memory as the 4K — 2 gigabytes — instead of 1.5 and 8 gigabytes. Vudu is currently available. The user can watch Amazon Prime content. A section for frequently used apps is located right at the top, and there are apps for additional streaming services. The user may choose something else if Amazon Prime is not one of the favorite streaming services.
How Does Visual Quality Affect Streaming Speed?
The quality of the stream relies on the input devices used to record a video and the internet's upload speed. The frame rate drops if the upload speed exceeds the specified video quality. Otherwise, the stream will upload without interruption.
Speed and video quality are compromised when live streaming. Successful video streaming takes more bandwidth when the resolution is higher.
Note:
Resolution and data rate should always be considered because one restricts the other. A higher resolution is possible when streaming at a faster data rate. A viewer's data capacities significantly impact the streaming resolution.
Which VPN Is Better for Streaming Quality?
Choosing the best VPN for streaming is made simple with ExpressVPN. The VPN unblocks almost all main international streaming TV providers. Express provides users with the MediaStreamer tool, specifically designed to make watching foreign content even easier, because ExpressVPN strives to improve streaming quality.
What Are the Security Concerns for Streaming?
Cybercriminals have discovered better targets because of the expansion of entertainment content provided by the countless streaming apps and platforms. These fraudsters are getting better at stealing data every day, especially from popular apps like Netflix, Disney+ and Hulu. Fraudsters have gone so far as to compromise the VPN components, leaving streamers open to attacks from phishing, malware or spyware. But this shouldn't be a problem when the user is using a trustworthy VPN. However, the likelihood that private information will be compromised and one might lose some critical assets online is still very high if not careful.
Is Video Streaming Safe?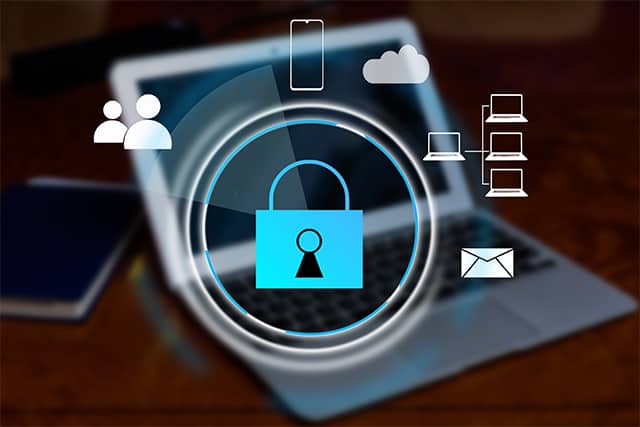 Streaming is only safe if the platforms used are safe and secure with advanced security features. Unauthorized access might jeopardize the pay-per-view and subscription businesses. Selecting a safe video streaming platform is the first step in delivering effective on-demand or live video content. Protection is crucial whenever a streaming implementation uses private or sensitive data. Various features and tools that help secure streaming include AES encryption, SSL/TLS, password protection, geo-blocking, referrer restrictions and IP whitelisting.
Are Streaming Platforms Safe?
Because the content streamed on streaming platforms are enterprise and professional material, most of these platforms are secure. Some of the most advanced security methods, such as HTTPS delivery, AES encryption, TLS/SSL encrypted paywall, referee restrictions, geographical (IP) restrictions and CDN, make streaming platforms secure.
How To Choose a Streaming Platform?
Below are factors that the user needs to consider when choosing a streaming platform.
Real-time and live streaming capabilities
Video hosting
Security
Possibilities for monetary gain
Streaming expense optimization
Accessibility to a wide range of devices
Usability
Tools for statistics
Technical assistance
Cost and free trial
Are There Different VPNs for Specific Streaming Platforms?
Some streaming platforms have specific VPNs for unblocking georestrictions, securing streams and hiding IP addresses. For example, the IBM Cloud Private network's IBM Cloud VPN access enables users to securely and remotely administer every server. But most streaming works well with most VPNs, such as CyberGhost, ExpressVPN, NordVPN and other VPNs.
What Are the Streaming Terms?
The following are the main streaming terms used and involved during the streaming process.
Streaming: Streaming is a method used to distribute content to mobile devices and computers through the Internet. Receivers can start watching or listening almost instantly thanks to streaming, which sends data, typically audio and video, in a continuous flow.
Transcode: Transcoding is directly converting an encoding to another digitally.
Transrate: Transrating involves switching one video file's bit rate to another.
Encoding: The process of transforming digital video files between different formats is known as video encoding.
Ingest: Video ingestion involves a process of capturing, sending and organizing video files for later identification and placement.
Bit rate: The number of bits transmitted or processed in a certain amount of time is referred to as bit rate in computing and telecommunications.
AAC: Advanced Audio Coding, or AAC, is the name of an audio codec. AAC is the recommended audio codec for broadcasting live video and web video. AAC works with every modern device on the market.
Adaptive Player: An "adaptive player" is a type of video player that continuously changes the streaming content's quality dependent on the viewer's internet connection speed. Users with fast connections receive high-quality streaming, while viewers with slow internet will receive lower-quality streams to minimize or eliminate buffering concerns.
Auto-archiving: Live stream recordings are automatically captured as part of auto-archiving, often known as live recording. Any video stream is automatically captured if this option is turned on for a specific live channel.
Bandwidth: Bandwidth measures the amount of data consumption and internet connection. In the streaming sector, bandwidth is frequently expressed in gigabytes, kilobits or megabits per second.
High Definition (HD): Resolution — measured in pixels — helps to determine several aspects of video quality. When describing a video, a high definition is a resolution of at least 720 h x 480 v. Full HD corresponds to 1920 x 1080 pixels or 1080p.
HLS: Live streaming over the internet is facilitated by the HTTPM or HLS protocols. HLS was first created by Apple and is now the most popular live-streaming protocol, working with iOS, desktop PCs, android, tablets, game consoles, smart TVs and more.
HTML5: The internet uses HTML5, which is a markup language standard. By guaranteeing cross-platform compatibility and enabling the embedding of streaming media, HTML5 signals a significant shift in how video is delivered in the market. As a result, HTML5 video players have gained popularity and have replaced the Flash player.