C
omputer viruses are one of the primary issues facing digital device users today. While safe online habits are protective to an extent, habits alone can not make up for an effective antivirus application. In this guide, the best antivirus for computers will be listed and described, followed by some more in depth analysis of the antivirus tool and its inner workings. Finally, the best way to use Antivirus products is explained.
The best antivirus products have particular features such as staying off the user's screen while providing complete protection, short scan times and light resource usage. Before considering a good antivirus product, readers should look at factors such as the price of the antivirus product, bonus features and performance on independent lab tests. The primary usage of antivirus applications is watertight protection from all modern cyber threats such as malware, spyware and ransomware. The antivirus programs of today all offer many other benefits though, including ad and spam blocking mechanisms, the ability to thwart data breach attempts, protection of removable devices, and easy maintenance of the protected device and firewall usage. There are many differences between the best anti-virus for computers, with each tool offering a unique way to provide protection from computer viruses. More specifically, the best antivirus for computers (including laptop devices) offer reliable protection, economical packages and extra security features along with excellent malware-protection scores on various tests.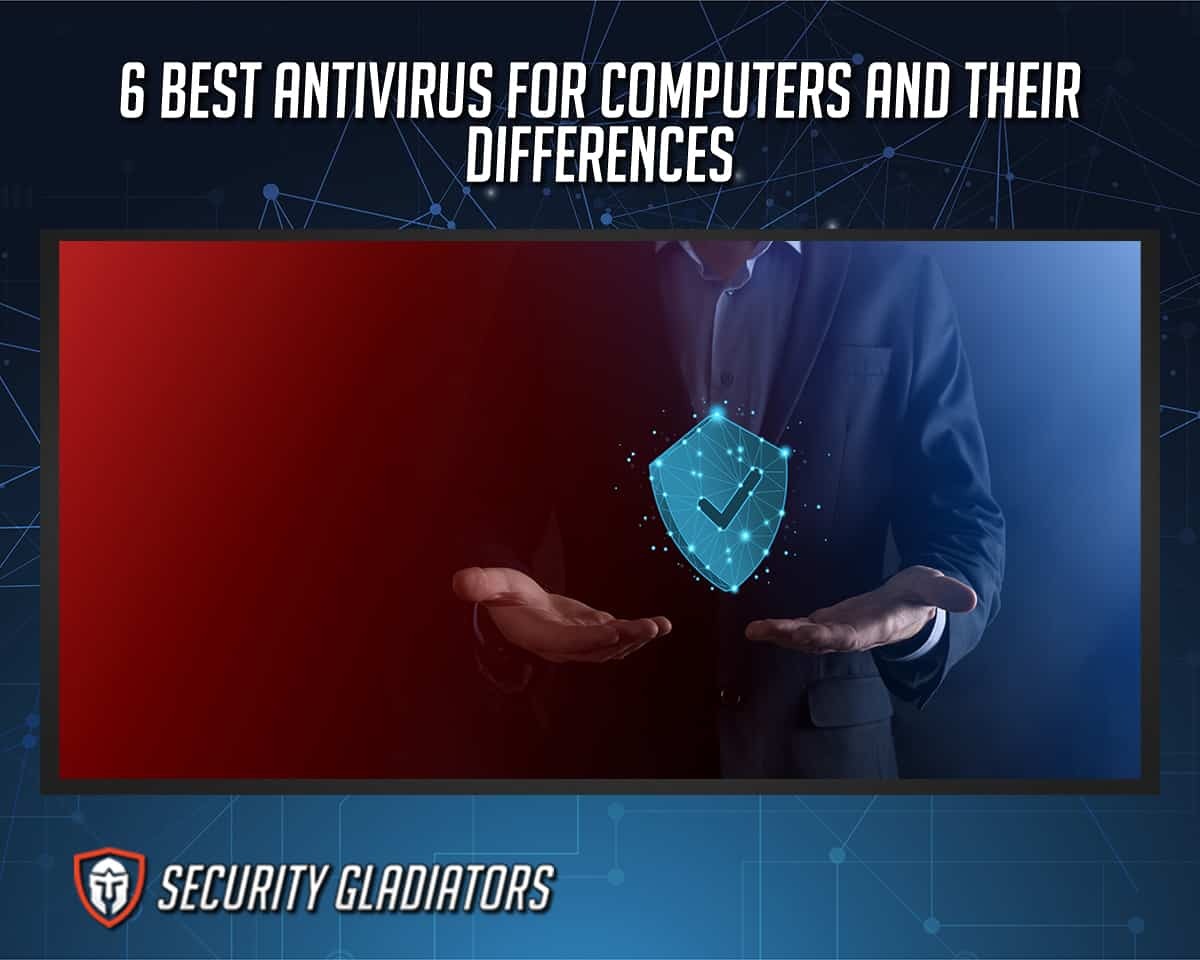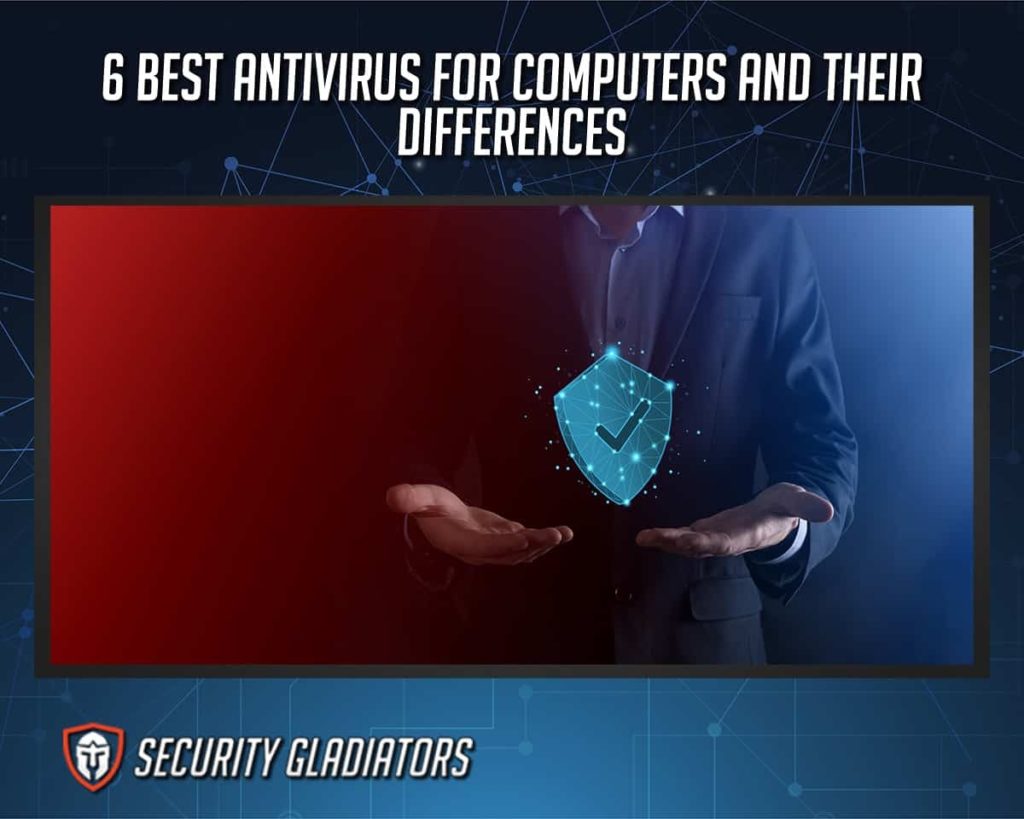 Some of the best antivirus products for computers are listed below.
McAfee Antivirus Plus (Best for Multiple Devices)
Norton 360 With LifeLock (Best for Windows)
Malwarebytes (Best Malware Scanning)
1. McAfee Antivirus Plus (Best for Multiple Devices)
McAfee Antivirus Plus is one of the top antivirus products in the world right now with over 25 years of experience in offering solid protection from malware.
McAfee Antivirus Plus works just like any other reputable antivirus product. Users usually have to download/install the security application from the official website after purchasing a subscription. Once installed, McAfee Antivirus Plus makes use of the latest virus database to spot and stop viruses from infecting the user's device. McAfee Antivirus Plus also comes with a firewall component that seeks the user's permission for any connection to the device that is deemed as a threat. Finally, McAfee Antivirus uses different virus scan options to check the system for any signs of malware and remove if any are found.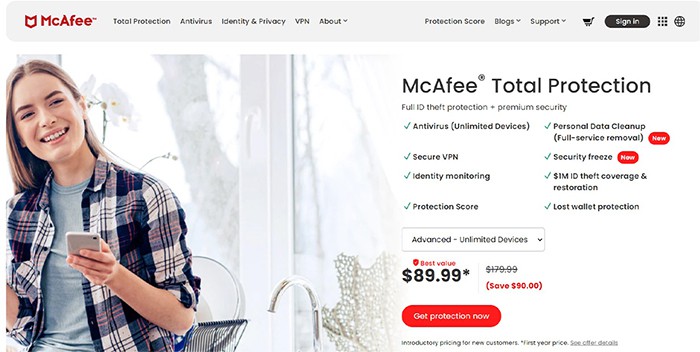 Reasons to choose McAfee Antivirus Plus: free trial available, easy-to-use applications, and bonus tools such as malicious website blockers and Spyware Protection.
The main advantages of McAfee Antivirus Plus are the number of extra features the software provides, such as encrypted storage, a password manager, and a VPN, along with good customer support and economical multi-device subscription packages. The disadvantages of McAfee Antivirus Plus include complex subscription plans, some less useful features (such as App Boost) and missing features from mobile apps.
To use McAfee antivirus plus costs $59.99 which covers an unlimited number of devices.
McAfee Antivirus Plus is considered the best option for computers in 2023 because of how economical the overall subscription fee can be for users with multiple devices to protect, extra features (firewall, phishing protection, malicious URL blocking) and good test scores (17.5 out of 18 points on AV-Test Institute test and AAA rating from SE labs).
2. Norton 360 With LifeLock (Best for Windows)
Norton 360 with LifeLock is a cybersecurity product that provides users with complete digital protection. Norton 360 works like any other comprehensive cybersecurity application. The service uses updated virus databases, and antivirus with advanced machine learning and behavioral protection to keep the user's device free of any malicious objects.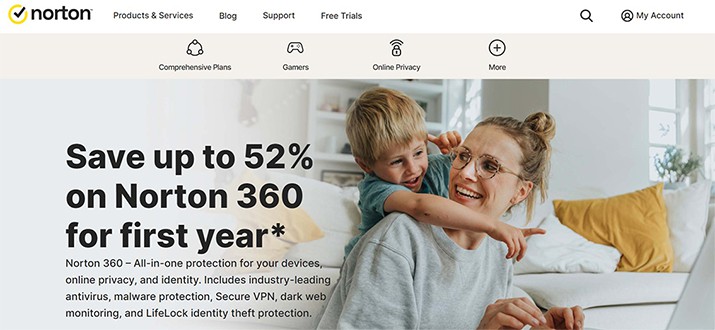 Reasons to choose Norton 360 with LifeLock: the comprehensive nature of the service's virus protection component, wide platform support, VPN service, and identity theft protection.
The main pros of Norton 360 With LifeLock are great malware protection, minimal resource consumption, a working identity protection component, and extra features such as webcam protection, password managers and online storage. However, high resource usage, lack of file encryption, and missing features on apple devices are some disadvantages to be aware of.
Norton 360 With LifeLock costs $99.58 per year via the LifeLock Select addition, $191.88 per year with LifeLock advantage, and $299.98 per year with LifeLock Ultimate Plus.
Norton 360 With LifeLock is a good choice for computers in 2023 because of great protection (AAA rating from SE Labs and 18 out of 18 from AV-Test Institute ), and extra features (spyware and ransomware protection along with VPN and cloud storage).
3. Malwarebytes (Best Malware Scanning)
Malwarebytes is one of the most reputable antivirus programs and services in the cybersecurity industry at the moment. Similar to other elite antivirus products, Malwarebytes makes use of scans to detect and remove malicious objects on the user's device. Malwarebytes doesn't open all the files while scanning, instead, the application uses batch mode. This helps Malwarebytes not conflict with other cybersecurity products on the same device. To use Malwarebytes, users have to go to the official website of Malwarebytes, sign up for a subscription package, download the appropriate app for the device that needs protection and launch the app. Malwarebytes may ask the user to go through a couple of questions to set things up properly.

Reasons to choose Malwarebytes: minimal CPU usage, simple user interface, free version available, and high virus detection rate.
The main pros of Malwarebytes include good independent antivirus lab tests, multiple protection mechanisms (such as ransomware protection, exploit protection and behavior-based analysis), fast scan times and good URL blocking. The lack of a firewall and poor below par customer support are the main disadvantages of Malwarebytes.
As previously mentioned, Malwarebytes does have a free version (which comes with restrictions such as a lack of real-time protection). The premium subscription, on the other hand, costs $39.99 per year per device but when purchased as a bundle for 5 devices the overall subscription cost is reduced to $79.99 per year. Users looking to combine Malwarebytes protection with a VPN can opt for the Premium+ Privacy package which costs $99.99 per year per 5 devices.
Malwarebytes Premium is considered a decent antivirus program because of the comprehensive nature of the product's protection against cyber threats, extra features (several scan types, VPN and phishing protection) and good lab scores (17.5 points out of 18 on the AV-Test Institute test and a B from SE Labs).
4. Webroot SecureAnywhere for Mac
Webroot SecureAnywhere for Mac is one of the most reliable antivirus softwares available for Mac users. Webroot SecureAnywhere is a bit different from regular antivirus products. Instead of relying solely on virus definition sets to see if a file is malicious, Webroot SecureAnywhere makes use of features such as system interactions and file behavior to classify a given file as malicious. This antivirus only examines a file if the file qualifies as "risky". This allows Webroot SecureAnywhere to be compatible with other antivirus products as well.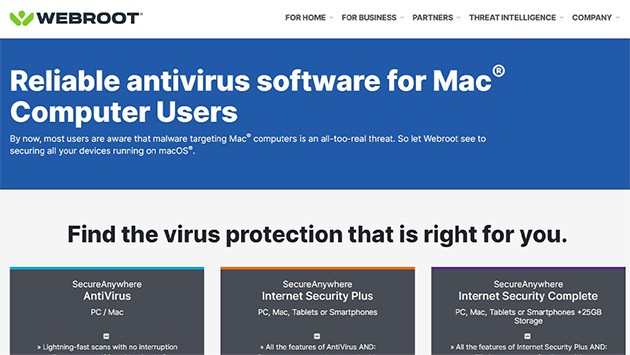 To use Webroot SecureAnywhere for Mac, first go to the official Webroot website, sign up for a subscription package, go to the Webroot install section, and download the .pkg file for the Mac. Double-clicking the downloaded file should install the Webroot SecureAnywhere application. During the installation process, SecureAnywhere will first ask for a username and password and then the Activation Software keycode. After installation, users will also have to give Webroot Full Disk Access via System Preferences.
Reasons to choose Webroot SecureAnywhere for Mac: for a Mac exclusive security solution, low resource usage, and many advanced features.
The pros of Webroot SecureAnywhere for Mac include fast scan times, top scores in malicious URL blocking and the ability to schedule scans. On the other hand, Webroot SecureAnywhere's main disadvantages include less testing from independent antivirus labs, some false positives and a complicated installation procedure.
The cost of a single device Webroot SecureAnywhere subscription package is $25.99 per year.
Webroot SecureAnywhere is considered a good option for Mac users because of a dedicated Mac app, decent independent lab test scores (AAA rating from SE labs) and a decent discount of 35 percent on occasions.
5. Bitdefender Antivirus Plus
Bitdefender antivirus plus is one of the most trustworthy names in the cybersecurity industry. Bitdefender Antivirus Plus is an elite antivirus product which means the product uses real-time protection to guard against all types of malware in addition to adware and ransomware. More specifically, Bitdefender Antivirus Plus makes use of real-time data protection tools along with network-level security mechanisms and behavioral detection techniques to not only protect against all types of malware but also ransomware attacks (a rarity).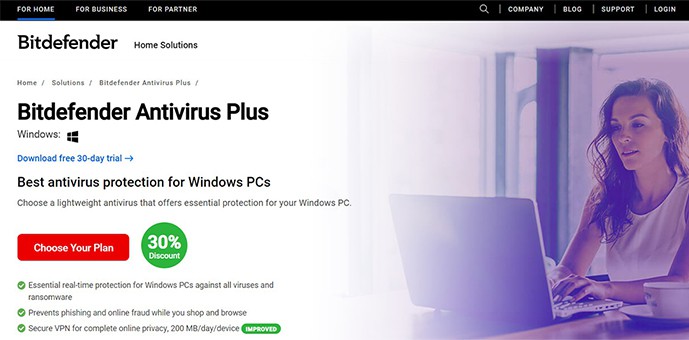 Reasons to choose Bitdefender Antivirus Plus: advanced threat protection, including vulnerability assessment; anti-fraud mechanisms; anti-phishing; web attack prevention; and environmentally friendly features.
The pros of Bitdefender Antivirus Plus include tons of extra features such as Safe Online Banking, WiFi Security Advisor and Social Network Protection, a VPN, Do Not Track feature and high scores in independent lab tests. The main disadvantages of Bitdefender Antivirus Plus are an inconsistent ransomware clean-up process, VPN restrictions, and lack of file encryption.
For the first year (which means prices will change after the first 12-months), Bitdefender Antivirus Plus costs $19.99 per year for 1 device. For 10 devices, the 1-year plan costs $79.99. The 2-year plan costs $48.99 for 1 device. Pushing the devices up to 10 increases the cost to $129.99 for the first 2 years. Finally, Bitdefender also offers a 3-year plan which costs $62.99 for the first 3 years for 1 device and $179.99 for 10 devices.
BitDefender Antivirus Plus is useful for protecting computers in 2023 and beyond because of fantastic lab test scores (17.5 points of out 18 on the AV-Test Institute and Level 2 (second-highest rank) on MRG Effitas tests), tons of extra features (including a password manager and parental controls) and decent discounts for multiple device protection subscriptions.
6. Trend Micro Antivirus+ Security
Trend Micro Antivirus+ Security is one of the leading cybersecurity products in the industry, claiming to have blocked close to 30 billion threats in the first six months of 2020 alone. Trend Micro works by using advanced scanners, real-time protection, signature-based detection and advanced machine learning tools to detect and protect against all types of malware in addition to cryptojackers and ransomware.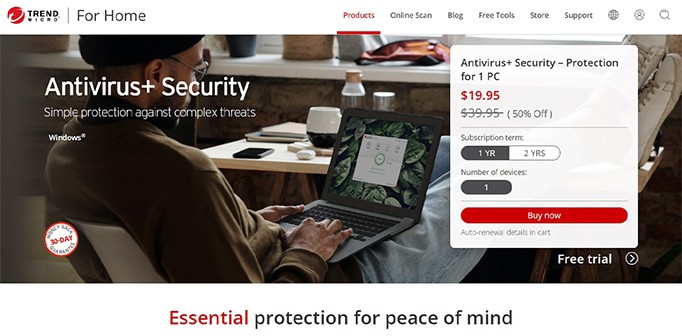 To use Trend Micro Antivirus+ Security on any device, simply sign up for a subscription package from the official website, download/install the antivirus application via the official website download section, launch the app and input login details (including the serial number which is available via the confirmation email). For an easier installation process, check the system requirements beforehand.
Reasons to choose Trend Micro Antivirus+ Security: reliable parent company, trustworthiness, many extra features, and multiple methods to protect against ransomware.
The pros of Trend Micro Antivirus+ Security include intuitive applications for multiple platforms, comprehensive malicious URL blocking, anti-ransomware options and high independent lab test scores. As far as cons of Trend Micro Antivirus+ Security are concerned, the list includes some false positives, lack of webcam protection and high resource usage.
The cost of Trend Micro Antivirus+ Security is $34.00 per year for 1 device. Trend Micro is considered one of the best antivirus protection tools right now because of its generally economical pricing, extra features (such as a 30-day free trial, a free version, cleaner One Pro, password manager, VPN, WiFi Protection) and great lab test scores (18 out of 18 points on AV-Test Institute exam and AAA rating from SE Labs though Trend Micro didn't do that well on MRG Effitas and AV-Comparatives tests).
What is the Most Used Anti-Virus for Computers?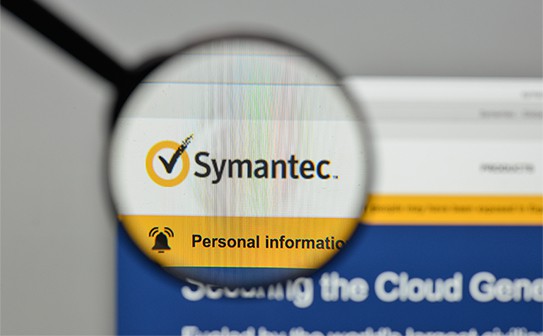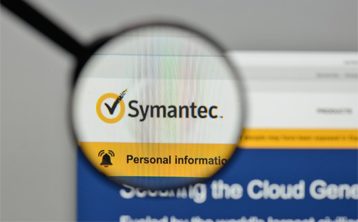 The most used anti-virus product for computers is most likely Symantec (which offers Norton 360 among many other cybersecurity products). Symantec is popular because the basic plan has very high detection and removal scores.
With that said, according to Statista, even though Symantec Corporation has the most market share (13.16 percent), other antivirus companies are not far behind including AVAST (12.69 percent), and ESET (11.45 percent), and Webroot Software Inc (8.79 percent) among others. On Windows, Norton 360 offers the most all-around antivirus product, which could be a significant factor explaining the product's popularity.
Note:
It is important to consider that market share percentages may change according to the type of customer being referred to. For example, McAfee is very close to the top when talking about business antivirus solutions using Windows as the operating system.
Which Anti-Virus Software is the Best for All Computers?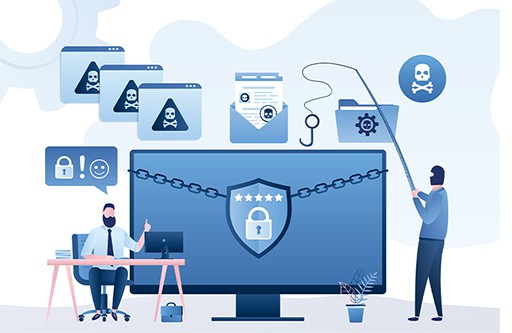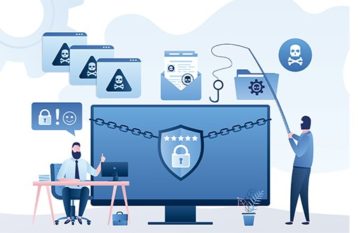 The best antivirus software for all computers varies on the requirements of the user and the features a particular individual/publication/review-site considers important. The general consensus seems to be between Norton 360, Mcafee, and Bitdefender. Bitdefender may top this list as it not only gets great praise from various publications and individuals but also independent antivirus testing labs.
The main features of Bitdefender include phishing protection, online fraud prevention, VPN, real-time protection, lowest impact on Performance, Bitdefender Photon, Autopilot, firewall and multilayered ransomware protection. With this said, almost all elite antivirus programs, including Bitdefender, offer
ways to improve your computer performance
.
How Does Anti-Virus Protection Work?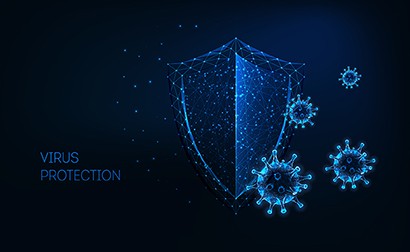 Antivirus Protection, for the end-user, works when antivirus vendors make users install an antivirus product on the device that needs protection. Once the app is installed, simply launching the antivirus app makes antivirus protection work. Modern antivirus products try very hard to stay out of the way of the user with security-related tasks (such as definition updates, software updates, detection and removal of malware) getting completed in the background.
From the point of view of the vendors, antivirus products help users gain protection against malicious threats with tools such as scanners, firewalls and virus definitions, amongst many others. A typical antivirus program will protect users by first scanning the user's device for signs of malicious content. If some malware is found, the antivirus program will move to remove the said file/object from the device. Depending on the antivirus vendor the user signs up for, the antivirus program may or may not put up a notification.
Note:
Readers should also understand that antivirus programs not only work against viruses but all sorts of cyber threats such as worms, spyware and ransomware. In other words, there are many
uses of antivirus software for computers
.
Modern antivirus programs make use of five main techniques to handle malware. These techniques include behavior monitoring, machine learning (or AI), sandbox detection, heuristic analysis and signature-based analytics. Signature-based analytics represent the most common and perhaps the oldest technique to catch malware. Antivirus programs also have a database (which is regularly updated) of malware once the malware has been previously discovered. Antivirus programs, upon facing a threat, simply compare the new threat's fingerprint with the fingerprints available within the database. Upon a match, the antivirus program will at least push a notification if not remove or quarantine the threat.
Behavior monitoring is a new technique where antivirus programs work by keeping an eye on a given device's behavior. If the user has connected any devices to the main device, the antivirus programs monitor the connected devices as well. Whenever a behavior is found to be suspicious, the antivirus program can either stop the malicious device and/or reverse any harmful changes.
Most of the antivirus programs mentioned in the above list also make use of machine learning techniques to adapt to any new techniques hackers may come up with while trying to infect a device. Once a new threat is identified and learned about, the information is passed to a database. The more information the program sends to the database, the better the antivirus program becomes at stopping unknown cyber threats from damaging the user's device.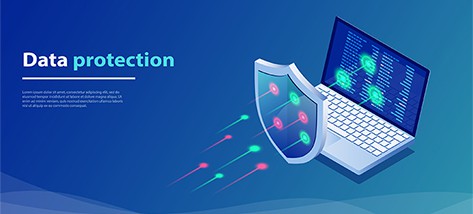 Heuristic analysis is the technique of distinguishing malware threats acting as legitimate files/traffic/folders/downloads with complex trial and error methods. If an unknown threat is able to bypass signature-based detection, antivirus programs can use heuristic analysis to catch the virus and stop any harm.
Finally, some antivirus programs work via sandbox detection. Sandbox Detection allows antivirus programs to open a suspicious file in a secure environment. If the code is harmful then the antivirus program would either remove the malicious file or transfer the file to quarantine.
Who is authorized to install anti-virus software?
Depending on the operating system of the device that needs protection, the admin or root user has the authority to install anti-virus software. Recent Windows versions allow non-admin users to install antivirus software as well if given permission by the administrator. In Linux and macOS, the root user can install antivirus programs. Even then, the user has to provide the root password to install antivirus applications.
Generally, the Android and iOS devices only have one user who is able to install antivirus applications (in some cases after giving the proper permissions to appropriate programs via separate dialog boxes). In this case, anyone who knows how to install antivirus can do so.
How Should Anti-Virus Software Be Used?
Follow the steps given below to correctly use antivirus software.
First ensure the antivirus software package comes from the official website. There are many websites online that distribute malicious versions of legitimate software applications. Then download the software.
Once the antivirus software is downloaded, double click on the downloaded file (in the case of Windows and macOS), grant proper permissions and wait for the installation process to finish. On the mobile platform (Android and iOS), the download and installation step is the same as the Google Play Store and the App Store perform all necessary steps automatically. Mobile users only need to select the desired antivirus product from the appropriate app platform.
After the installation is complete, run the app and go through a few screens to set up the antivirus applications.
Once the program has been launched, there is nothing significant to do manually. As previously mentioned, modern antivirus programs usually stay away from the user's screen and do all the protection work behind the scenes. From time to time, however, it is worth checking if the antivirus application is enabled and is receiving regular updates (along with the remaining subscription period).
Finally, if the antivirus application doesn't perform scans automatically, the recommended way is to individually scan suspicious files downloaded either via email service or a device like a USB. This step is not necessary on many current antivirus applications.
How to Use Anti-Virus Software for the First Time?
Generally, the first time a user installs an antivirus product, the antivirus service may ask for not only a username/password but also an activation code. The activation code will be available either in the confirmation email or on the backside of the antivirus product's physical package. Once the antivirus program has been activated, run a complete scan. Some elite antivirus products offer the Quick Scan option, on launch, as well to make sure everything is fine on the device.
How Often Should Computer Anti-Virus Be Used?
Since the vast majority of computing devices today (including desktop computers, laptops, mobile devices and some IoT) are connected to the internet all the time, users must use antivirus programs at all times.
Elite antivirus programs usually allow users to change settings and have the antivirus program launch at Windows start-up. Moreover, antivirus programs are now able to warn the user if the program is closed either by the user accidentally or by a malicious program.
Is Antivirus Software Really Necessary?
For most users, yes, antivirus software really is necessary. While there are arguments that modern users don't need antivirus software, extra security never harmed any online device.
Since the majority of computing today happens over the internet, antivirus programs have become less important. Moreover, web browsers have also become very secure to use and carry out daily online tasks which has further decreased the need for antivirus applications.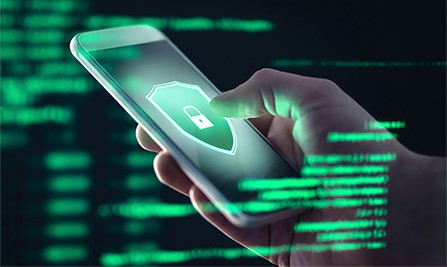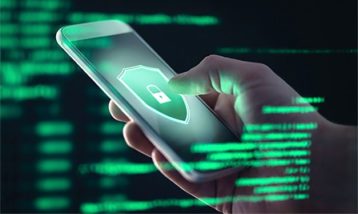 Then there is the fact that most applications and operating systems (desktop and mobile) can update themselves without user intervention. Add to that built-in antivirus protection systems in operating systems, apps and web browsers, and users shouldn't find it difficult to understand why antivirus software is not as important as before.
However, users who have transferred the majority of offline tasks to the online world still need that extra bit of protection that antivirus products are very adept at providing.
Is Computer Anti-Virus Software Effective?
Yes, computer anti-virus software is very effective. Of course, hackers are always coming up with newer ways of disrupting communication networks and the devices that are on those networks. Antivirus products simply cannot guard against all totally new threats from the minute hackers unleash into the wider world of the internet. However, antivirus products can at least limit the damage caused if a given device gets infected.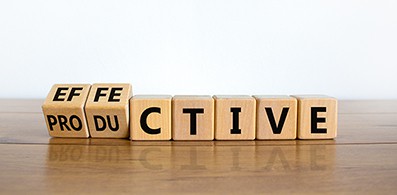 Yes, old antivirus products that only relied on signature-based techniques are not effective anymore. But elite antivirus products that can take advantage of the latest techniques such as machine learning and behavior analytics can manage unknown threats reliably. As a result, generally, antivirus products are effective.