A
n ad blocker is an application, often a browser extension, which removes advertising material from websites and apps. When the site loads, the ad blocker checks the elements loading on the page against blocklists. Any site component flagged under advertising material is stopped from loading. The best ad blockers can even block commercials from media players in the browser. After content is displayed on the page, the ad blocking software checks for elements that meet specific rules. Some images in banner dimensions are also hidden from the screen.
Using an ad blocker is legal and means that while most websites will curate what to show consumers, the consumer can now determine how to consume the content. Of course, the best user experience is generally without the intrusion of ads.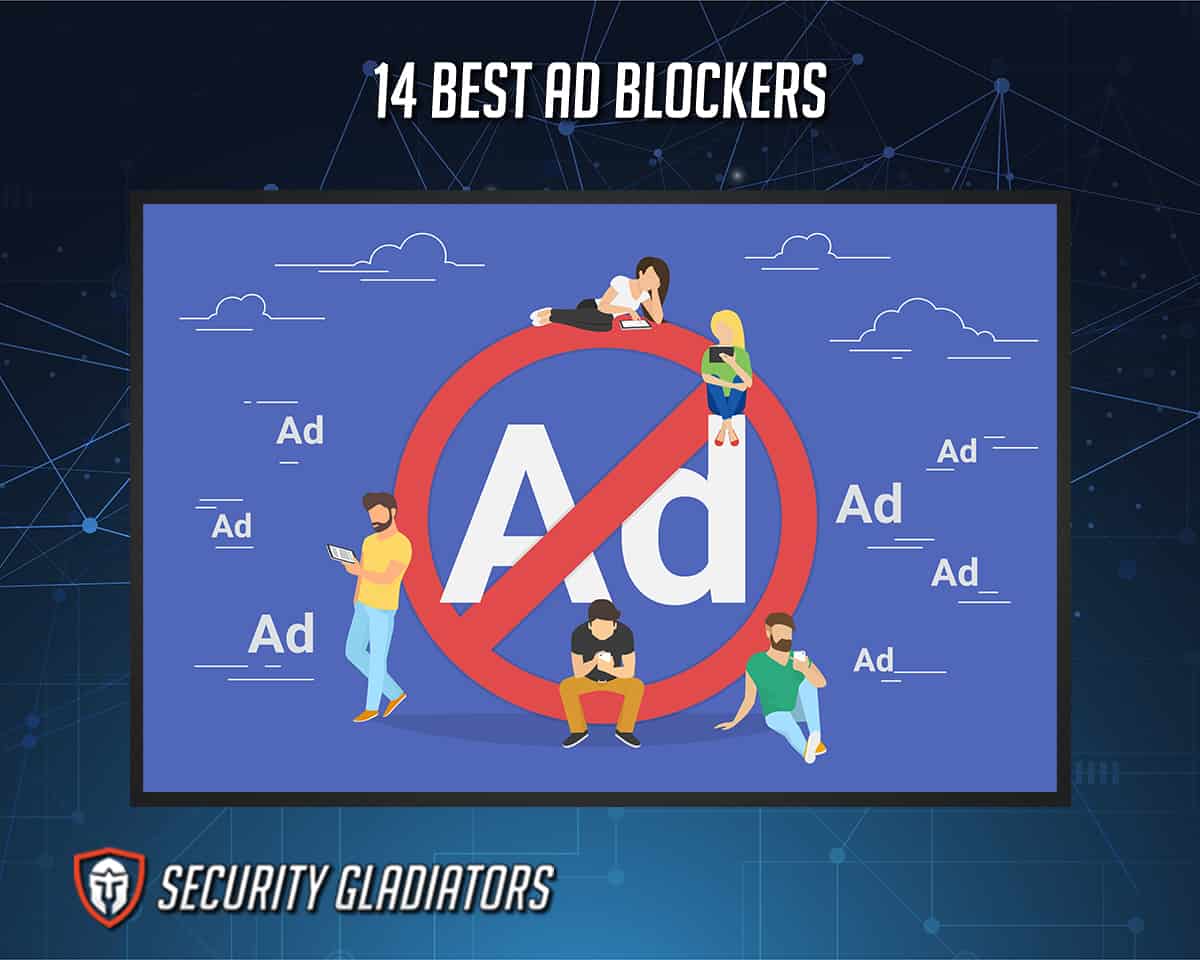 Why use Ad Blockers? Blocking ads will improve the browsing experience by removing video ads, intrusive ads, and other content of no interest, which offers the benefits of security, privacy, and speed.
With these benefits in mind, which is the best ad blocker in 2022? Here are some of the top ad blockers for multiple devices.
uBlock Origin – Best Overall
Wipr – Best for Safari
AdBlock – Best for Chrome
1. uBlock Origin
Raymond Hill developed uBlock Origin as a cross-platform browser extension that helps users to filter content online. This is not just an ad blocker; the software filters content like pop-ups, trackers, coin miners, malware, and JavaScript elements. uBlock Origin is open-source and gets contributions from developers on GitHub. The open-source nature of the software means more transparency, and therefore, trustworthiness. uBlock does not collect user data.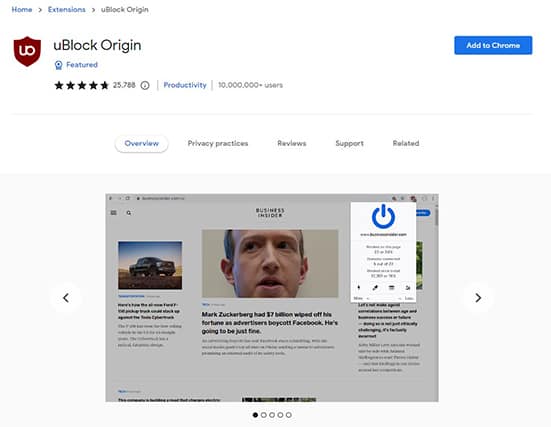 Several uBlock Origin features help users to customize the experience. This lightweight application boasts a low CPU overhead and a small memory footprint. A dynamic filtering feature is also available for advanced users. This can be enabled in the Settings tab. Dynamic filtering helps the user to tinker with the domains and scripts needed for a web page to load.
In addition, the element zapper feature allows users to zap undesirable elements on the screen. Also, an element inspector includes cosmetic filters, network filters, and DOM storage.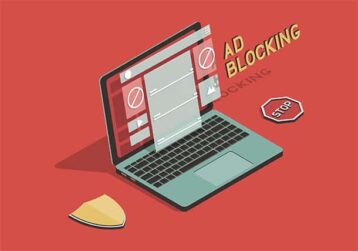 uBlock Origin is a cross-platform software and supports Firefox, Chrome, Edge, and Opera. However, while this could have been the best iOS ad blocker, Apple removed access in Safari.
uBlock Origin is free and runs on an open-source platform. This means developers contribute to the code without paying fees. Besides, the project does not take donations, making the software 100% free.
uBlock Origin also gets great support among users, especially because of the key features highlighted. The software is among the most preferred ad blockers because it's lightweight, 100% free, open-source, and cross-platform.
---
2. AdBlock
AdBlock is a simple browser extension providing ad-blocking features. It's ideal for blocking pop-ups, Facebook, YouTube, and ads on other websites. With more than 60 million users, this is one of the best ad blockers on the market.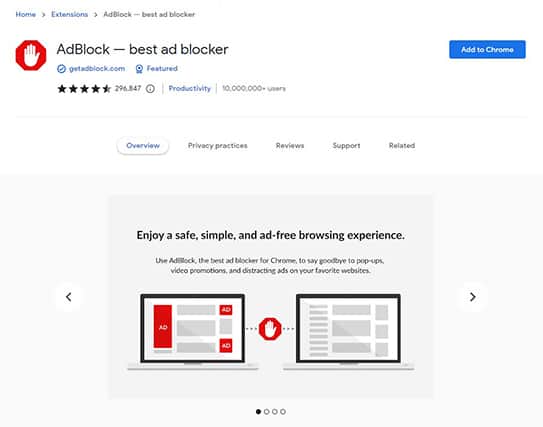 AdBlock comes with a simple user interface, with the option to pause on any website. This is particularly useful if a website does not allow extensions. AdBlock can also block ads, pop-ups, and annoying banners. The software can also remove video ads on Facebook, Twitch, and YouTube. To protect user privacy, AdBlock offers the ability to block third-party trackers.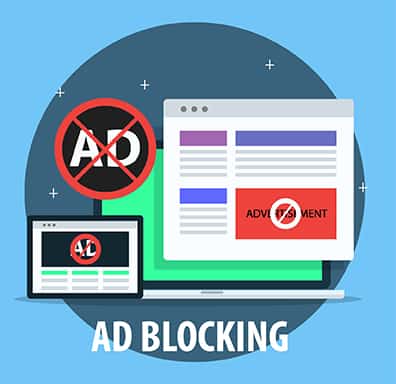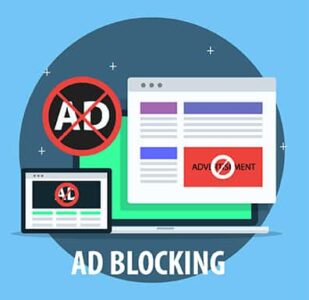 Besides, users can browse confidently as the extension blocks ads with malware, cryptocurrency miners, and scams. AdBlock boosts page load times for faster internet. Through filters, dark mode, whitelists, and colorful themes, the app can also customize the user experience. If users have several devices with Chrome, the whitelists can be synced, and ad blocking rules can be applied across profiles.
Ad Block can be used on Chrome, Firefox, and Safari and is 100% free, which is one of the key benefits of the application.
On the Chrome Web Store, AdBlock scores an impressive 4.5 stars out of 5. This is a great record considering more than 296,000 users left a review. Hence, it's one of the best-performing ad blockers.
---
3. AdBlock Plus
Adblock Plus is an open-source extension that helps to customize browsing experiences. The application blocks annoying ads, disable trackers, and more. AdBlock Plus can be used on all desktop browsers and mobile devices. Downloaded more than 500 million times, this is one of the most trusted ad blockers on the market.
By using Adblock Plus, users get several valuable features. The extension offers filter lists to instruct the browser on which elements to block. The software also allows companies to apply to be included in the Acceptable Ads list. This means users can accept in the settings to see ads from specific companies and block undesirable ones. Adblock Plus is efficient for blocking pop-ups, annoying banners, and video ads and gives users a fast browsing experience. Also on offer is free and constant support.
Adblock Plus is available on many desktop and mobile browsers. These include Chrome, Safari, Firefox, Opera, and Android devices.
Because the company earns revenue from the Acceptable Ads initiative, the service is completely free for users. Adblock Plus is also one of the best Ad Blockers on the internet, considering the positive reviews the product has received. On Chrome Web Store, the extension has a rating of 4.5 out of 5 after more than 179,000 reviews.
---
4. AdGuard
Adguard is a solution that helps to eliminate intrusive ads and protect devices from malware attacks. The software helps to remove pop-ups, banner ads, and video promotions. AdGuard also blocks trackers and disables activity analyzers. The software can also be used to restrict children from accessing inappropriate material. The interface is easy to navigate as all essential features are easily accessible. This is one of the options to consider if looking for the best safari ad blocker.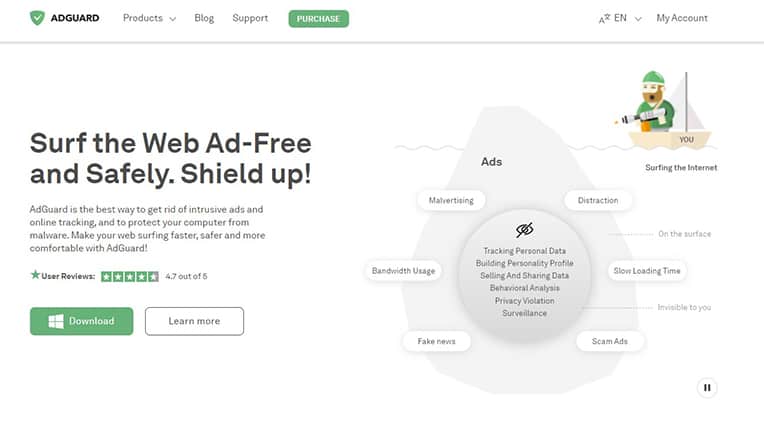 AdGuard has several features, including the page code filtering function, which filters web pages before loading into the browser. This means blocking elements connected to advertisements helps the browser load faster.
AdGuard, additionally, offers request blocking, which filters elements on web pages and blocks ads. For example, flash objects and banner ads are blocked considering filtering rules. For elements that cannot be blocked in the first two steps, AdGuard offers protection against CSS and JavaScript injection. This prevents ads from being attached to pages through JavaScript.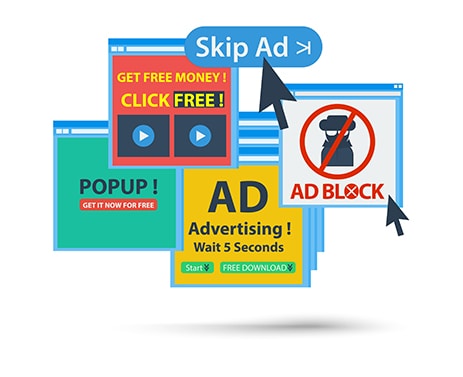 AdGuard also offers post-processing of pages, so the extension removes elements from web pages that were filtered. Thus preventing users from seeing incomplete sections of pages like broken graphics. AdGuard is available on Windows, Android, iOS, and Mac.
AdGuard offers a 14-day trial period on Windows to allow for a risk-free test. Premium AdGuard is provided in two categories. The monthly price for the Personal category is $2.49 and allows up to 3 devices. The second tier is Family, which costs $5.49 with an allowance for up to 9 devices. A lifetime option is also available for these tiers, costing $79.99 for three devices and $169.99 for up to 9 devices.
| | | | | |
| --- | --- | --- | --- | --- |
| Term | Personal | Family | Lifetime for 3 devices | Lifetime for 9 devices |
| Cost | $2.49 / per month | $5.49 / per month | $79.99 | $169.99 |
AdGuard scores an average of 4.7 out of 5. Most users rate the service highly because of ease of use, customer service, and the great features included that make for a smooth browsing experience.
---
5. Ghostery
Ghostery is an open-source ad blocker that uses smart blocking technology to optimize the user browsing experience. The software blocks ads and stops background trackers. Ghostery also offers a user-friendly interface, which allows users to customize to block. Analytics are also available.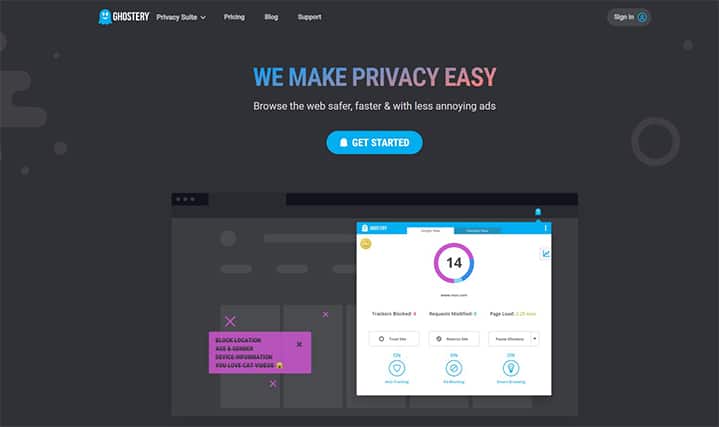 Like other extensions reviewed on this list, Ghostery removes ads from web pages, allowing users to focus on the content of choice. The value of this software, however, lies in privacy protection benefits. These features allow the user to view trackers trying to collect data. The Enhanced Anti Tracking feature anonymizes data when using the internet.
Ghostery is available for Firefox, Edge, Chrome, Opera, and Safari. The program also offers browsers for iOS and Android smartphones.
Ghostery's free version is also available, which offers basic web protection. The premium service starts at $4.99 monthly for more advanced protection. The $11.99 per month tier offers a built-in VPN.
| | | |
| --- | --- | --- |
| Term | Premium | Premium with VPN |
| Cost | $4.99 / per month | $11.99 / per month |
Ghostery is an excellent pop-up blocker that will hide ads and improve the browsing experience. The software stands out for keeping user data safe and stopping trackers. The consistently excellent performance of Ghostery has earned the extension a rating of 4.6 out of 5 on Chrome Web Store after more than 13,000 reviews.
---
6. Firefox Focus
Firefox Focus is a browser application that supports iOS and Android created by Firefox. The AdBlocker began as a tracker-blocker, but it's now a browser for mobile. The software has many security features on top of what was initially offered. Firefox Focus also offers user privacy, including features that make the browsing experience safe and smooth. The interface is also simple and easy to use.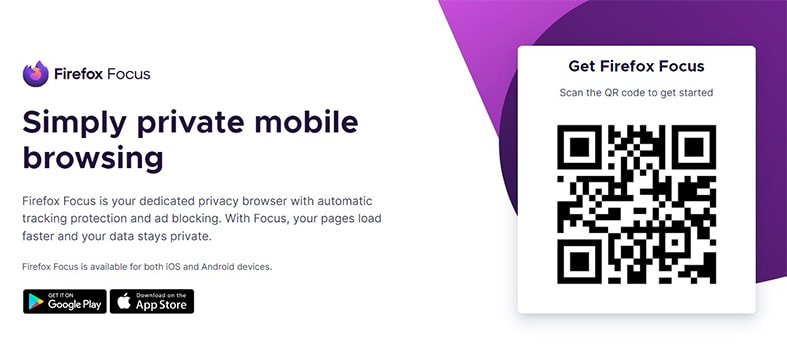 This lightweight edition of Firefox is dedicated to privacy and helps to block annoying ads and trackers. The browser will block online trackers immediately after launching. The ad blocker easily helps erase browser history, cookies, and passwords, to avoid users receiving ads based on things searched on the internet. The design is simple with minimal settings, giving users the options required to keep online activity private. Advanced options like fingerprint protection and stealth pages are also available. Because of ad-blocking and tracking protection, Firefox Focus offers better load speeds.
Note:
The Firefox Focus app is only available as an app on iOS and Android. However, because Firefox Focus is an open-source project by Firefox, it's free to use.
Many people have something positive to say about the application with the great performance and benefits of Firefox Focus. The application has earned an average rating of 4.5 out of 5 stars on Google Play.
---
7. AdAway
AdAway is an Android ad blocker that was created as an open-source project and is fully licensed under GPLv3+. The application allows users to add sources of host files, exceptions to the whitelist, and redirect rules. The software works through redirects. If an ad sends a request, it's redirected to 127.0.1, which is localhost. This simply means the request will go nowhere, so the user is not served any ads.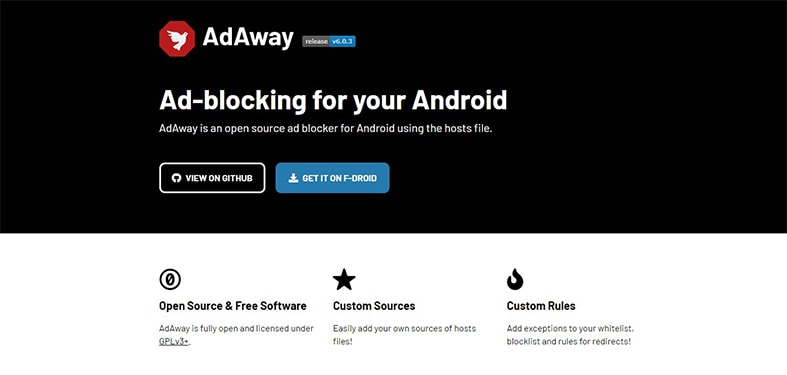 The app does not consume memory or CPU time because updates are performed periodically without running in the background all the time. This means the app can be used even with an older phone. A proxy can be deactivated by selecting an APN and removing the proxy value in the settings. Also, AdAway offers a blocklist and a whitelist for exceptions, and the user can determine redirect rules.
Note:
Only people on Android can install AdAway, and the app cannot be downloaded on Google Play.
AdAway is free to download and use, but users can support the developer team through donations on the website.
This free, open-source product offers what is needed to block ads and prevent background tracking. It's among the top ad blockers recommended by top reviewers.
---
8. AdLock
AdLock is one of the best ad blockers for chrome, blocking almost all ads to give users a smooth browsing experience. AdLock comes with a browser extension for Safari and Chrome, which is equipped to block ads. However, these extensions are only effective on the app's browser. If a user wants to block ads on other applications, AdLock for Windows or Android is available to block ads on platforms like Skype, Games, YouTube, and more.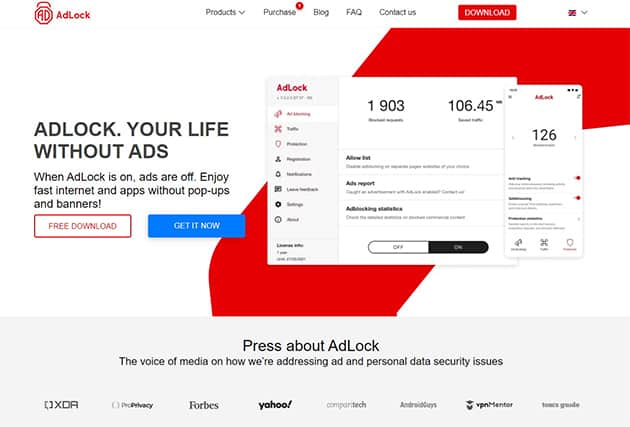 AdBlock offers a modern interface, which is easy to use and effective at protecting personal data. The interface is beginner-friendly and offers all the main tools through easy access. Some of the main features available include ad blocking functionality. This provides quick ad blocking and granular management.
AdLock also offers a Traffic feature, which allows users to decide how installed apps behave. Some of the filters to use include disabling filtering to allow ads, enabling filtering to create filters on apps, and blocking, which stops apps whose purpose is to access the internet to serve ads.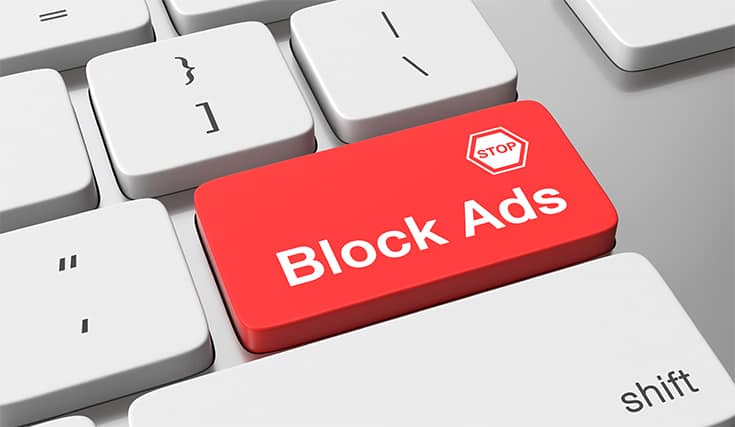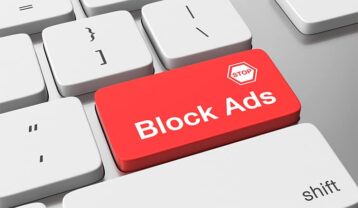 The protection feature helps to mask the users' online activity and means that Ad trackers cannot locate/ track the user when the feature is active. Adlock ultimately prevents advertisers from using background trackers to target users with ads based on online activity.
AdLock is available on mobile and desktop platforms. The app is found on systems like Chrome, Safari, iOS, Android (Mobile app), Windows (Dedicated app), Firefox extension, Microsoft Edge extension, and macOS.
The monthly cost of AdLock is $3.5 paid every month; a yearly deal is also available, which totals $33.6 charged annually.
| | | |
| --- | --- | --- |
| Term | AdLock Monthly Deal | AdLock Annual Deal |
| Cost | $3.5 / per month | $33.6 / per year |
Product reviews help users decide if an app offers the required service. AdLock has received positive feedback for the app's premium offer, which delivers excellent ad blocking. On the Chrome Web Store, AdLock has a rating of 4.2 out of 5.
---
9. Wipr
Wipr is a highly-rated ad blocker that blocks ads, GDPR notices, trackers, cryptocurrency miners, and other online annoyances. The app is available on macOS and iOS from Apple App Store. Wipr promises good performance and works with Safari and apps that use Safari to display web pages.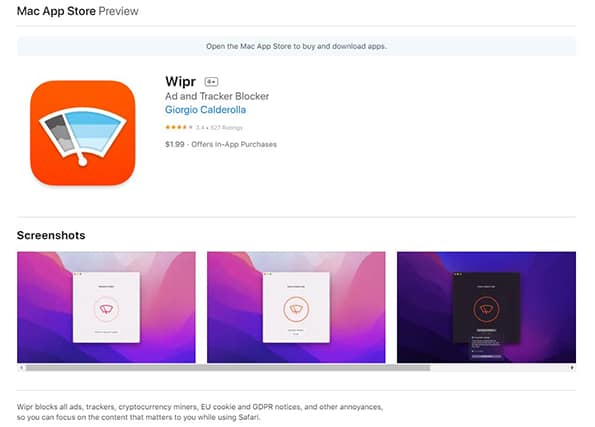 Wipr offers a full array of features that help not only block trackers and apps but also work to mute cryptocurrency miners. The app works well to block online annoyances that use background trackers. The blocklist is updated twice weekly and doesn't need many configurations to work. With Wipr, pages load faster, which is welcome for those accessing content on iPhone, where ads can significantly lower browsing speed.
Wipr is available to download on iOS and macOS. While most Ad blockers for Chrome and Firefox are free, users need to pay $1.99 to use Wipr.
Most users agree that Wipr is perfect for cleaning websites without breaking a sweat. Also, the developer offers excellent support, which many users appreciate.
---
10. Stands Fair AdBlocker
Stands Fair AdBlocker blocks pop-ups, ads, malware, and trackers. This is a lightweight, free application that speeds up browsing. The app enables users to allow ads on select websites, as the app is designed to give users full control. The software can stop companies from profiling and selling user data without consent. Also, the application offers protection against adware, malware, and trackers. The ad blocker works behind the scenes to alter how ads are delivered to the browser.
The extension gives users full control, allowing the blocking of different types of ads, including pop-ups and malware. This protects users from security threats and ensures excellent privacy protection. Stands Fair AdBlocker will block annoying ads like YouTube ads, autoplay video ads, interstitial page ads, expanding ads, and overlay ads. Some of the blocking options available include a blocker for Webmail ads, Facebook ads, Search ads, and more.
The Stands Fair AdBlocker is available on Chrome as a browser extension. The Stands Fair AdBlocker is among the best options on the internet, with a rating of 4.8 out of 5 on the Chrome Web Store after more than 134,000 reviews. This ranks the product among the most successful ad blocking applications.
---
11. Poper Blocker
The Poper Blocker is designed as a free tool to complement other ad blockers. Instead of being an all-in-one blocking solution. The app focuses on pop-ups, pop-unders, time and scroll pop-ups, overlays, and other types of ads that can slip past other ad-blocking extensions.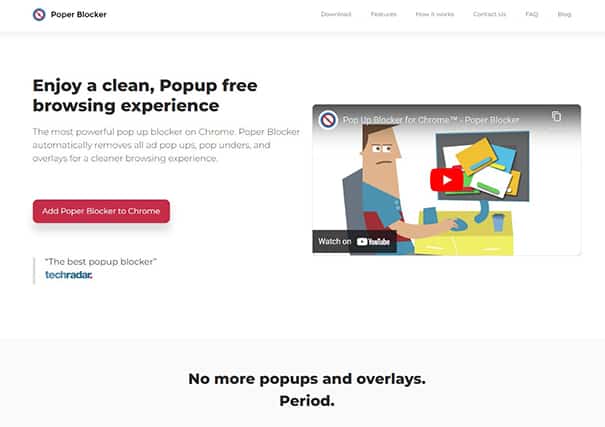 Poper Blocker uses small notifications to notify users whenever pop-ups are blocked. Also, the software offers a feature that allows users to view their blocking stats, which is interesting for some. Generally, the app can run in the background with other ad blocker extensions, with little impact on space or memory.
Poper Blocker is available on Chrome Web Store and can be installed on Chrome and Firefox browsers as an extension.
On the Chrome Web Store, Poper Blocker has garnered an impressive 4.8 stars out of 5 after more than 80,000 user ratings. This shows faith in the product which demonstrates the excellent performance the extension has achieved in blocking pop-up ads and other background trackers.
---
12. Adblocker for YouTube
Adblocker for YouTube blocks ads on YouTube and allows users to enjoy a smooth watching experience. With YouTube going full throttle on Ads, users need an ad blocker that can allow for a smooth streaming experience.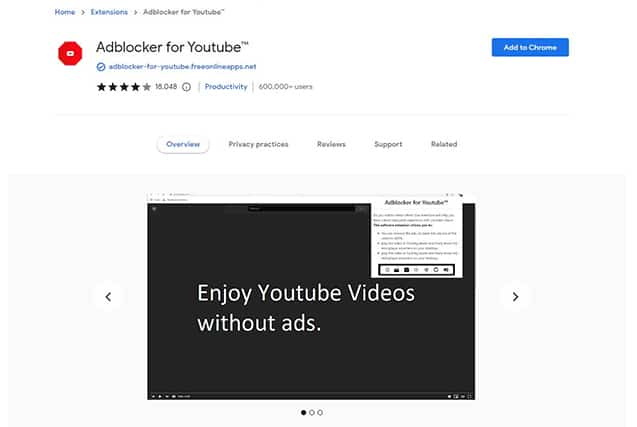 This extension features software designed to remove all ads on YouTube. This includes pre-roll ads, text, and banner ads. The app saves users time by stopping all ad interruptions while watching videos on YouTube. The settings can be customized by choosing "Block All, " which will automatically block video and image ads. The extension does not require complicated configuration or messy lists to manage. It's lightweight and ultrafast and does not slow down the system. In fact, the app improves page load speed, decreases memory usage, and boosts browser speed.
Adblocker for YouTube can download and install on Firefox and Chrome browsers. The plugin is 100% free to use and is always updated.
With an average rating of 4.1 from more than 17,000 reviews, Adblocker for YouTube is among the best ad blockers. Many users appreciate the lightweight design and overall efficiency in blocking all ads on YouTube.
---
13. AdClear
AdClear is a content blocker that blocks ads in apps and browsers, allowing users to surf uninterrupted. This is a good option for anyone looking for software that not only blocks ads on browsers but also works on apps.
AdClear can block ads through a DNS changer feature efficiently by running traffic through a VPN. This boosts browsing speeds and saves battery by blocking the scripts from running in the background. The software is equipped to block even encrypted apps.
AdClear can be installed on Android and iOS devices. The AdClear application is free to download and use on iOS or Android devices.
Many users agree AdClear is one of the safest ad blockers for phones. The app works efficiently to block popup redirects and ads, giving users a smooth browsing experience.
---
14. 1Blocker X
1Blocker X is an iOS ad blocker that works on the Safari browser to give users a seamless browsing experience. This was among the first good ad blockers available on iOS after Apple opened up the functionality. Consequently, it's optimized to slot into Safari and provide excellent performance.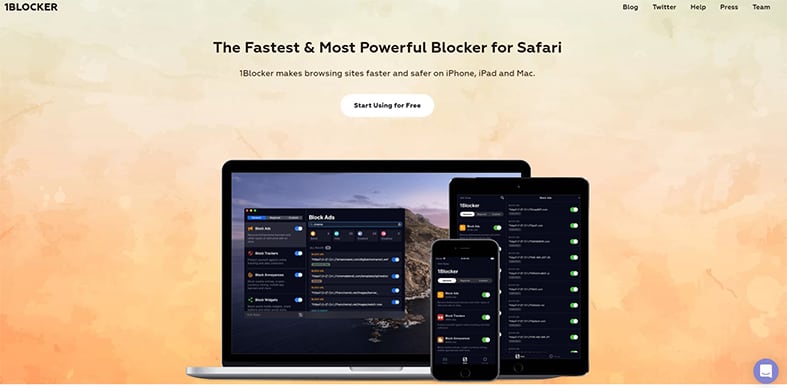 The 1Blocker X app is designed to enhance browsing speeds on Safari by blocking popups, ads, and trackers. 1Blocker X collaborates with the content blocker API already on Safari to instruct the browser on what to block. This happens in advance, thereby saving time and resources. 1Blocker X comes with over 115,000 blocker rules, regional ad blocking settings, and custom rules settings. For example, users can whitelist some sites or enable a single category like blocking trackers. Also, the app allows users to see blocked resources on sites.
1Blocker X is only available on iOS and is designed to run on the Safari browser. The free version of 1Blocker X is available for basic operations. However, there are in-app purchases for users who want to access the premium features.
On the Apple App Store, the app has earned an impressive rating of 4.6 out of 5. Many users love the excellent privacy and security features built-in. 1Blocker is also efficient at blocking ads and does not affect loading speeds on Safari.
---
How to Choose the Best Ad Blocker?
Before deciding which ad blocker to install, it's important to understand the features that constitute an excellent ad blocker. Here are some of the things to consider when looking for the right software.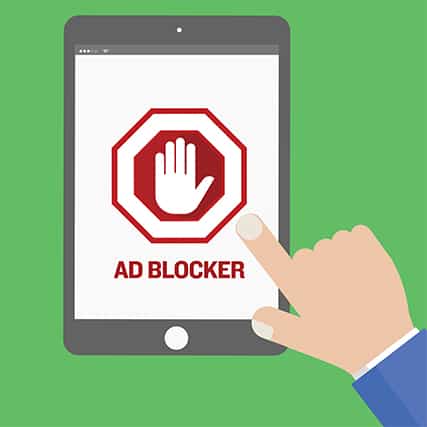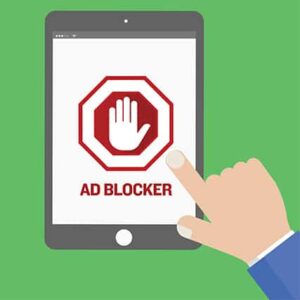 User Friendliness – One of the things to consider when looking for an ad blocker is the design of the interface. A good ad blocker software gives users an easy way to manage settings. All the important functions should be easily and simply within reach.
Ad Blocking Capabilities – What capabilities do users get when installing the application? Some ad blockers are perfect for stopping ads on multiple browsers, while others are optimized to only run on a specific browser or website.
Cost – If on a limited budget, users should consider ad blockers that function efficiently and offer a free version. This is a good idea for most users who do not require advanced functions.
Lightweight – An ad blocker should not clog the system and slow things down. The app should do the opposite and improve browsing speeds. So, consider whether the application is lightweight. Also ensure the software does not take up much of the memory or CPU usage.
Optimization Options – A good ad blocker should offer multiple optimization options to customize users' preferences easily. The app should allow users to choose which sites to opt out of tracker and ad blocking.
Which ad blockers are safe?
Online safety is a key consideration before installing any application. The app should be designed with user safety in mind. An ideal ad blocker should not collect users' personal data. This would defeat one of the main purposes of using an ad blocker. Here are some of the top three recommended ad blockers based on safety records.
AdBlock – Best overall.
AdLock – Best standalone ad blocker.
AdBlock Plus – Best free ad blocker.
Which Is the Best Ad Blocker for safari?
What are the Best Ad Blockers for Safari in 2022? These are the top three picks to consider.
AdBlock Plus – best overall.
AdBlock – Easy configuration.
Ghostery Lite – multi-purpose functionality.
Which is the best free ad blocker?
Below are the top three ad blocker extension applications to improve the browsing experience for free.
uBlock Origin – Best Overall.
Adblock Plus – Multi-platform support.
AdBlock – Block cryptocurrency mining, YouTube Ads, pop-ups, and malware.
Which is the best android ad blocker?
Below are our top Android ad blocker recommendations that work perfectly on Android devices.
AdAway – Best overall.
AdGuard – Background web traffic filter.
Adblock Plus – Top open-source ad blocker.
Which is the Best Adblock for Firefox?
Firefox is one of the top internet browsers available on desktop and mobile devices. While some good chrome ad blockers would work on Firefox, a dedicated solution would be a perfect fit. Here are several options to check out.
uBlock Origin – Best Overall.
Ghostery – Block ads and stop tracking.
Firefox Focus – Dedicated Firefox ad blocker.
Which is the best browser ad blocker?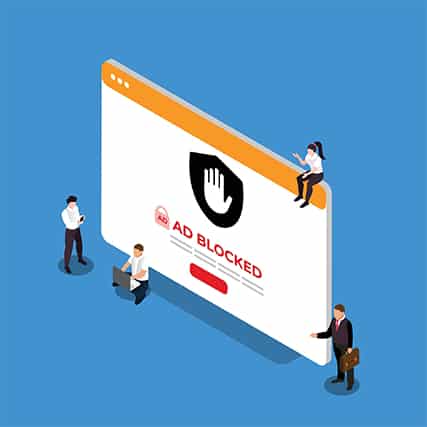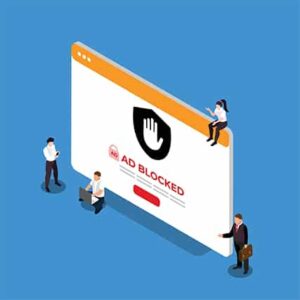 So, which is the best ad block software for all browsers? Here are a few options that will improve the browsing experience.
uBlock Origin – Best Overall.
AdBlock – Available on all top browsers.
AdLock – Best premium software.
What are the Pros and Cons of Ad Blockers?
Ad blockers: Pros and cons:
First, this software cuts down on annoying ads. It's annoying to click on a link and get bombarded with pop-up ads that seem impossible to close. Because of this problem, ad blockers have become a vital tool for people who spend a lot of time on the internet. Second, an ad blocker stops background tracking, so users' personal information is protected against exposure to advertisers. Also, ad blockers can speed up the browser, as all background trackers and ads are blocked from running. By blocking the ads and trackers, battery life is increased. Data bandwidth is also saved.
Despite the pros, keep a few cons in mind. One of those is that the software can block more than just ads. For example, Intercom, an in-app messaging tool, is often erroneously blocked by ad blocking software.
Which ad blocker Should I Use for Chrome?
Chrome is one of the most popular internet browsers. Many top options are available when looking for a perfect ad blocker for this browser. Check this list out for the Best Ad Blocker for Chrome.
AdLock – Best Overall
AdGuard
Adblock Plus