Ad blockers are tools or software developed to block, remove or hide advertising content on web browsers or applications. Ad blockers can be browser extensions, applications or plugins.
Ad blockers are important in helping users have a better and safe browsing experience by removing unwanted ads, which in turn reduces the possibility of malvertising. The best ad blockers for Safari in 2023 are listed below.
AdBlock Plus
AdBlock
Ghostery Lite
Magic Lasso
AdBlock Max
Disconnect Premium
Wipr
UBlock
Unicorn Blocker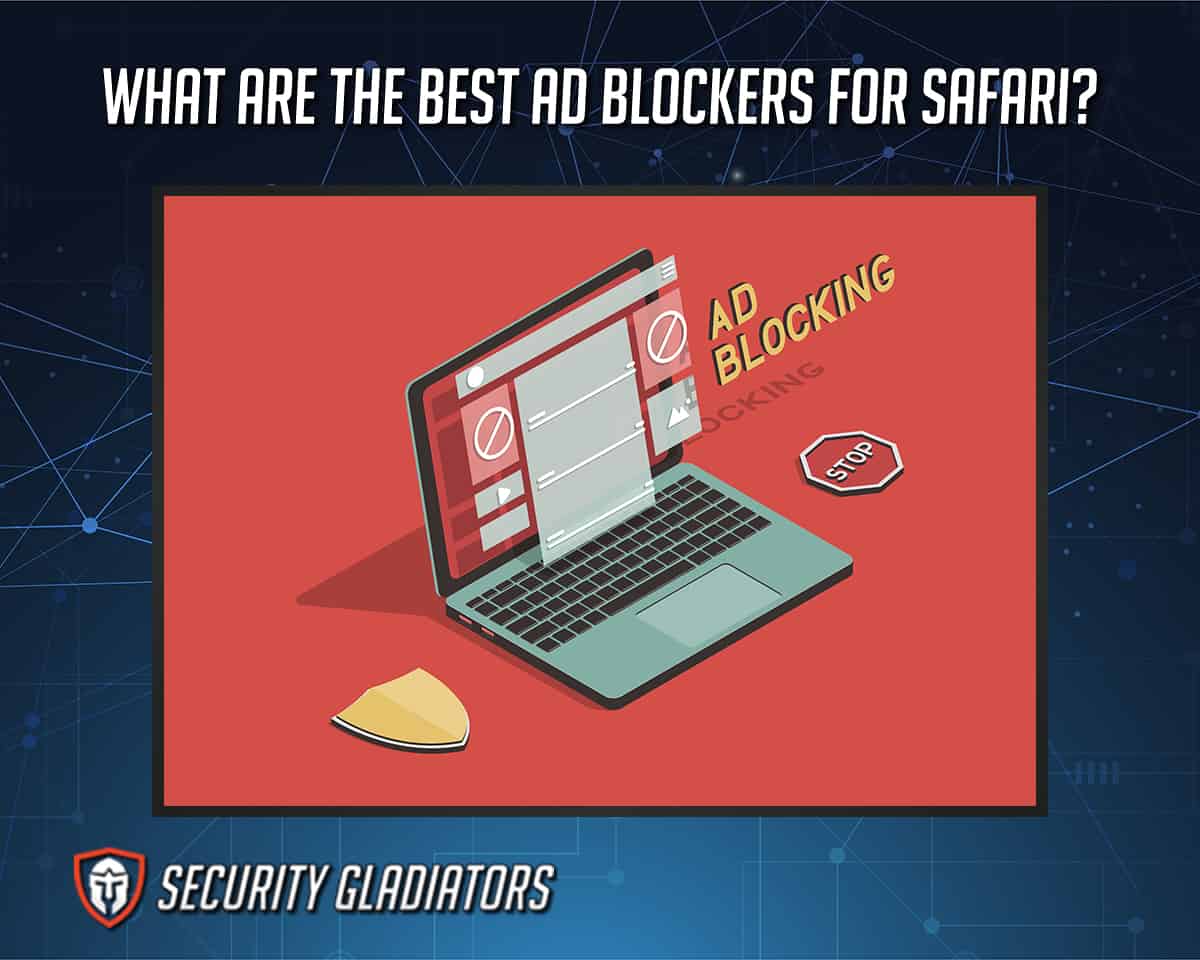 1. AdBlock Plus
AdBlock Plus was founded by Wladimir Palant and is used for blocking ads and filtering content.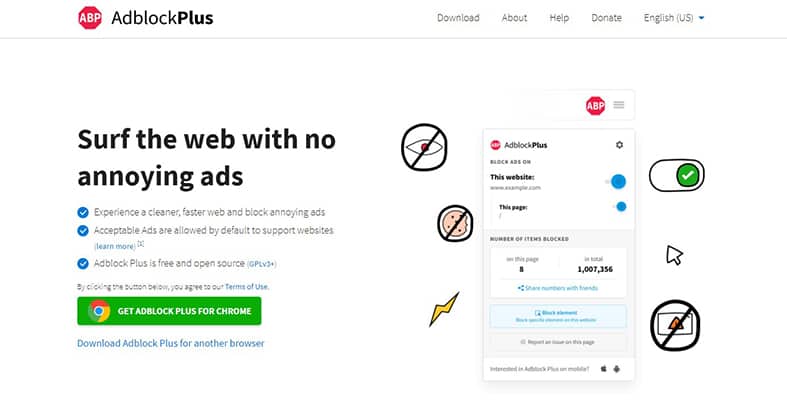 The pros of using AdBlock Plus include the browser extension being free and open-source, ease of installation and use, and support for 24 languages. This ad blocker also has a user-friendly interface and prevents malicious tracking and the spread of malware. However, AdBlock Plus whitelists some ads and doesn't block all advertising content.
The AdBlock Plus browser extension is free and compatible with Safari, Chrome, Edge, Firefox, Yandex and Opera. AdBlock Plus is safe and quickly blocks unwanted or malicious ads. This tool is reliable and trusted by over 100 million users.
---
2. AdBlock
AdBlock was developed by Michael Gundlach and is used to block ads and protect users' privacy while browsing the internet.
Some of the merits of using the AdBlock browser extension include better browsing speed, support of 40 languages, ease of installation and use, and improved online protection. AdBlock is also free and open-source. However, this extension has some downsides, such as the inability to block all YouTube ads and slow browsing speeds when using multiple tabs.
AdBlock is free, and the browser extension is compatible with Safari, Chrome, Firefox and Edge. AdBlock is also available on iOS and Android devices.
AdBlock blocks pop-ups and video or audio ads on social media platforms and websites so that pages load faster and battery consumption is reduced. AdBlock is reliable and trusted by more than 65 million users worldwide.
---
3. Ghostery Lite
Ghostery Lite was developed by David Cancel, but the product is owned by Cliqz International GmbH. Ghostery Lite is primarily used for blocking ads and trackers.
Ghostery Lite's advantages include the use of advanced artificial intelligence technology to block tracking, allowing users to customize what to block or unblock, loading pages faster and being completely open-source. However, one downside of Ghostery Lite is that this ad blocker doesn't offer a free version.
Ghostery Lite costs $4.99 per month and $39 per year or $3.25 per month billed for 12 months. Ghostery Lite is compatible with Safari, Firefox, Chrome, Edge and Opera.
| | | | |
| --- | --- | --- | --- |
| Term | 1 Month | 1 Year | Per Month For 12 Months |
| Cost | $4.99 | $39 | $3.25 / month |
Ghostery Lite performs excellently in improving users' privacy by blocking tracking and ads. Ghostery Lite is reliable and trusted by millions of users worldwide.
---
4. Magic Lasso
Magic Lasso was developed by Matthew Bickham and is used to block ads and tracking. The merits of using the Magic Lasso ad blocker include the availability of a free version, improved privacy, loading pages at faster speeds, and customization of ad or tracking features. Despite these merits, Magic Lasso's free version doesn't offer much protection compared to the pro version and is only supported on Safari.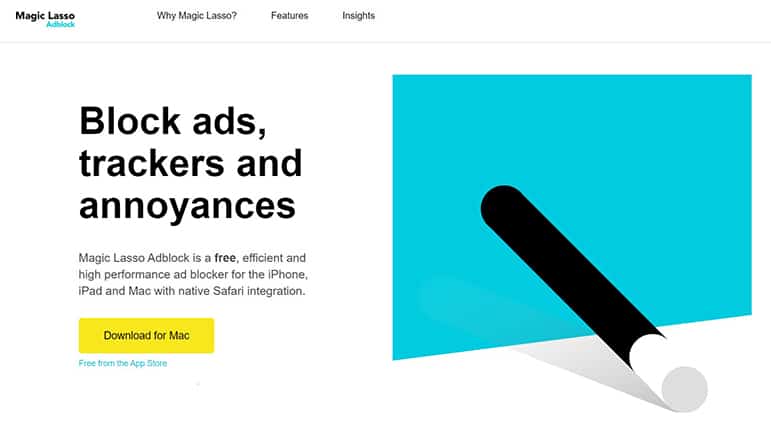 Magic Lasso is free but offers a pro version that costs $29.99 annually. Magic Lasso is compatible with Safari on Mac, iPhone and iPad.
| | |
| --- | --- |
| Term | Pro Version |
| Cost | $29.99 |
Magic Lasso improves users' online privacy and loads web pages two times faster. Magic Lasso is reliable and trusted by over 200,000 clients.
---
5. AdBlock Max
AdBlock Max was developed by Chunxia Li and is used to block trackers and ads, including YouTube ads.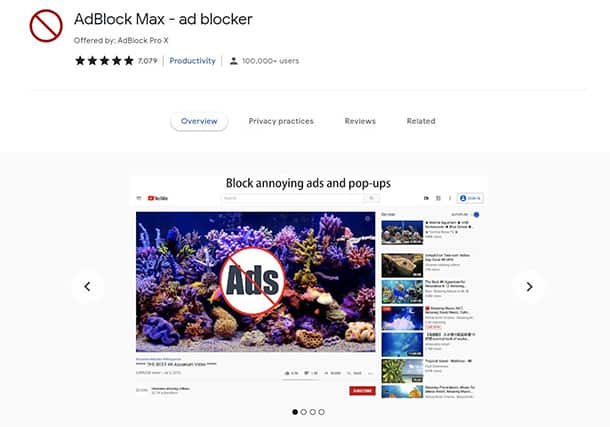 The merits of AdBlock Max are that the ad blocker consumes less data, is easy to set up and use, and loads web pages four times faster. AdBlock Max also doesn't collect users' data and blocks ads, social buttons, and cookie banners or prompts. However, one major downside to AdBlock Max is that the tool is only supported on Safari.
AdBlock Max is free and only compatible with Safari on Apple devices. AdBlock Max deploys quickly and utilizes advanced iOS or macOS features to ensure users' privacy. This ad blocker is 100% reliable.
---
6. Disconnect Premium
Disconnect Premium is an ad blocker that was developed by Casey Oppenheim and Brian Kennish to block ads, tracking and other threats to users' privacy.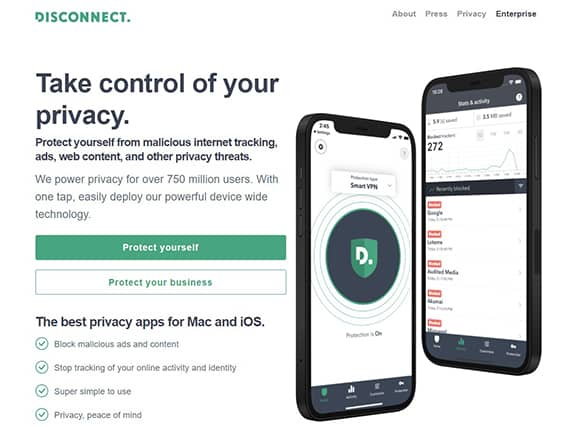 Disconnect Premium's pros include a strict anti-log policy, loading web pages 2.4 times faster, and encryption of users' network traffic to block tracking. However, Disconnect Premium doesn't block all ads.
Disconnect Premium costs about $7.60 monthly and $43.40 annually. Disconnect Premium is compatible with Windows, Firefox, and Apple devices.
| | | |
| --- | --- | --- |
| Term | Monthly | Annually |
| Cost | $7.60 | $43.40 |
Disconnect Premium performs excellently, using firewalls, DNS, and Tracker Protection Technology to block tracking and ads. Disconnect Premium is reliable and trusted by 750 million users.
---
7. Wipr
Wipr was developed by Giorgio Calderolla for the primary purpose of blocking ads and trackers.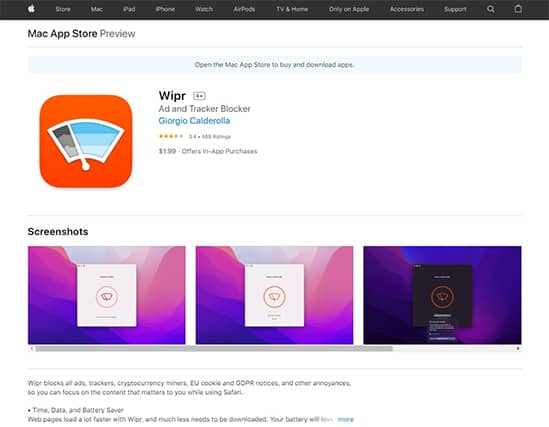 Some of the merits of using Wipr are that the ad blocker uses content blocking extensions technology that doesn't slow down web pages. Plus, the tool blocks EU cookies, crypto miners and GDPR notices. Wipr is also fast and easy to set up. However, Wipr is only supported on Apple devices.
Wipr costs $1.99 on the Apple App Store and is compatible with Apple devices alone. Wipr is 100% reliable and effectively blocks tracking and ads.
---
8. UBlock
UBlock was developed by Raymond Hill and is used for content filtering or ad blocking.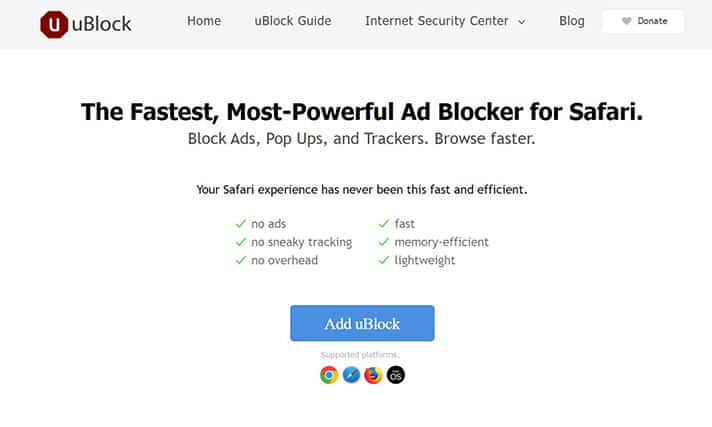 UBlock offers advantages such as being free and open-source, availability in 63 languages, compatibility with several different browsers, and improved memory and CPU performance. However, UBlock doesn't work for Safari version 13 and above.
UBlock is free and compatible with Firefox, Chrome, Edge, Opera, Chromium and Pale Moon. UBlock does a great job of filtering content and blocking ads. UBlock is reliable and trusted by over 10 million users.
---
9. Unicorn Blocker
Unicorn Blocker was developed by Oh Nam Kwon primarily for blocking ads on Safari. The advantages of using Unicorn Blocker include web browsing at a speed three times faster, a 21% increase in battery life and effective blocking of tracking systems. However, Unicorn Blocker only supports three languages and doesn't work with other browsers.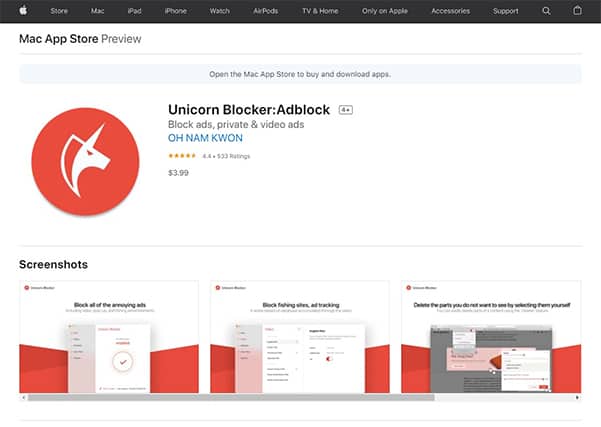 Unicorn Blocker costs about $1 on the Apple App Store and is compatible with Safari on all Apple devices. Unicorn Blocker is completely reliable and performs well in blocking ads and tracking.
| | |
| --- | --- |
| Term | Unicorn Blocker |
| Cost | $1 |
---
How to Choose the Best Ad Blocker for Safari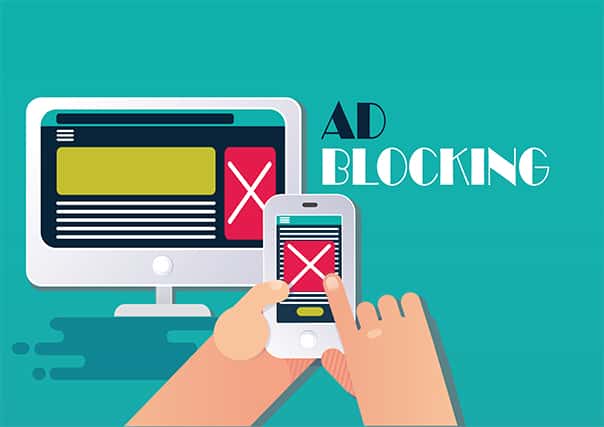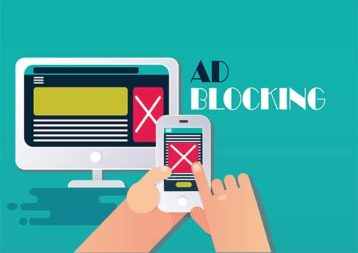 To choose the best ad blocker for Safari, users should consider ad blockers that provide optimum security and privacy protection. To do this, users should go for ad blockers that block tracking either by default or customization.
Users should also ensure such ad blockers offer content filtering and block ads, pop-ups, cookie prompts, banners, malicious redirects and fake close buttons. All these features are effective in ensuring users can enjoy smooth browsing without annoying ads and browse privately without being tracked or under surveillance.
Can Ad Block Software Provide Safe Browsing in Safari?
Yes, an ad block software can provide safe browsing in Safari. Ad block software uses different advanced technologies to block tracking systems, ads and sometimes malware to ensure Safari users can browse safely.
Does the Safari Browser Have Ad Blocker Extension Support?
Yes, Safari supports ad blocker extensions. However, Safari also allows users to hide IP addresses from trackers and enable "Privacy Preserving Ad Measurement" via settings. Still, to enjoy the full benefits of an ad blocker, Safari users can install the best Safari extensions for ad blocking.
Are There Any Harms of Using Ad Blockers in Safari?
There are no harms attached to using ad blockers in Safari. Ad blocker browser extensions for Safari are totally safe to use.
Can You Block YouTube Ads in the Safari Browser?
Yes, users can block YouTube ads while using Safari on Mac, iPhone or iPad devices. However, not all ad blockers can block YouTube ads, so users should make sure to install an ad blocker that specifically states the capability to block ads on YouTube. Most ad blockers block YouTube ads by default.
Can You Use a VPN to Block Ads on Safari?
No, VPNs themselves are not ad blockers. However, there are some VPNs for ad blocking. VPNs can only be used to block ads on Safari if such VPNs support ad blocking.
What Other Browsers Have Support for Ad Blockers?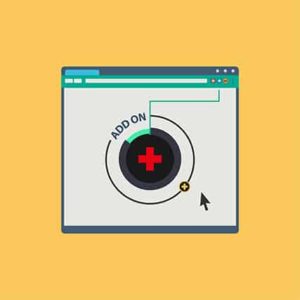 While some ad blockers are strictly developed for Safari, generally, ad blockers do not work for Safari alone.
The best browsers that are compatible with ad blockers are listed below.