A
d blocking involves using software to filter advertisements from web pages and user devices. There are various types of ad-blocking software available with specialized features to shield internet users from annoying advertisements. Recently, hackers have been using fake advertisements to lure victims to dangerous websites and steal sensitive information. However, ad blockers can protect users from harmful or intrusive advertisements.
The operating mechanisms of ad blockers are generally easy to understand. Ad blockers work by monitoring every website the browser visits and reading the website's scripts. The adverts or pop-ups are banned if the ad blocker recognizes a script that needs to be blocked. Online users employ ad blockers to gain privacy and security, improve device performance, and control internet usage. At the same time, some individuals consider that blocking advertisements is illegal. However, as it currently stands, Internet users can still control every element of the browsing experience without interfering with publishers' content.
Advertisements can be blocked using a variety of software applications, such as VPNs or browser extensions. This article focuses on the most effective VPNs for blocking advertisements.
The 5 best VPNs for ad blocking are listed below.
NordVPN
Surfshark
ProtonVPN
Atlas VPN
Windscribe
1. NordVPN
NordVPN is one of the most reliable VPNs with a unique ad-blocking feature. Cybersec, a particular feature of the VPN, efficiently blocks advertisements, viruses, and trackers on every page a user visits. Cybersec also offers threat protection because the feature blocks harmful websites, pop-ups, and any threat on popular platforms.
The advantages of using NordVPN as an ad blocker include compatibility with platforms such as Windows, iOS, Android, Linux, and macOS, quick browsing, internet security, a strict privacy policy, obfuscated servers, split tunneling, browser extensions, uninterrupted streaming, private DNS, double protection, and a simple user interface.
The disadvantages of NordVPN include expensive monthly plans, the lack of router apps, and the lack of free plans. The monthly price of NordVPN is $13.99 for the Complete plan, $12.69 for the Plus plan, and $11 for the Standard plan.
NordVPN is effective in protecting users from unwanted advertisements and pop-ups. Some features of NordVPN are Onion over VPN, dark web monitor, simultaneous connection with six devices, meshnet, security, tight privacy, good customer care, and uninterrupted streaming.
2. Surfshark
Surfshark is a powerful, affordable VPN with unlimited device connections and ad-blocking features. The VPN is very secure, with a strict privacy policy that safeguards user data. Cleanweb is a function of Surfshark that filters advertisements, pop-ups, and phishing attempts on users' devices.
Surfshark's advantages include unlimited simultaneous connections, a dependable refund policy, robust security features, fast surfing, a strict no-logging policy, effective ad blocking, malware prevention, email protection, access to geo-restricted content, and more.
Surfshark offers three price plans: one month for $12.95, one year for $3.99 per month, and two years for $2.49 per month. Users can select any of the above plans and expect excellent ad blocking. On the other hand, Surfshark has a few disadvantages, including a lack of free plans and split tunneling on iOS.
Regardless of the chosen plan, Surfshark provides features such as multiple platform support, including Windows, macOS, iOS, Linux, Android, Chrome, Firefox, and Edge, CleanWeb, kill switch, camouflage mode, strong encryption, secure protocols, and exceptional customer service.
3. ProtonVPN

ProtonVPN is one of the best VPNs for ad blocking, allowing users to access the web without being bombarded with advertisements. NetShield, a feature exclusive to ProtonVPN, disables intrusive advertisements. NetShield also protects against malware and website trackers.
ProtonVPN's advantages include easy usage, a free plan, a strict no-logging policy, a reliable refund policy, a secure core, robust protocols and encryption, and security of user data. ProtonVPN's disadvantages include its pricey monthly plan and restricted features.
ProtonVPN's price plans are available in one-month, one-year, and two-year subscriptions at $9.99, $5.99, and $4.99 each month, respectively. On any of the available plans, users get access to the following features: high speed, simultaneous connections with ten devices, a strict no-logging policy, secure core servers, Tor over VPN, P2P compatibility, and NetShield ad blocker and virus protection.
4. Atlas VPN

Atlas VPN is an ad-blocking VPN that enables internet users to surf freely and securely. The VPN's security shield blocks malware, advertisements, trackers, and phishing/ virus-infected websites.
Atlas VPN's advantages include compatibility with popular platforms, unlimited simultaneous connections, unrestricted access to internet content, multihop connections, a network kill switch, split tunneling, a strong privacy policy, robust encryption, and a data breach monitor.
Atlas VPN's disadvantages include an unreliable VPN location (the United States), an expensive monthly subscription, and a limited number of server locations. Price plans for Atlas VPNs include a one-month plan for $10.99, a one-year plan for $3.29 per month, and a three-year plan for $1.83 per month.
Atlas VPN features include a 30-day money-back guarantee, data leak protection, 24/7 customer service, military-grade encryption, an unlimited number of device connections, a data breach monitor, a strict no-logging policy, a kill-switch, split tunneling, and an ad blocker.
5. Windscribe

Windscribe is a top-tier VPN for ad-blocking with a wealth of valuable features. The VPN also has a function known as R.O.B.E.R.T., which blocks I.P.s, trackers, and domains on all user devices.
Windscribe's advantages include robust encryption, a browser plugin, a kill switch, free plans, a robust protocol, support for torrenting, DNS leak protection, split tunneling, and excellent customer service. Windscribe's disadvantages include the lack of an independent audit, a small number of servers, and a location in the 5-Eyes nation.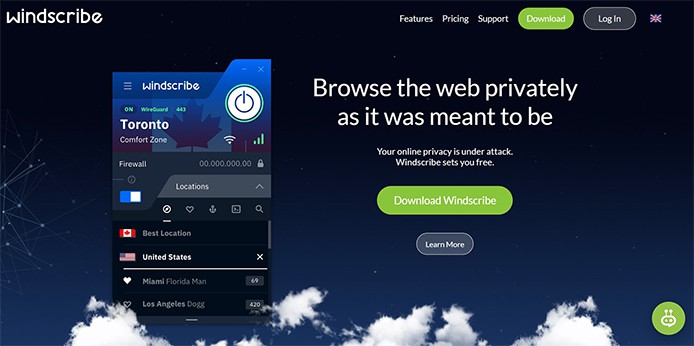 There are two price plans for Windscribe: a monthly plan for $9.75 and an annual one for $5.50. These packages include limitless protection, R.O.B.E.R.T. to prevent adverts and trackers, a firewall, split tunneling, static IPs, outstanding customer care, and anti-malware protection.
Note:
Prices may differ from the ones shown as new plans and deals are launched on a regular basis. Please be sure to check the most current price on the official website.
What to look for in the best ad blocker VPNs?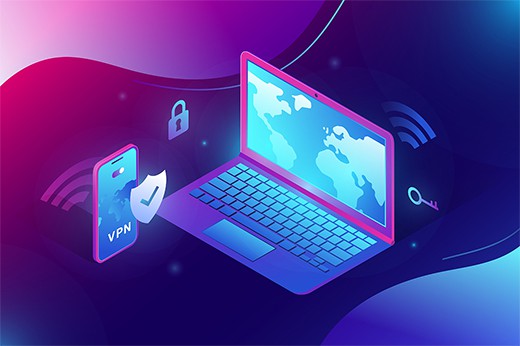 There are numerous VPNs available on the market that can block advertisements. When choosing an ad-blocking VPN, there are, however, certain features that users must prioritize. Look for features such as ad blockers, anti-malware, robust security features, compatibility with multiple devices, support for popular platforms, a strict privacy policy, and any additional benefits.
Why would ads be dangerous?
Malvertising refers to malicious advertising. Advertisements can be dangerous and can lead to malvertising. Cybercriminals can inject malware into advertisements without the publisher or the website visitor's knowledge. Malware may also be downloaded to users' devices ignorantly after clicking an ad. Additionally, promotions can result in identity theft, file corruption, and other security threats.
How to use a VPN for ad blocking?
Follow the steps below to use a VPN for ad blocking.
Select a preferred VPN with an ad-blocking feature
Visit the VPNs website to download the app or the browser extension
Choose a preferable subscription plan and sign up
After download, sign in and navigate to the Settings section
Scroll to the ad blocker section and toggle the feature on
Once the ad blocker is on, browse the internet freely without disturbance
As described above, the steps to use a VPN for ad blocking are easy to follow. This is thanks to VPNs with in-built features for blocking ads.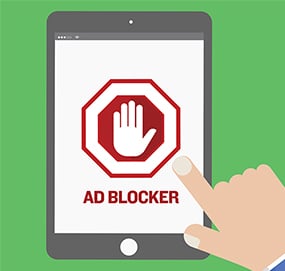 Are ad blockers safe to use?
Ad blockers are safe to use. However, users must download the software from reputable and trustworthy sources, such as the websites of ad blockers or browser extension stores. Ad blocking aims to protect users from intrusive advertisements, malware, viruses, and trackers, so users must be cautious.
Does a VPN block ads?
Yes, some VPNs block advertisements while others do not. Some VPNs have added ad-blocking capabilities to assist users in avoiding or blocking malicious websites. Generally, all VPNs are known for location-spoofing and internet privacy capabilities.