Brave is a free and open-source browser that prioritizes security and speed by automatically eliminating advertisements and website trackers. Based on the Chromium web browser, this browser was designed by the Brave software developer to provide consumers with an excellent browsing experience.
The Brave browser functions on Android, iOS and desktop computers. People can also use Brave search on any browser and set Brave as the default search engine. This privacy browser is three times faster than Chrome and offers superior Google protection. Brave is a popular security browser with a user base of over 50 million people.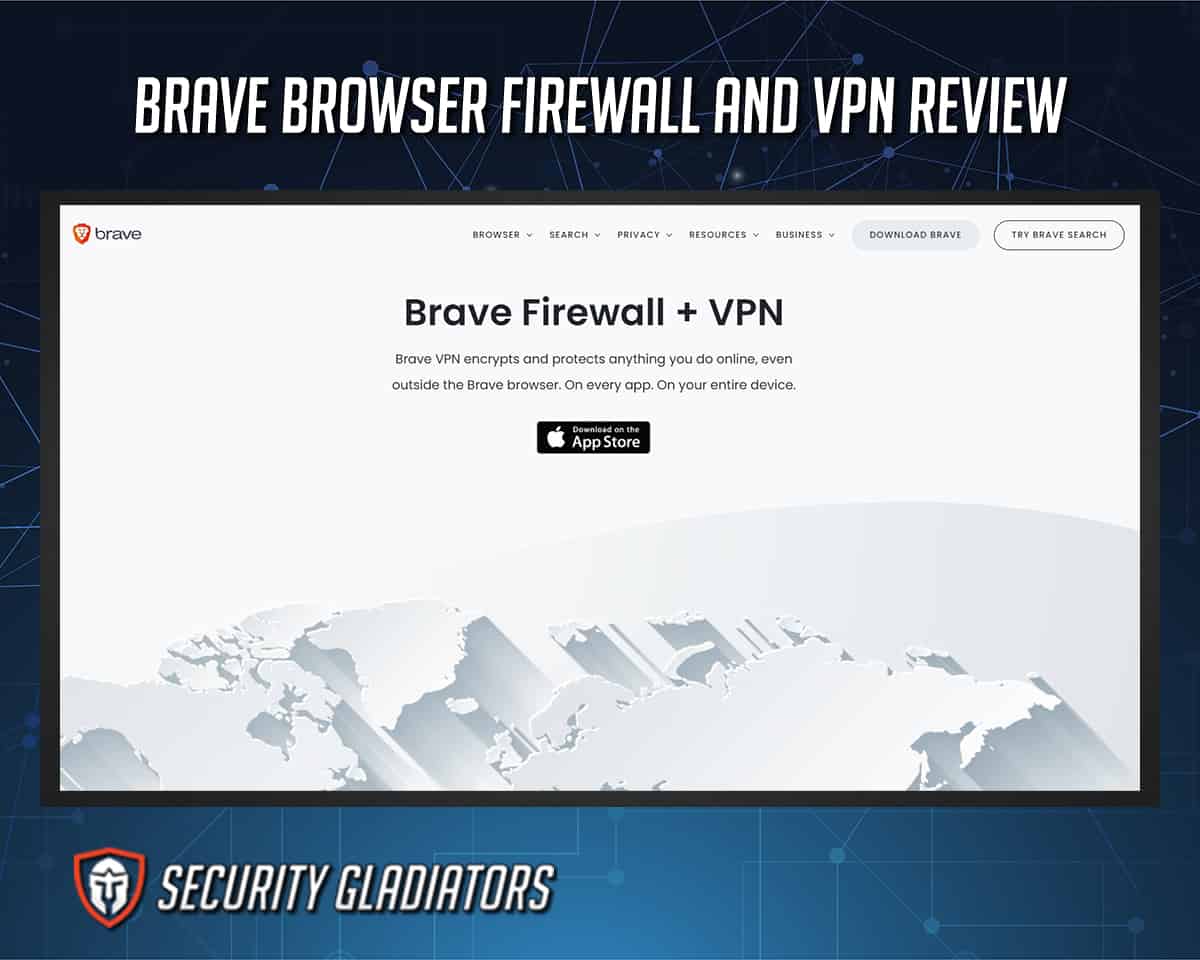 People often use a virtual private network (VPN) as a browser add-on to increase security, speed and privacy. Does Brave browser have a VPN, too, like other browsers? The answer is yes: The Brave built-in VPN is available as a premium service that emphasizes security and reliability. Brave Firewall + VPN, the browser's built-in VPN tool, is currently only accessible on iOS devices.
What is the Brave VPN Firewall and VPN?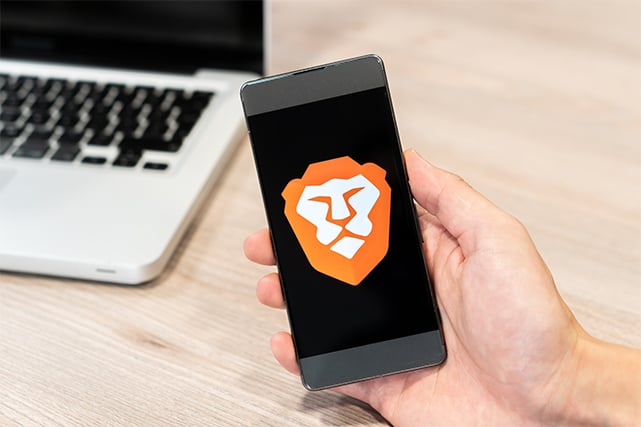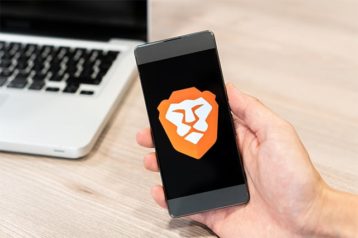 Brave Firewall and VPN is a premium feature that's currently accessible exclusively for iOS users. Brave's firewall and VPN service provides users with a double benefit in online activity protection. This Brave premium feature secures users' devices by blocking all types of tracking. A firewall, in essence, protects users' devices from unauthorized access, malware and other malicious activities. Overall, VPNs and firewall applications serve to protect internet users' privacy. But Brave provides users with comprehensive online security when these two characteristics are combined.
Brave Firewall and VPN prevents unauthorized tracking across all applications and encrypts all web connections. The Brave Firewall and VPN also includes fast and unlimited bandwidth of up to 100Mbps, 24/7 customer support and data security capabilities.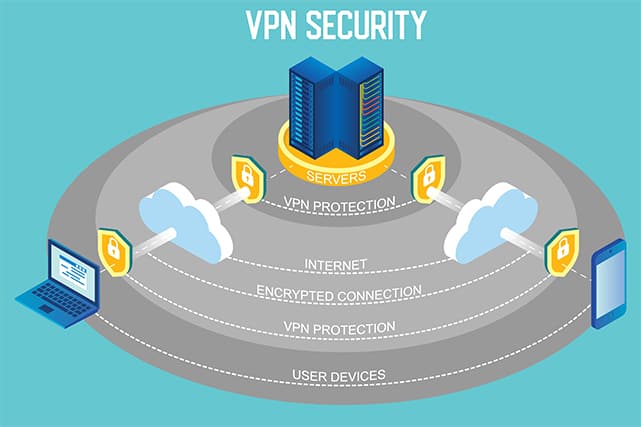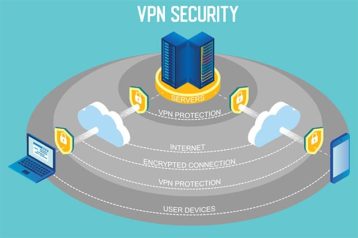 iPhone and iPad users have the most access to Brave's firewall and VPN service. After signing up for the free Brave browser, users may easily upgrade by setting the firewall and VPN in the app. With this update, iOS users will access the Brave browser's premium feature across all apps. While some programs, such as online banking, may not function while using VPN, users can quickly turn the firewall and VPN on and off.
Using a firewall and VPN is essential in today's world, especially with the rise in cyber threats. As a result, users of the Brave browser can browse the internet without the need for additional VPN protection or the risk of being hacked. Based on a comprehensive Brave browser review, Brave's key advantage is complete encryption without slowing down users' browsing. In other words, iOS users will benefit from a unique browser that offers speed, security and privacy.
How Brave Firewall and VPN Works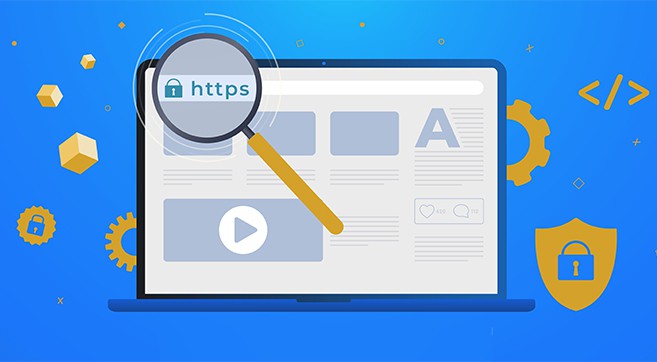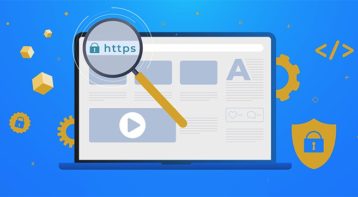 Brave's premium feature serves a unique purpose: the browser allows iPhone and iPad users to control all internet activities and block unwanted monitoring fully. The operation of the browser is based on the use of high-quality security and privacy mechanisms to encrypt iOS users' online activities. Unlike other VPNs that hide users' IP addresses, Brave Firewall and VPN uses different techniques. Similarly, by routing all iOS traffic through an encrypted VPN to Guardian's servers, Brave Firewall and VPN can detect apps sending tracking data in real-time.
iPhone and iPad users must first download the free Brave browser version before using the firewall and VPN. Users can then navigate to settings and select "Brave VPN." The user will then be taken to an interface to sign up for a paid plan, either monthly or yearly. Users can install the VPN profile when the selected payment has been verified through the Apple App Store. Users should tap the "Allow" button to accept the prompt requesting user consent to install the VPN profile. After the installation, Brave will display a message indicating that the VPN is now active. Users can check the settings to validate the VPN feature, and the Brave VPN should have been turned on by now.
Users can now enjoy several built-in functions after activating the Brave premium feature. The built-in features include the ability to block trackers across all apps on users' various devices, protection for all connections, a strict no-data-sharing policy and assurance of users' anonymity.
What are the Features of Brave Browser Firewall and VPN?
The Brave browser firewall and VPN offers enhanced security and privacy by encrypting and protecting anything users do while connected to the internet. Other features include unlimited bandwidth up to 100Mbps and secure connections everywhere. While other browser VPNs function through masking users' IP addresses, Brave browser firewall and VPN encrypts users' activities. Furthermore, Brave's firewall and VPN service is fast and easy to use.
Why Should You Consider Brave Firewall and VPN?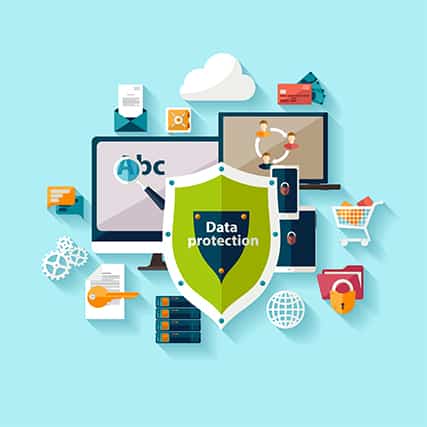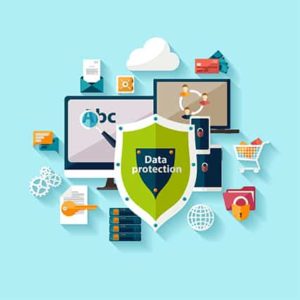 Users should consider the Brave browser firewall and VPN for a complete security package. The VPN can block unwanted snooping and offer faster surfing due to ad-blocking. In addition, Brave Firewall and VPN encrypts all of users' devices.
According to the Brave website, another reason to switch to Brave VPN is that the browser is up to three times faster than Chrome. Users can see how many trackers and advertisements the VPN has blocked on the interface. If users log in to an insecure HTTP site, the browser presents the added capability to upgrade the HTTPS connection.
Brave VPN is also user-friendly. Users can control the VPN in the browser by toggling the Brave VPN on and off. Brave VPN costs $9.99 per month and $99.99 per year for iPhone users. Brave VPN can secure up to five devices using the Brave browser with this subscription.
What are the Pros of Using Brave VPN and Firewall?
The pros of using Brave VPN and Firewall are listed below.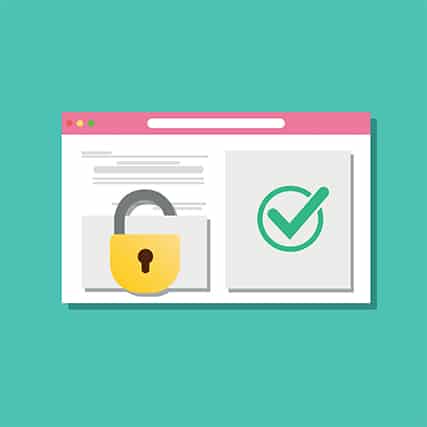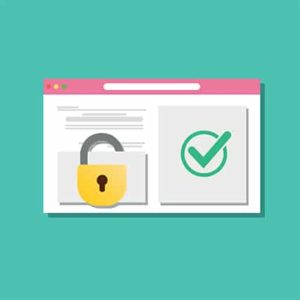 Privacy-oriented: The Brave browser VPN is well-known for providing users with incomparable privacy. When appropriate, the Brave browser protects users by using an HTTPS connection. For added anonymity, the Tor network can support the browser.
Speedy Browsing with Unlimited Bandwidth: Brave Firewall and VPN provides up to 100 Mbps in bandwidth and fast browsing speeds compared to competitors.
Blocks Ads and Unauthorized Monitoring: Some of the major benefits of VPNs are security, privacy and speed. The Brave browser's ability to prevent advertising and ad trackers is the brain behind the fast browsing functionality.
Low Memory Consumption and Battery-Saving: When using the browser's VPN, Brave gives users a boost in battery life. Brave VPN and Firewall saves nearly an hour of battery life compared to Google Chrome and saves data by blocking out data-hungry advertisements and trackers.
24/7 Customer Support: The Brave browser customer service is great and responds quickly to user complaints.
Brave Rewards: Users of the Brave browser can make money anonymously by paying attention to relevant advertisements.
What are the Cons of Using Brave VPN and Firewall?
The cons of using Brave VPN and Firewall are listed below.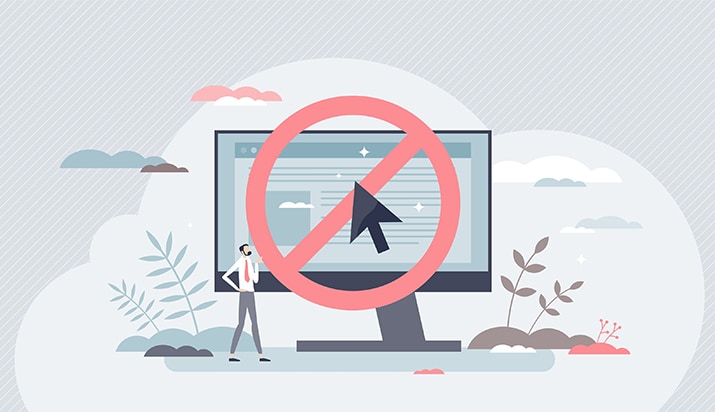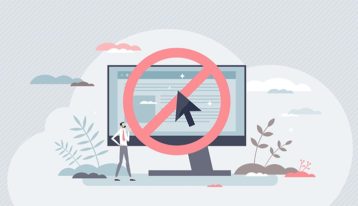 Only Supports iOS Devices: iOS, Android and desktop devices can use the Brave browser application. However, the extra security and anonymity options offered through the VPN and firewall are only available for iOS users.
Only Supports a Maximum of Five Devices: While some VPNs allow for many simultaneous connections, the Brave browser VPN only supports a maximum of five devices.
No Extensions and Plugins: Many software extensions are available for popular browsers. However, no extension or plugin exists for the Brave browser. The browser claims to include major features that a web user requires.
How is the Security of Brave Browser Firewall and VPN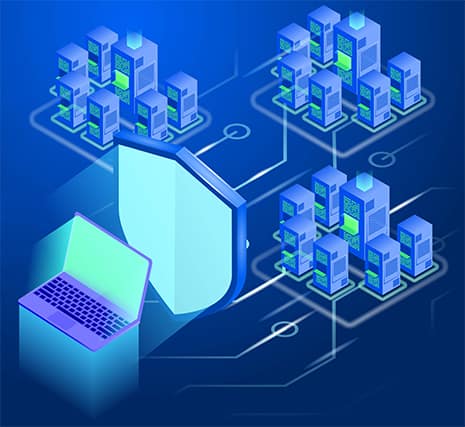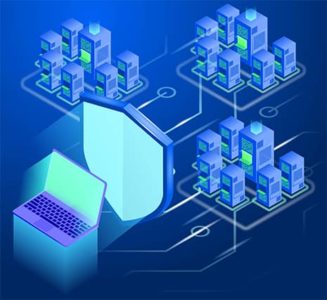 The Brave browser firewall and VPN is an easy-to-use VPN for iOS users that combines the best of virtual private network and firewall technologies. The Brave VPN uses symmetric encryption, AES-256 and the IPsec protocol for security. In contrast, the custom DNS is used by some browser VPNs to block harmful connections. The Brave browser firewall can restrict unauthorized connections to specified IPv4 or IPv6 addresses and ports as a real firewall. The firewall can also restrict connections depending on the content of the data packet.
This is important:
Brave VPN and Firewall provides a high level of security by encrypting all connections. Similarly, the product protects users' devices from unwanted trackers, viruses, phishing, malware, malvertising, dangerous plugins and more.
Does Brave VPN Block Ads?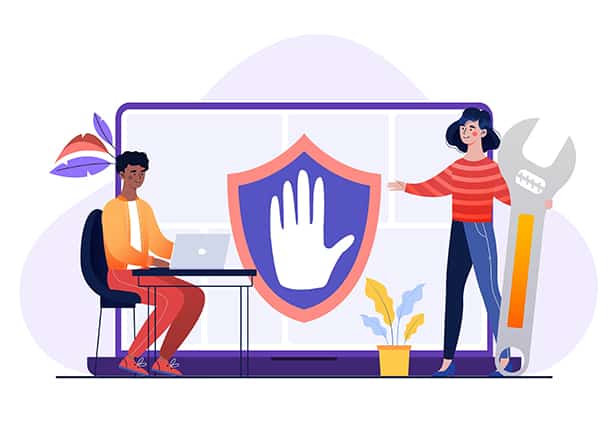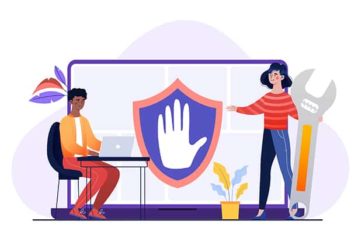 By default, Brave VPN filters all unwanted advertisements. Brave VPN also disables third-party trackers without the need for any additional extensions. Users can customize items to prohibit or whitelist using Brave's open-source lists. Even beyond the functionality of the best ad blockers, Brave VPN allows users to accept some advertisements in exchange for a crypto token called the Basic Attention Token (BAT). This service, known as Brave Rewards, allows websites to earn money while simultaneously viewing first-party ads from Brave's private ads network. This functionality, however, is optional for users and does not affect the Brave browser's ad-blocking feature.
How is the Speed of Brave Browser Firewall and VPN?
With speeds of up to 100 Mbps, the Brave browser firewall and VPN service is fast and unlimited. Brave speeds up website loading by blocking third-party advertisements and trackers. With slower internet connections, the enhanced speed is especially obvious. Reduced JavaScript CPU utilization and bandwidth usage are the key reasons behind the browser's improved performance. Data consumption is reduced because the browser eliminates advertisements and has fewer components to load. As a result, each page will load quicker.
Pro Tip:
Choosing a local server, on the other hand, can help users increase the speed of the Brave VPN. Users can select a local server by navigating to the Brave Firewall and VPN tab in the browser settings.
How to Use Brave VPN and Firewall
Follow the instructions below to learn how to use Brave VPN and Firewall.
The first step is to download the Brave browser from the Brave website.
Navigate to the browser settings through the three dots at the bottom-right side and toggle the switch to enable the VPN.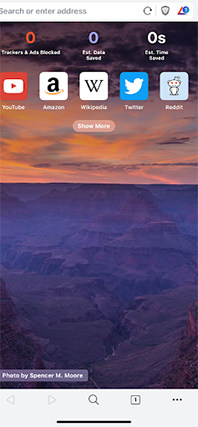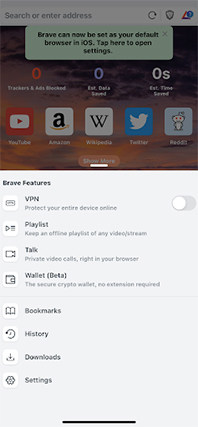 An interface will appear, allowing users to choose a subscription plan. Users should be aware that the VPN feature of the Brave browser is a premium feature. The monthly payment plan is $9.99, while the annual payment plan is $99.99.
Users can also try the paid subscription for seven days for free.
The user must download the VPN profile. To set up a VPN on an iPhone or iPad, Apple requires customers to type in the device pin number. This VPN profile is a necessary file containing all of the VPN connection information. Although the VPN profile is independent of the Brave browser, the file enables tracker filtering and other functionality features.
The VPN profile will be installed after the payment has been verified.
Tap "Allow" to finish the installation.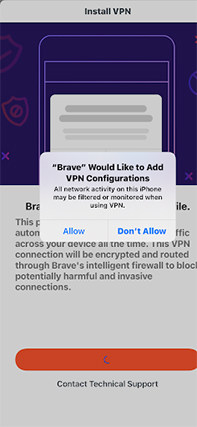 After installing the Brave browser VPN, go to settings and select "Brave firewall and VPN" to access or change the browser location.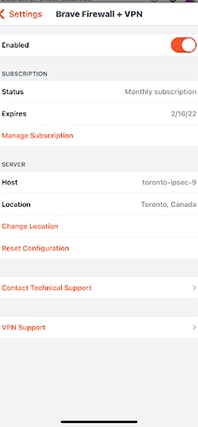 Users can also use the setting icon to control subscription details and server setup.
Note:
In case of any payment issues or refunds, iOS users should contact the Apple App Store for assistance.
What is the Pricing of Brave Browser Firewall and VPN?
The Brave browser firewall and VPN costs $9.99 per month or $99.99 annually. For new customers, Brave VPN offers a seven-day free trial. Brave is also available in a free version for iOS, Android and desktop devices.
What are the other VPNs that can be Used on the Brave Browser?
Some of the best VPNs for Brave are listed below.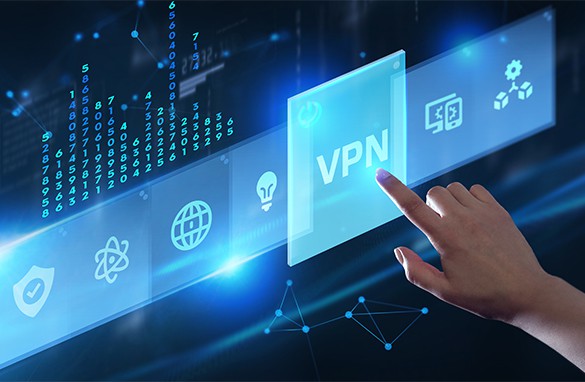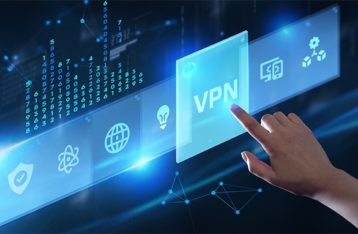 NordVPN
ExpressVPN
Private Internet Access
Surfshark
CyberGhost
PrivateVPN
HideMyAss
Hotspot Shield
IPVanish
ProtonVPN
PureVPN