In this guide, readers will learn about the best cybersecurity apps for iPhone in 2023. Apple iPhone security apps have proven very lucrative for iOS developers in the last few years amid an uptick in cyberattacks due to the pandemic.
After listing the best cybersecurity apps, readers will learn the necessary features that make a good security tool for iPhones. By the end of this guide, readers will have a better idea of whether or not an antivirus is required on an iPhone and whether a switch to an Android device makes sense.
Cybersecurity apps for iPhone are designed to keep Apple devices safe from malicious websites, viruses, trackers and ads. Cybersecurity apps add an extra layer of security on top of the security that iOS already provides to iPhone users. The necessity of security apps has arisen mainly because of the strides hackers have made in making iOS vulnerable to malware and other types of cyberattacks. Apple iPhone users need to know the best cyber security apps for iPhones to keep safe.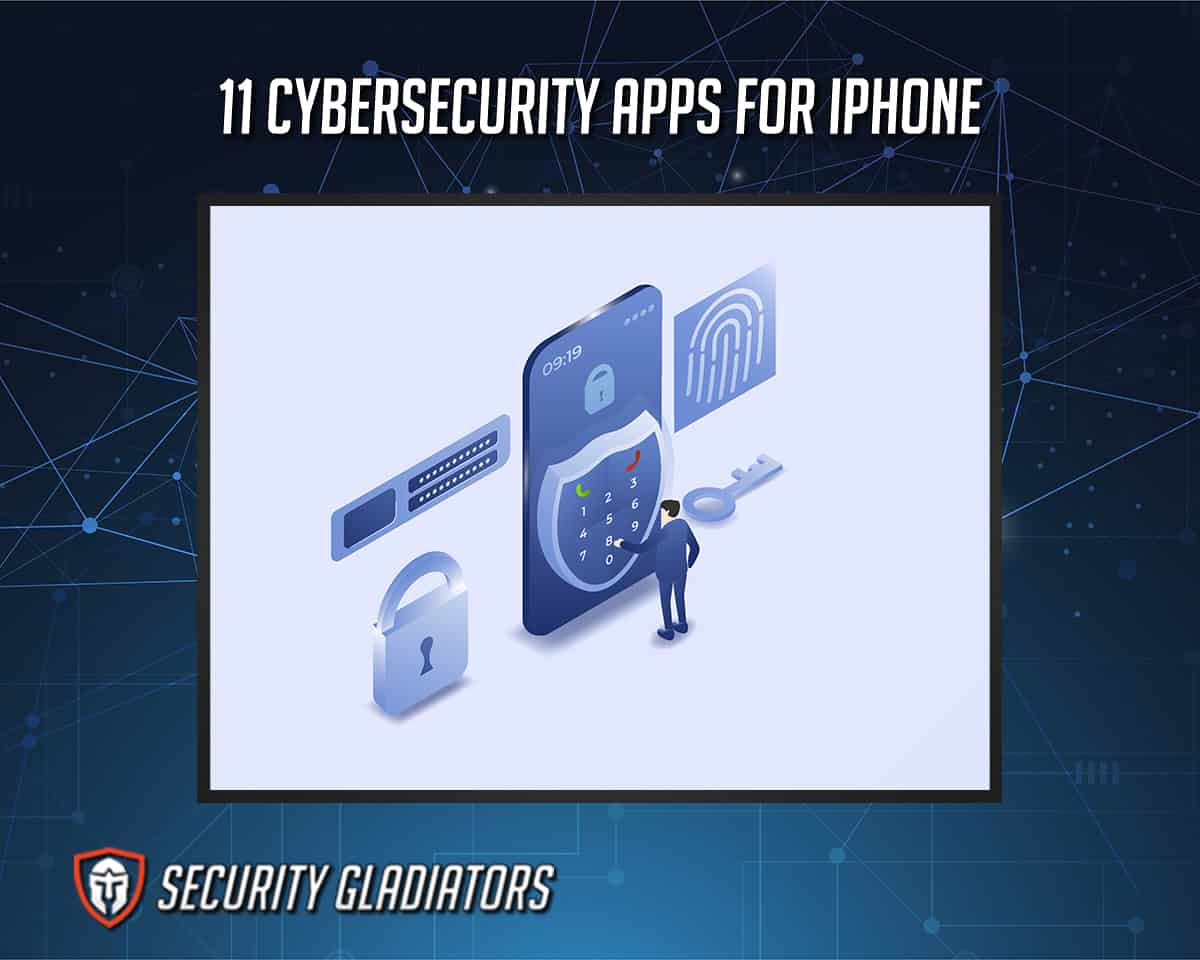 Cybersecurity apps for iPhone users have one main usage, and that is to keep the device protected at all times, even when the user is looking away. The primary benefits of using cybersecurity apps on iPhone are protection from cyberattacks, faster devices, the ability to remove any virus that may be present on the device and protection of data.
The 11 best cybersecurity apps for iPhone in 2023 are given below.
MyChat
Surfshark
ESET Endpoint Security
Acronis Cyber Protect Cloud
SecureAnywhere
BooleBox
TotalAV
Agrello
AppSealing
Silverfort
Axonius
1. MyChat
The app is an instant messaging app that helps businesses send, receive and share files. MyChat's primary function is to enable teams working within an organization to share messages and files either securely over the internet or through the local area network. MyChat app is important because organizations of all sizes need to keep sensitive information private and protected from cyberattacks. The MyChat app, available via the Apple App Store, requires just 349.8 KB of space.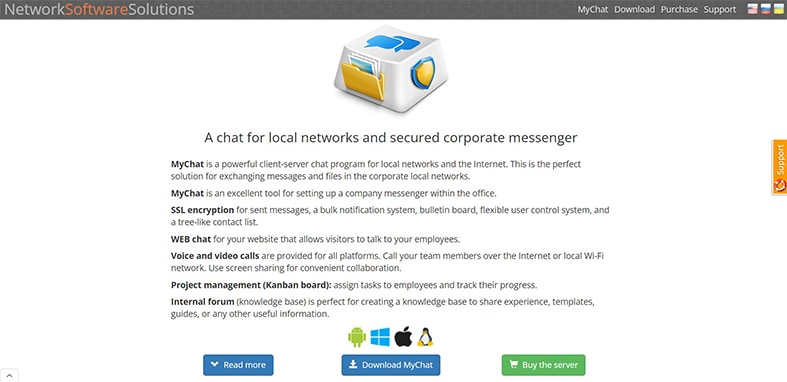 To download the MyChat app, iPhone users need to go to the Apple App Store and then search for "MyChat." Once the appropriate result is shown, users should click the "GET" button, which will download and install the MyChat app on the device.
Advantages of MyChat include access to broadcast messages, return receipt notifications and a self-hosted server with encryption. However, there are a few disadvantages, including restricted language support, a basic design and lack of a multi-device login facility.
MyChat is priced at $6 per user, which is a one-time payment. The app also offers a free version.
The main security functions of MyChat are encryption, a whitelist/blacklist facility, tokenization and incident management. Privacy functions include access control and General Data Protection Regulation (GDPR) compliance.
---
2. Surfshark
is a VPN service that secures users' digital lives and enables private internet browsing. Surfshark's main function is to allow users to stay anonymous on the internet, encrypt data for security and change users' IP addresses. Surfshark's importance is most prominent for people who want privacy and security while carrying out different types of transactions and interactions online. Without the protection Surfshark offers, a user's activity is easily discoverable by third-party actors such as internet service providers, government surveillance agencies and hackers. Journalists around the world also need a secure channel to communicate, which is provided by VPN apps like Surfshark.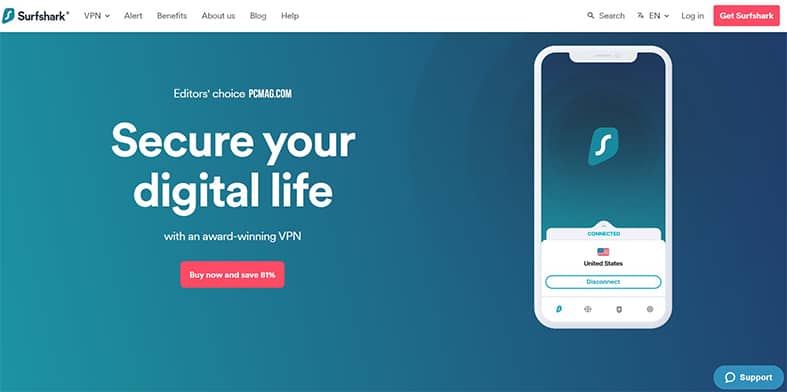 The size of the Surfshark app is 341.1 MB. To download the app, users need to go to the Apple App Store and search for "Surfshark." There might be a couple of other apps from the same developer, but against intuition, users need to click on the VPN app that is categorized under "Productivity." Then, click the "GET" button to download and install the app.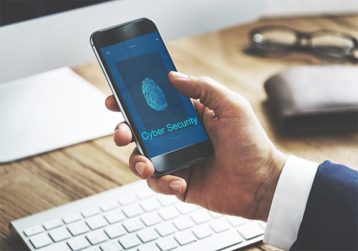 Advantages of Surfshark include strong privacy and security features, live chat support, low prices, extra features, fast servers, an extensive server network and options for torrenting. But the disadvantages of Surfshark are inadequate router support and low performance on VPN protocols such as OpenVPN.
The lowest price for Surfshark is around $2.49 per month. However, the one-month package costs $12.95 per month.
Surfshark's security functions include whitelist/blacklists, split tunneling, CleanWeb, a kill switch, encryption and strong VPN protocols. For privacy, Surfshark offers private DNS servers, a zero-logs policy, thousands of VPN servers and locations, and independent audit reports to confirm the service's claims.
---
3. ESET Endpoint Security
is a cybersecurity system for iPhone that offers protection against malware and phishing attacks, among other threats. The main function of the ESET Endpoint Security platform is to implement threat detection features in a way that keeps malware and other cyber threats away while providing users with an easy-to-use interface for optimum usage. ESET Endpoint Security is important because, without such apps, iPhone users would not be able to find adequate protection against different types of cyberattacks, such as phishing, man-in-the-middle (MitM) attacks and ransomware.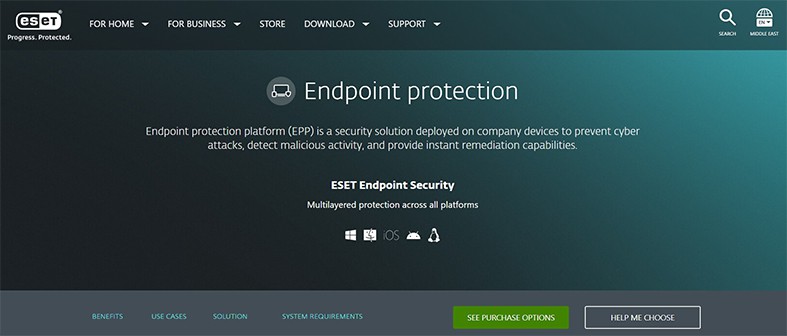 ESET Endpoint Security's iOS file size is not publicly available at the moment because the company provides dedicated and customized solutions according to the needs of the customer. The general file size may be under 30 MB.
To download ESET Endpoint Security for the iOS platform, users have to go to ESET's brand website and find the section for "ESET Mobile Device Management." From there, the user should contact the sales team, who would then get in touch to provide a customized quote along with instructions to download the security app for iOS.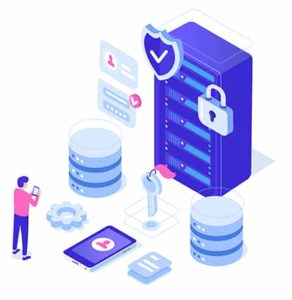 The advantages of ESET Endpoint Security include high scores from independent antivirus labs and comprehensive protection for platforms such as Android, Windows and macOS. Moreover, the security solution has minimal impact on system resources.
However, the disadvantages of ESET Endpoint Security include the lack of meaningful extra features such as parental control and subpar real-world performance against malware samples.
Note:
For iOS protection, the official website requires the user to get in touch with a company representative for a customized plan.
ESET's security functions include protection against malware, spam and ransomware. There is also a firewall feature. Additional security functions include anti-theft, whitelist/blacklist, device security and content filtering.
The privacy functions of ESET include sophisticated systems for password management, lock timers, encryption options and camera-blocking facilities.
---
4. Acronis Cyber Protect Cloud
is a cybersecurity app that protects the customer's digital life with help from cloud backup services. The app mainly focuses on businesses that have a requirement to back up and recover sensitive information such as calendars, reminders, videos, photos, audio files and contacts.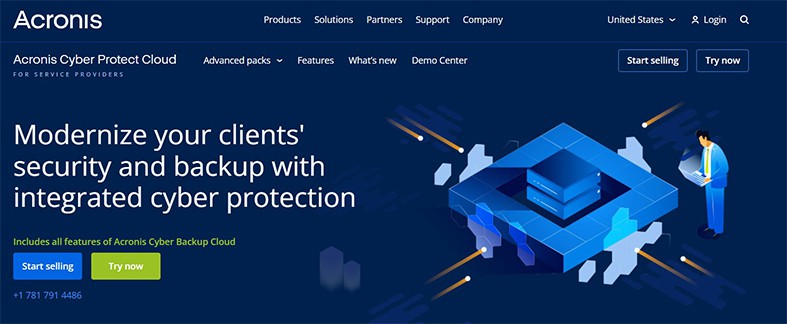 The primary function of the Acronis Cyber Protect Cloud service is to implement an advanced backup solution tailored for small to medium-sized businesses and offer a secure environment for cloud storage.
Acronis Cyber Protect Cloud is important for any business that wants to not only protect sensitive data but also have a management system that is easy to use and pervasive enough for organizations depending on remote workers to get tasks finished.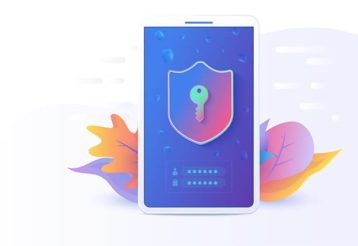 On the iOS platform, the Acronis Cyber Protect Cloud app requires 32.4 MB of space.
The primary advantages of the Acronis Cyber Protect Cloud app include data protection features, storage facilities and backup services all aimed at SMBs, proper tools for remote workers, robust protection against ransomware and forensic backup features.
However, the disadvantages of Acronis Cyber Protect Cloud include separate subscriptions for different components and a lack of access to mobile apps in lower tiers.
The Acronis Cyber Protect Cloud app for iOS is free, but paid subscribers get access to more useful features. Depending on the solution the user signs up for, the price for Acronis Cyber Protect Cloud starts at $59 per year.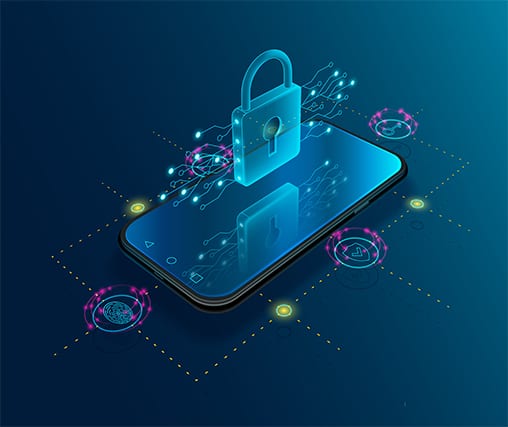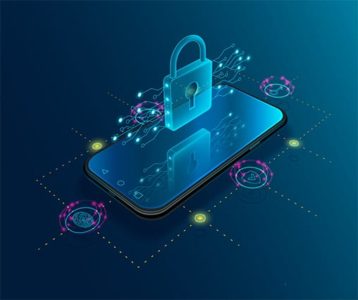 The security functions of Acronis Cyber Protect Cloud are Acronis Active Protection (anti-ransomware), CyberFit Score (which addresses security vulnerabilities in various IT environments), Vulnerability Assessments (involves keeping everything critical up-to-date all the time), remote worker protection and multiple backup types.
The program's privacy functions include device control, port control, encryption of devices such as USBs and screenshots, clipboard control, data protection for services like Microsoft 365 and Google Workspace, alongside secure file sharing and sync features.
---
5. SecureAnywhere
is an antivirus app from Webroot that claims to make web browsing secure on iPhone devices. Webroot SecureAnywhere's main function is to protect iPhone users against malware and phishing websites. Other functions of the SecureAnywhere iPhone app include safety features for banking, shopping and viewing sensitive information on the internet.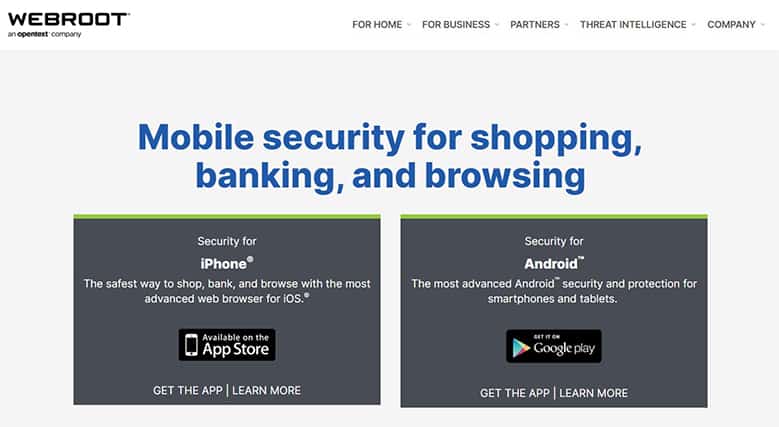 Webroot SecureAnywhere for iPhone is important because the app offers high-quality protection against most modern cyberthreats while keeping the user interface simple. Without such an app, iPhone users wouldn't have the protection that is required in a world where a single year can bring over 500 million ransomware attacks.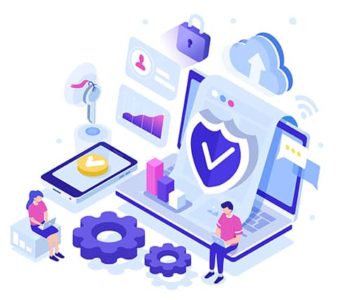 The Webroot Mobile Security app on iOS requires 142.9 MB of space. To download the app, users need to open the Apple App Store on the iPhone device, search for "Webroot Mobile Security," and then click the result with the developer name "Webroot Inc." After that, click the "GET" button to begin downloading and installing the app.
The advantages of Webroot SecureAnywhere include access to many advanced protection features, ransomware protection, small file size, low scan times, minimal system impact and high scores in real-world malware tests.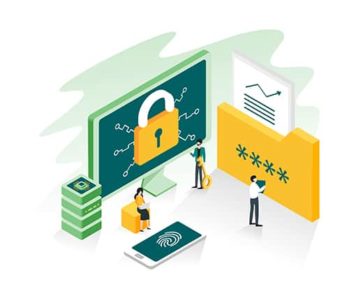 However, there are a few drawbacks of SecureAnywhere for iOS, including an underdeveloped firewall system, less protection against evolving ransomware and an unconventional malware detection system that is hard to rank.
The Webroot SecureAnywhere iOS app is free, but only paid subscribers can unlock all of the program's features. Subscription packages start at around $29.99 annually per device.
Webroot SecureAnywhere's security features include URL filtering, an anti-phishing component, firewall, Identity Shield (for protection against keyloggers), clipboard protection, SafeStart Sandbox, an anti-malware component, repair tools and an app checker/scanner.
For privacy, Webroot SecureAnywhere offers iOS users a secure web browser and cloud storage facility.
---
6. BooleBox
is a data protection platform for users who need to share and/or view sensitive information via documents and other media forms. The main function of the BooleBox app is to provide the tools necessary to make exchanging sensitive information on the internet secure and private. The tool mostly targets working professionals and thus is vital for securing financial data, confidential information contained in different media types, and secure access methods.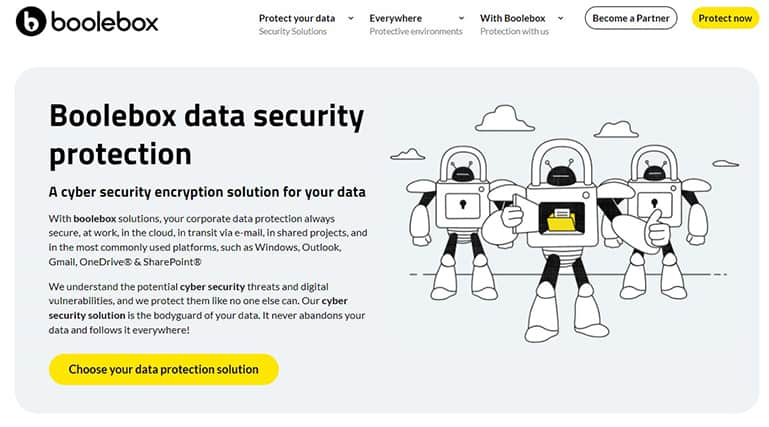 BooleBox's file size is 49.3 MB. To download BooleBox, users need to go to the Apple App Store and search for the brand "BooleBox." From the results, users should click on the app developed by Boole Server S.r.l.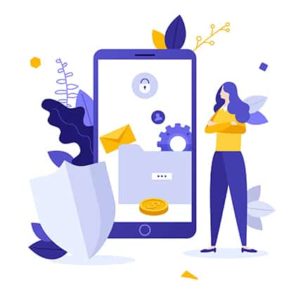 The advantages of BooleBox include access to a fast customer support system, full integration with Microsoft Office 365, easy implementation and good security. But the disadvantages of BooleBox include a dated admin user interface, underdeveloped syncing features and sharing features that are often difficult to understand.
The official BooleBox app for the iOS platform is free, but users do need to subscribe for full functionality. The company offers a free trial period. BooleBox's price structure is complex, but generally, organizations/businesses/users may have to pay anywhere from $2 per license per month to $11 per license per month.
BooleBox's security functions include military-grade data encryption, access to features such as a secure file manager, secure emails, secure passwords and secure transfers. BooleBox provides encryption tools for third-party services as well, including Windows Outlook, OneDrive, SharePoint and Gmail.
The privacy functions of BooleBox include two-factor authentication, an endpoint management system, email attachment protection, policy management and application security.
---
7. TotalAV
is an antivirus and internet security app for iOS and many other platforms. The main function of TotalTV is to protect users from malware, viruses and other types of online threats. TotalAV is important for any user looking to keep malware away on a budget. For real-time protection, an antivirus product is critical in today's online world, and TotalAV aims to provide that while keeping things simple.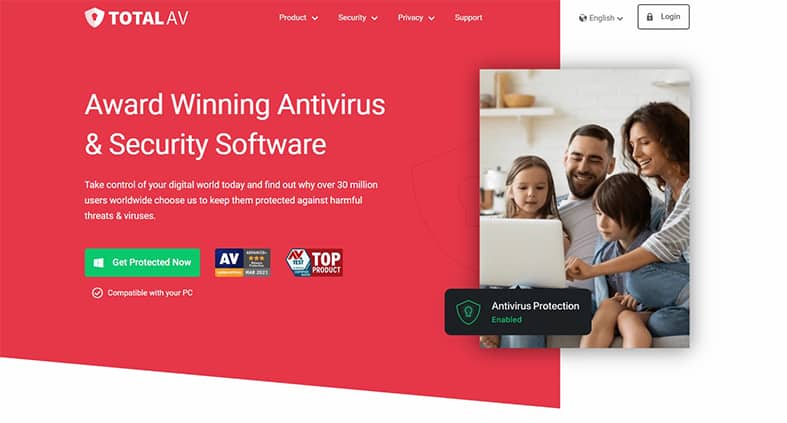 The file size of TotalAV is 198.1 MB on iOS devices. To download TotalTV, iPhone users should launch the Apple App Store and then search for "TotalAV." From the shown results, iPhone users need to tap the option that has listed "Protected.net Group Limited" as the seller/developer of the app. From the next screen, tap "GET" to initiate the process of downloading and installing the app.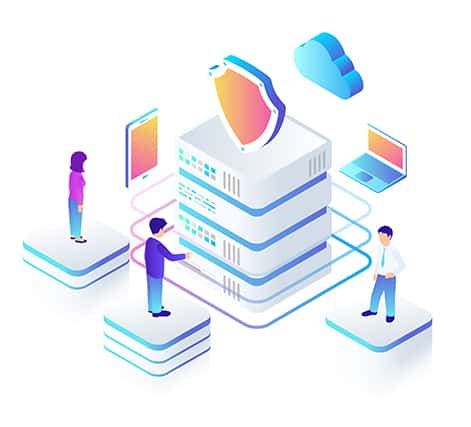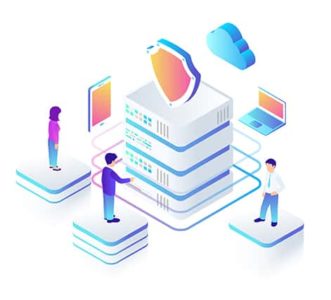 Advantages of TotalAV include competent protection against online threats, a simple user interface, extra features and decent scores from antivirus labs. However, TotalAV's drawbacks include costly subscription packages, average protection against phishing attempts and an inconsistent safe search feature.
The TotalAV iOS app is free and available on the Apple App Store. Along with the free version, TotalAV also offers paid options starting at $29 per year.
TotalAV's security functions include WebShield, a malicious website blocker, a component to combat social engineering, a device locator, and a monitoring component for ensuring every app on the device is up-to-date.
The privacy functions of TotalAV include a data break check, a VPN, a photo manager and a secure search browser.
---
8. Agrello
is an e-signature iOS app that helps online users scan and print e-contracts and agreements. The main function of the Agrello app on the iOS platform is to provide users with an easy way to create digital signatures that have legal value. The Agrello app is important for anyone looking to sign digital documents, including PDFs, Microsoft Word files, Excel spreadsheets and tax forms.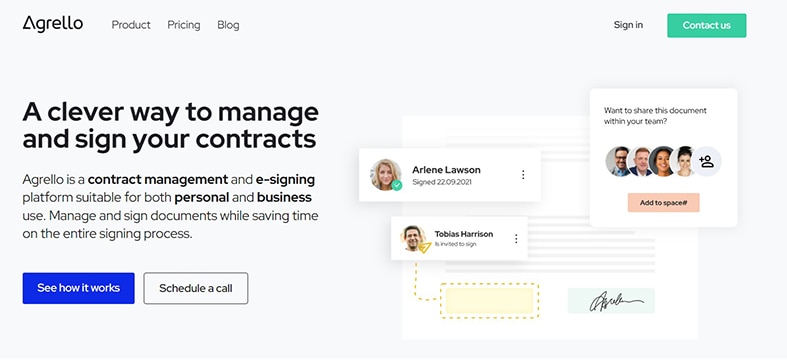 The file size of Agrello on the iOS platform is 60.3 MB. Apple iPhone users can download Agrello by launching the Apple App Store app and then searching for "Agrello." There may be multiple apps with the same name, so users should take care to tap on the Agrello app offered by Agrello OU. From the next screen, iPhone users should tap "GET" to complete the download process.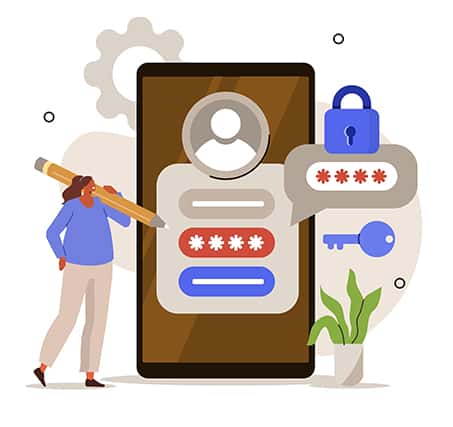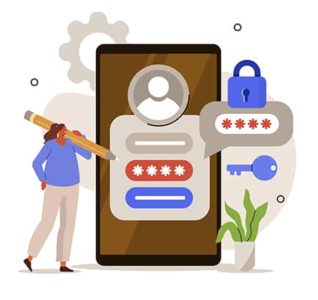 Agrello's advantages are that the app can be used to edit any type of document with little restrictions, Agrello verification can be used with other services, and the app offers changeable e-signatures and a simple registration process.
The disadvantages of Agrello include complex setup procedures when changing devices, inconsistent results on less-powerful devices, some lag and a low adoption rate.
The iOS app on the Apple App Store costs nothing to download and install. Agrello has a free tier that comes with notable restrictions, such as three documents per month, though users get unlimited signatures per month. The standard package costs around $9 per user per month and allows 10 documents per month with unlimited signatures.
The security features of Agrello include verified digital identities, secure cloud storage, free digital identity login, identity protection and secure sharing of documents. Agrello's privacy functions include XAdES electronic signatures, encryption for protecting online identities and signed document certificates.
---
9. AppSealing
is a cybersecurity service for the iOS platform (among other operating systems) that aims to protect mobile apps on offer at various marketplaces. The main function of the AppSealing app is to use patented technology to address security vulnerabilities of a given app to guard against online threats. The AppSealing app is important for users who are not comfortable developing custom solutions for protecting applications at runtime and otherwise. Users with sensitive information that needs protection from various hacking attempts will find AppSealing a critical service for any app in the development cycle. Apart from that, people working in health care, e-commerce and fintech who want hack-proof, customer-facing apps will find AppSealing important.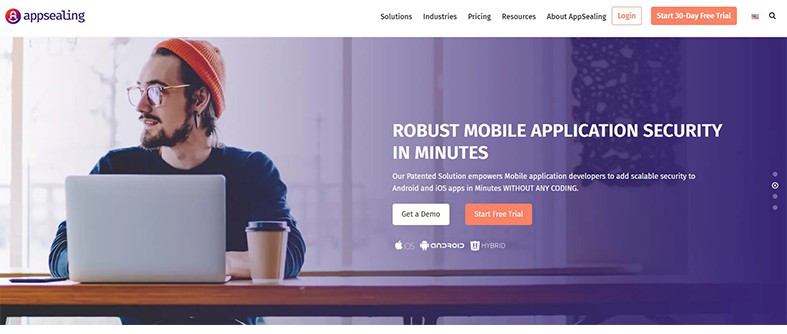 The file size of AppSealing will differ according to the requirements of the app the AppSealing service is supposed to provide protection to.
AppSealing is more of a service rather than an app, so iOS users cannot necessarily download the app from the Apple App Store per se. AppSealing secures iOS apps by adding extra but essential security layers and hence works from within the app that the customer wants to be toughened against online threats.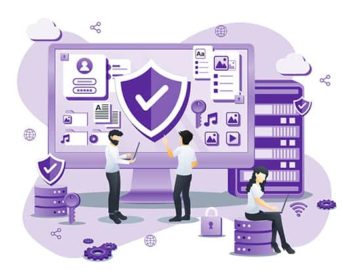 The advantages of AppSealing include live customer support, detailed documentation, easy-to-use mobile apps and economical packages.
The disadvantages of AppSealing are that the app has lower performance on the iOS platform when compared to Android and requires the developer of the app to test for compatibility.
AppSealing has a 30-day free trial that allows users to access all the available features. The most popular subscription plan is the "Professional" plan, which costs $129 per app per month with extra costs for accessing additional features such as MAD and data encryption. The enterprise package is for bigger organizations, for which AppSealing offers a custom pricing model.
AppSealing's security functions include JailBreak detection, anti-debugging and integrity protection, along with a proprietary SDK for easy iOS app protection.
The privacy functions of AppSealing include data encryption, GDPR compliance and the best available algorithms for encryption purposes.
---
10. Silverfort
is a unified identity protection platform that offers mobile apps for iOS devices. The main function of the Silverfort service is to allow users to securely access assets in cloud environments and local networks. The service protects all corporate resources from modern online threats. Silverfort holds great importance for customers needing secure authentication and solid implementation of zero trust access for sensitive assets.
The Silverfort iOS app has a file size of 35.6 MB. To download Silverfort on an iOS device, the user first needs to go to the Apple App Store and search for "Silverfort." From the shown list, tap on the option that has Silverfort Ltd as the seller/developer, then hit the "GET" button to start/finish the download process.
The advantages of Silverfort include easy implementation, custom scripts, clean dashboards, comprehensive Syslog and a fast development cycle. However, Silverfort has a few disadvantages, such as a slightly higher price than other apps, no free version and fewer integrations than the competition.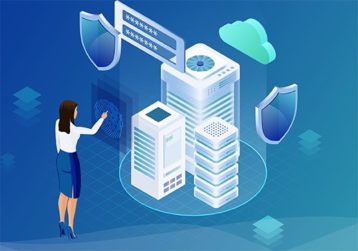 The Silverfort iOS app is free to download and install via the Apple App Store. But to unlock the capabilities of the app, the user needs to sign up for a subscription package. Silverfort does not mention a specific price and requires the interested party to request a demo to get a quote. There is a free trial option available, though.
The main security functions of Silverfort (different subscriptions are required for some of the features) are agentless multi-factor authentication, secure cloud migration, risk-based authentication, zero-trust security, secure service accounts, hybrid IAM consolidation and ransomware protection.
Silverfort's privacy functions include mobile authentication, two-factor authentication, user activity monitoring, compliance management and encryption.
---
11. Axonius
is a cybersecurity asset management platform that has the ability to protect data, content, apps, end-users, endpoints and apps. In terms of devices, the Axonius service can provide tools to manage Windows, Android, macOS and iOS devices.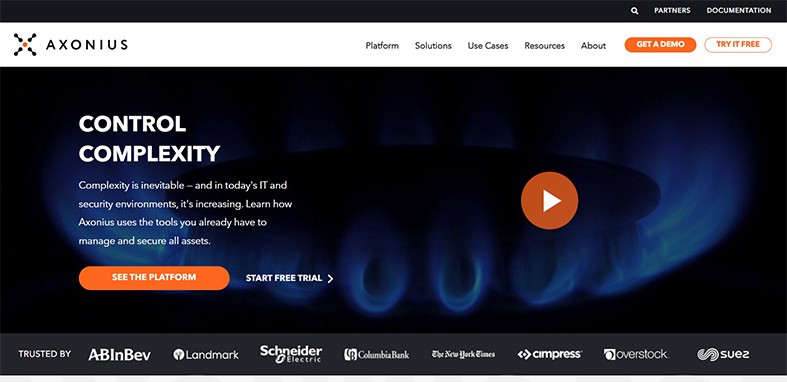 The main function of the Axonius platform is to organize asset inventory, search for security flaws and develop security policies. Platforms like Axonius are important for organizations and businesses looking to integrate IT solutions and secure entire networks quickly. The Axonius service is also important for organizations looking to improve IT operations and data security through advancements in vulnerability management, threat assessment and incident response.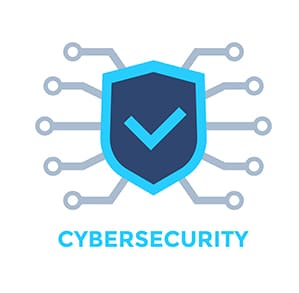 The Axonius platform isn't available as an app on the Apple App Store, though iOS users or organizations can request a demo from the company's website, which would also give the file size required to implement any solutions.
To download Axonius, users do not need to get an app as the service is available via web-based clients and the cloud. As mentioned, booking a demo is the best way to know how the service will come up with a customized way to implement security solutions.
Axonius' advantages include free trial, easy deployment via SaaS, web-based and cloud clients, product training, multiple customer support methods and a comprehensive inventory management component.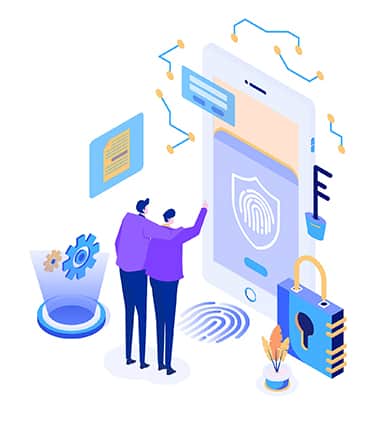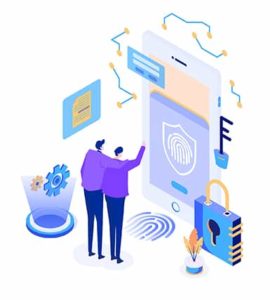 The disadvantages of the Axonius platform include the service's inability to allow customers to organize metric cards, along with relatively limited basic and advanced integrations.
Axonius does not have standard subscription packages. Instead, to start using the service, customers have to go to the company's website and request a demo (which also acts as a free trial). After a successful demo, Axonius presents the customer with a custom quote.
The security functions of the Axonius platform include firewalls, vulnerability scanning, reporting and analytics, monitoring, IOC verification, and compliance management and tracking.
Axonius' privacy features include incident management, access controls, notifications, endpoint management, two-factor authentication and prioritization.
---
What Kind of Security Tools do You Need to Ensure Cybersecurity on iPhone?
T
he best kind of security tools users need to ensure
cybersecurity on iPhone include messaging encryption
tools, antiviruses, anti-spam tools (that some antivirus apps offer as well) and a security camera app for iPhone. Apart from that, iPhone users can further strengthen a given iPhone device by installing anti-theft tools such as Find My iPhone, AppLocks such as Duo Mobile, password management apps like LastPass, VPNs, secure browsers and cleaner apps that check for malware on other apps and newly installed ones (some antivirus apps can provide this functionality as well).
Should You Use an Antivirus on iPhone?
Yes, users should have an antivirus app on iPhone devices to ensure nothing goes wrong in the case of a major development; for example, hackers discover a security vulnerability in the new iOS and launch day-one malware attacks. iOS, the operating system on iPhone devices, is a very secure and private operating system, especially when compared to Android. But even with that, iPhone users with sensitive data on the device's hard disk should get an antivirus app (if not paid, then at least a free antivirus app).
Antivirus apps are important for iPhone devices because such apps can look for hidden malware within other apps and check newly installed apps for anything fishy. Moreover, some antivirus applications for iPhone devices can protect users from phishing and MitM attacks as well while the user is busy completing other tasks on the internet.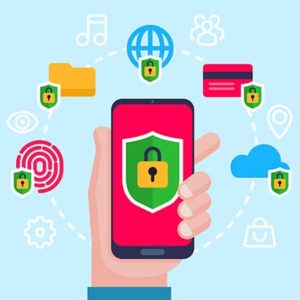 Almost all antivirus apps for iPhone devices are available on the Apple App Store. To use antivirus apps on iPhone devices, users should first pick a preferred antivirus app, sign up for a subscription package from the antivirus program's website, go to the Apple App Store, search for the antivirus app, click the "GET" button to download/install the app, launch the program, input the login credentials and then use the functions, such as scanner, cleaner or updater.
Most modern antivirus apps have minimal effects on performance. With that said, generally speaking, the more features an antivirus app offers, the more the antivirus app will affect system performance. The best iPhone antivirus apps are able to offer great protection along with effective security tools with a low impact on device performance.
How to Check an iPhone's Security
Users can check an iPhone's security with help from one of the many built-in security tools. To get started, iPhone users should first check if the device's battery performance has taken a hit recently. Generally, if there is a problem with the device, the battery drains faster. Some malware programs also cause iPhones to lose battery levels quickly. The method to check battery statistics is to go to "Settings" and then to "Battery." From there, users should look at the apps and how the battery is being consumed. Scrolling down will reveal the apps consuming battery and any background usage. Apps that the user cannot identify should be deleted. Users should know, though, that just because a given iPhone device has suddenly started to drain the battery faster than before doesn't mean there is malware on the device. Many other symptoms have to show alongside faster battery drainage to ascertain if there is malware or if hackers have compromised the device.
Another way to know if there is a security problem with an iPhone device is to look for signs of jailbreak. A jailbroken iPhone device is usually missing many built-in security features, making the device more exposed to online threats. A jailbroken iPhone is usually a problem for people purchasing a secondhand iPhone device. Sometimes, the seller may install malware and then sell the device. The method to check for jailbreak is to launch the search bar on the iPhone device, input the word "Cydia" and then click "Search." If the results of the search show an app by the name of "Cydia," that is a clear sign the device is a jailbroken iPhone.
Pro Tip:
Other methods of determining signs of hacking include the iPhone device overheating, extra charges via the user's credit or debit card, advertisements in web browsers like Apple Safari and a sudden increase in the number of apps installed.
Which iPhone Model is Most Secure?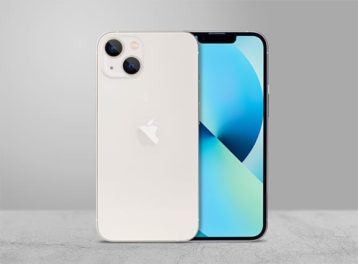 Generally speaking, the latest edition of the Apple iPhone is the most secure out of all iPhone models. Currently, the latest version is the iPhone 13. With that said, iPhone security has more to do with software rather than hardware. More concretely, any iPhone device that has access to the latest version of iOS essentially has all the security Apple can provide. The latest version of iOS is 15.2. If an iPhone model supports the latest iOS, then that model is the most secure.
Apple devices come with a ton of security features, making iPhones somewhat more secure than other smartphones. Apple's work on iPhone security is immense and, even though iPhone devices are the safest out of all the mainstream smartphone devices, Apple continuously brings critical enhancements to the company's products.
Some security features worth a mention include the ability to set a passcode (without which the user cannot unlock the device), Face ID (not available on all iPhone models, but the ones that do support Face ID allow a convenient way to protect the device and purchases), Touch ID (available on almost all iPhone models) and Find My iPhone.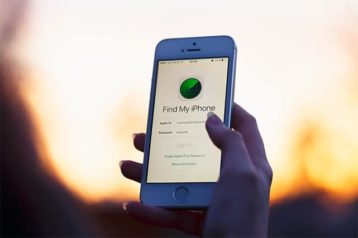 The Find My iPhone feature comes in handy when the iPhone device gets misplaced or stolen. The Apple ID itself is a security feature as, without one, the user cannot access any account or iCloud data. Apple accounts also offer extra security. When users sign up to third-party services and websites using the Apple account, the service is able to limit the amount of information the third-party service is allowed to access. Apple ID/accounts can also act as two-factor authentication methods.
Apart from that, most iPhone devices have the ability to generate strong passwords for users to input while registering for different services. Apple devices also allow users to control location and app data that different third-party apps require. In fact, iPhone devices offer the most customization options when it comes to sharing location data and providing information to advertising companies. Apple iPhone devices also offer the Mail Privacy Protection feature, which stops online trackers.
Finally, iPhone users who have an iCloud+ subscription can access more advanced security features such as Hide My Email, iCloud Private Relay, control over app permissions and privacy-focused Safari features.
Is iPhone More Secure than Android Devices?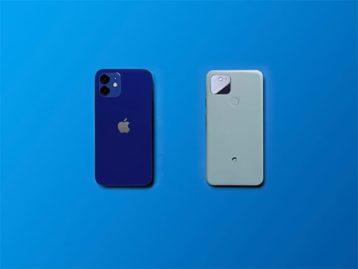 Generally, the iPhone is more secure than Android devices. Part of the reason for this is that there are more Android devices than iPhones. Hackers tend to target Android devices because more Android devices mean more Android users who may or may not take proper care of device security.
Another reason why the iPhone is more secure than Android is automatic software updates. Apple tends to support more iPhone devices with the latest security updates and for longer than Android devices. Generally speaking, Android devices get the latest Android updates for two to four years. With iPhone devices, Apple can support a given iPhone model for up to six or seven years and even beyond.
Compared to iPhone devices, hacking Android devices is cheaper, which encourages more bad actors to purchase hacking services to exploit vulnerabilities on Android devices. Apple iPhone devices also implement a lot of restrictions on how users can interact with Apple devices. On the other hand, Android devices give users many options to customize the user experience, and that can sometimes lead to security issues.
Of course, that does not mean Android devices are not secure. Both iPhone and Android devices can offer adequate protection if users adopt cybersecurity best practices while completing tasks online via mobile devices.
Note:
One major benefit of using iPhone devices is the control Apple exercises over the device. Apart from pushing out software updates regularly, the iPhone is very limited in terms of the apps that can end up on the device and the permissions needed to operate. This also allows iPhone devices to stay away from malware. And since Apple controls most of these processes, iPhone devices are far less likely to be vulnerable to most types of cyberattacks.
In terms of the apps that can end up on a given user's device, the iPhone is much more strict than Android. On iPhone, users can only install apps available on the Apple App Store. On the other hand, Android users can install apps from several different platforms such as the Google Play Store, F-Droid, Aptoide and others. Users don't even need to go to an app platform to get apps. Even individual developers can offer apps via personal websites.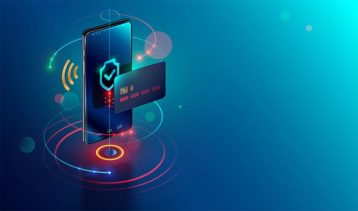 The iPhone is more secure than Android because Apple puts a lot of conditions on app developers who apply to offer apps on the Apple App Store. Android takes more of a relaxed approach when vetting app developers and the apps themselves.
Apple also retains the ability to get rid of apps once iPhone users have downloaded and installed some via the Apple App Store. That means, in the real world, even if a malicious developer is able to offer an app on the Apple App Store and even if the user downloads/installs the malicious app, Apple can still step in and uninstall the app from the user's device. Android has no such features since Google does not interfere with the user's device once a given app has been installed.
The fact that there are way more Android malware advertisements than iPhone advertisements means that the iPhone is more secure than Android.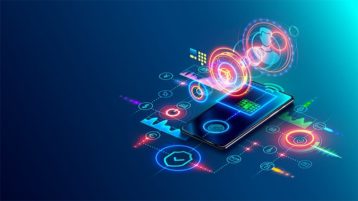 Android devices have their own strengths. Apart from more customization options, users can simply do more as there are more apps and developers on the Android platform. On the one hand, that ensures more malware and malicious apps, but on the other, Android devices offer more variety in the apps available.
And since developers find working on Android easier, Android users benefit from lower app costs. That is also the reason why, for example, the list of the best Android cybersecurity apps is a lot longer than that of iPhone devices.
Android devices are vulnerable to more types of cyberattacks as Google exercises much less control over what can be done on an Android device. The current update process for Android devices is flawed. Essentially, Google can only push security updates to the company's line of Pixel phones. Android devices from other manufacturers have to make some changes to Google security updates before pushing the required code to non-Google Android devices. Android device manufacturers usually take time to develop a security package, and that can leave many Android devices open to new cyberattacks.