W
ith the development of automated tools, penetration testing and ethical hacking have undergone a significant transformation in the recent past. Numerous tools that can speed up testing are currently under development. Organizations benefit from better information and system security with ethical hacking. Pentesting is one of the best ways to improve the abilities of an organization's security experts. The technique can be extremely beneficial for an organization to incorporate ethical hacking into security procedures. Hacking involves gaining access to authorized information for security precautions of a computer network or system using technology or tools in the form of computer scripts or programs. Hackers use tools to discover vulnerabilities in computer operating systems, servers, web applications, and networks that are nothing more than computer software or a complex script created by software developers. Many employers, particularly in the banking industry, use penetration tools to protect data from intruders. Hacking tools can be purchased or downloaded in open-source such as freeware, shareware or other commercial solutions.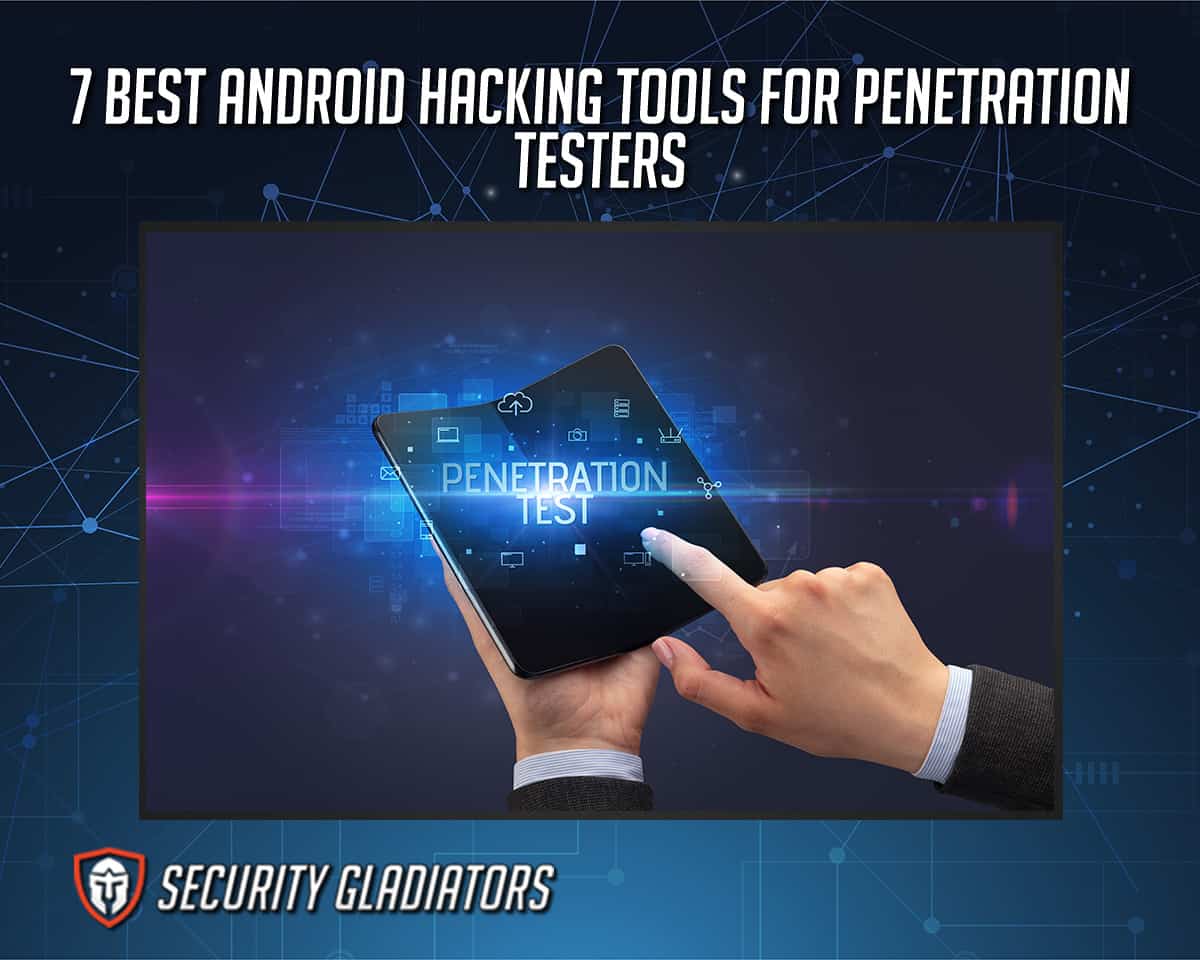 Security experts use ethical hacking tools to gain access to computer networks to assess security vulnerabilities to improve security. Security experts use hacking instruments like packet sniffers, password crackers, and port scanners to eavesdrop on network traffic, crack passwords, and find open computer ports. Although numerous hacking tools exist on the market, consider what the tool should be used for. Mobile hacking apps are used to crack the security measures of software systems by interfering with the security system on the device. They perform network security assessments too. These hacking apps have many free network tools with modifications that make them undetectable by anti-virus scanners. Android hacking tools are application packages that can be installed on devices, APK, and ready to modify HTML responses. Some apps can control WiFi, locate devices, find security gaps in a system, and map the location of devices. These hacking tools have various free network features modified, making them undetectable by antivirus.
The best Android hacking tools for penetration testers are listed below.
Hackode
AndroRAT
Andriller
Kali NetHunter
FaceNiff
zANTI
1. Hackode
Hackode is one of the best hacking software for android and is specifically developed for penetration testers, ethical hackers, cybersecurity professionals, and IT managers. Hackode is a product of a company known as Ravi Kumar Purbey. The tool provides Google hacking tools and information-gathering tools which can be used to identify vulnerable websites. Hackode provides scanning tools for targets, such as Ping and Mx Record, and displays the most recent security feeds.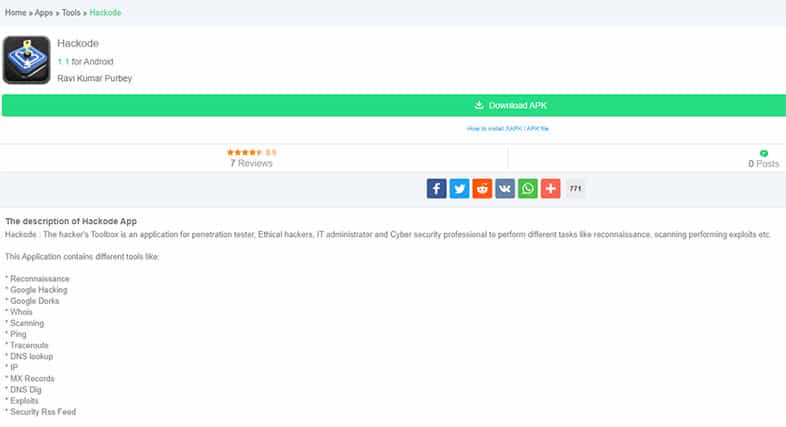 The features of Hackode include that the software offers data hacking tools, such as phpMyAdmin, SQL Injection, and PhpConfig. The tools also give the latest security updates. The software enables searching for data on IP addresses and domain names and contains technical data, such as contact information, DNS used for services, and status details, such as server location and site status.
2. AndroRAT
AndroRAT, which stands for Android and Remote Access Control, is among one of the most popular hacking apps for Android used for assessing a network's security. The app is owned by F‑Secure, a cybersecurity company that has existed since 1988. AndroRAT enables hackers to remotely access almost all aspects of an infected device, such as contacts, phone records, and location by Global Positioning System (GPS).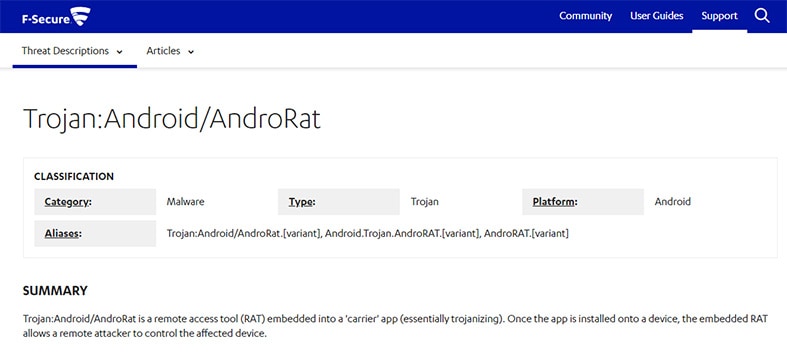 Hackers can send text messages, make calls, hack app information, make toasts, open a URL in a default browser, and make a phone vibrate. Also, the software allows users to stream videos, take photos with an infected device's camera, or stream audio from the mic or any other source.
Some key features of AndroRAT are that the software works for both Mac and Windows, allows hacking of personal messages, can hack both Wi-fi passwords and GPS locations, can record video as well as click snaps from target devices. The software can also monitor a device and upload all targeted files.
3. Andriller
Andriller is a software tool with various smartphone forensic features. DenCo Forensics owns this hacking tool. The app has strong Lock screen cracking capabilities for Pattern, Password or PIN, as well as unique decoders for app information from Android data systems for communications decoding. Both extractions and decoders generate reports in Excel and HTML formats.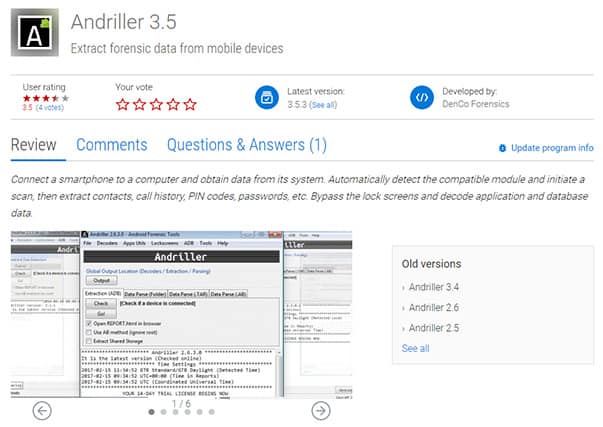 Some key features of Andriller include the automatic extracting and decoding of data, enabling Android Backup to extract data from non-rooted devices, and allowing extracting of data with root permissions. i.e., CWM recovery mode, root ADB daemon, or SU binary (SuperSU/Superuser). Also, the app allows taking screenshots of the targeted device. The program also releases the backup files for Android and decrypts encrypted databases, such as the one used by WhatsApp.
4. Kali NetHunter
Kali NetHunter is a free and open-source platform available on all Android devices. The app was developed by Offensive Security, an American cybersecurity company specializing in penetration testing, digital forensics, and information security.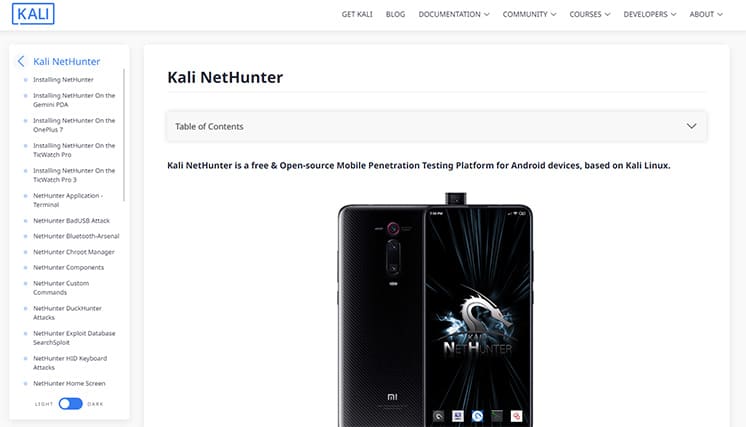 Some resourceful individuals have discovered a method to set up Kali NetHunter on most Android gadgets. The technique is incredibly unofficial, so installing the app is done so at the owner's risk. The app permits installing and using the firm's Kali tools on various hardware components running Android. The tool has a touch screen-designed app to deal with network threats more simply.
Note:
Developers can use NetHunter without worrying about copyright violations or other concerns because it is open-source. With the help of this software, compatible devices can access the Kali toolkit and perform vulnerability scanning. Kali NetHunter also offers some special features that are not accessible on other computer systems.
5. FaceNiff
FaceNiff is one of the best software tools available for Android users who want to hack into social media. FaceNiff uses cookies from a Wi-Fi network to eavesdrop on web sessions and gain unauthorized access to users' accounts. The software was released by Eric Butler, who initially developed Firesheep.

FaceNiff can easily control user-facing websites like Twitter, Facebook, Instagram, etc., and alter the Android phone that is being targeted to hack users' phone calls and social media accounts. With this potent hacking tool for Android, the only restriction is that infiltration is only possible when the Wi-Fi is not using EAP (Extensible Authentication Protocol).
Some of the notable features of FaceNiff are that the tool works well with rooted mobile devices, penetrates all devices connected to wireless networks, penetrates WPA, WPA2 and WEP Wi-Fi networks, and can crack secured networks.
6. zANTI
zANTI APK is an excellent tool developed by Zimperium Mobile Security. The app allows the user to identify the weak points of a device or network. Wi-Fi users can greatly benefit from the app. The user needs to know how exposed the network is if you use Wi-Fi, as the network constantly risks hacking. WI-FI has almost completely assimilated into human lives, so there is no reason to give up the network because of a few security concerns.

zANTI follows three steps to ensure the best possible result given the overall quality of the network. These steps are Scanning, diagnosis, and giving feedback. When all checks are complete, the app gives a detailed statement and warns the user if any security threats are discovered. zANTI also offers solutions for how to solve the problem.
The features of zANTI include the tool marking out the level of risk, being user-friendly, giving fast feedback and being regularly updated.
The table below gives the prices of the above Android hacking tools.
| Hacking App | Price |
| --- | --- |
| Hackode | Free |
| AndroRAT | Free |
| Andriller | $12.99/ month plus a 7-day free trial |
| Kali NetHunter | Free |
| FaceNiff | $11.95/ month |
| zANTI | Free |
What Is Penetration Testing?
A penetration test, also known as a pen test, is an effort to assess the security of an information technology facility by carefully attempting to exploit vulnerabilities. These vulnerabilities could be in applications, services, or operating systems, as well as in poor configurations or unsafe end-user behavior patterns. These evaluations help confirm the effectiveness of the defense and end-user compliance with cybersecurity guidelines.
How Is Penetration Testing on Android Different to iOS or PC?
Comparatively, penetration testing Android apps requires a less complex system than testing iOS apps. The only prerequisites are a Linux or Windows computer operating system and a rooted Android gadget. In contrast to iOS, Android applications operate on a different system and are written in the Java programming language. Specialized virtual machines also run hacking applications in iOS. Android OS, unlike iOS, is not restricted to a specific device. Applications must be compatible with most devices because the operating system is open source. Applications are more thoroughly tested in the Play Store than in the App Store.
This is important:
Pentesting mobile applications need additional permutations of testing techniques to think like attackers and test multiple platforms. However, web
penetration testing
involves testing real-time, computer-generated scenarios in different browsers over a remote network and relies on reliable web browsers.
Why Is Penetration Testing Important?
Penetration tests are essential to a company's security because they teach employees how to respond to malicious intrusions. Pen testing can be used to assess the effectiveness of a company's security procedures. Penetration tests also offer solutions that would help organizations prevent and detect attacks and expel intruders from the system more efficiently. Pen tests also reveal which networks or applications in an organization are most vulnerable, allowing users to decide what security tools to buy and protocols to implement.
What Makes a Good Hacking App?
A good hacking app can crack or break the security measures of a given software system by interfering with or penetrating the security protocols. An ideal hacking app should have features that can scan and identify vulnerabilities, diagnose the system and give a detailed report.
Are Android Hacking Apps Illegal?
No, these apps are used for ethical hacking. The main purpose of these tools is only to assess an organization's security loopholes and not for malicious purposes.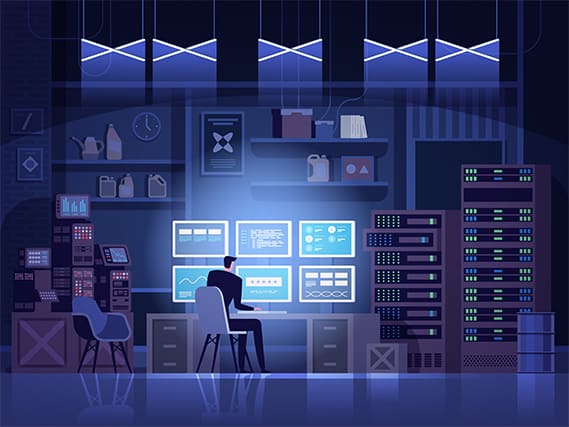 What Are the Benefits of Hacking Apps?
Below are some of the main benefits of penetration testing.
The apps restore lost data, particularly in the case of lost passwords.
Programs conduct penetration testing to improve network and computer security.
Also, hacking tools help to implement suitable preventative measures to counter security breaches.
The apps set up a computer system that blocks malicious intruders from gaining access.
What Are the Dangers of Hacking Apps?
The dangers of hacking apps when used for malicious reasons are given below.
Serious security breach
Unauthorized access to a system with sensitive data
Privacy breach
Negatively affecting system performance
Disruption of service delivery
Damage to the system through malicious attacks