A hard drive is a data storage device that comes in a casing containing several metal plates called platters. These platters have a magnetic coating and rotate around a central spindle at high speed. With the help of an actuator arm with a read-write head that has to be positioned extremely precisely over the disk's surface, data can be written to, or read from, the disk. This process happens extremely quickly. Usually, there are several platters for each storage device. External hard drives are compact data storage devices that can be connected to computers through either a data cable or wireless connection. External hard drives allow the user to store more data than their computer could store alone and can also be disconnected from the system, allowing easy access to the files.
The main use of a hard drive is to store and retrieve data. The data is stored on the disks by a computer system after processing. Hard drives are mainly used in computers, where the user gets the raw storage capacity to use whenever needed. In addition, portable hard drives have become very popular since they can be used with other devices, such as DVD players, or any other device that needs storage. Some key features of hard drives include RAM, RPMs (Revolutions per Minute), Cache-buffer size, Buffer type, and data transfer rates.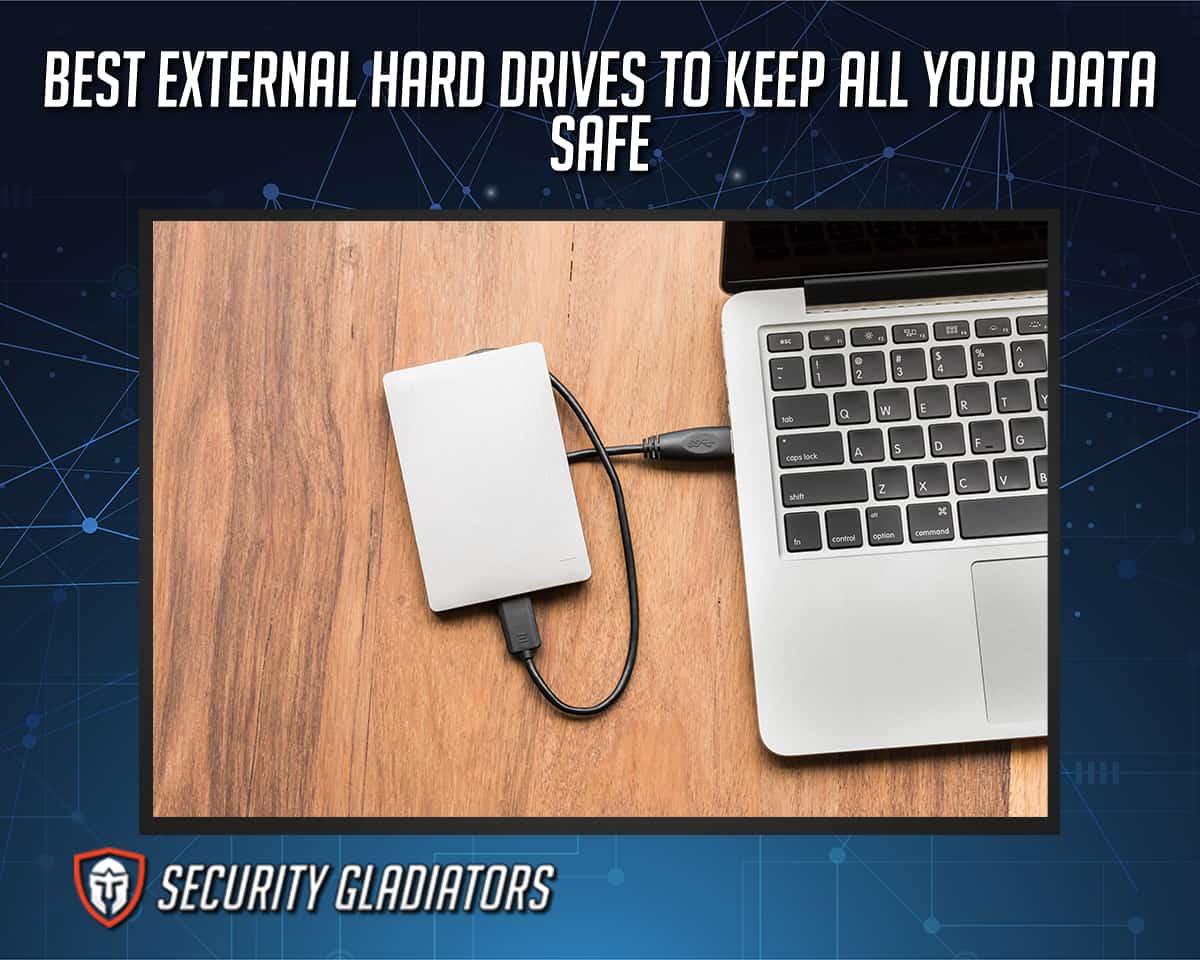 The best external hard drives to keep all your data safe are listed below.
Lacie Rugged mini 4TB
ADATA HD830 External Hard Drive
Maxone 500GB Ultra Slim Drive
WD Black 5TB Game Drive
Maxone 320GB Ultra Slim
WD My Passport (5TB)
Buffalo MiniStation Extreme NFC External Hard Drive
Seagate Backup Plus Ultra Touch
Sandisk Professional G-Drive rugged external SSD
G-Technology ArmorATD
1. Lacie Rugged Mini 4TB
is a portable hard drive with a 4TB capacity and an ultra-portable design. The Lacie Rugged Mini can connect to computers via USB 3.0 for seamless file transfer at up to 130MB/s. This hard drive is manufactured by Seagate Technology Manufactures and currently retails for $149.99 on Amazon.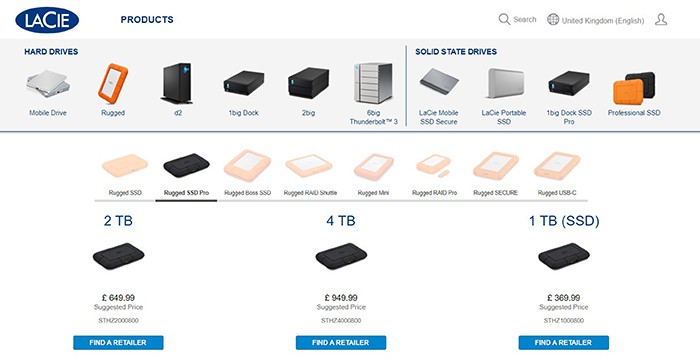 The LaCie Rugged Mini 4TB has an impressive storage capacity of up to 4 TB, supporting Time Machine backup. It allows the user to enjoy ultra-fast data transfers with USB 3.0 connectivity, whilst also being compatible with USB 2.0. The drop resistance feature makes this drive particularly outstanding, as it will endure falls of up to two meters on hard surfaces without damage. The Rugged Mini has passed drop tests on all surfaces, including concrete, wood, and tile. Moreover, it can withstand 100kg of crush force and can be submerged in one meter of water for up to 30 minutes. LaCie has also included software that allows users to create a custom ISO image with the drive's contents, which can then be saved to the computer for backing up purposes.
The Lacie Rugged mini 4TB offers a good level of protection for sensitive files with added biometric authentication technology. The drive's hardware encryption, which uses the AES (Advanced Encryption Standard) 128-bit standard, makes it impenetrable, even if it is taken out of its housing.
The advantages of this hard drive are its speed, safety, shock resistance, large storage capacity, and portability. The disadvantages of this hard drive are that it doesn't come with an AC adapter, can easily scratch, and offers no anti-shock protection for the USB plug itself.
Note:
The LaCie Rugged works fine with the Mac when the user has it backed up from an older model of Macbook. However, when the newer models of Macbook are used, the drive might not work because of compatibility issues with USB 3.0. To solve this problem, users can download a fairly simple program to their Macbooks. There is also an option to download the program that allows users to use this drive by going to Lacie Rugged Mini for Mac Compatibility.
Using LaCie Rugged is quite straightforward. Simply plug in the drive to download files, there are no drivers to install. The Lacie Rugged Mini is also compatible with Time Machine meaning data can be easily backed up from mac.
The LaCie Rugged allows users to access their files on different operating systems like Windows, Linux, and Mac. It can be connected to the Xbox One or PlayStation 4 using the USB ports of these consoles. The drive also has a free version of Adobe Creative Cloud for one month, facilitating photo and video editing.
One of the most outstanding features of this hard drive is the encased design. This reduces the risk of damaging the drive during transport, making it a great choice for frequent travelers. The housing also helps protect against crushing and water damage.
Although the casing can sustain a lot, the performance of this drive is disappointing, and given that the price is far greater than that of some competing drives, it's a tough sell. However, for users who often operate in environments where physical damage may occur, the Rugged Mini could be the best external hard drive.
---
2. ADATA HD830 External Hard Drive
The need for a sturdy, weatherproof external hard drive will vary from person to person, whether you're shooting on a film set, bringing blueprints to a construction site, or simply looking for a storage solution that can withstand the bumps of regular travel. With that last point in mind, the , manufactured by ADATA, is an excellent performer. For $109.99, it's practically indestructible, and at this price point, it's hard to find a mainstream model that can take more punishment. The ADATA HD830 outperforms most of its crack-resistant rivals on the two key measures of durability and value.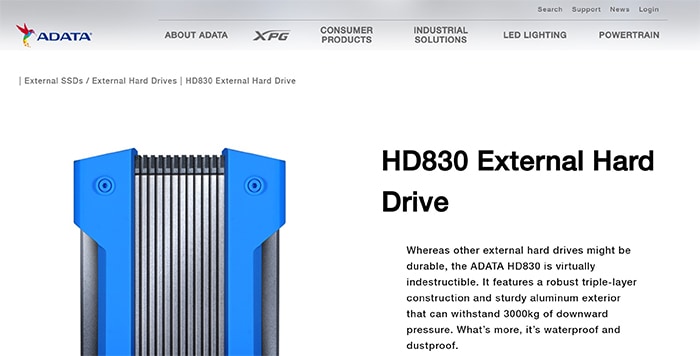 This hard drive is ideal for users who require both durability and protection. This hard drive offers the user many features, such as extreme outdoor capability, military-grade shock resistance, waterproof technology, and anti-dust technology.
The ADATA HD830 has an industrial appearance. The steel-and-silicone housing of the HD830 is 1.3 by 3.8 by 5.5 inches (HWD) and is encased around a 2.5-inch laptop hard drive, available in two colors (blue or black). Compared to some other tough external hard drives, such as the G-Technology G-Drive ev ATC (6.5 by 4.25 by 1.2 inches), it is smaller (because it's intended for laptops). But, compared to the leading options on the market, the ADATA HD839 is fairly large.
Note:
The security level is set to medium by default, however, the user can make adjustments to their security level if they use a password. High encryption is offered to protect the files stored on the HD830. At its highest setting, this drive offers anti-shock data encryption. This is helpful in terms of preventing unauthorized users from accessing the data stored on the hard drive. For example, when traveling and carrying valuable files or information.
Some of the main advantages of this ADATA HD830 External Hard Drive are that it is tough, quiet, and fast. Although the ADATA HD830 is not as stylish as other external hard drives, it is very durable. For a rugged external hard drive that also offers good performance, this is one of the best options available right now.
The disadvantages of the ADATA HD830 are that the software used to secure the HD830 is weaker than its hardware encryption and can be easily hacked by a strong password cracker. The HD830 is also not as fast as some alternatives. Finally, the HD830 is only dustproof and waterproof when the USB cover is closed.
The ADATA HD830 is a simple hard drive to use, once plugged into the computer, it is automatically detected. However, the included software must be installed if using the hard drive with a PC running Windows Vista or XP.
The HD830 Portable Drive comes with a travel pouch and all the required cables (USB 3.0 and AC adapter), as well as some additional extras, such as mounting screws, a USB 3.0 extension cable, and an 8-inch USB 3.0 cable.
The ADATA HD830 drive delivers data transfer speeds of up to 120MB/s with its USB 3.0 interface, which is about the speed of most external hard drives on the market today. This hard drive offers a combination of affordability and protection features that are not offered by any other brand on the market right now.
Some key critiques of the HD830 are that it lacks advanced features (such as RAID support) offered by some competitors, and has a slower data transfer speed than most other external hard drives on the market today.
---
3. Maxone 500GB Ultra Slim Drive
The with USB 3.0 is the best portable external hard drive for Mac computers. Designed to suit the style and needs of Mac owners, it delivers a combination of performance and simplistic design. Maxone manufactures this hard drive.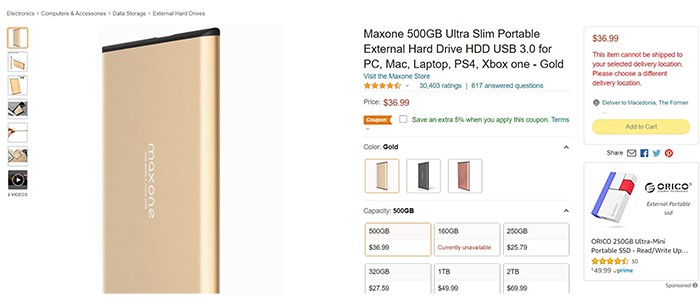 Compared to the HD830, it is lighter and thinner, making it easier to carry around. Its dimensions are: 4.7 x 3.3 x 0.4 inches (11.9 x 8.4 x 1 cm) and its weight is just 5.49 ounces. The Maxone Ultra Slim also features a built-in LED light that shows drive status, data transfer rate, and USB connection type. This portable hard drive comes with a military-spec all-Aluminum anti-scratch casing, which offers exceptional strength and longevity while keeping the device cool and quiet.
This USB hard drive is powered by USB 3.0 technology and is considerably faster than – but still compatible with – USB 2.0 backup drives, allowing for super-fast transfer rates of up to 5 Gbit/s. The Maxone 500GB Ultra Slim is compatible with the PlayStation 4, PlayStation 4 Pro, and the Xbox One. It does not refuse or delete games and offers fast and reliable performance for all three systems. The Maxone Ultra Slim is also compatible with Microsoft Windows (10.6.5 and above).
The Maxone 500GB Ultra Slim sells for $36.99, which is very affordable for an external hard drive compatible with three of the most popular gaming consoles on the market.
Note:
The security level of this hard drive is set to high by default, meaning the data stored on the device is not accessible without the password. The backup software included on the device has a simple interface that makes it easy to select files and back them up with just a few clicks of the mouse.
Some of the advantages of using the Maxone Ultra Slim Hard Drive are that is dependable, slim, and light, with ample storage capacity. It also works well under pressure and is compatible with various platforms like gaming consoles and PCs. The main downsides of the Ultra Slim are its bulkiness and low battery life.
The Maxone 500GB Ultra Slim Drive is a USB portable hard drive, meaning its data can be accessed by plugging it into any USB port. It is ready to use right out of the box and does not require external power or software installation. Simply drag and drop any files needed to be saved.
The most unique feature of this hard drive is that it is compatible with all the latest models consoles. It gives access to more games and allows you to play retro classics on modern screens. It is a perfect option for those who share large files regularly and stream media from the drive to multiple devices at once.
The Maxone 500Gb Ultra Slim also has a built-in LAN adapter, enabling users to use their external hard drive as a Wi-Fi router or network device for their home or office. It is a perfect option for those who share large files regularly and stream media from the drive to multiple devices at once.
One of the biggest challenges users face while using this hard drive is the confusing packaging. It comes with an impractical design that makes it difficult to open the box without damaging it. Other than this, it is a good option for saving data and streaming videos.
---
4. WD Black 5TB Game Drive
The is a high-performance external hard drive that gives the user console or PC the performance enhancements it needs to maintain its competitive edge. It is a top-tier external HDD with capacities of up to 5TB designed for gamers looking to expand their system's potential by storing their game collection externally. The WD BLACK P10 Game Drive lets the user control how the game is played. This hard drive is manufactured by Western Digital, a company well-known for its state-of-the-art hard drives.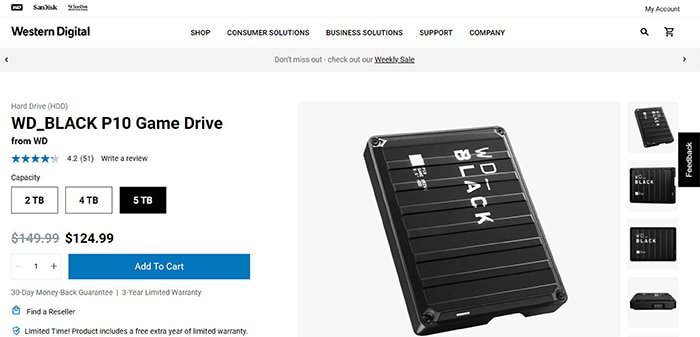 The most notable features of the WD Black include a 5 TB capacity, which allows the storage of a massive amount of files. Also, its design and compatibility make this drive outstanding. The WD Black comes with SanDisk NAND flash memory which is both fast and dependable. The main downside of this external hard drive is that it comes with no backup software to help restore data in case of an emergency.
At only $124.99, the WD Black Game Drive Hard Drive is an affordable option for anyone looking to expand their storage capacity. While more expensive than some of the alternatives on this list, the value for money offered with the WD BLACK without breaking their bank. WD, the world's leading brand for hard drives, has this product available at a great price of $124.99 on the Western Digital website.
Note:
The WD Black P10 Gaming Drive does not support encryption. Because gaming consoles may often lack a method for decrypting an encrypted drive, the absence of encryption is comprehensible. This is likely because the WD Black is designed to hold a large game library.
The advantages of the WD Black are its high storage capacity, storing up to 5 TB of data, as well as a durable outer case, and portability.
However, some disadvantages come with this device. For example, it has a high transfer latency, which takes more time to load large files. The other downside is that it gets hot quickly and doesn't have any backup software to restore files if data loss occurs.
The process of using this hard drive is quite simple. Simply connect it to the computer using the provided USB 3.2 cable, and enjoy high-speed storage.
The drive comes with USB Type-A to Micro-B and features a SuperSpeed interface of up to 5Gbps. (Length of the cable may vary.) It is compatible with both Windows and Mac operating systems.
The most outstanding features of this hard drive are its ruggedness, expandable storage space, and durability. It is a great option for storing large files, media libraries, or HD movies.
One of the most critical reviews about the WD Black 5TB Game Drive is that it has no backup software and is slower than the other external hard drives on the market.
---
5. Maxone 320GB Ultra Slim Portable
The External Hard Drive is a great unit for users looking for an external hard drive that can be easily carried and used while traveling. It has a sleek design, compact size, and innovative retractable connector design, which give it the ability to fit perfectly in one's pocket. Maxone manufactures this external hard drive.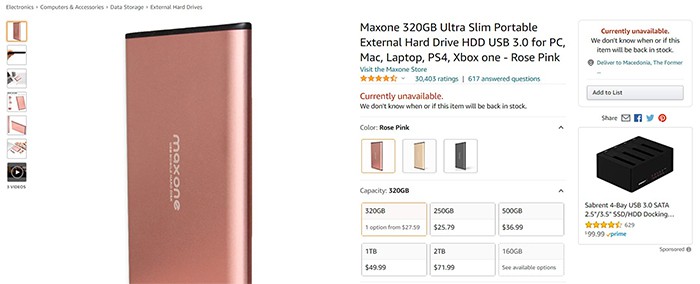 This is an exceptional product that meets the needs of many people worldwide. It has a huge storage capacity, and its design makes it perfect for saving important documents while on the go. This USB hard drive is powered by USB 3.0 technology, making it significantly faster than – but still compatible with – USB 2.0 backup drives, allowing for fast data transfers of up to 5Gb/s.
With only $27.59 on Amazon.com, this Hard Drive is a very affordable option for those looking to buy an excellent and affordable external hard drive. The Maxone 320GB does not support encryption though. Also, as this drive does not have backup software users are at risk of losing data.
The advantages of this hard drive are mainly concentrated in its features. This hard drive has an ideal design which makes it perfect for saving data while on the go. With its small size and light weight, the MaxOne 320GB Ultra Slim Portable External Hard Drive can easily fit in a pocket or a bag. Users will also find it easy to use and plugging-in as it does not require any installation or software download. The device is fast and effective, thus allowing for quick data transfers.
However, some limitations need to be mentioned, such as the lack of backup software, which can be a letdown for those looking for an external hard drive equipped with all the necessary tools for protecting data. The most exceptional features of the Maxone 320GB Ultra Slim Portable External Hard Drive are its portability, design, and compatibility with both Windows and Mac OS.
Ease of use is something that makes this external hard drive more attractive. The Maxone Ultra Slim external hard drive is ready to go out of the box, requiring no additional power or software installation.
The Maxone 320GB Ultra Slim is compatible with Microsoft Windows 10, 8.1, 8, 7, and Mac OS (10.6.5 and above). It's a trustworthy device since it works with Microsoft Windows 10/8.1/8/, 7/ Linux/Xbox/, PS4, making it ideal for any user. The main criticism of this hard drive is that it runs slowly when paired with certain devices.
---
6. WD My Passport (5TB)
The External Hard Drive is a great device for those looking to expand the storage space on their PC or laptop. Manufactured by Western Digital, this hard drive is one of the most reliable units on the market.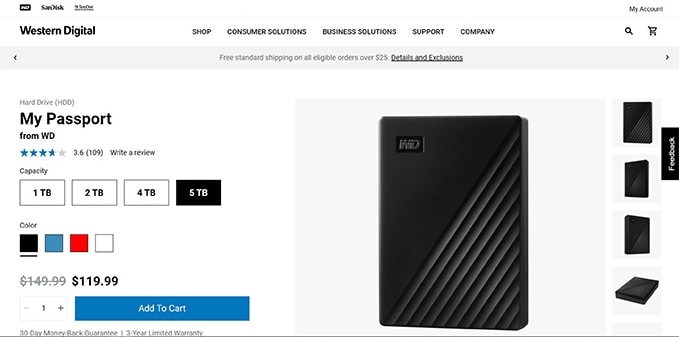 Apart from being very portable and compact, it has fast data transfer speeds which allow for quick backup of large files or media libraries. The My Passport is compatible with PC, Mac, and Chromebook.
The WD My Passport has one of the simplest designs, consisting of a small square box with rounded corners. It comes in four color options: black, red, silver, and blue. The defining feature of this external hard drive is its built-in capacity gauge, which shows how much space is left on the unit. This means that users can easily check the available storage space while transferring files from their device to this hard drive.
From the Western Digital website, anyone who wants to buy this device can get it at only $119.99. For a 5TB hard drive, this is a reasonable price.
Note:
The My Passport encrypts its contents using 256-bit AES encryption with password protection, keeping them safe. To secure the data, the user needs to set a unique password and enable password protection in the WD Discovery software (Windows only).
The advantages of using this hard drive are; portability, availability in multiple colors, a compact design, backup software, and speed and security. Even though its performance is quite impressive for such a small device, there are some shortcomings, including; a lack of cloud storage and no option to backup Android devices. Another downside of this hard drive is that it's not as versatile as other models on this list since it only works with Windows operating systems.
The WD My Passport is very user-friendly: My Passport portable storage comes fully equipped with all the required connections. The user can also use SuperSpeed USB to transfer data rapidly. All that is needed is just to plug the device in, set a password, and start operating.
Despite being a reputable external hard drive, some users have complained about its short life span.
---
7. Buffalo MiniStation Extreme NFC External Hard Drive
The is a portable hard drive with a unique wrap-around USB cable and secure hardware encryption. The drive is made by Buffalo, a US technology firm providing simple technology solutions and dependable pre-and post-sales assistance with over 45 years of expertise. They design high-quality storage, networking, and other technology.
The USB cable is integrated with the FlexStation Extreme NFC, removing the issue of lost cables. The cable neatly wraps around and connects to the chassis for an all-in-one solution.
Some of the features of this hard drive are its compatibility with both PC and Mac devices, USB 3.0 standard functionality, wireless data transfer using WFT (Wireless File Transfer) for NFC-enabled Android smartphones or tablets. The Buffalo MiniStation Extreme NFC is available in 1TB and 2TB storage capacities making it a flexible external hard drive.
At only $96.99, users will get a hard drive with high-stake security and 1TB storage. The 2 %B version of the Buffalo MiniStation Extreme is available for $147.99.
Note:
The Buffalo Ministation Extreme has built-in NFC technology, which allows the user to access and edit files on the hard drive using the included smart card without the need to memorize a password. This hard drive features the US Military Standard shock protection. The ruggedized chassis and specialized bumpers are designed to absorb and distribute shock away from the hard disk due to accidental bumps. It's also resistant to water and dust. With a convenient wrap-around cable, the user may instantly expand or store documents on the road. 256-bit AES hardware encryption ensures that your data is safe.
The main advantages of the Buffalo MiniStation Extreme are that it is portable, provides easy storage and access to media, offers NFC wireless capabilities with Android devices, and has 256-bit AES hardware encryption for safe data storage.
The disadvantages include a slow transfer rate when using a USB 3.0 port and the fact that users cannot add more than 1 TB of additional storage space to 2 TB.
Using this hard drive is relatively straightforward as it is easy to install. The user can store all their media files on this device and access them from any location without worrying about the safety of their data because hardware encryption ensures that the data is safe, no matter where the user is. The MiniStation Extreme NFC is a reliable, simple-to-use mobile storage solution that lets the user rapidly expand the capacity of the PC or Mac computer using USB 3.0 plug-and-play compatibility.
The MiniStation Extreme NFC uses both PC and Mac computers. With its USB 3.0 port, this external hard drive offers rapid file transfers with speeds up to 5 GB/second.
Some of the users' issues with this external hard drive are that it is expensive, has low transfer speeds, and requires a USB 3.0 port which many older devices do not have.
---
8. Seagate Backup Plus Ultra Touch
The Hard Drive is a portable hard drive designed with style in mind by the Seagate company. This external storage solution has a USB 3.0 interface for high-speed data transfer. Using the preloaded Seagate Mobile Backup App, the user can easily back up the mobile device.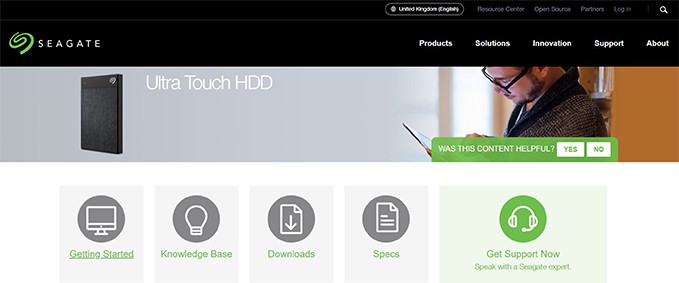 This hard drive features a sleek and modern design, with a stylish finish and curved edges. This portable hard drive can fit easily in one hand and is very lightweight. Users have several connection options with a USB-C, Thunderbolt 3, or USB-A (USB 3.0 or USB 2.0) connection, the user can easily link the Seagate device to a PC.
The importance of this device is that it offers 1 and 2TB of storage space, which is ample for the majority of users. The device also enables the user quick access to their audio video files on various devices. This external hard drive has a slim, lightweight design with an intuitive Seagate Mobile Backup app for easy local, cloud, and social media backup. It has USB 3.0 connectivity to ensure high-speed file transfer speeds; the preloaded NTF.
The Seagate Backup costs $62.99 and $84.99 for the 1TB and 2TB versions, respectively. It can be ordered online or purchased in some stores.
Note:
The Seagate Secure activity in Toolkit allows security management for Seagate self-encrypting drives. The Toolkit is used to turn on security, establish a password, and secure the drive with AES 256-bit encryption technology. The drive's password must be entered using the Toolkit app to access data on the drive. If Toolkit has not been installed on the computer, the corresponding Unlock Drive application can be used for the operating system to unlock. The Unlock Drive program on the drive can be used to enter the password if the user connects the device to a computer that does not have a Toolkit. If the user reaches the maximum number of successive failed password attempts, the drive is disabled temporarily. To unlock the device, users must disconnect and reconnect the drive, then try again with the correct password.
The advantages of using this hard drive include high data transfer speeds via USB; Seagate Dashboard software provides the user with tools to back up photos and videos on social media sites and can be used for PC gaming. This hard drive has a preinstalled NTFS driver for Mac. It is also important to note that the NTFS driver will need to be loaded on the Mac in case the user wants to use this hard drive with the Apple computer, and it gets pretty hot when in use.
The disadvantages of using this hard drive are that it is not ideal for anyone working on a budget, and the NTFS driver takes a short time for the disk to be formatted.
Using this hard drive is very easy. Simply plug the USB cord into any Mac or PC, and it will quickly detect the drive without requiring additional software installation. This hard drive also has a sleek design, with an automatic backup function that ensures files are secure all the time, every day.
The main criticism of the Seagate Backup Plus is the design, which sometimes feels outdated.
---
9. SanDisk Professional G-drive Rugged External SSD
This hard drive has a durable aluminum design that is built for travel. Western Digital manufactures this hard drive. For users who want to travel with a hard drive, this is the perfect choice. The integrated USB-C cable makes it very convenient to use the hard drive on various devices. It also comes with recovery software in case the files are corrupted or accidentally deleted. This drive has an extremely durable construction with IP67 water/dust resistance, up to 3M1 drop, and 2000lb crush resistance.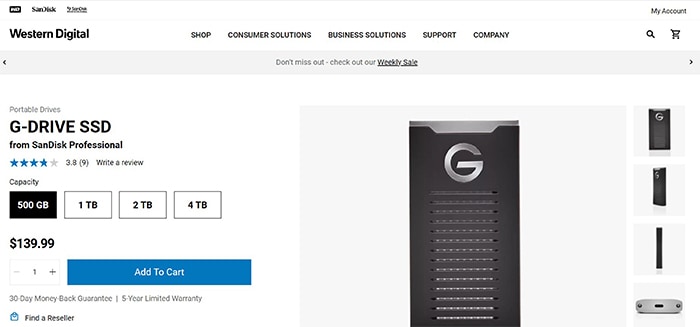 The has a capacity of up to 500GB in a small design and 4TB in a mighty design. Actual capacity is usually less than the nominal capacity due to operating conditions and RAID configuration. Storage capacity for RAID systems is calculated using RAID 0 mode.
The G-DRIVE SSD has an IP67 dust and water resistance rating, great for durability. It's also designed to take a 9.8-foot fall and up to 2000 pounds of pressure before failing.
The pricing of this hard drive depends on the capacity: 500GB sells at $139.99, 1TB at $189.99, 2TB at $289.99,and 4TB at $599.99. All the sizes are available on the Western Digital Website.
Note:
With this hard drive, the user can secure their data using the downloadable program to password-protect it with 256-bit AES-XTS hardware encryption. With no moving components, this NVMe SSD offers exceptional shock and vibration resistance, so there is no need to worry about bumps or drops while carrying it in your pocket or bag.
Advantages of using this hard drive are the fact it is compatible with PC and Mac, its compact design with a USB Type-C connector, crash proofing, durability, and its ability to survive various weather conditions thanks to its IP67 water/dust resistance.
The main disadvantage of using this hard drive is that it requires the SanDisk Secure Access software and an internet connection to be used on a Windows PC.
When it comes to using this hard drive, it is very easy to use; just simply plug the USB-C connector into the computer and get instant access to all your files.
This hard drive is compatible with Windows 8,10, and macOS Big Sur, meaning users can quickly transfer files between Mac computers and PC without any problems. Content can also be shared with other users via social media sites such as Facebook and YouTube.
The most amazing features of Sandisk Professional G-Drive rugged external SSD are that it has a shock-resistant design, multi-device compatibility, and the user can seamlessly switch between Macs without reformatting. Some of the main critics include the bulky design; slightly slow speeds, high running temperatures, and frequent crashes.
---
10.G-technology ArmorATD Rugged
This is another rugged and durable hard drive from Western Digital. It has an alloy-steel construction that resists shock and vibration, and the included carrying case makes it easy to carry around. The is a tough, all-terrain portable hard drive resistant to pressure. Indoor photographers and filmmakers who need rain, dust, and triple-layer shock resistance can benefit from a solid aluminum enclosure and shock tolerance of up to 70Gs.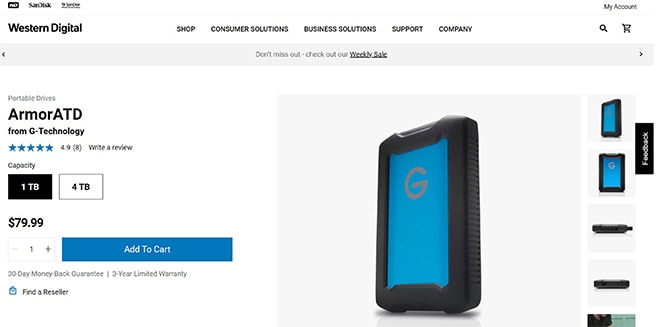 The G-Technology ArmorATD is a two-faced bag with an impressive feature. Its edges are wrapped in a rubberized covering that provides a wonderful, solid grip as well as cushioning from jostling and stray bumps within your luggage, as well as random spills to the ground. The rubber casing can be removed for a sleeker, more metallic appearance, but it's better to leave it on for extra protection. When not in use, the rubber border serves as a protective cover for its USB port, thanks to a little detachable piece that fits easily into the connection slot of the drive. The plug goes deeper into the port than before, giving better weather protection.
There is no comparison between platter hard drives and solid-state storage for durability. Platter hard drives may endure a lot of physical abuse, but there's always some sort of delicate spinning material inside; it just won't compare to an SSD in terms of its overall tolerance to stress. If the platter drive is thrown against a wall or dropped from a roof a platter hard drive is very likely to be damaged where an SSD may still be functional. The reduced weight of the SSD is partly to blame, but more so is the lack of moving components.
This external hard disk is available in different capacities:1TB, 2TB, 4TB, and 5TB giving people options. It is compatible with Windows and Mac right out of the box, and reformatting might not be needed.
Note:
When it comes to data security, this hard drive is password-protected and comes with 256-bit AES encryption. Unfortunately, this external hard disk does not support RAID configurations.
It may be difficult to find an external SSD that can beat the G-Technology Armor ATSD in terms of performance and durability. The product's price might seem a bit high, but it is worth every penny. What determines the price is the hard drive's capacity: 1TB goes for $82.99, 2TB for $99.99, 4TB for $139.99 and 5TB for $169.99.
Some of the advantages of the ArmorATD are its durability, the fact that it is fingerprint-resistant, decent transfer rates, and compatibility with both Windows and Mac. The disadvantages associated with using this hard drive are the lack of RAID support, the fact it cannot be used with games consoles, and its tendency to show fingerprints.
When using this hard drive, simply plug it into the USB port of your Windows device or Mac machine, then the system immediately recognizes the drive. After that, you can start transferring data to and from this external hard drive for storage purposes.
The most amazing features of G-Technology ArmorATD are; it's easy to set up, can withstand shock and vibration, there is no software installation required on the PC/Mac computer, it's bus-powered, and can be hot-swapped on the go.
One main issue with this hard drive is when transferring files from a Mac computer, there's no file system support for FAT32 formats.
---
Which Type of External Hard Drive Is Best for Security?
E
xternal hard disk storage is one of the most popular accessories for modern computers. The key reason for this popularity is that it allows people to back up data and store files easily and safely. However, there are several types of external hard disks available on the market, and some are better than others in terms of security.
Some people might choose between an HDD and an SSD. But what does that mean? Let's take a look at the differences.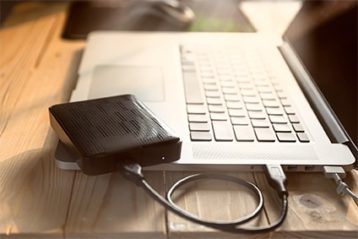 An HDD (hard disk drive) was the first external hard drive released on the market. It has gradients, which means plates with magnetic patterns around them. There are two types of platters: one for storing data and one for reading data. This means that an HDD is slightly slower than an SSD, but it has a higher capacity per unit volume. It also provides continuous access to all stored information.
An SSD (Solid State Drive) can better protect your data. Unlike an HDD, which includes moving parts, an SSD doesn't. This means it is faster and more reliable since no mechanical components are involved in the storage-reading process. However, this type of external hard drive can be a lot more expensive than its counterpart.
Pro Tip:
When it comes to data protection, the best external hard drive for security is an HDD. This type of storage provides one of the best security levels among hard drive types due to its magnetic plates that cannot be destroyed easily.
Where Can You Use External Hard Drives for Security?
External hard drives can be used on Mac and PC. There are never-ending options to protect computer data, especially when having an extra backup. The best solution is an external storage device, which stores all files in one place so you can access them at any time.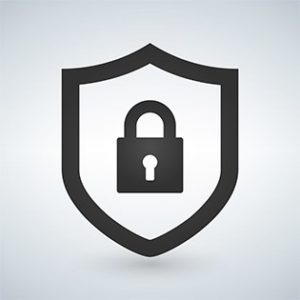 External hard drives can also be used with MacBook pro for security purposes. The best external hard drive for MacBook Pro will protect user data from any malware or viruses that try to interfere with the transfer.
Users can use external hard drives for different purposes, and they come in various sizes depending on the size of the files you want to store. The first thing to do is decide the main purpose for buying it. There are different types of external hard drives (HDD and SSD) on the market that vary in storage capacity and speed, reliability, and durability.
After deciding which type of hard drive is best for security, it's time to choose its capacity. There are different storage options available on the market, and there is an option for a combination of different disks depending on the user's needs.
A small-sized device will do if the external disk is just for backup solutions. However, if there is a need to store all your files in one place or share large files with friends and colleagues, then it's better to buy a bigger storage device.
Note:
The best external hard drive for security is an internal one since it provides the most stable performance and protection against data loss. However, it is good to know that some external HDDs have high protective features such as encryption and password protection.
The following are some of the tips for using an external hard drive on Mac and PC:
How to use External Hard Drive for Backup on Mac:
Open "Disk Utility" and choose the external hard drive from the list of devices left.
Click on the tab named "Partition". The available options should partition the hard drive and give it a new volume to store files.
Once the process is done, click on your external hard drive and press "Erase".
Make sure to choose "Mac OS Extended (Journaled)" as the format option.
Now that the volume is ready to use, select it in Finder whenever files are added.
Just make sure it is formatted as Mac OS Extended (Journaled) to make it work.
The best external hard drive for mac is the one that offers security and reliability simultaneously. That's why an HDD is better than an SSD for external hard disk drive backup on mac.
How to use External Hard Drives for Backup on PC:
First, attach the external hard drive to the computer via a USB cable.
Open "File Explorer" or Windows Explorer by clicking on "This PC".
Double-click on the connected external hard drive and wait for it to open in a new window with all the files inside.
Now, explore the different folders and copy files to the hard drive.
Be careful about what types of files are being copied on the external hard drive for data security reasons since they will always be available for access.
The PC OS system is the one responsible for making external hard drive data transfer easy. That's why you can use windows to access files, but also transfer them from one storage device to another. The best external hard drive for pc will transfer data smoothly and reliably.
What Files Can Be Stored in an External Hard Drive?
External hard drives can be used to store photos, videos, music, documents, backups, games, archives, software programs, and any files you find important for your daily activities. Remember, the main purpose of an external hard drive is to provide data security for your files and protect them against data loss when you accidentally delete something or when the computer crashes.
If need be, everything can be saved from your social media activity in a separate external hard drive. Just make sure that the connection is secure and encrypted before transferring any sensitive data. Ensure that an external hard drive has USB 3.0 for faster speed when transferring files from the computer to the HDD or vice versa.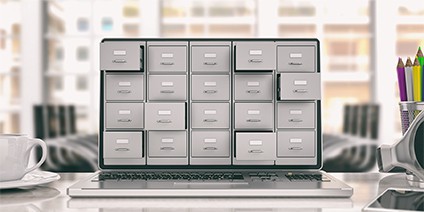 Also, it is better to save essential files on an external hard drive than on cloud storage like Dropbox, Microsoft OneDrive, Google Drive, and Apple Cloud. This is because they are not safe enough for storing important documents or private information since hackers might compromise the data if the cloud storage company doesn't make the right security measures.
For gaming, the best external hard drive for gaming is the one that provides high speed and great efficiency when saving information on PCs. It can be an HDD or SSD, but it should guarantee a certain degree of security to prevent potential data loss. For example, hackers might delete your files if they breach the device and access the storage space.
Photos can be easily transferred to an external hard drive for backup on Mac. For instance, pictures can be taken directly from the camera with a USB cable and saved on the HDD. The same applies if the user wants to make a digital copy of old photos stored in albums since they might get damaged over time or lose their quality when printed out. The best external hard drive for photos has high storage capacity and a high-speed transfer rate: SDD.
Can You Keep Your Personal Data in an External Hard Drive?
Yes, but there are certain things to consider regarding data security. First of all, before transferring everything from the computer to the external hard drive, disconnect all other devices like printers, speakers, and headphones. If the other device is connected via USB cable to the computer while moving files on the external hard drive, you might lose important data during the transfer.
This is important:
Make sure to safely eject the external hard drive (i.e., right-click on the icon and choose "Eject") before disconnecting it from the computer or laptop, as well as shutting down the device. Do not remove any external hard drives from a powered computer since it could damage the HDD or corrupt files on that storage space.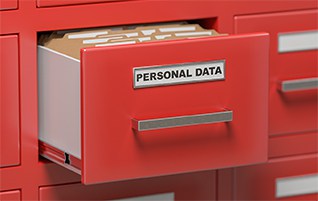 External hard drives have several benefits for storing the most important files. First of all, they protect data against various threats like viruses, malware, or ransomware attacks. In these cases, the external hard drive is not exposed to any online threats, and hackers cannot access the storage space without a password.
Moreover, if the laptop gets lost or the computer stops working, the most important files can be restored easily since they are all in one place on the external hard drive. All that is needed is to connect it to any compatible computer, and all data will be available for reading.
Another benefit of having an external hard drive with USB 3.0 is that the user can transfer files from one computer to another in a matter of minutes. It takes only a few seconds to save something on the external hard drive and even less time when the user wants to copy files to the computer or laptop.
Some of the risks that can come with keeping personal data on external hard drives are loss, theft of the device itself, damaged files due to power outages, and viruses. However, these risks are not as common or serious as with cloud storage or an internet connection. So it is recommended to save personal data on external hard drives only if they have a security system that can lock them up and protect files against any threats. Compared to the benefits, these risks are minor and can be avoided by storing the device in a safe place.
Can Hackers Track Your External Hard Drive?
Yes, it is possible to track the location of an external hard drive if it has a GPS device. Some manufacturers add this function to enable users to know where their device is and use the HDD in case of theft or loss. However, this function does expose the drive to hackers who may use this information to track the movements of users.
There are several hacking techniques employed to access or delete data on external hard drives, one of the main ones being phishing. Hackers send spam messages that appear as if they have been sent by a reputable company, like Microsoft or PayPal. Once the computer owner opens these emails and downloads the attachment, malware is installed on the computer automatically.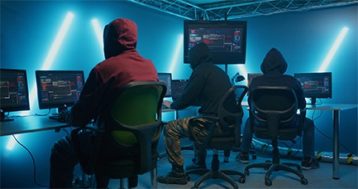 All information entered into the computer or laptop is sent to hackers from that moment. This includes personal files on an external hard drive connected with the same PC or laptop since they have access to everything you download and open. Some forms of malware can even track your location, so if a hacker chooses to do so, they will know where the user is at any given moment.
Note:
Another hacking technique used with external hard drives is spoofing. In this case, the hackers' identity (email address) is different from what they use to gain the user's trust and make the user download malware onto the system. However, there are also cases when the email address is real, but the sender wishes to access the files. If this happens, all personal data on the external hard drive are in danger of being hacked into.
Last but not least, there are cases when hackers use brute force techniques to hack into the system. This method involves trying various passwords until one of them works. And since most people use simple passwords that are easy to guess, this is one of the most common techniques for hacking that can be applied with external hard drives. When hackers have the passwords, they can access all personal information they need from the user's system.
How Do I Keep My External Hard Drive Safe?
Keeping data safe from being hacked into when using an external hard drive requires a high level of security. The good news is that there are many data protection tips the users can employ to improve the security of their devices and data.
The following methods explain how to keep data safe on an external hard drive.
Passwords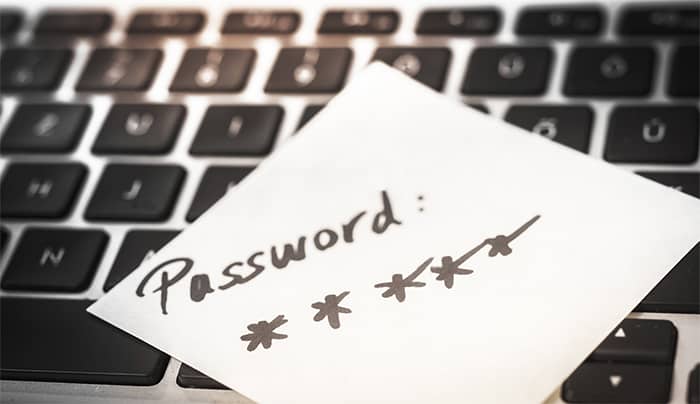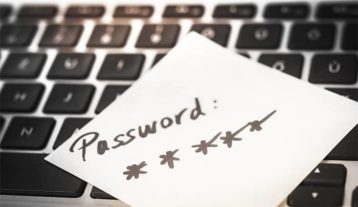 Passwords are the simplest and most popular way to keep files safe on an external hard drive. This prevents unauthorized access and works as the first line of defense against hackers. However, it should be noted that not all systems can integrate with an external storage device like this one, so make sure that the user knows how to use it before setting it up.
Encryption
This is one of the most secure methods as it encrypts everything being sent to or accessed from the device. Hackers will not be able to read anything, even if they have access to them, so this is a foolproof way to protect all personal data on an external hard drive.
Two-Factor Authentication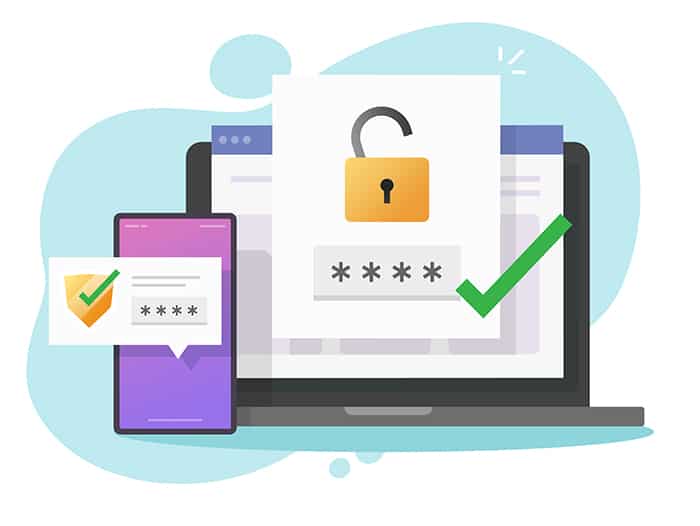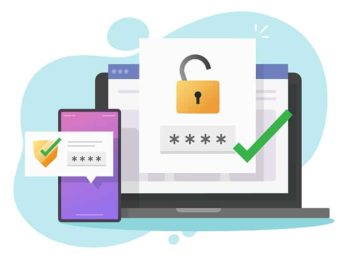 This method entails setting up two-factor authentication when accessing an external hard drive. The user needs to install the software integrated with the system and then provide a unique combination of numbers each time they log in. Hackers usually cannot access this type of data, so they cannot get into the files.
The best thing about this type of data is that it can be used for several devices, not just one. That means if the software is installed on more than one system, the user will be provided with a unique combination when accessing each time.
Removable Media
This method entails removing an external hard drive from the system when not in use. The idea is to reduce hackers' chances to gain access to the files, especially if a security system has already been integrated with the device.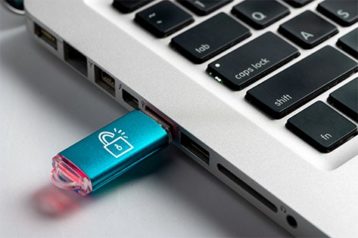 Not only will this method help remove all personal data from the device, but it can also protect them against malware that spreads via removable media. In its turn, this reduces the chances of malware entering the system and protecting the files from being hacked into.
Listed below are some usage techniques that can further increase the safety of the files on an external hard drive.
Change Default Settings
It is common for people not to change default settings when they first start using an external hard drive. In most cases, hackers know these defaults, so they have to find out what they are on the system, which is not hard to do. Therefore, make sure to change the settings first when going online with an external drive so hackers will not access them that easily.
Update Systems Regularly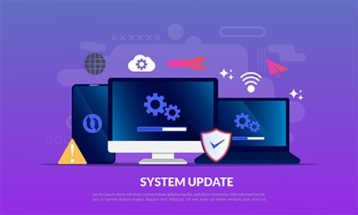 Systems are usually updated with new software that offers better security. If this is not done regularly, the external hard drive will be easier to hack into since it will not have any security software installed on its system. So make sure to update all the systems with new software at least twice a year so hackers cannot access them easily.
Change Passwords Often
Another great tip that keeps the files safe is changing passwords often. This will make it difficult for hackers to find out the password since they will not know which one is being used at any given time. Furthermore, this makes it harder for them to crack the code, so always change the password every month or two.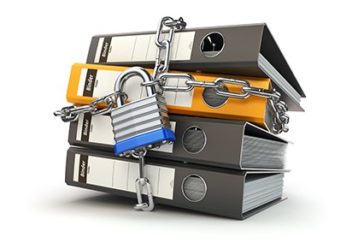 Protect Files against Deleting
Another great tip is by protecting them against deleting. Install software that will stop the external drive from being wiped clean when plugged into another system. This implies that once the device is plugged-in, it will protect all data on it even if the user chooses to format the drive.
How Long Do Hard Drives Last?
An external hard drive usually lasts for an average of five years, but some last longer. However, this will depend on how well the person takes care of them, so if they are maintained properly, they can last up to 10 years or more before they finally fail to work. Others do not have a lifespan, and their durability depends entirely on how the user takes care of them.
Long-term usage tips for an external hard drive:
Keep the drive away from moisture and water as much as possible because it can cause corrosion.
Do not expose them to high temperatures.
Some people think that re-formatting a device is a good idea but first, make sure the files are backed up.
Remember to update them regularly since new software will be released that has better security features.
Keep backup copies of these files on an external drive or even on the cloud. This makes it easy to restore all files if they are ever hacked into and then deleted.