S
pam refers to unwanted messages that hackers send to internet users for commercial or non-commercial purposes, such as phishing or malware transmission. The most widespread type of spam is email spam. Advancement in technology has made spammers divert spamming methods to other forms. Botnets or people can send spam in large quantities via text messages, phone calls or social media. Some spam could be dangerous, especially if aimed at a malware attack. Spamming can deceive people into disclosing personal information or intimidate people into paying out of fear.
Regardless of spammers' intentions, online users must take every precaution to protect themselves. There are a variety of anti-spam solutions available to combat spamming and protect users from any communication risk. Because email is a vital part of every business, good anti-spam technology is required to filter messages and safeguard against data breaches. Furthermore, data breaches can impair a company's reputation, undermining its brand and reducing client acquisition and retention. Anti-spam software can help workers distinguish between spam and important messages, increasing productivity.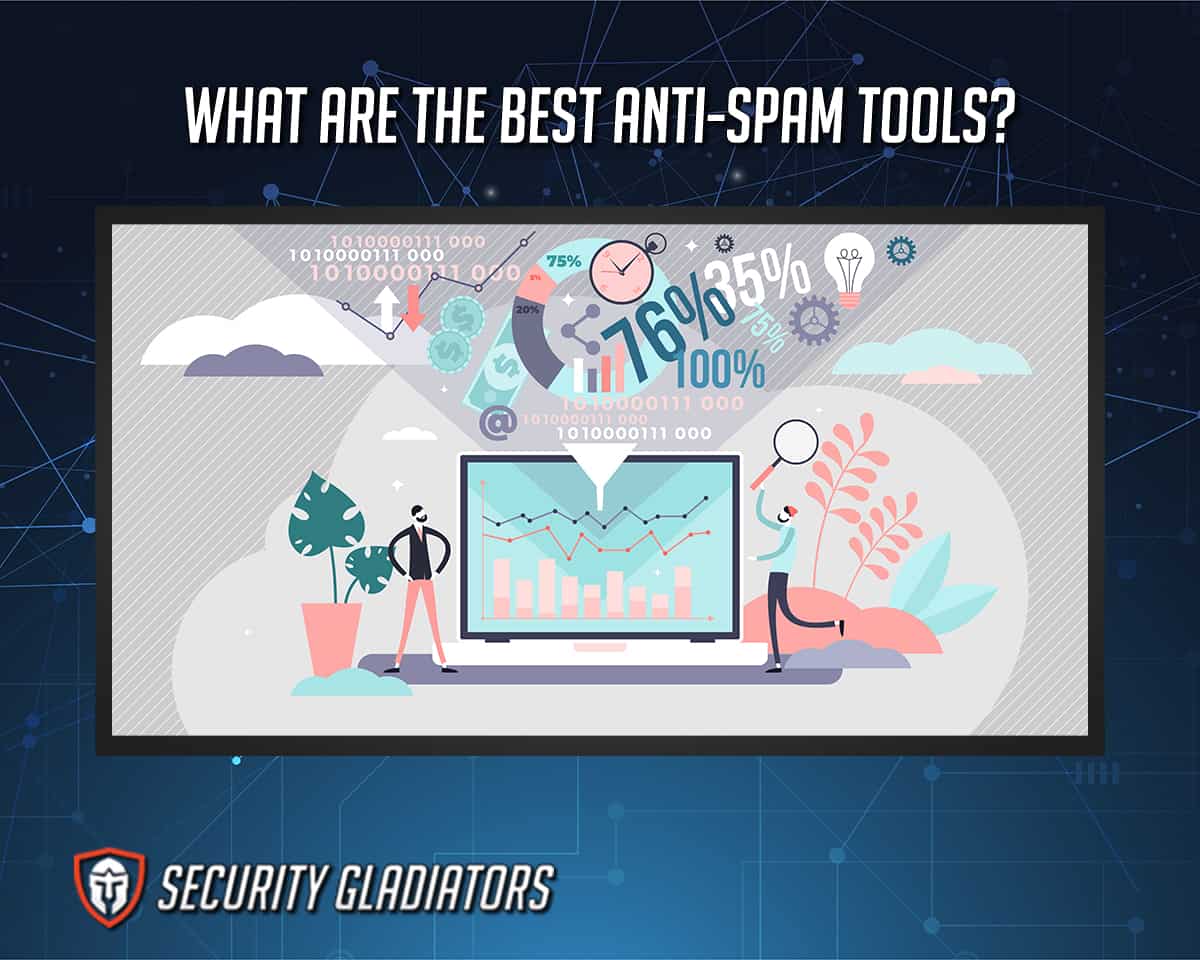 The top anti-spam tools are given below.
Security Gateway by MDaemon: Highly effective anti-spam tools for over 20 years
ORF Fusion: An enterprise-based anti-spam software
SpamTiTan: Spam blocker with a 99.99% spam catch rate
1. Mailwasher
Mailwasher is a sophisticated spam blocker software that detects and removes spam and viruses before reaching the user's device. The features of Mailwasher include comprehensive anti-spam tools, effective message filtering, a discard bin, rapid message downloads and server-side inspection.
Firetrust, a New Zealand-based startup, produced Mailwasher. This anti-spam solution has a high level of security and never expires.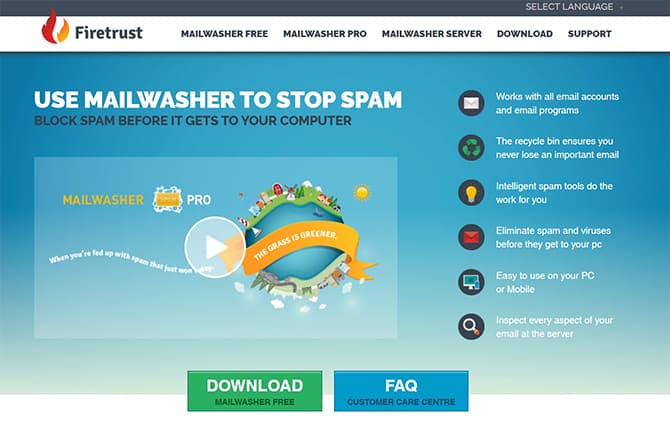 Downloading the software for your chosen device is the first step in using Mailwasher. Start MailWasher by double-clicking on the icon after the software has been installed on any of your devices, whether desktops or mobile phones. The MailWasher program will launch and notify users of any email server messages that are awaiting delivery.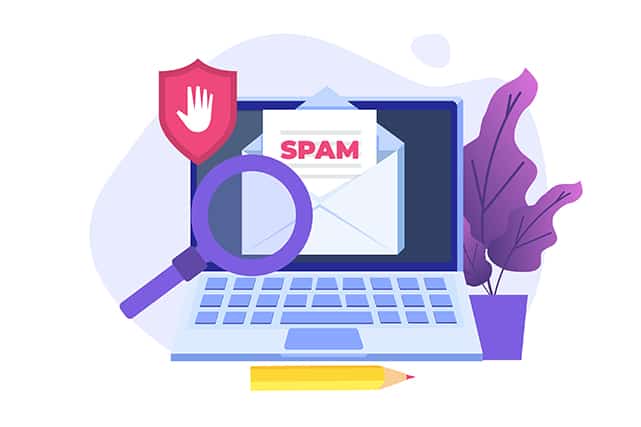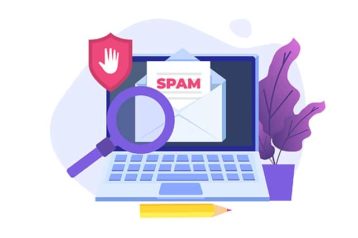 The interface of the anti-spam tool is user-friendly and easy to navigate. Mailwasher has a free and a premium version. Some advantages of using Mailwasher are protection for children's email addresses, compatibility with any email software, detection and eradication of harmful attachments before they reach users' inboxes, ease of use, money-back guarantee and automated updates. Mailwasher provides consumers with simple anti-spam solutions. However, there are some drawbacks to utilizing this software, such as being too simple for businesses, being expensive compared to other tools and taking time to set up the app.
The free edition of Mailwasher is completely free, whereas the professional version, Mailwasher pro, costs $49.95 per year. Mailwasher is compatible with Outlook, Outlook Express, Thunderbird, Windows Live Mail, Gmail, Hotmail, Yahoo, EM Client and any other email client. This simple anti-spam solution is useful because it allows users to remove spam with only one click.
---
2. Comodo Dome Antispam
Comodo is an email threat prevention system that employs a complex set of spam filters, anti-virus scanners and content analysis engines to keep spam out while allowing valid messages to pass through. Some of the main features of Comodo antispam include spear-phishing protection, customizable user-base profiles, spam filtering, 24/7 email assistance, archive and email support, mail quarantine and cloud-based management. Comodo Dome Antispam is a Comodo Internet Security (CIS) component, which the Comodo Group developed.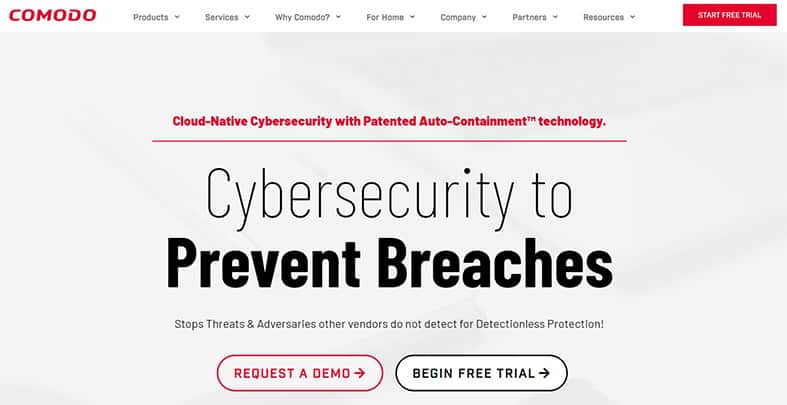 The Comodo Dome spam solution is secure to use, especially because it comes with various built-in features that help users stay safe online. Comodo Dome Antispam employs the Valkyrie file verdict platform to examine files as they are being downloaded from the mailbox. Users can open and interact with a unique file without fear of infection, even from the most recent malware campaigns.
To use the Comodo Dome Antispam tool as an administrator, the user must first download the software on your device and log into your account. Set up the mail server so that it can communicate with the Comodo service. The domains must then be added and validated. To gain administrator access, add administrators to the platform. Set up incoming and outgoing users to control setup and settings as an administrator. Viewing reports on the spam tool is also available.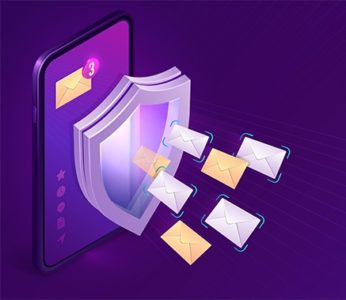 The interface of Comodo Dome Antispam is a bit old but easy to navigate for users. Some of the benefits of using Comodo Dome Antispam include threat analysis of files before reaching users' mailboxes, secure DNS filtering, a secure web gateway and managed detection. These are all offered as on-premise or cloud-based solutions with advanced filtering sender or size. The frequent and startling notification is one of the drawbacks of using the anti-spam technology. There is no specified pricing, and new customers may require more assistance in navigating the software.
Users need to contact Comodo directly for a specific price because the company's pricing is not explicitly displayed. Using anti-virus scanners, Comodo Dome Antispam helps organizations avoid spam, viruses and unwelcome emails. This anti-spam solution can benefit mid-sized firms, small businesses, enterprises, freelancers, nonprofits and government organizations.
---
3. SpamTiTan
One of the best email security and protection solutions is SpamTiTan. This anti-spam program blocks phishing, spam emails, malware, viruses, ransomware and dangerous email threats. SpamTiTan's key features include easy-to-use email security, double anti-virus protection, a very effective spam blocker, email content filtering, outbound email scanning, sandboxing, policy customization and spam quarantine reports. TiTanHQ, a Galway-based startup, created the anti-spam solution.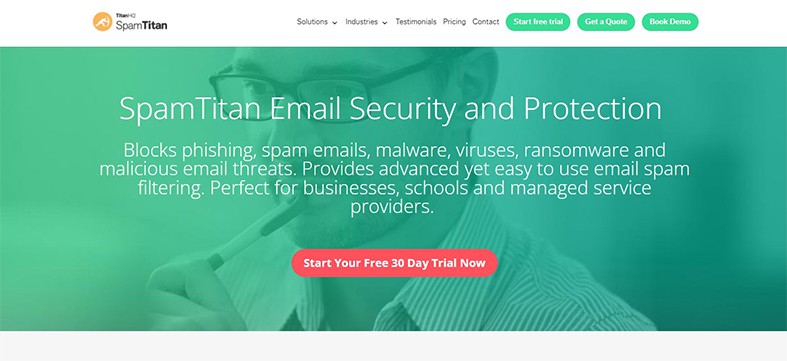 SpamTiTan is a high-rated email security program that stops spam, viruses, malware and links to hazardous websites. SpamTiTan is safe to use and is trusted by users and experts. The software has a sophisticated spam blocker with a 99.99% spam catch rate, according to testing. The usage of SpamTiTan as a domain administrator requires a domain name, email address, SpamTiTan login details and an IP address. The next step is logging in, adding the user's domain, checking for mail server connectivity and turning on quarantine reporting. It's critical to set up a domain administrator and modify the MX records (Mail eXchange-record). Finally, make sure the mail server is secure.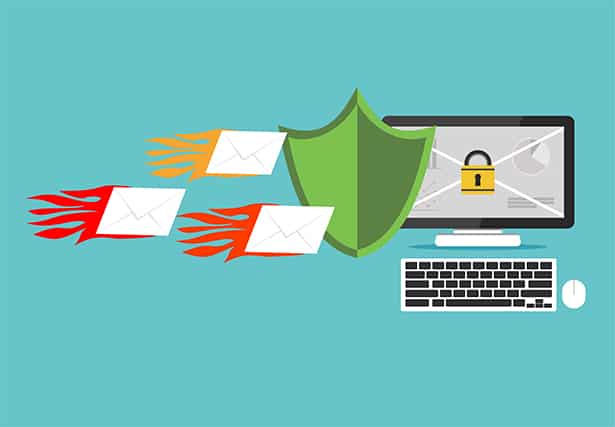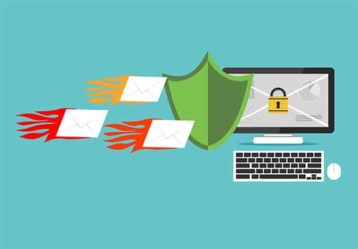 The interface of SpamTiTan appears to be old and difficult to use. Some of the advantages of the anti-spam solution are specifically built for Office 365 users; uses AI and behavioral analytics to detect and stop threats, allows for manual threat prioritization, protects against advanced email attacks, prevents users' IP addresses from being blacklisted and provides comprehensive content filtering. Some drawbacks that users can experience are that the software can crash on Outlook, the UI can be perplexing for some users, fees and bills can be confusing and quarantine reports are only sent out once a week.
The cost of SpamTiTan is determined by the number of email boxes that need to be protected. Protecting one email box costs $41.25 per month, $495 per year, $940.50 for two years, and $1336.50 for three years. SpamTiTan is ideal for anyone who wants to be defended from spam and minimize the potential of receiving malicious emails. SpamTiTan can also be used with any mail server. SpamTiTan is a well-designed and powerful email security program that filters 99.9% of spam, viruses, malware and other email risks. The customer assistance for the software is also excellent.
---
4. SPAMfighter
SPAMfighter is a spam filter that works with Outlook, Outlook Express, Thunderbird, Windows Mail and Windows Live Mail, among other programs. Some features of SPAMfighter include a multilingual interface (English, German, French, Spanish, Italian, Dutch, Japanese, Czech, Swedish, Greek, Portuguese, Finnish, Norwegian, Polish, Romanian and more), spam abuse reporting and unlimited blacklist entries. SPAMfighter also protects all email accounts on a user's PC and phishing, identity theft and other forms of email fraud. The software also ensures that users' personal information is kept private. Henrik Srensen and Martin Thorborg, the owners of Jubii, Denmark's largest Internet portal, founded SPAMfighter.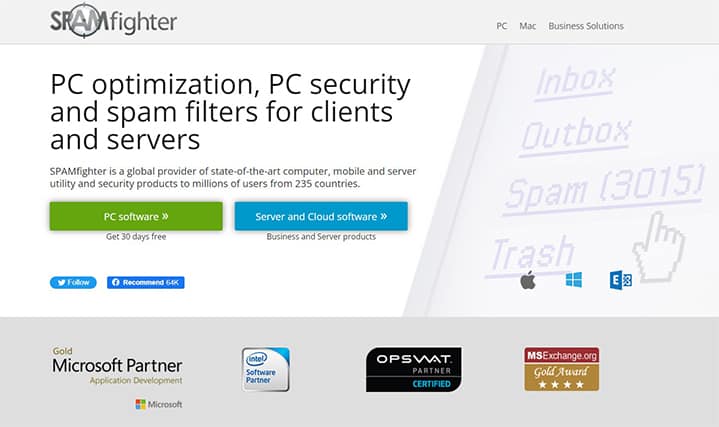 SPAMfighter is a simple and safe program to use. To begin, go to the SPAMfighter website and download the program. After that, install and complete the setup. SPAMfighter will start blocking unsolicited communications from users' email accounts as soon as the process is completed. Users can access live statistics on prohibited messages through the user interface, which is straightforward to navigate.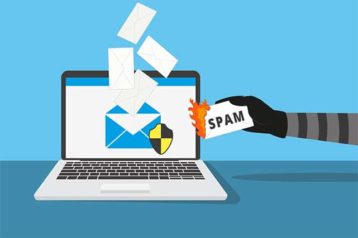 Some advantages of using SPAMfighter are the support for multiple languages, capabilities for international use, the ability to view live statistics on emails such as volume, spam ratio and many blocked spam attempts, the ability to forward spam that gets through, ease of installation and free phone set up. The disadvantages are that the interface needs to be updated, customer service is weak and the software can block real emails.
SPAMfigter has both a free and a paid edition, with the paid version costing $29. SPAMfighter is an email client spam filter that assists users in avoiding unwanted messages. The software is compatible with a variety of email clients and is simple to use on a PC. The anti-spam software works well and is dependable.
---
5. ORF Fusion
ORF is a spam filter for Microsoft Exchange and IIS SMTP that is sophisticated and simple. Using a variety of tiered checks and industry-standard email authentication protocols such as SPF, DKIM and DMARC, the anti-spam defends organizations from spam, phishing and fraudulent communications. Some features of ORF Fusion are email routing, a spam blocker, email attachment protection, whitelisting/blacklisting and spam detection. ORF Fusion additionally performs 23 tiered tests to determine the condition of mail. Vamsoft Kft is the firm behind ORF Fusion.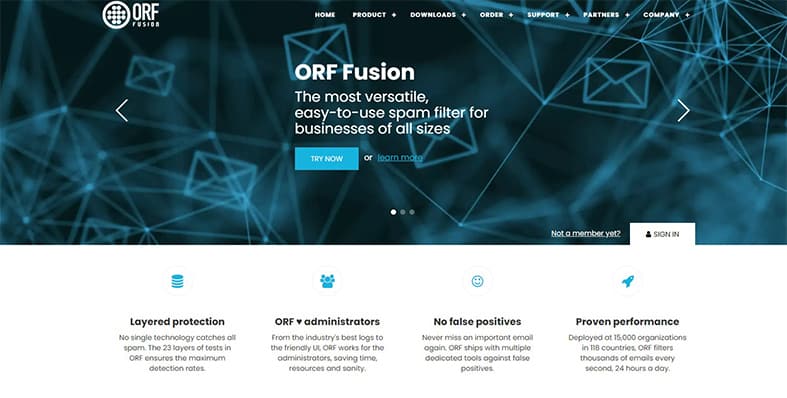 ORF is safe to use, and users may configure and monitor the software's functionality. The user can also decide what happens to emails that the spam filter has captured. Users can manipulate the software to reject the transmission, keep the message or divert it to another mailbox. The installation of ORF anti-spam software begins with a download from the ORF website. Once ORF Fusion has been downloaded, double-click it to begin the installation procedure. After the installation is finished, you can start the program.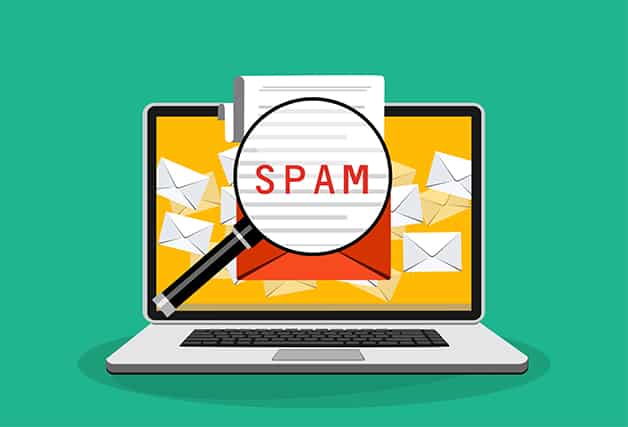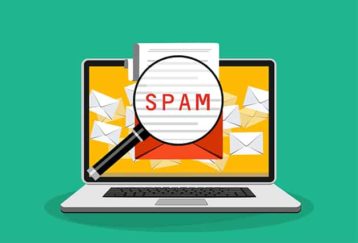 This anti-spam software's interface is sophisticated and is not intended for non-technical users. ORF Fusion has a fairly advanced interface designed for email administrators, is customizable, has a 23-layer filtering test and supports extensive blacklisting by IP address, IP range, country and DNS. The disadvantages of ORF Fusion include the time it takes for non-tech users to learn the interface, the possibility that users would over-configure the software and its design for professional use.
There is no free version of ORF, but there is a free trial. The product starts at $5.50 per year for a single user. This anti-spam technology is suitable for companies of all kinds, from small businesses to large corporations. ORF works with Microsoft Exchange Servers as well as the built-in IIS SMTP Service on Windows Server. ORF Fusion is efficient and has a low percentage of false positives.
---
6. Security Gateway by MDaemon
Security Gateway's email threat detection system is one of the best anti-spam solutions available, having protected email servers for over 20 years from viruses, spam, phishing, data loss and other dangers. Security Gateway consists of features like email backup, 24/7 customer assistance, email threat detection, data leak protection and simple user quarantine solutions. MDaemon Technologies, a pioneering email firm, produced Security Gateway.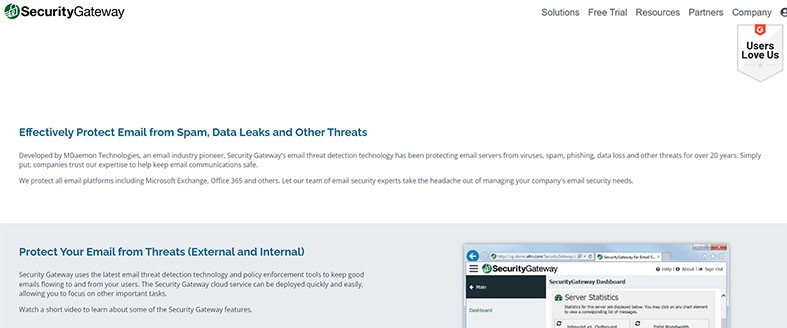 Security Gateway employs the most up-to-date email threat detection technologies and policy enforcement capabilities to keep good emails flowing in and out. To download the software for Security Gateway, go to the company's website. Licensed functionality for antivirus, Outlook client and mobile connectivity through ActiveSync are included with the MDaemon download/installer. However, the software will generate a trial license for users when using this anti-spam application for the first time, which will automatically expire after 30 days. After the 30-day free trial period, customers must purchase a new license to continue using the program. After the software has been installed, open the app and begin using it to safeguard emails.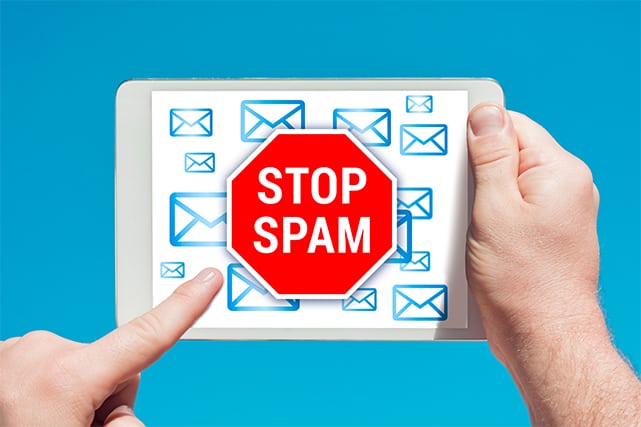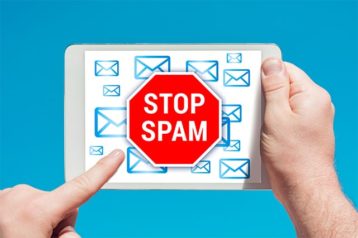 The Security Gateway offers a simple interface that allows customers to define policies that detect and prevent illegal transmission of sensitive data outside of the network. There are various advantages to adopting the Security Gateway anti-spam system. MDaemon's Security Gateway allows enterprises to manage private accounts and assign user access to employees. Additionally, users can use secure sockets layer (SSL) encryption methods to automatically filter malicious emails and secure data.
With comprehensive security measures, the software is cost-effective. Other advantages of using Security Gateway are simple administration, data loss protection, configurable defense levels and thorough reporting. Security Gateway also has certain drawbacks, such as a delay in reporting and a complicated interface for non-tech users.
MDaemon's Security Gateway starts at $1.00 per month for each user. The software does not come in a free version; however, it offers a free trial. Security Gateway is designed for companies that require complete communication risk prevention. All email platforms, including Microsoft Exchange, Office 365 and others, are protected by this anti-spam solution. Security Gateway is a powerful email security solution that protects users from attacks both within and outside their network.
---
7. Inky
Inky is a cloud-based email security software that is much more than just artificial intelligence. Inky is one of the most successful solutions in the assault against phishing because the software is powered by innovative computer vision, machine intelligence and advanced analytics. The features of Inky are anti-spam, anti-virus, email attachment protection, spam blocker, quarantine, spam detection, blacklisting/whitelisting and report analytics. Dave Baggett and Simon Smith created Inky in 2008.

Because of the built-in encryption and anti-spam filters, Inky is a safe application to use. To get started with Inky, go to the software's website and download a version that works with your device. Run the software to begin using it after the download and installation are complete.
Inky has a user-friendly UI. The advantages of using Inky are rapid replies, filters, encryption, an intuitive design, quick search, priority inbox, handy keyboard shortcuts, support for many email services and powerful detection algorithms. Some of the drawbacks of Inky are similar relevance symbols, limited power user functions, not well-suited for businesses and time-consuming interface loading.
The Inky anti-spam software is free, but the Inky Pro service requires a $5 monthly subscription per user. Inky is perfect for customers in the mid-market to enterprises that want to prevent phishing attempts that get past existing email security solutions. Inky is a powerful email security solution that works with Microsoft Office 365, Exchange, Google Workspace and mobile devices.
---
8. Zerospam
Zerospam is a cloud-based email security system that is comprehensive, accurate and easy to use. The hornetsecurity group has bolstered Zerospam's backup. Hornetsecurity is a prominent email cloud security and backup company that protects businesses of all sizes worldwide. Zerospam provides total protection against malicious email communications, such as malware, phishing, spear phishing, DOS attacks and malicious links. Other features include email monitoring, policy management, spam blocker, spam detection, threat intelligence, quarantine and email attachment protection. CISSP David Poellhuber created Zerospam Security in 2003.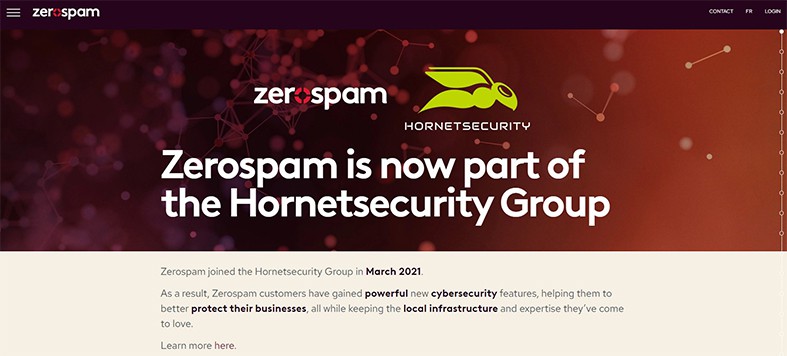 By defending businesses against email ransomware, spear phishing and other broad dangers, Zerospam demonstrates safe usage to enterprises of all sizes. Zerospam is comparable to other anti-spam technologies in that it requires downloading and installing the app. After you've downloaded and installed the software, you may begin using the software to protect your emails.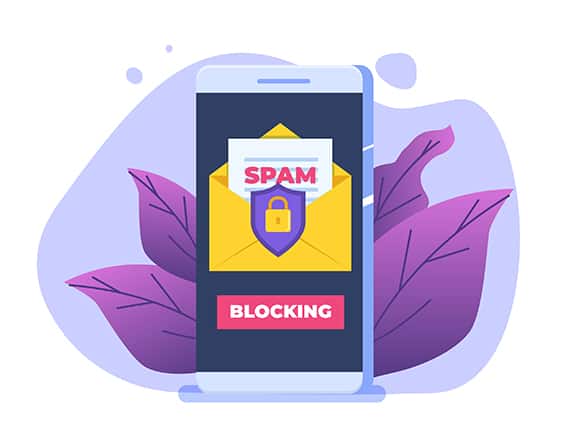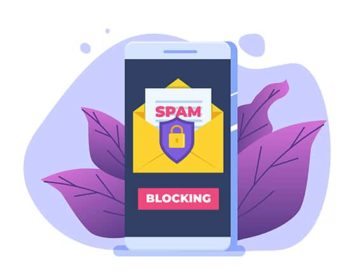 The Zerospam web interface is very user-friendly. To protect interactions from spying, the Zerospam program employs TLS encryption. Zerospam is powered by a network of approximately 20 filtering nodes spread across three Canadian data centers. Optional outbound filtering and on-demand email continuity are also included in the software's security features. Major benefits are a more robust Outlook add-in, extensive Microsoft Office 365 connectivity, automated individual quarantines and a single integrated platform. One of the drawbacks of using Zerospam is the latency of the service for users outside of Canada.
Users can get a free trial of Zerospam, however, the producer has not revealed the software's exact cost. Zerospam is appropriate for large international clients, mid-market clients and small organizations. This anti-spam software is quite successful at preventing spam and has quick and pleasant tech help. The response is given in both English and French.
---
9. Malwarebytes
Malwarebytes has always been the most effective anti-infection tool. As one of the greatest anti-spam solutions, Malwarebytes protects users' email from threats, especially for iOS users. Malwarebytes features include spam call blocking, text message filtering, ad blocking and protection from scam sites. Marcin Kleczynski, the CEO of Malwarebytes, created the program.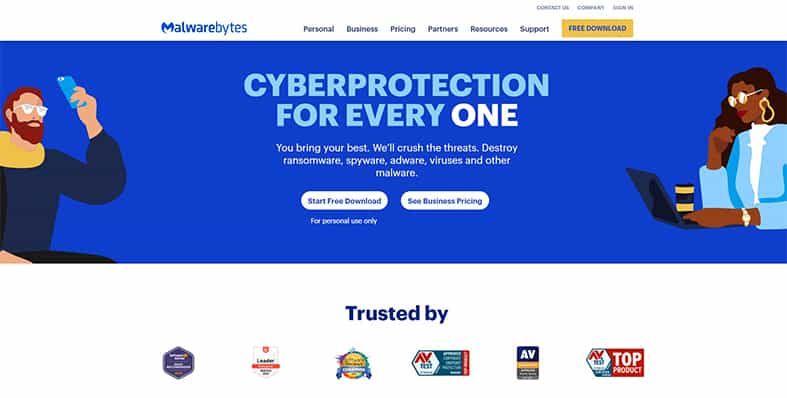 Malwarebytes for iOS offers call and spam blocking, full online browser protection, message filtering and more. Open the Apple Store app and search for Malwarebytes for iOS. Download and install Malwarebytes, and then the user can set the software up to detect and block spam.
Malwarebytes for iOS is the only iOS security tool that integrates spam call blocking, text message filtering, ad blocking and protection against fraudulent websites into a single app. Web protection disables websites that include ransomware, phishing scams and other online risks when using Safari. Filtering suspicious and fraudulent texts is another benefit of Malwarebytes for iOS. The downsides of using Malwarebytes include ongoing subscription plans and the possibility of failed auto-updates.
In the personal package, premium plans cost $1.33 per month for one device (billed $16 annually) and $2.67 per month for five devices (billed $32 annually). The premium Plus privacy option is also available, which costs $4.17 per month for five devices (paid annually at $49.99). Malwarebytes for iOS, an anti-spam app, is primarily available for iOS users, while Malwarebytes for Android solely protects users from malware.
---
10. MX Guarddog
MX Guarddog is cloud-based email security that blocks spam, phishing assaults, DoS attacks, faked undeliverable alerts, spyware and viruses. MX Guarddog employs strong encryption to secure consumers' sensitive email while traveling across the Internet. To ensure that users' protected email remains safe, MX Guarddog employs the highest levels of Transport Layer Security (TLS) based encryption, including Perfect Forward Security (PFS). Users can also customize the quarantine report choices. In 2006, an Asian company produced MX Guarddog.

The interface is old but a bit better than others. MX Guarddog provides comprehensive email security without the need to install any software. The MX Guarddog software is simple to set up. It's worth noting that the user must have an email address. Gmail, AOL and Yahoo are unnecessary. Click the Register link on MX Guarddog.com. Fill up the required information, such as name, email address and the domain that the user wishes to protect. Check the email for an activation link for MX Guarddog and click it. Log in with the account details supplied in the activation email received. Then add a link to the website and the email address for MX Guarddog to protect. Finally, update the MX records to use MX Guarddog's servers for email delivery.
For convenience, MX Guarddog automatically syncs email addresses from Windows AD, LDAP and cPanel systems. This software also protects against phishing and file-based malware. MX Guarddog has a few drawbacks, including delayed emails owing to misconfiguration and per-email cost.
MX Guarddog costs $0.25 per email address per month. MX Guarddog is an excellent service filtering program that's appropriate for businesses, organizations and domain owners.
---
How to Block Spam Emails by Using Anti-Spam Tools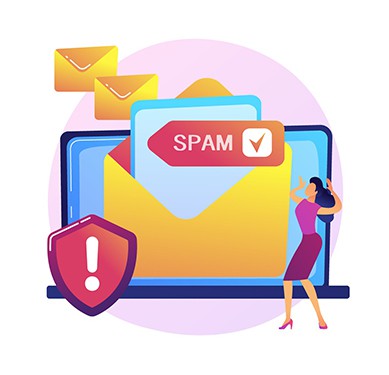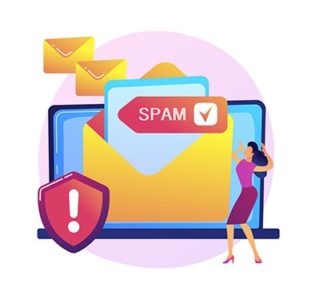 Users can implement different anti-spam tools to block spam emails. Because some software requires the download of applications, while others merely require registration on the website, the methodology of using it varies. To obtain an anti-spam solution that requires downloading, go to the product's website, download a version compatible with the device and follow the instructions. The anti-spam tool will begin filtering unsolicited email messages as soon as the software is configured. Users can navigate through the software or through email depending on the anti-spam feature being used.
Note:
The program the user chooses to use will determine
how to stop spam emails
. Anti-spam software is also effective because it communicates directly with users' email servers. The goal is to ensure that spam is deleted even before reaching the user's email inbox.
What are the Features of Anti-Spam Software in terms of Security?
Anti-spam software scans user inboxes for potentially harmful emails and blocks them. Anti-spam protocols define what constitutes an undesired and unsolicited message. The software can also be used to quarantine spam, report spam and update the user's whitelist. Using an automatic quarantine feature assists the user in maintaining a spam-free mailbox.
Do Anti-Spam Tools Have a Filter Option?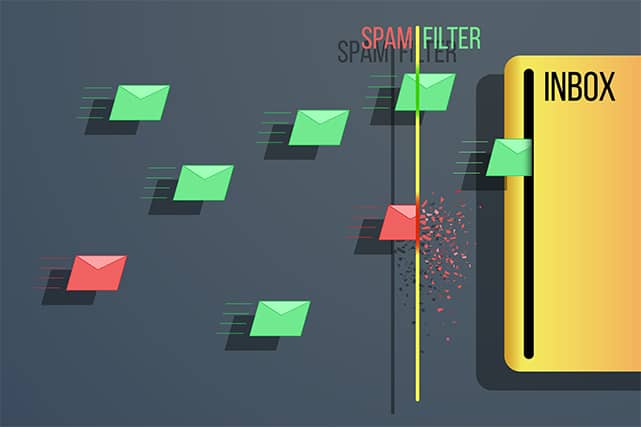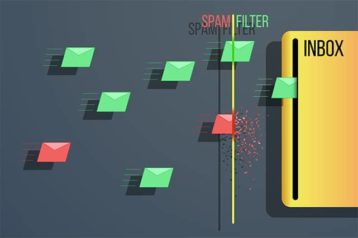 Yes, anti-spam software offers a filter option. One of the most important aspects to consider when choosing an anti-spam solution is the filter option. The spam filter definition emphasizes that the filter function applies to any software that prevents spam from reaching users' inboxes. Email filtering, which comprises of an independent analysis of incoming emails for risk characteristics that signal spam, is one of the features of an anti-spam system. Some of the advantages of utilizing email filters are safeguarding brand reputation, virus protection, defending against hackers, saving time, enhanced efficiency and the possibility of having a personalized email service.
Is it Possible to Report Spammers via Anti-Spam Tools?
Yes, it is possible to report spammers via some anti-spam tools. The "Report Spam" feature in Comodo Dome anti-spam, for example, enables users to upload and submit suspected spam emails that have gotten past spam filters. If the reported emails are proven to be spam, Comodo will upgrade the filters to quarantine similar emails in the future. Click "Incoming" on the left and select "Report spam" to report spammers. An interface will appear, and the user can upload the file.
Which Devices Can You Use Anti-Spam Software on?
The user can use anti-spam software on the following devices.
Computer: To protect a computer against spam, install anti-spam software that is compatible with the computer. The software will safeguard the PC against any additional threats that spamming may offer.
Phones: To safeguard devices from infection, Android and iOS users can download a trustworthy text filter and anti-spam program. Go to the Google Play store and search for one of the best anti-spam software, like Comodo.
Laptops: Your laptops can be spam-free with the help of an appropriate anti-spam solution. The initial step is to go to any of the best software websites and download them. The user may then set up the app and begin using it.
Which Platforms Can You Use Anti-Spam Software for?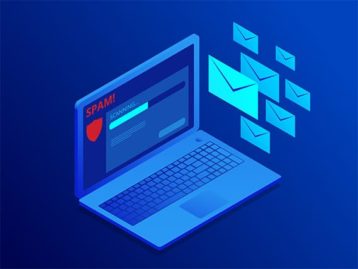 Anti-spam software is available on a variety of platforms. Because spam filtering isn't flawless, spamming is a typical occurrence with some email systems. The following platforms outlined below can use anti-spam software.
Gmail
Outlook
Hotmail
Outlook
Outlook Express
Windows Mail
Mozilla Thunderbird
Do Businesses Need Anti-Spam Software?
Yes, anti-spam software is required for adequate protection. Spamming is a problem in any industry that uses the internet and uses active email. Email is the most common form of communication in businesses, and spammers can use it to target a specific company. However, every company must protect itself against spam by implementing effective anti-spam software.
What is the Cost of an Anti-Spam Software?
Anti-spam software costs vary depending on the number of users, email boxes and security goals. The cost of software increases as the number of users increases. Some anti-spam software comes with a trial edition that allows users to test the tool's functionality. Some of these free anti-spam solutions are effective, but they are limited in capabilities, making it difficult for users to customize their settings.
Which Companies Provide Anti-Spam Tools?
There are numerous companies in the cybersecurity niche that provide anti-spam tools. Some of the best cybersecurity companies that provide anti-spam tools are given below.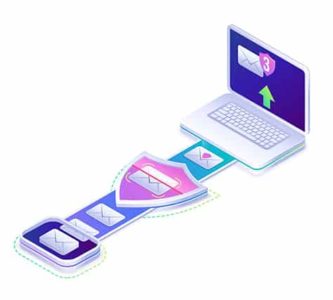 Security Gateway by MDaemon
ESET Endpoint Security
DataDome
Spam Filtering and Malware Protection
Spamfighter Exchange Module
MailWasher
MailCleaner
Trend Micro Smart Protection Complete Suite
Zerospam
MalwareBytes for Team
Symantec Email Security cloud
SpamTiTan
Mail Assure
ALTOSPAM
ContentCatcher