D
isk imaging is the process of compressing all of the data that exists on a hard disk and then moving that data to another device, a file system or the cloud. Disk imaging is a simple and effective method of creating a compact copy of a computer's hard disk.
Every company must safeguard critical information in the event of data loss. Businesses must consider adopting disk imaging software to deal with typical system crashes, hard drive corruption and malware infection. Disk imaging stores every detail of the previous hard drive, including the new operating system, applications and documents, making setting up new machines with existing software and programs simple. Similarly, system administrators who manage several computers with comparable configurations may find disk imaging useful. Disk imaging software eliminates the need for time-consuming manual data transfers between machines.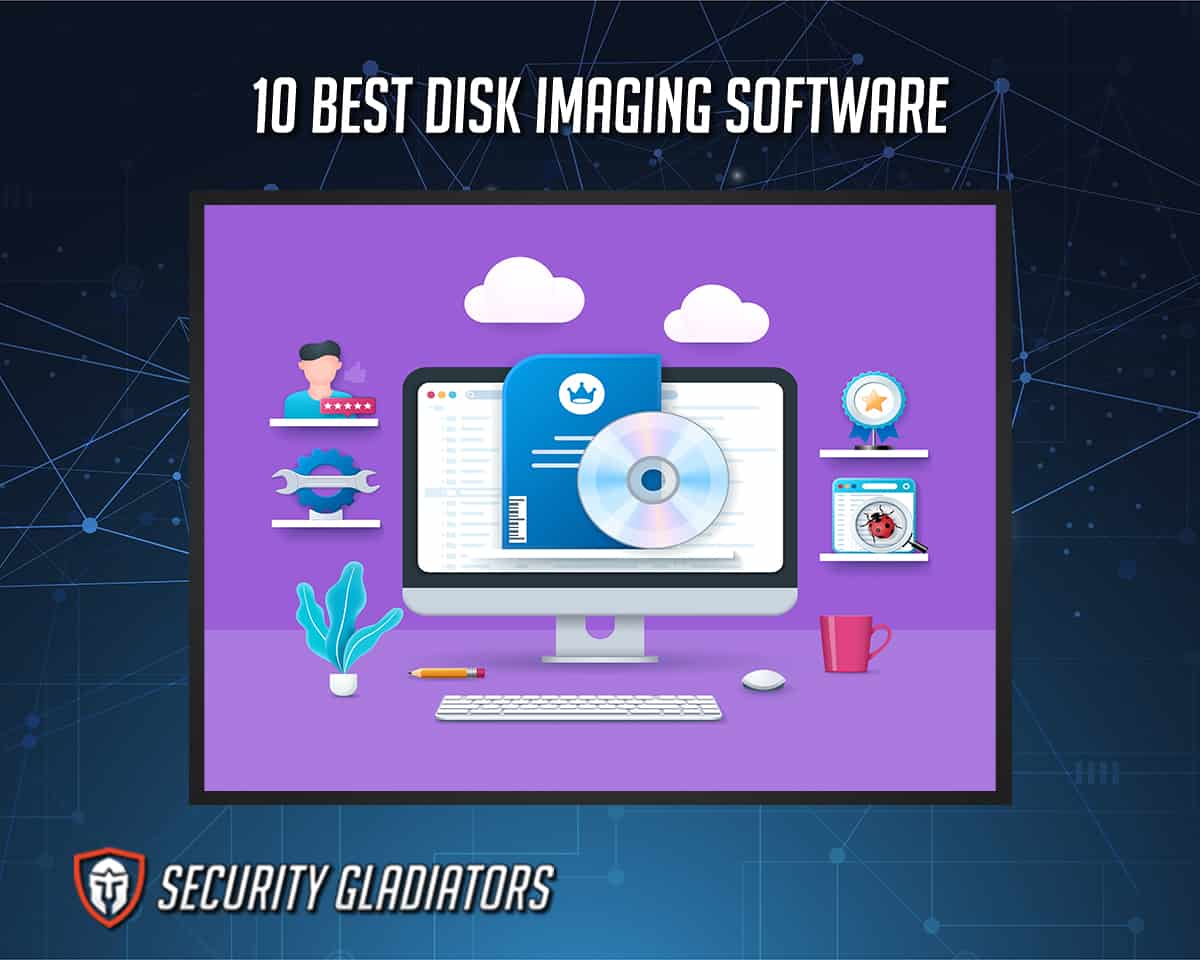 This disk image software review will cover the market's top offerings for both individuals and businesses. The best disk imaging software programs are listed below.
Acronis True Image: Best disk imaging software with easy cloud backup
Paragon Hard Disk Manager: Suitable for both home and business use
ManageEngine OS Deployer: Best OS deployer with flexible boot choice
1. MiniTool Partition Wizard
MiniTool Partition Wizard is one of the best partition managers for Windows that optimizes hard drive performance. Some of the features of this data maintenance software include the use of effective data recovery methods, a powerful disk clone tool, disk diagnostic measures and support for common file systems like exFAT, FAT12/16/32, NTFS and Ext2/3/4. Partition recovery recognizes and recovers lost or deleted files from damaged, formatted or inaccessible drives and folders. This disk imaging application can also convert dynamic disks to simple disks without losing data. MiniTool Partition Wizard was made by MiniTool Solution, founded by Wei Ming.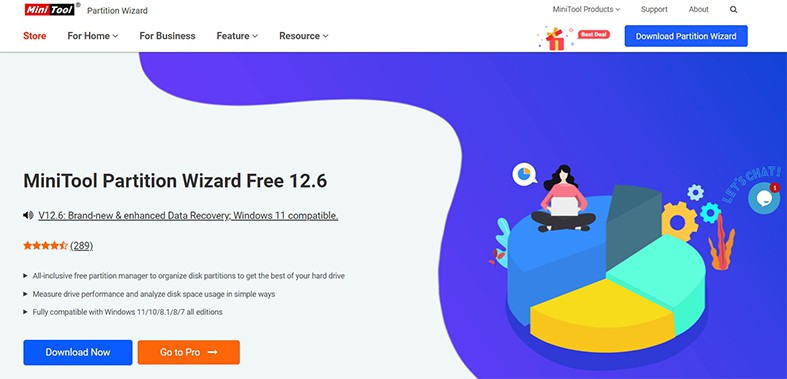 The first step in using MiniTool Partition Wizard is to download the program from the company's website, then install the software on the device. To complete the installation, follow the instructions on the PC screen and then open the software. First-time users should see a guide on how to operate and understand the software. The interface is user-friendly because the features are displayed, and users can select based on the relevant preferences. Under two tabs, all of the disks and devices the software detects will be displayed.
The premium version is compatible with several Windows operating systems, including Windows Server, and offers a free version. The advantages of utilizing MiniTool Partition Wizard include fast speeds, an easy-to-use interface and the ability to increase the system partition without rebooting. However, the downsides of using MiniTool Partition Wizard are that some users have issues with the resolution settings on some monitors, and the software's paid version is expensive.
MiniTool Partition Wizard offers both free and paid versions to users. Users can choose from some packages in the premium version. The packages range in price from $59 to $699 annually, depending on users' preferences and needs. MiniTool Partition Wizard allows home and office users to partition hard drives and convert disk partitions easily. To accomplish disk imaging, all users need is a PC and the MiniTool Partition Wizard.
MiniTool Partition Wizard does not require any other software to operate. The program includes all of the functions necessary to manage users' disks, including resizing, creating, formatting, transferring, combining and deleting data. The partition tool is a powerful and easy-to-use software for businesses and personal usage.
---
2. Paragon Hard Disk Manager
Paragon Hard Disk Manager is a sophisticated hard disk manager that allows backup, restoration and partitioning of hard drives. Users can use this application for both personal and business purposes. Paragon Hard Disk Manager includes reliable backup and flexible recovery functions and optimization. The advanced edition is a tool for experts, allowing tech-savvy users to build more complex scenarios using the capabilities supplied. Users can also create a custom backup strategy, transfer the system and data, perform secure disk wipes and generate comprehensive reports. Paragon Hard Disk Manager's features are basic partitioning, advanced partitioning, disk wipe, data migration, email notification, backup automation and Windows compatibility. The product was produced by the German software company Paragon Software Group.
To use this disk imaging tool, users should download the software from Paragon's website and install the program on the computer. To begin using the software, open the app and explore around. The user interface is intuitive, and the new version has an easy-to-use design allowing users to navigate from one unit to the next easily. Users may easily access all of the tools in the advanced version without navigating between windows or performing any commands manually.
The advantages of using Paragon Hard Disk Manager are the intuitive UI, constant file backups, availability of technical assistance, support for Windows operating systems, a 30-day free trial and a customized disk management system. The tool has some drawbacks, though, including a costly membership plan, limited usage of a single computer and inconsistent timing for operations.
Paragon Hard Disk Manager has a package for both personal and business users. The "Hard Disk Manager Advanced" option is designed for home use and costs $79.95 for a license covering up to three PCs. Paragon also offers four different licenses for businesses, each with a different price plan. Workstation licenses cost $99, servers licenses cost $499, technician licenses cost $599 and enterprise licenses cost $899. This hard drive management program is appropriate for both tech-savvy individuals and businesses.
Although, users will require a hard disk drive with at least 1 GB of space and 4GB of RAM to use the Paragon disk imaging software. This software does not need any additional applications to function. Paragon Hard Disk Manager uses fast servers and can image disks quickly. This tool's efficiency is evident through full-featured, fast-loading USB or CD-based recovery.
---
3. Acronis True Image
Acronis True Image (formerly Acronis Cyber Protect Home Office) is a software program that provides data security and protection for users' data, programs and systems. This is an easy cloud backup solution for files and disk images. Acronis True Image's main features are flexible backups, active disk cloning, quick recovery, antivirus and anti-malware protection for computers and backups, cloud backup and features, easy management and automated data replication. Acronis International GmbH produced the Acronis Cyber Protect Home Office software.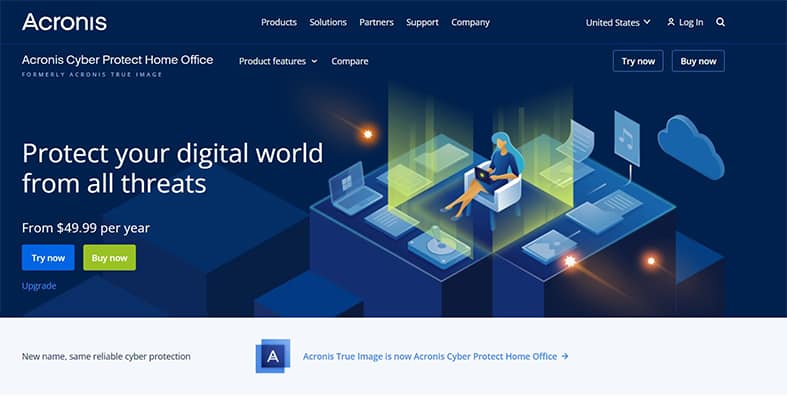 Visit the company's website and click the "Try now" option to get a free trial version of Acronis True Image. Save and double-click on the installation file. Start by agreeing to the terms of service agreement. Acronis True Image has a user-friendly and appealing interface. The online interface also provides access to the files and directories.
The advantages of using Acronis True Image are an excellent desktop interface, local and cloud backup choices, email notifications, full automatic disk image backup and restore, file syncing, real-time ransomware and malicious URL protection. The disadvantages of the Acronis hard disk tool include high prices, a clumsy web interface and that backups may slow down computer performance.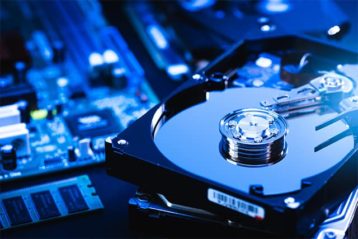 Cyber Protect Home Office is available as a subscription-based or permanent license from Acronis. In addition, Acronis offers a 30-day free trial. There are three paid subscription options: The "Essential" tier costs $39.99 per year for one device, the "Advanced" membership option costs $64.99 per year and the "Premium" tier costs $94.99 per year.
Acronis True Image is ideal for computer users who require a dependable and simple data backup solution. Both home and corporate customers will benefit from the Acronis software. As one of the best software programs available on the market, Acronis True Image is a fast solution for file backup and restoration. To use this software, users must have Acronis bootable media. Users can also use bootable media, such as a hard drive with 4 GB (or more) of free space.
---
4. Macrium Reflect
Macrium Reflect is one of the best disk imaging software programs offering comprehensive data security and recovery solutions for personal and business use. Site map management, backup encryption, direct disk cloning, ransomware protection, Windows log events and scheduled backup cycles are all available with Macrium Reflect. Additionally, Macrium Image Guardian protects users from ransomware, reducing the chance of file damage, and provides encryption to safeguard users' data from unauthorized access. Paramount Software developed Macrium Reflect, a backup software program for Microsoft Windows devices.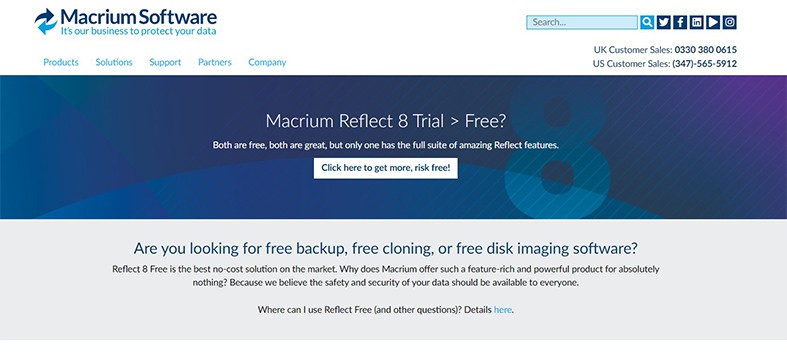 Users can get started with Macrium Reflect by checking the website to download the software. Macrium Reflect can be launched from the desktop's Start menu or taskbar. Also, choose whether to download the free version or premium edition while downloading, as the license key is required to complete the installation of the premium version. Open the application after completing the installation process. Select the drive to be imaged, select "Image this disk," and click the "Browse" button next to the Folder field. Click "OK" after selecting a location to store the image. Macrium Reflect has a simple drive management interface. In addition, the new version has a more user-friendly interface that enables drag-and-drop partitioning during backup and recovery.
There are many advantages of using Macrium Reflect. To recover photos faster, Macrium Reflect employs Rapid Delta technology. In addition, the utility may compress machine data into image files for simple access. Macrium can also back up Hyper-V virtual disks, and a free version is available to users.
However, the downsides of using Macrium include the pricing of the paid version and the fact that inexperienced users may struggle to understand the features.
Users can try out Macrium Reflect for free for 30 days. There are many pricing levels for Macrium software because of the availability for both home and business users. A single license for the home version costs $69.95 for a one-time purchase. Alternatively, customers can pay $139.95 for a four-pack license. The Workstation license, which costs $75, is the starting point for business subscriptions. Server ($299) and Server Plus ($599) licenses offer more advanced tools to help users defend Windows systems. Bulk purchases also qualify for discounts.
Macrium Reflect is appropriate for both businesses and tech-savvy home users. The desktop interface is clean and easy to use. Users may access existing disks on the primary dashboard and generate backups or disk clones with just a few clicks. Team members can schedule backups and recover full disk images or particular files, folders and disk partitions with Macrium Reflect.
---
5. Clonezilla
Clonezilla is a powerful partition and disk imaging software. The software is also a free and open-source cloning tool that works with Linux, macOS, Windows and Chrome OS file systems. Clonezilla's key capabilities include the ability to create system backups, bare-metal recovery, the capacity to clone up to 40 or more computers simultaneously, custom boot parameters and more features. Clonezilla protects users' backups with AES-256 encryption, making data inaccessible to anyone without permission. Clonezilla was produced by the NCHC Free Software Labs in Taiwan and designed by Steven Shiau.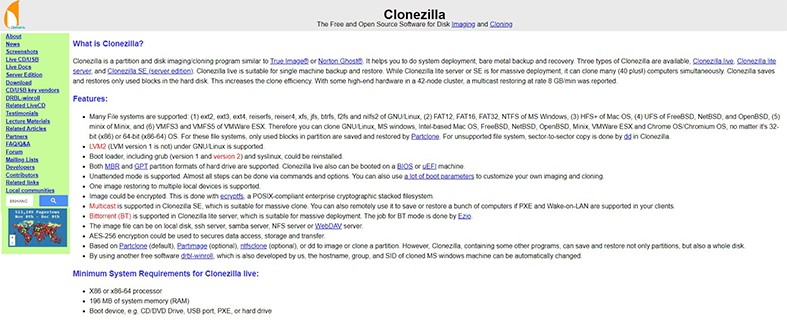 Download Clonezilla and prepare boot media, such as a 1GB USB flash drive, to use the Clonezilla hard disk tool. After that, prepare your backup drive and start Clonezilla. Then, select the cloning option when starting the wizard. For new users, the interface is not understandable.
The advantages of Clonezilla are that the tool is a free, open-source and powerful CLI-based software program that has a simple download and installation process, offers regular software updates, and is a good alternative for larger networks. Clonezilla's downsides include the need for an external setup tool, the lack of customer service support, the complexity for inexperienced users, the lack of features compared to competitors and an outdated UI.
Clonezilla is a free software utility, meaning users do not have to pay to use the app. Clonezilla comes in three types: Clonezilla Live, Clonezilla Lite Server and Clonezilla SE (Server Edition). Clonezilla Live is ideal for backing up and restoring a single machine. Additional tools, such as a blank CD/DVD or USB drive, as well as a spare internal or external hard disk, are required to run this software.
The software has many features and is powerful and dependable. Clonezilla is a fast imaging program, depending on the size of the partition or drive to image. The process can take anywhere from 30 minutes to three hours. The data's compressibility has a significant impact on speed. Bad sectors slow down the software's performance greatly. Also, Clonezilla requires the use of bootable media. Users should utilize a 1 GB USB flash drive to generate a bootable Clonezilla USB drive (or larger).
---
6. Iperius Backup
Iperius Backup is a backup program for Windows that allows users to make a copy of entire disk images. The main features of Iperius software are automatic upload, AES 256-bit encryption, upload bandwidth limitations, FTP and FTPS protocols, ransomware protection, access to files from any browser, backup from unlimited PCs/servers, ISO 27001 GDPR certified data centers, compatibility with ESXi and Hyper-V, and automatic backup to cloud storage.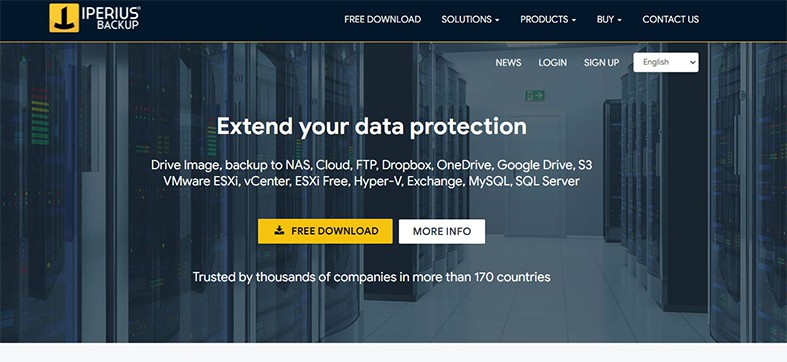 To use Iperius Backup, go to the company's website and sign up for a free trial or purchase a new storage plan, then download and install the application. Users can have the relevant online backups configured. The user interface needs to be improved.
Some of the advantages of using Iperius Backup are compatibility with cloud services such as Google Drive, OneDrive and Amazon S3, the ability to automatically encrypt backups using AES 256-bit encryption, simplified licensing, and a compact but powerful design. The availability of Windows operating systems, the complicated user interface and the fact that the program is not a good alternative for home users are all disadvantages of utilizing Iperius Backup.
Users can choose between a free or paid version of the Iperius Backup tool. There are numerous payment options for the paid edition, with prices ranging from $29 to $299. Because of the complexity of the interface, Iperius is well-suited for organizational use. Iperius Backup is ideal for businesses that need a user-friendly disk imaging solution with centralized management. Users will need a device at least twice the size of the backup hard drive to store all of the data that needs to be backed up with this disk imaging application. Users will also require an external hard disk.
Iperius Backup is a robust server and PC backup and protection program. Although the product is effective and easy to use for tech-savvy consumers, Iperius also has quality customer service and fair pricing. Iperius Backup does not need an additional tool to function.
---
7. SmartDeploy
SmartDeploy is one of the best disk imaging solutions for hard drive management, as the program uses modern desktop management approaches. Businesses may manage endpoints using SmartDeploy's central console. This program has an integrated application library, computer imaging and remote computer imaging, and Windows migration capabilities. With SmartDeploy, users can develop a standard configuration to deploy to all devices using the software. Aaron Suzuki created SmartDeploy.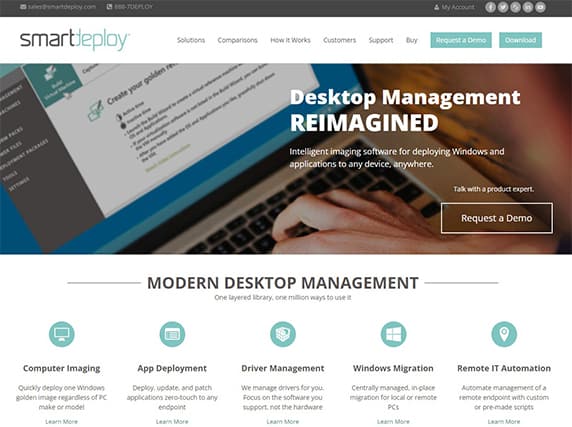 To get started with SmartDeploy, users should go to the software website and download the version compatible with the target system. Then, double-click the installation package and accept the software's terms and conditions to finish the installation. In the checkboxes, select the features to install. Follow the prompts to finish the installation and run the software.
SmartDeploy does not have a free version but offers a trial version. The annual cost of the software starts at $960.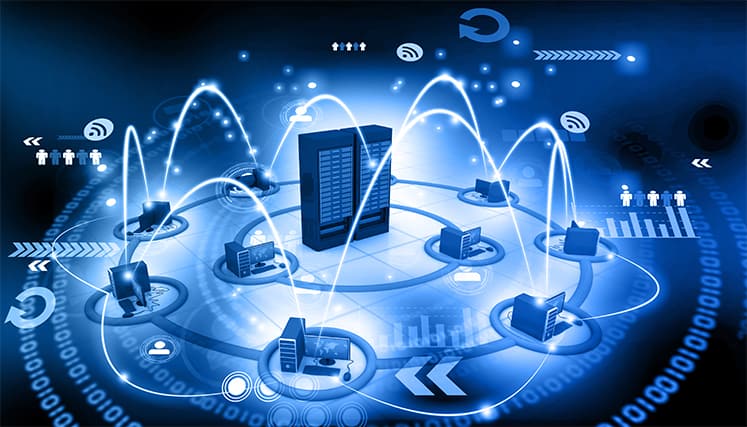 The advantages of integrating SmartDeploy include asset management, disk imaging and backup, ease of setup, support for limitless endpoints, driver management, an easy-to-use interface, quality customer service and the ability to coordinate Windows updates. However, the lack of reporting features and the high subscription prices are downsides of using the software.
SmartDeploy is ideal for IT professionals because of the ease of use, simple configuration and customizable deployment options. The program is simple and makes imaging many devices swift and effortless. SmartDeploy needs a bootable file for functioning.
---
8. EaseUS Todo Backup
EaseUS Todo Backup is a Windows disk imaging program that can clone whole drives or partitions. Centralized backup management, disk cloning, OS migration to SSD/HDD, 16TB hard drive capacity, full backup, incremental backup, differential backup and schedule backup are just a few of the primary features of EaseUS Todo. Users can upgrade to the enterprise edition for more features, such as the ability to create a WinPE/Linux bootable drive to protect against system failure. It is also feasible to migrate an operating system to a solid-state drive or hard disk drive. Chengdu Yiwo produced the EaseUS software.
The EaseUS Todo Backup software can be downloaded from the developer's website and used immediately. Users should install and execute the application, then double-click on the program after installation. Create a new task in the interface and pick the backup destination to begin a system backup. After that, click to start the system backup.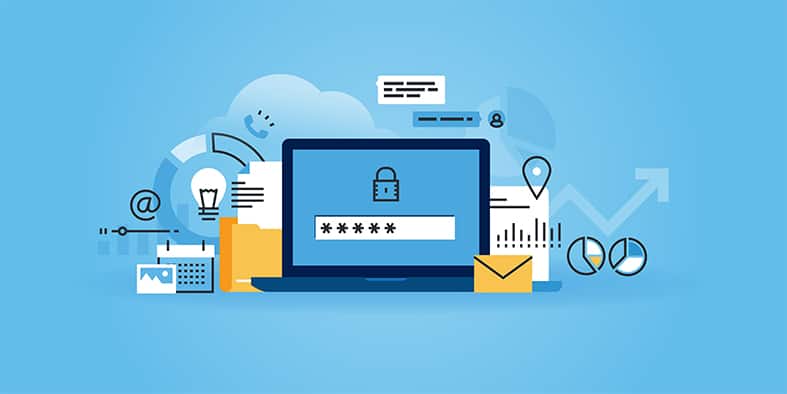 EaseUS Todo Backup is one of the most straightforward PC backup programs available, with a basic user interface. EaseUS Todo Backup has some advantages, including that the program is a free utility with paid extras, offers support for incremental and differential backups, as well as numerous recovery mediums (RAID, USB and NAS). Also, all versions of EaseUS Todo Backup operate on Windows. But the disadvantages of using EaseUs Todo Backup include strict compatibility for Windows and that beginners may find the user interface confusing at times.
EaseUs Todo Backup is available in a free trial and a premium edition. A single license for one PC costs $29.95 per year with the "EaseUS Todo Backup Home" plan. The "EaseUS Todo Backup Workstation" option costs $49.00 per year for a single license for one PC, $199 per year for a server and $299 per year for an advanced server.
For computer users seeking a cost-effective disk imaging application, EaseUS Todo Backup is a good option for setting up automatic backups to save files regularly. Only Windows users can use the app. EaseUs Todo also allows users to restore data in seconds without having to reinstall the software. A bootable USB is also needed to use EaseUs Todo Backup.
---
9. AOMEI Backupper
AOMEI Backupper is a disk imaging program that allows Windows users to backup, restore and clone features to protect the operating system, data and applications. Some of the features of AOMEI are complete data protection, flexible data recovery, a user-friendly interface, anti-ransomware capabilities, image deployment, and synchronization across folders and files. Automatic data backups are also included in this software, and the "Schedule Backup" tool saves users' data in the event of a system crash. AOMEI Technology created the AOMEI Backupper program in China.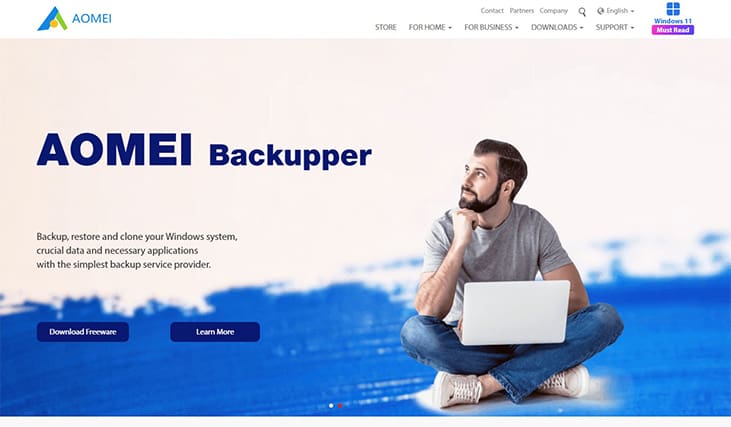 Users can choose the free standard edition of AOMEI Backupper to install. Double-click the standard edition and then select "Install Now." The installation will take some time, and then there will be an update on the progress of the installation. AOMEI Backupper is a basic and user-friendly backup software for computer users.
A free version of AOMEI Backupper is available, which is a good solution for home users. The software can make simultaneous and continuous backups and is a fully-featured emergency recovery and data security solution for Windows laptops and desktops. The software can also sync folders and data in real-time from one location to another, clone hard disks for transfers and upgrades, generate bootable disks for bare-metal machines and plan backups. The downsides of using AOMEI are that the software is limited to the Windows operating system and lacks the ability to select an encryption option.
AOMEI Backupper comes in two options: free and paid. Professional, workstation, server, technician and technician plus editions are available as paid versions. The cost ranges from $49 to $899.10. AOMEI Backupper is suitable for homes, small businesses or large organizations.
AOMEI Backupper is a powerful backup program with a simple and intuitive UI design. This software also provides lightning-fast backup speeds. Users need bootable media to achieve disk imaging with this tool.
---
10. ManageEngine OS Deployer
ManageEngine OS Deployer is one of the tools that provides a management system for setting up, storing, rolling out and reinstalling desktop operating systems. Some of the features of ManageEngine OS Deployer are flexible boot choices, automatic driver management, hardware-independent deployment and an advanced automated deployment system. ManageEngine OS Deployer allows for the standardization of computer settings and the storage and installation of the operating system and all required device drivers.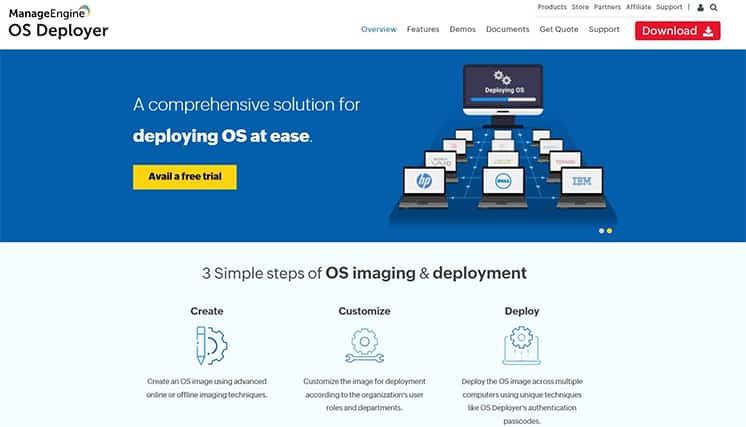 Visit the ManageEngine OS website and select a plan, then get the free trial version and fill in the relevant information. After the application is downloaded, open the .exe file to begin the installation. Then, double-click the program to launch the system.
The advantages of using ManageEngine OS Deployer are fast deployment, an online interface, an easy-to-use UI, straightforward imaging, on-demand images with no user interruption or interaction, no scripting, a short learning curve, flexible pricing and the ability to deploy images regardless of hardware. However, the disadvantage of ManageEngine OS Deployer is that the software is only compatible with Windows versions.
ManageEngine OS Deployer is available in three editions: free, professional and enterprise. The cost of a feature starts at $6.99 per year. There is no free version of the software, but there is a free trial. The software is appropriate for computers in virtual offices and users who work from home.
ManageEngine OS Deployer effectively deploys a fully configured operating system that is both flexible and efficient. To boot and produce a disk image, users must utilize a bootable CD or USB.
---
What is the Purpose of Using Disk Imaging Software?
Disk imaging software has a role that extends beyond data transfer speed. When a device breaks, using disk imaging software can prevent data loss. More reasons to use disk imaging software are listed below.
Virtualization
Security
System Backup
Rapid Deployment of Clone Systems
Software Distribution
Enhancement
In understanding the purpose of these software programs, one must consider the core question, "what is disk imaging?" Disk imaging is a proven method to protect personal data. Users can retrieve and restore stolen data to bring the hard drive back to life in the event of theft or file corruption. Acronis True Image, for example, has a significant edge over Paragon Hard Disk Manager as a disk imaging software program. The main reason for this is because Acronis True Image enables cloud backup, allowing users to back up personal data in the absence of an external storage device. In this way, Acronis has a comprehensive version of disk imaging software.
1. Virtualization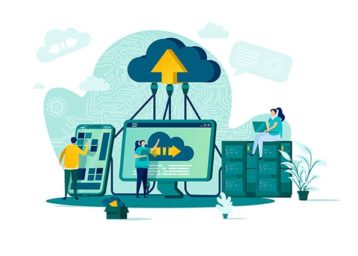 Users can move data between technologies using disk images on a virtual drive, from a CD optical drive to a hard disk drive. Hard disk imaging can be used for forensic and data recovery purposes. Virtual drive functionality is built-in to various operating systems, such as Linux and macOS. Other operating systems, such as older versions of Microsoft Windows, necessitate additional software installation. Verification of the values imaged is a part of forensic imaging to confirm the accuracy of the imaged file(s). Users can virtualize data using software like Acronis True Image, whether for forensic or recovery purposes.
Note:
Users can run numerous operating systems and software on a single computer or server using virtualization.
2. Security
Unmounting and dismounting of a hard disk must be securely encrypted to strengthen network security and ensure data protection. Iperius Backup, for example, includes an encrypted function that only allows access to authorized users. Encryption software that stores an encrypted disk image on the computer uses virtual hard disks. Clonezilla is another program that can help with virtual security.
3. System Backup
The system image is a full snapshot of everything on the computer's hard drive at any particular point in time. On some operating systems, backup tools only store user data, boot information and files locked by the operating system but may not save those in use at the backup. Creating a bit-identical disk image to achieve a system backup with disk imaging is one approach to ensure the system backup will be identical to the original. Considering the data backup definition, file-based backup solutions may fail to replicate all necessary attributes, especially on Windows systems.
4. Rapid Deployment of Clone Systems
Organizations frequently purchase or replace a large number of new computer systems. Manual installation of an operating system and apps can be time-consuming and carries a substantial risk of human error. As a result, system administrators employ disk imaging to clone a reference system's fully prepared software environment swiftly. This strategy saves time and effort while allowing administrators to concentrate on the particular quirks that each system must handle. Clonezilla is one of the fastest disk imaging tools available on the market.
5. Software Distribution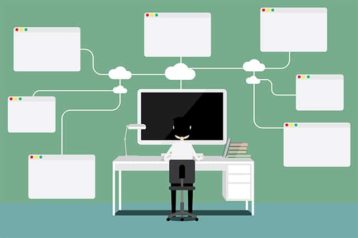 Disk images can be used to both distribute and access software across a company's network. Several types of software simplify the process of distributing software to large groups of computers connected via a network. Some software programs allow users to schedule customized backup updates only at night so that machines aren't disturbed during business hours.
Additionally, the end-user effect is decreased, and time and people are required to maintain a secure business environment. Efficiency improves as well since there is less possibility for human error. However, some of the best software deployment tools to achieve multiple software distributions are Iperius Backup, EaseUS Todo Backup, Clonezilla and others.
6. Enhancement
Disk imaging boosts productivity and makes the most of technology. Cloning an SD optical drive to a hard disk drive (HDD), for example, provides various advantages. Hard disk drives are faster than optical drives, quieter, have less wear and tear, and are resistant to some physical harm in the case of solid-state drives (SSDs). The automatic file backup technique will also boost employee productivity.
What File Formats are Disk Images In?
Disk images contain an identical copy of a hard disk. Also, users can use disk images for copying disks, CDs and DVDs. Below is the list of file formats for disk images.
.DMG
.CSO
.ISO
.DAX
.DMGPART
.ROM
.VDI
.QCOW
.VMDK
.DVD
Pro Tip:
The
ISO file
is the best since this format contains an identical copy of data from the original disk, including the data saved on the disk and file system metadata like directory structures, file properties and boot code. ISO files are useful for making copies of CDs and DVDs, a typical disk imaging example.
What are the Differences between Disk Imaging and Disk Cloning?
Disk cloning is the technique of generating an exact, uncompressed clone of a disk in which users can detect no difference between the source and destination drives. If you are looking for a reliable and efficient tool to clone your hard drive, you may want to check out our guide on the best disk cloning software available in the market.
On the other hand, disk imaging creates a significant compressed hard drive file. Imaging is also more effective than cloning since this method assures that the imaged file is completely updated.
What Operating System Supports Disk Imaging?
Some operating systems that allow disk imaging are Windows and versions like Windows 11, Windows 10, Windows 8.1/8, Windows 7, Windows 7 SP1, Windows Vista, Windows XP and Windows Home Server. Linux, macOS and mobile operating systems like iOS and Android also support disk imaging.