E
ncrypted note-taking apps create, organize and save notes on the go. The apps are focused, interactive and can recall information that the user would otherwise lose if relying solely on the human brain. Note-taking apps are software programs that allow users to take notes, collaborate with colleagues and work smarter. Students can also take notes from lecturers without carrying manifold notebooks for a single class. All notes are edited in the app, saving time and paper. Also, note-taking apps allow students to import annexed information that the lecturer may upload online.
Note-taking apps provide users with an opportunity to organize and store notes in a digital notebook and even assign a unique cover or folder. An encrypted and secure note-taking app confers more benefits to users than the traditional pen and paper technique. So, let's narrow down the best secure encrypted note-taking apps in 2023:
Turtl
Protected Text
Laverna
Joplin
Saferoom
SilentNotes
Nextcloud + Notes
Etherpad
NoteRiot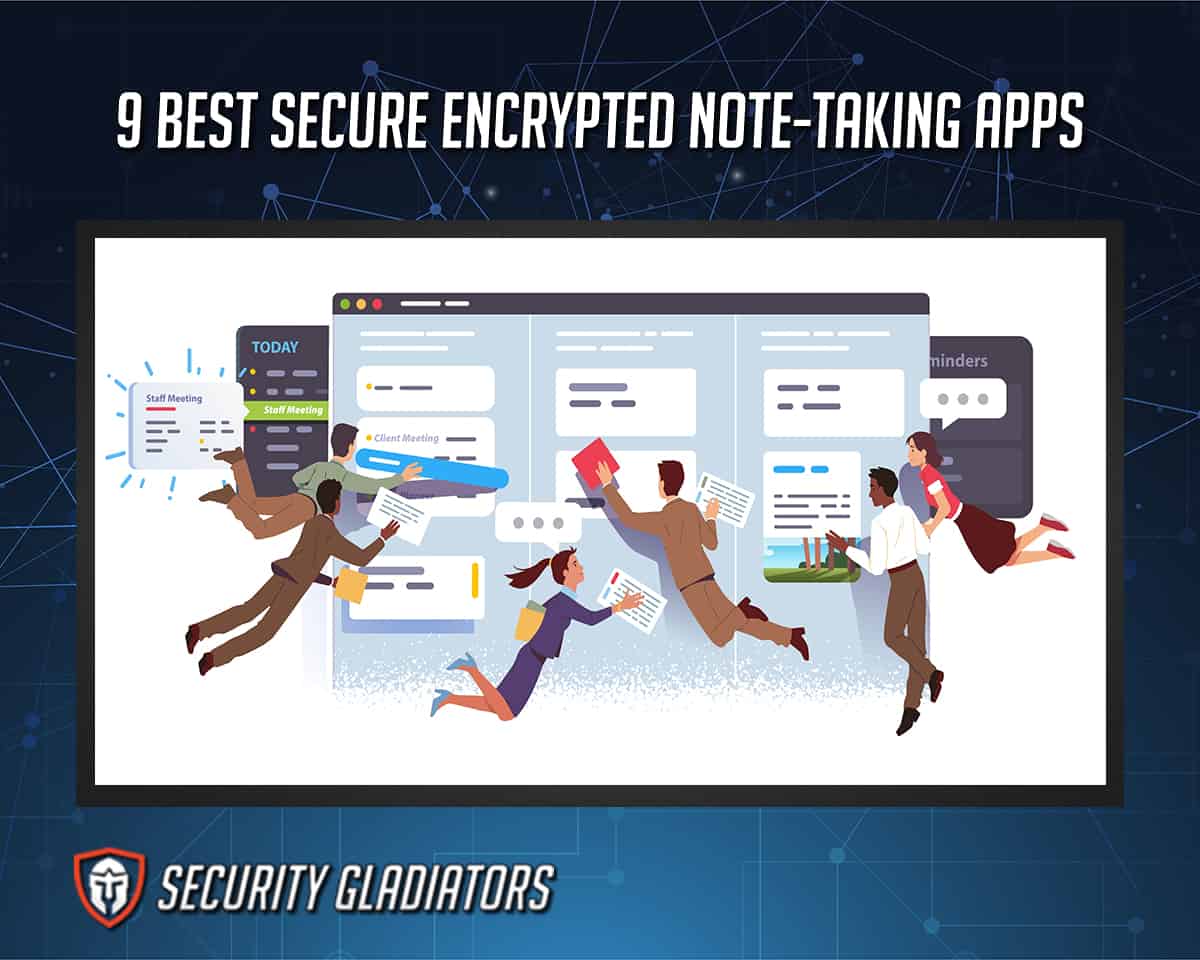 1. Turtl
Turtl is a secure and encrypted note-taking app that allows users to organize files, bookmarks, passwords, traveling or shopping lists so the content can easily be accessed later on. A major perk of this app is the ability to sync across different devices, ensuring nothing is left behind.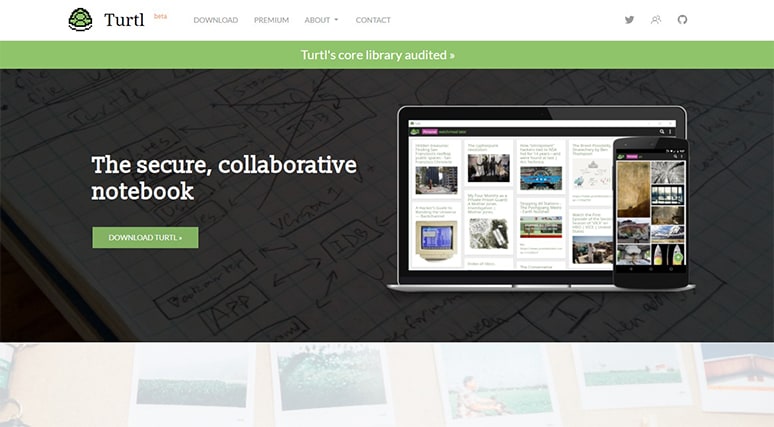 Turtl employs state-of-the-art cryptography to encrypt users' data. As a result, there's no need not worry about blanket government surveillance, data loss, competitive advantage or information leaks. This is because Turtl has invested a lot of effort to ensure that only the users and those allowed can access the data.
Turtl is an encrypted notes app that allows users to make and sync notes and even add attachments. Additionally, the app provides a tagging system so users can sort and find notes easily. Users can also share the document with other Turtl members.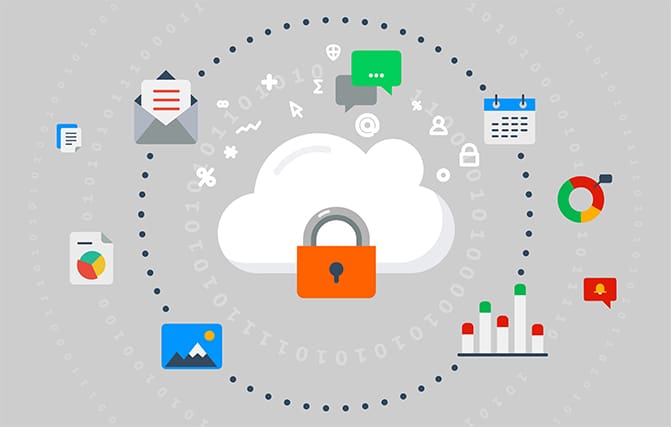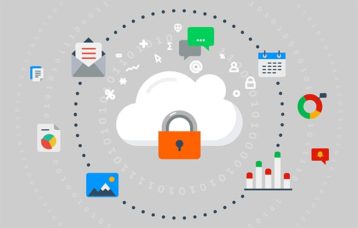 Turtl is an open-source platform, meaning users can contribute to the app's development. Moreover, unlike Google Keep, which collects users' data, Turtl respects people's privacy and ensures that only unrestricted members can access data. This also contrasts with Evernote, which doesn't encrypt data and requires a simple password visible to employees. Instead, Turtl employs AES-256, a top-notch encryption algorithm that ensures only privileged users can access data.
Turtl has different types of notes, including bookmark, text, password, file/document and image. The app also employs client-focused cryptography to secure data while also enabling different read and write ownership permissions. Turtle supports full-text search based on the presence or absence of tags and sorts notes by the date created and last edited. Additionally, this software features multiple translations, including Spanish, German, French and Hebrew. The app also includes a browser extension, allowing seamless bookmarking on desktop computers. Lastly, Turtle has an open-source server that enables users to host a company's Turtl data.
There are several Turtl plans available. The premium plan starts from $3 per month and allows up to 10 GB of stored data and collaboration with 10 people in each space. The business plan costs $8 per month with up to 50GB of data and lets the members collaborate with 50 people per space. A free version is also available with limited features, up to 50Mb storage capacity and collaboration with three people. The premium and business plans carry a 30-day trial period.
Note:
Turtl is open-source and employs end-to-end encryption to safeguard data from viruses, malware and brute-force attacks. In addition to preventing data loss, this AES 256 encryption note-taking app prevents data leaks since no one outside of the users' conversations can access information.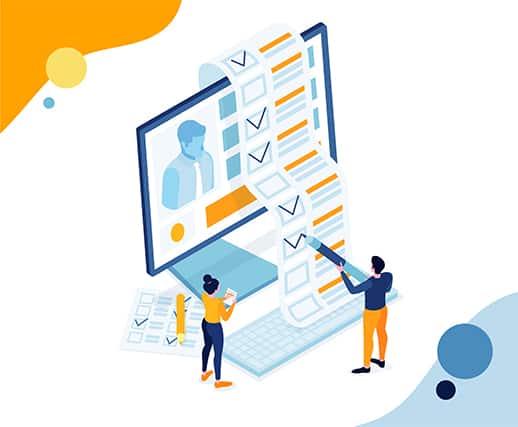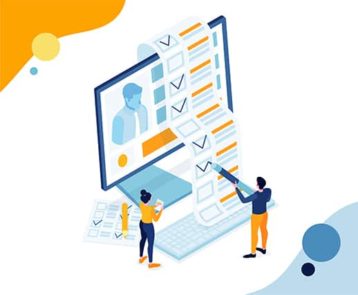 Considering the advantages of Turtl over competing apps, the program features an intuitive interface that requires minimal learning from new users. Moreover, the application offers different note types, including text, passwords, images, bookmarks and files/documents. Besides incorporating client-side cryptography to keep users' data safe, the software allows users to create a password for a Turtl account and an encryption key to secure the account entirely. Similarly, since no data is stored in the app's servers, anyone can access the unencrypted content.
However, Turtl does come with a few disadvantages. While the software features applications for other operating systems, iOS doesn't have a client. Moreover, the app doesn't support image embedding. Instead, Turtl only allows image and description, where users can add an image and create a description with the available formatting features. Unlike image embedding, this results in numerous limitations since users can only add a single image, which must be at the top. Another disadvantage is that users cannot access the app without an internet connection, as initiating offline mode requires internet access.
To get started with Turtl, download the desktop client for Windows, macOS, Linux or Android devices. Next, install the program, open the app, and input a username and paraphrase to start creating notes with Turtl.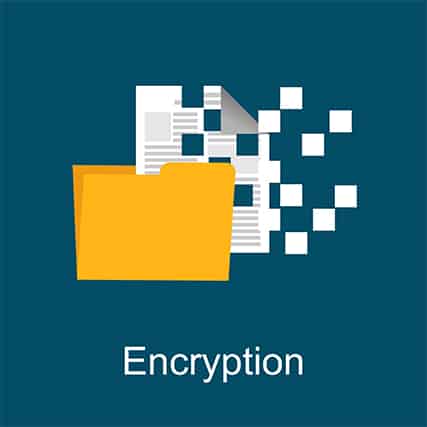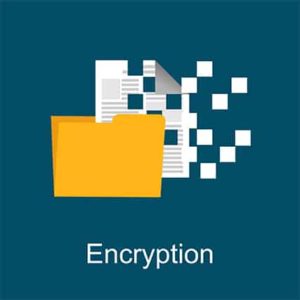 Turtl is excellent for proofreading, time tracking and taking notes. If someone is looking for a note-taking platform that can be integrated with other tools such as Google Calendar, Freshbooks, Dropbox, Google Drive and OneDrive, then Proof Hub may be a better option.
Turtl Turtle allows the creation of different notes, including passwords, files, images, bookmarks and text notes. Regardless of the type, new notes can be created in a window.
Turtle features a relatively simple design, making the app easy to use. However, the Android version features numerous bugs that result in regular crashes. Similarly, users can't undo shared documents that have already been sent.
Occasionally, the syncing functionality doesn't work, especially for a note created on a phone syncing on a laptop. This requires clearing local data under settings and logging back into Turtl.
---
2. Protected Text
Protected Text is a free, web-based service that allows users to encrypt and save files online. The app is accessible anywhere from any device. Protected Text does not require personal information and doesn't store passwords. All that is required is a web browser and an internet-enabled device. Besides, Protected Text does not require registration and doesn't track users or serve ads. Protected Text is an excellent app for storing to-do lists, ideas, web pages, projects, scripts and meeting notes.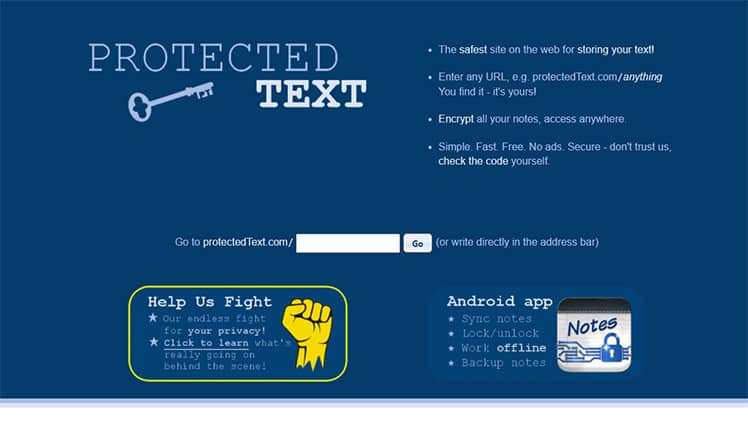 Protected Text is another state-of-art note-taking app that encrypts notes about business ideas and personal thoughts and stores the notes securely on the web. The app is safe, secure and can be accessed anywhere and from any device. Protected Text ranks high among the best note-taking apps in 2023 for allowing users to write and share text on the go. Protected Text is versatile and has an Android app that allows the syncing of notes across multiple devices, backup notes, working offline and locking/unlocking a user's site.
Protected Text offers the simplest approach to securely writing and storing text online. The app features a fast, clean and straightforward interface. The functions and commands are easy to locate without going through complex menus. Thus, users can easily navigate, write and store notes online. Since Protected Text is a website, users can access it on any device that can open web pages, which is a big plus.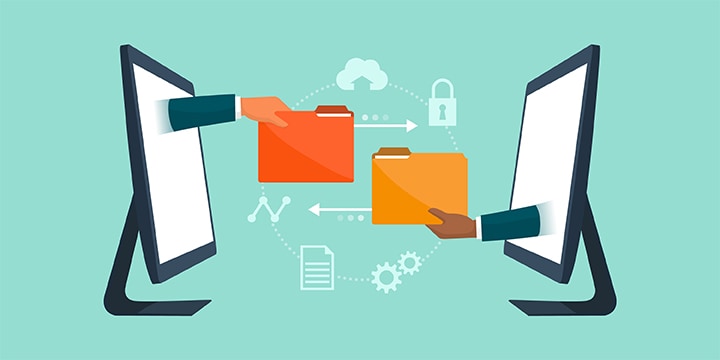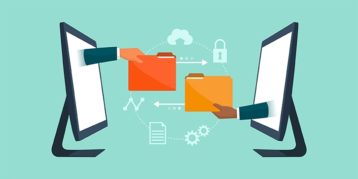 Protected Text is a free and open-source application. For security measures, Protected Text uses the robust AES algorithm to encrypt and decrypt a user's notes with the "salts" and SHA512 algorithm for hashing. The app is also SSL encrypted, meaning that any data transmitted is highly encrypted.
In addition to a simple and easy to use layout, Protected Text is free and doesn't require registration or account. Moreover, being open-source, the app's source code is easily available for inspection.
While the client-side code is available freely for everyone to check, the server-side is not, meaning a user can't self-host the service. Also, there's no way to recover a user's password since Protected Text does not store any user information, including passwords.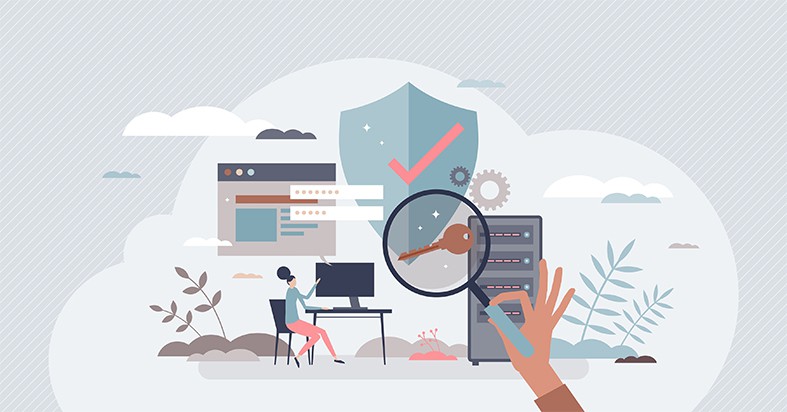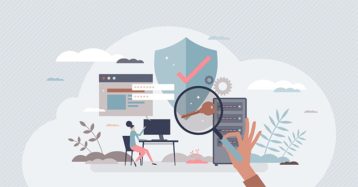 Protected Text is easy to use. A user can access the web app through a browser by going to protectedtext.com/[anything], claim and password-protect the particular URL if available. After that, the user can go back to the same URL and enter the password. The site name created will be the private portal where the user can keep notes. The user can begin typing notes on the dedicated page, which has a maximum length of about 750,000 characters per page. After writing notes, the user can hit the save button above and enter a password to protect the site. Enter the password twice and click save. The site is automatically decrypted with the user's password, and the notepad can be accessed anytime by visiting the URL from any device.
Protected Text is a notepad application that is easy to use and features a simple user interface. The application is also secure and provides easy access to data. Also, users can identify notes using a separate title instead of the first line of the document.
While Protected Text allows users to write and store notes, the web app does not offer any editing or text customization features. Also, there are no ample management options for stored notes.
---
3. Laverna
Laverna is a popular cross-platform privacy-focused note-taking app. This open-source markdown note editor offers a clean and easy-to-use interface. The application is written in JavaScript, offering users speedy performance. Laverna simplifies note-taking and creates to-do lists that can be organized using notebooks. The user can work in the normal, preview or distraction-free mode when editing notes. Power users can use the Markdown editor that supports keybindings, allowing users to work without taking their hands off the keyboard.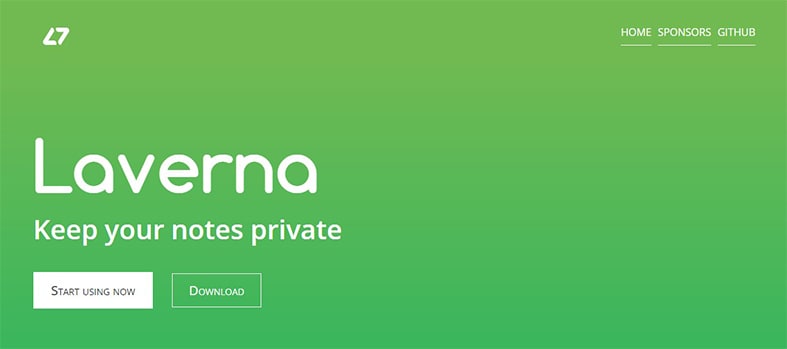 Laverna features a simple markdown editor allowing users to write faster. Laverna makes notes available anywhere with a user's Dropbox and RemoteStorage account. The encrypting feature allows users to keep notes private and only available to them. The app stores all notes in a user's browser databases such as localStorage or indexedBD, which is excellent for security because only the user has access. The app allows users to add notebooks and organize notes inside. Also, a user can highlight important notes by marking favorites.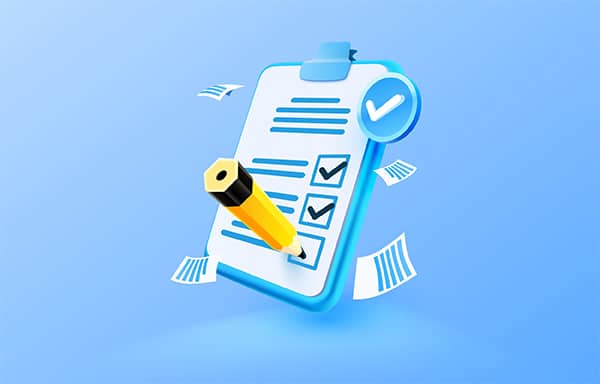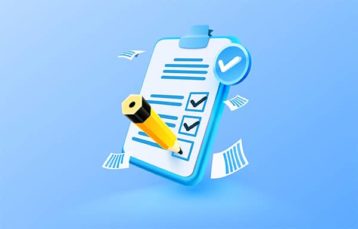 Laverna is free to users. The app features a Markdown editor that relies on Pagedown. The app is available for download on Windows, macOS and GNU/Linux devices. The Laverna editor splits into two parts, one for editing notes and the other for previews. Laverna allows users to create notes, notebooks and to-do lists, even when offline.
For security, Laverna employs AES256 encryption to ensure that only the users have access to the data. Moreover, encryption means that even during a security breach, hackers won't be able to read users' data. In addition, the app is open-source, thus enabling users to inspect the code and contribute to the app's development.
Besides being beautifully designed, the app features a user-friendly interface that is easy to navigate. In addition to being free to use, Laverna is a privacy-focused software that offers distraction-free writing. Moreover, the software supports code highlighting and markdown editing across multiple platforms, including Windows, macOS and Linux.
Despite the advantages, many users claim that Laverna is a bare-bones note-taking app and can be difficult to synchronize across different devices.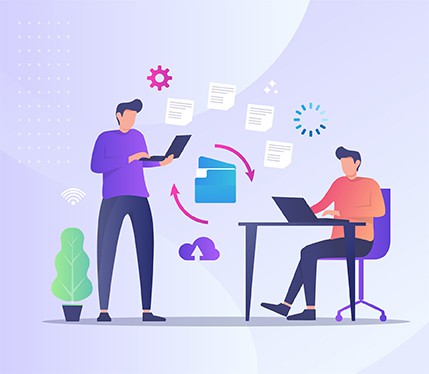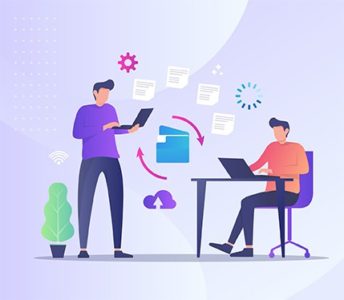 Laverna offers users the option to host the app or use the web version. Get started by clicking on the "start using now" button on the app's front page for the web version. On the welcome screen, click "Next." The app will ask a user to enter an encryption password to secure and retrieve the notes. Also, the user is asked to choose a way to synchronize the notes.
On logging into Laverna, there's an empty canvas. Click the "New Note" icon to open the note editor, create a title and begin typing in the editor's left pane. The right pane automatically displays a preview of the note. Laverna allows formatting of notes using Markdown, the toolbar at the top of the window, or using the keyboard. The app also allows embedding a file from a computer or image into the note. When done, click on save.
Laverna is a stable and highly functional note-taking app with an easy-to-use interface. Laverna allows users to create and highlight notes, and the app offers a search functionality to help users access notes quickly. There is an option to create and manage tasks, along with a trash tool for deleting files. However, the application doesn't offer alternative markup options to align and arrange content inside notes. Laverna isn't a to-do list software; instead, the app operates as note-taking software.
Some critics say Laverna's storage and syncing options are limited. These should be expanded to include open-source applications such as Owncloud and Nextloud.
---
4. Joplin
Joplin is a free and open-source HIPAA compliant note-taking app with important features to help users manage notes seamlessly. The app offers a web clipper that lets users easily save screenshots and web pages from browsers. The app can run as a console or graphical application on Windows, Android Mac, Linux and iOS devices. Joplin also features mobile apps for iOS and Android operating systems. The note-taking app allows the formatting of notes using Markdown, plain text and even HTML. However, a user has to contend with losing a few features with Joplin, including storage and collaboration. Nonetheless, Joplin is among the best note-taking apps in 2023 that anyone can rely on to organize work.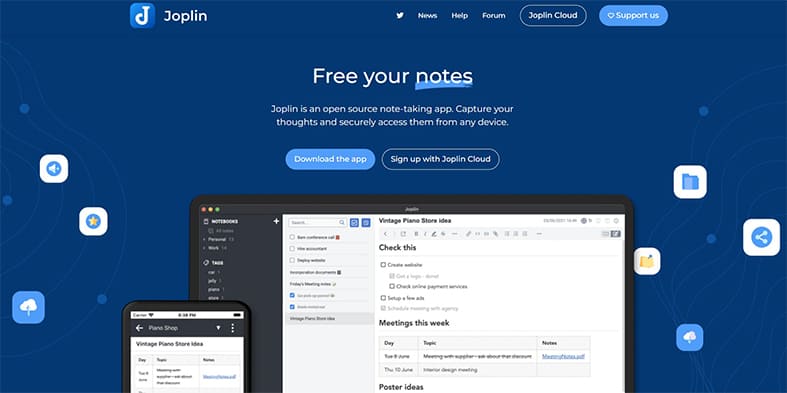 While storage is not included, Joplin allows users to use Dropbox and OneDrive for storage and syncing. The app also allows users to store and sync notes with WebDAV, Nextcloud or file systems, such as a network directory. The application can handle many notes that are organized into notebooks. The notes are searchable and can be tagged, copied and modified. Joplin lets users attach images and other files to notes. Although this is an online personal notes app, Joplin allows users to access notes even when offline. Joplin can be hosted on any commercial web developer that allows switching between providers. Joplin's end-to-end encryption protects notes even when synchronizing with a server that is not trusted.
Joplin supports desktop, mobile and terminal applications. The app also offers a web clipper for Chrome and Firefox browsers. Among the important features is synchronizing with various cloud services, including Dropbox, WebDAV, OneDrive and Nextcloud. Joplin supports the inline display of PDFs, audio and video files, and multiple languages. Joplin provides external editor support and extensible functionality via plugins and data API. The customizable layout allows toggling, movement and sizing of various elements.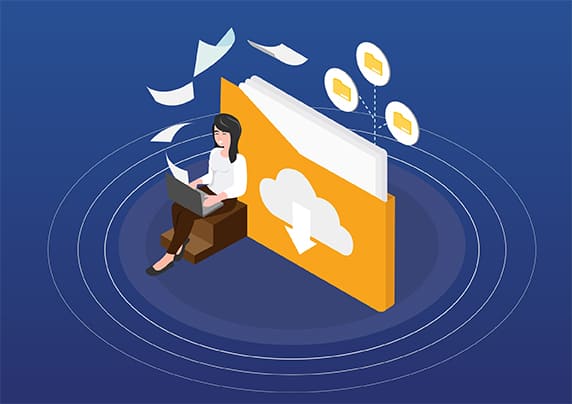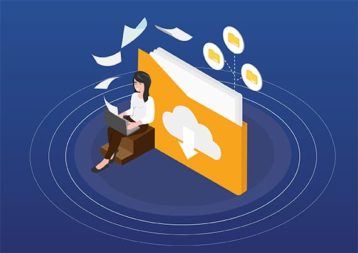 Joplin offers both free and premium versions, but no specific prices are quoted on the website.
Joplin is an open-source app that gives users unlimited access to saved notes. Joplin uses end-to-end encryption (E2EE), which encrypts notes so that only the owner of the notes can read them. The encryption successfully keeps third parties, including hackers, internet service providers and other potential eavesdroppers, from accessing a user's notes, notebooks, resources or tags.
The advantages of Joplin are that the app is free, open-source and features strong security in addition to an excellent user interface and importer tools. Moreover, users can download the software across several operating systems.
However, Joplin has no collaboration and doesn't support mobile scanning, sketching or OCS. The app also doesn't allow email forwarding.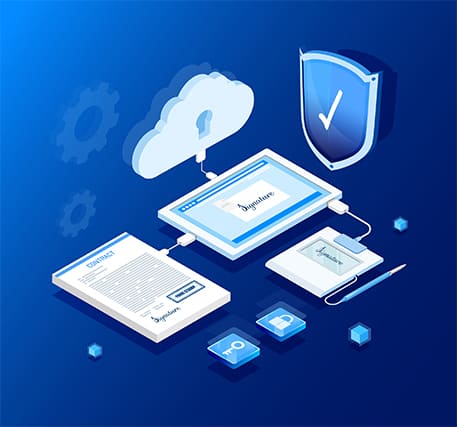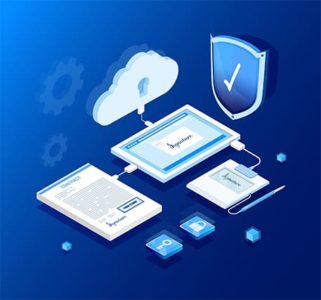 To start using Joplin, go to the app's website to download the desktop program for Windows, Android, Linux or macOS. Users can download Joplin apps for Apple and Android mobile devices or install terminal applications. Joplin does not require users to create an account because the program is not concerned with where users store notes or how the notes are synced. Look for synchronization in the settings options, choose a service and follow the prompts.
Joplin organizes tasks and notes into collections, where each collection can be assigned to a panel manager. Users can then set up the first panel to manage notebooks. The second panel manages notes, while the last panel edits notes.
Some critics say Joplin's desktop version is slow and susceptible to bugs. Also, the text editor has plenty of issues and does not get the processing right. Joplin does not integrate with spell checkers, so users may need to spell check manually. Thus, although Joplin gets the job done, the app is slow and does not stand out from the crowd uniquely.
---
5. Saferoom
Saferoom is a note-taking app that allows users to create encrypted notes, including PDF, video, audio and images. The app protects data by encrypting the data before syncing with other devices. Saferoom ensures that the data always stays encrypted and secured against leaks. The app is available on all the major platforms and can be accessed from many devices. Saferoom creates encrypted notes, which can be decrypted on any device as long as a user has the app.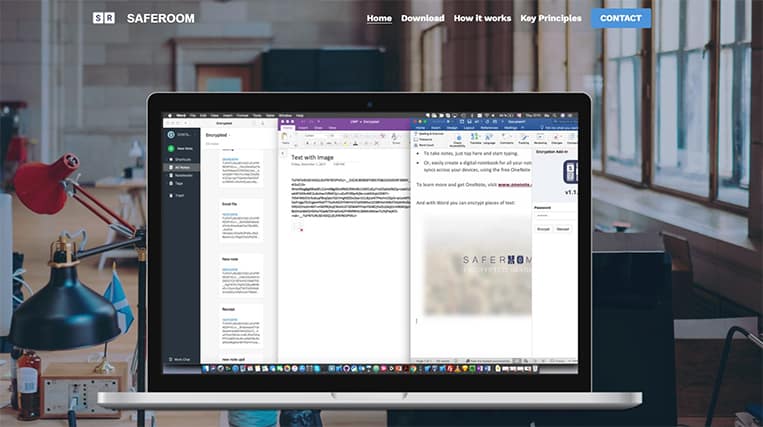 In addition to allowing users to create and encrypt notes, Saferoom lets users decrypt and access notes when needed. Users can search for notes using titles or tags and organize the notes in whatever way. The app allows users to share and exchange encrypted notes with third parties without exposing the master key.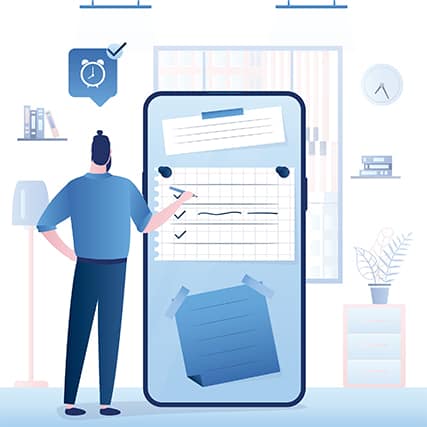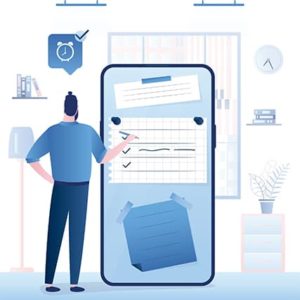 Saferoom uses military-grade AES-256 encryption and lets users store passwords locally since the app provides zero-knowledge encryption. Protecting data on Saferoom entails following the zero-knowledge encryption principle, in which the password is only known to the user. Therefore, there is no way a user can recover or restore lost passwords. Also, the app is Evernote-integrated. One aspect that makes this the best-protected text app is that the notes can be encrypted using a one-time password. A user will then upload the notes to the cloud, and no one will read the data without permission. Users can access such data on any device by decrypting Saferoom.
Saferoom's basic plan is free but lacks all the features needed in a note-taking app. However, there's a paid version for $7.
SafeRoom uses the zero-knowledge principle of encryption, whereby the user can encrypt notes using a one-time password before sending to the cloud.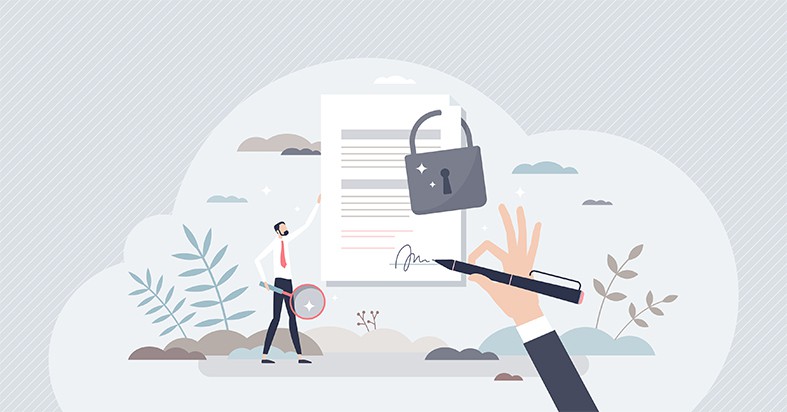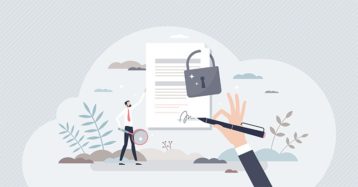 Saferoom is a secure client-based application that emphasizes security since all data leaves the device while encrypted. However, one downside of Saferoom is that searching encrypted data in the app isn't easy. Also, Saferoom only works on the device the app is installed on.
Saferoom offers the best opportunity for users to encrypt notes before sharing with other cloud services. To use Saferoom, download the app from the Apple App Store, Microsoft or Google Play Store. After downloading the app, configure a master key, and add a OneNote or Evernote account, or both. Encrypt notes using a one-time password or master key to secure the data before moving to the cloud. Once encrypted, the note is automatically uploaded to OneNote or Evernote cloud systems. Though the encrypted content will be treated as OneNote or Evernote notes, no one can read or scan the information. The content can be decrypted and viewed from Saferoom using the password used to encrypt the data.
Saferoom operates inside a device, takes notes and stores data in the cloud. The app encrypts data on other apps, such as OneNote or Evernote, to make it difficult for any third party to access and exploit the notes. Thus, the app can help enhance the privacy and security of other apps.
Some critics point out that there is no way to recover a password because there is no infrastructure or accounts, and all the user's data stays in the device. Therefore, if the password is lost, so is the stored data.
---
6. SilentNotes
SilentNotes is an open-source note-taking app that respects user privacy. The app is ad-free and does not collect users' data. SilentNotes allows users to write notes in a comfortable WYSIWYG editor that supports basic formatting features like headers and lists. The app synchronizes the end-to-end encrypted notes between Windows and Android devices, and a user can create to-do lists to help keep track of pending tasks. The notes can be password protected with the user's password. SilentNotes supports full-text search to help find notes quickly.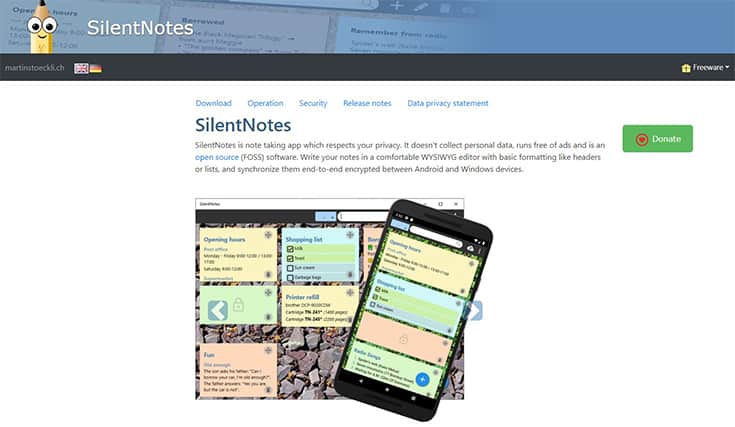 SilentNotes allows users to access notes anywhere and share the same between Windows and Android devices. Selected notes can be protected with a user-defined password. The notes never leave the device unencrypted. The data is end-to-end encrypted and can only be read on the user's devices. SilentNotes stores notes in an online storage system of the user's choice, allowing easy synchronization across different devices.
SilentNote is free to use. This note-taking app is neatly designed, with a clean and straightforward user interface. The app is an excellent productivity solution that helps organize important notes and to-do lists. The to-do lists are optimized for touch screens, allowing for easy re-ordering. Each line starts a to-do list, and the backspace removes empty items. SilentNotes supports a tagging system where tags are available in an overview and can be used to filter the notes. The FTP protocol, the WebDav protocol, Dropbox, Google Drive and OneDrive are currently supported.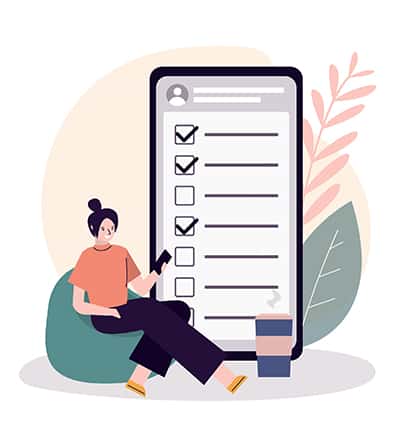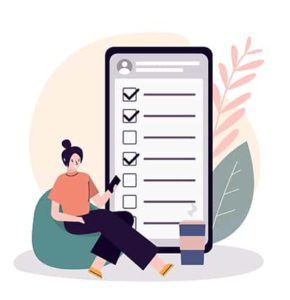 SilentNotes supports three algorithms to encrypt notes and prevent unauthorized access: AES 256-GCM, TwoFish 256-GCM and XChaCha20-Poly1305. SilentNotes is hosted at GitHub, and so users need to verify before using the app. The notes are encrypted with passwords and can be synced and stored online. Lastly, the app does not collect personal data.
SilentNotes' main advantages are a well-designed interface with a WYSIWYG editor and useful toolbars that support cloud backup and synchronization. However, one downside is that the app doesn't allow users to organize notes into folders.
SilentNotes can be downloaded for free from the Microsoft App Store or the Google Play Store. The note-taking app has a clean and straightforward interface and allows users to write notes normally. Users can do basic formatting and use headers and lists. SilentNotes can also help users create a to-do list, track pending tasks and protect notes using passwords.
SilentNotes is ideal for taking notes in areas with no internet access. Users can also use the app to create a to-do list and organize work while in the field.
Finally, while SilentNotes is a convenient app for visiting areas with no internet, the app doesn't have reminders and scheduled tasks.
---
7. Nextcloud + Notes
Being a disruption-free note-taking app for Nextcloud, this software program offers various categories for enhanced organization and Markdown syntax formatting. The notes are then stored as files for easy viewing and editing with each Nextcloud client. More so, the detached REST API enables users to easily integrate the app into third-party apps.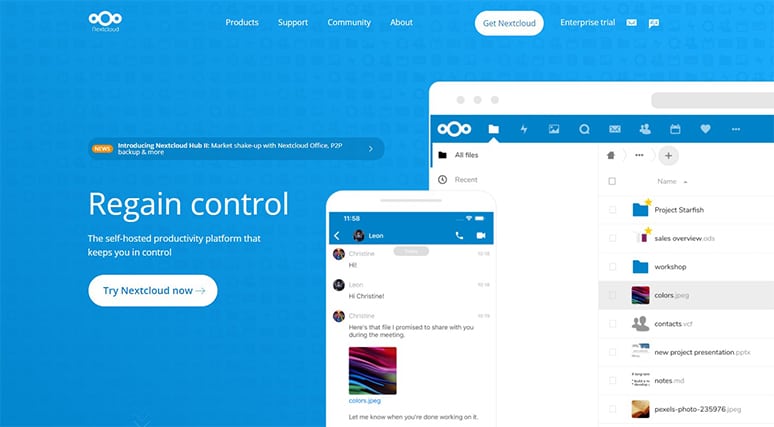 The encrypted notes app is classified among the best HIPAA-compliant note-taking apps for Nextcloud. With apps for iOS and Android, this open-source note-taking software helps users classify notes using the folders within the system.
The Nextcloud client is a free downloadable app. The Nextcloud + Notes app comes with features allowing users to search, generate, edit, share and delete notes. Users can also mark notes as favorites. Above all, the notes are grouped differently for easy access; users only need to select a folder to store notes on the Nextcloud platform. The note-taking is also word-count-enabled, so users can keep track of the total number of notes made and stored.
Security-wise, the Nextcloud + Notes app allows users to send and receive files securely through encryption, preventing privacy infringement.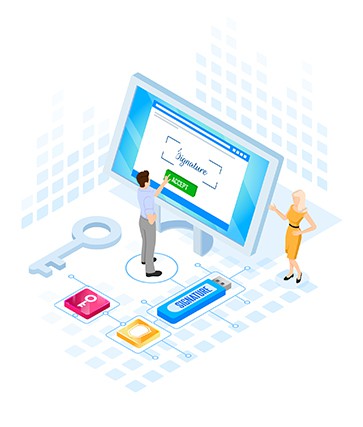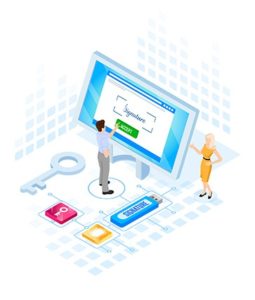 For the advantages, the Nextcloud client is secure and guarantees high performance while enabling quick following processes. However, the app carries minor bugs that affect syncing notes across multiple devices.
Installing Nextcloud + Notes is easy if users have a Nextcloud instance setup. Enable the Notes app in Nextcloud with one click. The mobile app for Android and iOS can also be downloaded and connected to the Nextcloud server. This best secure note app for Android comes with the necessary features to allow users to access, synchronize and take control of notes. The app also offers a safe way to chat with team members.
The Nextcloud +Notes is an easy-to-use note organization app. The app offers users a great way to personalize notes. Users can generate notes using a minimalist markup for improved usability and search notes in full text or tags.
Currently, there are no confirmed issues with the Nextcloud + Notes app.
---
8. Etherpad
Etherpad is an encrypted notes app designed to enable authors, students, and professionals to generate and edit documents faster. Etherpad is a highly customizable platform offering users an ideal collaborative setting. The app comprises a web-related editor that allows users to set up collaborative online documents or "pads" to work on at once.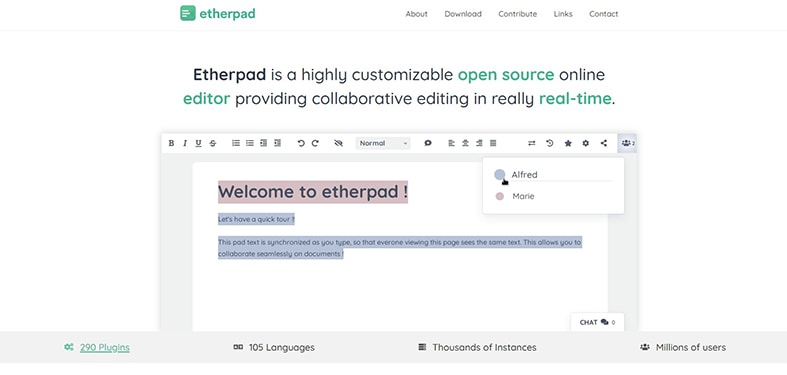 Etherpad also integrates a chatbox that ensures everyone in the group is connected. Also available is the version control feature, which allows users to view and recover previous document versions and save the ones needed at any moment. The time slider allows users to review current events, and the import and export features convert documents to various formats and save as reference materials.
Etherpad is the best free encryption software for Android devices. Users only need to download and set up the app to start enjoying all the benefits.
There are concerns about Etherpad version 1.8.13, leaving room for attackers to steal the admin's account and sensitive documents and implement system commands. These two issues—tracked as CVE-2021-34817 and CVE-2021-34816—were revealed by SonarSource researchers. The researchers argued that the vulnerability makes it easier for attackers to implement the server's arbitrary code, which would then give them room to modify, steal or remove the data entirely or target other accessible in-house systems.
Teamwork editing is enabled in the app, which features collaborative pads or documents and authorship colors. Moreover, Etherpad offers multiple plugin options and version control.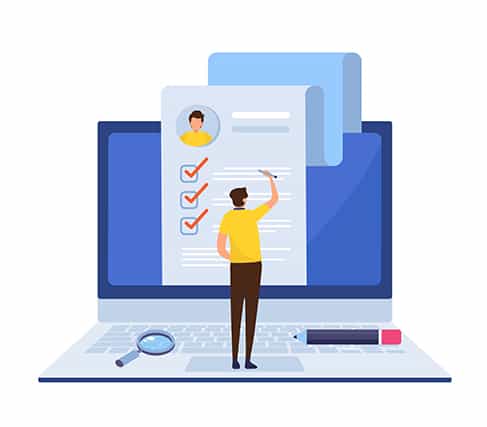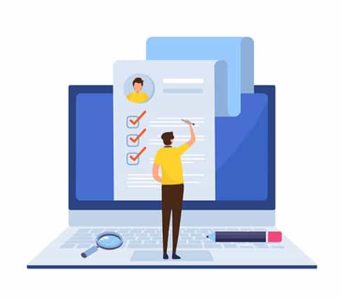 On the downside, Etherpad requires users to remember the address. Also, users cannot upload and include videos or images to the documents, only through the typing/memo-pad. Another major disadvantage is that the app allows for light formatting only (underlining, italics and bold).
To get started, choose an Etherpad service and create a pad. To create a pad, point the browser to a service that is running Etherpad. Some servers will automatically generate pad names, while others allow users to enter names. Inviting others to collaborate is made easy by clicking the </> icon, which opens options for sharing the pad. To be independent requires the installation of Etherpad on a server. Etherpad supports sync doc editing and teamwork and is considered one of the best HIPAA-compliant note-taking apps and the best option for learning and teaching.
Etherpad is an open-source and easy-to-use online collaborative quick editor. The app allows writers to edit documents faster and track team members' activities simultaneously. Etherpad also displays the authors' notes in the preferred colors.
Data validation is critical, and in this case, any threat to personal data is unwelcome. Thus, for Etherpad to prove commitment to safeguarding the system and users' accounts, the above security issues must be dealt with.
---
9. NoteRiot
NoteRiot is purposely designed to be user-friendly. Since the app is a WPA (Progressive Web App), users can access notes on both systems and the latest web platforms.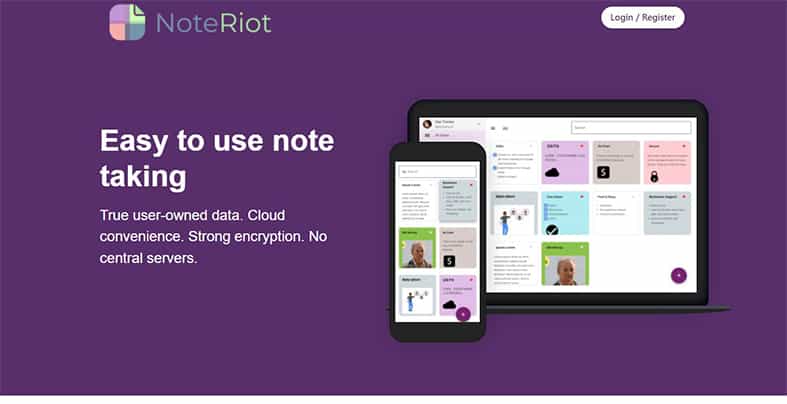 NoteRiot applies the self-sovereign identification and Bitcoin-level encryption of Blockstack to guarantee users' privacy and security. Also, as an open-source tool, NoteRiot allows users to document data formats for easy portability. Although notes are naturally encrypted, users can export/download in a more secure format, based on preferences. With imminent Blockstack platform features, other related HIPAA compliant note-taking apps can also import, access and share this information in the user's control.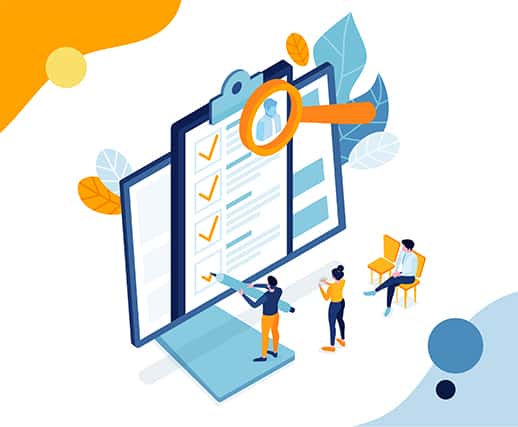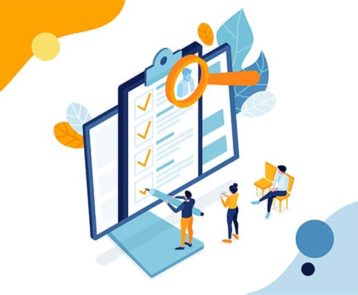 NoteRiot is free to use and comes with various features, with the first being easy accessibility to notes on all systems, including tablet, phone or desktop. The WYSIWYG (What You See Is What You Get) or Markdown mode eliminates any learning curve for new users. With this feature, users can write, read and preview note formatting. Users can also easily change to other layouts.
NoteRiot is a decentralized app built on Blockstack's blockchain-based self-sovereign identity and Bitcoin-level security. As one of the best secure note apps for Android, NoteRiot encodes data on users' preferred storage locations. Users only need to hold the buttons/keys.
NoteRiot is listed among the best password-protected notes app for iPhone. This web app software is responsive and fast and allows data encryption before sending over a protected connection for blockchain storage. Moreover, NoteRiot allows users to organize each note by label, color and favorites (using the heart-shaped toggle). Searching occurs instantly and filters to corresponding notes directly.
However, NoteRiot is only available as a browser-based note-taking app. Both mobile and desktop users should have browsers within reach. Additionally, dropped images or photos are changed to base64 encoded text/code, which might be slightly difficult to operate for Markdown handlers.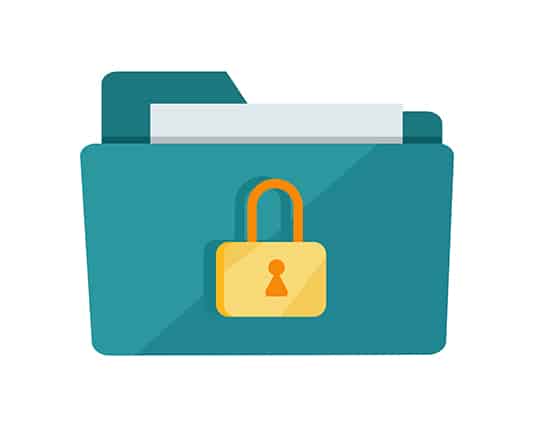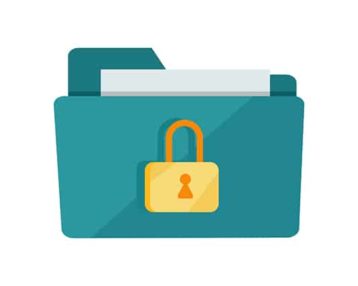 NoteRiot app is an online app that will go a long way to ensuring safe custody of notes. Given that it's a Progressive Web App (PWA), a user's notes are accessible on all devices and web platforms. The Blockstack platform is great for easily accessing, sharing and importing data. Though the app encrypts notes by default, users can import/export into an unencrypted format. NoteRiot provides search, filter by color options and labeling. While the default setup for new notes is Markup, Wysiwyg is available for extensive formatting.
Overall, NoteRiot is a secure and easy-to-use app for taking notes. Users can easily search and access notes from anywhere. NoteRiot is highly secure and private.
Note:
The text crypto app has one critical issue: while the software allows users to import images, the images cannot be edited in the notes.
---
How are Note Taking Apps Encrypted?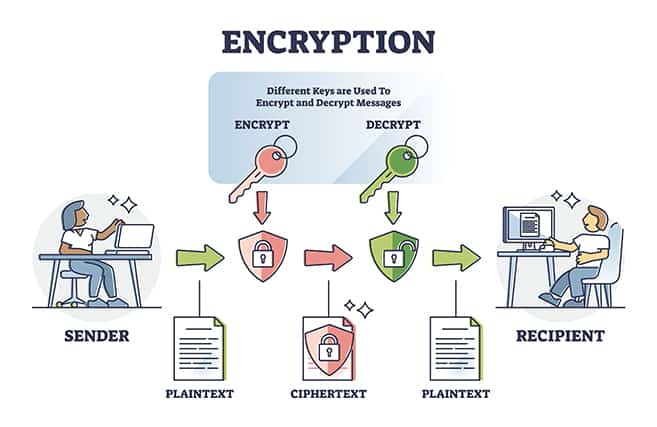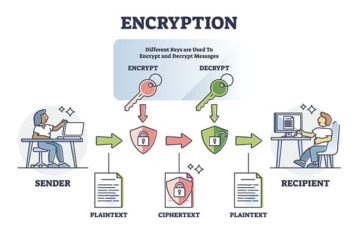 Encryption in note-taking apps entails translating text from plain text to ciphertext. Users can encrypt notes on any note-taking app by opening the text, highlighting and then right-clicking the selected notes. Click the option to encrypt the selected text and insert the password phrase. Confirm the text, and the note will be encrypted.
Encrypted apps protect data from unauthorized access, per the encryption definition. The encrypted data remains hidden and enhances communication between the servers and the client's apps. Thus, encryption is one of the main features of secure note-taking apps.
Which Information can be Encrypted in Note Taking Apps?
The information to encrypt depends on the app being used. For instance, some apps will allow users to encrypt entire notes. Microsoft OneNote allows one to encrypt some sections of notes on iOS, Mac or Windows devices, while other apps may allow users to encrypt individual notes. Some of the information that may be encrypted includes login details, passwords and private details stored in the app.
Is It Safe to Put Passwords in Note Taking Applications?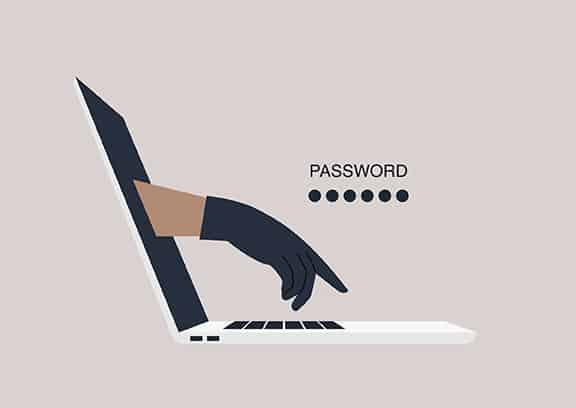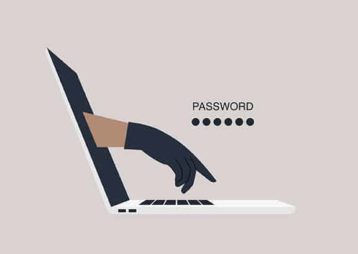 No, it is not safe to store passwords in note-taking applications since anyone getting into a user's operating system will access the passwords. Also, if users will be syncing the notes to iCloud, the passwords can be shared with third parties without the users' knowledge.
Also, encryption makes the process difficult for anyone who has access to an unlocked device to read the content that has been encrypted and stored in the note taking app. Users may choose to put passwords in the note-taking app. However, users should be able to encrypt the notes so that even when someone else has access, the details should remain protected through encryption.
Can Standard Note Taking Apps be Hacked?
Yes, standard note-taking apps, in particular, are convenient but come with diminished security—especially when users forget to encrypt data. According to the hacking definition, hacking is gaining unauthorized access to computers and systems. Hackers will do this by bypassing the phone passcode to enable access to users' private information. Therefore, if users do not put the right security measures, data can be exposed to unauthorized parties.
How to Choose a Note Taking App?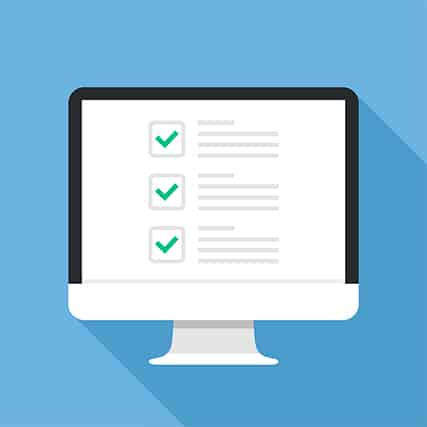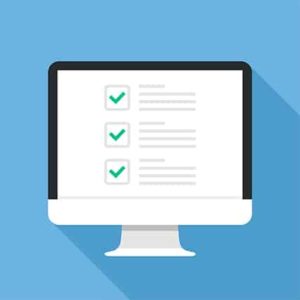 Choosing the right note-taking app may seem complex; however, consider the purpose of the app and the note-taking style. For instance, if a user needs to store large amounts of data, the app should have enough storage space.
Also, if users want to brainstorm new ideas, creative and free-thinking apps will suffice. But if running a project, users must organize and structure workflow in a particular way. In this case, an architect note-taking app may come in handy.