Hacking doesn't have to mean skilled individuals or groups of individuals breaking into networks and causing financial damage. In fact, originally, the term referred to any skilled individual who had experience in handling operating systems and machine code. The modern usage of the term hacker refers to people who engage in hacking for a wide variety of reasons. Generally, hackers modify systems from the core. The alternations are designed to fundamentally change the way a given piece of software is supposed to work. Even though hackers are able to perform tasks that establish something productive, most of the time, the goals are malicious.
This is where the term ethical hacker comes in where individuals with the same set of skills as black hat hackers, provide security services and tools to organizations to bolster defenses and enhance network resilience.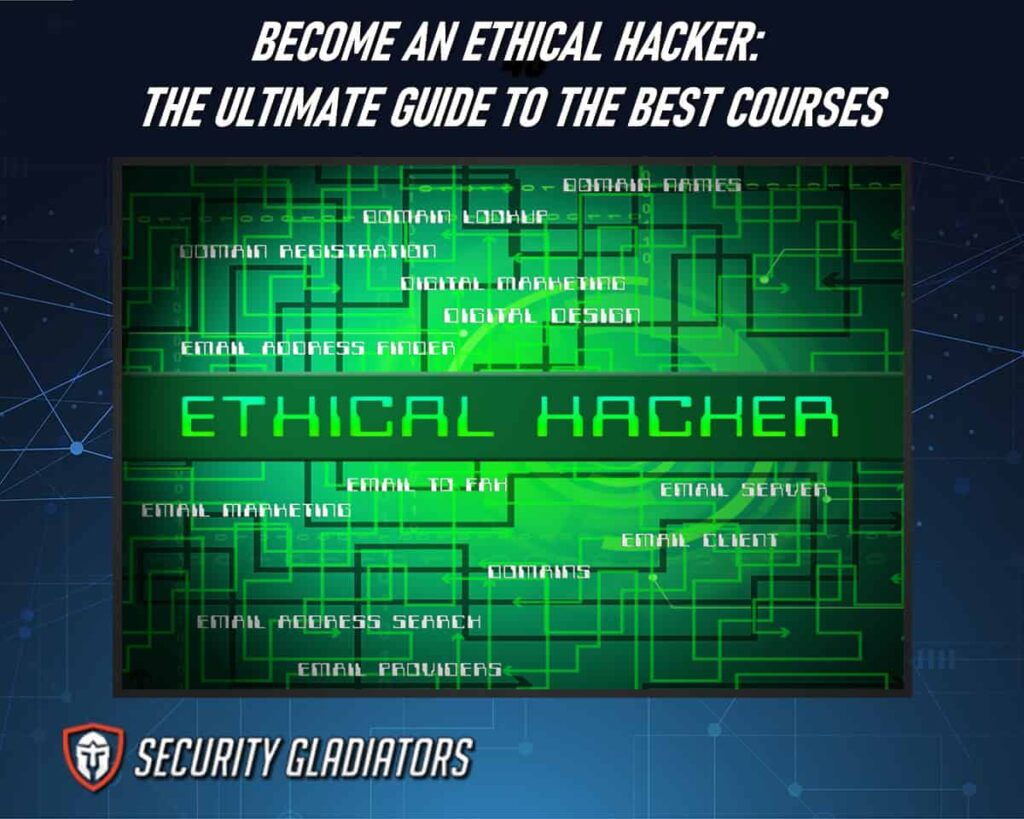 To become an ethical hacker, an individual must possess the most important characteristic of all characteristics which is ethical standards. Apart from that, the technical requirements of becoming an ethical hacker include a deep understanding of how networks work, wireless communications, and wired ones. Ethical hackers also need to show proficiency in areas such as operating systems, firewalls, and file systems. The two most important operating systems to understand for ethical hackers include Linux and Windows. Of course, the easiest way to begin the journey toward becoming an ethical hacker is to sign up for the best courses for ethical hacking. Many of which are available online. Some of such ethical hacking courses are offered by reputable organizations such as EC Council, SANS, and Udemy.
Learning ethical hacking is only the beginning as individuals need clarity about what type of career opportunities await in the future. This is where a fundamental understanding of how ethical hacking learning methodologies work and the benefits of acquiring as many certifications as possible, come in real handy. Finally, individuals can also benefit from learning the difference between ethical hacking and hacking. With that out of the way, here are the best courses to become an ethical hacker in 2023,
EC-Council CEH
SANS SEC560: Enterprise Penetration Testing
Offensive Security Pen 200 (OSCP)
SANS SEC542: Web App Penetration Testing and Ethical Hacking
Offensive Security Pen 300, Evasion Techniques and Breaching Defenses
Learn Ethical Hacking From Scratch – Udemy
Penetration Testing and Ethical Hacking – Pluralsight
What is Ethical Hacking?
E
thical hacking is often referred to as white hat hacking. Ethical hacking encompasses the work performed by security experts to assess the security mechanisms of a given organization or computer system/network.
Ethical hacking
primarily has to do with taking proactive steps to minimize the chances a given cyber attack would cause damage. Most organizations that hire white hat ethical hackers do so to enhance the security posture of the company. Unlike other forms of hacking, a given IT asset's owner or the organization that owns the asset has to give prior approval to the ethical hacker to start performing security tests to look for vulnerabilities. By performing stress tests, ethical hackers can give organizations the perspective of a hacker and what weak spots a given hacker group could maliciously exploit. Ethical hacking has become a fairly critical part of any organization's
cybersecurity
objectives.
The Best 7 Ethical Hacking Courses of 2023
Going through the best ethical hacking courses can really open up exciting career opportunities for individuals willing to learn.. Some of the most popular hacking courses in 2023 that help individuals land industry jobs are given below (each course has a different set of features suitable for different types of individuals looking to make a career as an ethical hacker):
EC-Council CEH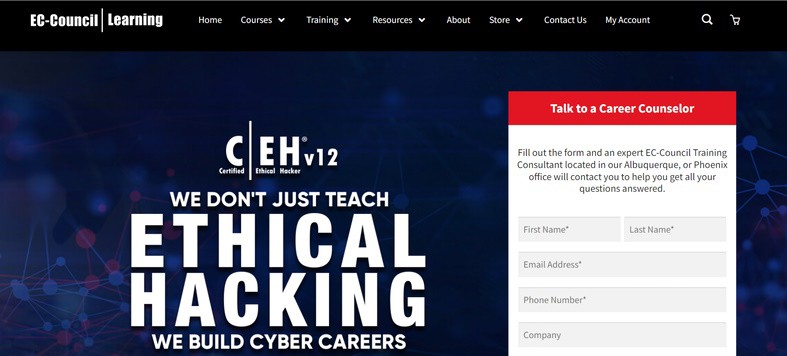 The EC Council CEH (which stands for International Council of E-Commerce Consultants) course is offered by the EC Council. EC Council is a large certification body that certifies individuals who demonstrate sufficient information security knowledge.
Upon taking the EC Council CEH program, individuals can expect to go through a rigorous and core training program to become proficient information security professionals. The program mostly trains individuals on advanced techniques and tools used by not just black hat hackers but also gray hat hackers. The topics covered in the course include operating systems, and the five different stages of completing ethical hacking assignments such as reconnaissance, scanning, gaining access, maintaining access, and covering tracks. Overall, the course goes through a total of 520 attacking techniques. Additionally, the course offers hundreds of practical hands-on lab assignments where individuals can work on vulnerable targets and live machines. The unique feature of the EC Council CEH course is that the creator of the course is the world's largest certification body which gives individuals taking the course a lot of credibility. Another unique feature is access to over 3500 commercial grade hacking tools.
Officially, there are no prerequisites for taking the EC council CEH though candidates are expected to have a background in subjects such as information security, mathematics, software engineering, computer science, and programming. EC Council states that individuals should take about 40 hours through a 5-day period to complete the course. Candidates who complete and pass the course get an official recognition certificate. For the EC Council CEH training, individuals can expect to pay anywhere between $850 to $2999 depending on the modules chosen. There are additional charges for taking the exam.
SANS SEC560: Enterprise Penetration Testing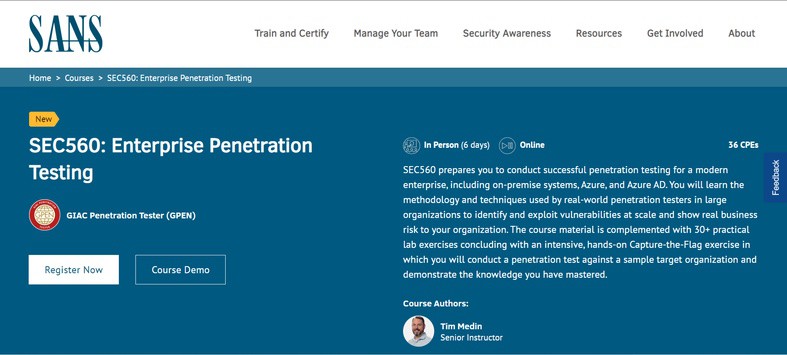 The SANS SEC560 Enterprise Penetration Testing is another reputable course for ethical hackers offered by SANS, another reputable cybersecurity training institution. SANS also offers certifications and research opportunities. The course is designed to prepare students to perform successful penetration tests for corporations. More specifically, individuals can cover Azure AD, Azure, and many other on-premise systems. Some of the topics covered by the course include comprehensive pen test planning, scoping, recon, in-depth scanning, exploitation, and password attacks. The unique feature of the SANS SEC560 course is the sheer number of ways individuals can take the course including live in-person sessions, online, community-based, onsite, mentor program, simulcast, and on-Demand in addition to self-study.
As far as the prerequisites of the SEC360 enterprise penetration testing courses are concerned, the institute recommends some experience with cybersecurity concepts. SANS has focused the SEC560 to target individuals who have worked as security personnel in some capacity with skills such as assessing target networks, and the ability to find security flaws. Beginner ethical hackers, penetration testers, auditors, and blue/red team members should be able to take and complete the course. The course lasts six days and upon completion, candidates receive the GIAC Penetration Tester or GPEN certificate. Depending on the modules taken, the SEC 560 course can cost around $8300. For the GPEN certification, candidates have to pay an extra $1000.
Offensive Security Pen 200 (OSCP)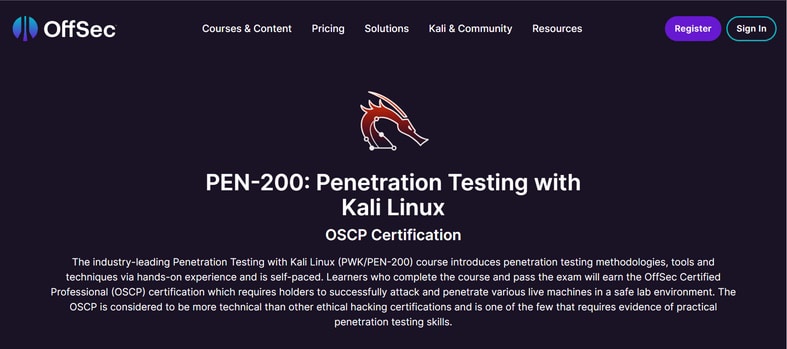 The Offensive Security Pen 200 is an advanced cybersecurity course offered by Offensive Security. Just like before Offensive Security is a certification company that has the creators of Kali Linux working behind the scenes. Companies such as Amazon and Cisco have previously relied on cybersecurity professionals with Offensive Security training.
The Offensive Security Pen 200 course essentially introduces cybersecurity professionals to penetration testing techniques and fundamental methodologies. The course also offers techniques and tools which come in handy in the real world. An online lab is available for candidates to test the learning material. Course topics include general hacking tools and techniques, retired OSCP exam machine practice and the Try Harder module for preparing the right mindset for the exam. Additionally, students learn Kali Linux, Command line essentials, Netcat, Bash scripting, passive information gathering, and active information gathering. The unique feature of the Offensive Security Pen 200 course is that the exam is proctored and restricted in many ways to make sure only students with the required practical skills pass the exam. The course is essentially self-study and very hands-on. The exam lasts 24 hours. Candidates passing the exam will get the OSCP certification. OSCP price starts at $799 per year and goes up to $5499 per year. Some of the prerequisites required for the course include Linux and Windows administration experience, some Python and Bash scripting experience, and an understanding of TCP/IP networking. The Offensive Security Pen 200 is essentially aimed at security professionals, network administrators, and professionals transitioning into penetration testing.
SANS SEC542: Web App Penetration Testing and Ethical Hacking
The SEC542 Web App Penetration Testing and Ethical Hacking course is offered by the SANS institute (a market leader and trusted source of cybersecurity certifications, research, and training). In terms of what students can expect to learn, the SANS SEC542 offers ways to assess the security posture of different web applications. Moreover, the course also lays an emphasis on how to show organizations the potential impact of a discovered vulnerability. The course mostly deals with tools and methods attacks use and the best practices to guard against potential web application attacks. Topics that the course covers include repeatable methodology to always deliver effective penetration tests and results, the impact of vulnerabilities on web applications important of web application security, common web application attack tools, penetration tests and reports for web applications, OWASP methodology, SQL injection flaws, Python fundamentals to create scripts, the manual discovery of web application security flaws, web testing tools analysis, payload generation, CSRF and SSRF attacks amongst others.
The unique feature of SANS SEC542 is the multiple ways to consume course content including live online sessions with official SANS instructors, on-demand, and in-person. SANS SEC542 expects anyone taking the course to have at least a working knowledge of the command line interface in both Windows and Linux. The course also requires students to bring properly configured laptops to follow the content discussed. Depending on the method chosen, the SANS SEC542 course can take anywhere from 6 days to four months. Upon completing the course, candidates receive the GIAC Web Application Penetration Tester certificate. The price of SANS SEC542 is $8275 with an additional $949 for certification.
Offensive Security Pen 300, Evasion Techniques and Breaching Defenses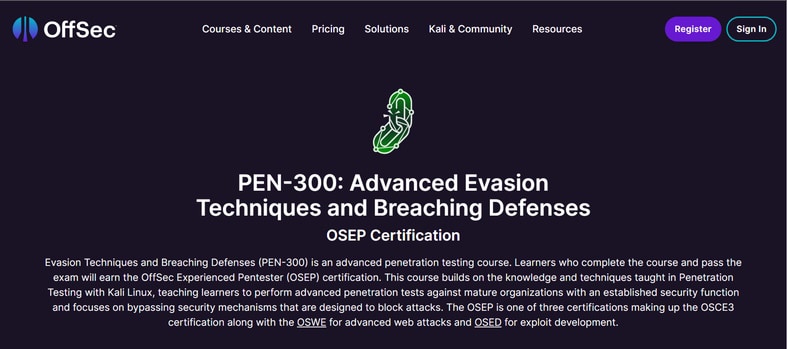 The Pen 300, Evasion Techniques and Breaching Defenses is a cybersecurity course offered by Offensive Security (a reputable organization whose certified professionals have worked in companies like Accenture, Cisco, and Amazon). Students taking the Offensive Security Pen 300 course should know that the course teaches advanced concepts regarding penetration tests. Not only that, the course also dives deep into what makes a cybersecurity professional successful and how to have the right mindset and methodology to successfully carry out penetration tests at remote sites. Some of the topics covered in the Offensive Security Pen 300 course include client-side attacks, Microsoft SQL attacks, Active Directory exploitation, lateral movements in Linux and Windows systems, bypassing network filters, application whitelisting, and antivirus evasion. The unique feature of the Offensive Security Pen 300 is real-life fieldwork. The exam being proctored and lasting 2 days is also unique. Prerequisites of the Offensive Security Pen 300 include knowledge of Activity Directory and simple AD attacks, a strong grounding in concepts such as SQL injection, local privilege escalation, and file inclusion. Ideally, any candidate taking the Pen 300 course should have experience in cybersecurity penetration testing and offensive techniques. Preferably, the candidate should already have cleared the Pen 200 course or OSCP or the PWK module. The duration of the course is dependent on the student as packages grant access to labs for a certain number of days before expiry after which the student can't prepare for the exam. The exam itself lasts 2 days. Candidates who are able to clear the exam can earn the Offensive Security Experienced Penetration Tester or OSEP certification. The price of Offensive Security Pen 300 depends on the duration of the lab access and retakes along with any extensions. Students should expect to pay upwards of $1500 to get the offensive security Pen 300 certification after a lot of preparation.
Learn Ethical Hacking From Scratch – Udemy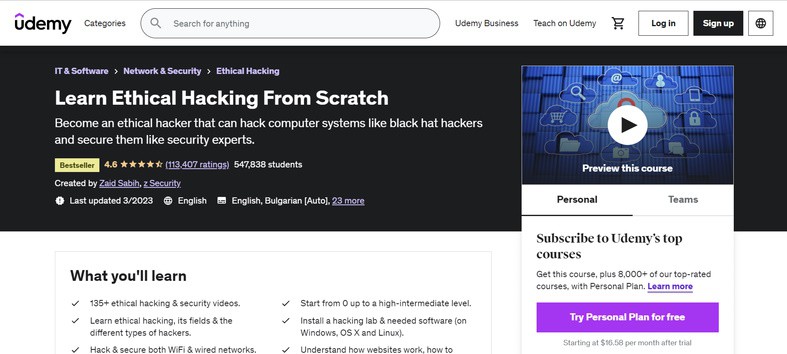 The Learn Ethical Hacking From Scratch cybersecurity course is offered by Udemy. Udemy is one of the most popular marketplaces for teaching and learning different subjects including cybersecurity. Real-world experts from all over the world offer courses on Udemy where students can then rank courses according to self-perceived quality and satisfaction level. The Learn Ethical Hacking From Scratch – Udemy teaches students the skills required to implement black hat techniques to hack into systems. Students also learn how to secure the systems once access has been ensured. Most of the course is focused on the practical aspects of becoming an ethical hacker such as different penetration techniques, methods to install software on various operating systems that one is likely to encounter in the real world, and critical information regarding clients, websites, servers and networks on how to exploit and analyze. Like most fundamental cybersecurity courses, the Learn Ethical Hacking From Scratch mostly deals with topics such as network hacking, gaining control of computer systems, and exploiting resources once access to the file system has been granted. Other topics covered include discovering and exploiting cross-site scripting, SQL injection, remote file inclusion, code execution, and file upload.
There are no specific prerequisites to take the course. However, the creator of the course does recommend some basic IT skills along with a sufficiently powerful computer system with 4GB RAM and support for Linux/Windows along with a WiFi adapter. The course is self-paced and contains content that lasts around 16 hours. Upon completion of the course, students can expect a certification of completion from Udemy (and no other organization). Candidates can expect to pay around $85 for the full course though if timed right, the course can be had for less than $15.
Penetration Testing and Ethical Hacking – Pluralsight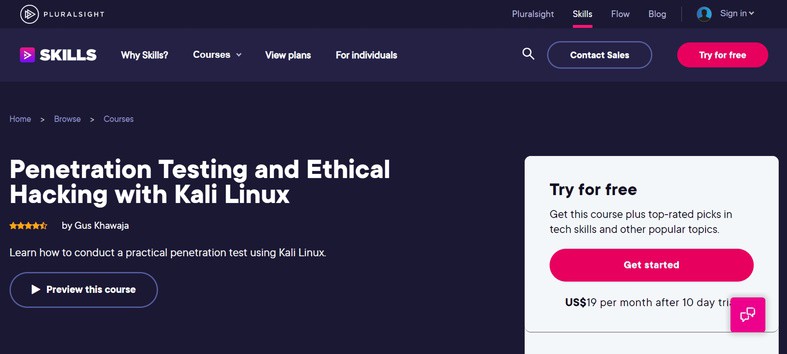 The Penetration Testing And Ethical Hacking with Kali Linux is one of the highest-rated cybersecurity courses on Pluralsight. The creator of the course is Gus Khawaja who is a security professional and has 8 others highly rated on Pluralsight. Students can learn how to conduct a practical penetration test via Kali Linux (there are other best programming languages for hacking available as well) after taking the full course. Penetration testers and ethical hackers looking to add valuable skills to the resume can benefit from the course as there is a lot of focus on Kali Linux and how to leverage the tools on offer via the privacy-first operating system. Some of the topics students can expect to go through include information gathering, external pen testing, pre-penetration testing checklist, installing and configuring Kali Linux the right way, social engineering, WiFi Penetration testing, and Brute Force attack testing.
The unique features of the Penetration Testing and Ethical Hacking course include the fact that all training is done via the Kali Linux operating system and a 10-day free trial for all new users. As far as the prerequisites of the course go, the creator of the course has marked the course for Advanced users. The intended audience includes IT professionals and teachers looking to teach ethical hacking techniques to others. To complete the course, students have to go through over 6 hours of training. Of course, since Pluralsight is the platform offering the course, candidates can study the course at any pace as long as the $19 per month subscription fee is taken care of. Students who finish the course get a certificate of completion from Pluralsight.
What Career Opportunities Are There For Ethical Hackers?
The cybersecurity industry has gone well past a $6 trillion issue. Ethical hackers play a very important part of the overall cybersecurity strategy of any company. In-demand ethical hackers can offer skills to disrupt cybercrime, discover security vulnerabilities before bad actors do and identify the latest techniques and tools used to launch cyberattacks. Ethical hackers essentially offer everything that black hat hackers can throw at organizations. With data breaches costing more every year, companies moving more and more tasks to the digital realm, and cybersecurity courses becoming cheaper, ethical hackers will remain in demand for much of the foreseeable future. Every year millions of cybersecurity job positions go vacant because of a lack of talent availability. This talent shortage is exactly why the cybersecurity job market is one of the most secure ones. Companies such as Tesla, TikTok, Microsoft, Fidelity Investments, and the US Department of Defense all routinely put up employment opportunities for skills required of an ethical hacker.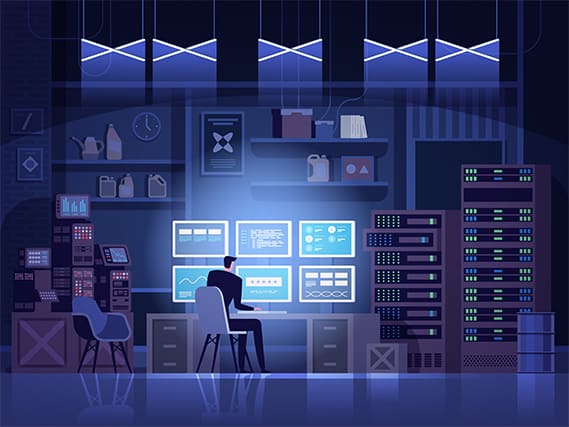 Some of the most common fields in which ethical hackers can get jobs include security architect, security engineer, security consultant, ethical hacker, certified ethical hacker, security analyst, information security analyst, vulnerability assessor, penetration tester, and information security manager. Since ethical hackers can work in so many industries, the skills required to thrive in the industry are also very varied. Generally though, ethical hackers are required to have a strong background in computer systems and networking. Ethical hackers must understand the security protocols used in operating systems such as Mac, Windows, and Linux. Following that, ethical hackers should be able to use that knowledge to hack systems and networks to assess various security vulnerabilities (with prior permission of course). The best candidates for a career as an ethical hacker can also supplement base skills with advanced skills such as performing preventive tasks and implementing protective countermeasures for maximum security. Knowledge about all types of common cyberattacks such as identity theft, insider attack, man-in-the-middle attack, trojans, social engineering, and phishing is an absolute must.
What are The Learning Methodologies Used In Ethical Hacking?
The learning methodologies used in ethical hacking are varied and each comes with a set of advantages and disadvantages. Ultimately though, the right learning methodology depends on the student and the surrounding circumstances.
Bootcamps for teaching ethical hacking courses have become extremely popular. The most obvious advantage of bootcamps is transportation. Of course, bootcamps come in two flavors as well, online and offline. Modern online bootcamps have become very efficient at offering all the benefits of offline classrooms in a virtual environment. Bootcamps offer real-time interactions not just with other students taking the course but also with instructors. Such features have made online bootcamps a very viable option for those looking to learn from home.
Self-paced training cybersecurity programs are equally popular as the need for transportation is non-existent. All that students need to learn and get certified is a computer (a laptop would do) and an internet connection. Yes, there is less interaction between other students and the instructor. But on the other hand, students can learn as fast as desired or as slowly as required. For some, the inability to interact with others may be a big downside of self-paced cybersecurity courses.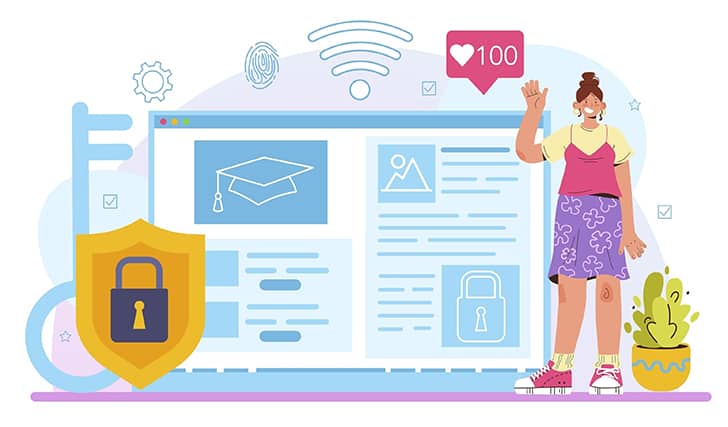 Classrooms are another type of learning methodology used in ethical hacking education. Students who want the maximum amount of interaction should go with the classroom option. Those who are not able to organize well at home or in a self-paced course should also opt for the classroom option to learn ethical hacking. However, classrooms have downsides as well. The most obvious of which is the requirement to follow a set of basic rules such as appropriate clothing and fixed timings. Sometimes, dressing up for the classroom and having the restriction of a time slot to study in place can help some students perform better.
Note:
Bootcamps do tend to cost more than all other forms of learning methodologies apart from the classroom one. When dealing with
threats
, the choice of learning methodology rarely matters.
What is The Importance of a Certification in an Ethical Hacking Course?
Ethical hacking courses and the related certifications have become very important because of an increased demand for ethical hackers. Since cybersecurity professionals are always in short supply, organizations tend to rely heavily on certifications to know which candidate is suited for the job.
Cyber Security courses that move individuals towards becoming an ethical hacker usually put candidates through a rigorous course of hands-on examples. Since ethical hacking certifications do not rely much on theory (and rely far more on than practical experience), employers generally have a favorable view of ethical hacking certifications. Certifications indicate that a given candidate is experienced, up to date and a quick learner.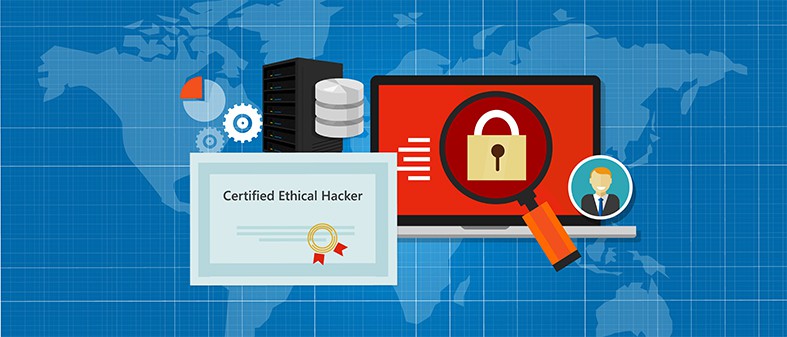 Some certifications are more important than others. For example, the CEH or Certified Ethical Hacker certification is one of the most popular and respected cybersecurity certifications in the world. Companies small and large seek individuals with CEH certification throughout the industry. And for good reason since the CEH certification is rigorous enough to showcase that an individual has significant ethical hacking skills and penetration testing knowledge. The CEH certification and others can also provide evidence that a given candidate can apply the learned techniques and knowledge in specific situations rather effortlessly.
Certifications hold more importance in the ethical hacking industry than any other. And that's because the industry is always changing at a rapid pace. Hackers are always looking for security vulnerabilities that tend to pop up whenever there is a new app developed. Rather than wait for students to go through a four-year degree to learn about computer systems and then apply for a job, organizations prefer individuals who can learn the skills to thwart the latest cyber attacks with certifications that usually finish within 4 months.
What is the Difference Between Hacking and Ethical Hacking?
In many ways, ethical hacking and hacking are fairly similar. Individuals working as both need to have strong cyber security skills. Both types of hackers make use of the same techniques and can comprehend concepts related to computer systems, networking, operating systems and others equally well. At the end of the day, both uncover weaknesses in a given computer network/system.
The main difference between
hacking
and ethical hacking is that of intention. Hackers compromise apps, services, systems, networks and devices to steal sensitive data and damage records. Ethical hackers do the same but with prior approval and cause no harm to a given organization. In hacking, attackers do not have the approval or a given organization to access technology, information, and network. Thus, hacking is illegal and can lead to legal consequences.
Hacking can be carried out by a government, a group or a single individual to make money or sell personal information. Ethical hacking is about individuals highlighting weaknesses in a given organization's defenses and then get compensated for the work.
In terms of career progression, ethical hacking is a genuine career with laid out progression paths and increase in benefits while hacking is all about how long can the individual circumvent the law before getting caught and locked up.