C
ybersecurity bootcamps are academic or training programs offered part-time or full-time, in-person or online and for a short time, after which students become proficient in cybersecurity. Cybersecurity bootcamps teach students the necessary soft and technical skills needed to secure a cybersecurity job. The schools have different criteria that must be met before admission can be given. Generally, though, the prospective student will need to contact the cybersecurity academy via the website, a preliminary form will be filled out and sent, then the candidate should receive a call from the school. Tests and assessments may be done to ascertain the student's suitability. Once all requirements are met satisfactorily, the candidate is admitted to the cybersecurity education program.
There are many benefits of cyber security bootcamps, which offer the relevant skills needed to land a good cybersecurity job. The courses and programs are designed to teach students how to protect networks, data and computer operating systems from cyberattacks; students with these skills are an asset to any company or organization. Cybersecurity bootcamps are shorter and offer top-quality value, unlike college degrees which take several years to complete. In addition, cybersecurity bootcamps provide hands-on, immersive and practical programs and courses that will enable students to learn faster.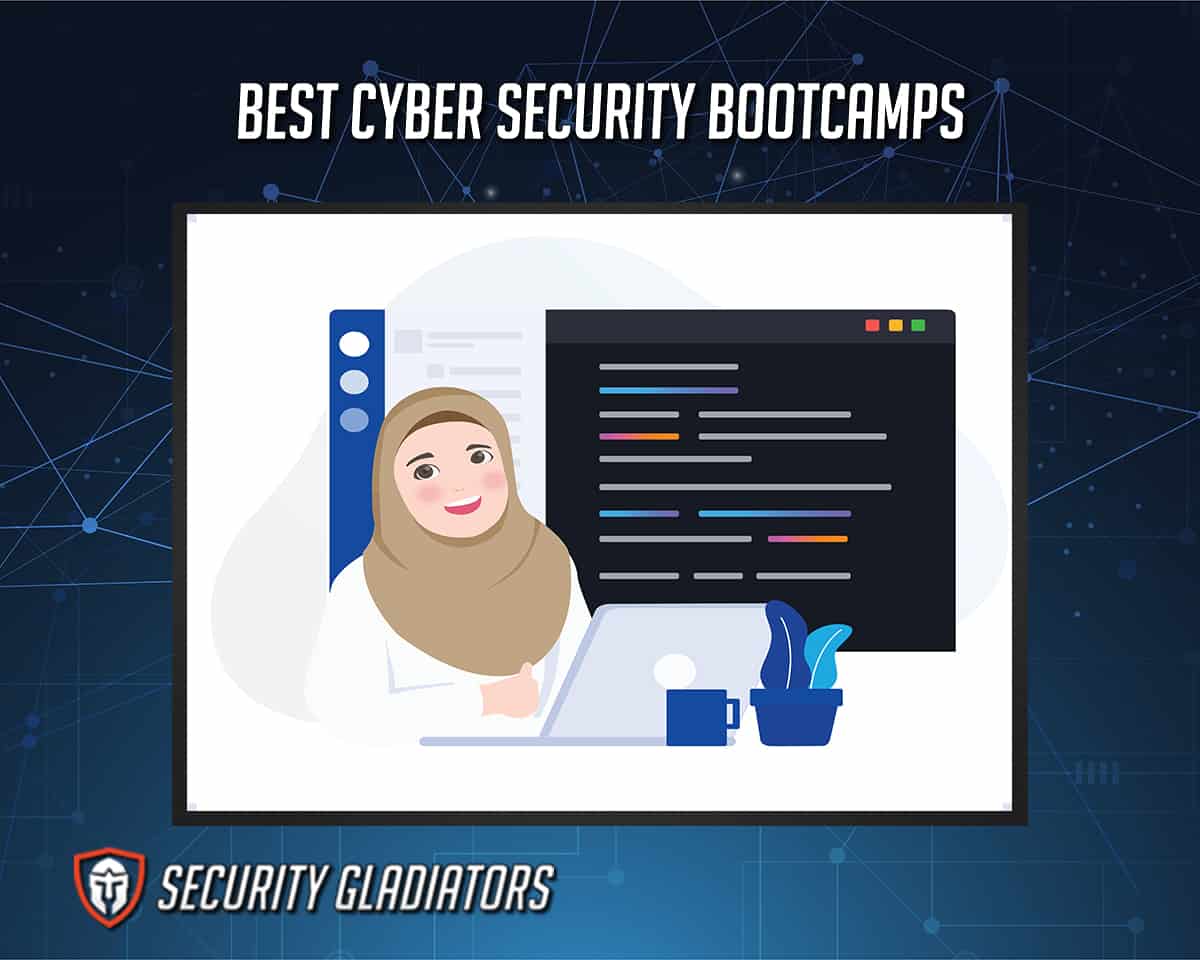 The best cybersecurity bootcamps in 2023 are listed below.
BrainStation
Claim Academy
Code Fellows
Coder Academy
CyberCamp
Craft Academy
Codaisseur
Eleven Fifty Academy
Evolve Security Academy
Fullstack Academy
Ironhack
Level Effect
Simplilearn
The Bridge
University of Richmond Bootcamp
1. BrainStation
BrainStation is a cybersecurity bootcamp that enables students to learn in-demand cybersecurity courses. The program helps individuals reach a fundamental understanding of secure systems, data security, network security, operating systems, cyberattacks, threats identification and preventive measures, information security and various software programs. With the knowledge gained, these students can champion cybersecurity awareness in teams, companies and society as a whole while also implementing strategies to improve cybersecurity across the board.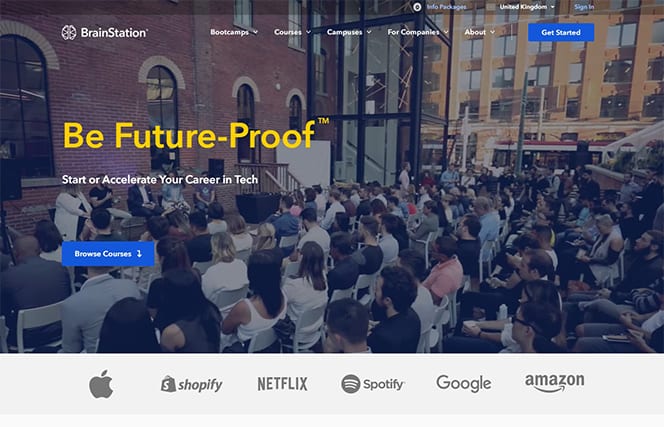 Founded in 2012, BrainStation has collaborated with more than 500 instructors from the best cybersecurity companies, providing cyber education that has empowered some of the biggest companies worldwide and over 100,000 experts.
Also, there are several courses under the BrainStation Bootcamp, including data science, UX design, web development and digital marketing bootcamp. At the end of these expert-led courses, students leave with the relevant skills needed to thrive in the cybersecurity space. The academy has also simplified the learning process as individuals can learn these skills online rather than go to a physical class. In addition to full-time programs, BrainStation offers part-time programs with 15 to 30 hours of class time, providing flexibility for people with busy schedules.
The cybersecurity certification bootcamp provides engaging, hands-on learning and an opportunity to interact with alumni and a hiring partner panel. Certifications are given for each course completed.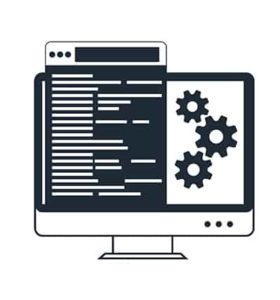 BrainStation is useful to learners looking to upskill. The coding bootcamp offers hands-on, project-focused learning, enabling students with no previous knowledge about cybersecurity to learn and become familiar with programming languages such as CSS, Python, HTML and SQL.
The BrainStation Bootcamp is run and managed by key people such as founder and CEO Jason Field, executive product manager David Jones, co-owner Bill Konard and product director Arjun Gopalratnam. Others include Hooman Bahador, another co-owner, as well as Michael Ayoola, the product manager at the New York Times.
Note:
The BrainStation cybersecurity bootcamp has taken an innovative approach with the decentralization of courses to suit individual needs. Also, courses can be learned virtually with the same standard and quality, giving learners more options and flexibility. The bootcamp was built with some of the most innovative companies, including Facebook, Peloton, Airbnb, Amazon, Google, Apple, Spotify, Microsoft, Uber, Slack, Nike, Shopify and Disney.
BrainStation has successfully trained several students across various interests, including data science, UX design, web development and digital marketing. There are tons of testimonials from students featured on the bootcamp's website. The wide range of course offerings fits almost every facet of the digital and technological industry.
BrainStation provides an in-depth experience with career services to prepare students for employment after graduating from the bootcamp. From BrainStation's statistics, 94% of UI/UX design students were employed within 180 days after the program, while 95% of data science and web development graduates found employment.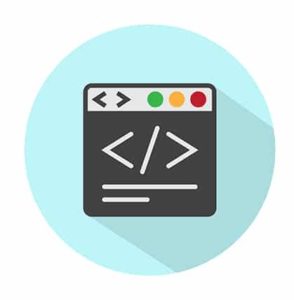 However, while BrainStation has campuses in 11 cities, only five support in-person learning. These cities include Miami, Toronto, New York City and Vancouver. Another barrier to accessibility is that most of the courses are quite expensive. The coding bootcamp costs $13,584 and an online bootcamp costs $12,898. Overall, a full-time bootcamp costs an average of $15,000, while a part-time bootcamp can range from $2,450 to $3,250. The academy supports various payment options, including upfront payments, month-to-month installments or employer-sponsored payments.
Getting into BrainStation isn't difficult. There are no prerequisites needed to join and no prior experience needed. However, potential students will be interviewed by an admission team who will ask relevant questions. Also, note that the bootcamp only allows 30 students; students with basic knowledge of the courses will be considered against students with no knowledge and poor performance in the interview phase.
---
2. Claim Academy
Claim Academy is a software development bootcamp that offers immersive in-person and online programs in cybersecurity and software engineering. The St. Louis-based academy hosts courses in cybersecurity, front-end development and full-stack development. The school also offers 12 to 20 weeks of intense training in C#, full-stack Java CNET and JavaScript.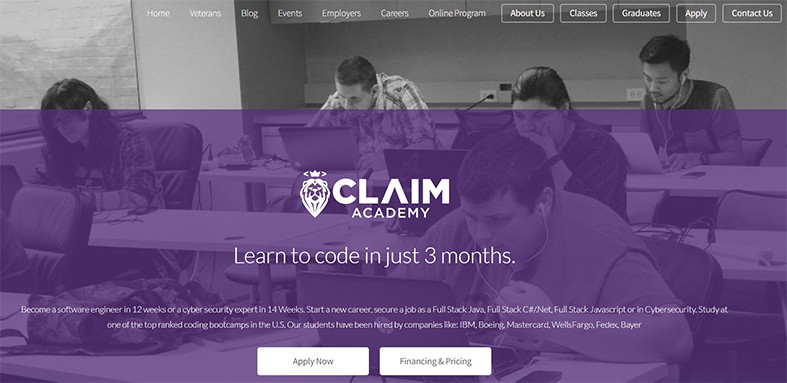 Claim Academy was founded in 2014 and has won multiple awards. The school aims to turn novice students into cybersecurity experts in just 12 weeks with C#/.Net, JavaScript and Java; this will be done through rigorous coursework, mentor sessions and computer programming techniques taught by experts. Claim Academy also offers a cyber security program in just 14 weeks. The program provides robust career training and placement assistance, financial aid, scholarships and grants. Furthermore, students can learn flexibly as there are full-time, part-time and online study options.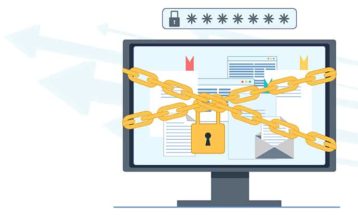 Claim Academy offers several courses essential to the cybersecurity field. These courses include Intro to Java, a beginner's class that introduces students to Java programs such as data types, variables and operators. There are also courses on Java full-stack software development, which typically last for 12 weeks for full-time and 20 weeks for part-time. The program teaches hard and soft skills needed in the cybersecurity industry. There are the C#/.Net full-stack software development courses that teach students all that's needed to land an entry-level programming job. In addition, JavaScript front-end software development is another great course offered by Claim Academy and runs for 12 weeks full-time or 20 weeks part-time. At the end of the course, students are expected to build websites using object-oriented, RESTful web services, React and functional programming. Finally, the cybersecurity course only supports full-time study and lasts for 14 weeks. Here, students will learn perimeter security, Python, cloud security and security applications.
There are many important tech experts with lots of experience and knowledge on Claim Academy's team, including Bradley Heady, Mike Bryan, Kris Poole, Haylie Schuster, Tyler Korte, Paige Leigh Parsons and Christopher C. Miller.
The cybersecurity bootcamp is duly approved to train IT professionals by the State of Missouri Department of Higher Education. Claim Academy also helps in placing graduates in IT companies to work as full-stack software developers in .Net and Java programming.
Claim Academy has won many awards, including Best Coding Bootcamp in America by Switchup, an accolade the school earned for three consecutive years in 2018, 2019 and 2020. Other awards include Course Report's Best Bootcamp from 2019 to 2021. The academy is licensed and approved by relevant regulatory bodies and offers intensive courses within a short time.
On the downside, Claim Academy offers limited courses, thus reducing students' career options upon graduation. Also, the academy is only present in St. Louis, so students from other regions may find attending physical classes difficult.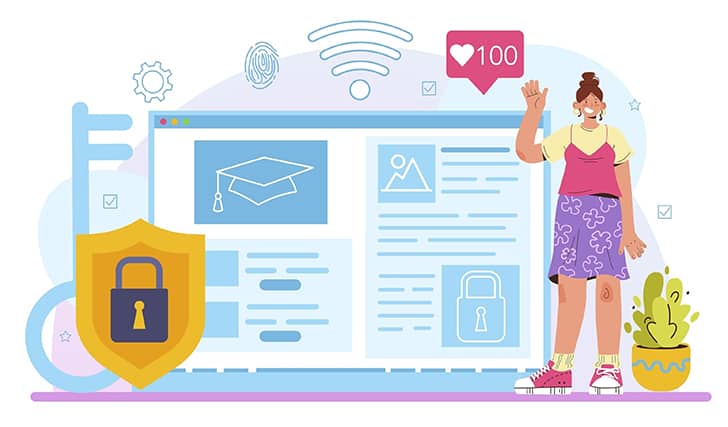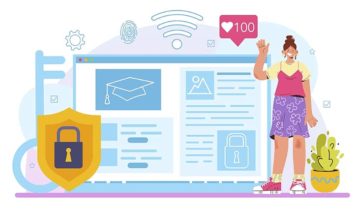 On-campus courses at Claim Academy cost between $12,998 and $14,998, while online courses cost about $12,998 to $13,998. The cost of the evening programs ranges from $13,998 to $15,998. Overall, Claim Academy's cheapest course is the front-end development program, while the most expensive is the cybersecurity course. As stated, the academy offers loans, discounts to veterans and scholarships. For instance, women are automatically given a $500 scholarship, while people who have completed a GED or high school diploma within the same year of applying are given $1,000. Also, there are scholarship offerings for Latino students, Black students and other minority groups.
Anyone can attend Claim Academy. If an applicant has no previous knowledge or experience, trying out some of the academy's free workshops and courses can help one get familiar with the programs before applying. The application process is easy. The process includes filling out an online application form, attending interviews and carrying out some compulsory programming work. After successful completion, the student will then be accepted to study the selected course.
---
3. Code Fellows
Code Fellows is a technical training academy that delivers high-quality cybersecurity courses both online and in person. This cybersecurity bootcamp provides modular coding courses for any level of experience, guiding students from all types of backgrounds through rigorous, career-focused training.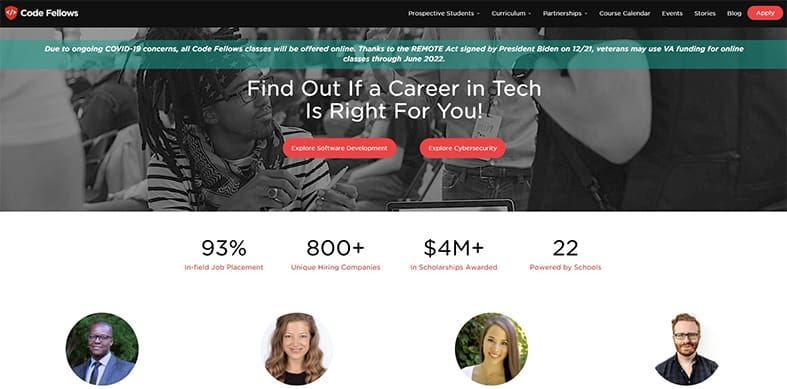 Established in 2013, Code Fellows is quite an important coding academy. The school has a mantra that says "Learn to Code, Get a Job," and this is true: Students from the academy land a job almost immediately after graduating. Learning is fun at Code Fellows, and there are quality mentors to train students. Also, the academy arranges weekly talks from Seattle tech experts and provides an environment for students to connect and create a wider, richer network.
The cybersecurity bootcamp offers courses in web development, iOS and Android development, data analytics, engineering immersion, cybersecurity and full-stack development.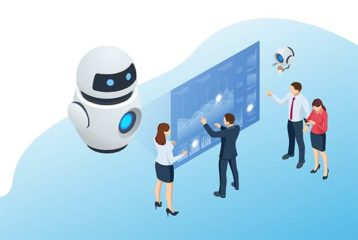 Code Fellows is filled with the best tech experts and cybersecurity professionals. Some of the most important people at the school are CEO and president Jeff Malek, program manager Heather Cherewaty, lead instructor David Lee and admissions program manager Lindy Levinson. There's also Brian Nations, a principal instructor, Stephanie Lingwood, a lead instructor, Job Tellez, another lead instructor, and Karinne Breidenbach, a program manager.
Code Fellows has achieved many successes, including about 93% in-field job placement in more than 800 unique companies such as Google, Facebook, Nike, Xbox, Disney, Zillow, Starbucks, Expedia and Getty Images. The academy has also offered more than $4 million in scholarships. Code Fellows has won multiple awards, including Switchup's Best Coding Bootcamps for five years running, Course Report's Best Online Bootcamp for 2020 and Course Report's Best Bootcamp from 2020 to 2021.
Note:
Although the Pacific Northwest's premier technical school is located in Seattle, Code Fellows offers only online classes. However, classes are conducted online and can be self-paced or held in the daytime, night or weekend.
To complete a full deck program at Code Fellows (from beginner's class to the advanced level), a student will spend up to $23,100. However, students can enroll in the programs independently; each program costs between $100 to $12,000, depending on the course being studied. The school offers scholarships and many payment options, including upfront payment, an income share agreement, private loans, deferred tuition, interest-only payments, GI Bill scholarships and course bundle discounts.
Code Fellow has an easy admission process. To enroll in the academy, a prospective student will need to identify the area of interest, preferred schedule and a date to contact the program's advisor. A phone interview is typically conducted; this lasts between 15 and 30 minutes. Once done, the student will be required to complete an entrance test, and if the student passes, a technical interview will be scheduled to discuss the test conducted. If all criteria are met, the student will be contacted and told to resume classes.
---
4. Coder Academy
Coder Academy is Australia's premier top-tier private college that offers a fast-paced bootcamp to help transform the careers of individuals. The courses offered are designed to be intense and rigorous; the academy compresses courses that usually take up to two years into a period of six to 10 months, without compromising standards and learning outcomes.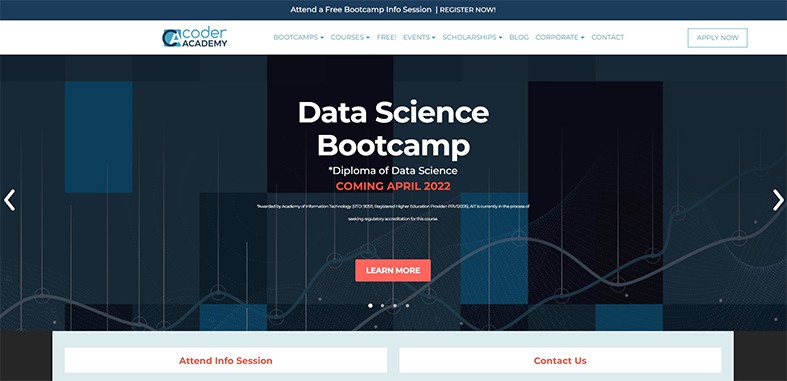 Coder Academy was established on Nov. 14, 2015. The coding academy provides a range of short workshops, part-time courses, online tutorials, school programs and coding bootcamps in cities like Brisbane, Melbourne and Sydney. Coder Academy is Australia's only approved bootcamp and offers STEM courses for individuals of various ages, backgrounds and abilities.
Coder Academy's course offerings enable students to choose either the six-month (accredited) programming bootcamp or 10-month (standard) accredited programming bootcamp. The courses include MongoDB, Git, Rails, HTML, CSS, JavaScript, APIs, Node. Js, Express. Js, Redux, React and Mongoose. Generally, the academy's bootcamps cover data science, coding, cloud, cybersecurity and web development.
Coder Academy's team includes Janel Brandon, Bianca Power, Ryan Bubinski and Zach Sims.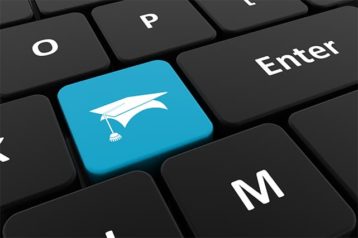 Coder Academy's coursework meets industry standards and was crafted by industry leaders and experts, thus creating a relevant and versatile curriculum that meets the demands of today's employers. The cybersecurity bootcamp supports engaging, face-to-face, hands-on learning. In addition, the school has community programs allowing students to access the academy's partners drawn from big tech companies. These tech experts act as coaches, mentors, educators, internship providers and guest speakers. Coder Academy has also won several awards, including Switchup's Best Coding Bootcamp and Course Report's Best BootCamp in 2019 and 2020.
However, Coder Academy has a limited reach since the school is only situated in Brisbane, Melbourne and Sydney. Also, the academy does not offer part-time or online courses but only full-time physical classes.
At Coder Academy, courses have varying durations and locations. The cybersecurity bootcamp lasts for 40 weeks and costs $19,900, while the fast-track coding bootcamp lasts for 25 weeks and also costs $19,900. Payments can be made in installments or students can apply for a Fee-Help loan.
To join Coder Academy, the prospective student will have to apply to the program and participate in a series of tests and interviews. Upon completing and satisfying all requirements, the student will be contacted to resume classes at the nearest location and depending on the selected field of study.
---
5. CyberCamp
CyberCamp is an online cybersecurity bootcamp offering more than 300 hours of academic training using videos and hands-on security labs. This cybersecurity bootcamp is operated by Israeli cybersecurity professionals with decades of experience both in the public and private sectors.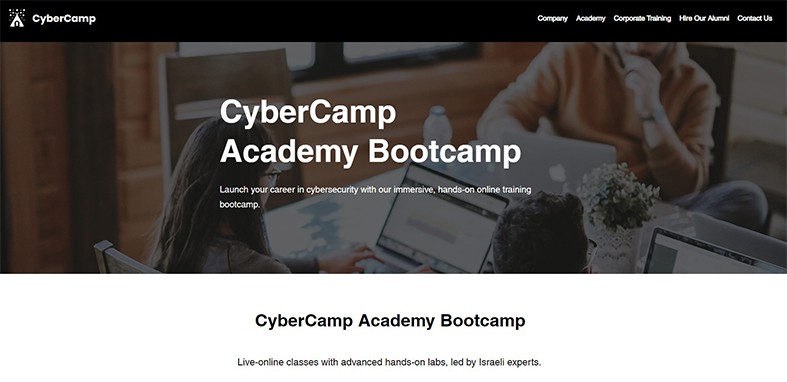 While the date of establishment is unknown, this cybersecurity bootcamp is operated by professionals and is strictly online. CyberCamp's immersive and hands-on training programs are designed to provide knowledge on cybersecurity, offering governments, companies and individuals the skills needed to protect infrastructure and people.
The CyberCamp cybersecurity bootcamp curriculum covers Windows networking, web application security, Unix/Linux, penetration testing and the incident response framework. Students will learn how to use tools like Nmap, Wireshark, Metasploit, Nessus, BeEF, Splunk, Nikto and ZAP. In addition, students will undertake real projects, such as creating advanced port scanners, IDS/IPS, password crackers or vulnerability scanners. Graduates from the bootcamp are qualified to sit for the CyberCamp Certified Security Professional Certification (CCSP). The Bootcamp also prepares students for CompTIA Security+ and Certified Ethical Hacker (CEG) certifications.
The key people on CyberCamp's team include Nativ Levy, the founder and CEO, and Stella Thompson, who also owns CyberCamp Andhra Pradesh in India.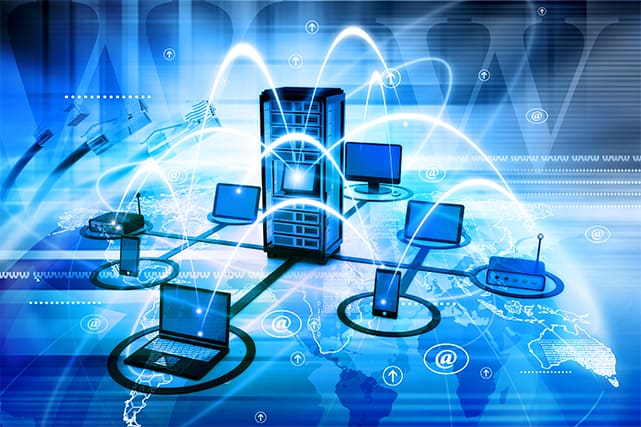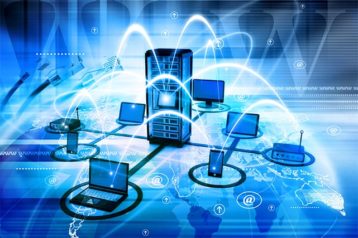 CyberCamp has a job-preparation section in which students are taught job search strategies and networking. The bootcamp provides interview strategies, resume preparation and tips on how to optimize a LinkedIn profile—all of which ensures graduates get the best jobs in the industry.
At the end of the programs, students are qualified for roles such as application penetration tester, system/network penetration tester, security analyst and SOC analyst. CyberCamp's alumni have worked in various organizations, including Deloitte, EY, CYBERTECH, Reply Spike and Infoedge Technology. CyberCamp has also worked with reputable IT companies such as Risorseltalia S.r.l, Synergies and Atlantica. The academy won Course Report's Best Bootcamp Award for 2021 and is expanding into other countries.
Note:
One limitation to CyberCamp is that the school only offers online classes, with no option for physical sessions. Also, while the cybersecurity bootcamp is designed for beginners without prior experience, students are still expected to be proficient in English and have basic IT knowledge.
The cost of studying the courses is not available online as students will have to contact the academy for a quote. However, registration is easy. Prospective students can visit CyberCamp's website and indicate interest by filling out the form on the page.
---
6. Craft Academy
Craft Academy is Sweden's premier cybersecurity bootcamp with branches in Gothenburg, Stockholm, South Africa and Kenya and students across the globe. The bootcamp offers 12 weeks of intense training using experienced coaching and agile methodology.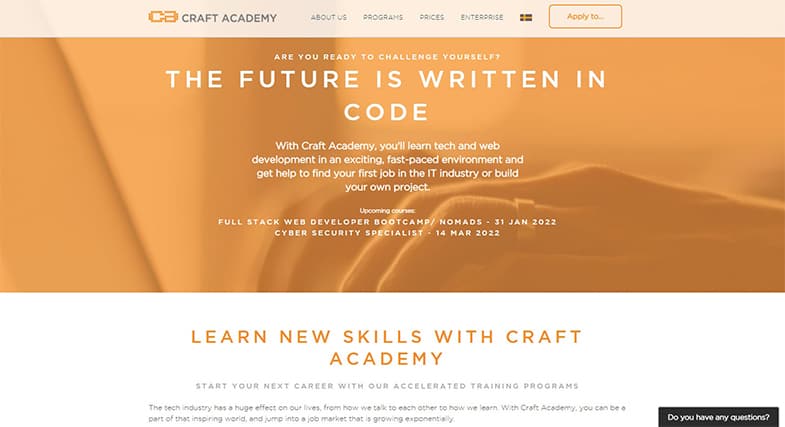 The Craft Academy cybersecurity bootcamp was established in 2015. The bootcamp only supports small class sizes to provide personalized attention and openness to new ideas. Craft Academy is designed to cater to students with little or no IT experience, but after the program, students will be skilled enough to land jobs at big IT companies. Training is done using hands-on learning and military methodologies.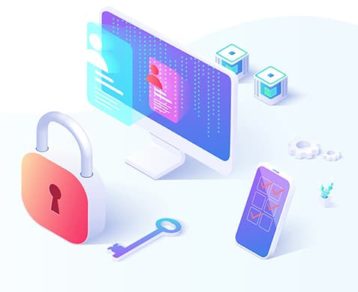 Craft Academy offers a wide range of courses to select from. If studying full-time is the preferred format, a student can choose from either the Enterprise Java Web Application Developer Bootcamp or Cyber Security Specialist Bootcamp. There are also Cybint and full-stack web development courses. Students studying Cybint will be required to finish a one-week preparatory course, while full-stack web development students are required to complete a four-week prep course. Also, Craft Academy's Cyber Security Specialist Bootcamp lasts for 16 weeks and is only held in Stockholm and Gothenburg.
Craft Academy's team includes head coach Thomas Ochman, junior developer Oliver Ochman and senior web developer Max Anderson.
Craft Academy's partnership with Cybint in 2020 is one of the program's most important actions, combining a premium coding bootcamp and a forward-driven tech career approach. The partnership has also ensured shorter training programs. The coding academy provides students with knowledge of routing protocols, the basics of network traffic and the hard components of topology. Students will also learn cyber defense, ethical hacking, forensics and security strategies.
On the downside, the academy does not offer courses on a part-time basis, and payment cannot be made in installments.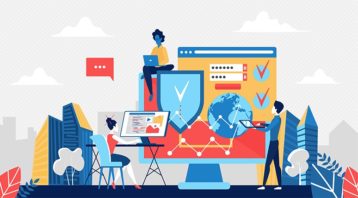 Craft Academy's Enterprise Java Web Application Developer Bootcamp costs $12,500, as does the Cyber Security Specialist Bootcamp. Also, the Full Stack Web Developer Bootcamp and Nomads Remote Bootcamp cost $10,684 per program. This cost covers all materials, instructions and support needed by the student, including a computer, webcam, headset, cables, school swag and a second screen. The academy also offers a 5% discount for female participants. Payment can be made upfront or through financial loans.
Joining Craft Academy is straightforward. Cohorts are done every eight weeks, and applications are continually reviewed. The enrollment process often involves tests and interviews and can take up to two weeks.
---
7. Codaisseur
Codaisseur is one of the best cybersecurity bootcamps that offers both online and in-person security training. The programs designed by Codaisseur are taught by cybersecurity professionals and experts, preparing students to take up full-stack developer roles.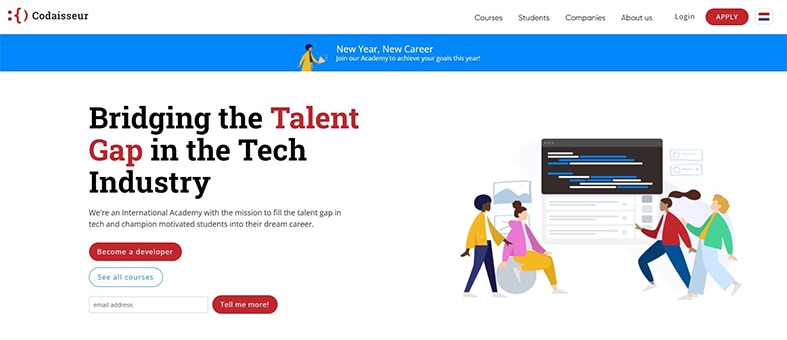 Codaisseur is a cybersecurity and full-stack web development academy situated in Amsterdam. The organization offers full-time, part-time and online courses and collaborates with industry experts to create curriculums that meet market demand. The cybersecurity bootcamp begins with basic knowledge of web development, thus equipping students with top-notch technological skills. Also, students engage in team collaborations, code reviews and quality assessments.
The academy offers courses such as Codaisseur Online Academy-Pay Upfront and Codaisseur Full-Stack Web Development Academy-Job Guarantee. Both courses are available online and on-campus. The courses offered by Codaisseur are suitable for entrepreneurs, graduates, upskillers and career-switchers.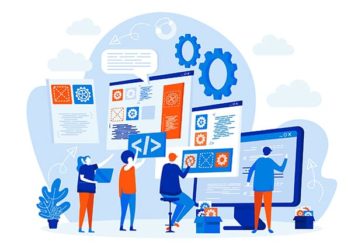 Codaisseur's key team members include CEO Wouter de Vos, course development specialist Eszter Szollosi, student advisor Diana de Block, career coach Vandana Sudhir, finance manager and JavaScript teacher Lisa Scorzon, growth hacking trainee Philip van Rijk, head of HR operations Alex van Noord, office manager Zuzana Blystanova and UI/UX designer Roel Mast. Codaisseur provides courses and materials in English, preparing students to work at international companies.
Graduates from the Codaisseur cybersecurity bootcamp are usually employed as junior web developers within five months. The school has a great framework and theory, engages students in group projects to improve collaborative skills and uses real-life simulations rather than more conceptual materials.
Studying at Codaisseur is more affordable than other programs. The nine-week Codaisseur Online Academy runs for 40 hours per week and costs $8,864, while the Codaisseur Full-Stack Web Development Academy costs $800. Also, the in-person Codaisseur Cyber Security Academy costs $3,249 for 12 weeks and is scheduled for five hours per week. The academy supports deferred tuition, month-to-month installments, full payment and upfront payment options.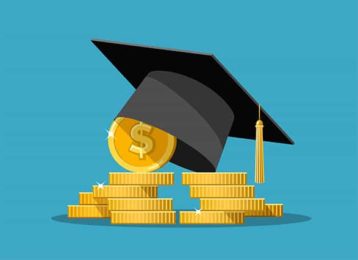 The academy recently introduced a new pricing policy. For the job guarantee program, students are allowed to pay 40% upfront and the remaining 60% in three-month installments after a job is secured. If a student doesn't secure a job within five months after course completion, the academy waives the remaining tuition.
While students do not need prior IT knowledge to join the academy, every student is mandated to participate in a one-week bootcamp before classes begin. Students are then evaluated based on technical skills, motivation and progress, the result of which will determine whether or not the student will be enrolled.
---
8. Eleven Fifty Academy
Eleven Fifty Academy (1150) is a nonprofit coding and cybersecurity bootcamp offering courses for free. 1150 is headquartered in Indianapolis, Indiana, and offers a wide range of programs for a duration of 12 to 14 weeks. The academy aims to develop an ecosystem of coding talent that individuals, employers and society as a whole can benefit from.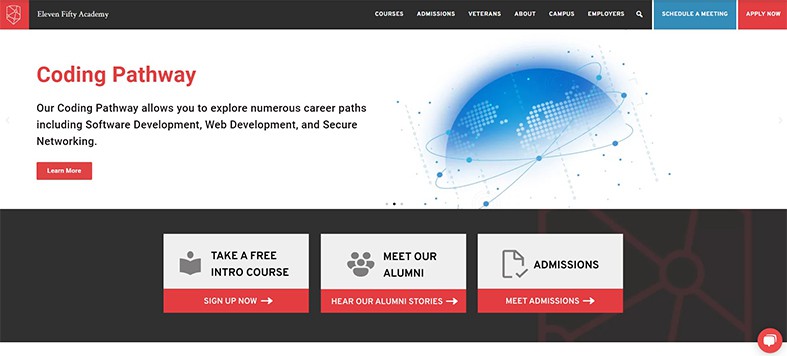 1150 was launched in 2014 by prolific investor and entrepreneur Scott A. Jones. The coding academy is important for several reasons. The academy, which started with a $2 million grant from Scott A. Jones Foundation, provides relevant teachings and tools that support teamwork, code management and workflow. The academy caters to over 1,000 participants.
Courses offered at 1150 include JavaScript, CSS, HTML, HTML5, React.js, Node.js, Microsoft Office, Bootstrap, C#, GitHub, web development and Git. However, aside from the hard technical skills offered at the academy, the school also provides an environment that enables students to develop soft skills and land great cybersecurity jobs.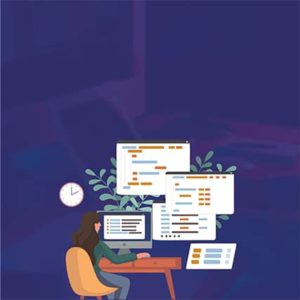 Eleven Fifty Academy has a pool of experienced cybersecurity experts and professionals, including Lauren E. Skelly, Michael Scott, Carissa Pierce, Donovan Tripliett, Abigail Tambasco, Leon Zuercher, Jess Schultz, Stephen Vogel, Kayla Bullard and George Comunale. These team members are learning assistants, marketing enthusiasts, tutors and project managers.
The nonprofit coding institution offers courses that range from two days to 12 weeks. 1150 is not just Indiana's premier cybersecurity school; Eleven Fifty is also one of the first Registered Software Development Apprenticeship programs. The 12-week, full-time programs cover JavaScript, Java, Android, Agile development, Python and Microsoft .Net. The coding academy is rated high on Career Karma and is popular for being accommodating and having knowledgeable instructors. In 2021, the program produced 221 graduates, with many alumni working in many big tech companies and earning at least $55,000 within the first 50 days. The school supports online, part-time, full-time and self-paced learning formats and is spread across cities such as Bloomington, Fort Wayne, Indianapolis, Evansville, Gary and Fishers.
While the school offers free courses, some come at a cost. For instance, the Java 12-week bootcamp costs $13,500 and is full-time and in-person, as is the JavaScript 12-week bootcamp. The Microsoft .Net 12-week bootcamp is full-time and in-person and costs $13,500.
The enrollment process is easy. The student only has to fill out an application form, fill in the requirements and submit the relevant documents needed. If the student passes the subsequent assessments, an admission letter is sent.
---
9. Evolve Security Academy
Evolve Security Academy is a technical web security company focused on strengthening clients' security and tightening loose ends. But beyond that, Evolve Security deploys cybersecurity experts to provide a full range of cybersecurity training and services. The cybersecurity academy offers robust security education with top-notch tracks in certain areas within the cybersecurity space.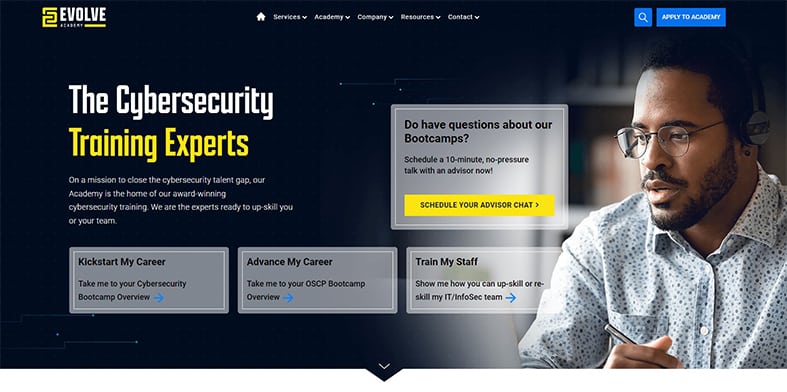 Evolve Security Academy was founded in 2016 to bridge the talent gap in the ever-evolving cybersecurity industry. Evolve offers a 20-week, part-time, in-person cybersecurity bootcamp in Chicago and everywhere else (but online). The cybersecurity academy also offers immersive, hands-on training, providing students with practical and in-demand skills needed in the IT industry. The programs are taught by experts; the academy not only teaches the fundamentals but also deploys practical applications.
Students enrolling for any course in the academy are expected to have basic technical skills; otherwise, novice students will be required to enroll in prep courses that provide an introduction to cybersecurity concepts and other similar curricula. After this, the student will be taught network security before moving on to the main bootcamp. Evolve Security Academy's curriculum covers the mechanisms of a computer and network system, Python, penetration testing and more areas of security. Upon completion of the courses, students are placed in a security apprenticeship to apply classroom lessons.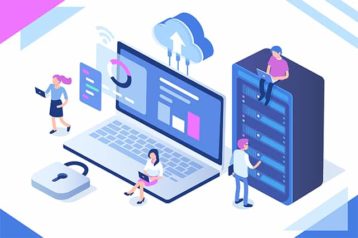 The Evolve Security Academy team is comprised of security engineer and team lead Katy Vok, senior security engineer Ramandeep Singh pen tester Mohit Nehru, associate security engineer Matt F., cybersecurity apprentice Rhoda Krick, digital marketing manager Ashley Wenzel, operations director Sarah Thomas, associate security engineer Mason Crane, cybersecurity academy analyst Edward Hartmann and chief security officer Gary Patterson.
The Evolve Security Academy cybersecurity bootcamp has recorded many successes. In August 2020 alone, about 94% of the school's alumni were able to secure a job within the first six months. Overall, graduates usually land a job within 63 days. Successful graduates get an Evolve Security Certified Professional (ESCP) certification and a certification for the preparation of CompTIA Security+. The academy also offers a part-time, five-week advanced penetration testing training program delivered remotely and through recorded lectures, lab tutorials and live instructions.
Evolve Security Academy's full cybersecurity bootcamp costs $12,500 for the online program, while the in-person program costs $14,500. The program supports upfront payments, installments, loan financing, GI Bill payments and ISAs.
Enrolling in the academy is straightforward. Prospective students need to fill out a preliminary online form and then the full application form. Next, the applicant receives a phone call, is asked to carry out a prep exercise and participate in an interview. After successfully passing, the student will be admitted into the academy. Candidates who have about one to three years of experience will be considered, but this is not a prerequisite.
---
10. Fullstack Academy
Fullstack Academy is a cybersecurity bootcamp that offers full immersive software engineering courses. The bootcamp has a rigorous curriculum focusing on skills sought by tech experts. The courses are taught by passionate and knowledgeable tutors.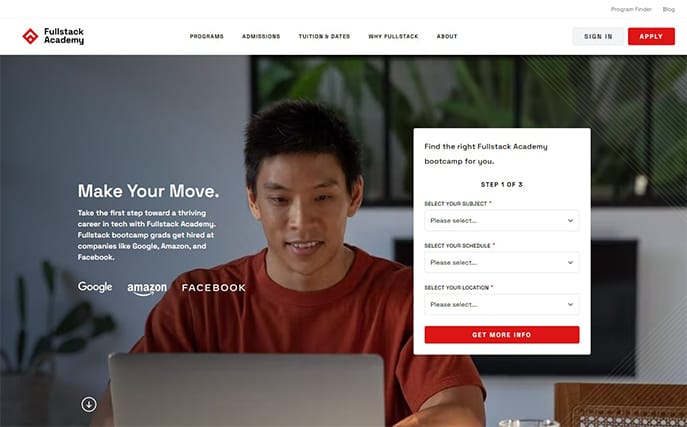 The cybersecurity bootcamp was established in 2013 by Nimit Maru, with the head office located in New York and several centers scattered across the U.S.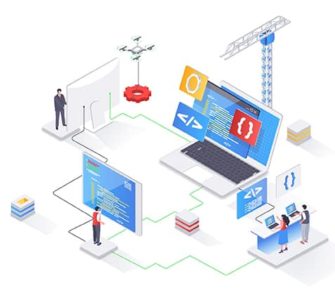 Fullstack Academy is a top-tier immersive learning institution suitable for cybersecurity training and web development. The bootcamp provides comprehensive in-person and remote teaching opportunities to students across the U.S. With the courses offered, students are equipped with the in-demand skills needed to have successful careers in the tech space. Fullstack Academy offers 24 courses, including full-time immersive, JavaScript jumpstart (beginner), part-time immersive (flex), introduction to front-end development and more.
Fullstack Academy's team includes career coach and CSO Macy Dennis, alongside Dan Weeks, Eric Katz, Parish Jefferson, Jeanette Abell and Sarah Zhao.
Fullstack Academy is suitable for students who learn best in a structured environment and with a class-based curriculum as the academy provides guided, full-time training. Also, the bootcamp encourages interactive cohort participation by pairing students on capstone assignments. In addition, learning can be on-campus or online, based on the student's preference.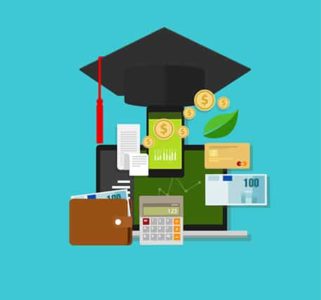 On the downside, the bootcamp is pricey. The Online Data Analytics Bootcamp, which costs $14,500, is the cheapest course offered by the academy, while the most expensive courses are the Software Engineering Immersive and the Grace Hopper Program, which cost $17,900 each. Also, while the school offers a job guarantee for one of the programs (the Grace Hopper Program), there is no job guarantee for other courses. Moreover, the courses are not self-paced.
The admission process involves four stages: preparation, application, assessment and interview. Prospective students will be required to study basic programming skills before applying via the school's website. Admission is offered once all stages have been completed successfully.
---
11. Ironhack
Ironhack is a global bootcamp that offers a deep learning experience, helping students to develop skills in web development, data analytics, UX/UI design and cybersecurity. This bootcamp provides two options of nine-week full-time and 24- week part-time programs, with nine campuses in Miami, Madrid, Barcelona, Paris, São Paulo, Berlin, Mexico City, Lisbon and Amsterdam. The training curriculum strikes a balance between theory and practical concepts and also allows students to participate both remotely and in person.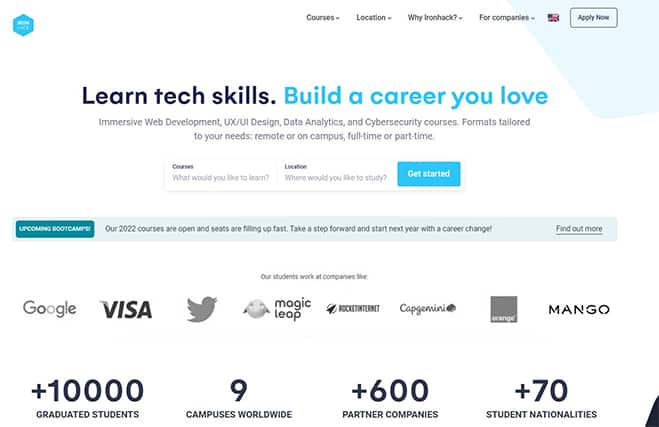 Ironhack was founded in 2013 by graduates from Harvard University and Wharton School of the University of Pennsylvania. The bootcamp started operations in Madrid, then spread to Barcelona and Miami in 2014. The Paris and Mexico campuses were opened in 2017, followed by those in Berlin, Amsterdam, São Paulo and Lisbon in 2018.
Ranked top in SwitchUp's Best Boot Camp in 2021, Ironhack seeks to transform the way technology is being learned in schools by empowering students to build careers in the various programs. The bootcamp also strives to make the education space customer-centric while focusing on producing outcomes, thereby bringing the best out of the students.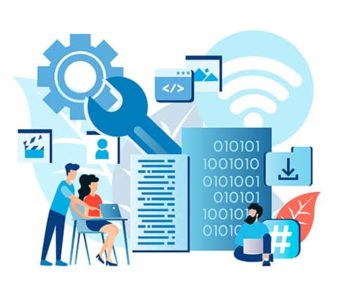 Ironhack offers a curriculum in web development that gives the student a complete skill set in front-end and back-end web development and covers important topics like HTML, CSS and JavaScript. The bootcamp also provides a strategic balance between the theory and practice of data analytics methods and engineering. In addition, this bootcamp's curriculum in UX/UI design allows students to gain vital skills such as user and market research, lean production and product strategy, and visual design and design systems. The program on cyber security also allows students to gain vital skills around operating systems, malware analysis and ethical hacking.
Ironhack has flexible payment plans that are location-specific and tailored towards the student's needs. With a rating of 4.9 out of 5 with over 2,000 reports on SwitchUp and Course Report, Ironhack also has a diverse online community and efficient career support via Career Hack, which helps students get jobs after graduating from the bootcamp. Students can also partake in live lessons remotely from anywhere worldwide, receiving help from teaching assistants and lead instructors while interacting with other classmates online.
Ironhack's team includes co-founders Ariel Quinones and Gonzales Manrique, finance VP Maria Ares, product VP Nick Bartlett, global head of operations Adria Baques Garcia, Barcelona general manager Tiago Santos and Paris general manager Lisa Nuessle.
This award-winning bootcamp has made a few achievements since the organization was established, including a ranking among Switchup's 2021 Best Bootcamps list. Ironhack has also graduated over 6,000 students since inception and formed partnerships with a global network of companies such as Google, Visa, Twitter and Orange, giving graduates a smooth integration into the job market.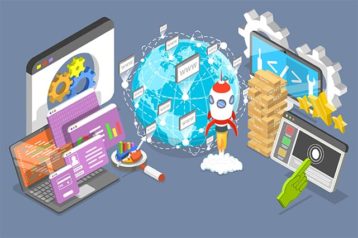 Ironhack has tutored over 800 students with zero experience in coding into becoming junior developers and starting technology careers. The bootcamp also boasts that about 90% of students actively work as computer programmers and earn more money with the skills.
A few negative things can be said about Ironhack, though. The bootcamp does not offer a job guarantee for students upon completion of courses, even though guidance in the job hunt is given. Also, although the payment options are flexible, these options are location-specific and do not apply to students in specific locations. Another downside is that online courses are not available on all campuses.
The cost of Ironhack varies depending on the country, course, format (part-time or full-time) and campus. The price for enrolling in the Ironhack bootcamp ranges from $3,000 to $12,000. The full-time courses for web development and UI/UX design cost $12,000, while the part-time courses cost $13,000. Also, the full and part-time courses for cybersecurity and full-time payment for data analytics cost $7,500, while the cost for part-time data analytics is $8,000. There are various payment options available; some are location-specific and include loan financing, income share agreements, monthly installments, upfront payments and professional security contracts.
The admission process for Ironhack comprises three straightforward steps. First, prospective students fill out an online application form, then a personal interview is scheduled with the admission team. The final stage is a technical interview that assesses the ability of the applicant to pick up the concepts that will be covered in the course chosen. After this last stage, the applicant then waits to be contacted if the application is successful.
---
12. Level Effect
Level Effect is an online institution that focuses on providing training in cybersecurity courses, covering an extensive list of trade and security disciplines. This bootcamp uses the foundry platform to provide an immersive learning environment, allowing students to participate actively while learning, practicing and mastering the necessary skills to defend cyber networks.
Level Effect started as a software company, developing Recon, which was later acquired by Huntress Labs. The institution then hosted the first cyber defense analyst bootcamp on a customized learning platform in 2023.
Level Effect is a top destination for students willing to embark on a cybersecurity career or improve on existing skills in the field. With a mission to make the online world safer, this bootcamp provides learning facilities that enable individuals to acquire the necessary skills to defend individuals and organizations, focusing on solving real-world challenges and common issues.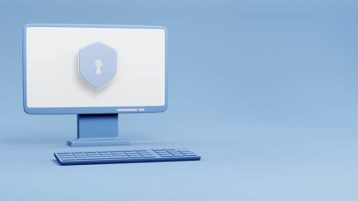 Offering a wide array of skills such as malware analysis, network and computer forensics, cloud security and advanced Linux operating systems, this bootcamp is best adapted for people interested in entering the cybersecurity space, IT professionals needing new skills on how to protect networks from attacks, and various manager and operations personnel who seek a deeper understanding of cyber defense.
Achieving this goal at Level Effect is aided by a team with deep technical backgrounds and several years of experience with the U.S. Department of Defense, including the National Security Agency (NSA). Members of this team include Greg Ake, the CEO and instructor, who has several years of experience working with the U.S. Air Force and NSA and as a defense contractor conducting Signals Intelligence (SIGINT) and Computer Networks Operations (CNO). Other members include CTO and instructor Rob Neoth, who has several years of experience working as a senior CNO software engineer and systems architect with the NSA, as well as Anthony Bendas and Will Nissler, with years of valuable experience in the cybersecurity industry.
This online institution is categorized as "top-rated" by Course Report, a global authority for online education, receiving a rating of 5 stars. Level Effect has also been recognized by Purdue University, approving the bachelor of science in cyber security certificate obtained in the bootcamp. Another important success Level Effect has achieved is that the bootcamp has various alumni working in companies like Huntress, Stavvy, Frontier Communications, Black Panda and even the Department of Defense.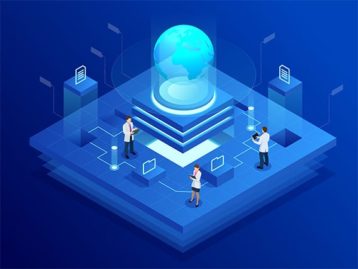 Although Level Effect has achieved success over the years, there are still a few areas where improvements can be made. For example, the bootcamp only offers part-time online classes and does not host in-person learning or full-time courses. Another downside is that this institution only offers two courses: the Cyber Defense Analyst Bootcamp and the Cybersecurity Foundations Course. Also, Level Effect does not offer a job guarantee for graduates of the bootcamp.
The Level Effect Cyber Defense Analytical Bootcamp costs $9,500 per student, while the Cybersecurity Foundations Course—which equips students for the Cyber Defense Analytical program—is free. There are discounts available for some select people, such as a $500 discount for veterans, active-duty military, and first responders from the U.S. and Canada.
A $1,000 early bird discount is also available for individuals who register more than four weeks before the start date of the cohort. The bootcamp also offers full and partial scholarships for students who cannot directly afford the cost.
Getting into the bootcamp requires that the applicants register by filling out an online form. A spot is then reserved after an initial deposit of $1,000, and the applicant is contacted for further evaluations and screening. After these exercises, successful applicants are contacted by the admission team to further process the enrollment.
---
13. Simplilearn
Simplilearn offers online bootcamps on data science, full-stack web development, digital marketing, cybersecurity and other fields, helping professionals and organizations get trained, acquire certifications and upskill employees. This online school also partners with various universities, specializing in intensive master's programs and university programs.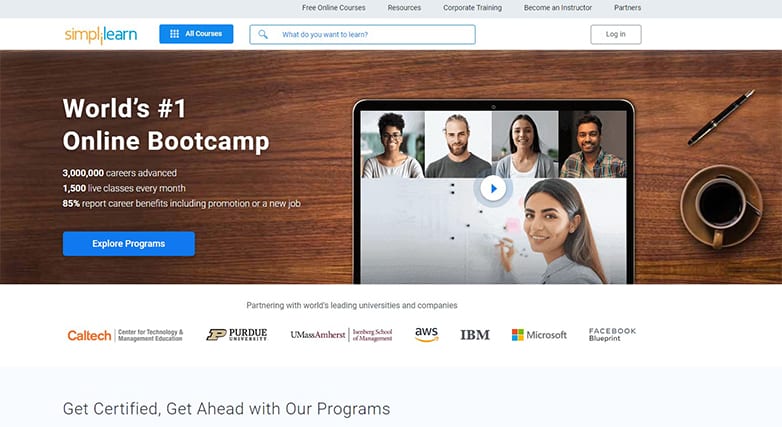 Simplilearn provides live online classes by industry practitioners and highly-rated trainers, integrated online labs, projects, case studies, industry masterclasses and 24/7 support, offering learners the best possibility of thriving in the professional world. Also, this bootcamp serves as a prime destination to get certifications by global certification bodies and deepen the experience in the chosen course.
Simplilearn started as a blog in 2009, sharing ideas on project management and delivering information and tips. Since then, the organization has achieved a series of milestones down the years, with the most recent being the job guarantee program in data science and full-stack development.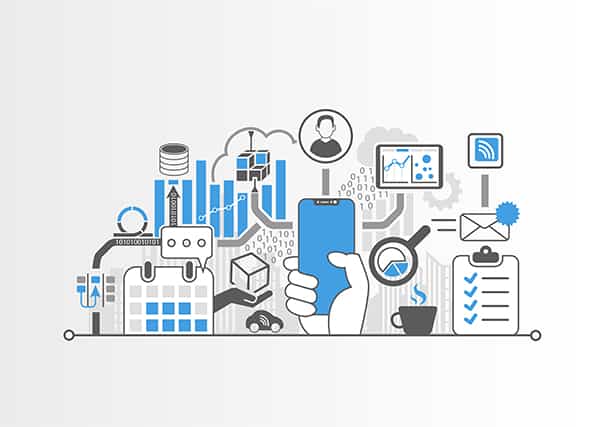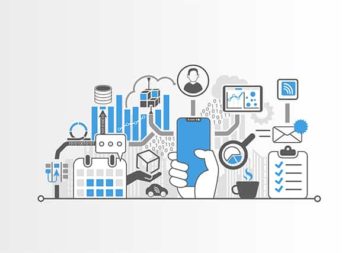 This bootcamp focuses on helping people acquire the skills needed to thrive in the digital economy. As such, Simplilearn can be used when there is a need to acquire certain skills in disciplines such as cybersecurity, cloud computing and project management, where there's high demand for skilled candidates.
This multi-award-winning online bootcamp boasts of over 2,000 academic experts who are renowned in various industries. This, together with the individual courses, certification programs and partnerships with top universities, help provide professionals and organizations with the skills needed to excel.
Simplilearn's team includes founder and CEO Krishna Kumar, talent acquisition managers Twinkle Nayak and Joseph Justin, senior talent acquisition manager Ajith Daniel and human resources manager Divya Lashkare.
Simplilearn has had a few successes over the years. The bootcamp has trained over three million professionals in the digital economy field, with over 40 global accreditations. Also, the practical approach employed by this bootcamp has resulted in 85% of graduates reporting career privileges such as promotions and new jobs.
Note:
However, a few flaws of Simplilearn can still be noted. The bootcamp only offers online courses and programs. Also, the job guarantee program boasted by the institution does not apply to all programs.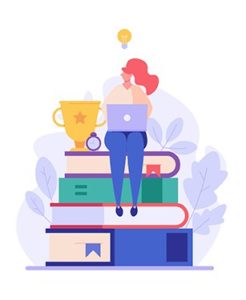 Simplilearn offers free online courses such as data science and business analytics, cyber security, and software development. However, the master's programs offered by the bootcamp go for prices that vary depending on the program and range from $1,180 to $5,000. Examples include the postgraduate program in cloud computing, in collaboration with the Caltech Center for Technology and Management Education, which costs $5,000; the postgraduate program in business analysis in partnership with Purdue University, which costs $2,500; and the postgraduate program in agile, in partnership with the University of Massachusetts, and the postgraduate program in cyber security, in collaboration with MIT, with a price of $3,500.
To apply to any of Simplilearn's more formal programs (aside from the free courses), prospective students must fill out an online form, where the eligibility based on certain criteria is evaluated. The applicant then waits to be contacted by the admission team for further evaluation. However, participating in one of the free courses only requires clicking on the selected course and registering with an email address.
---
14. The Bridge
The Bridge offers both remote and in-person bootcamps in data science, cyber security, UX/UI design, full-stack web development and digital marketing. With a headquarters in Madrid, this bootcamp also offers 16-week full-time classes and 31-week part-time classes in Valencia, Bilbao and Seville.
The Bridge was founded in 2019 by Iker Arce to give people access to a professional career in the digital field. This bootcamp seeks to provide professionals and organizations with the much-needed technical skills in today's job market and to help address the industry's talent gaps. The Bridge serves as a destination for people willing to acquire new skills or upskill in cybersecurity, software engineering, digital marketing, data science and UX/UI design.
The Bridge's team members include CEO Iker Arce, COO Noya Fernandez, CTO Carloz Diaz Girol, digital marketing specialist Elena Rodriguez, marketing director Ana Lopez, academic coordinator Clara Fernandez and CPO Diego Diaz.
The Bridge has been rated as one of the best cybersecurity, data science and UI/UX bootcamps in 2021. This institution has also received a rating of above 4.9 out of 5 on Course Report and SwitchUp. In addition to these, the institution now boasts of over 700 students and an employability rate of 92% for full-time students between 2020 and 2021 at companies such as Glovo, Cognizant, Deloitte, Loewe and Repsol.
However, there are a few drawbacks to The Bridge. For example, there are just four locations for in-person learning, and the school does not offer job guarantees for graduates. The courses offered in this bootcamp are also more expensive than some of the competitors.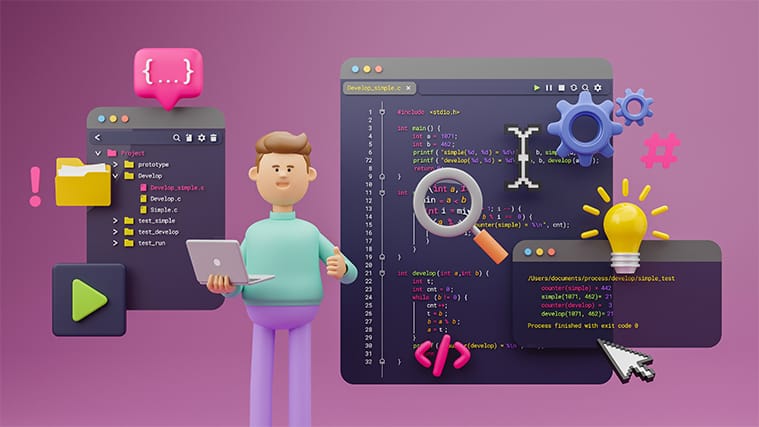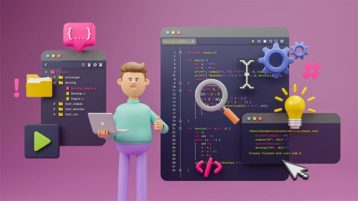 The Bridge offers courses for $7,000 each. However, there are various payment options for students who cannot afford the courses, together with discounts and bonuses that are given based on prompt payment and certain other conditions such as unemployment. Examples of these payment options include no interest or low-interest financing plans, Digital Talent Pipeline (DTP) scholarships, and study now and pay later plans.
The admission process at The Bridge requires applicants to fill out an online form, after which an online test evaluates the candidate's computational thinking and learning agility. After this stage, the candidate is interviewed by the admission team to assess the commitment and motivation before a final selection is made.
---
15. University of Richmond Boot Camps
The University of Richmond offers online cybersecurity boot camps with knowledgeable instructions, market-driven curricula and face-to-face virtual interactions. The boot camp offers 24-week part-time data analytics, web development and cybersecurity programs.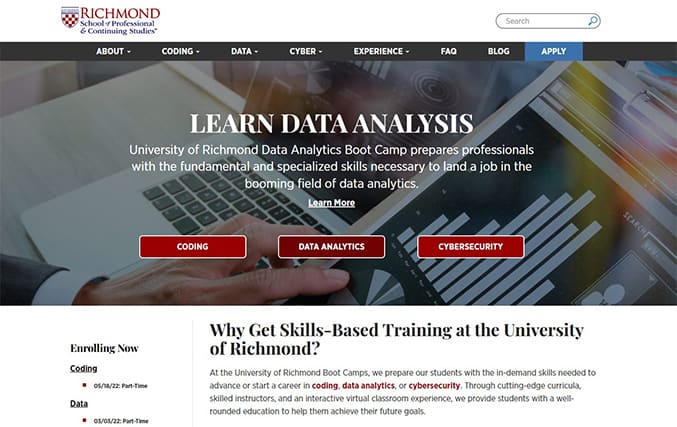 Located in Richmond, Virginia, this bootcamp was established in 2018 to provide students with the skills needed to land good jobs. The data curriculum includes computer programming in Python, Excel, R programming, HTML/CSS, JavaScript charting, API interactions, Tableau, SQL, machine learning, fundamental statistics and more. Also, the full-stack curriculum covers CSS, HTML, jQuery, JavaScript, Bootstrap, Node.js, Express.js, MongoDB, databases, Git and MySQL. The curriculum provides hands-on training in systems, networks, web technologies, databases, and offensive and defensive cybersecurity strategies.
Like the others, the University of Richmond boot camp is composed of experts and professionals such as Steve Mustanski, a software engineer at CapitalOne, and Eric Harvey, director of solutions consulting.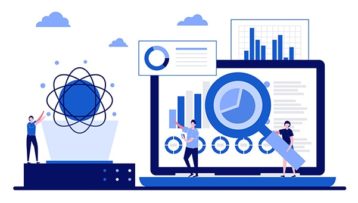 At the University of Richmond boot camp, the flexibility of study depends on the course. Full-stack flex-part time can be studied part-time, as can cybersecurity, visualization, and data science. The courses offered by the university are designed to impart skills that will ensure graduates get employed almost immediately.
The full-stack curriculum kicks off with a foundation in computer science and moves on to the front-end and back-end. Data analytics teaches students how to apply the skills learned to solve real-life issues. The academy offers an immersive, hands-on experience.
One challenging part, though, is that the program may be considered too slow for some learners. Also, the bootcamp only offers part-time programs, which is limiting.
The University of Richmond's part-time course costs $11,995 for 24 weeks in person; this price also applies to the data science and visualization course. On the other hand, the full-stack part-time course costs $10,995 for 24 weeks in person. Students can pay via loan financing or upfront payments. The cybersecurity boot camp offers up to $500 scholarships for eligible students.
No prior experience is required to apply to this boot camp. However, once admitted, students will need to complete a pre-course tutorial. Application is easy; just head to the website and fill out the form there. Once admitted and upon completing the courses, the students will be given a certificate of completion from the university.
---
What Are Cyber Security Bootcamps For?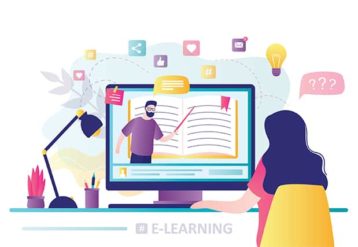 Cybersecurity bootcamps are concentrated learning programs that prepare students for entry-level cybersecurity jobs. The programs offered by cybersecurity bootcamps can be part-time or full-time, in-person or online. Such courses cover a range of topics beyond a simple cybersecurity definition, including strategies for detecting, resolving and preventing all cybersecurity incidents, breaches and threats. These bootcamps provide the certifications and technical skills needed to get a job in the cybersecurity industry.
Cybersecurity bootcamps are important because the programs help to equip learners with the necessary and in-demand skills that can be immediately transferred to the corporate world. Most employers engage bootcamp graduates, making such programs more attractive to people wanting to work in the IT industry. Also, some cybersecurity bootcamps place students into relevant companies after graduation so that graduates don't have to look for jobs. In addition, cybersecurity bootcamps provide lots of hands-on experience that make students ready to contribute from the first day of employment. Furthermore, cybersecurity bootcamp programs support collaboration and teamwork and provide a well-rounded curriculum, and classes are completed within a short time.
Are There Any Admissions Requirements for Joining Cyber Security Bootcamps?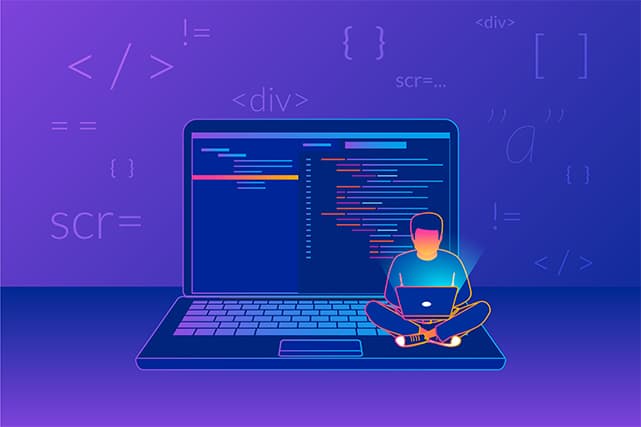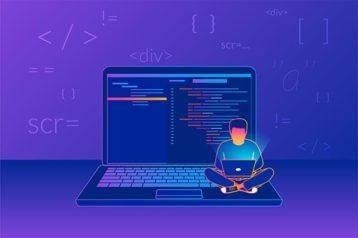 Yes, most cybersecurity bootcamps have admission requirements that must be met before admission is granted. This requirement often depends on the level of the program. Most beginner bootcamps do not have any requirements, meaning students with little or no experience can apply. However, students in need of improved skills may need to take a preparatory program or course before the main bootcamp.
For intermediate bootcamps, basic security concepts and foundational knowledge of programming are often required. Some bootcamps may require that applicants take a skill test, submit an interview or carry out a quick technical challenge.
Note:
Advanced bootcamps often require that candidates have a baseline certification (for example, Security+), along with a bachelor's degree in any relevant field.
What does It Cost to Join a Cybersecurity Bootcamp?
While some cybersecurity education providers such as Flatiron School offer free cyber security bootcamp programs, most require tuition to be paid. This tuition has no fixed price and varies by location and program. Cybersecurity bootcamps that are mostly focused on technical skills (such as network security engineer or pen tester) to prepare candidates for an analytical job are usually more expensive than bootcamps offering less technical courses.
Most bootcamps usually take 12 to 15 weeks to complete and can cost between $8,000 and $20,000.
Do You Need a Good Laptop for a Cybersecurity Bootcamp?
Yes, applicants will need a good laptop for cybersecurity boot camp. The best laptop for cybersecurity should be one with a powerful CPU, such as ZEN 3 AMD Ryzen 9 or Intel-based i7/i9. The RAM of the laptop should be at least 16GB for multitasking and a mid-range GPU. Other key factors to consider are a fast NVMe SSD, a comfortable and reliable keyboard, a long-lasting battery of up to five to 10 hours and a 15.6-inch display (IPS recommended). While laptops have varying costs depending on the use, an ideal laptop for cybersecurity costs around $1,000.
Can I Get a Job with a Cyber Security Bootcamp?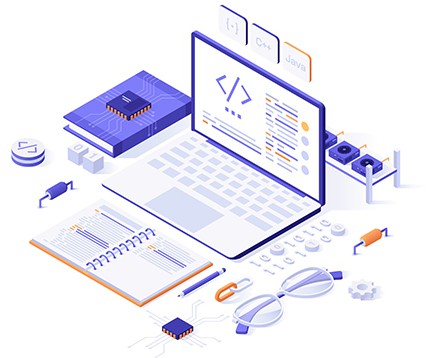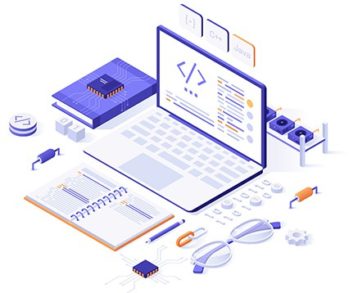 While many bootcamps provide career mentorship and coaching, many do not provide jobs for applicants. Students will still have to adhere to the advice of career coaches and work hard to get a job. However, cybersecurity bootcamps offer shorter courses than colleges.
On the other hand, some cybersecurity bootcamps offer jobs to graduates or place alumni in cybersecurity firms.
Some of the most common
cybersecurity jobs
include network security engineers, cyber security analysts, security architects, cyber security managers, chief information officers (CISO), malware analysts, penetration testers and computer forensics analysts.
Cybersecurity positions are provided by IT companies and cybersecurity firms. Thus, aside from attending cybersecurity bootcamps to gain the needed technical knowledge and experience, applicants also stand a chance of landing a job if the relevant skills are learned and practiced. Connecting and networking with as many cybersecurity experts as possible will also help an applicant get a job.