Cybersecurity podcasts are digital audio files available on the internet that aim to educate listeners on digital IT security, online trends, and updates. These podcasts focus on recent information about new hackers, malware, attack vectors, and security techniques. Cybersecurity podcasts are excellent resources for learning about and understanding the cyber world for beginners and experts.
The battle between hackers and cybersecurity experts has become constant in recent years. Furthermore, it is no longer news that cyberattacks are increasing every year. Every internet user needs to become cyber literate and master cybersecurity strategies. As a result, cybersecurity podcasts are provided as a simplistic approach for everyone to learn about cybersecurity. Users can learn how to protect personal information, prevent danger, and achieve optimal online security by listening to cybersecurity podcasts.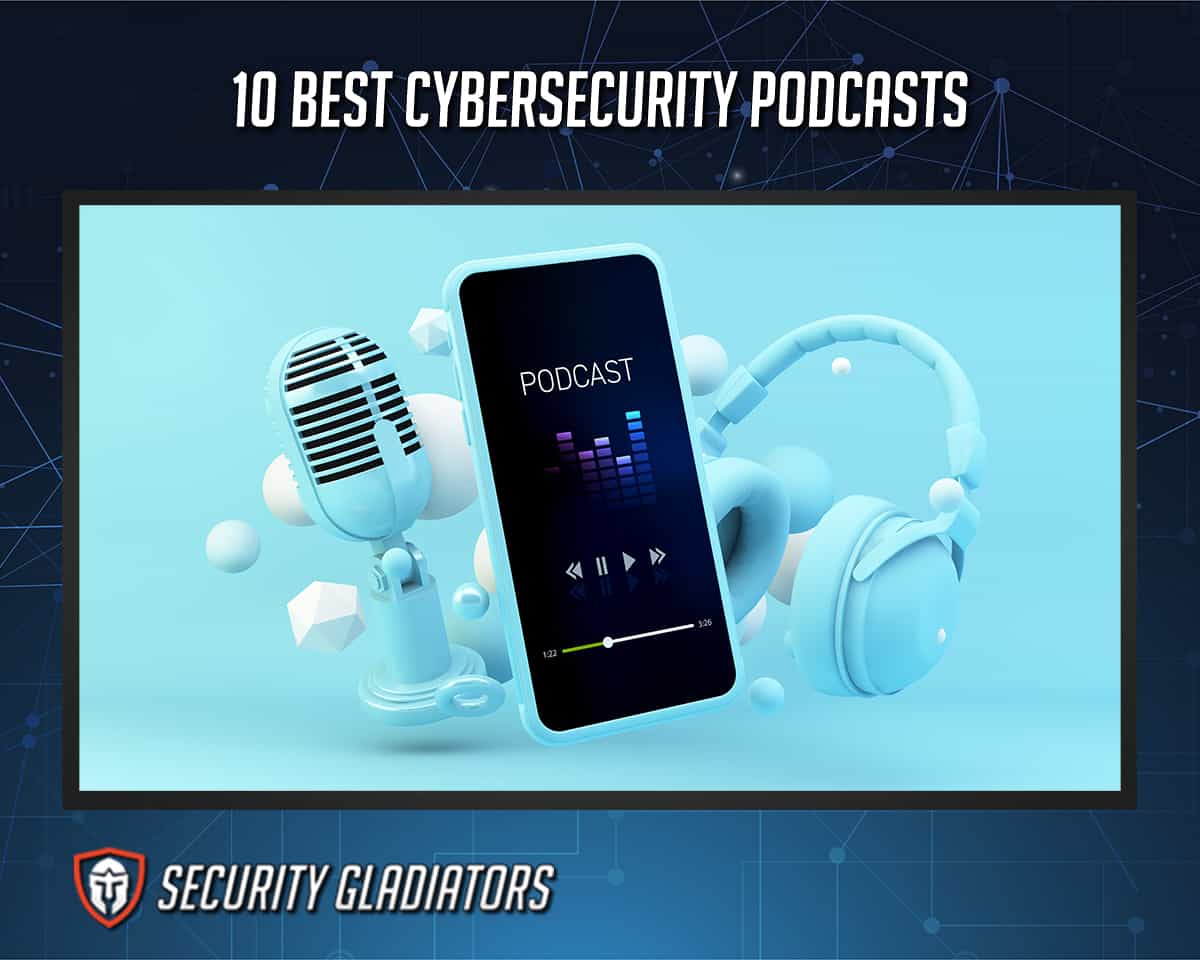 Podcasts about cybersecurity offer people the latest news analysis from experts in the field, as well as a deep dive into key cybersecurity issues or concepts. Podcasts on cyber security teach business owners to safeguard their computer operating systems, networks, and data against cyber threats. Additionally, business owners will be able to implement simple cybersecurity strategies.
Here are the 10 best cybersecurity podcasts for 2023 highlighted in this article.
Unsupervised Learning
Hacking Humans
Smashing Security
Darknet Diaries
Cyber Security Today
The Social-Engineer Podcast
The Shared Security Podcast
Security Now!
Down the Security Rabbithole
The CyberWire Daily Podcast
1. Unsupervised Learning
Unsupervised learning is one of the best cybersecurity podcasts that expounds the most intriguing developments in cybersecurity, technology, and society. Daniel Miessler began the podcast in January 2015. Daniel Miessler is a digital security expert who provides a weekly update on the subject. Daniel examines the research and informs people about how current IT and security issues will shape the digital lifestyle. Daniel believes in self-awareness, which has prompted him to devote quality time to cybersecurity study daily.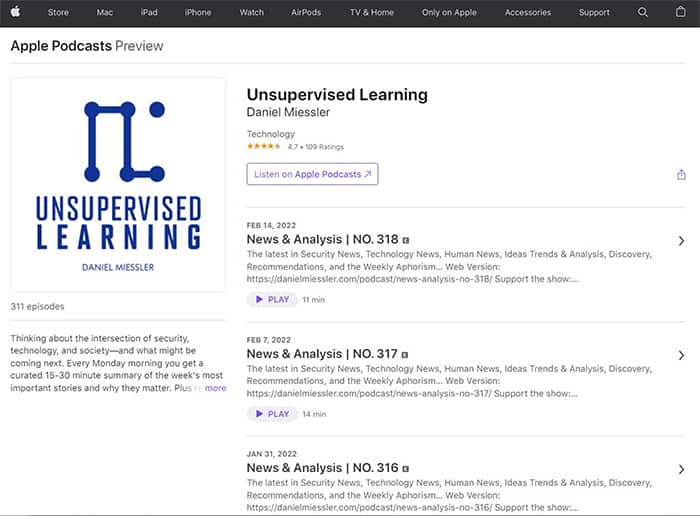 Unsupervised learning is ideal for businesses, IT/Cyber security professionals, and beginners interested in learning about cybersecurity. The podcast aims to provide educational understanding about the convergence of security, technology, and society, with the view that this will determine the future.
Unsupervised learning is a brief cybersecurity podcast, with episodes lasting 30 minutes on average. On the other hand, Daniel covers such a broad range of topics and brilliantly connects everything to make people understand the idea. This Unsupervised Learning podcast is available on iTunes, Overcast, Stitcher, and Spotify. Some of the issues discussed on Unsupervised Learning are reports from ENIGMA conferences, Google security breaches, and cyberwar updates. Unsupervised learning airs every Monday morning for short episodes lasting between 15 and 30 minutes.
---
2. Hacking Humans
Hacking Humans is a podcast that covers social engineering scams, phishing attempts, and criminal exploits on businesses worldwide. The inaugural edition of this podcast, hosted by Dave Bittner and Joe Carrigan, was released in May of 2018. Joe is a Senior Security Engineer with the Johns Hopkins University Information Security Institute, while Dave has many years of experience in television, journalism, and media production. For over two decades, Joe has been a software engineer and has spent the last ten years working in the security industry, focusing on usable security and security awareness. The combination of these personalities, on the other hand, makes the podcast engaging to anybody who listens.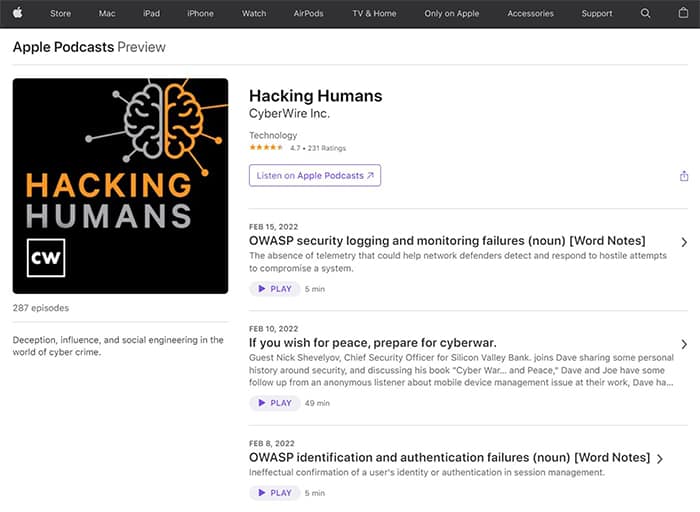 The guests on Hacking Humans are generally social engineering experts, cybersecurity experts, and scientists. This podcast aims to make the technical principles of the podcast as simple as possible for everyone. Furthermore, the purpose extends to educating people to recognize new and expected vulnerabilities and emphasize the intimate relationship between cybersecurity and human psychology. Hacking Humans educates people about the tools and techniques to safeguard personal devices from common scams. Some of the topics discussed are Phishing efforts, cybersecurity, insider threats, hackers, software history, social engineering, and other criminal exploits.
In addition, the two podcasters interview several professionals, psychologists, and people/family members who have been defrauded online. One of their most popular episodes interviewed Penn & Teller, the famous magicians, and entertainers.
People can access Hacking humans on Spotify or any other podcast listening website. This podcast is usually broadcast weekly on Thursdays for a maximum of 40 minutes.
---
3. Smashing Security
Smashing Security is an educational and entertaining cybersecurity podcast, first broadcast in December of 2016. Graham Cluley, a well-known cybersecurity writer, and Carole Theriault, a well-known communications expert, host this podcast.
The Smashing Security podcast invites well-known computer security experts to offer expositions on relevant topics such as cybercrime, hacking, and online privacy with a dose of humor. Past guests are Garry Kasparov, Maria Varmazis, Mikko Hyppönen, Troy Hunt, and Rory Cellan-Jones.
Smashing Security aims to analyze and educate people about the latest news and trends in cybersecurity, hacking, and internet threats. Subscribers can listen to the podcast on any podcast platform, such as Spotify, Pocket Class, Google Podcasts, Apple Podcasts, etc.
Smashing Security is one of the most popular cybersecurity podcasts, with over seven million downloads. The program received Best Security Podcast at the prestigious Security Blogger Awards in London 2018 and 2019. The podcast is also aired every week on Wednesdays, 7 PM EST (UK midnight).
---
4. Darknet Diaries
Darknet Diaries is a bi-weekly cybersecurity podcast that provides both education and amusement to listeners. Jack Rhysider released the first episode in October 2017. Jack Rhysider is a seasoned security expert. Jack developed an expert knowledge of security working in a Security Operations Center for a Fortune 500 business. While working in the Security Operations Center, he collaborated with a variety of organizations.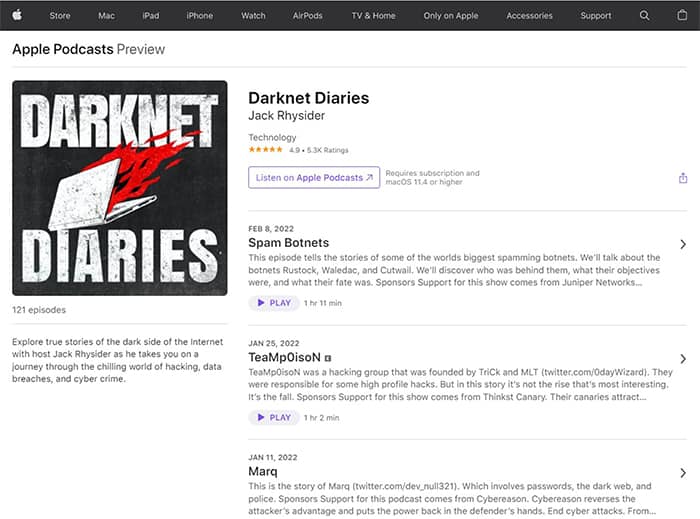 Some of the central topics of the podcast are Hackers, breaches, APTs, shadow government activity, hacktivism, cybercrime, and other topics on the dark side of the internet. The guests on the Darknet Diaries podcast are Chris Kubecka, Alberto Daniel Hill, John Scott-Railton, Dave Kennedy, and Jordan Harbinger.
Darknet Diaries creates audio stories that use journalistic standards to capture, preserve, and explain the culture surrounding hacking and cyber security to educate and entertain expert and non-technical audiences. The suspenseful storyline will pique the interest of the casual listener who is concerned about security. Security analysts will also benefit from the podcast discussion. People can find Darknet Diaries on Stitcher, Apple Podcasts, Google Podcasts, and Spotify. Darknet Diaries airs new episodes every two weeks on Tuesdays, and each episode lasts roughly 60 minutes.
---
5. Cyber Security Today
Cyber Security Today is a cybersecurity podcast covering the latest cyber risks to businesses, data breach announcements, and how people can secure business in an increasingly dangerous world. The podcast has been running for several years and is . hosted by Howard Solomon, a contributing writer on cybersecurity for ITWorldCanada.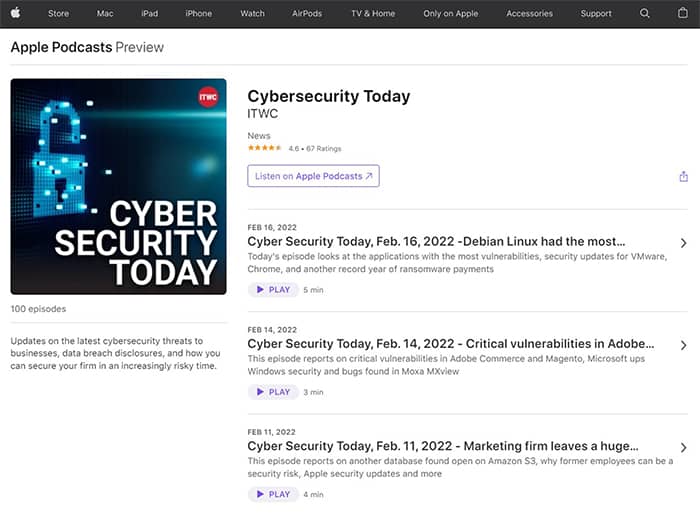 Howard Solomon, a cybersecurity writer, researches and analyzes current cybersecurity issues and aims to keep individuals informed about security trends and threats to businesses. The podcast is 25 minutes long on average. People can access this podcast on Apple Podcasts and Google Podcasts.
---
6. The Social-Engineer Podcast
The Social-Engineer Program is a monthly cybersecurity podcast that delves into human behavior and its implications for data security. According to the podcast, individuals and businesses can utilize social engineering to obtain an advantage in life. Christopher Hadnagy and The Social-Engineer, Inc Team host the podcast, which began in October 2009.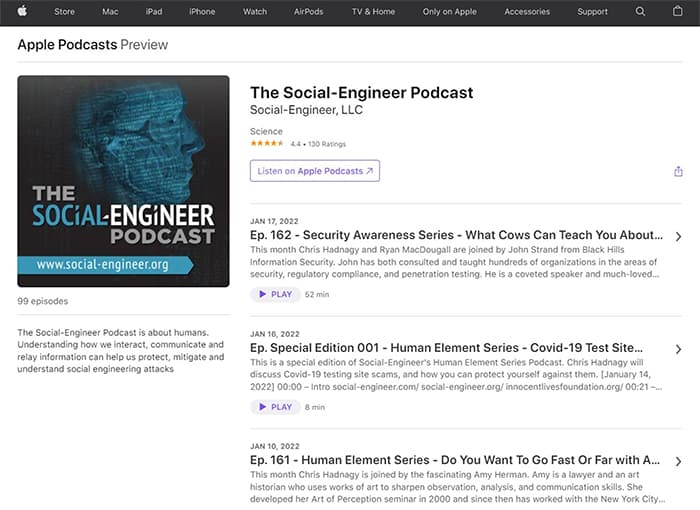 Guests from various backgrounds join the program to discuss human decisions and associated implications for cybersecurity. Amy Herman, Paul Asadoorian, Les Correia, Dr. Cortney Warren, Michael Roderick, and others have appeared on the show as guests in the past.
This podcast tackles human psychology in addition to the core cybersecurity themes. The social-engineering podcast aims to discover and eliminate all socially engineered cybercrimes and their consequences for IT infrastructure. Thanks to the podcast, people will be able to find the secret to ultimate safety in this terrifying digital environment. The podcast covers expositions on internet privacy, disinformation strategies, and the psychology of social engineering.
Every 2nd and 3rd Monday of each month, the podcast airs new and fascinating episodes. The Human Element Series, which is released on the second Monday, and the Security Awareness Series, released on the third Monday, each have specific monthly themes. Some of the topics discussed on the Social-Engineering Podcast include online privacy, misinformation strategies, the psychology of social engineering, the Human Element Series, Security Awareness Series, and other topics. The podcast is available on Spotify and iTunes and has an average episode duration of 50 minutes.
---
7. The Shared Security Podcast
The Shared Security Show is a weekly podcast that provides information, recommendations, and interviews on living more securely and discreetly in today's connected society. This podcast has been running since 2009. The program is hosted by two podcasters, Tom Eston and Scott Wright, both cybersecurity and privacy experts. Scott Wright is a cyber security auditor and researcher, whereas Tom Eston is an ethical hacker and security enthusiast.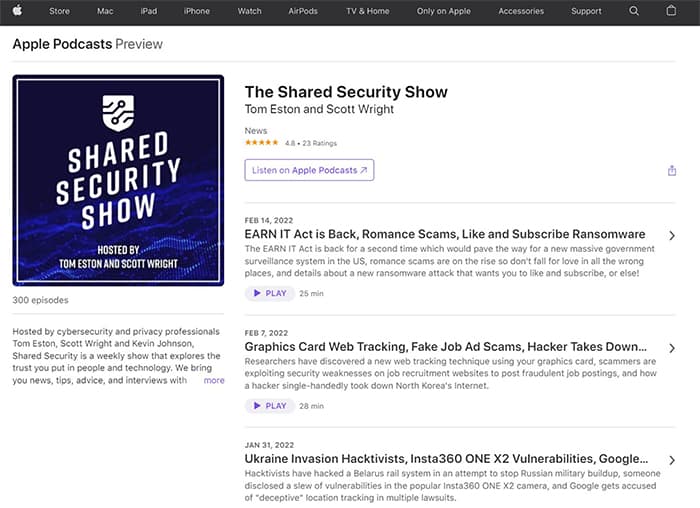 Professionals are invited as guest speakers on the Shared Security podcast to educate listeners on avoiding cybersecurity problems. Kathleen Smith, Chief Marketing Officer at ClearedJobs, and Kevin Johnson are two guest speakers. Some of the topics discussed include Five Eyes surveillance updates, WhatsApp privacy, election safety in terms of hacking, and business email breach scams.
This podcast aims to educate people on the hazards, consequences, and safety procedures that come with the interconnected world. The Shared Security Podcast argues that many people rely on "shared" platforms and technology in today's interconnected world, which might pose some threat.
The show's content is split into two parts: an old-school Shared Security podcast that seldom comes and weekly updates that are given every week. When the main podcast drops, subscribers can count on the hosts to address the week's most important themes, while the guests provide in-depth talks guided by genuine experience. The podcast's typical episode duration is 20 minutes, and there are about 5 episodes per month. The podcast is available on Stitcher, iTunes, Google, YouTube, Spotify, Overcast, iHeartRadio, and other platforms.
---
8. Security Now!
One of the best cybersecurity podcasts is Security Now!, which discusses a wide range of events in the cyber world. The podcast discusses some of the most current, relevant, and important cybersecurity topics to keep people aware and prepared to protect themselves from cyber threats. With an average episode duration of 100 minutes weekly, the Security Now! podcast launched on August 18, 2005. Steve Gibson and Leo Laporte, the program hosts, discuss cybersecurity in extensive detail.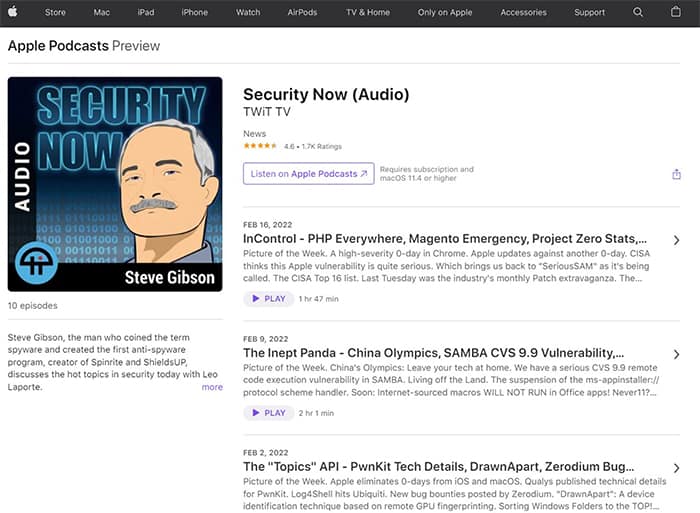 Without any guest speakers, Steve Gibson, the man who came up with the term spyware and invented the first anti-spyware tool and the author of Spinrite and ShieldsUP, speaks with Leo Laporte about the most pressing security issues today.
Each week, the podcasters dissect and simplify complex problems to provide clarity and broad knowledge to everyone. This podcast employs a conversational approach to discuss cybersecurity challenges with a unique sense of humor.
Security Now aims to keep people's cybersecurity knowledge up to date. Some of the commonly discussed topics on the podcast are malware, ransomware, and hacks, digital service outages, and their impacts, password, authentication, etc. In addition to being a long-form podcast with much exposition, each episode includes Steve's notes and a transcript in three different formats. Every two weeks, the hosts also read a selection of questions from the audience. Users may listen to Security Now on iTunes, RSS, and Podnova.
---
9. Down the Security Rabbithole
Down the Security Rabbithole is a popular business-oriented cybersecurity podcast. This podcast aims to provide listeners with a comprehensive understanding of hacks, risks, threats, and technology to make informed personal and commercial decisions. The program first aired in 2011 and focused on themes related to cybersecurity. Rafal Los and James Jardine co-host the podcast.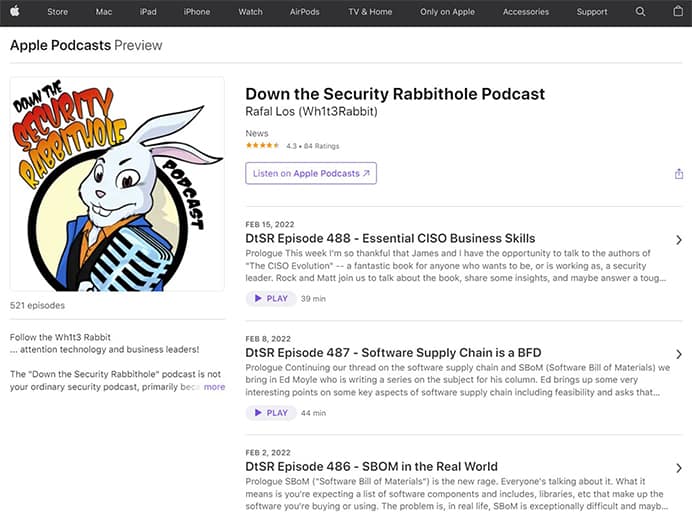 Some of the topics discussed in the podcasts are "The 31st Human Right," "Tales of Wireless Hacking," and "Insuring Against Acts of Cyber War." Mark Simos is a frequent guest on this show. Tom Nichols, author of "The Death of Expertise," and Allan Alford are among the other guests.
The podcast Down the Security Rabbithole focuses on security from a business standpoint. Regular guests appear to discuss current events and provide professional commentary on the latest information security trends and developments. Every week, the podcast's average episode duration is 45 minutes. People can access the podcast on various platforms, including RSS, Apple Podcasts, Stitcher, Google Podcasts, and others.
---
10. The CyberWire Daily Podcast
The CyberWire Daily Podcast is a daily cybersecurity news podcast that airs every weekday and features interviews with a wide range of professionals worldwide. David Bittner hosts the podcast, which started in 2015. CyberWire is distinct from other podcasts in that the podcast is solely news-related, combining all relevant information on the most recent advancements in the field of information security.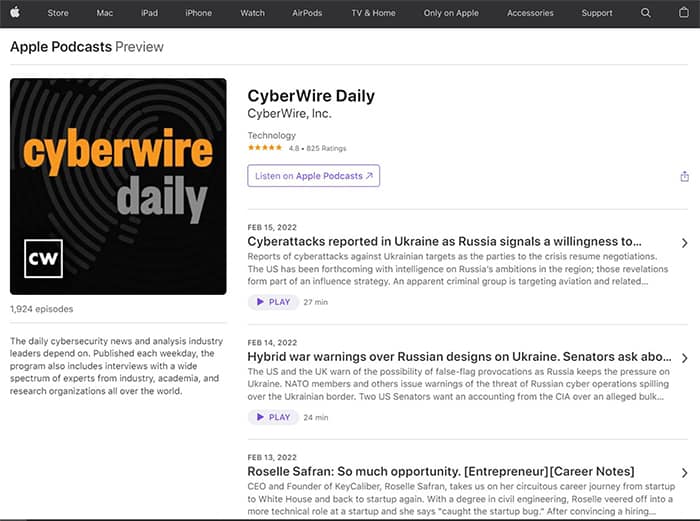 Guest speakers from academics and research provide in-depth presentations on various topics. Some guest speakers are Alissa Knight, David Brumley, Marina Ciavatta, and others. This podcast aims to provide clear and straightforward coverage of the most recent stories that everyone needs to know.
People can find this daily podcast on RSS, Apple Podcasts, Google Podcasts, Pandora, Castbox, Overcast, Spotify, Stitcher, and various other platforms. A new episode of the CyberWire Daily Podcast airs each weekday morning, usually lasting less than 30 minutes.
---
How can Cybersecurity Podcasts Benefit You by Improving Cybersecurity Skills?
C
hoosing a cybersecurity job necessitates a willingness to develop new skills or improve existing ones. As a result, people can build needed abilities through various learning channels. On the other hand, podcasts are proving to be a useful tool for professionals who want to keep professional skills up to date. People can use cybersecurity podcasts to enhance learning and growth because podcasts have a variety of advantages.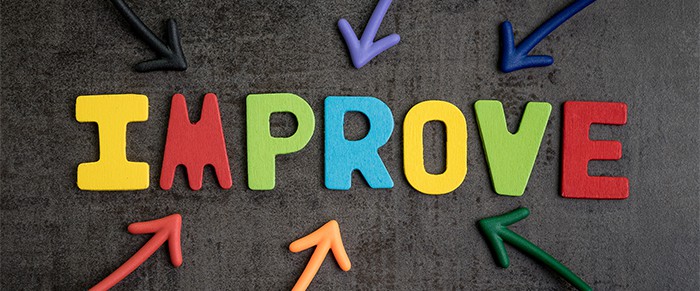 These expert-led and thoroughly researched recordings are quickly gaining popularity and can assist beginners and experts in exploring areas of interest, facilitate remote learning, and eventually improve employees' skills. Podcasts on cybersecurity can reach a large audience. Podcasts can provide remote learning to anyone, covering specific areas of interest outside of more formal settings such as college classrooms, conferences, and online courses.
Note:
Cybersecurity podcasts keep listeners informed about new
cybersecurity skills
individuals should learn. Listeners can also gain insight into cyber events and make credible forecasts based on professional analysis.
Where can You Listen to Cybersecurity Podcasts?
People can listen to cybersecurity podcasts on any of the listed platforms.
Spotify
Stitcher
RSS
Apple Podcasts
Google Podcasts
Pandora
Castbox
Overcast
iTunes
YouTube
iHeartRadio
Pocket Casts
Podnova
Are Cybersecurity Podcasts Free?
Yes, anyone may listen to cybersecurity podcasts for free. There are, however, premium content-delivering cybersecurity podcasts that charge listeners to gain access to the topics. Sponsorships are the primary source of income for podcasters. The podcast promotes the sponsor in the middle, or sometimes at the beginning or end of the episode, often multiple times. Other ways of making money include advertising, crowdsourcing, conferences, premium content, and various other methods.
Who are the Famous Podcasters in Cybersecurity Podcasts?
Some of the famous podcasters in cybersecurity podcasts are security experts with several years of experience researching viruses, malware and combating cyber threats. Also, some of the best cybersecurity experts are ethical hackers, security researchers, security auditors, etc. Some of the famous cybersecurity podcasters are listed below.
Daniel Miessler
Steve Gibson
Jack Rhysider
Tom Eston
Scott Wright
David Bittner
Are Cybersecurity Podcasts Suitable for Beginners?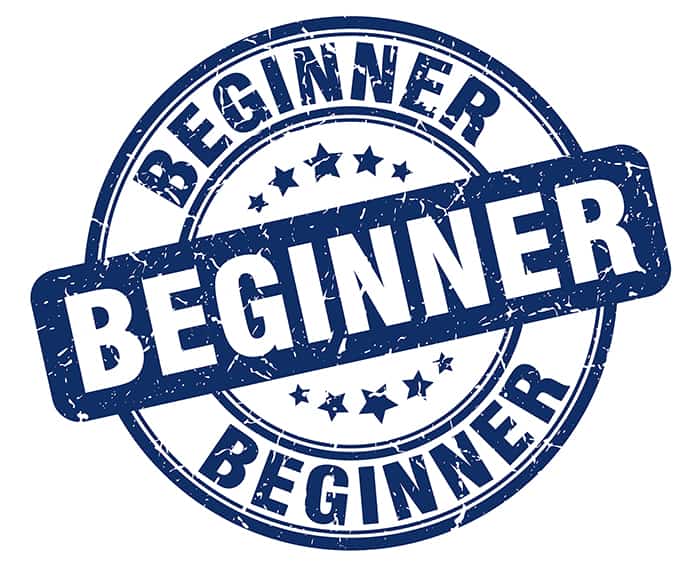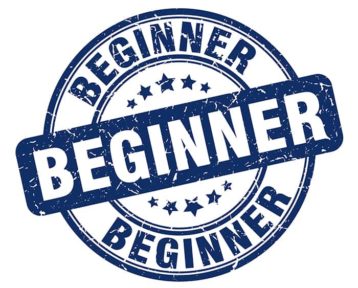 Yes, cybersecurity podcasts are appropriate for beginners who need a basic understanding of information security. Cybersecurity can be a very broad topic that might be overwhelming for beginners. Podcasts on cybersecurity might help beginners to gain a thorough understanding of the subject. However, there are numerous cybersecurity podcasts available that cover topics, including education, news, business, career updates, and the history of modern cybersecurity. There are a variety of podcasters with various educational backgrounds and perspectives. Beginners must first identify which subject area of cybersecurity is of interest before selecting a podcaster from the large list.
Before deciding on a podcast, listen to a few different ones. To subscribe to any favorite podcast, go to a podcast platform such as Spotify, Stitcher, or Apple Podcasts. Some of the available podcasts are Darknet Diaries, Hacking Humans, Smashing Security, Unsupervised Learning, and others.