F
ast internet speeds make for a better user experience with all online tasks, such as banking, streaming, gaming, and downloading. This guide will list the best countries with the fastest broadband internet speeds, then cover some key concepts, including the definition of Mbps, how countries provide fast internet, and the infrastructure needed for fast broadband internet. Finally, the best internet speeds for the average user will be explained, followed by the factors that affect speed, tools to increase/decrease internet speed, and whether or not VPN services increase internet speed.
The term internet speed refers to the speed that data travels between the user's device (laptop, smartphone, tablet, or desktop) and the wider world of the internet at any given moment. The most convenient unit to measure internet speed is currently Mbps. Internet speed is a very important measure for online users as it has such a dramatic impact on the type of activities that can be performed. Knowing internet speed is also an important factor relating to consumption requirements and whether or not the internet service provider is actually supplying the internet speed mentioned in the advertisement and contract. Some of the factors that affect internet speed include the type of internet connection, the hardware used, the total number of users on the same network, and the presence of malware on the user's device or network. The best countries with the fastest broadband internet connection are the ones that offer a cheap broadband internet connection, widespread coverage, and a reliable connection that works all the time.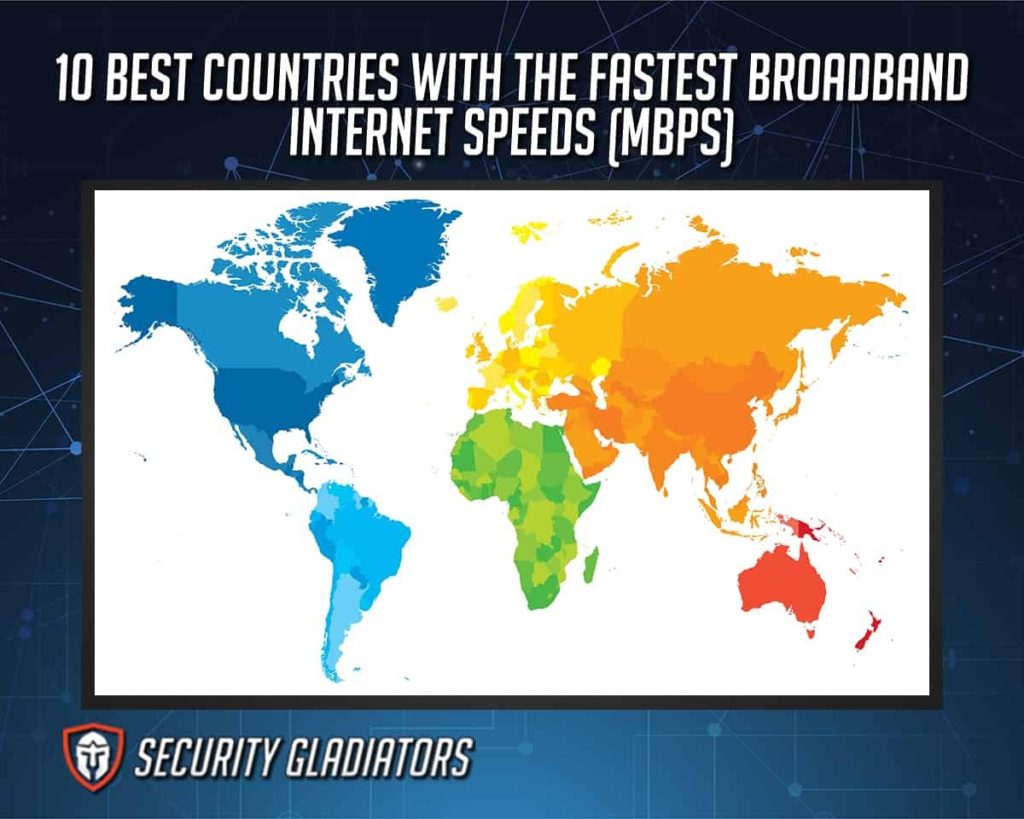 The top 3 countries with the fastest broadband internet speeds are given below:
Monaco
Singapore
Hong Kong
1. Monaco
Monaco has one of the best internet infrastructures in the world with multiple broadband options available to citizens. The principality offers cable modem connections, DSL connections, Fiber to home and several other types of fixed broadband connections in addition to fixed broadband subscriptions and satellite broadband. The maximum download speed in Monaco, according to speedtest, is just over 300 Mbps while the average download speed is 259 Mbps. The maximum upload speed in Monaco is 191 Mbps while the average upload speed is around 180 Mbps. Some providers, such as Monaco Telecom, provide up to 10Gbps internet connections.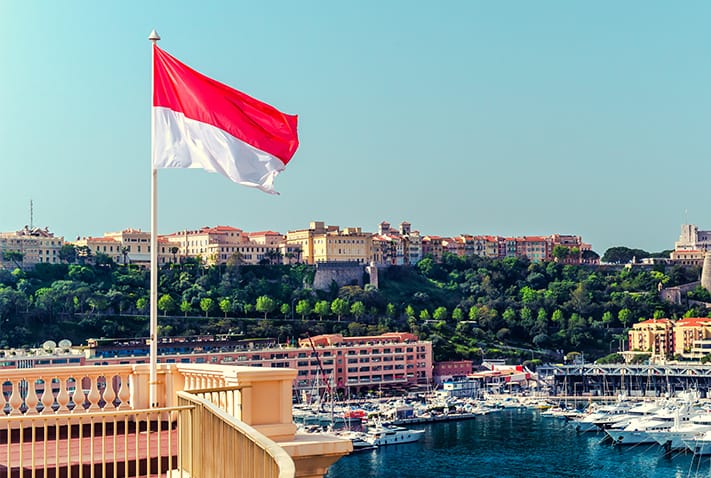 Monaco supplies fast internet to the region's population with help from world-class fixed broadband service providers. Specifically, Monaco Telecom introduced gigabit-level broadband service available for residential use via FTTH (Fiber to the Home) technology. This helped Monaco boost average and max speeds from 2016 onwards.
Over 60%of the population in Monaco have access to fiber to the home internet technology while Monaco Telecom believes this percentage will rise to 100 in the near future.
Monaco ranks as the best country with fast broadband internet speed because of how widespread internet connectivity is, offering great reliability with plenty of options to access fast internet. Of course such an excellent service comes with a proportionate price tag: the average cost of an internet subscription in Monaco is approximately €60 per month.
2. Singapore
Singapore is the second country on this list, offering excellent and fast broadband internet. The infrastructure for network connectivity is truly massive for such a small country. Singapore has over 11 million internet subscribers and multiple broadband service providers (M1, StarHub, Singtel, ViewQuest) to push connectivity rates over 99 percent.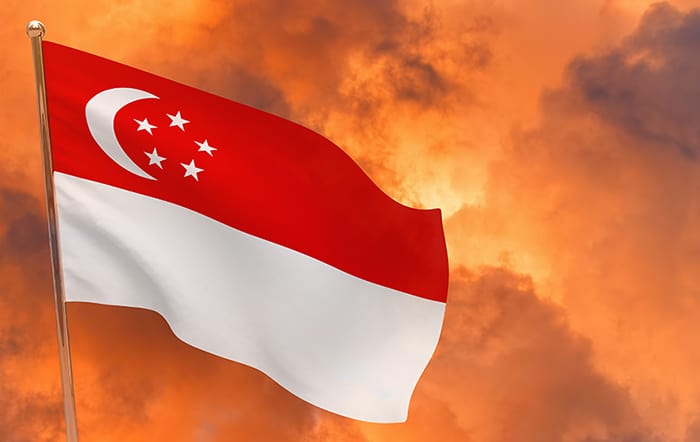 According to speedtest, the average download speed via mobile internet is around 123 Mbps (upload average is close to 20 Mbps). For fixed broadband, the average download speed pushes up to 280.67 Mbps (upload speed also increases to 255 Mbps). The maximum speed in Singapore is around 800 Mbps (provided by broadband services such as ViewQuest and MyRepublic). With that said, even as early as 2014, researchers in Singapore had access to 100 Gbps networks.
Singapore makes use of the same technologies as other fast-speed countries including 2 Gbit fiber broadband networks and business-grade internet packages. One of the ways Singapore has pushed broadband speed upwards is by phasing out ADSL and cable customers.
Generally, Singapore has three types of broadband service providers, including optical fiber, Wireless SG and mobile broadband providers. Within the optical fiber broadband providers, the three types of services are network companies (of which there is only one in Singapore), operating companies and retail service providers (these are the companies users subscribe to for internet access). In terms of internet exchange points, Singapore currently has three, including SGIX, SOX and EIE.
Singapore is considered one of the best countries with the fastest broadband internet speeds because of great availability (according to The Economist Internet Inclusive Index, Singapore is ranked 1st with the country providing fast internet to over 83%of the population), tremendous affordability (The Economist Inclusive Internet Index ranks Singapore 2nd in the world), and a decent readiness score (ranked 33rd in the world by The Economist Inclusive Internet Index). Readiness is defined as the population's education level, government policy and safety measures in the online space.
3. Hong Kong
Hong Kong has consistently ranked one of the countries with the fastest broadband internet speeds. The infrastructure in the region has been regularly updated since the early 2000s where the government has consistently launched digital initiatives to not only make high-speed internet available to more citizens but also to move offline government services online. The lack of strict regulation means telecom companies can quickly deploy the latest technologies increasing network complexity and capacity. From 2006 onwards, the government in Hong Kong paid special attention to Wifi services and residents having access to WiFi services in various public places, such as government buildings, some private buildings and libraries, in addition to WiFi spots at locations such as public venues and transport terminals. As a result, Hong Kong today has over 3500 WiFi hotspots offering high speed internet. Hong Kong also has connections to even more countries via undersea cables which are continuously being developed even more. The maximum speed in Hong Kong is around 10 Gbps as far as broadband wired connections are concerned. China Mobile Hong Kong recorded the fastest mobile speed clocking in at 66 Mbps median speed.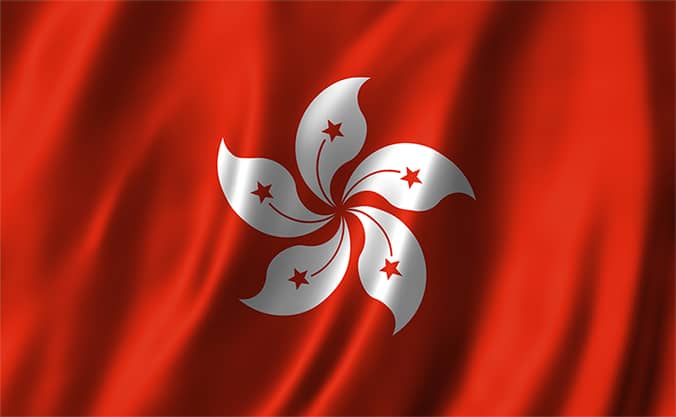 According to Speedtest.net, Hong Kong offers an average download speed of 97 Mbps on mobile (with 20 Mbps upload speed). On fixed broadband, Speedtest reports that Hong Kong broadband service providers offer an average of 271.31 Mbps download speed (with 225 Mbps upload speed).
Hong Kong has managed to stay near the top of the best countries with the fastest broadband internet speed by investing heavily in new infrastructure and leaving room for future upgrades. For example, Hong Kong was the first region that invested much in the FTTH or Fiber to The Home technology. In addition, Hong Kong has an aggressive price structure which allows for more internet connectivity and competition between service providers. Another contributing factor to fast internet is fast local connectivity. Hong Kong service providers make sure people have access to local and popular sites at all times and with record low load times.
The Hong Kong Internet Exchange makes sure that internet service providers are able to exchange information locally without the traffic ever going through servers located in western countries. The HKIE is the biggest internet exchange point present in the whole of Asia. With multiple core sites and satellite sites, the HKIE is able to connect to 10 GBit/s networks. Finally, HKIE provides connections to over 280 ASNs around the world in a network that can reach 100G speeds.
Hong Kong is considered one of the best high-speed countries because of a huge internet infrastructure (enabled via multiple government programs since the early 1990s), high availability (over 89%of the population have access to broadband internet) and internet as cheap as $15 per month.
4. Romania
Romania is an unexpected entrant in the list of best countries for fast broadband connection. But the infrastructure for broadband connectivity in the country is impressive. Surprisingly, Romania has consistently ranked inside the top 5 countries with the highest average fixed broadband speeds. Romania has widespread coverage for fixed internet as well as 3G and 4G access points and over 70%of the population has access to download speeds exceeding 100 Mbps. Romania is also one of the earliest providers of 5G mobile internet in the world. Multiple operators offer 5G and fixed broadband connections which further strengthen the internet infrastructure in the country. Internet service providers in Romania are able to offer up to 1 Gbps (download speed) connections. The average mobile download speed in Romania (according to speedtest) is 81 Mbps (upload speed close to 17 Mbps). For fixed broadband speeds, Romania is able to offer average download speeds of 245 Mbps (upload speeds of 209 Mbps).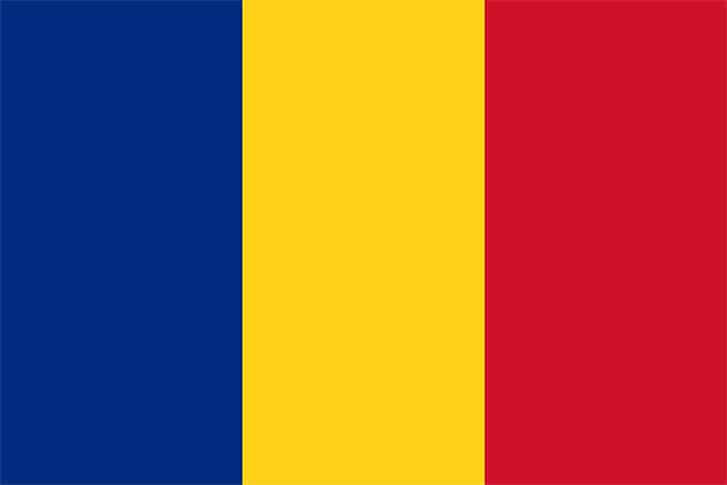 Internet service providers in Romania are able to provide high speeds because of the small size of the country and low population, combined with the high demand. Local entrepreneurs in Romania also launched internet services that only catered to a low number of blocks rather than whole cities in a bid to achieve higher speeds.
Over 60%of the population in Romania has access to the internet with a multiple number of technologies enabling fast broadband connections. Currently, Romanians can access fast internet via FTTH, FTTB, FTTC, FTTN and coaxial cables. Additionally, Romania also has free public WiFi Hotspots (enabled by companies such as Orange Romania, Vodafone România and Digi WiFi via RCS&RDS).
Romania has managed to rank well among the best countries for fast broadband internet speeds because of high availability, cheap prices (as low as $9 a month) and decent reliability. The Economist Inclusive Internet Index has ranked Romania 30th in the list of countries with the best internet facilities, on par with Russia and Austria. The Economist Inclusive Internet Index has also ranked Romania 18th in the world for network availability, 25th in the world for internet affordability and 60th for internet readiness.
5. Switzerland
Switzerland offers one of the fastest broadband internet speeds not just in Europe but also in the entire world. The internet infrastructure in Switzerland is complex, varied and resilient with multiple service providers for fixed broadband and mobile internet. Add to that the availability of older options such as dial-up, DSL, cable internet, ADSL, VDSL, satellite access, and xDSL, as well as newer options such as Fiber connections and Switzerland boasts a nation-wide, efficient internet infrastructure.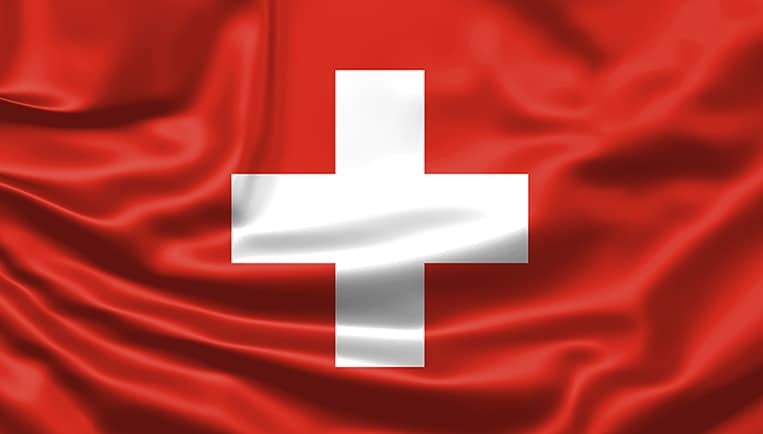 The max speed in Switzerland is close to 10 Gbit/s courtesy of providers such as Swisscom. According to SpeedTest, the average download speed on mobile connections in Switzerland is close to 140 Mbps (upload speed nearing 27 Mbps). On the other hand, the average fixed broadband speed in Switzerland is close to 255 Mbps (upload speeds can reach up to 170 Mbps).
The government and broadband service providers have enabled high-speed infrastructure through aggressive market-driven internet access expansion while continuing to invest heavily in developing existing infrastructure. The Swiss government actively legislates to attract investment and innovation in network infrastructure to keep Switzerland near the top of the fastest broadband internet rankings.
As a result, the Economist Inclusive Internet Index ranks Switzerland 10th in the world overall for fast internet access. More specifically, the Economist Inclusive Internet Index ranks Switzerland 4th in terms of internet availability, 40th in terms of affordability and 25th in terms of readiness (which includes government policies, local content and the general population's eagerness to adapt to newer technologies).
Switzerland ranks well in the best countries for fast internet because of high reliability and availability (over 93%of the population have internet access) and relatively economical packages ($50 per month for a 10 Gbps connection from a provider like Salt Fiber).
6. Denmark
Denmark is another unexpected entrant in the list of best countries for fast broadband internet and for good reason. With over 5.4 million internet users in the country, the infrastructure is big enough and stable enough to provide fast internet to such a large user base. Similar to other developed countries, Denmark also has multiple broadband service providers that cover the population via multiple internet channels (fixed broadband, mobile broadband, WiMax, and DSL) as well as varied subscription packages.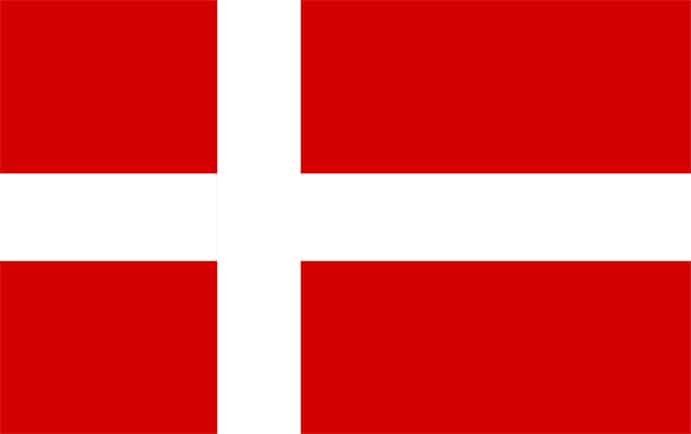 The fastest internet speed offered in Denmark is around 1000 Mbps. Speedtest lists Denmark as having an average download speed of 163 Mbps when on mobile (upload speed 25 Mbps). Fixed broadband speeds increase to 243 Mbps on average (upload speed to 172 Mbps).
Denmark is able to provide fast internet to citizens via the state-owned telephone company TDC. TDC offers FTTH for both businesses and private residential users. The more conventional coaxial cable and xDSL internet connections are also available. Mobile broadband internet options in the country are more varied than fixed-line broadband as there are 4 major broadband service providers. Multiple broadband providers provide 2G, 3G, 4G, and 5G internet to citizens who also happen to have access to newer technologies such as FTTP, FTTH, VDSL2, DOCSIS, and WiMax. Denmark's network infrastructure is truly the next generation. Some of the reasons why Denmark is considered one of the best fast broadband countries include somewhat affordable internet (around $28 for a 300 Mbps connection), and great coverage (close to 95%of the population has access to reliable internet). Denmark also scores high in The Economist Inclusive Internet Index scoring 19th overall. The same index ranks Denmark 7th in the world for internet availability (which measures metrics such as levels of usage, quality of infrastructure, electricity, and the actual infrastructure), 29th in the Affordability category and 20th in the Readiness category.
7. Thailand
Thailand has continued to rank inside the top 10 best countries with fast broadband internet connections. In fact, the country was one of the first countries to introduce 4G mobile internet back in 2015. There is a balanced mix between mobile and fixed broadband users which indicates good infrastructure for both types of network access. This is in part due to Thai USO, a fund that was set up in 2005 to ensure people in the country had internet access. Additionally, the government in Thailand has invested resources to provide broadband internet services even in villages. Currently, Thailand has 10 international gateways and 8 submarine cables, ensuring reliable internet access throughout the country. The government in Thailand has also invested in data centers to attract more technology companies into the region and pave the way for investments in an even faster internet infrastructure. The maximum speed broadband services offer in Thailand is close to 1 Gbps.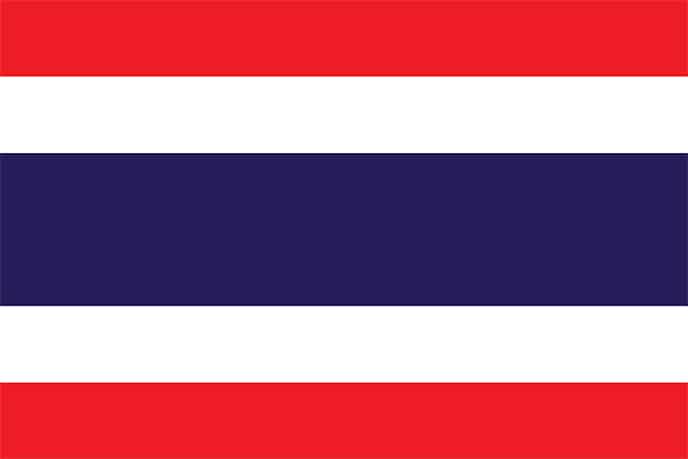 According to Speedtest, Thailand has an average mobile download speed of 73 Mbps and an average upload speed of 18 Mbps. The average download speed for fixed broadband connections is around 240 Mbps while the upload speed is 190 Mbps.
As previously mentioned, the government in Thailand has ensured fast internet connection by developing not only telecom infrastructure quickly but also by encouraging healthy competition between local operators. The vast majority of users who get fast internet use Fiber Optics internet connections. Thailand, like most countries with fast internet connections, has slowly shifted away from ADSL connections. Having a unique mix of ADSL, Fiber Optics and mobile internet has ensured that people living in the country have access to fast internet at all times.
With multiple data centers placed in strategic cities such as Bangkok, Chiang Mai, Khon Kaen and Phuket, along with multiple internet providers offering network access via wireless, Fiber, MPLS, Lease Line, Cable, ADSL, SDSL, Dial-up, FTTH, VDSL2 and an internet market with no monopolies, it is easy to understand why Thailand has ranked amongst the fastest broadband internet countries.
Thailand is considered one of the best countries for fast internet because of relatively cheap subscription packages (less than $20 for a 1Gbps connection), a wide user base (close to 80%of the population has internet access) and high reliability (multiple broadband providers with lack of a dominant provider and multiple submarine cables).
The Economist Inclusive Internet Index ranks Thailand 40th in the world in the overall quality of internet access in the country. More specifically, Thailand is ranked 22nd in network availability, 34th in internet affordability, and 56th in readiness (which includes metrics such as government policy, and cultural acceptance).
8. Chile
Chile consistently ranks amongst the fastest broadband countries in OECD as far as average internet connection speeds are concerned. Since 2020, there has been an increase of 62%in the total number of fiber optic connections in the country. The infrastructure in the region has also been boosted by a combination of public-private partnerships and investments. Fibra Optica Austral and Fibra Optica Nacional are two of the biggest expansion projects in recent history. The government in Chile has not only deployed fast fixed broadband connections but has also developed mobile internet networks which has led to Chile offering 3G and 4G connections with the capacity to upgrade to 5G relatively easily in the near future.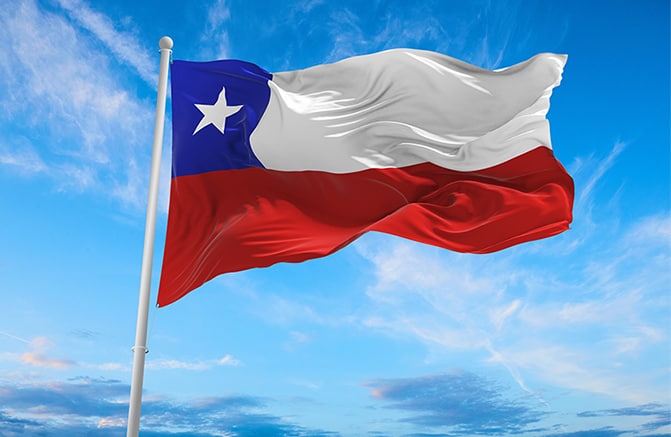 The maximum speed internet service providers offer in Chile is 1Gbps and Speedtest by Ookla reports that the average download speed for mobile internet users is 58 Mbps (upload 15 Mbps) in Chile. Fixed broadband users can expect average download speeds to reach 260 Mbps (upload speeds can go as high as 204 Mbps).
Broadband service providers provide fast internet connections to residents of Chile via Ethernet modems, routers, USB devices, and other technologies. Almost all of the fast internet connections are provided by private organizations. The major players in Chile are Entel, Movistar, VTR and GTD Manquehue. Additionally, Chile offers contract internet, prepaid internet and free WiFi zones. The Chilean government and private companies also offer fast internet in places such as schools, universities, and cybercafes in addition to office and home networks to further increase network access and supply reliability. Some of the biggest companies that provide broadband access include Mundo Pacifico, Entelphone, Claro and VTR.
Chile broadband providers use technologies such as FTTH, LTE Wireless, and HFC to offer a variety of methods to consume different internet bandwidths.
As far as the reasons for Chile being among the fastest broadband countries in the world, the list includes relatively affordable fast internet packages (starting from $21 per month), widespread coverage (close to 80%of the population has internet access) and reliability (multiple service providers with multiple different technologies to use).
The Economist Inclusive Internet Index ranks Chile 16th overall and ranks Chile 27th in Availability, 13th in Affordability and 4th in Readiness (showing government initiative).
9. France
The broadband internet infrastructure in France is based on multiple providers offering multiple subscription packages based on different technologies. As recently as 2020, the French government announced 500 million euros of investment to go into improving digital infrastructure. Even though France is ranked high in the list of developed countries (as measured by the HDI index), the infrastructure in France is slightly old which is the main reason why France isn't ranked higher on this list. Among a list of projects to improve France's network infrastructure, the most important one is PFTHD (or Plan France Tres Haut Debit) which aims to provide fiber optic connections to 80%of the population.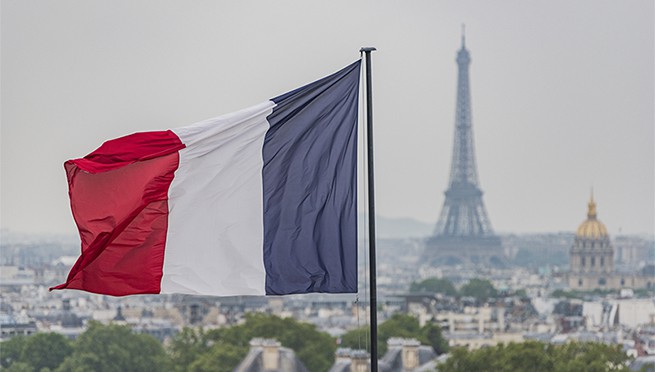 The maximum speed broadband providers in France can reach is 6 Gbps (which is download speed. The upload speed cap is around 1 Gbps). Practically though, users should expect max speed packages of 1 Gbps or 2 Gbps at the most.
As far as the average mobile internet speed in France is concerned, the number comes out to about 112 Mbps according to Speedtest with the upload speed being close to 12 Mbps. Fixed broadband internet speed (again, according to the statistics available via Speedtest) is around 110 Mbps (with an upload speed close to 88 Mbps).
France, similar to pretty much every other country with fast internet infrastructure, provides broadband internet to the population with a combination of public investments and private companies competing to offer users the best product at the best price. With multiple service providers such as Orange, SFR, Bouygues, and Free (Iliad) all offering multiple internet products (such as ADSL and mobile internet), the overwhelming majority of the population of France has access to the internet. Other technologies that service providers use in France include Ultra Narrow Ban, satellite-based internet access (via the MUSTANG Project), POTS, VDSL, Cable, 4G, 4G+, THD, Wimax, and the standard (and newer) FTTH.
France is considered one of the top countries for fast broadband internet because of relatively affordable internet (around $30 per month), great coverage (over 91%of the population has access to the internet), massive infrastructure (close to 60 million users) and high reliability (multiple providers, multiple technologies and a healthy competitive market).
The Economist Inclusive Internet Index ranks France 4th overall for good internet infrastructure. Breaking down the ranking, France is ranked 9th in Availability, 10th in Affordability and 29th in Readiness.
10. South Korea
South Korea is more or less expected to make the top 10 list of best countries for fast internet in any given year. A big reason for this is South Korea's massive and modern internet infrastructure enabled in part by decades of good policy. Currently, the broadband connections aren't just cheap but also fast. South Korea already has 5G users numbering in the millions. The government in South Korea continues to invest in telecommunications infrastructure to not only make the whole thing more modern but also expand. Apart from massive amounts of money going into research and development of switching devices, South Korea's national Basic Information System is the biggest telecom related project which pushed people to adopt online activities quickly and gave incentives for further investment. Currently, the infrastructure in South Korea is not just capable of handling 5G speeds but also has the capability to accommodate newer technologies for faster internet in the near future.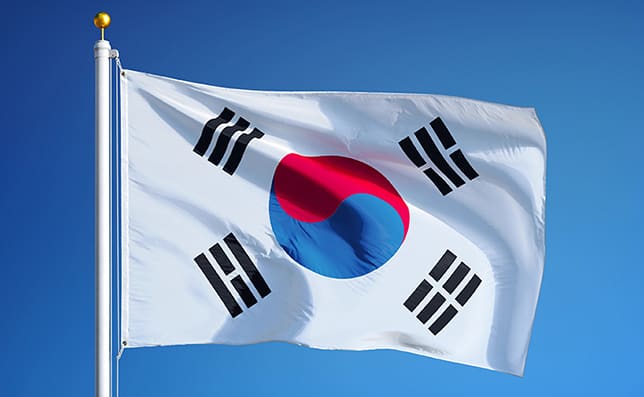 The maximum speed residential users can expect in South Korea is 10 Gbps. As far as the average speed on mobile internet connections is concerned, Speedtest reports a number crossing 243 Mbps (with 23 Mbps upload speed). Fixed broadband connections in South Korea are able to hit 242 Mbps download speed on average (with upload speed reaching 198 Mbps).
The government launched the Korean Information Infrastructure Government program in the 1990s to further improve the supply of fast internet to citizens by transitioning away from copper lines to fiber optics. The role of the government in South Korea's fast internet also cannot be overstated. With laws such as the Fair Trade Act and Monopoly Regulation, the government was able to foster healthy competition, reasonable regulation and most importantly quick deployment. The South Korean government also focused on wireless internet deployment and cost reduction which increased the number of companies offering fast 5G internet access and the number of people using 5G internet. The fact that city planners have ensured high population density (close to 80%of the population lives in urban areas) also means telecommunication companies and agencies in the country have an easier time supplying high speed internet to the entire population.
South Korea takes advantage of technologies such as ADSL, VDL, GPON, 4G, 5G, and Fiber optics to supply fast internet.
Some of the reasons South Korea is considered a great country for fast broadband internet include the massive network infrastructure (multiple providers, tons of government development programs, research and development programs, and modern technology), widespread coverage (close to 97%of the population has internet access) and high reliability (over 49 million connections, high population density and investments in newer technologies).
The Economist Inclusive Internet Index ranks South Korea 2nd for overall internet quality. The ranking breaks down to South Korea being ranked 2nd in the world for internet availability, 37th in the world for affordability and 9th in the readiness category.
What does Mbps Mean?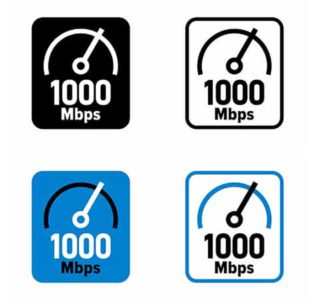 Mbps simply stands for megabits per second and is calculated by dividing the file size in megabits by the time taken to transfer the file over the internet. Most files come in sizes such as MBs or GBs (MegaBytes or GigaBytes respectively). File size can be converted to megabits by dividing the file size in megabytes by 8.
For internet users with less free time, the best way to find out the speed of a local internet connection is to go to one of the many best internet speed test websites. Once on a speed testing website, a simple click should be enough for the speed testing website to show users not just the download speed in Mbps but also upload speed and ping time.
How do Countries Provide Fast Internet?
Countries that provide fast internet do so via huge government spending in order to continuously upgrade the network infrastructure in the country and foster healthy competition between private companies offering internet subscription packages. Some countries indirectly give rise to conditions that would lead to fast internet services by educating the general population to demand more electronics and hence faster internet. Other countries have a well-developed internet culture (which often relates to a strong online gaming culture) which gives rise to demands for better and faster internet at lower costs. Private companies, as well as governments, have to respond to such demands for maximum output which then leads to investment in internet infrastructure and modern hardware/software technologies.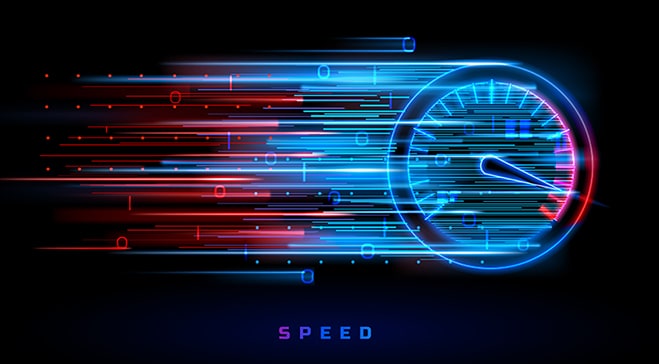 Almost all the best countries for fast broadband internet use Fiber optic internet connections or more specifically FTTH (Fiber to the Home). One way to ensure fast internet for as many people as possible is to offer multiple internet technologies. Such technologies include ADSL, VDSL, 3G, 4G, 5G, Wimax, cable connection, dial-up and satellite connections. Offering multiple technologies for internet connections may not improve the speed of the internet in a given country but the investment required to keep up such a network infrastructure pushes more investment into the telecommunications sector. This can directly lead to faster internet speeds.
What is the Required Infrastructure for Fast Internet?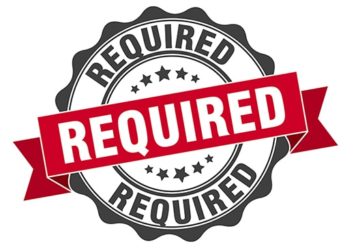 The required infrastructure for fast internet boils down to two things: a ton of fiber optic cables and massive routers. Multiple international gateways, submarine cables and data centers (to keep local content close by physically and frequently viewed content cached) within the country also help to provide fast internet. Upgrading hardware (for both users, organizations and internet service providers) every few years (such as Modems, ethernet controllers, wifi routers, optical network terminals, switchesand and access points) also helps to keep up with the times.
What is a Good Internet Speed for Individuals?
The exact good internet speed for individuals will obviously depend on the needs and requirements of the individual in question. Generally, especially in the developed world, good internet speed is considered to be around the 100 Mbps mark with at least 20 Mbps upload speed.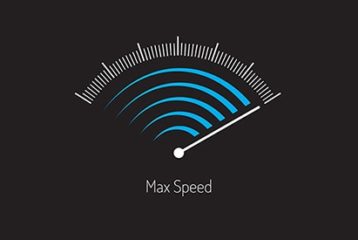 Users who are heavy consumers of content available on sites like Netflix and YouTube and have multiple users in the same household carrying out resource-intensive online activities, perhaps need 1000 Mbps or 500 Mbps internet connection for optimal viewing experience (such as 4K video content running on multiple devices simultaneously, home security devices, smart home devices, creative profession and/or a home office).
On that note, the biggest factor in determining good speed for any given individual is how many simultaneous connections will be active at any point in time. This is why internet service providers in some of the countries with fast internet offer subscription packages for 1 Gbps and 2 Gbps broadband connections.
Moving one level below comes a household where multiple people are gaming online and want to download average-sized files quickly and may be viewing UHD content on several screens (maybe not at the same time). For such households, good internet speed would be anywhere between 100-500 Mbps.
However, if the given household only has a few devices on which only HD content is consumed and online gaming sessions are held then good internet speed would be anywhere between 40 Mbps and 100 Mbps. Such an internet connection will allow household members to download large files quickly as well but perhaps not at the same time.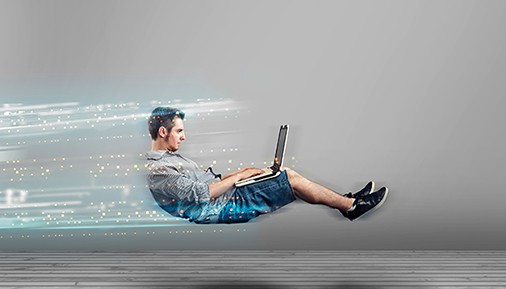 If the only device that will get internet access is the individual's own and the individual is the only person interested in online gaming and if all other activities are relatively less resource-intensive (such as FaceTime or Skype) then good internet speed would be anywhere between 5 Mbps to 40 Mbps.
Finally, if the individual knows for sure that there will only be one device connecting to the internet and the activities regularly carried out would be web searching, music streaming and email checking, then good internet speed can be anywhere between 1 Mbps to 5 Mbps.
What are the Factors that Affect Internet Speed?
For the individual user, one of the most important factors that affects internet speed is connection type. As mentioned throughout this guide, a given broadband service provider may offer subscription packages via fixed wireless, satellite, mobile internet, DSL, fiber, cable or dial-up. Choosing between such technologies will determine how fast the user's internet speed will be.
Sometimes, the web browser being used on the device can affect internet speed as well. Depending on the device and the operating system, different web browsers may affect internet speed in different ways. Chrome is faster on Android devices while Safari is great on iOS devices. Similarly, different browsers work better for different operating systems.
Hosting servers can affect internet speeds as well. Different websites make use of a variety of hosting servers. However, if the user's favorite website has signed up for an underpowered hosting server then internet speed will be affected.
Note:
Internet speed is also influenced by the connection cables running from the exchange to the user's home. As mentioned before, fiber optics will offer the greatest internet speed.
For users depending on Wifi connections or mobile internet (including 3G, 4G and 5G), the number of people in a given area will affect internet speed. Users can suffer from low signal strength if multiple users are on the same router or are using the same provider of mobile internet. If a given neighborhood is using the same channel via individual routers then that will also affect internet speed.
Router position is an important factor for individual users. The distance between the user's device and the router inversely affects internet speed when on WiFi or mobile internet. If there are big dense or metallic objects between the router and the device that needs internet access, internet speed will be affected.
One of the most obvious factors that affects internet speed is the subscription package. It is possible to opt for fiber optic connections but even in that category, different subscription packages offer different download and upload speeds.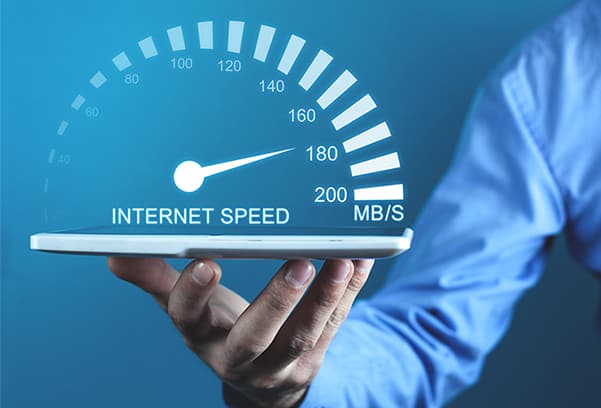 Using an ethernet cable tends to increase internet speed in most cases as wireless connections are more prone to getting disturbed by walls, roofs, unauthorized users and incorrect router settings. Wired connections bypass all such problems. With that said, even wired connections affect internet speed if there are too many users consuming bandwidth at the same time during peak hours.
Running several applications that consume internet bandwidth can also have a large impact on internet speeds. This effect is especially pronounced for apps that run in the background or auto-sync and auto-update from time to time. Apps like WhatsApp even run backups without asking explicit permission which can affect internet speed. The same is the case when users install too many add-ons in web browsers without knowing how each one affects internet speed. Apart from the above-mentioned factors, malware, viruses, and network equipment can all affect internet speeds.
Is It Possible to Increase Internet Speed?
Yes, it is possible to increase internet speed, however, this may require a change of internet service provider (ISP). Sometimes, even though an ISP is performing sufficiently, a new player in the market may bring new technologies and more competitive prices to consumers. Consumers are ought to shop around to get the best deal which in turn keeps ISPs working to improve connection speeds and prices.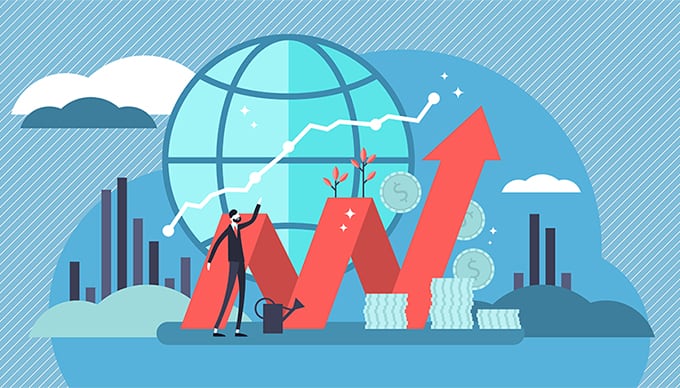 If changing ISP is not possible for the moment then simply calling the current internet provider to register a problem can help as well. Sometimes, ISPs can even upgrade the user's connection either because of new subscription packages or a sale/discount season (some ISPs double the speed of the user's connection for the duration of the discount period rather than reduce the monthly bill).
Users who are willing to spend some money (after exhausting the above options) should invest in a good router. Good routers can be expensive but will offer several benefits, such as the latest WiFi protocol options and frequency bands, as well as the ability to handle more devices at any given time. Some routers are also capable of supporting VPNs which can help users avoid internet throttling if an ISP is engaging in such behavior. One other benefit of using a new router is that the older router can be used for Ethernet connections or be used as another access point.
One of the simplest ways to increase internet speed is to check the device having slow internet problems for malware and other kinds of viruses. Some viruses have a tendency to consume lots of bandwidth. Using the Windows Task Manager to look for processes that seem suspicious and shutting such processes down can increase internet speed. Using a good antivirus application (even a free one) and running scans is also a good method to detect malware, remove malware and increase internet speed.
Pro Tip:
Sometimes, removing browser cache can result in faster internet speeds. This can generally be performed by going to the Settings menu and choosing the 'clear browsing data' option.
Moving from a WiFi connection to an Ethernet is also a great way to increase internet speed. Any good (cat 5e) cable can outperform even the best WiFi connections (assuming the best Wifi conditions). With an ethernet cable in place, users do not have to worry about the distance between the router and the device reducing internet speed or other devices interfering with the connection.
A temporary solution to increase internet speed quickly is to disconnect all the other devices connected to the network except for the most important one.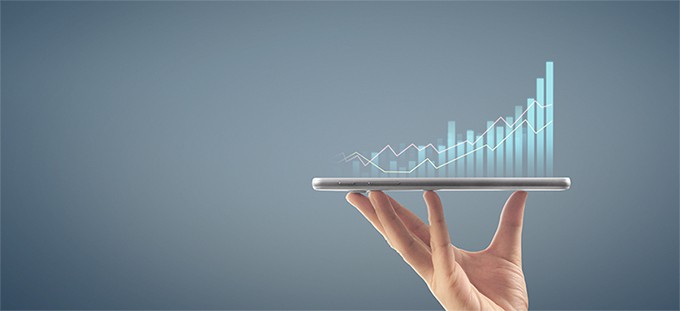 Other methods to increase internet speed include moving the device closer to the router (more distance means loss of signal and data packets). In a few cases, the internet service provider may put data transfer restrictions past a certain limit. To check if that is the case, call the ISP and ask. Getting the data cap removed (or adjusted) can certainly increase internet speed.
Of course, the famous "off and on" trick is always worth trying. Remember to switch off the router and the device, and then switch both back on again after 5 minutes. This tip is useful because a proper restart can help the whole system to get rid of bugs and high-consumption apps that may be clogging the network traffic channels.
Does a VPN Help You Increase Internet Speed?
Yes, a VPN can increase internet speed but only in specific circumstances.
Sometimes, internet service providers deliberately decrease internet speed for certain users engaging in certain activities. Limiting the bandwidth of the user is a common way to save money on part of ISPs. A user is more likely to be hit with bandwidth limitation (or internet throttling) if more engagement is noticed in activities such as torrenting, streaming and online gaming.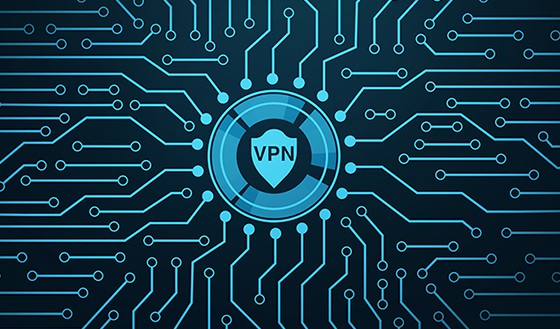 A VPN can solve the problem of internet throttling by encrypting the user's traffic (so ISPs cannot know what the user is doing online and hence can't flag the user for high data consumption activities) and changing the IP address of the user (this breaks any connection of the user's activities to the user's device which means ISPs cannot know if the user's device engaged in a sid activity).
Sometimes, website owners can slow down the speed with which a user of a given location accesses content. In such cases, VPNs can enhance internet speed by hiding the location of the user from ISPs, DNS servers, and website owners.
Finally, everyone can agree that the quickest way to consume content (and hence have fast internet speed) is to connect with a given website's server directly. In the real world though, that doesn't always happen and it may be necessary to connect with several intermediates before reaching the final destination. However, once a user encrypts user traffic with the help of a VPN, internet speed can increase.
It is important to keep in mind that not all VPNs are built for speed. The best VPNs for internet speed have very specific characteristics that help users stay secure, anonymous and safe from problems such as internet throttling and others.