W
hat is streaming? Streaming is the continuous processing and transmission of audio, video or games. Sports present a challenge because sporting activities are often intended to be followed in real time. Fans can watch live and on-demand sporting events on platforms such as YouTube, Amazon Prime Video and Peacock. Sports fans are often curious to follow live games to see how teams perform on the field. Sports enthusiasts need constant updates and the most recent information regarding sports results. Individuals can now easily use smartphone screens to watch sports.
Specialized streaming services focus on a single sport, and others broadcast all the major events and foreign sports. Live sports coverage is a major appeal for cable users, but fans can get the same programming, if not more, from a specialized streaming service. The greatest options for sports fans are cable replacement providers that offer game feeds from regional, national and international networks. But some on-demand streaming services occasionally offer sports commentary shows. There are countless possibilities for streaming sports content, such as YouTube TV, fuboTV and ESPN Plus, which are among the best sports streaming services. Families can enjoy a complete streaming experience because many platforms offer content other than sports.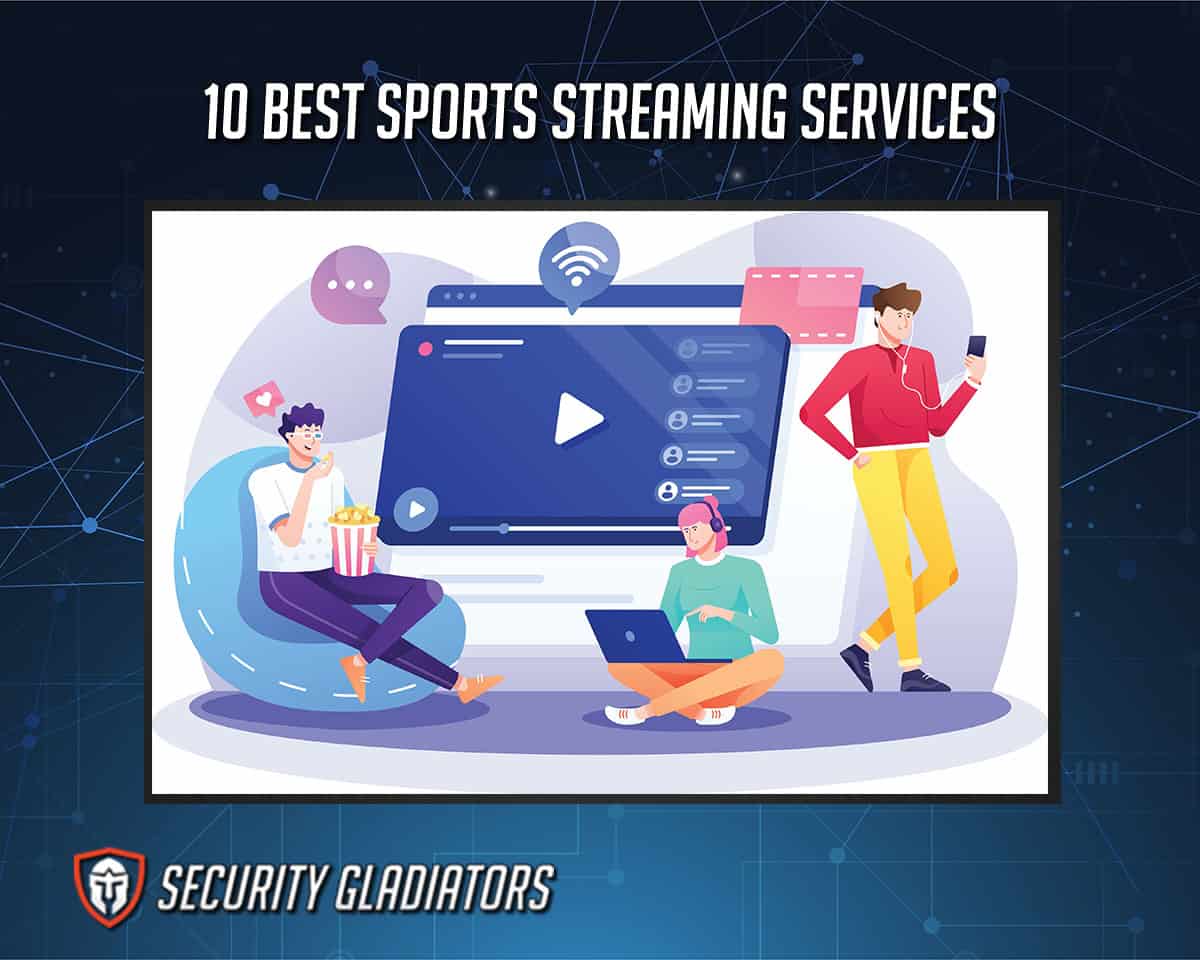 Below is a list of the best sports streaming services.
YouTube TV
Amazon Prime Video
Peacock
Sling TV
fuboTV
ESPN Plus
DIRECTV STREAM
Paramount+
DAZN
Hulu + Live TV
1. YouTube TV
YouTube TV is a platform where sports lovers can get various sporting content, from highlights and clips, to live game coverage. Because there aren't enough sports channels, YouTube TV doesn't entirely succeed from a sports perspective. But YouTube TV has the best DVR (digital video recorder) compared to other live TV streaming services. Although there are no restrictions on the supplied cloud DVR capacity, recordings are deleted after nine months. YouTube TV has a score-hiding "no-spoiler" mode and is great for keeping up with sporting events.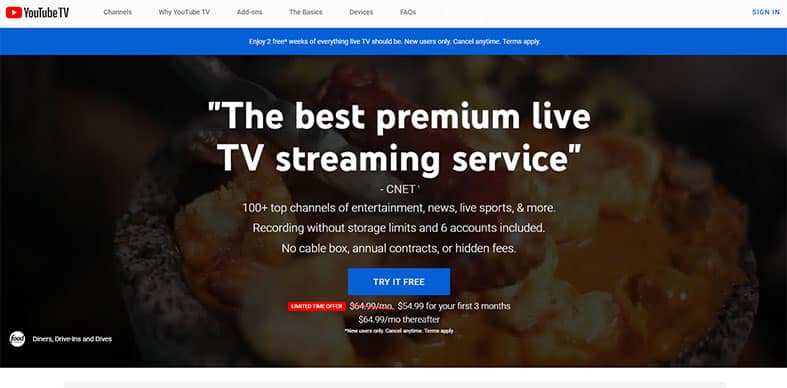 The free YouTube TV subscription covers the major networks for the most watched sports. YouTube TV offers four different ESPN channels, FS1 and FS2, CBS and NBC Sports, besides the exclusive MLB, NFL, NBA and Golf channels, as well as college programs, such as the SEC and Big Ten. YouTube's DVR is unrivaled among streamers for anyone who wants to record sporting events for later viewing. The storage space is infinite, with the restriction that the viewer may only keep the recordings for up to nine months.
The pros of YouTube TV include no cap on cloud DVR, many channels, reliable, fast, accessible and easy user interface and many add-on options. The cons of YouTube TV are that there is no A&E or Lifetime and unsatisfactory original programming.
The advertised price for YouTube TV is $54.99 per month for the first three months and $64.99 after with a 14-day free trial before committing.
Besides the base plan, there is the Spanish plan and premium add-on networks. The subscriber should avoid only having the base plan if looking forward to sports add-ons. After selecting the plan, follow the steps as directed. Confirm the credit card details and pay the membership fees. The customer does not get charged until the free trial ends. By clicking buy, the process will be complete.
2. Amazon Prime Video
Amazon provides a streaming service called Prime Video. For individuals who prefer to solely use the streaming service, Amazon Prime offers a separate membership option besides being a component of Prime subscriptions. Amazon first acquired non-exclusive rights to stream some Thursday Night Football games in April 2017, when the service started to acquire sports-related content. The Prime Video app allows the viewer to stream live events on certain connected devices and web browsers.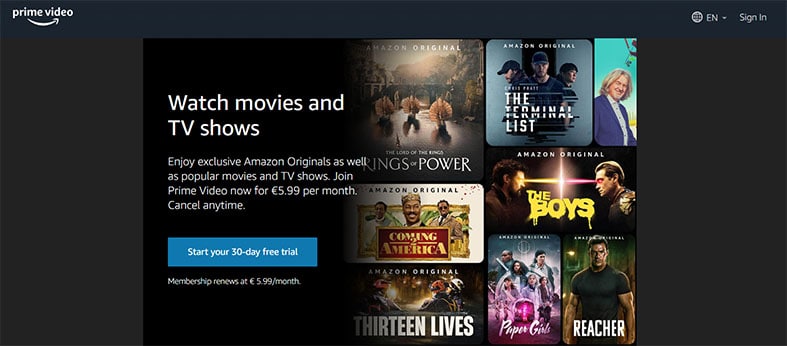 Members of Amazon Prime Video can access major professional leagues, including the MLB, NBA, NFL, soccer and some more specialized sporting events and activities.
One main pro of Amazon Prime Video is that the consumer can combine this service with Amazon Prime. The service offers the most streaming content available, some of the most popular original content and many sports content add-ons. The cons of this service are that some films demand additional fees, titles regularly change, so the user can lose access, there is less successful original content than Hulu and Netflix and the initial cost is higher compared to some streaming services.
The starting price is $8.99 per month with a 30-day free trial.
To subscribe to sports channels on Amazon Prime Video, select "Channels" from Amazon Prime Video's menu. Until "Sports" appears, scroll through the available channels and select "See More." Select the most preferred sports channel and tap the channel's banner. Depending on the channel, there are choices like "Start Free Trial" or "Subscribe." The user should choose the preferred option. Verify billing details and start a free trial.
3. Peacock
Peacock, a streaming service from NBCUniversal, has expanded quickly since the service's inception in July 2020. The platform is smaller than some notable competitors and has a tiled interface filled with well-known network episodes with a comparable design to Netflix, Hulu, Disney Plus and HBO Max.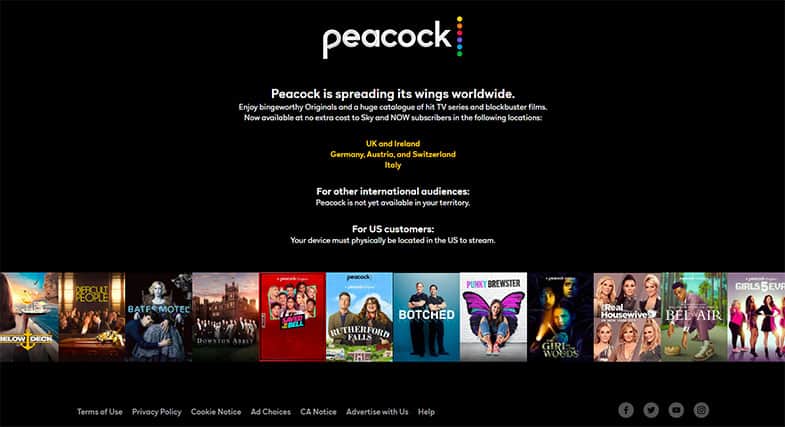 Peacock provides coverage of both Premier League soccer and Sunday Night Football. In addition to a live PGA Tour betting show, Peacock also features WWE, IndyCar and other content. The service also has NBC's programs, including The Office, Saturday Night Live, Law & Order and Parks and Recreation. The subscription provides access to a wide range of sports programming. Viewers can access Peacock Online on mobile platforms, game consoles and media streaming devices.
Peacock offers a ton of movies with advertisements. Also, the service offers a free tier with no substantial restriction, popular television series and films, flexible price points and live sports for premium subscribers. Some cons of Peacock are that the premium offers aren't all that fascinating, the $4.99 monthly plan still includes commercials, a large number of well-known Universal films are absent, ads are part of the use on-demand plan, to download users need a Premium Plus account, there is less unique content than in rivals and most SportsNet and Bally Sports RSNs are absent.
The cost of Peacock Premium is $4.99 per month or $49.99 per year. Peacock Premium Plus costs an additional $5 per month or $50 per year.
| Premium | Premium Plus |
| --- | --- |
| $4.99 per month | $5 per month |
To subscribe, start downloading the Peacock app from the official website and install the app on the device. Input an email address to register for a Peacock account. One can choose to watch free channels for classic matches or subscribe to access live sports on Peacock.
4. Sling TV
Sling TV is available only in the USA. Sling TV allows users to tailor streaming plans but falls short in local channel availability. In most large markets, Sling TV subscribers get FOX and NBC, but neither CBS nor local ABC channels are available.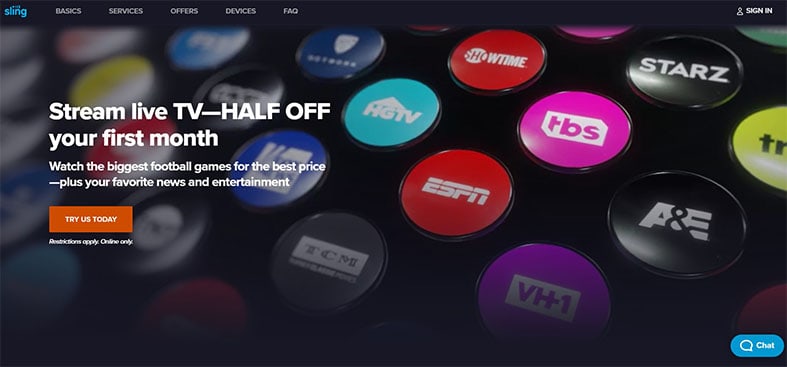 Popular networks like ESPN are included in Sling Orange's 30+ channel lineup, while FS1 and NFL Network are included in Sling Blue's 40+ channel lineup. TBS and TNT are included in both plans, but ABC is not. Sports enthusiasts should pay an extra $11 per month to get the Sports Extra plan, which has the most channels. The bundle includes MLB Network, Longhorn Network, PAC12 Network, beIN Sports, ESPNU and ACCN.
The pros of Sling TV include the pricing being much less expensive than leading competitors and suitability for all popular streaming devices. Also, there is a good variety of channels, flexible alternatives for a subscription, a free plan and constant stream performance. The cons of Sling TV are that the channel packages are confusing and only a few local channels are available. The cost keeps rising and there is limited availability of regional sports and local networks.
Sling TV offers two different bundles, Sling Orange and Sling Blue, with monthly starting prices of $35 for each or $17.50 in the first month. To access the complete list of Sling TV channels, the viewer can bundle Blue and Orange plans for $50 per month or $25 in the first month. Sling TV often runs promotions for free trials too.
| Orange or Blue | Blue and Orange |
| --- | --- |
| $35 per month | $50 per month |
To subscribe, open the Sling application and create an account. Find the "Add Premium Channels & More" ribbon by scrolling down on the "My TV page." Select the preferred service to add by scrolling left or right. Verify the billing and enjoy the sports channels.
5. fuboTV
fuboTV is an excellent choice for enthusiasts of multiple sports. fuboTV provides a sizable selection of entertainment and news channels, including many Viacom and Discovery outlets. These networks provide many TV shows and films for on-demand streaming.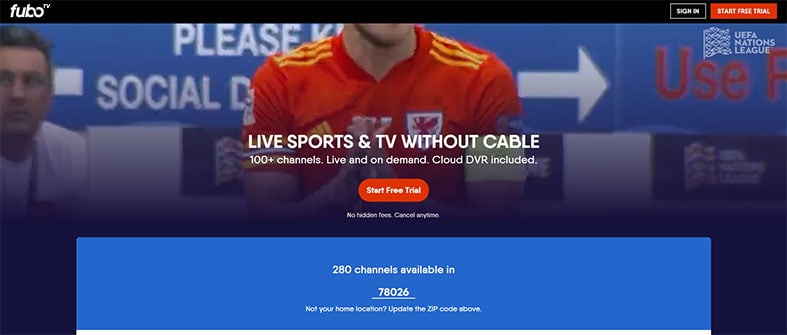 Any sports lover will love fuboTV. For major sporting events nationally, NFL Network, CBS, FOX, NBA TV, Golf Channel, TBS, NBC and TNT are all available. Only a few Comcast and AT&T RSNs are available on fuboTV; Sinclair's RSNs are absent. fuboTV is perhaps one of the greatest options for international sports. Along with stations like GOL TV, beIN Sports, Fox Deportes and TUDN, the service also provides a variety of add-ons with foreign sports channels.
The pros of this service are that there are a ton of live sports and on-demand entertainment material, the streaming is reliable, the online interface is excellent and has a few 4K programs and the service has DVR capabilities. The cons of fuboTV include expensive extras and bundles. Bally Sports, Turner and A&E are not available, and most live streams are limited to only 720p.
There are three plans offered by fuboTV: Pro (134 channels) for $69.99 per month, Elite (198 channels) for $79.99 per month and Ultimate (236 channels) for $99.99 per month. There is also a Latino plan.
| Pro | Elite | Ultimate |
| --- | --- | --- |
| $69.99 per month | $79.99 per month | $99.99 per month |
To subscribe, choose a strong password and enter your email address. Utilizing a password manager is advised. One can also register with Facebook or Google credentials. Simply tap "Go to Next Step." Choose between the fuboTV Extra package, which provides more channels, and the basic package. Select the extra options if desired, such as additional cloud DVR, family sharing or sports extras. Simply select "Go to the last step." Type in the credit card details. To begin watching, click "Start watching fuboTV."
6. ESPN Plus
ESPN Plus has thousands of exclusive live events, original studio shows and acclaimed series that aren't on the ESPN networks. Subscribers to ESPN+ can buy UFC pay-per-view events and access a large library of on-demand material, such as the 30 For 30 library, some game replays, ESPN Films and more. Sports, including basketball, field hockey, baseball, football, ice hockey, soccer, MMA, volleyball, diving and swimming, softball and boxing, are live events subscribers can watch.
Daily live sporting events are broadcast on ESPN+, featuring NHL and MLB matches from domestic and foreign soccer leagues and other NCAA competitions. A recent agreement between ESPN Plus and the NHL will provide 75 NHL games to the streaming service, starting with the 2021–2022 season and continuing for seven years. The only method to acquire streaming access to UFC events is through ESPN+. The original programming on ESPN Plus also contains some of the biggest personalities in sports. For instance, Hall of Fame quarterback Peyton Manning narrates the football-themed documentary series "Peyton's Places," which looks back on significant moments in the history of the NFL through the eyes of one of the best players ever.
The pros of ESPN Plus include many live sports, especially college sports, a trustworthy streaming performance, access to ESPN's leading archives and mobile offline downloading. The cons of this program are that most of ESPN's key programming is absent, there aren't live NBA games and the service lacks DVR capabilities.
ESPN Plus costs $9.99 per month or $99.99 yearly, saving annual subscribers $20.
To subscribe to ESPN Plus, go to "ESPN.com" in the computer browser. In the top right corner of the screen, select the ESPN+ icon and pick "Sign Up Now." The subscriber needs to put first and last names, email addresses and passwords as login details and click "Sign Up." The next step is choosing the preferred subscription type and entering credit card details. Select "Buy ESPN Plus" to complete the process.
7. DIRECTV STREAM
DIRECTV offers a live and on-demand streaming TV service. This service is from AT&T. The viewer does not need a set-top box or other AT&T-branded hardware to use the streaming service because DIRECTV is entirely app-based and does not need an annual contract.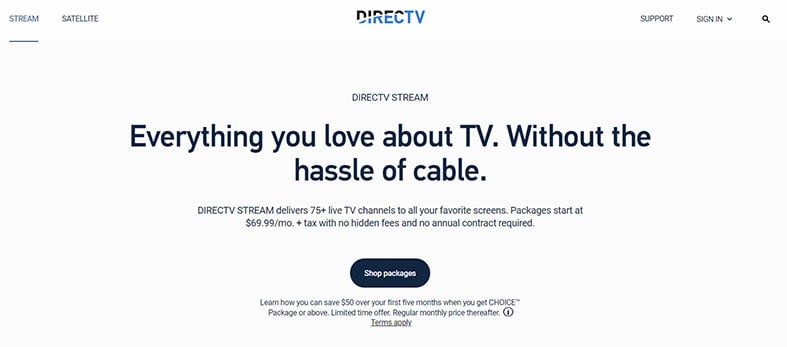 Some DIRECTV STREAM's plans include the SEC Network, NHL Network, Golf Channel, four ESPN channels and CBS Sports Network. DIRECTV STREAM is the only provider that provides RSNs from AT&T, Sinclair and Comcast. But the NFL Network and a number of other NBC RSNs are absent. DIRECTV STREAM assists subscribers in following the world of regional sporting networks with the available local and national channels. Regarding DVR functionality, DIRECTV STREAM provides 20 hours of storage by default and saves footage for up to 90 days. Still, the subscriber can opt to pay an extra $10 a month for limitless storage capacity. The Lookback and Rewind features of DIRECTV STREAM, which lets viewers rewatch live streams from the start of the broadcast and watch previously aired items, are perfect for sports enthusiasts. Only a few networks and shows have access to those functionalities.
The pros of DIRECTV STREAM include reliable streaming performance, RSNs from AT&T, Sinclair and Comcast in the lineup and parental control choices. The cons include that the service is expensive with a few interface flaws.
DIRECTV STREAM has four plans. The Entertainment package costs $69.99 per month, the Choice package costs $79.99 per month for the five first months and $89.99 thereafter, the Ultimate package costs $94.99 per month for the five first months and $104.99 thereafter and the Premier package costs $139.99 per month and for the five first months and $149.99 thereafter.
| Entertainment | Choice | Ultimate | Premier |
| --- | --- | --- | --- |
| $69.99 per month | $89.99 per month | $104.99 per month | $149.99 per month |
To subscribe, select "Shop Now" on DIRECTV STREAM. In order to verify availability, the ZIP code is required. Choose the ideal package and click "add to cart." Next, if need be, select more premium channels and choose optional streaming devices and cloud DVR. In the next step, the subscriber needs to select "Review Cart and Checkouts" and enter the account information by either using the existing login ID or creating a new one. One then needs to review the Terms of Service and accept these terms. The last bit of this process is choosing the form of payment and submitting the order.
8. Paramount+
The streaming service Paramount+ offers live and on-demand television channels ranging from news, movies, TV shows and sports.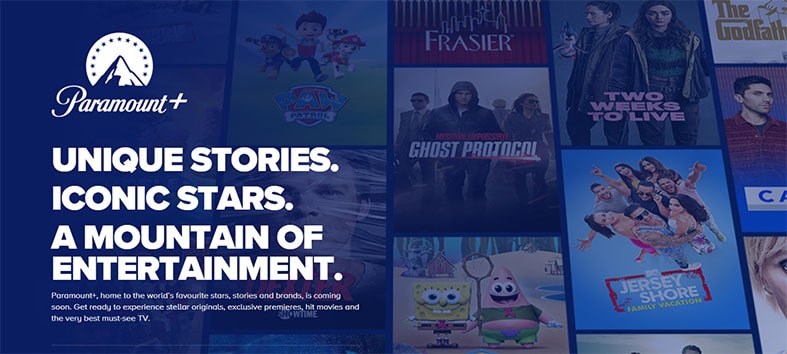 For NFL fans and PGA Tour fans, Paramount+ is the greatest sports streaming service. Subscribers can stream CBS live with the enhanced package, enabling viewers to watch March Madness, local NFL games and PGA tournaments. Soccer enthusiasts may watch the NWSL, UEFA, Concacaf, Liga Profesional de Fútbol, Champions League and other soccer-related programs on Paramount+. Paramount also has a TV show library on demand. Even 4K resolution is available for some games. Also, services like Amazon Prime Video might offer Paramount+ as an add-on.
Some pros of Paramount Plus include a wide selection of on-demand content across a diverse range of genres, live sports streaming, offline downloads and 4K streaming capabilities. The service permits six profiles per account and three concurrent streams and offers excellent options for closed captioning and parental controls. One con of Paramount Plus is that the platform includes fewer original works than other services. And the 4K streaming, offline downloading and the local CBS network channels are only available to premium customers.
Subscribers can pay $9.99 per month or $99.99 per year for a premium plan to stream ad-free. An essential subscription on Paramount+ costs $4.99 per month or $49.99 annually with ads and restricted live CBS channels. The subscription comes with a seven-day trial.
| Essential | Premium |
| --- | --- |
| $4.99 per month | $9.99 per month |
If the user does not have a plan, one needs to register for a free trial of Paramount Plus. On a Smart TV, Roku, Amazon Fire TV or Apple TV, download and launch the Paramount Plus app. To begin watching Paramount Plus channels, one just needs to select the "Live TV" tab under the main menu.
9. DAZN
The DAZN service offers on-demand and live sports streaming. The key markets include Italy's Serie A, Spain's La Liga, Germany's Bundesliga and Japan's J League, the premier professional football leagues for which the service has domestic broadcasting rights. DAZN also has international boxing rights.
NFL Sunday Ticket, NFL RedZone and NFL Game Pass are all available on DAZN. Along with PDC Darts and Snooker, sports lovers can watch live streams of other big European soccer competitions, including the UEFA Champions and UEFA Europa League. DAZN allows viewers to watch sporting activities on various devices, such as smartphones, tablets and video game consoles. One can simultaneously stream live sporting events on two devices.
The pros of DAZN are that the service offers exclusive broadcasts of MMA and boxing, fights are available for replays, the user interface is simple and the service offers excellent performance. The cons of DANZ include expensiveness, limited broadcasts of other sports and only 720p live streaming.
The viewer can subscribe to DAZN monthly. In the U.S., for example, the viewer will pay $19.99 per month or $149.99 for a full year, which works out to $12.50 per month.
| Monthly | Annual |
| --- | --- |
| $19.99 | $149.99 |
Subscribing to DAZN is quick and simple. Enter full name, email address and payment information after clicking "Sign Up Now" and selecting between a monthly or annual pass. The subscriber can cancel the subscription anytime.
10. Hulu + Live TV
Hulu is an online streaming service owned by The Walt Disney Company and Comcast. The website has one of the biggest streaming collections of content with premium content platforms.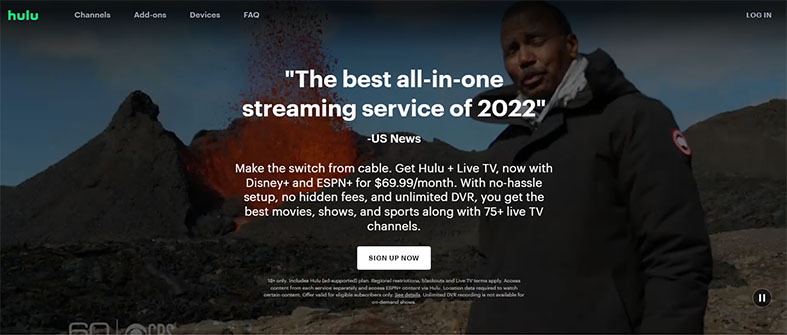 Hulu has over 16 sports channels, an online library and a package with Disney+ and ESPN+. Local stations, ESPN, FS1, TNT, CBS Sports, NFL Network, Golf Channel and many more are available. For college basketball, the viewer can watch TBS and truTV. Fans might also get a local sports channel based on the location. Additional channels include Outdoor and Sportsman, NFL RedZone and MAVTV. The available leagues include NFL, MLB, NHL, NBA, NCAA, MLS, EPL, NASCAR, WWE and UFC.
The pros of Hulu + Live TV include access to local networks, on-demand streaming library and ESPN+ and Disney+ as part of the base network package. The cons are that the add-on fees might get extremely expensive. There are a few local sports networks and the service offers only two screens at once.
The cost of Hulu+ Live TV is $69.99 per month with ad-supported content. The viewer can pay $75.99 monthly to have no advertisements.
| (With Ads) | (No Ads) |
| --- | --- |
| $69.99 per month | $75.99 per month |
To get Hulu, go to "sign up for Hulu + Live TV." After registering, one can change the plan to Hulu (No Ads) + Live TV by visiting the "Account" page. If the viewer already uses Hulu and wants Live TV besides Hulu or Hulu (No Ads) subscription, go to the "Account" page to update the add-ons and change the plan.
Note:
Prices may differ from the ones shown as new plans and deals are launched on a regular basis. Please be sure to check the most current price on the official website.
What Is Streaming?
Streaming is the process of delivering and receiving data packets continuously over a network. Streaming enables content playback to start while the remaining data is still being sent. Most online streamed items include games, audio and video.
Media items like audio, video and others are organized and sent in sequential order so to be streamed instantly. Media files are automatically destroyed after being played, unlike conventional in downloads, where media is retained on the device. All that is needed to stream is a compatible device, a high-speed internet connection that is dependable and quick and access to or a membership to a streaming platform or app.
What Is the Most Common Sports Streaming Service?
ESPN+ provides the most extensive sports coverage and is one of the most affordable at $9.99 a month, making the service the most common sports streaming service. The ESPN app has one of the highest download numbers: over 50 million. ESPN+ broadcasts games from almost all of the country's top sports leagues. ESPN+ is also the sole U.S. media partner for the La Liga and Bundesliga. In other words, ESPN+ never lacks live sporting events.
Where Can I Stream Sports for Free?
Here is a list of the best free sports streaming sites sports lovers can explore.
BBC iPlayer: BBC iPlayer is a sports site from BBC that offers video on demand. The service is accessible on a variety of gadgets, such as smart TVs, laptops, mobile phones and tablets.
Bosscast: Bosscast offers free live sports streaming of all major sports with decent coverage. The website has a chat component that enables visitors to communicate with one another by exchanging media, text and links.
Buffstreams: On Buffstreams, NFL, soccer, NBA, boxing and other sporting events are all available as free live broadcasts. The site includes pop-up ads.
FITE: FITE streams thousands of high-quality live events for free, via subscription or on a pay-per-view basis. Some sporting activities aired include boxing, professional wrestling, soccer, MMA, motorsports and much more.
How To Choose a Sports Streaming Service?
The following are six ways on how to choose the best sports streaming service.
The coverage of sports events should be satisfactory.
Consider the quality and reliability of the stream by the service provider.
The viewer also needs to consider the playback and other features offered by the sports streaming service.
The plans offered, ease of change and options for canceling subscriptions are important factors to consider.
Read user reviews to choose the best streaming service.
Consider the streaming service's price to get the best value for money.
How Much Do Sports Streaming Services Cost?
fuboTV, YouTubeTV and Sling TV cost $69.99–$99.99/per month, $64.99 per month and $35.00–$50.00 per month, respectively. The three platforms are among the sports streaming services with the highest subscription costs. ESPN+, which costs 9.99 per month, and Peacock, which costs $4.99 per month, are some of the sports streaming services with the lowest prices. In our comparison, the highest price for a sports streaming service is $149.99 per month, while the lowest is $4.99 per month.
What Are the Benefits of Using Sports Streaming Services?
The table below shows the benefits of different streaming services.
Sports Streaming Service
Pros
1. YouTube TV
Excellent sports lineup.
Easy-to-use DVR features.
Has an intuitive interface.
Support three streams per account at once.
2. Amazon Prime Video
Offers excellent original content.
HDR and 4K streaming.
Live WNBA games and Thursday Night Football.
Offers offline download options.
3. Peacock
Has a broad range of on-demand content.
Offers live sports coverage.
Supports offline downloads.
Offers 4K streaming.
Allows three simultaneous streams.
Offers parental control tools.
4. Sling TV
Has the best sports channels selections.
Offers free tier.
Reliable performance.
5. fuboTV
Offers multiple live sports content.
Has a great web interface.
4K content.
Reliable streaming.
Excellent DVR functionality.
6. ESPN Plus
Offers a variety of sports, specifically college sports.
Reliable performance.
Access to high-quality on-demand ESPN archives.
Provides offline downloads.
7. DIRECTV STREAM
Reliable performance.
Supports 20 simultaneous streams.
There are parental control options.
8. Paramount+
The free tier has fewer limitations.
Offers flexible pricing.
Provides live sports for premium subscribers.
Supports several account profiles.
9. DAZN
Offers exclusive boxing and MMA.
All streamed fights can be replayed.
Has a simple interface.
Reliable and excellent performance.
10. Hulu + Live TV
Offers a wide selection of television series.
Extensive channel lineup.
Excellent Cloud DVR option.
Available on most media streaming devices.
What Are the Limitations of Using Sports Streaming Services?
The table below gives the limitations of different sports streaming services.
Streaming Service
Cons
1. YouTube TV
Limited Bally Sports RSNs and SportsNets.
Has limited parental control options.
2. Amazon Prime Video
Continuously losing third-party sports channels to other sports streaming services.
Fewer high-quality TV shows compared to other services.
3. Peacock
The premium options include ads.
No options for offline downloads.
4. Sling TV
The service continues to increase prices.
Complex channel distribution.
Limited regional sports channels.
5. fuboTV
Costly packages and add-ons.
No Bally Sports, Turner and A&E channels.
Some streams are limited to 720p.
6. ESPN Plus
Does not offer most of ESPN's key programming.
There are no live NBA and NFL games.
DVR functionality is absent.
7. DIRECTV STREAM
Quite expensive.
Has a peculiar interface.
8. Paramount+
4K and offline downloads are limited to premium options.
CBS streaming channels are limited to premium members.
9. DAZN
Quite expensive.
Limited streaming of some sports.
Only permits 720p streaming.
10. Hulu + Live TV
Extremely expensive.
Limited local sporting channels.
Provides only two screens at once.
How To Subscribe to a Sports Streaming Service?
The list below gives steps to subscribe to a sports streaming service.
Go to the official website and install the application on the streaming device.
Sign up for a sports streaming service. Enter the name, email address and a strong password.
Sign in to a sports streaming account. If the user already has an existing account, enter the login credentials and password and follow the provided steps to complete the login process.
Choose the ideal plan. Different sports streaming services provide different plans. The choice of a package only depends on the user's preferences.
Enter credit card details and verify payment. Users will need to pay a certain amount for premium sports channels depending on plans. Follow the payment procedure as provided by the sports streaming service.
On the browser or streaming device, open the streaming service. At this point, the viewer can enjoy different sports channels.
How Can I Cancel My Sports Streaming Service Subscription?
Depending on the device and sports streaming service, there are various ways to cancel subscriptions. But most services follow a similar procedure, as shown below.
Select the streaming service to be canceled.
Login into a sports streaming service. Enter the login details and password of the account whose subscription is to be canceled.
Go to the "settings" or "my account." This step will allow the user to open the dropdown menu.
Select the subscription status icon. Different sports streaming services have different indications of subscription; some may indicate "Manage Subscription."
Choose "Unsubscribe." Here, click "Unsubscribe," and confirm the cancellation. Most streaming services will send an email to confirm successful subscription cancellation.
Is There a Sports Streaming Package?
The three of the top four American sports leagues—MLB, NFL and NBA—each offer a monthly subscription for out-of-market games, providing the ideal option for fans who live far from the preferred clubs. In 2021, ESPN+ bought NHL.tv, the NHL's specialized service. If the viewer lives in an area where DIRECTV isn't offered, one can acquire the NFL Sunday Ticket without signing up for the DIRECTV service at approximately $300 per season. Some of these packages can be expensive.
What Streaming Service Offers All Sports?
ESPN Plus offers nearly all international sports. The service also invested significantly in international soccer, hosting Bundesliga and La Liga matches from Germany and Spain, respectively. The FA Cup, the Carabao Cup and the EFL Championship, the division below the Premier League, are all on ESPN Plus.
ESPN Plus covers the U.S. Open and Wimbledon. The service unlocks the MLB collections of classic games during the MLB baseball season and broadcasts a few out-of-market League Baseball games. The Little League World Series and certain NCAA football and basketball are also available. Pay-per-view UFC fights normally come with an additional cost, while some fights are included in the membership.
How To Stream Live Sports With a VPN?
Here is a detailed, step-by-step explanation of streaming live sports with a VPN.
Download and install the VPN app on the device.
Sign up for a VPN.
If with an existing account, log in to the account.
Choose the VPN mode; select "stream" to watch live TV.
Connect to a server that hosts the sports channels.
Choose a sports streaming service, then log in to safely watch sports.
What Are the Best VPNs for Streaming Sports?
Below is a breakdown of the best VPNs for streaming sports.
NordVPN: NordVPN is a great VPN choice that prioritizes security without sacrificing unblocking power. Streams are stable when hosted on quick, secure servers and include a 30-day, risk-free money-back guarantee.
Surfshark: Surfshark is a fast, dependable VPN that is also extremely reasonably priced. The viewer can connect many devices. The VPN is ideal for TSN, ESPN+ and other services.
ExpressVPN: A sizable, fast-paced server network. The VPN easily connects to most streaming sports channels and other well-liked services from practically everywhere. This is the best and most reliable VPN for bypassing sports streaming content because of the VPN's fast speeds.
IPVanish: IPVanish offers excellent security, a no-log policy and excellent speeds to stream sports in high definition from abroad. No limits to connections.
PrivateVPN: This VPN has fast connections and unblocks practically everything from abroad, including popular sports streaming services.