An ad blocker is a software program that prevents intrusive adverts from displaying in a user's browser. Ad-blocking software works by comparing the content of a web page against the blacklist rule. The ad blocker blocks some intrusive information, such as pop-ups, adverts, display ads and other types of advertisements, from displaying.
An ad blocker allows users to access the internet without being overwhelmed by advertisements. Aside from the unpleasant interruptions, there are numerous advantages to adopting a good ad blocker. Ad blockers make browsing more enjoyable for users by removing irrelevant content from the user's interface. Ad blockers, above all, guarantee security, privacy and speed. In terms of security, most hackers deliver malware to victims through online adverts, exposing the internet user to a cyber danger or data breach. Ad blockers protect users' devices from malicious intrusion. Every internet user needs to use a trusted ad blocker to have the best internet experience.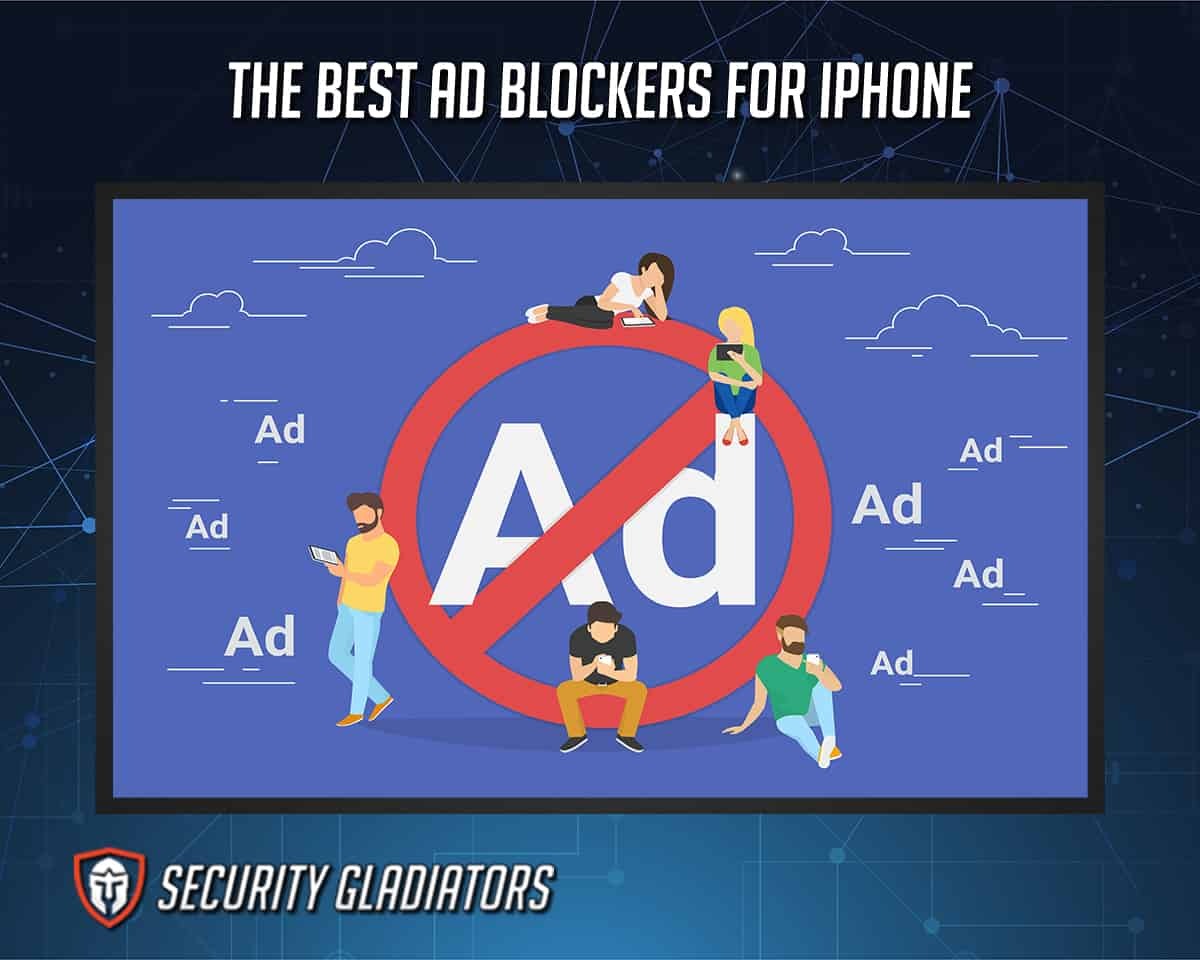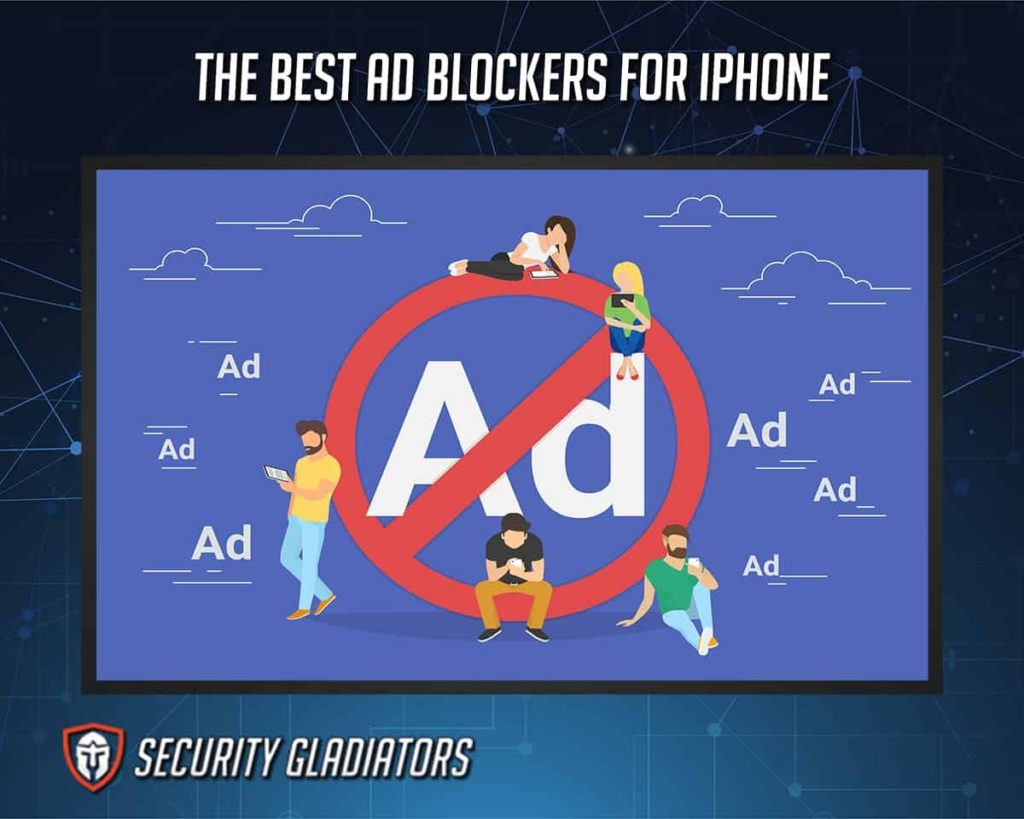 The best ad blockers for iPhone are listed below.
AdGuard
AdBlock Pro
Ka-Block!
1Blocker
Wipr
BlockBear
AdLock
Firefox Focus
1. AdGuard
is one of the greatest iPhone ad blockers, developed in Moscow in 2009. One of the cofounders and CTO of the ad blocker is Andrey Meshkov. AdGuard prevents video advertisements, pop-ups, text adverts and provides spyware and virus protection. AdGuard also defends users against online attacks, blocks tracking, and filters potentially harmful content. Because of the software's comprehensive approach to high-quality blocking, AdGuard is a must-have for any internet user. The software aims to make web surfing more comfortable and secure for internet users.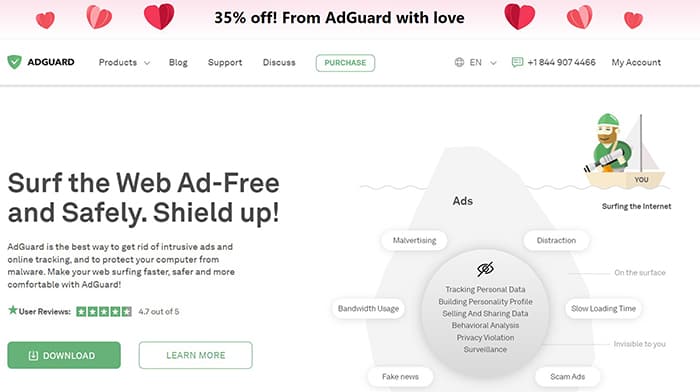 The advantages of integrating AdGuard include VPN to avoid geo-blocking, ease of use, enabling relevant ads, enabling an operating system-level solution, amazing user interface and optimum protection. On the contrary, utilizing this ad blocker may occasionally block specific websites, and the software might require further features.
AdGuard is free but also has a paid edition with more features. The subscription costs $9.99, while the price varies by region. AdGuard is compatible with various platforms and browsers, including Firefox, Chrome, Edge, Opera, Safari, iOS, Android, Windows and Mac.
| | |
| --- | --- |
| Term | AdGuard |
| Cost | $9.99 / month |
AdGuard is a super-effective ad blocker for iPhone that also protects users' privacy with comprehensive tracking capabilities. For iOS users, AdGuard is a reliable open-source program. The software is very easy to use and open.
---
2. AdBlock Pro
AdBlock Pro, developed by a German technology company in 2005, is one of the most effective ad blockers for iPhones. Wladimir Palant is the current lead developer of AdBlock Pro, created by Michael McDonald. iPhone users can implement AdBlock Pro to avoid timed pop-ups, redirections to other websites, YouTube video advertising in Safari, unauthorized access to users' data and other issues.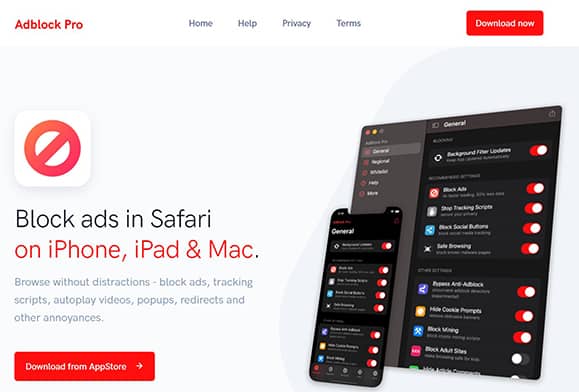 The advantages of using AdBlock Pro include faster surfing, prevention of ad tracking, security of users' data and money, location-specific ad blocking, automated updates of blocking filters, addressing malware issues, extended battery life and speeding up page loads. The inability to keep a customized whitelist is one of the drawbacks of utilizing AdBlock Pro. Blocking page scripts may also impact the functionality of some websites, resulting in a poor surfing experience.
Users can get a seven day free trial of AdBlock Pro for $9.99 per year. This ad blocking program is also noted for its excellent compatibility with various platforms, including iPhones, iPads, Macs, Chrome, Firefox, Edge and Android.
| | |
| --- | --- |
| Term | Adblock Pro |
| Cost | $9.99 / year |
AdBlock Pro gives iPhone users a wonderful experience blocking video ads, YouTube advertising and other annoying commercials. This software also provides users with a more efficient online browsing experience by minimizing data usage.
iPhone users may rely on AdBlock Pro to provide maximum ad filtering while maintaining browsing performance.
---
3. Ka-Block!
Ka-Block! is an excellent ad blocker for iPhones that also works with Safari on Mac OS. David Graham and Josh Peek are the developers of this software. This ad blocker is an open-source extension content blocker that blocks advertising and improves web pages performance. By allowing users access to the app code, Ka-Block! demonstrates transparency. A comprehensive filter list for known advertising and trackers is also offered in Ka-Block!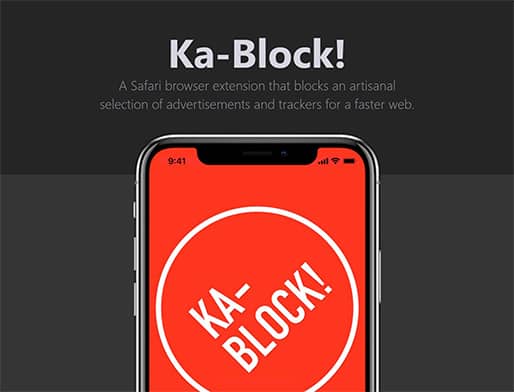 Ka-Block! is an ad blocker that is both transparent and simple to use. This ad blocker features a user-friendly interface, doesn't intrude on users' privacy, includes a filter list, improves website load time, saves battery life and data usage. Ka-Block! is also completely free to use. However, employing Ka-Block! has limitations in customization and compatibility.
Ka-Block! is a free application with no paid version. Ka-Block! can be used on both iPhones and Macs. iOS 12.0 or later, as well as iPadOS 12.0 or later, are required for compatible devices. The objective of Ka-Block! is to preserve users' privacy while also boosting online performance.
Users with technical skills can confirm the software's security level because the ad blocker is an open-source software. The software does not compromise users' privacy. As a result, users can rely on the app to provide a safe browsing experience free of advertising.
---
4. 1Blocker
1Blocker is an ad blocker for iPhones that effectively blocks trackers and other components such as adult content from websites. Indie developers Salavat and Rinat Khanov developed this ad blocker as an iPhone app. Even in the free edition, 1Blocker provides a fantastic user experience, and for a fee, iPhone users get more coverage.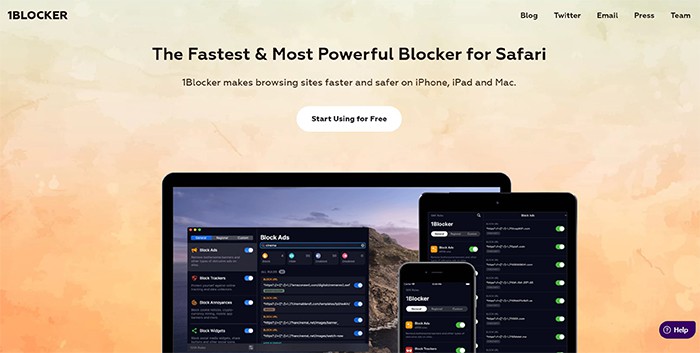 The user-intuitive functioning of 1Blocker, which is built on a toggle-based interface, is one of the main advantages. 1Blocker is also customizable, allowing users to establish ad blocking standards. Users can also use iCloud to synchronize references across all the user's Apple devices. Safari can quickly identify relevant and irrelevant information thanks to 1Blocker super integration. Most significantly, 1Blocker does not have access to or track users' online behavior. Because the app automatically updates and does not drain the battery, users may get a comprehensive package with 1Blocker.
The free version has limited capabilities and is available in the iOS and Mac App Stores. The premium version, which includes additional features that may confuse new users, costs $2.99 per month or $14.99 per year. Users can also purchase one-time lifetime access for $38.99.
| | | |
| --- | --- | --- |
| Term | Premium Version | Lifetime Access |
| Cost | $2.99 / month or $14.99 / year | $38.99 |
1Blocker supports iPhone, iPad and Mac. The ad blocker claims to improve web browsing by 2 to five times and prevent over 13000 trackers. In addition, 1Blocker updates the software's built-in rules twice a week via the cloud. With all of 1Blocker's features and a focus on user safety, security and privacy, users can rely on this ad blocker.
---
5. Wipr
Wipr is a popular ad blocker for iPhone users. Giorgio Calderolla, the creator of this ad blocker, created the software with a clean-web goal in mind. Wipr prevents all adverts, trackers, bitcoin miners, EU cookies, GDPR alerts and other hassles when using Safari, allowing users to focus on relevant information. Wipr is an app for iPhone users who want a distraction-free browsing experience.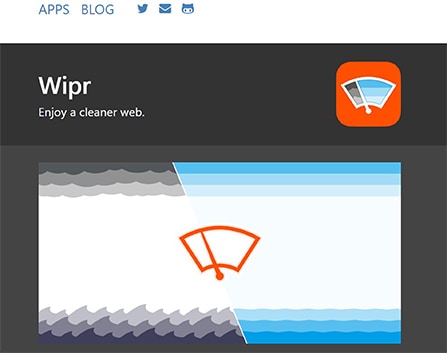 Wipr is intuitive to use and has a strict no-advertising policy. Wipr installation is simple and can be done in seconds. The app blocks adverts on the internet and guarantees frequent updates for greater functionality. Wipr also helps in saving time, data and battery power. Wipr has improved the ad block list to keep hackers out of users' data and online activity. Wipr's main disadvantage is that users cannot customize the software. Wipr can also only prevent adverts in Safari, not any other app.
With an in-app purchase, Wipr costs $2.00. Wipr is available for iPhone and iPad only, unlike several ad blockers that support a variety of devices. Wipr can perform effectively without slowing down Safari by utilizing a new technology known as Content Blocking Extensions. Based on Wipr's policy of no "acceptable ads," Wipr is a reliable ad blocker. The ad blocker prioritizes user satisfaction without snooping on users' online behavior.
---
6. BlockBear
BlockBear is one of the most effective and user-friendly ad blockers available for iPhones. TunnelBear's fantastic team created BlockBear as an ad blocker for iOS. The purpose of the ad blocker is to provide security by blocking content and any other irrelevant websites that pop up.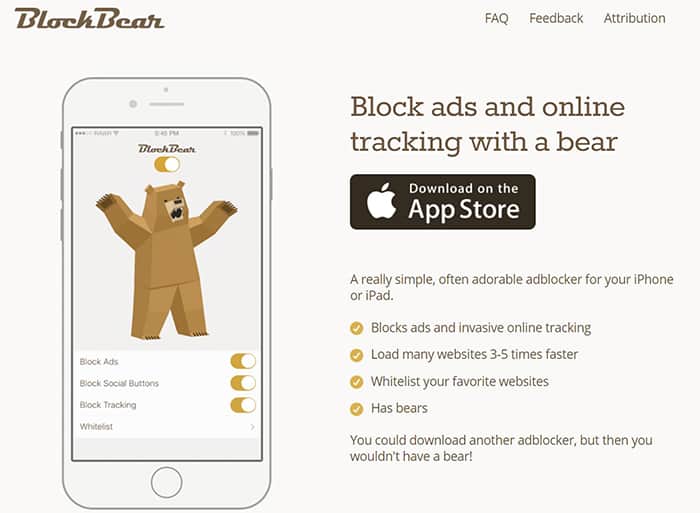 The advantages of using BlockBear include a fun UI with loads of animated bears, an easy-to-navigate interface, good customer service and privacy from third-party tracking. One major disadvantage of using BlockBear is the software's restricted customization.
BlockBear is a free app accessible on the App Store. The software is only compatible with iOS 9.0 and iPadOS 9.0. BlockBear also excels at reducing website clutter. Several users have also commended this iPhone ad blocker's ease of use and good performance. Users may rely on BlockBear to deliver websites that load five times faster than usual.
---
7. AdLock
AdLock is a good ad blocker that adopts a rigorous anti-malware policy for internet users. The app's creators are a group of professionals who give solutions for filtering out online ads and preventing access to dangerous web resources. While AdLock is available for other platforms, iOS users can also access this iOS ad blocker to experience an ad-free and secure internet while also conserving data.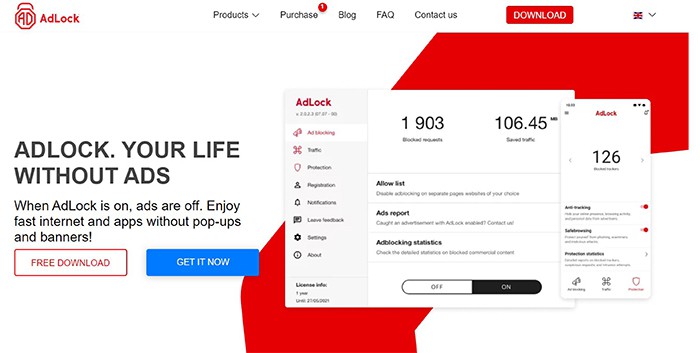 AdLock has the distinction of not interfering with the user's browsing experience while preventing adverts. This feature means iOS users may watch YouTube and streaming services without interruption. The app also protects against cyber threats by scanning potentially malicious links and blocking pop-up advertisements, video commercials and bitcoin mining ads. AdLock is also versatile, filtering HTTPS sites and speeding up browsing. AdLock protects consumers from malware, phishing assaults and scammers by preventing users from visiting harmful websites.
AdLock can prevent all advertisements, regardless of whether the ads are relevant or not. This condition can be a disadvantage of employing AdLock. AdLock is available in a free edition and a $4.99 in-app purchase.
| | |
| --- | --- |
| Term | AdLock |
| Cost | $4.99 / month |
AdLock operates on various platforms, including Android, Windows, macOS, iOS, Chrome, Safari and YouTube. This ad blocker maintains the highest level of security with a minimalist and user-friendly design. Adlock is a trustworthy tool for safeguarding users' online privacy and preventing fraudsters from tracking users' online activities.
---
8. Firefox Focus
One of the best privacy solutions for iPhone users is Firefox Focus. Firefox Focus is an open-source mobile web browser that blocks adverts and erases all browsing data, inhibiting trackers from monitoring people. The Mozilla Foundation team designed Firefox Focus for simple surfing experiences by hiding superfluous web material. Users do not have to fear passwords or other sensitive information leakages when using Firefox Focus.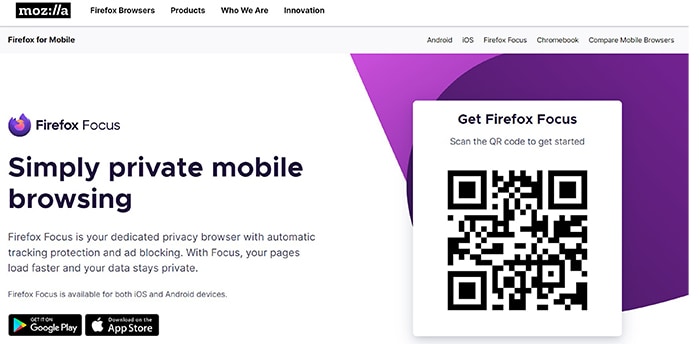 Firefox Focus has privacy features such as deleting history and cookies, blocking tracking scripts and a large language selection. This browser may also be used to replace the Safari surfing experience on iPhones. Firefox Focus is also speedier and takes up less space on devices. The user interface is simple to use, and users may delete browsing history, passwords and cookies with a single click of the trash button.
Firefox Focus has some drawbacks, such as the inability to block redirection and the lack of common browser functions like bookmarks and search engine selection. For iPhone users, Firefox Focus is available for free. On supported iOS devices, Firefox Focus can be used as a private browser or a content filter for Safari.
With built-in ad capability, Firefox Focus is a reliable and effective browser.
---
Why Should You Use Ad Blockers on an iPhone?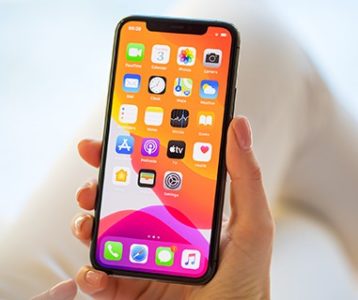 iPhone users need a dependable ad blocker, not just because of the intrusive adverts but also for a pleasant browsing experience, security, privacy and speed. Cyber crooks are increasingly using a variety of tactics to infect the devices of unwitting internet users with malware. One method is to utilize web adverts to entice users to click on and download malware. Ad filters will protect users' devices from unknown and destructive infections.
Ad blockers assist users in maintaining overall privacy even when surfing public websites. Ad blockers can also prevent third-party tracking of users' internet activities. Similarly, eliminating unpleasant or irrelevant adverts will improve users' browsing performance. iPhone users must select a reliable ad blocker to keep internet security. Users must, however, check the ad blocker's app size. Some ad blockers take up space and drain the battery.
Pro Tip:
Ad blockers for iOS should include a whitelisting feature. Users can select a preferred website or content by using the whitelisting option. Users should also verify the ad blocker's blocking capabilities to know how many ads the ad blocker can manage. Ad blockers must also include an ad tracker.
Do Ad Blockers Secure Your iPhone from Adwares?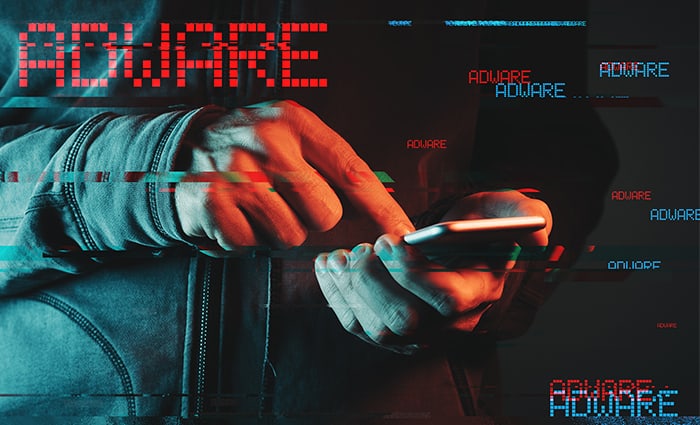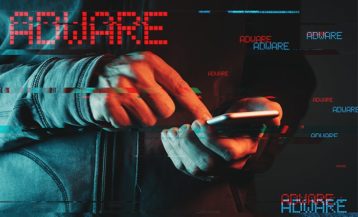 Adware, commonly referred to as advertising software, is a type of software used to display advertisements. Some developers use adware to generate cash whenever an internet user sees or clicks on an advertisement. As a result, adware bombards internet users with unwanted and irrelevant adverts. Adware can infect users' devices via free application downloads or malware.
Users can protect personal devices against
adware
infection by installing a good ad blocker. However, before installing an ad blocker on a device, users should conduct thorough research.
Do Ad Blockers Track Your Browsing Data?
The majority of ad blockers do not keep track of users' online activity and access personal information. Only some third-party software intrudes on and tracks users' internet activities. Third-party software can reveal users' identities to hackers who may use the victim's identity for illegal purposes.
Can You Block Ads on the Safari Browser on an iPhone?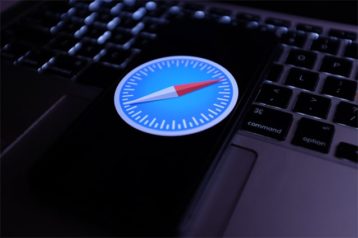 Yes, users can block ads on the Safari browser on an iPhone. Ad blocking is important for users to have a smooth and hassle-free browsing experience. Also, ad blocking stimulates users' privacy and security. Using any of the best ad blockers for Safari browser is one of the most effective ways to prevent adverts on the Safari browser.
Users can also turn on Block Pop-ups on the iPhone by going to Settings > Safari > Block Pop-ups.
Can You Block Ads on the YouTube App on iPhone?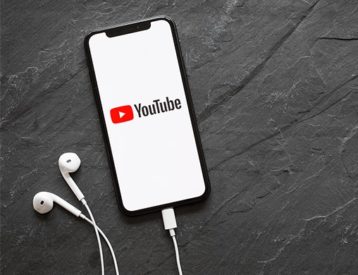 The experience can be unpleasant to be watching a favorite show on YouTube only to be interrupted by a barrage of irrelevant advertising. Furthermore, certain video advertisements consume data from users and slow down browsing. Users can disable this YouTube advertising by using a reputable ad blocker. AdLock for iPhone is one of the most powerful YouTube ad blockers. AdGuard, AdBlock Pro, iBlocker and other ad blockers are some ad blockers that users can use to block YouTube advertisements. Safari Block Pop-ups is another option for users to remove the ads. Another way to eliminate advertisements is to subscribe to YouTube premium.
Does a VPN Help You to Prevent Ads?
Yes, a VPN can assist users in avoiding advertisements. Although not all VPNs are good at ad blocking, certain VPNs include built-in ad blocking features. Some of the best VPNs for iOS that offer great ad-blocking features include NordVPN, Surfshark, PIA, and others. VPN ad filters might also block malicious websites.