Benchmark software refers to a program running a series of tests on specific hardware, simulating the tasks a device regularly performs. Benchmarking compares different devices to monitor whether a computer is performing optimally. Most benchmark software measures the performance of a device's processor and memory, but many tools also perform graphics card tests, which are useful when setting up a gaming PC or a workstation for graphics-intensive tasks like 3D modeling and video editing.
Benchmark software benefits users by giving important device performance metrics so that users can plan on upgrading individual components or detect problems with components already present on the device. Users may also encounter overheating during stress tests, which may only cause damage if left running for an extended period. Benchmark software is safe to use as long as the program comes from a legitimate source. The best benchmarks software should be detailed, cross-platform and up-to-date with the latest hardware devices available in the market. These factors are important in determining a good benchmark software for testing a device unit.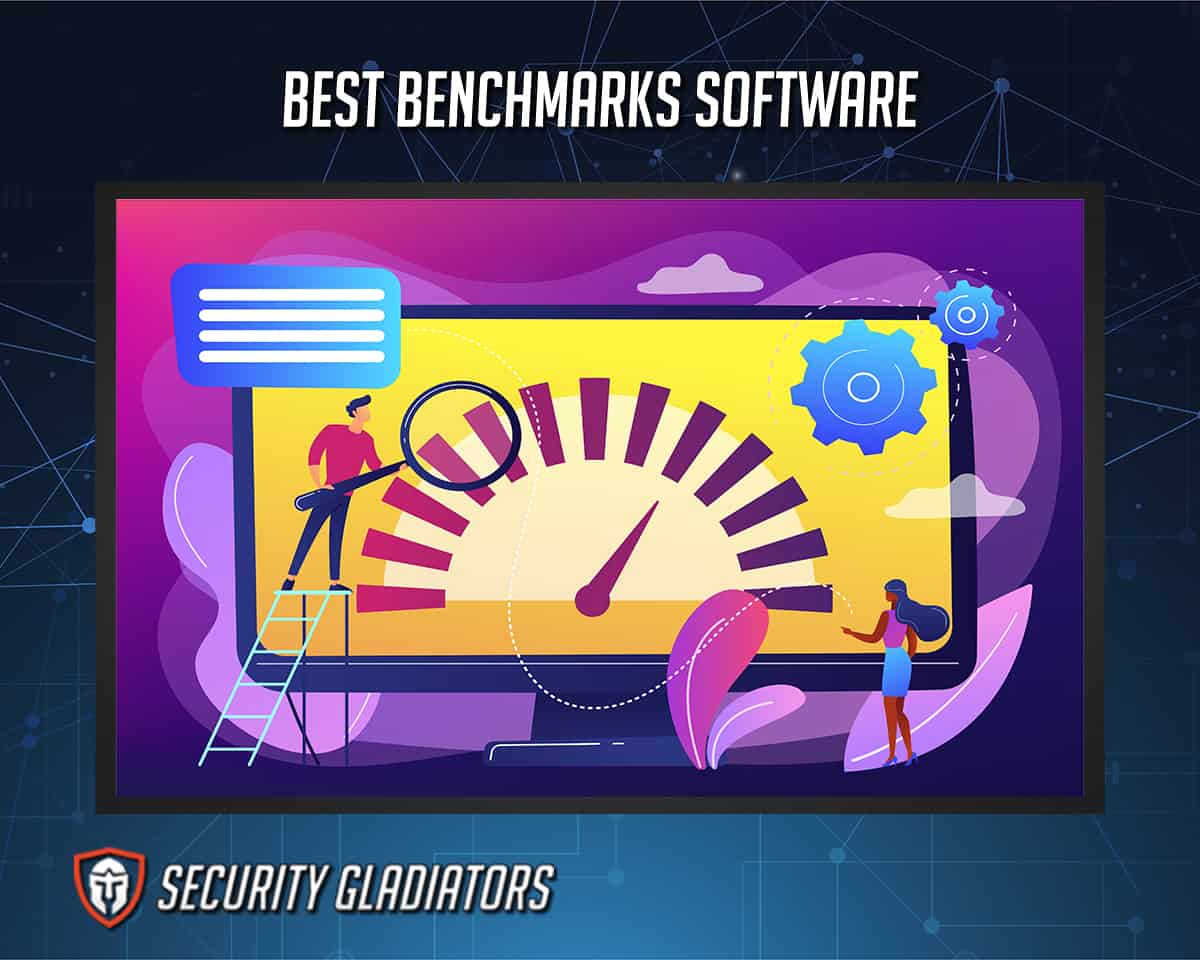 The best benchmarks software programs in 2023 are listed below.
AIDA64 Extreme
Basemark GPU
FurMark
Geekbench
OverClock Checking Tool
Novabench
3dMark
UserBenchmark
Heaven UNIGINE
GFXBench
1. AIDA64 Extreme
AIDA64 Extreme is a hardware detection engine developed by the Hungarian-based company FinalWire that can help users benchmark a PC's performance. The tool features accurate and detailed information on computer internals. AIDA64 partners with many of the top hardware manufacturers, such as AMD, Intel and MSI, to get support for all the latest devices.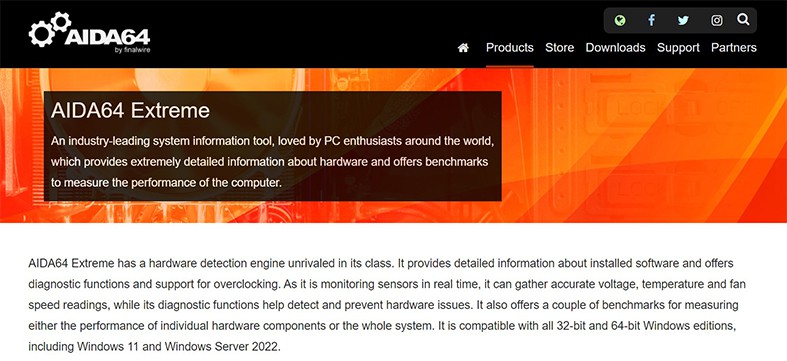 Navigating around AIDA64 is easy because of the collapsable panels on the left-hand side. The tool offers numerous system information categories and tools that will provide a detailed assessment of the machine.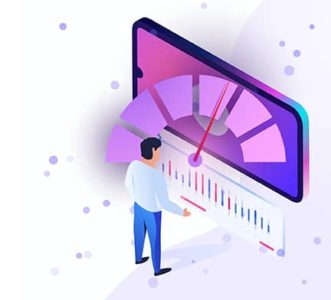 AIDA64 Extreme has wide support for diagnostics. The software can provide detailed reports of over 250 sensor devices to measure various properties of a device. These properties include temperature, voltage, fan speed and power draw. Users can also use AIDA64 as GPU benchmark software since the tool has a GPGPU Stress Test feature that analyzes the unit's maximum performance. The GPU test makes AIDA64 a great GPU benchmark software for gamers.
The AIDA64 software is a cross-platform tool. The PC offering is compatible with most editions of the Windows operating system, and there are apps for AIDA64 for Android, Windows Phone and iOS devices.
Users can utilize these apps to conveniently detect smartwatches, TV devices, tablets and smartphones' performance with one application.
Priced at $49.95, AIDA64 Extreme is the cheapest AIDA64 product line. Users working as corporate IT technicians and engineers can choose to upgrade to the AIDA64 Engineer option, which is made for commercial use.
A disadvantage of AIDA64 Extreme is the speed of scanning the entire device. Since the tool can have so many diagnostic options, users may have to wait longer for the program to scan the device thoroughly. Security-wise, users should not have to worry about the program tampering with any system files while conducting the scan.
---
2. Basemark GPU
Basemark is a Finland-based software company specializing in finding ways to optimize the use of GPU hardware. Basemark GPU is a benchmark software and professional evaluation tool for users who want to compare graphics performance across different devices. The software supports all major graphic APIs and operating systems.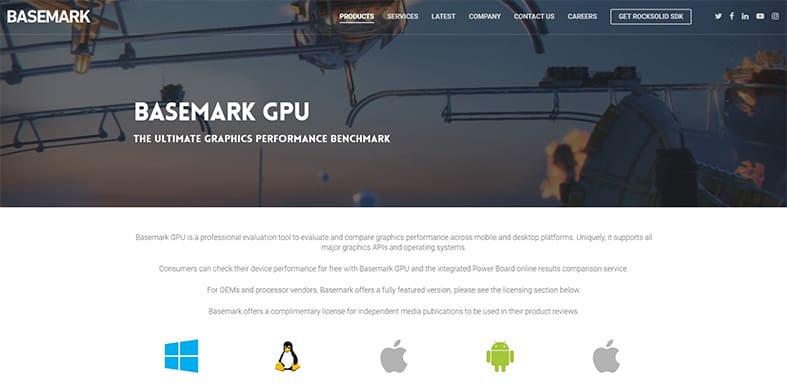 The Basemark GPU product line is developed over a proprietary graphics engine dubbed Rocksolid. The Rocksolid architecture abstracts the way the device runs and renders graphics. This method ensures that all platforms similarly run the tests.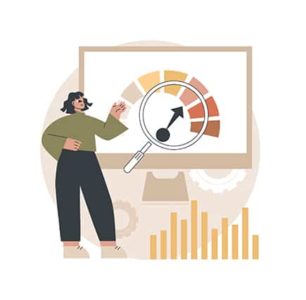 The software allows users to test devices by running an advanced simulation with over 10,000 draw calls per frame. Basemark GPU includes two modes: High quality, which is intended for testing desktop systems' ability to run the latest AAA PC games, and medium quality, designed to test mobile devices.
Basemark GPU offers a free version of the software to consumers, allowing users to benchmark system graphics capabilities. The corporate version is intended for companies who need advanced features such as test automation, data exports and custom configurations. The Basemark GPU team also offers a complimentary license for independent media publications that use the software in product reviews.
The Basemark GPU software should be secure enough to use since the company works with trusted partners such as Intel, NVIDIA and Qualcomm.
Basemark GPU users can leverage the Basemark Power Board, a performance ranking service for smartphones, tablets, PCs and other devices. Basemark has collected a large database of benchmarks, giving consumers access to a GPU performance comparison between devices.
The combination of updated information, detailed tests and cross-platform support makes Basemark GPU one of the best benchmark software programs available today. However, users looking for a comprehensive benchmarking tool will be dissatisfied that the product mostly focuses on GPU performance.
---
3. FurMark
FurMark is a free, lightweight GPU stress test and benchmark software for the Windows platform. Geeks3D, known for free productivity and development software, maintains FurMark. The software should be secure enough to download from the official website. The download page comes with checksum values to ensure the integrity of downloads.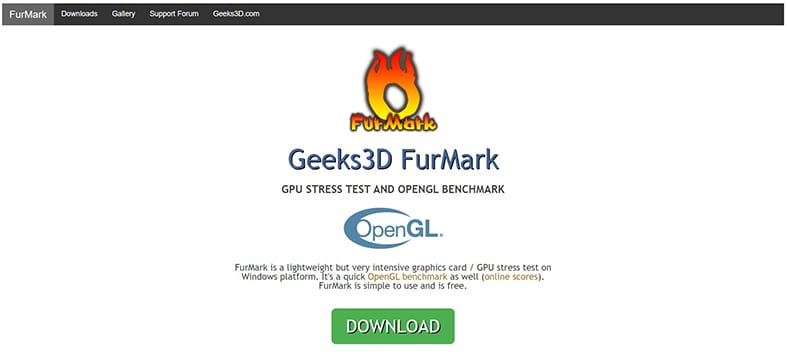 The tool has an easy-to-use interface and is continuously updated by the developers. FurMark is specifically designed to test the OpenGL graphics API, which more or less comes with all major desktop platforms.
The application is unique in the visualization, which looks like a furry donut-shaped object rotating in a 3D space.
Stress tests are useful when applied to GPUs running on stock settings. FurMark will run a program that will try to push the user's device to the limit.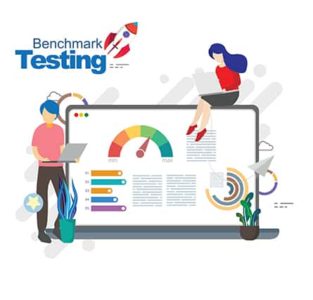 After downloading FurMark, launching the program will open up a menu with various settings. Users can choose to set a temperature for the GPU temperature alarm box. FurMark will warn the user when the GPU being tested has hit a certain temperature.
Running the default stress test will open up a 3D visualization that takes up the entire screen. The stress test will incrementally increase the GPU's power usage. A stable graphics card should run the FurMark stress test for at least 30 minutes without any issues. Users who run FurMark can compare other devices' scores in the FurMark Comparative Tables.
While FurMark works great as a GPU stress test for Windows devices, the tool lacks support for other operating systems and mobile devices. The FurMark software also strictly measures GPU performance, which might be lacking for users wanting a more comprehensive benchmarking software product. Overall, FurMark remains one of the best free GPU benchmark software programs found online.
---
4. Geekbench
Geekbench is a cross-platform benchmark software from Primate Labs that can easily measure the performance of a device.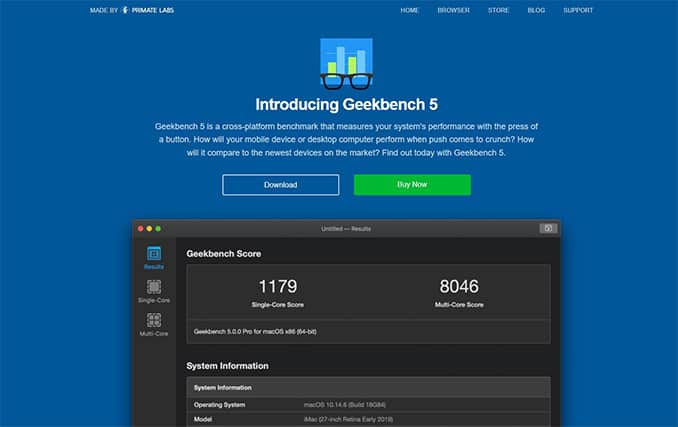 The Geekbench 5 offers multiple types of benchmarking. The CPU benchmark measures the power of the device's processor, whether the device has a single or multi-core setup. The computer benchmark tests the system's potential for gaming, image processing or video editing. The software even supports Vulkan, one of the latest graphics APIs used in modern gaming.
Geekbench 5 scores are measured against a baseline score of 1,000. Higher scores are better. For example, if a newer device is double the score of another device, the newer device has double the performance.
One unique feature of Geekbench is the tool's method of saving benchmarks. Geekbench offers a Geekbench browser, enabling users to create a profile to save personal benchmarks and compare with other users.
A "Pro" version is also available for users wanting more advanced features. Geekbench 5 Pro has support for command-line tools and a standalone mode. The standalone mode is a portable installation that lets the user run Geekbench from a USB stick or network drive. This feature is perfect for testing systems that belong to clients or if the user is in an office setting.
Command-line tools allow the user to automate Geekbench to run by setting up shell scripts or batch files through a terminal.
Geekbench 5 starts at $9.99 for the macOS, Windows or Linux options. Geekbench 5 Pro costs $99.99 and is available for all three desktop operating systems.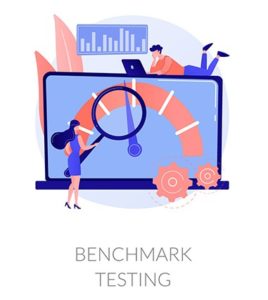 Geekbench tests a given device's ability to handle complex machine learning or cutting-edge graphics for gaming. The variety of tests makes Geekbunch a great option for a computer benchmark software that returns detailed results for various devices. The software should be safe to use as long as the program is downloaded from the company's official website.
Geekbench 5 has a few drawbacks, such as the unsupported battery benchmark and the fact that support for 32-bit CPUs and operating systems has been discontinued.
---
5. OverClock Checking Tool
The OverClock Checking Tool (OCCT) is one of the more popular software options for stress testing PCs. Many companies have trusted OCCT since the product launched in 2003.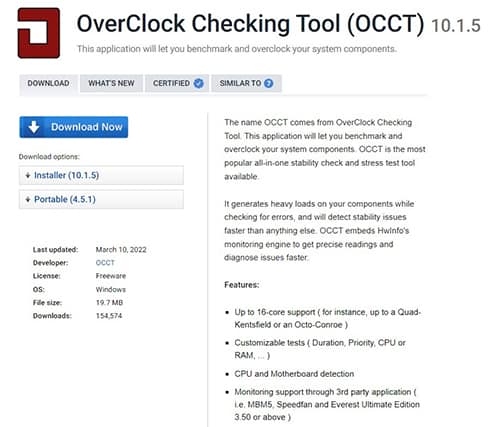 A strong side to this software is the ability to test every component of the user's PC. The OverClock Checking Tool offers a challenging CPU stress test that can help users set the device's stability. During tests, the benchmark software monitors the temperature, voltage, component usage, power consumption and fan speed. OCCT has six different tests, including tests for CPU usage, RAM, graphics cards and power supplies.
Note:
OCCT is unique among GPU stress testing software since the tool can run tests without a display attached. Headless GPU performance is commonly used in crypto mining farms.
The software offers some settings for cautious users. A maximum temperature threshold can be set if users are concerned about putting too much stress on components. If a component reaches this temperature, the OCCT stress test will halt immediately.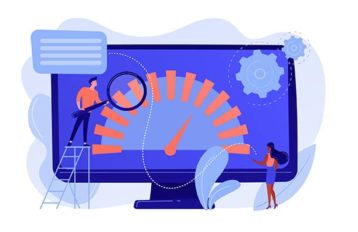 The monitoring and diagnostic tool is based on the HwInfo64 engine. Users can run the tests indefinitely or set a timer for how long the test will run. Device owners can see the results in real-time as the tests are running. Each test result is also saved locally as a PNG image.
Since the test is specifically made for Windows machines, OCCT cannot test Mac and Linux systems, which can be a disadvantage for some users.
Users can download the OCCT software completely for free for personal use only. OCCT uses a single-file executable that runs with a simple double-click, unlike many other benchmark software programs. Users who intend to use OCCT for commercial use will need to pay $260 per year for the OCCT Pro software. Patreon members have access to "OCCT Personal," which removes some limitations in the free version.
Because of the trusted and features-heavy tests, the OverClock Checking Tool is a great GPU and CPU benchmark software option for PC users.
---
6. Novabench
Novabench is a free benchmark program by Novawave Inc. that uses an extensive results database to allow users to better understand the device's performance.
Novabench's tests last only a few minutes and track four major components. The CPU test allows Novabench to evaluate general CPU performance and targeted tests. Each targeted test looks into specific instruction pipelines of the CPU.
The GPU tests included in Novabench are designed to run on most graphic cards released since 2012. Graphics tests render a 3D scene and measure frame drawing performance. The compute test measures how quickly the GPU can be used for non-gaming tasks, such as video rendering and machine learning.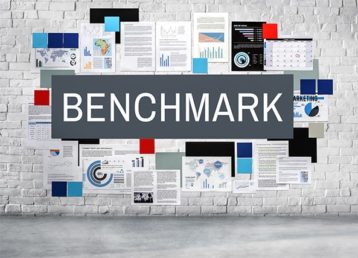 Novabench also includes a RAM test to evaluate the system's memory transfer performance and a disk test to track the performance of solid-state or hard disk drives.
After testing, users will be presented with a unique Novabench score. The overall score is an impression of the device's performance relative to other devices scored by Novabench. Users can compare the computed performance score with other anonymous profiles online.
The "Novabench Pro" option costs $19 for personal use. A one-time purchase allows users to access a portable version of Novabench that can be placed on a USB drive. Additional features include a command-line interface, scheduled tests and the ability to export data to CSV and Excel formats. Businesses can avail of a one-time purchase of $49 per seat, which comes with a commercial license.
Overall, Novabench is an excellent choice for PC benchmark software. Users will appreciate the wide variety of components and detailed metrics available in Linux, Mac and Windows. Scores databases get constantly updated, keeping Novabench metrics up-to-date. Novabench has limitations; the software does not test secondary hard drives and no longer supports Windows XP and earlier Windows versions.
---
7. 3DMark
3DMark is a popular benchmarking software for gamers and system builders developed by Finland-based benchmark developer UL. The UL team has years of experience creating performance tests for all devices. Since an industry-standard developer makes these tests, users can trust the software's security.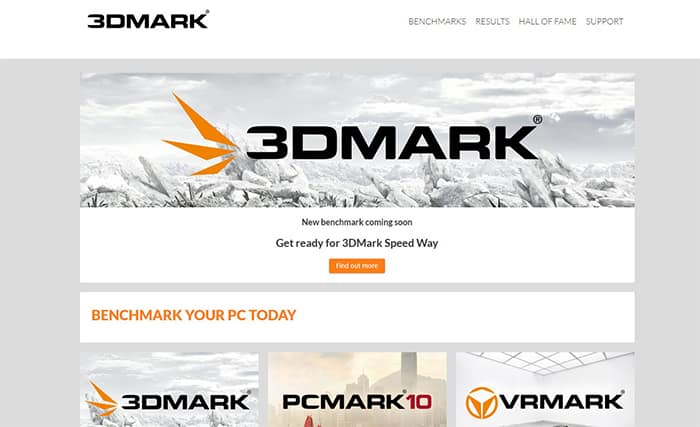 The software tests a PC's GPU and CPU by rendering real-time, game-like scenes with extremely demanding graphics. Faster benchmark results produce higher scores.
3DMark allows gamers to easily compare scores with other systems running the same hardware. Lower than average scores might indicate an issue with cooling, configuration or the component itself. 3DMark also shows the frame rates the user can expect when running a selection of popular video games.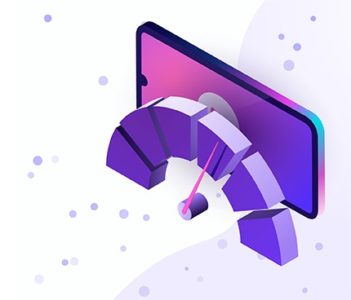 Custom PC builders will benefit from 3DMark's benchmarking for checking the latest setups. CPU and GPU monitoring will help PC builders identify possible configuration issues in current builds. Users can use 3DMark stress tests to check system stability and optimize cooling performance.
3DMark is a great tool for users who plan on overclocking. Overclockers can use custom benchmark settings to gauge the limits of devices. One disadvantage is that 3DMark has previously removed features and locked those features behind a paywall. 3DMark may do this again even if the user has already paid for the product.
Users can download the latest version of 3DMark on Steam for $11.99. There is also a discounted bundle option that costs $23.97 and allows users to purchase 3DMark with PCMark, another software program that provides detailed benchmarks for PCs.
---
8. UserBenchmark
UserBenchmark runs various benchmarking tests to measure performance in different areas of a PC. According to the website's "About" page, the people behind UserBenchmark are an independent team of scientists and engineers.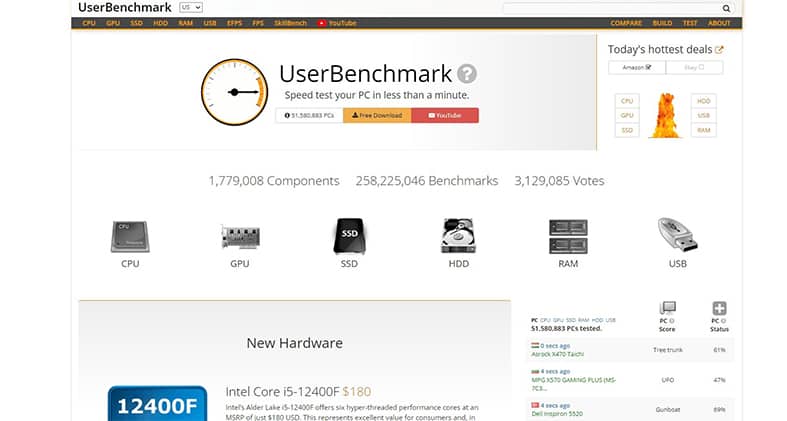 UserBenchmark offers a freeware PC speed test tool that works in less than a minute. UserBenchmark tests the user's PC and compares the results with other users who have the same components. PC enthusiasts have frequently used the website since 2011, which should make the website safe to trust as a user.
Each component has a corresponding user rating on UserBenchmark's website. Scores over 85% require users from at least 100 countries to have recently voted on a product.
The CPU tests include integer, floating and string computations, while the GPU test runs six 3D game simulations. Current prices adjust the effective speed metric to yield value for money. UserBenchmark's features are verified against thousands of individual user ratings.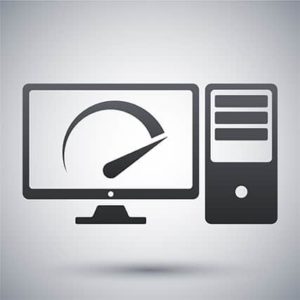 Besides the benchmarking test, the UserBenchmark website has a page where users can compare various components such as CPUs, GPUs, SSDs and more. Users intending to upgrade to a better PC build can use the virtual PC builder to plan out the next part to purchase.
UserBenchmark offers a great solution for users to compare components with one another, making the software an excellent choice for PC builders and people hoping to upgrade components for better performance. UserBenchmark is a free benchmark software program, giving first-time PC builders a great option.
However, some PC enthusiasts disagree with how the website scores certain aspects of components. Users claim that the site gives an advantage to single-core builds over multi-threaded computers.
---
9. Heaven UNIGINE
The Unigine Heaven benchmark software is a GPU-intensive benchmark that tries to push the limits of the graphics card. The tool was developed by Unigine Company, best known for the Unigine Engine, first released in 2005.
Users can apply the software to stress test GPUs. Doing this will allow users to set the GPU stability under stressful conditions and test cooling effectiveness.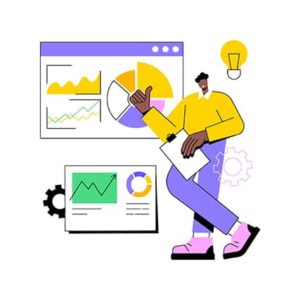 The graphics test renders a steampunk universe with flying islands, a dragon, clouds and an adjustable day-night cycle. The engine runs a real-time global illumination and allows users to interact with the environment. The software performs 100% GPU-bound benchmarking for maximum accuracy.
The software can run on either Microsoft Windows, macOS and Linux systems. The "Basic Plan" is free and comes with GPU monitoring, presets and custom settings. The "Advanced" version costs $14.95 and includes command-line automation, CSV reports and benchmark looping. Commercial businesses such as repair shops and hardware manufacturers can opt for the "Professional" edition (priced at $495), which comes with a commercial license.
The Heaven benchmarking tool is mainly used for testing the power of a device's GPU. Output from the Unigine Heaven GPU test can help overclockers, gaming enthusiasts and professionals assess the stability of graphics cards.
On the downside, the software lacks the comprehensive data and settings that competitors offer. Heaven makes up for this by giving the user a fun experience of exploring a 3D world. Since the software is not meant to be a stress test for PCs, users should not have to worry about extensive overheating of components.
---
10. GFXBench
GFXBench is a high-end graphics benchmark that measures desktop and mobile performance when running the latest graphics technologies. The GFXBench team claims this product is a true cross-API benchmark supporting all industry-standard and vendor-specific graphic APIs. Popular APIs such as OpenGL, DirectX and Vulkan are supported.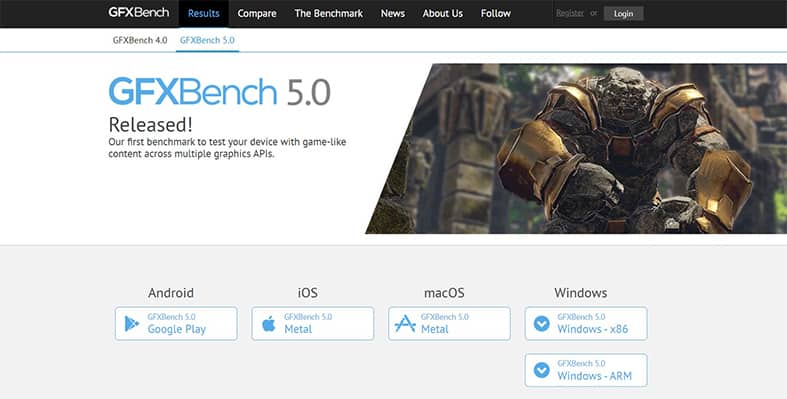 The GFXBench performance benchmark test is developed by Kishonti Informatics, which provides open standards-based, platform-independent software products.
The GFXBench software includes an easy-to-use interface where users can easily customize tests and compare devices. GFXBench measures each test's temperature, CPU clock and frame time. The software also includes a battery and stability test, measuring the device's battery life and performance stability.
The benchmark test detects the device's capabilities and chooses the most appropriate test set to provide the most accurate information to the user. The test suite includes several high-level test scenes, including "Car Chase," "Manhattan" and "T-Rex." The scenes use several tessellation techniques, which break down complex shapes into simpler polygons to provide realistic graphics content.
GFXBench can be considered a great gaming benchmark software option. GFXBench is available for mobile devices via the Google Play Store and the Apple App Store. Those who want to get licensing for the corporate version may do so through Kishonti's GFXBench GL Benchmark Development Program.
---
What are the Functions of Benchmark Programs?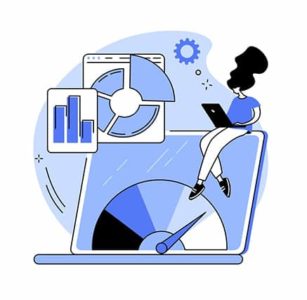 Benchmark programs perform benchmark testing on devices, typically tracking component performance, stress testing and comparing results with similar devices.
Users who need to know how well a device performs can use benchmarking software to track performance. These programs usually record data in a spreadsheet and offer a visualization in the form of charts.
Benchmarking often involves finding out a device's limits. Various tools include a stress test that runs complex and resource-consuming scripts and graphics. These tests can help determine the limits and stability of a PC or mobile device's components.
Lastly, benchmark programs may offer a means to compare user results with other devices, typically retrieved from other users. Some of the best benchmarking software today has thousands of user-retrieved benchmarking data from devices worldwide.
Because of all these features, benchmarking software is an excellent tool for PC builders and gaming enthusiasts who want to tweak these PCs to perform optimally.
Which Hardware Can be Tested with Benchmark Software?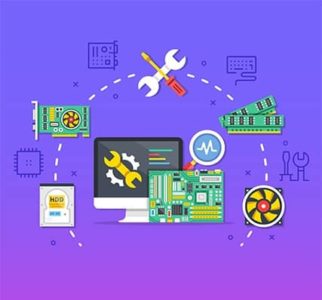 Many benchmark software programs can test various components such as the CPU, hard drive, RAM and GPU. The best free benchmark software should have a variety of tests to assess multiple areas of the PC's performance.
Each component has various metrics and types of tests to determine performance. While GPU benchmarks tend to focus on the ability to let games run smoothly, CPU benchmarks focus on multitasking capabilities. For example, GPUs can perform complex tasks much faster than a CPU, reflecting on the tasks used to test the component.
What Problems can be Detected with a Benchmark Program?
A good benchmark software program lets users know whether a component is performing below the component's potential. Running a stress test can also show signs of instability. If a component heats up too quickly during a test, the problem may be hardware-related. One of the main reasons for overheating is the buildup of dirt and debris through extensive use.
Various PC benchmark software programs also monitor the device's fan speed, temperature and power consumption. Abnormal results from these components may indicate faulty or damaged hardware.