A web browser is a computer program or application that is used to navigate and surf the internet. Browsers are mainly used for spreading information and transmitting data, sharing messages and events, and engaging in business processes, education, entertainment and other online activities. There are several web browsers available to enable the efficient transmission of data and information, but these browsers must be secure enough to protect users' privacy.
Security is becoming more important every year with the rise of cyberattacks, data breaches and other threats to privacy and users' data. However, technology has done well with the creation of browsers that provide all the necessary security for users. There are many web browsers, but not all provide maximum security. This is because some developers engage in hacking, spying on users and stealing information. These hackers take advantage of any atom of vulnerability to inflict difficulties on unsuspecting users.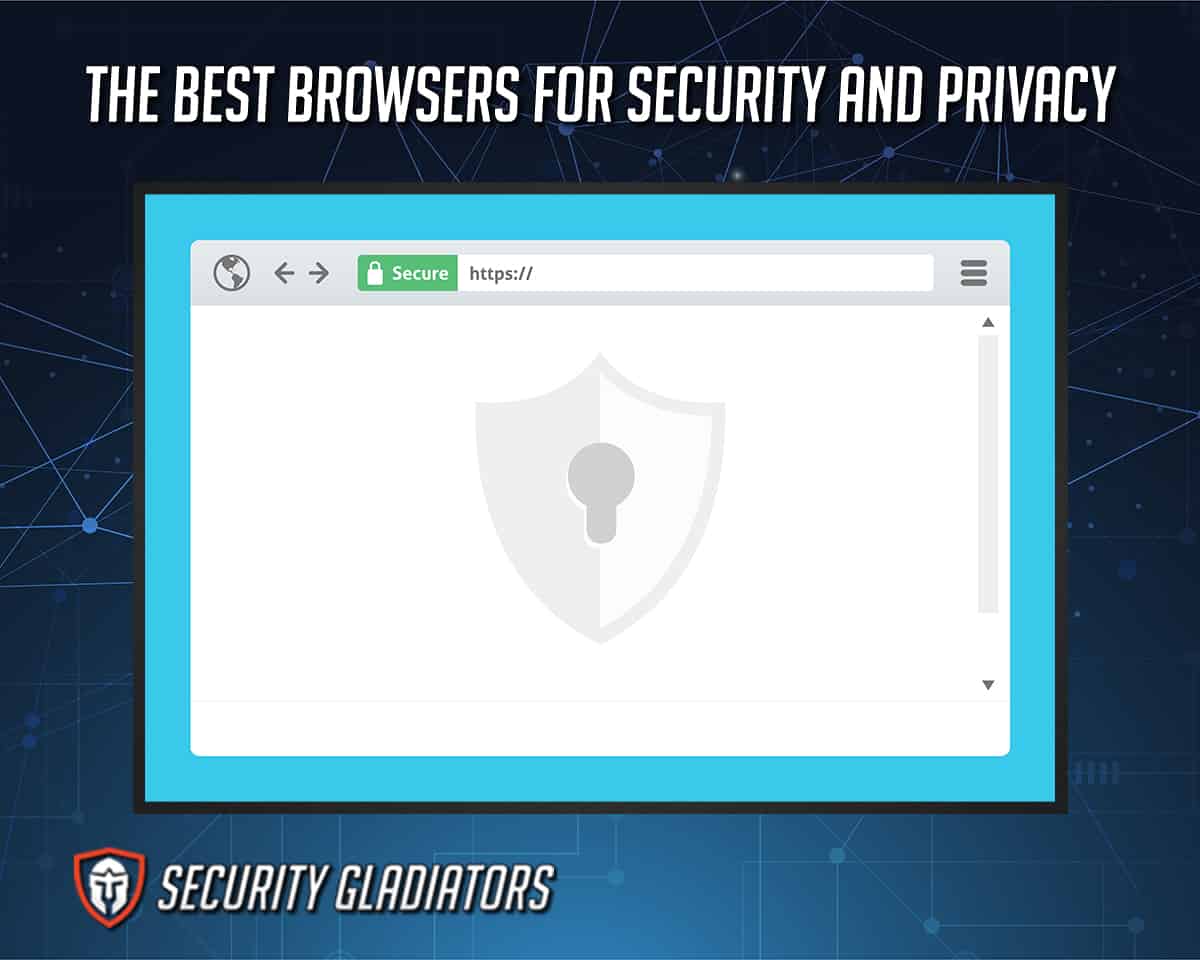 The best browsers for security and privacy in 2023 are listed below.
Tor
Brave
Mozilla Firefox
I2P
Safari
Epic
Freenet
Opera
Vivaldi
Waterfox
1. Tor
Tor Browser is a web browser that anonymizes web traffic using a Tor network, making the protection of users' online identities easy. Tor Browser is a modification of an Extended Support Release (ESR) version of the Mozilla Firefox browser. The browser is portable to enable connections to external media and reduce the hassle of installation.
The Tor Browser is produced by the Tor Project, a research-education nonprofit organization founded by Roger Dingledin, Nick Matthewson and five others. The browser's alpha version launched on Sept. 20, 2002, and was originally called "The Onion Router." In September 2019, the Tor Project announced the official release of the Tor Browser for Android.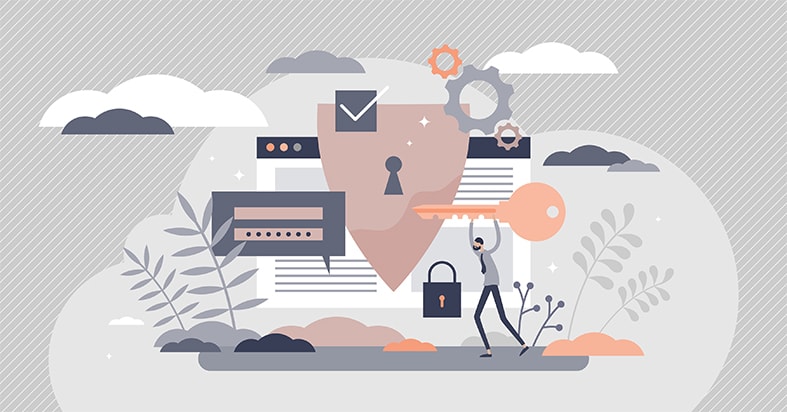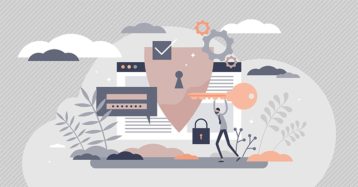 Tor offers cross-platform availability, making the browser available and accessible for users on Linux, Windows and Mac. Tor also includes a complex data encryption system, automatic data encryption at the client-side, anonymity to servers and websites, and routing of data to/from hidden services and applications behind the firewall. Tor browser is essentially a combination of the Firefox browser and the Tor Project's technology.
The advantages of the Tor Browser include hiding online activities to provide protection for users, multi-layer encryption for boosted security and anti-spy protection. Tor is capable of handling thousands of relays and millions of users and also makes it possible to visit blocked websites.
Despite these benefits, the Tor Browser has some notable demerits, including a slow connection due to the browser redirecting through at least three nodes. Another downside is questionable maintenance. Since the Tor network is run by volunteers only, there might be inadequate funding for maintenance enhancement activities.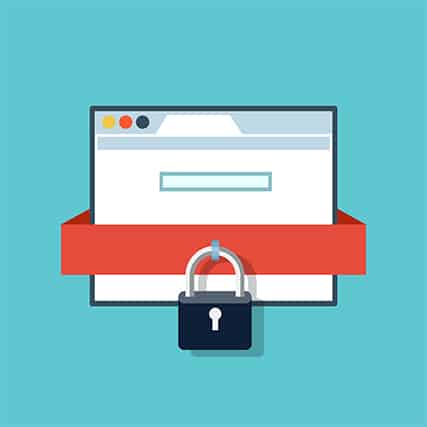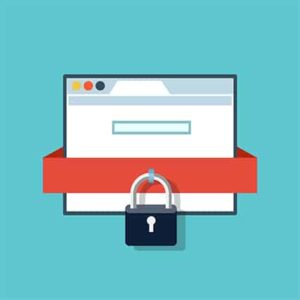 The Tor Browser is configured to make all users look the same, making it nearly impossible for users to be fingerprinted based on browser and device information. The browser uses a unique security system that was originally developed by the United States Navy to protect the government's intelligence communications. These, among others, are the elements that make the Tor Browser unique.
Tor is free to use, but a separate private web+VPN version starts at $39.99 per year, $2.99 per week and $9.99 per month. It also has free and limited versions.
The Tor Browser is available for Linux, macOS and Windows desktop and laptop computers. The Tor Project also has a Tor Browser app for Android, and The Onion Browser from developer and journalist Mike Tigas is available for iOS mobile devices, which the Tor Project links to.
To use the Tor Browser on Windows, the user would first need to go to the Tor Project download page and download the Windows file, which would be in an .exe format. After this, the signature of the file would need verification, and once that is done, the user needs to double-click the downloaded file to initiate installation.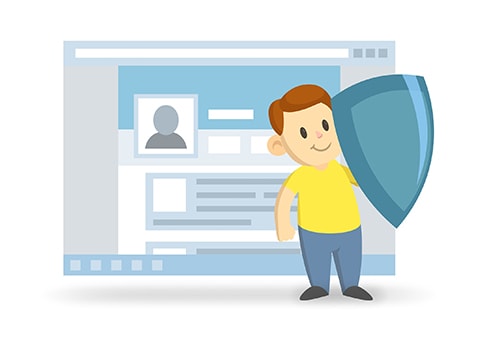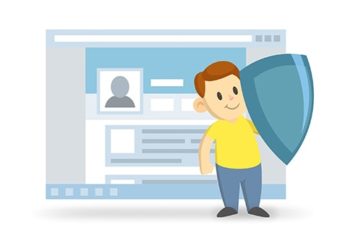 For macOS, the user would be required to also navigate to the Tor Browser's download page. The file, in this case, would be a .dmg format instead; the user would need to download the file and go through the verification process. Once the file is downloaded, the user is to double-click and then finish up by installing.
Practice shows that Tor isn't 100% safe. Like every other system, Tor has its weaknesses. Even though leaks are constantly being patched, there is no assurance whether these patches happen in time. Aside from this, there are more reasons to be worried about the safety that Tor offers.
Despite the anonymity that Tor offers, complete privacy is not guaranteed. In the past, Tor users have been compromised because the U.S. National Security Agency (NSA) owned a significant part of the Tor nodes. The NSA could see who used those nodes, which was problematic since law enforcement could track and arrest users in their respective countries.
Tor Browser comes with two add-ons: Noscript and HTTPS Everywhere.
---
2. Brave
The Brave browser is an open-source web browser that restricts and blocks advertisements from other websites and decides whether to replace the ads with the browser's own ad content and allow users to send money to sites they like. Brave was produced by Brave Software Inc., headquartered in Santa Clara, California. The browser was initially released on Nov. 13, 2019, when Brave launched version 1.0.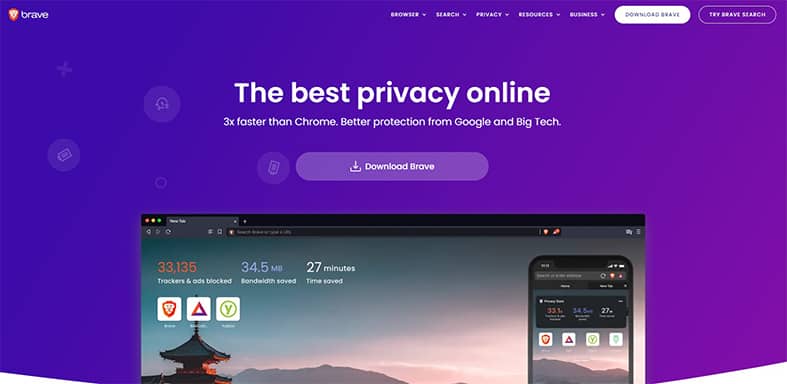 Brave is packed with features consisting of programming languages such as JavaScript, Swift, and C++. Brave also runs on the Blink engine, the V8 engine and the web kit for iOS. The browser is also the first blockchain-powered browser with a cryptocurrency token called the Basic Attention Token (BAT).
Some of the advantages of using the Brave browser include an enhanced privacy mode, the ability to block trackers, a premium firewall and VPNs for iOS devices. Brave also provides speed in browsing and integration of the IPFS protocol, which makes access to the decentralized web easier.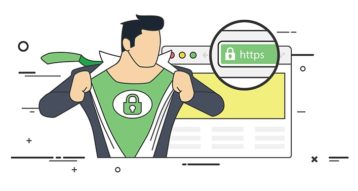 A major setback when using Brave is the browser's lack of extensions, add-ons and plugins. The browser also has settings that could be excessive and may be a serious problem to users who are not tech-savvy. The interface of Brave in association with the cryptocurrency systems is also not user-friendly.
Note:
Brave's payment system is one unique quality of this web browser. Most other sites rely on ads for income and to maintain operations, but Brave has implemented a payment system that allows users to pay sites that they like or frequently visit via anonymous cryptocurrency transactions.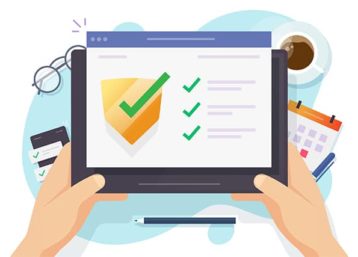 The Brave browser can be downloaded from the Google Play Store for Android devices and the Apple App Store for iOS devices. The browser installation file for Windows is also available and can be downloaded from Brave's official website. The file can easily be clicked, saved and installed after download.
Brave is extensively secure for users. For instance, there is a password manager that enables users to create and store safe passwords while browsing. Users are also able to control cookies and block scripts from sites.
In private mode, Brave allows users to browse anonymously from other users and websites. The browser also tries to ensure communication with websites over an encrypted connection using HTTPS.
As stated earlier, the Brave browser has no add-ons.
---
3. Mozilla Firefox
Mozilla Firefox, often called Firefox for short, is a free-to-use web browser. Firefox was developed by the Mozilla Foundation alongside the subsidiary Mozilla Corporation. After the browser wars of the late 1990s, the initial developers of the Mozilla project released Netscape to compete with Microsoft's Internet Explorer. The browser was released on Sept. 23, 2002, and nicknamed "Phoenix."
Today, the main features of Mozilla Firefox include private browsing with enhanced tracking protection, a search address bar, and login synchronization across accounts and passwords.
Mozilla Firefox has several merits, some of which are enhanced browsing speeds, light memory usage, additional customization options and a good overall user experience.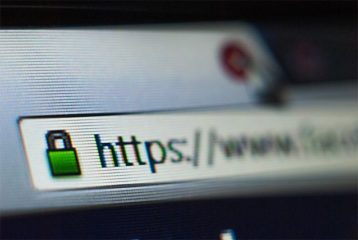 A major disadvantage of Firefox is that due to several plug-in applications, the browser gets extremely slow when downloading web pages. Another downside to Firefox is that if any interruption occurs when downloading large files or applications, there is no option to resume.
One thing that makes the Firefox browser unique is the program's open-source nature, which has enabled developers from all over the world to make alterations and include codes to extend Firefox's functionality with add-ons and themes according to users' preferences.
The Mozilla Firefox browser is free to users, although the Firefox private network browser-level protection costs $2.99 per month.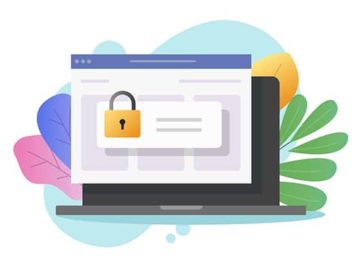 Firefox can be downloaded from mobile app stores such as the Google Play Store or the Apple App Store. For the Windows platform, the browser is downloaded by installing from Mozilla's website and running the application on the user's computer system.
Firefox's security and privacy features include security indicators and malware prevention, customized security settings and parental controls, enhanced tracking protection, and more tools to enhance privacy. In 2021, Mozilla Firefox unveiled a total cookie protection feature that stops cookies from tracking users across the web by creating a separate cookie jar for each website, thereby increasing users' privacy.
Firefox add-ons include HTTPS Everywhere, uBlock Origin and others, which are available on the browser's add-on store.
---
4. I2P
I2P, an acronym for Invisible Internet Project, is a fully encrypted private network layer. This is a network that protects users' activity and location data from being exposed. I2P was developed by a set of programmers called the I2P team, and this anonymous network was initially released in 2003.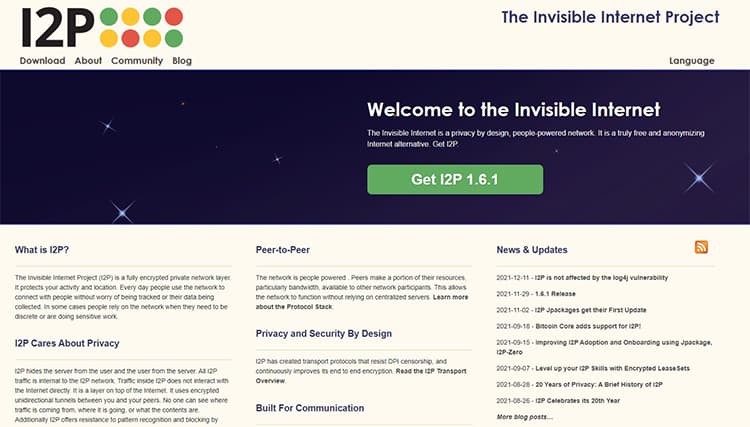 Aside from the network's anonymity and secured web-surfing mechanisms, I2P is a people-powered network. Peer-to-peer connection makes a portion of the network's resources and bandwidth available to other users. Therefore, the network does not rely on centralized servers.
One major advantage of I2P is that the network has a top-notch security system. Users can engage in online activities freely without fear of being stalked or spied on. The browser also ensures network speed for browsing and file-sharing.
However, there are still disadvantages. The access to installation or download is quite troublesome; the extra effort required is a huge turn-off for many new users. The network also cannot guarantee anonymity when making use of an out proxy to the public web.
The uniqueness of this browser is in the service provided to the users. I2P allows users to self-host or mirror content using the network's unique DNS. I2P is totally free and accessible to users.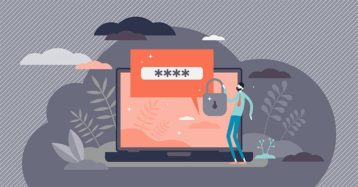 To make use of this browser, Java has to be installed in a computer system before I2P can run. The network is written in the Java coding language and requires a Java system to be installed before I2P can be accessed. Afterwards, manual configuration is optional, as the case may be.
According to some analysts, I2P mostly focuses on the security of the networks rather than local data storage, implying that I2P has a secure network. However, user privacy may not be in-tact as I2P stores local data without encryption, making that data accessible to third parties. Aside from this, I2P protects users' communications while surfing or browsing the internet.
For add-ons, I2P mostly uses the ORCHID plugin and the I2P helper plugin.
---
5. Safari
The Safari browser is a graphical web browser developed by Apple and has been the main or default browser of the operating systems in the company's line of products.
Safari first launched on Jan. 7, 2003, and was originally developed for macOS but now runs on iOS and Windows. Safari includes HTML 5 support, a reader mode, Safari nitro engines and other features to enhance efficiency and comfort for users.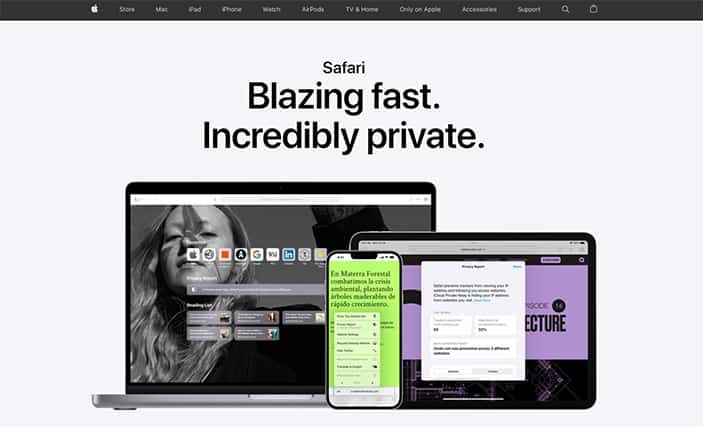 Some of the advantages of Safari are an attractive user interface design, streamlining across Apple devices, and nitro engine features that increase data processing speeds on web-based applications. However, the demerits include the lack of an option to restore previous sessions and the existence of bugs in the browser that can cause carpet bombing attacks.
As for the browser's uniqueness, some things that make Safari stand out are speed, efficiency, and user interface customization. Safari is a free browser and is easily accessible.
The Safari browser automatically comes with iOS and macOS devices and can be downloaded from the Apple App Store.
Safari is considered secure for several reasons, one of which is how frequently the browser is upgraded with new security features, which makes browsing more private and satisfactory. Intelligent tracking prevention also helps to safeguard user privacy.
Safari uses extensions such as Apollo, Super Agent, Overamped and others. There are plenty of extensions available for the browser.
---
6. Epic
Epic is a private and secure Chromium-based web browser. The open-source browser was developed by Hidden Reflex and was initially released on July 15, 2010.
Epic has a very familiar graphical user interface. The browser even supports some of the same features like opening multiple tabs, creating and importing bookmarks, zooming in and out, printing selected pages, changing the language, and more.
In the Epic browser's strengths, privacy mode is constant, trackers and adverts are blocked, and all Google tracking features integrated into the Chromium engine were removed.
Some of the weaknesses of this browser include the lack of early update releases, no support for external password managers and the fact that some websites do not work on this browser, which can be frustrating for users.
The simplicity and extreme privacy base of the browser make Epic unique. The Epic browser is free and has no extra costs attached. This browser can be downloaded and installed from the main website and from mobile app stores directly to use.
This browser is extensively secure with an additional protection system that enables users to control all information and data sent or received.
While using the Epic browser, privacy mode is always active with several layers of encryption and one click to make the proxy anonymous and ensure maximum privacy for users.
Epic has browser extensions, such as Clearly from Evernote, Lastpass, Xbookmarks and more.
---
7. Freenet
Freenet is a community computer network that offers peer-to-peer communication, anonymous connections and censorship circumvention. Freenet was developed by Ian Clarke, a student at the University of Edinburgh, as a project requisite for his graduation in 2000. Freenet was first released in March 2000 and has been active since then.
The browser features a free internet service without extra data charges, a simple user interface and the ability for users to perform online tasks and earn loads.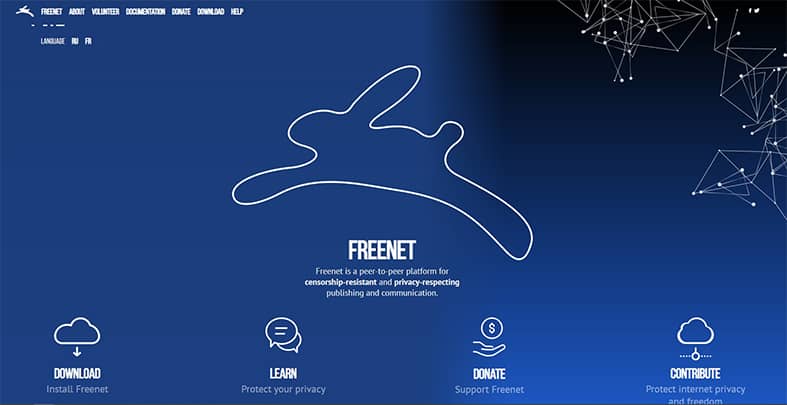 A major strength of Freenet is the browser's anonymity and intense resilience to cyberattacks. Users are assured of security with information and data. One of the browser's downside, however, is the storage system; the browser often poorly locates stored files, which makes some users skeptical about using Freenet.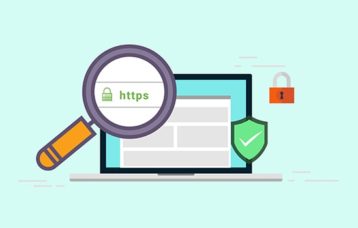 Freenet offers internet service to users in over eight languages, which is not common to most other browsers that tend to offer services in just one or two languages. Freenet is free of charge.
Freenet currently cannot be downloaded as the browser has stopped app and website services. Still, the security and privacy of Freenet is assured, and as long as users' communication with peers is secure, there is less vulnerability to attacks.
Freenet uses the Keep Alive plugin, the Web-of-Trust plugin and others.
---
8. Opera
Opera is a Chromium-based multi-platform web browser. The browser is famous for winning the Emmy Award for Technology and Engineering HTML5 Development and Deployment of a Full TV Experience on Any Device.
The Opera browser was developed by the Norwegian parent company, Opera Software. Opera first launched on April 10, 1995, and has since released several upgraded versions.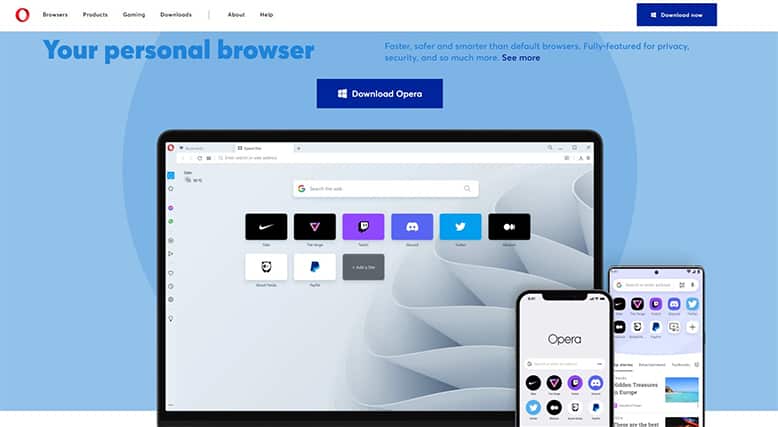 Opera features integrated messengers, workspaces, ad-blockers and a search-in tabs function. These features enable the convenience of service for users.
One of the primary advantages of Opera is the graphical interface; Opera has a clean and straightforward interface that makes using the browser easy. Aside from this, Opera also has a wide range of acceptable extensions, and the browser is very fast. Another interesting strength of Opera is that the browser is designed to connect to social media platforms like Twitter, Instagram, Telegram and WhatsApp, which are arranged at the left sidebar of the browser.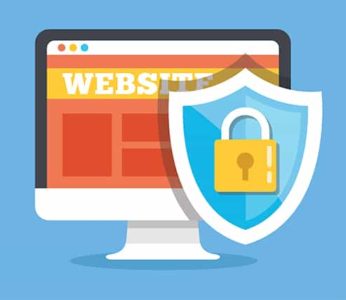 Opera also has notable weaknesses, most notably the lack of standard features such as social media sharing tools and a customized mode of interface. While these features do not affect the functionality of the browser, users' options are still limited.
One unique part of the Opera browser is Turbo Mode, a feature missing on many other browsers. This feature provides a way for users with a slow internet connection to still access websites through a system of caching and page compression. One other feature that stands out in this browser is the battery-saving mode.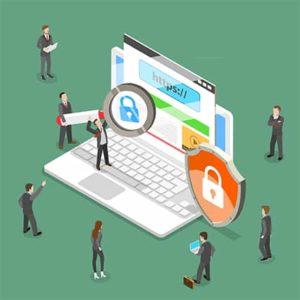 Opera does not have any price attached, as the browser is entirely free. The Opera browser can be used or downloaded via the company's website and through mobile application stores for Android and iOS.
Opera supports SSL (Secure Sockets Layer) versions 2 and 3, along with TLS, to secure user internet communications. The program uses 128-bit encryption, the highest level of security for any browser.
In terms of privacy, Opera has blockers for preventing advertisements and cookies. The browser also has a VPN to increase privacy and provide anonymity for the users. Opera's browser add-ons include the Evernote web clipper, Mate Translate and Amazon for Opera.
---
9. Vivaldi
Vivaldi is a cross-platform private web browser built with flexibility and ease of access. Developed by Vivaldi Technologies, the browser is new to the market yet stands out among competitors.
The Vivaldi browser was officially released on April 6, 2016, and has been active ever since. Vivaldi's features contain several systems to improve user experience and the functionality of the browser. Some of these features include easy navigation, an easy-to-use tab management interface, shortcuts and a visual zoom feature. The browser also allows users to customize the search engine.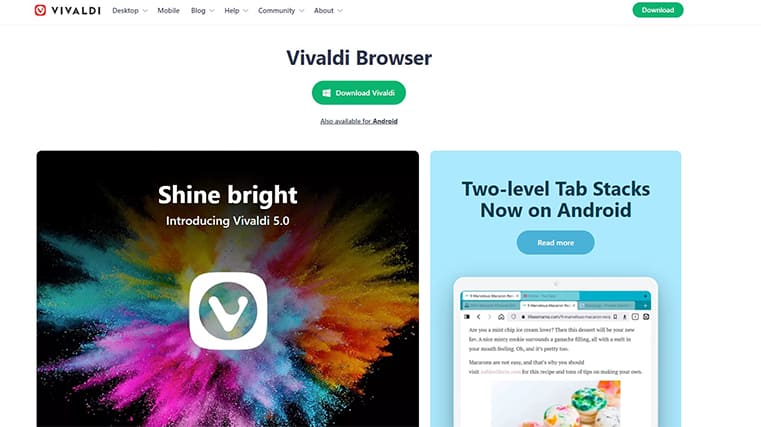 A notable strength of Vivaldi is the user interface customization options. Users can customize elements such as background color, the placement of the address bar, tab positions, start pages and the overall theme. Also, accent and highlight colors could be modified. Mouse gestures and keyboard shortcuts can also be tweaked according to user preferences.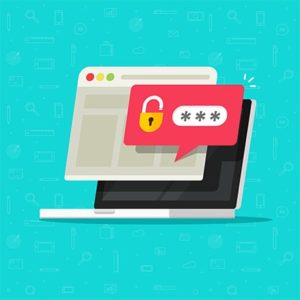 One downside of Vivaldi is the average browsing speed. The browser might not be slow but is not necessarily fast either. However, many users depend on fast browsing speeds, among other qualities, and would prefer browsers that offer all services that are relevant to them rather than accept a shortfall.
The most unique feature of the Vivaldi browser is the user interface. There are lots of options and tabs users can click on to access any service on the internet. Vivaldi is also free to use and can be downloaded and installed via the developer's website. There is also a mobile version for Android devices, but no version is available for iOS yet.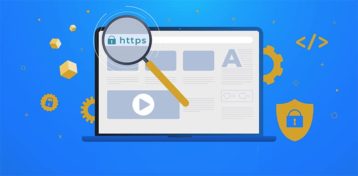 Regarding security, Vivaldi is not much better or worse than many other modern browsers. Thanks to the program's Chromium foundation, the browser uses Google Safe Browsing to protect users from known malware and phishing websites.
Vivaldi lacks relevant privacy features. Vivaldi enables WebRTC by default, a service that broadcasts user IP addresses. Despite being necessary per the Chromium system, the service should not default for a privacy-oriented browser. Additionally, the browser accepts all cookies by default.
Vivaldi uses extensions and add-ons such as uBlock Origin, Dark Reader and Privacy Badger.
---
10. Waterfox
Waterfox is an open-source web browser based on the Mozilla Firefox source code. The browser is specifically for 64-bit systems. Developed by Alexandros Kontos, Waterfox was initially released on March 27, 2011.
The browser features automated speed adjustments, user interface customization, privacy enhancements, Firefox extensions and more.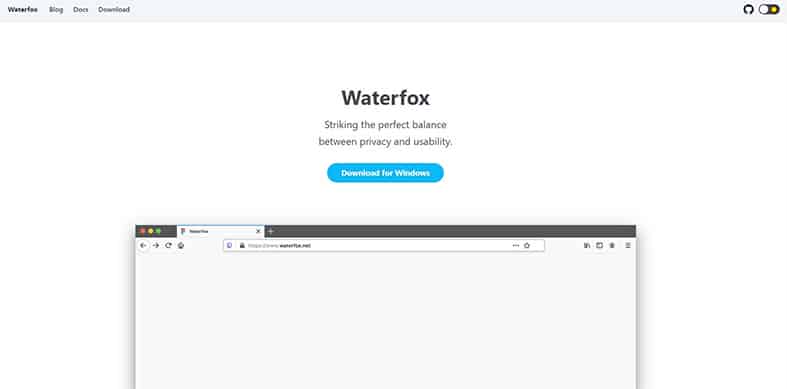 An advantage of Waterfox is the speed and efficiency of the browser, which users enjoy. On the other hand, a major downside of the browser is that there could be risks of cyberattacks as the program uses the same resource directories as Mozilla Firefox. The browser also has occasional errors, especially when displaying video content.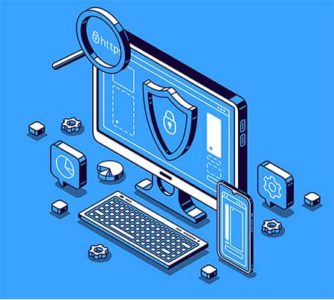 The ability for users to install and run any extension available is what makes Waterfox a unique browser. Waterfox is free and has no associated costs.
Waterfox can be downloaded, installed and run from the browser's website. Despite using the same security detail as Firefox, Waterfox is updated weekly to make the browser less vulnerable to attacks.
Waterfox values user privacy and has put features in place to ensure this, such as the tracking protection tool.
Waterfox makes use of an add-on referred to as a Classic Add-ons Archive.
---
What Purposes are Secure Browsers Used for?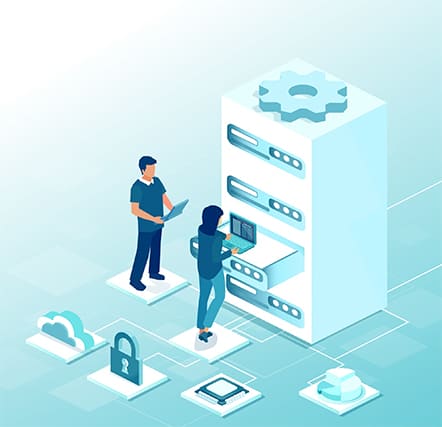 The most common uses of secure browsers are online banking, security on desktops and Android and iOS devices, and protecting users' network data and computer systems from privacy breaches and malicious software. A secure browser's purpose is to enable efficient, protected and secure communication between users and the internet without fear of cyberattacks and private data theft.
The best secure browser for online banking is Brave browser because the high-level security encryption makes it difficult for spammers or hackers to steal personal information and data from users or have any access to user privacy. Transactions can happen without hijacking or cloning of access to banking or private financial data.
The best secure browser for Android is the Brave browser. This is a Chromium-based browser that gives added security by blocking fingerprinting, which third parties use to track users. Brave is compatible with most operating systems, including macOS, Windows, iOS, Android and Linux.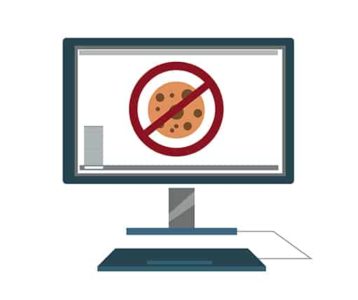 Safari is the best secure browser for iPhone devices. The Safari browser is packed with features for maximum security, including a sandbox tab, blocking third-party cookies and preventing cross-site tracking. Safari is compatible with macOS and iOS devices.
Firefox is the best secure browser for Windows. Firefox properly prevents security leaks and makes use of several techniques to improve security. Some of these techniques include sandboxing, fingerprinting protection and safeguards against crypto-jacking. Firefox also has regular browser updates, which continuously improve security over time. The Firefox browser is available for Windows, Mac, iOS, Android and Linux devices.
How Important is Your Privacy and Security on the Internet?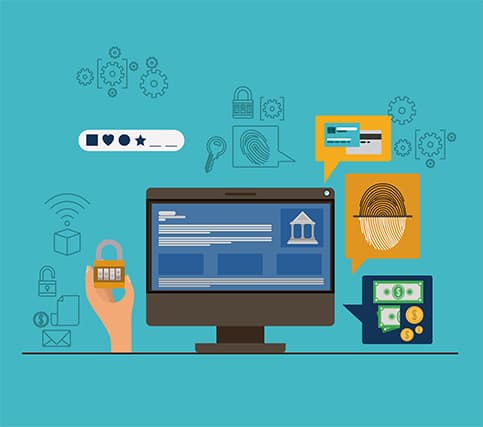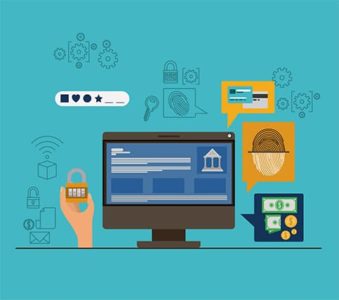 Every internet user communicates with large amounts of data online, making privacy in digital spaces vital. Online privacy ensures users have places to create, explore and develop themselves without the intrusion or judgment of outside influence. On that note, user privacy and security on the internet are essential.
Some of the risks associated with privacy and security inefficiency over the internet is cyberbullying, which is the act targeted to hurt, harass or upset a person online. Cyberbullying is anonymous, cannot be traced and often involves intimidation or mean comments that focus on things like a person's gender, religion, sexual orientation, race or physical differences. Cyberbullying is also hard to control as the bullied person is oblivious of how far the image defamation has reached over the internet.
Note:
Another risk of using unsecure browsers is identity theft, which refers to the occurrence whereby criminals obtain a person's private and personal data to use their identity for fraudulent activities. When this is done over the internet, the victim is usually thought to be the perpetrator of a crime that they did not commit and might be publicly embarrassed or disgraced.
Online privacy invasion is one other risk that cannot be overlooked. This involves users being tracked on websites visited, which collect IP addresses, online transactions, banking information and records of other private and personal activities.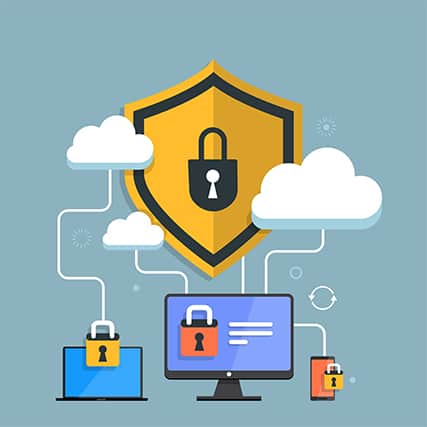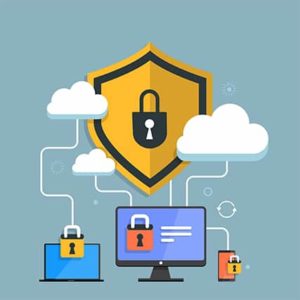 Many platforms require extra security, some of which include social media, financial apps and web apps that retrieve sensitive information.
The best secure browser for iPad is Tor due to the browser's high-level security. Despite having slow or average speeds, Tor remains the best for iPad users concerned about security and privacy.
Firefox is mentioned most when the best secure browser for Linux is considered. The browser's flexibility, ease of use and security guarantee the top spot for Linux systems.
Safari, being the default browser for Apple, is considered the best secure browser for Mac as the browser is fully customized and optimized with macOS and iOS products.
The most secure browser for Windows remains Firefox, while the Brave browser maintains the top position as the best secure browser for Android.
What are the Vulnerabilities of Browsers against Cyber Attacks?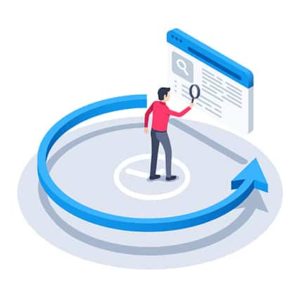 Some of the vulnerabilities of browsers against cyber attacks include accessing browser history, analyzing cookies, harvesting saved login credentials and obtaining auto-fill information. Aside from these, knowing the user's access to certain sites can lead to phishing attacks and be used to obtain user credentials for malicious sites.
Poor implementation, poor design or an insecure configuration are some reasons why browsers are vulnerable to attacks. Some software features that provide functionality to a web browser, such as ActiveX, Java and Scripting, could also be reasons for vulnerabilities.
What are the Types of Attacks and Threats to Web Browsers?
Examples of the name of attacks and threats to web browsers are detailed below.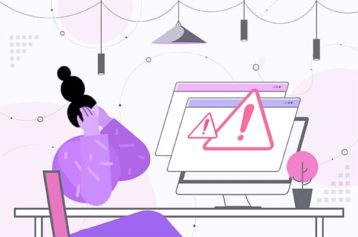 Code execution exploits in the browser: This attack involves hackers or cybercriminals discovering vulnerabilities in a browser and then writing codes to swap the connection or network. One common way hackers carry out this code exploit is by creating replicas of websites on a browser so that users can input personal information unknowingly. Such attacks can put the user at risk of data loss.
Code execution exploits in plug-ins: This involves the injection of dangerous and harmful codes into the plug-ins of a browser. Many plug-ins do not contain maximum security and so can be easily exploited, which could in turn cause the browser to become vulnerable whenever the infected plug-in is being exploited.
Advanced persistent threats: This occurs when an unauthorized user is able to access a particular network for a long and constant period of time without being discovered. This occurs mostly when a browser's security and update system is not continuous or active enough to detect and stall such attacks.
Man-in-the-middle attacks: Man-in-the-middle attacks refer to a situation whereby an attacker intercepts relevant online activities of two different connections, controls the connection and then switches the activities of both connections to the attacker's benefit.
DNS poisoning: This is a computer security hack that involves interchanging a corrupted domain name system with an active and valid website. DNS poisoning is used to steal valuable information and data from users and is mostly targeted towards banks and other financial institutions.
What Information can Hackers Obtain from Web Browsers?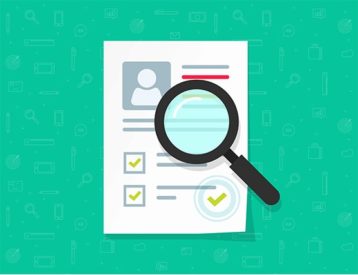 The information that hackers can obtain from web browsers include personal data, financial information, medical information, classified official information and more types of data.
Some of the things to be considered by web browser developers include advanced and realistic security and privacy modes for browsers. Users can also consider stopping using certain options, such as auto-fill, when handling sensitive data and information.
How to Test Your Browser Security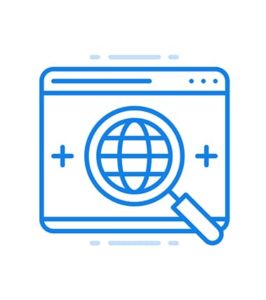 There are a few websites that are designed for browser security test purposes. For instance, sites like BrowserScope, BrowserSpy, PCFlank, Qualys Browser Check and Panopticlick are all efficient testing tools. All these sites test browsers, discover any security shortfalls or privacy vulnerabilities and recommend the necessary solutions.
The testing method used by most of the websites varies across two options. The first is for the user to run a quick scan or install a plugin to know if the browser has any security issues. The other method used by some websites is to check the browser's configuration and give a uniqueness score.
What are the Other Tools to Use that Provide Security and Privacy for Internet Browsing?
Some other tools that provide security and privacy for internet browsing are detailed below.
VPN
Antivirus Software
Avast Secure Browser
AVG Secure Browser
PSI Secure Browser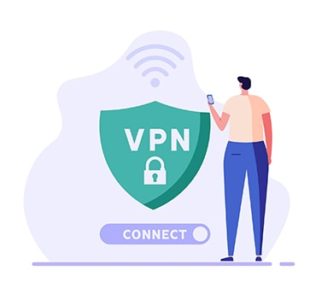 A VPN (virtual private network) is a type of technology that encrypts users' internet traffic on unsecured networks to protect online identities, hide IP addresses and shield online data from third parties. VPNs use real-time encryption and send internet data through a secure virtual tunnel to minimize the possibility of anyone tracking users' online activities. A VPN is one of the best tools for a browser's security Examples of some of the best VPNs are ExpressVPN, NordVPN, Windscribe VPN and Tunnelbear VPN.
This is important:
Antivirus programs are software tools that are used to prevent cyberattacks, viruses and malware attacks on users' computers. The software can prevent, scan, detect and delete viruses from a computer once a user installs and runs the program.
The Avast secure browser is a private browser that has advanced security built-in and powerful encryption to enable true and intensely secured browsing. The browser is included for optional installation in the Avast antivirus installer.
The AVG secure browser is a free secure browser that allows for safe browsing on the web. The browser's features are similar to that of Avast. Avast is also meant to protect users against hackers, trackers and ISPs.
The PSI Secure Browser is a web browser created to guarantee secure data delivery over a virtual connection.