What are DNS servers? DNS servers, called Domain Name System Servers, are programs that provide services to other applications. Whenever a user types a domain name into the browser's URL bar, DNS servers convert the name to a numeric IP address. After the DNS server has translated domain names to IP addresses, browsers use those IP addresses to communicate with servers to access the content.
DNS servers help businesses and households establish a secure and trustworthy internet environment. These servers help establish a secure and reliable internet environment. People can also choose from various free DNS servers to achieve the best browsing experience.
The best free DNS servers are listed below.
Google Public DNS (Best Overall)
Cloudflare (Fastest)
Neustar
AdGuard DNS
Quad9
Hurricane Electric
CleanBrowsing
Alternate DNS
OpenNIC
Comodo Secure DNS
OpenDNS Home
Control D
Yandex DNS
DNS.WATCH
CenturyLink (Level3)
1. Google
Google is one of the most effective and trustworthy free DNS servers available. Google's Public DNS server prioritizes a quick browsing experience, enhanced security and accurate, non-redirecting page results.

Google's primary DNS server is 8.8.8.8, while the secondary server is 8.8.4.4.
Note:
Local domains are unknown to the Google DNS server, which is an advantage. Unlike some locally run DNS servers, Google does not censor based on a regional policy. The service offers sufficient documentation and tutorials.
Google's disadvantages are low DNS resolution capacity and lack of authoritative programming access.
Google's Public DNS server is the top accessible server for business and individual use.
2. Cloudflare
Cloudflare protects networks against DDoS attacks and cache poisoning. The service allows users to filter or block undesired information manually with a free account.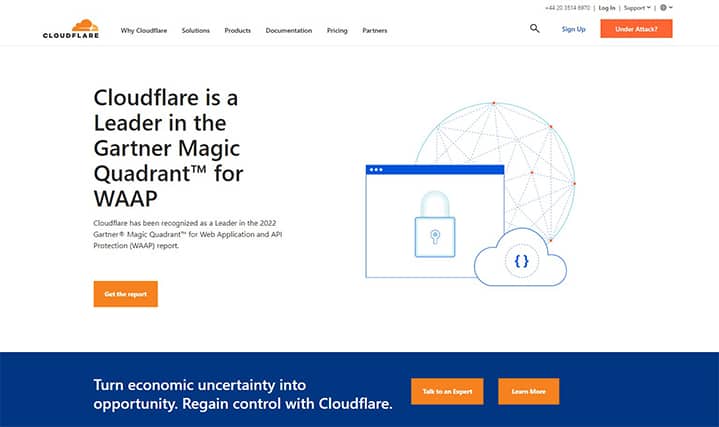 The primary DNS address is 1.1.1.1, while the secondary DNS address is 1.0.0.1.
The advantages of Cloudflare include impressive speed, flexible IPV4 and IPV6 connections, complete anonymity because of the no-log policy, DNS over HTTPS (DoH) support, compatibility with iOS and Android mobile devices and the protection against malware.
Cloudflare's disadvantages include the absence of ad-blocking tools, the loss of control over infrastructures.
Cloudflare is the best for providing families and businesses with a fast and dependable internet experience.
3. Neustar
Neustar UltraDNS Public is an excellent choice for family-friendly home networks. The program provides three distinct content filtering levels: Unfiltered Resolution, Threat Protection and Family Secure. All of these filtering settings provide users with an exceptional speed experience.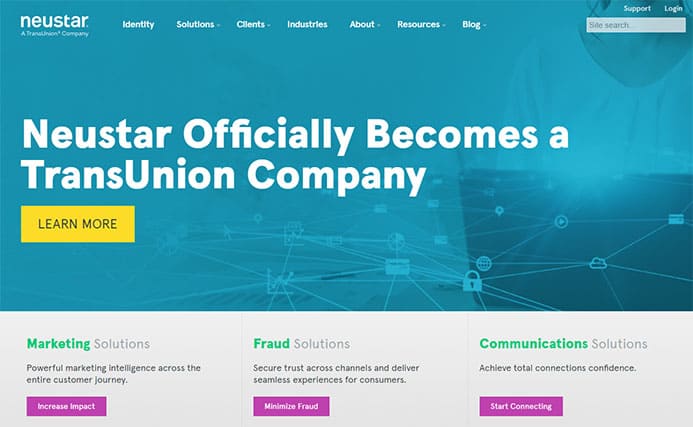 Neustar DNS's servers vary with the filtering levels. The Unfiltered Resolution primary and secondary servers are 64.6.64.6 and 64.6.65.6, the Threat Protection ones are 156.154.70.2 and 156.154.71.2 and the Family Secure ones are 156.154.70.3 and 156.154.71.3.
Neustar's supply of a safe and dependable managed DNS service aids organizations in establishing and securing an online presence. The service also provides a balanced DNS solution and further customization options.
The disadvantages of Neustar will mostly rely on the specific business needs, but a few factors are to consider. Frequent cloud disruptions can create significant losses for users. UltraDNS guarantees 100% uptime, but this has not always been the case. The service also collects and stores users' data.
Neustar is the best option for families and organizations seeking free sophisticated threat protection when browsing the internet.
4. Adguard DNS
Adguard provides a secure connection as a free service. Adguard DNS can avoid the bombardment of internet users with advertisements and stops the display of malicious content. Adguard DNS is a reliable way to prevent online ads without the need to download extra software. Any device may be configured quickly and easily.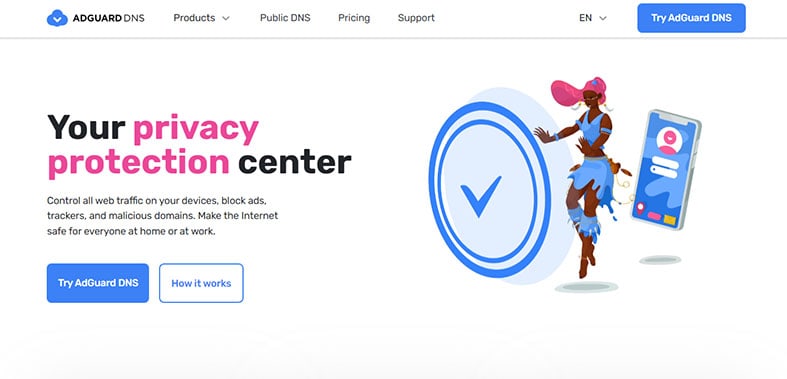 The primary DNS server for AdGuard is 94.140.14.14, while the secondary DNS server is 94.140.15.15.
One advantage of Adguard DNS is that the service aids in content filtering, ‌protecting families from potentially hazardous online content. The program offers parental control, anti-tracking and security features. Adguard's primary value is that the service is free to use.
AdGuard collects some data, which is disadvantageous. But the service uses data internally and does not sell or distribute the data to third parties.
Adguard is a free DNS solution that provides families with more secure, more dependable and less obtrusive internet access.
5. Quad9
Quad9 is an accessible DNS server that alters the ISPs' default DNS settings to mask users' identities. This DNS from Switzerland restricts access to harmful websites without maintaining any personally identifiable information about users. Quad9 safeguards the privacy and security of users by keeping out unwanted activities, including spyware, malware and botware.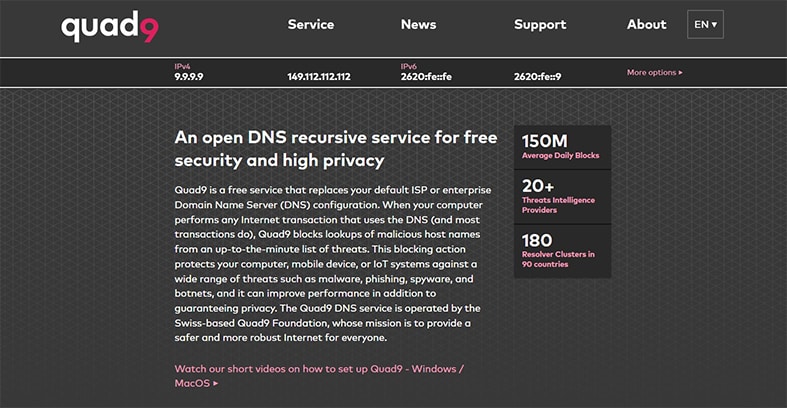 The primary DNS address for Quad9 is 9.9.9.9, and the secondary DNS address is 149.112.112.112.
Using a Quad9 DNS server includes free usage, cyberthreat avoidance, a fast global server network, privacy and simple configuration.
The disadvantages include a lack of manual screening, advanced security protection and a focus on European users.
Quad9 is the best free choice for mobile, desktop and IoT users to have a secure and stable internet connection.
6. Hurricane Electric
Hurricane Electric offers a more secure and rapid web browsing experience. Hurricane Electric facilitates access to all websites, online stores and other services. This DNS server functions smoothly on all devices because of an extensive compatibility. There is no requirement for an installation procedure or hardware as long as an internet connection is available.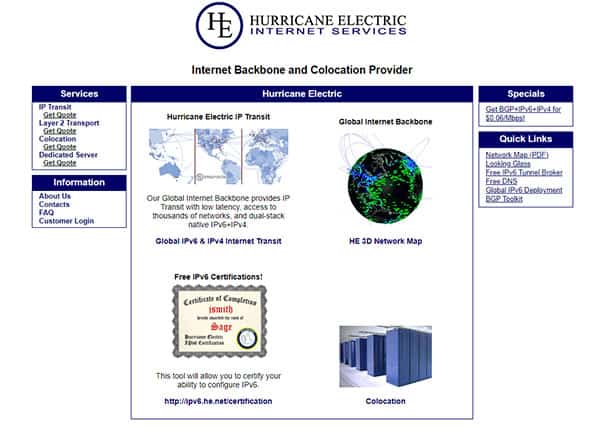 The primary DNS address for Hurricane Electric is 74.82.42.42, while the secondary DNS address is 2001:470:20::2.
Note:
Hurricane Electric's free DNS server is ideal for web surfers who wish to avoid compatibility issues with personal devices and internet service providers.
The primary benefit of Hurricane Electric's free DNS server is an outstanding speed and performance. This ensures that if additional users view the same website simultaneously, the users will have equitable access to the resources and data.
One disadvantages Hurricane Electric is the lack of DNS customization possibilities. This service does not offer automated updates. Users must manually update their computers software if Hurricane Electric changes DNS servers to continue using the services.
Hurricane Electric is suitable for all domains, subdomains and custom TLDs (top-level domains). This server also supports IPv6 and is compatible with Windows, Mac and Android-powered devices.
7. CleanBrowsing
CleanBrowsing is one of the top DNS servers that enables parents to create a secure browsing environment for kids. The DNS server has servers in Europe and the United States, providing three services: Security, Adult and Family filters. Each of these services prioritizes the prevention of viruses and adult content. Parents can restrict children's access to specific content.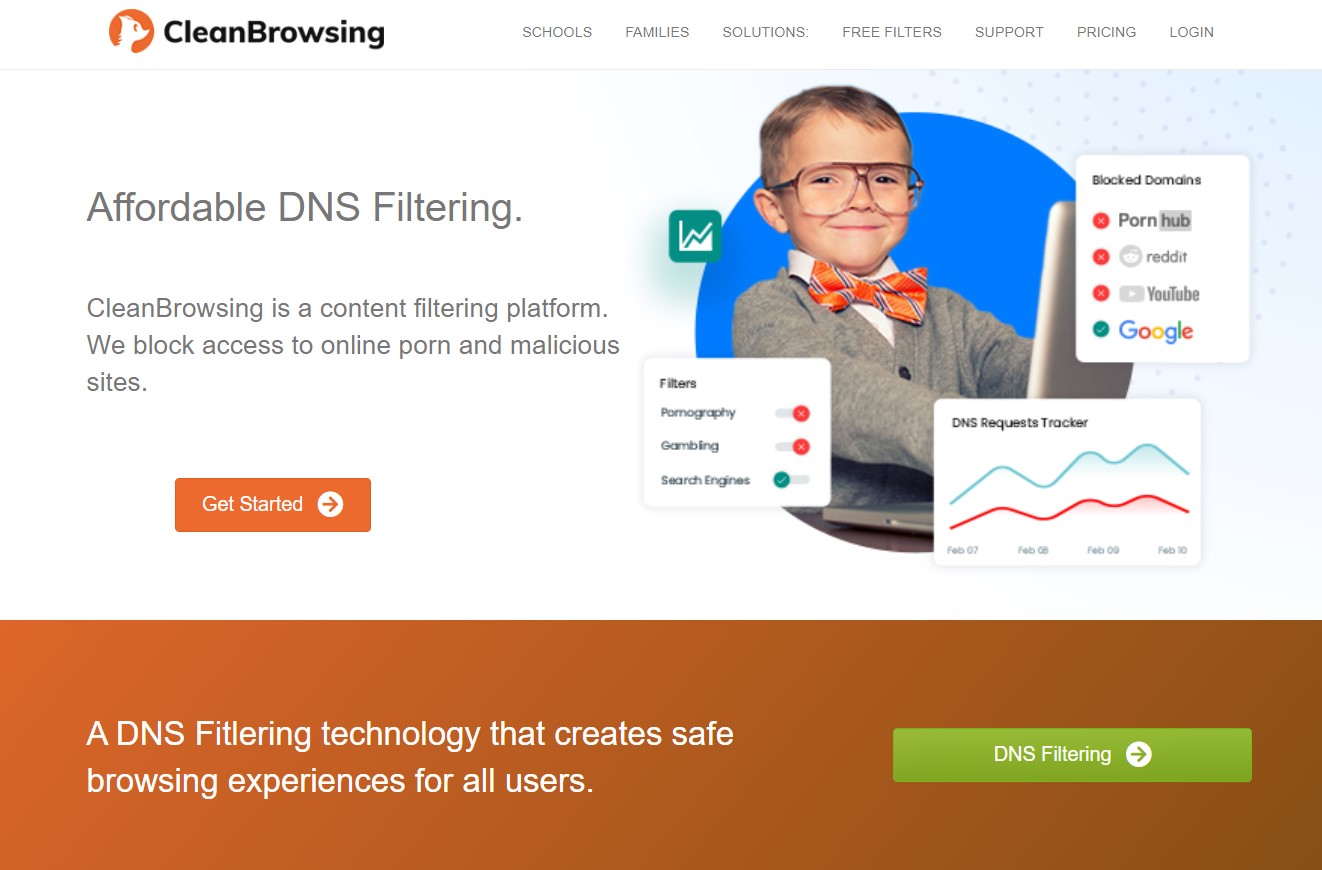 The primary DNS for CleanBrowsing's Security service is 185.228.168.9, 185.228.168.10 for the Adult service and 185.228.168.168 for the Family service. 185.228.169.9 for the Security service, 185.228.168.10 for the Adult service and 185.228.169.168 for the Family service are the secondary DNS servers.
Note:
CleanBrowsing's advantages include the availability of free filters, a fast connection, outstanding performance, content filtering based on user preferences and robust encryption. CleanBrowsing‌ has a significant disadvantage, limited customer assistance.
CleanBrowsing is ideal for friends and families who share the same internet experience at home. The service produces a clean and secure internet browsing environment.
8. Alternate DNS
Alternate DNS is a dependable DNS solution that facilitates a quick and secure internet connection by preventing the infiltration of advertisements and malware.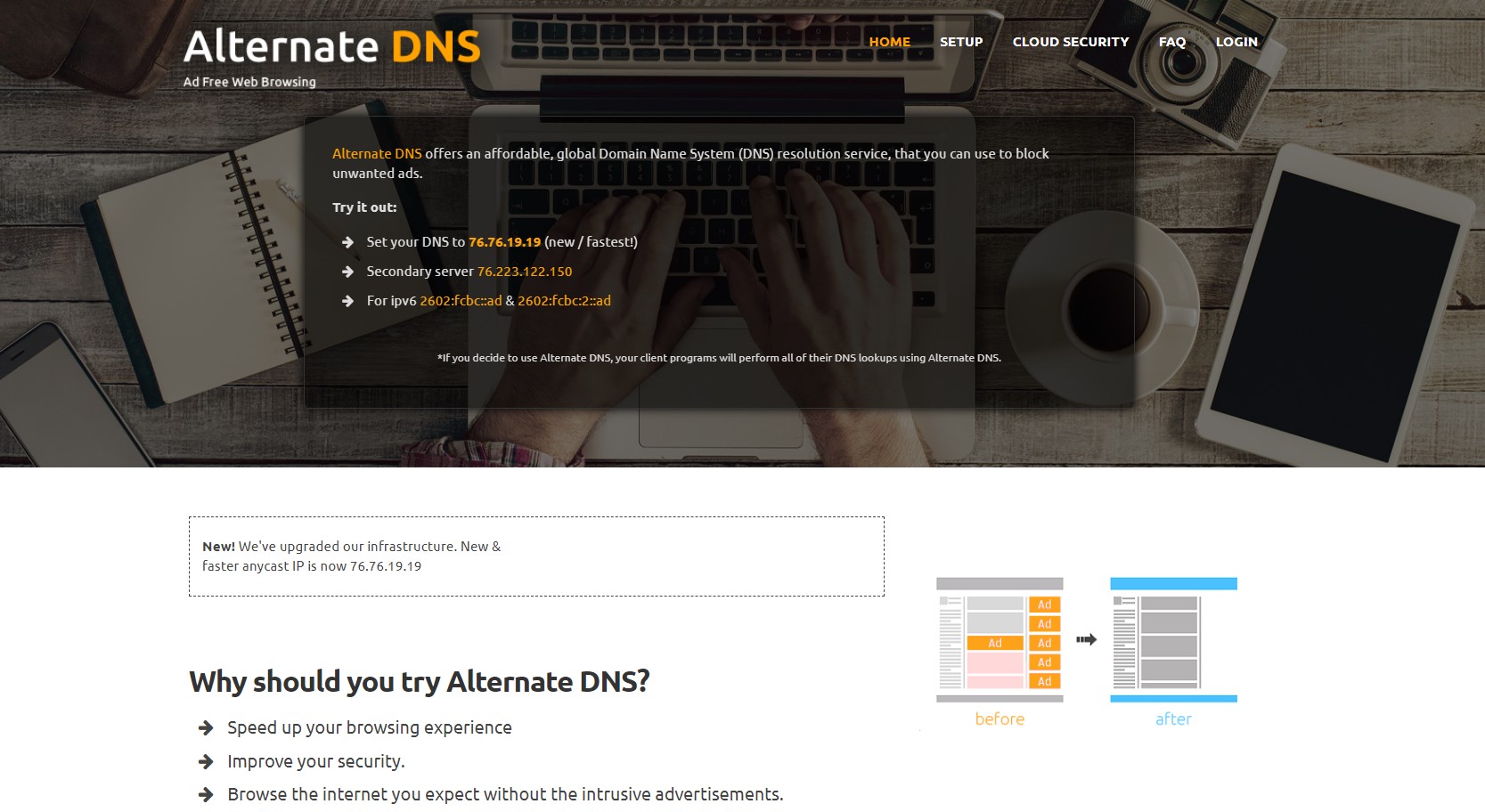 Alternate DNS's secondary DNS address is 76.223.122.150, whereas the primary DNS address is 76.76.19.19.
One advantage of integrating Alternate DNS is that users can surf the internet without provoking advertisements. This also prevents users from clicking on advertisements that hackers may have tainted with dangerous code. Alternate DNS is a dependable and quick service. The server is compatible with all browsers and platforms. This DNS server service is free.
Alternate DNS is best for families for protection against cyber threats such as phishing, malware and ransomware by using an alternative DNS.
9. OpenNIC
OpenNIC is often referred to as the OpenNIC Project. This DNS server service is run by users as an alternative to Top-Level Domains and domains administered by ICANN.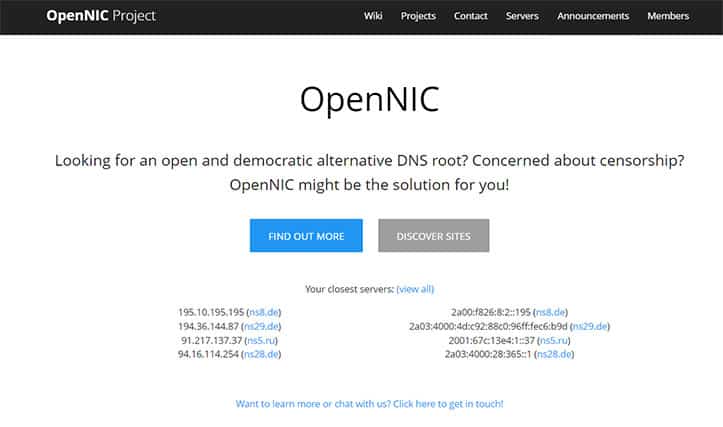 The primary and secondary IP addresses are, respectively, 208.67.222.222 and 208.67.220.220.
OpenNIC servers are recognized for excellent swiftness, low latency and no-log policies.
The sole disadvantage of this service is that the setup is non-default, meaning that most internet users cannot access the service.
OpenNic is best for unrestricted internet access usage.
10. Comodo Secure DNS
Comodo Secure DNS is one of the best software available. This software protects the computer while using minimal system resources. Comodo Secure DNS protects computers from all types of viruses.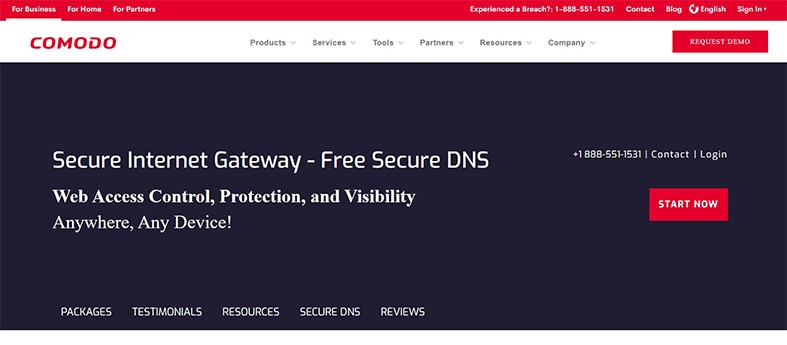 The primary DNS for Comodo secure is 8.26.56.26, while the secondary DNS is 8.20.247.20.
One advantage of Comodo Secure is that the installation method is more straightforward than other cloud-based antivirus software. Comodo Secure DNS also requires less time to configure, is simpler to use and provides the most up-to-date protection against malware. The disadvantage is that the service can be expensive.
Note:
Comodo Secure DNS prevents websites with illegal material, or fraudulent websites that aim to collect the user's personal information.
One reason why customers use Comodo is that there is no installation required.
Comodo Secure is the best option for gaming and secure internet access for businesses and families.
11. OpenDNS Home
OpenDNS Home is a trustworthy DNS solution that guarantees users 100% uptime. This program is particularly beneficial for families, allowing parents to filter or ban adult information for young children. OpenDNS Home provides two different free services, the classic service and Family Shield. The service provides a web filtering service that bans malicious websites.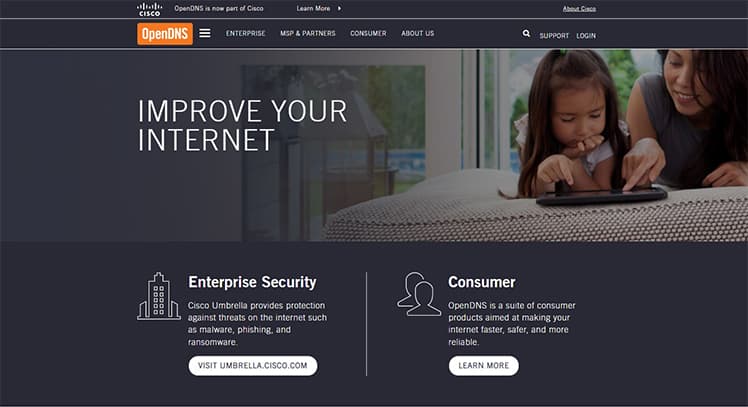 Each of OpenDNS Home services include a primary and secondary DNS server. The classic primary DNS server is 208.67.222.222, while Family Shield's is 208.67.222.123. For the classic service, the secondary DNS servers are 208.67.220.220, and for the Family Shield, 208.67.220.123.
The advantages of OpenDNS are malware and phishing protection, parental control, content filtering, protection for all devices, superior security, simple configuration and peer collaboration for faster performance.
Because the DNS server maintains users' information, OpenDNS has privacy problems. Inadequate customer care and lack of support are some cons of OpenDNS.
OpenDNS best serves personal and enterprise-level online access and control because of the service's adaptability for business and family use.
12. Control D
Control D is one of the top DNS servers that provide a variety of DNS servers to fulfill user needs. The service increases the privacy and efficiency of internet users. People may rely on Control D to prevent unwanted content, spoof actual location and speed up internet browsing without installing additional software. Control D was created by team from Windscribe VPN.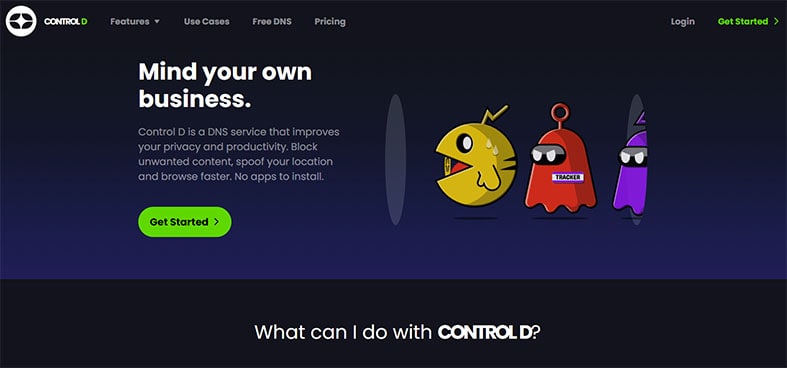 Control D has the primary DNS address as 76.76.2.0 and the secondary DNS address as 76.76.10.0.
Control D's advantages include blocking harmful websites and adult content, an affordable price, a customizable filter, trustworthy privacy and security. But server breakdown is one of the disadvantages of Control D.
Internet users seeking alternatives to VPN services should choose Control D.
13. Yandex DNS
Yandex DNS is a quick DNS service with a large number of servers located in Russia. The three services offered by Yandex DNS are the Basic, Safe and Family packages. All of these services perform a similar job. But the Family service is superior. The family service includes an additional filter for blocking pornographic content. The service defends against botnets and control servers.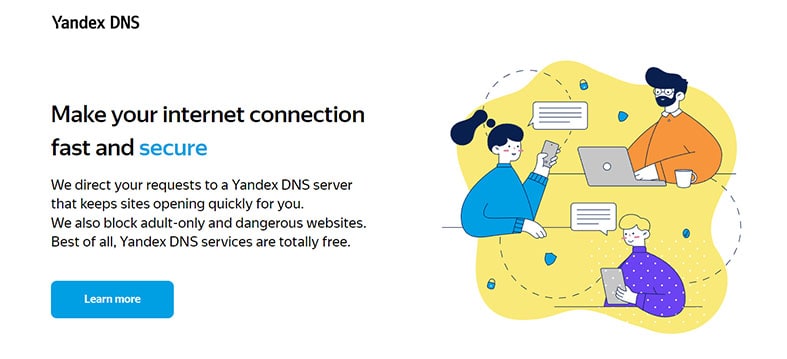 The primary DNS servers used by Yandex DNS are 77.88.8.8 for Basic, 77.88.8.88 for Safe, and 77.88.8.7 for Family. The secondary DNS servers for Basic, Safe, and Family are 77.88.8.1, 77.88.8.2, and 77.88.8.3, respectively.
Yandex's DNS server exchanges user information with Yandex, the parent company. The advantages of Yandex DNS include security against viruses and phishing, filtering of adult content, protection against malware, protection against bots, a free plan and simple operation. One of Yandex's disadvantages is that setting up the service requires technical skills.
The Yandex DNS server provides one of the most robust protection services for internet users.
14. DNS.WATCH
DNS.WATCH is a free DNS server that enables unrestricted online browsing for internet users. The DNS server is completely free to use and requires no installation. The company values the privacy of users and does not log DNS requests.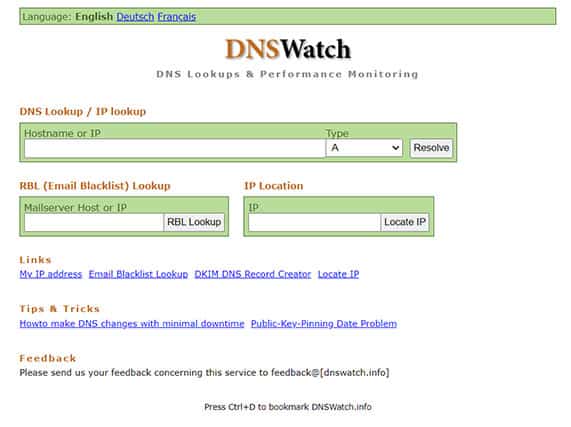 DNS.WATCH's primary DNS server is 84.200.69.80, while the secondary DNS server is 84.200.70.40.
The advantages of DNS.WATCH include a dependable privacy policy, protection of user data, no cost, rapid performance and a quick server. The disadvantages include a lack of robust security and protection against any questionable website.
DNS.WATCH is the best option for internet users who desire unrestricted access.
15. CenturyLink (Level3)
CenturyLink (Level 3) can set up local networks to use the DNS Server IP addresses for a faster and more reliable internet connection.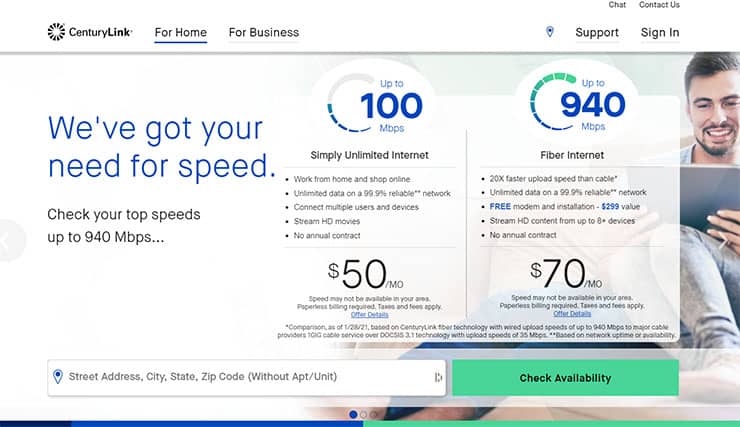 The CenturyLink (Level 3) primary DNS server is 205.171.3.66, and the secondary DNS server is 205.171.202.166.
CenturyLink's (Level 3) advantages include user-friendliness, speed, internet security, support for many devices and dependability. One disadvantage of CenturyLink (Level 3) is that the service demands technological expertise.
CenturyLink is the best option for businesses and people seeking a quick browsing experience.
What Are DNS Servers?
DNS
is an acronym for Domain Name System. This system is responsible for changing website domain names into numbers. DNS converts host names into IP addresses, an understandable language for computers.
DNS servers
also help in the efficiency and security of websites.
How To Choose the Best Free DNS Server?
Follow the steps below to choose the best free DNS server.
The first step is to select the types of free DNS servers. There are two main categories: non-profit and commercial. The difference is that non-profits only charge for the services, but commercial DNS providers may offer additional features or hosting options.
Decide how much bandwidth is needed for the DNS provider. Some providers will work well with low-bandwidth websites, while others will work better with high-bandwidth websites, so find out the type of website before choosing a free DNS server.
Determine whether a managed DNS service would be the best option. While managed DNS services cost more than unmanaged ones, managed DNS typically comes with better support options.
Check if the server supports DDNS and if the server provides a free connection or not.
How Do I Change a DNS Server?
Follow the steps below to change a DNS server.
Launch the Control Panel.
Choose "Internet and Network."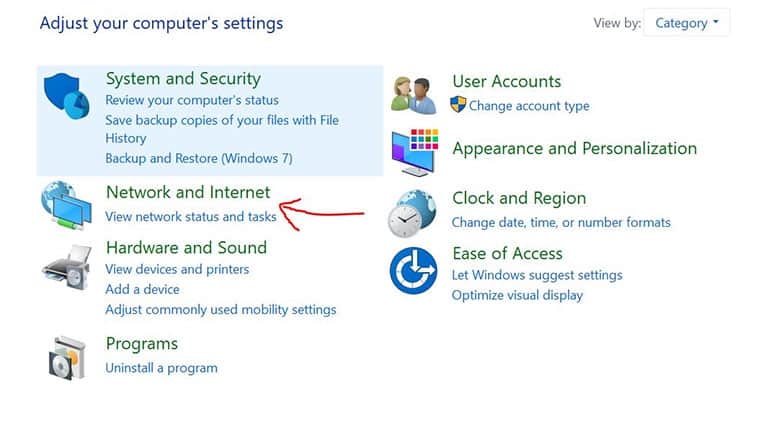 Open the Network and Sharing Center applet.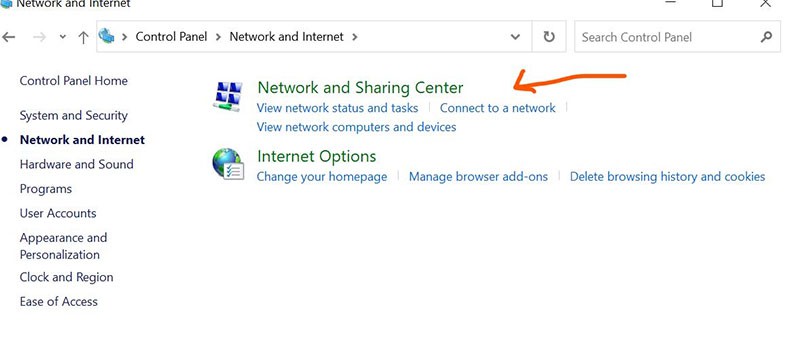 Click the "Change adapter settings in the Network and Sharing Center" window.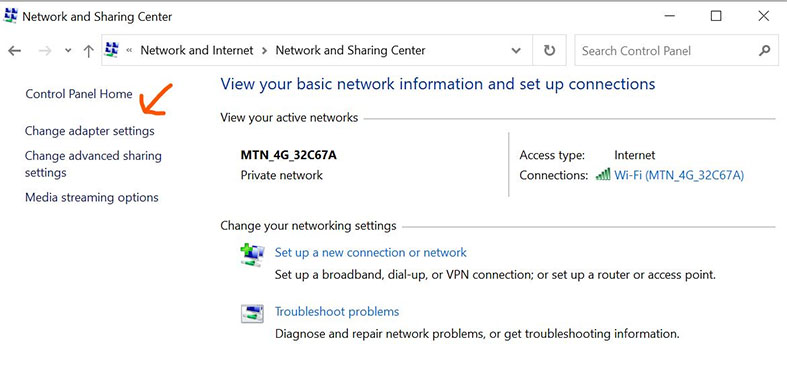 The Network Connections window displays a list of the computer connections. Wireless connections are referred to as Wi-Fi, whereas wired connections are known as Ethernet or Local Area Connection.

Double-click or double-tap the icon for the network connection whose DNS servers need to be modified.
Choose "Properties" in the Status window.
Select "Internet Protocol Version 4 (TCP/IPv4)" or "Internet Protocol (TCP/IP)" to select the IPv4 option in the Properties window. Alternatively, select "Internet Protocol Version 6 (TCP/IPv6)" to modify the IPv6 DNS server settings.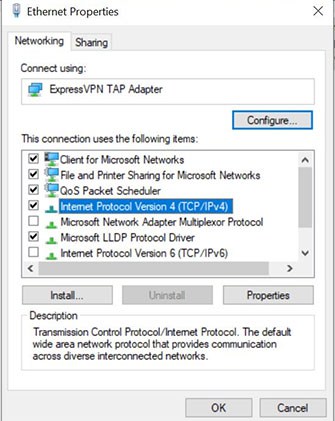 Select the DNS server addresses in the Internet Protocol Properties window and replace the current DNS server IP addresses with new ones if Windows has customized DNS servers configured.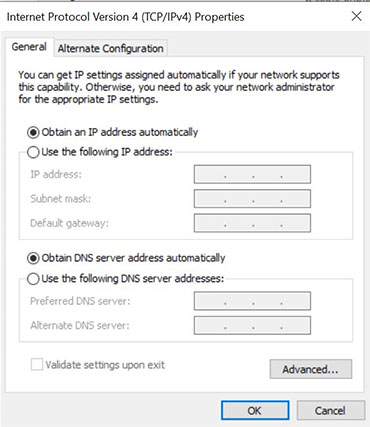 Type in the IP addresses of the Alternative DNS server and the Preferred DNS server.
Click "OK" to modify the DNS server.
Close the Control Panel.
Ensure Windows functions correctly with the new DNS servers. Then, browse some websites with preferred browsers to check if the new DNS servers are working. The new DNS servers are functioning correctly if web pages load quickly.
Are Free DNS Servers Safe?
Yes, DNS servers are safe. This is because DNS servers are not stored on the computer. Also, attackers can't modify DNS servers because private companies and organizations operate the service. Hence, there is no way a hacker can gain access to the computer for malicious purposes.
What Are the Most Popular DNS Servers?
The most popular best DNS servers are listed below.
Google Public DNS (Best Overall).
Cloudflare (Fastest).
Yandex (Most Secure).