What is a DNS server? DNS (Domain Name System) servers convert domain names to IP addresses computers can use to locate a website. For example, if a user types the domain "google.com" into a web browser, a DNS server will convert the domain to an IP address, such as 192.167.100.223. Computers will interpret this IP address and direct users to the IP address associated with the website.
Different types of DNS servers are available to provide the optimal browsing experience for users. There are both free and paid options available. But a good DNS server should guarantee security, quick browsing, accurate data and responsive browsing. Selecting the optimal DNS server may prove difficult.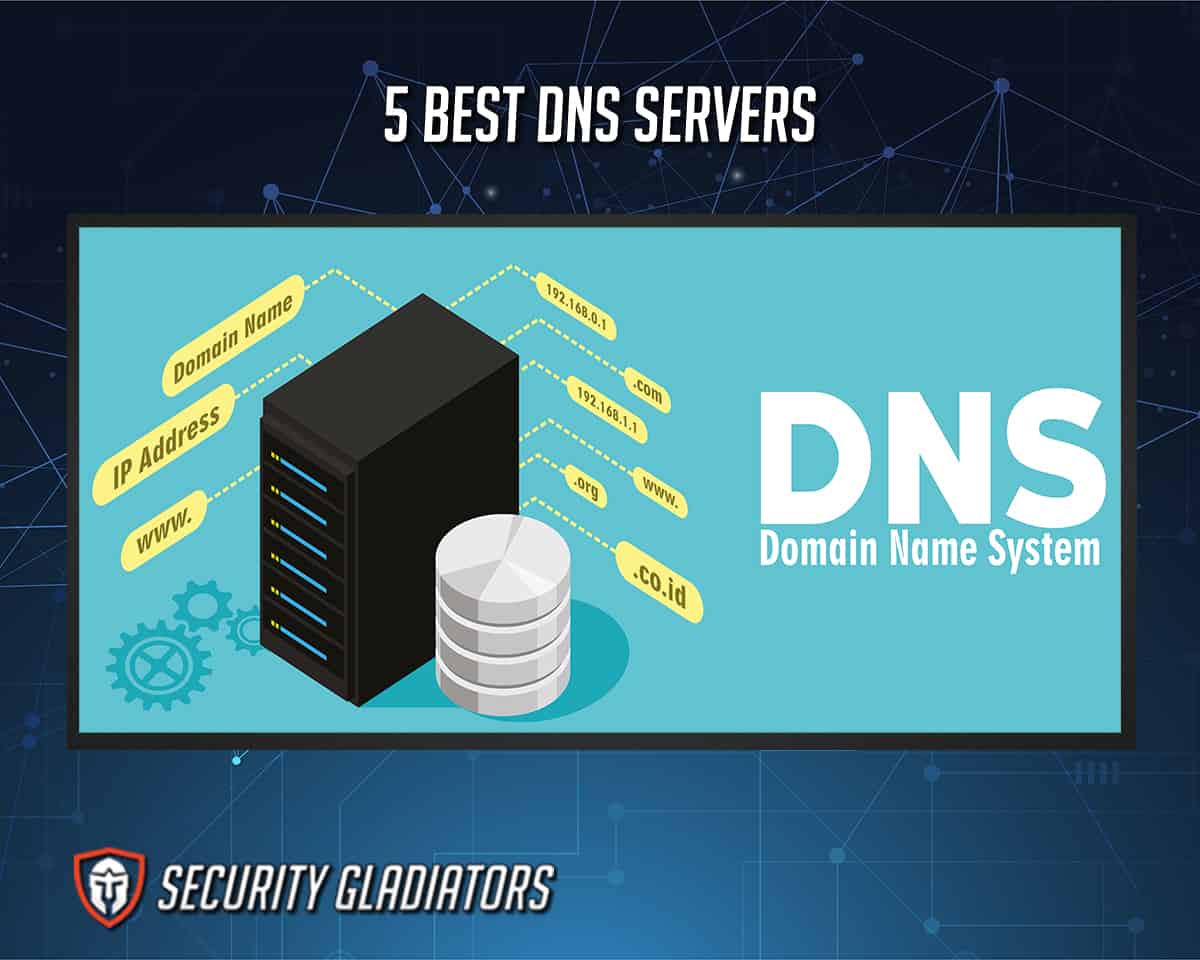 Find the best DNS server of 2023 in the list below.
Cloudflare (Best overall)
OpenDNS (Web Filtering DNS)
Quad9
Google Public DNS
Comodo Secure DNS
1. Cloudflare
Cloudflare is a highly rated CDN (content delivery network) that focuses on the fundamentals. This DNS server is the best public server because of high performance and dependable privacy features.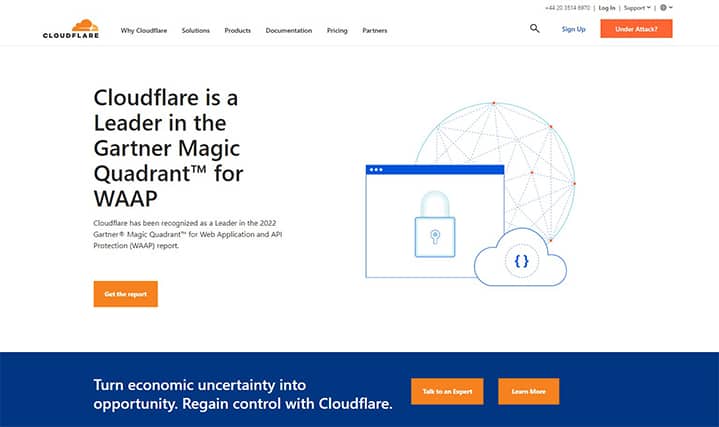 Reasons to buy Cloudflare include quality performance, a trustworthy privacy policy, support and increased DNS security.
On the other hand, there are some reasons to avoid Cloudflare, including the possibility of losing control over site maintenance. If anything goes wrong with Cloudflare, the maintained website is also offline. Extra fees to access additional features can also be a reason to avoid a server.
Cloudflare costs between $20 and $200 per month for protection, depending on the selected price plan. Enterprise websites can contact sales support for personalized offers. Cloudfare also has a free plan.
| Free | Pro | Business |
| --- | --- | --- |
| $0 | $20 per month | $200 per month |
2. OpenDNS
OpenDNS is a well-known public DNS server with high-quality features and 100% uptime. OpenDNS is the most effective service for preventing unauthorized access and malware attacks for small businesses and home websites.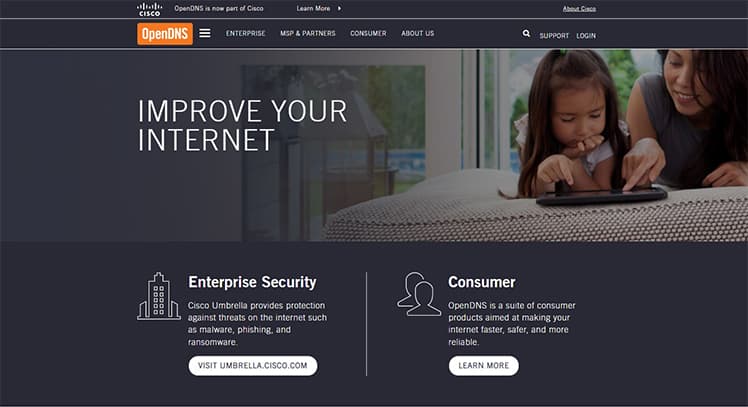 OpenDNS has a good reputation for dependability, a web filtering option, security features against phishing attacks, a feature-rich free plan, a setup guide and more advantages.
Some reasons to avoid the DNS server are privacy concerns due to the location of the DNS servers' headquarters (the United States) and the automatic redirection to an advertisement website when a web address error occurs.
OpenDNS's paid plans are priced at $19.95 per year for OpenDNS Home VIP and $20 per user for small businesses.
| OpenDNS Home VIP (Home) | OpenDNS Umbrella Prosumer (Small Business) |
| --- | --- |
| $19.95 per year | $20 per user |
3. Quad9
Quad9 is an accessible DNS server ideally suited for preventing malicious activities and any potential threats. Quad9 does not filter content but only malicious domains.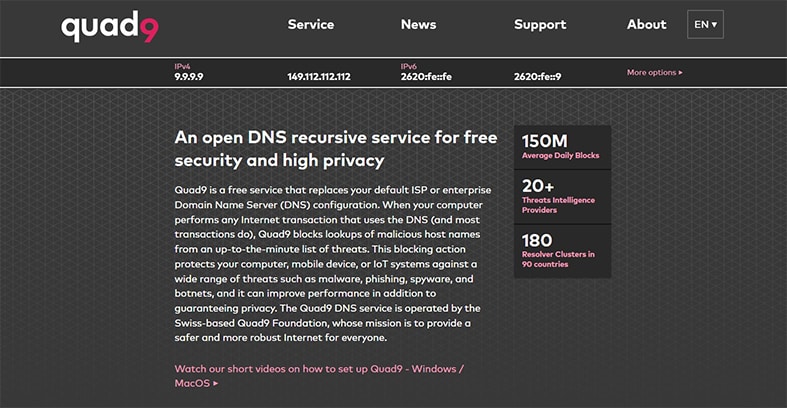 These are the reasons to buy Quad9: malicious domain blocking, excellent performance, free usage and a solid privacy policy. One of the primary reasons to avoid Quad9 is the lack of support or instructions for configuring the DNS server, which can lead to user confusion.
Quad9 is a free service.
4. Google Public DNS
Google Public DNS is a popular alternative to Cloudflare that is simple to use. This DNS server is the most efficient and optimal option for achieving superior website performance and user experience.

Google Public DNS highlighted three significant reasons to buy the product: browsing speed, security and the prevention of unnecessary redirections. Google can achieve high-speed rates with public DNS servers because the servers are in data centers around the globe.
On the other hand, there are valid reasons to avoid Google Public DNS, including an advanced interface that may not be suitable for beginners and tracking of user activities.
Google Public DNS is free.
5. Comodo Secure DNS
Comodo Secure DNS is the best service for blocking and tracking malicious websites. The product warns users against visiting sites that contain malware, viruses or advertisements.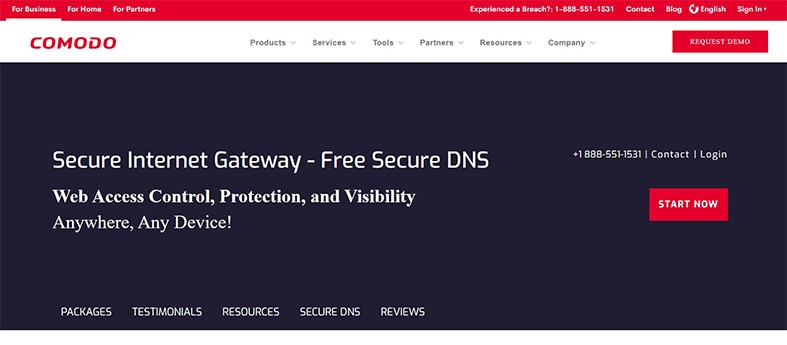 Strong security focus, web filtering features, access control and protection and threat intelligence are reasons to buy Comodo Secure DNS. Free plan limitations of the Comodo Secure DNS service are one reason for avoiding the service.
The paid versions of Comodo Secure DNS are available with a 30-day free trial. The monthly cost of premium plans begins at $2.45 per month for one user and $29.38 per year.
| Free | Premium Plans |
| --- | --- |
| $0 | $2.45 per month |
| | $29.38 per year |
Note:
Prices may differ from the ones shown as new plans and deals are launched on a regular basis. Please be sure to check the most current price on the official website.
What Is a DNS Server?
A DNS server is a specialized server that converts domain names to IP addresses when web browser requests are made. A DNS server stores the IP addresses and domain names of every website on the internet. Whenever a user types a website's name into a web browser, the DNS server converts the request into a numeric value (IP address) that computers can interpret.
DNS servers aid in identifying and locating computer systems and internet resources. Humans can easily interact with the internet without memorizing computer languages (numeric internet protocols).
How To Select the Best DNS Server?
The list below highlights how to select the best DNS server.
Do adequate research to determine the best.
Examine the features and identify the most crucial ones.
Choose a DNS server with great speed.
Look out for malware protection features.
Verify the DNS server's privacy policies.
Users need to identify the reason for selecting a DNS server. And with that, identify essential features required in the DNS server.
How Do I Run a DNS Server Test?
This list below describes how to conduct a DNS server test.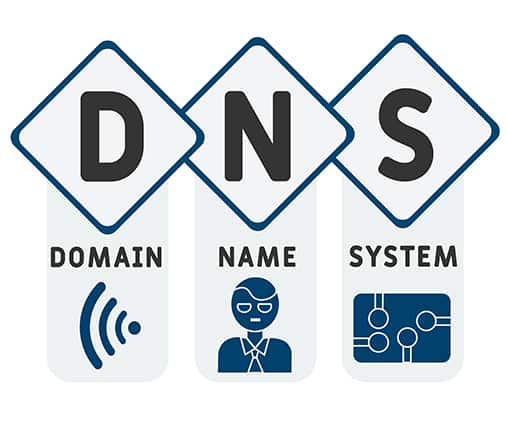 Identify the purpose of DNS server usage.
Choose a free or paid plan to administer the test, although a paid plan is recommended.
Examine each feature to determine functionality.
Verify the DNS servers to ensure content filtering blocks advertisements, trackers, malicious, phishing and family-unfriendly websites.
Users can test DNS servers based on needs and preferences. There is no universal method for conducting a DNS server test.
How To Find the Fastest DNS Server?
Several factors determine the speed of DNS servers, complicating the choice of the fastest DNS server.
Follow the instructions below to find the fastest DNS server.
Consider variables such as the user's location, the number of servers, the proximity to the nearest server and the bandwidth limit.
Select a DNS testing tool to determine the performance of various DNS servers. Users can compare multiple DNS services and ultimately select the best.
Pro Tip:
Anyone seeking to find the fastest DNS server needs to patiently check every speed limiting factor that might impede DNS performances. A testing tool might be of great help.
What Is the Difference Between DNS and Smart DNS?
DNS (Domain Name System) is a naming system that connects users to a specific website by translating domain names to IP addresses. DNS functions like an internet phonebook. People alter DNS to circumvent DNS-based censorship restrictions. Smart DNS is a combination of DNS and proxy servers that replaces the ISP-provided DNS address with the DNS provided by the proxy server.
A DNS vs. Smart DNS comparison shows that DNS serves as an address book to the web while Smart DNS allows users to access geo-restricted domains.
What Is the Difference Between a Smart DNS and a VPN?
Privacy is the key difference between a smart DNS and a VPN. A VPN provides anonymity and privacy while surfing the web. A VPN uses strong encryption to protect users from hackers and malicious activities. With a smart DNS, users can only access blocked content, while their security and privacy are not assured.
Aside from privacy, Smart DNS vs. VPN comparisons reveal other differences. VPNs are more expensive than Smart DNS services. This may be because a Smart DNS offers fewer features than a VPN. A Smart DNS is faster than a VPN for streaming because a Smart DNS does not encrypt or conceal IP addresses. These processes affect the VPN's speed‌.