Ethernet cables are important. Winning in online multiplayer games is all about reducing lag and any other delays. Ethernet cables not made for gaming can mean more deaths and less kills for network and online video game players.
Ethernet cables are physical cables that connect a gamer's internet-enabled device (usually a desktop computer) to a router or modem (or both if the setup consists of a single device acting as the router and the modem). Using established protocols (or rules), Ethernet cables (which are just a set of wires) essentially play the most critical role in making online gaming possible. Yes, WiFi connections are great as well, but wireless internet connections are often slow and marred by frequent disruptions. Ethernet cables are much more resilient to factors that can affect communication and which are out of the given user's control.
In short, while WiFi connections can enable internet access as well, Ethernet cables offer faster speeds and more stable connections. Both these qualities are required by gamers during gaming sessions where every inch of speed can count towards attaining an epic victory. Ethernet cables don't just connect computers though. Considering the needs of the modern gamer, Ethernet cables can also connect routers, laptops, and any internet-enabled device that supports an Ethernet port.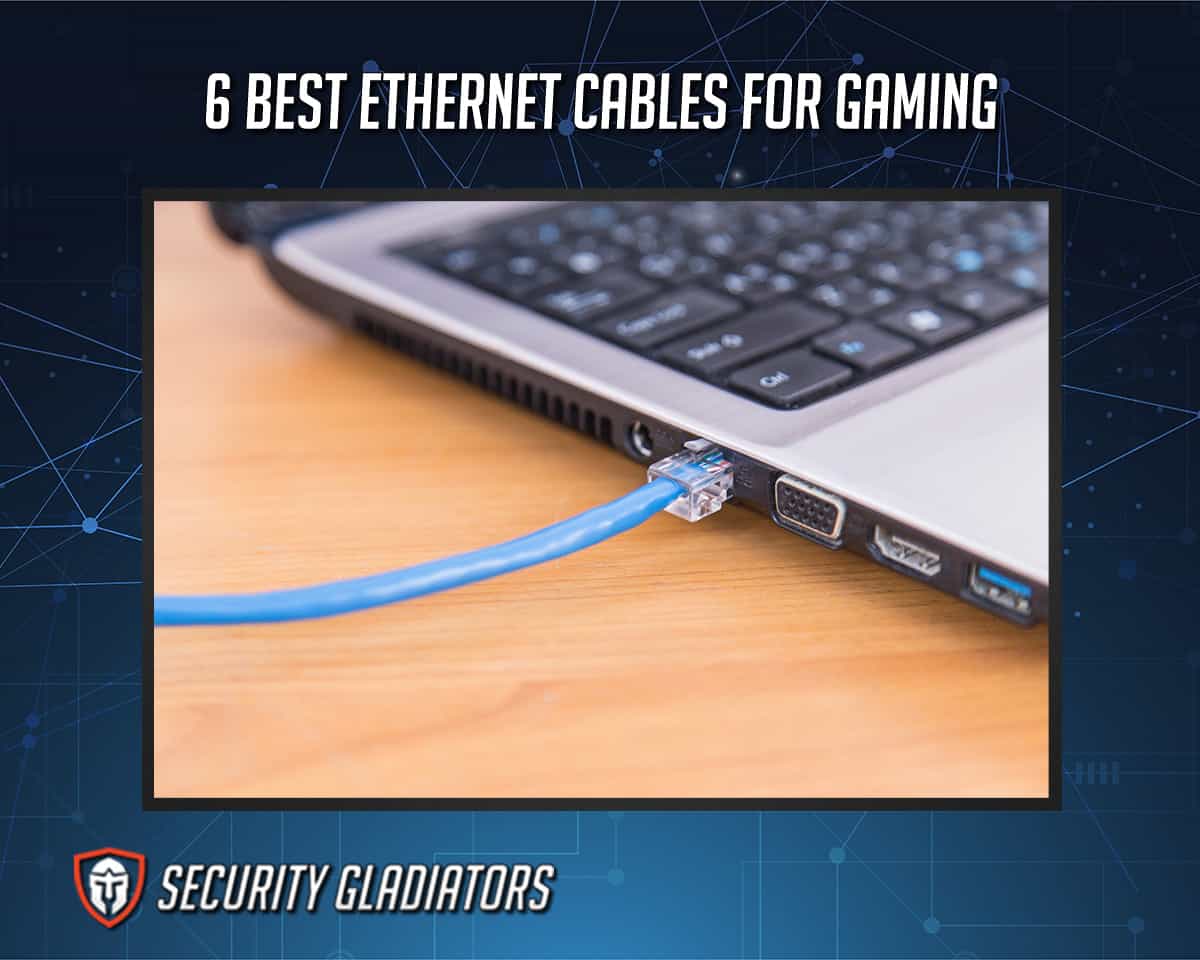 With so many standards and Ethernet Cable CAT categorizations, gamers can find a lot of difficulty in choosing the best Ethernet cable in 2023. The 6 best Ethernet Cables for Gaming in 2023 are given below:
Dacrown – Cat8
Zosion Ethernet Cable – Cat8
DbillionDa Ethernet Cable – Cat8
Danyee – Cat7 Braided
Jadaol – Cat7
Matein Ethernet Cable – Cat7
1. Dacrown – Cat8 (Best Quality)
Dacrown is a new player in the network connectivity market. However, the cables offered by Dacrown, especially Cat8, offer very high performance which is why Dacrown is most recommended for gamers. Dacrown Ethernet cables are very durable , and continue to offer fast speeds for long periods. The maximum data transmission speed Dacrown Cat8 can handle is 40 Gbps, which is perfect for gamers with high bandwidth needs when playing games like Fortnite, FIFA and Apex Legends. The Dacrown can support up to 2000 Mhz bandwidth which perfectly fits the need of gamers where high transmission rates are required in less time.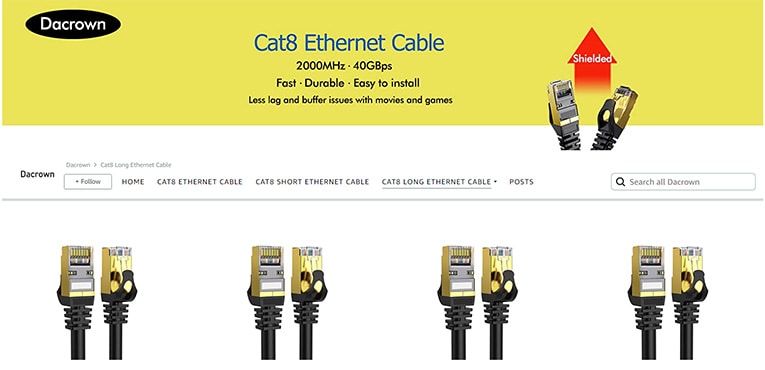 Saving even more time is Dacrown Cat8's gauge rating of 26. That ensures superior build quality resulting in less frequent cable change cycles. Gamers generally have multiple devices close by that need an internet connection. Dacrown Cat8 caves come with RJ45 connectors which are great for connecting multiple devices in a given network. The weatherproof version also allows gamers to use the cable outside if the gaming rig is on one floor and the router on another and the shortest way is through the window.
The advantages of Dacrown Cat8 ethernet cables are gold-plated RJ45 connectors, PVC-coated wires, extra protection with aluminum foil, lengths going over 50 feet, high bandwidth frequency support, and high transmission speeds. Dacrown Cat8 cables are also flexible, resistant to electromagnetic interference and work well in all conditions.
Just like any other ethernet cable Dacrown disadvantages include signal loss on higher lengths and slight pricing/availability issues.
The price of Dacrown Cat8 cable is $25 for the 50ft version. The actual price will vary depending on the length desired.
---
2. Zosion Ethernet Cable – Cat8 (Best for Reliability)
Zosion Cat8 Ethernet cables are highly reliable, score well on aesthetics and demonstrate great consistency in high data transmission speeds over a long period of time. Since Zosion Ethernet Cable is Cat8, bandwidth up to 2 GHz and transmission rates up to 40 Gbps are supported. Gamers get further performance boost via the 26 pure copper filament cores that lead to less signal loss and hence higher data transmission rates even on lengthier cables.
To further reduce lag and signal noise, Zosion Cat8 cables have a great design to guard against external interferences. An aluminum network cord filament ensures a massive reduction in issues such as crosstalk and other signal interference sources.
The pros of Zosion Cat8 ethernet cable include good packaging, effective design to prevent signal losses and interference, flat design for easier cable management, high-grade copper filament core, and high transmission speeds. Zosion Cat8 disadvantages include lower quality rubber near the connector tip.
Zosion Cat8 ethernet cable price is $13.99 but the actual price will vary depending on length.
---
3. DbillionDa Ethernet Cable – Cat8 (Best All Round Cable)
DbillionDa Cat8 Ethernet cable is great for a lot of activities and gaming is one of them. DbillionDa ethernet cables come with upgraded PVC, are waterproof, and resistant to common problems such as corrosion and cutting. The cables are not only durable but also flexible which should help gamers with cable management. DbillionDa ethernet cables work flawlessly even when underground which makes for easier indoor and outdoor use. With a great shield design, DbillionDa ethernet cables are very efficient when protecting against RFI and EMI interferences. Gamers whose gaming rigs are far away from modems/routers should go with DbillionDa ethernet cable as these cables are the best at reducing signal loss over longer distances.
The two RJ45 shielded connectors ensure a robust networking switch component. One of the biggest advantages of using DbillionDa ethernet cable is the foiled twisted pair surrounded by advanced shields. The single-strand 26 WG rated OFC wires ensure high bandwidth support and fast data transmission speeds. The improved shielding also reduces signal interferences more than any other ethernet cable. All of these qualities mean less lag, buffering and a more stable connection, which is vital for winning in online games. Some ethernet cables are rated 32AWG, but the 26 AWG-rated cables of the Cat8 variety offer faster and more stable data transfer speeds.
The only real downside of using DbillionDa cables is heavy packaging and slight availability issues, particularly at longer lengths.
Depending on the length required, DbillionDa ethernet cables can start from $6.99 and $17.49.
---
4. Danyee – Cat7 Braided (Best for Gamers with Limited Space)
The Danyee Cat7 braided cable is a powerhouse of high performance and good speeds on a consistent basis. These Cat7 ethernet cables support data transmission speeds of up to 10 Gbps and bandwidth up to 600 MHz. Surprisingly, the unique feature of Danyee Cat7 is not high speed or reliability, but the outer surface. The nylon braided outer surface of Danyee Cat7 makes breaking the cable a very difficult task. That's perfectly suited to gamers known to step on cables in the heat of online video game battles.As usual, the RJ45 connectors means Danyee Cat7 cables support almost all networking and computing components including gaming consoles, switch box, printers, modems, WiFi routers, laptops, and standard desktop computers.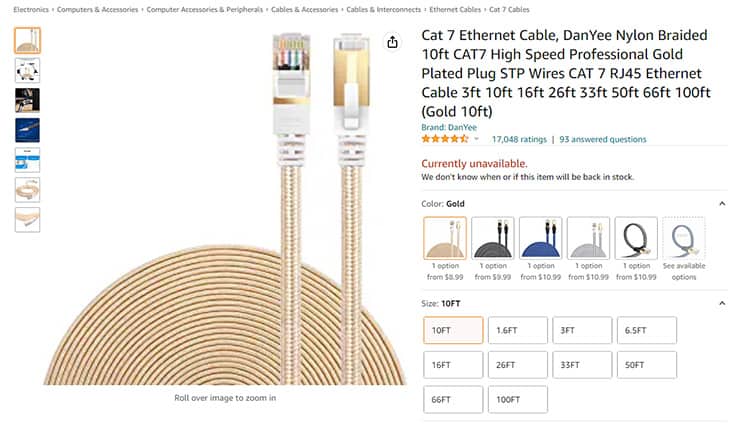 Problems such as signal interface are more or less resolved with help from the 4 STP copper wires. Each end has two RJ45 connectors. Danyee Cat7 offers better shielding and better quality twisted wires (reducing cross talk, noise, and other forms of interference that degrade signal purity) than almost all Cat6 ethernet cables. The most unique feature of Danyee ethernet cables is free customer support. As far as the downsides of using Danyee Cat7 cables go, the list includes stiff cables, and nylon protection that is prone to getting damaged under certain conditions.
Apart from that, Danyee Cat7 braided cables are perfect for gamers as the cables support speeds of up to 10 Gbps, bandwidth frequency of up to 600 MHz and STP shielding.
The price of Danyee Cat7 cable, depending on length, is $5.49 (at 1.6ft) and $8.49 (at 16ft) and onwards.
---
5. Jadaol – Cat7 (Best for Reliability)
Most ethernet cables are round. While that is great for setting a standard for how ethernet cables are made and handled, flat cables become essential in certain settings. And for such settings (such as gamers who are always short on space) Jadaol Cat7 flat cables are the best. Two factors that make Jadaol Cat7 ethernet cables best for gamers are flexibility and durability.. Most of all, Jadaol's design ensures there is no extra strain on the cable when bent or passed through tight cables. The packaging also comes with nail-in clips. Those can be used to tuck the ethernet cable against objects such as door frames or baseboards easily.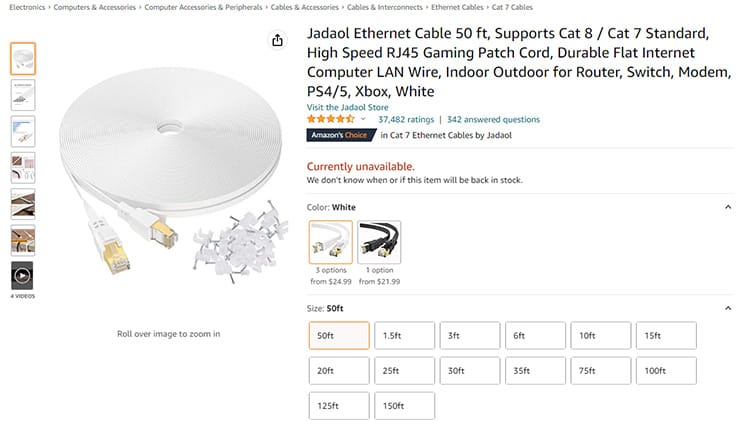 Jadaol cables are available in varied lengths with the highest being 100 feet. Regardless, even the best design cannot make up for what gamers want the most. That is performance and consistency. Fortunately, Jadaol Cat7 ethernet cables have both. Jadaol cables Cat7 standard cables support data transmission speed of up to 10 Gbps and bandwidth frequency of up to 600 MHz. The only downsides of using Jadaol Cat7 cables are loss of signal strength when cables cross a certain length (fixable by going for Jadaol Cat8 cables), and lack of availability when it comes to certain lengths.
The price of Jadaol Cat7 ethernet cable can be anywhere between $24.99 and $31.99 depending on the length and the shop.
---
6. Matein Ethernet Cable – Cat7 (Best for Versatility)
With universal compatibility and support for data transmission speeds close to 10 Gbps, gamers should be well set with Matein Cat7 ethernet cable. Matein Ethernet cable is also a high bandwidth cable supporting frequencies close to 600 MHz.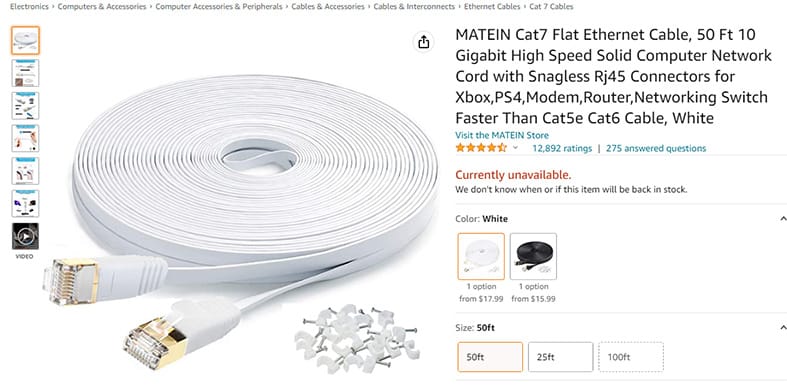 What makes Matein ethernet cables different from other cables is the unique flat design. There aren't enough cables that cooperate well in tight corners, under carpets, around furniture or when up against the wall. The Matein Ethernet cable performs at a high level in all such scenarios.
Matein Ethernet cable's wire interface is made of copper which gives the cable advantages of conductivity and tensile strength over aluminum-based ones. The double-shielded twisted construction reduces issues such as crosstalk. The bare copper core also increases data transfer speeds compared to other cables.
Finally, the RJ45 connectors are gold-plated which makes the Matein ethernet cable corrosion and degradation-resistant. With widespread compatibility, gamers cannot go wrong with Matein ethernet cable. The only disadvantage of using Matein cable is the lack of length variety when purchasing one.
The price of Matein ethernet cable is $17.99 per standard length.
---
Best Ethernet Cable for Gaming Comparison
| Cable name | Length | Transmission speed | Cable Type | Bandwidth |
| --- | --- | --- | --- | --- |
| 1. Dacrown – Cat8 | 1.5 ft – 150 ft | 40 Gbps | Round | 2000 Mhz |
| 2. Zosion Ethernet Cable – Cat8 | 1.6 ft – 100 ft | 40 Gbps | Round | 2000 Mhz |
| 3. DbillionDa Ethernet Cable – Cat8 | 6 ft – 100 ft | 40 Gbps | Round | 2000 Mhz |
| 4. Danyee – Cat7 Braided | 1.6 ft – 100 ft | 10 Gbps | Round braided | 600 Mhz |
| 5. Jadaol – Cat7 | 1.5 ft – 150 ft | 10 Gbps | Flat | 600 Mhz |
| 6. Matein Ethernet Cable – Cat7 | 25 ft – 100 ft | 10 Gbps | Flat | 600 Mhz |
How to Choose The Best Ethernet Cable for Gaming?
Ethernet cables provide network connectivity to different devices via physical connections. Hence, great care needs to be taken to get the best out of ethernet cables when considering high-consumption activities such as gaming.
The most important factor for gaming is data transmission speeds. Without proper data transmission speeds, gamers are likely to experience crashes, lag, lots of buffering , and input delay. All of such issues can mar the overall gaming experience. Currently, Cat8 cables offer high data transmission speeds. However, most experts agree that Cat8 is an overkill even for gamers and such high-end cables should be reserved for data center applications and use. Gamers who do desire high data transmission speeds can go with Cat7 or even Cat6 ethernet cables. Higher data transmission speeds have become popular in the last couple of years. That's because all gamers want to spend less time waiting and more time playing. Cat8 ethernet cables, as mentioned before, support up to 40 Gbps data transmission rates. Cat7 is about four times as slow as Cat8.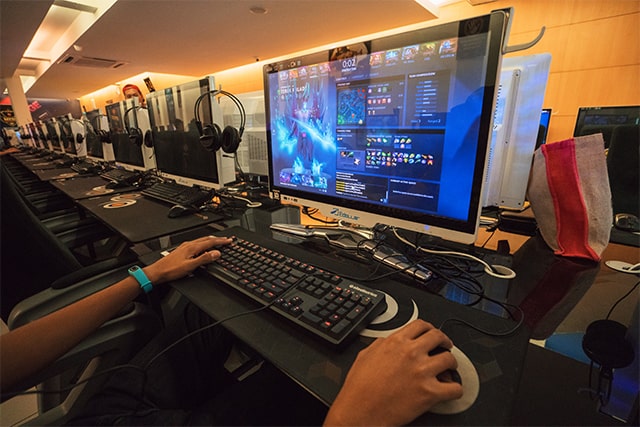 An important factor that even gamers tend to overlook when choosing the best ethernet cable for gaming is bandwidth. Bandwidth is defined by the max data a given ethernet cable can handle within a short time period. A fast internet connection doesn't mean much if the ethernet cable cannot support a large volume of data. Higher bandwidth frequencies are always better than lower ones. This is where Cat8 cables offer 2000 Mhz of bandwidth. Cat7 only offers 600 Mhz.
Gamers also need compatibility. There is little point in purchasing a fast ethernet cable if the devices that need a network connection are not compatible with the cable. Apart from the gaming rig, gamers usually have multiple other devices such as printers, second computers, modems, routers, smart TV devices, and personal digital assistant devices amongst others. Cat8 and Cat7 ethernet cables have great compatibility with RJ45 connectors at both ends. RJ45 connectors are more than enough for gamers to connect any given device.
Note:
EMI resistance is probably the least talked about factor when choosing the best ethernet cable for gaming. But gamers who do not want disturbances in signal strengths should go for ethernet cables that have aluminum foil shields or at least multiple layers of shields.
Length between Computer and Router
Length is just one of the many factors that can affect a given ethernet cable's performance. Generally, the longer the length, the more the chance that there will be a signal disturbance or signal loss. With that, even though ethernet cables have limitations that may affect internet connection speed, under the right conditions, length may not even play that much of a factor. The important term to remember here is run length. Different Ethernet cables offer different performance levels depending on the run length. At optimum run length, the ethernet cable offers maximum performance. Different Cat ethernet cables have different optimum run lengths. Generally though, ethernet cables under 100 meters should be able to offer good performance. Data transmission speeds only get reduced when users purchase internet cables beyond the recommended lengths. As a rule, if the computer and router only need a 10m or 20m ethernet cable, don't use a 50m or 100m cable.
Environment Factors
Depending on the environment surrounding the gamer's rig, different ethernet cables may offer unique benefits. For example, braided ethernet cables offer superior electrostatic screening and mechanical strength. Braided ethernet cables are also better for gamers with spaces that require a lot of stretching and bending around corners. Depending on the braiding, braided cables may offer more resistance to abrasion or cutting and against hot surfaces. Such cables are helpful for gamers that eat, drink, sleep, work and play in the same vicinity.
Other environmental factors include magnetic interference and noise. This is where shielded ethernet cables offer better performance than regular ones. Shielding has more or less become critical to maintaining high data transmission speeds in high interference environments. Cat6a cables should be the starting point for gamers and others. Gamers should definitely avoid unshielded ethernet cables regardless of the environment.
Aluminum foil shielding has also become very popular. Using aluminum foil beneath the main ethernet cable jacket provides protection against many sources of electromagnetic interference. Aluminum foils can also get rid of excess electrostatic potential.
Finally, flat ethernet cables offer better maneuverability in places with lots of flat surfaces such as walls, furniture and carpets.
Match the Cable to Needs
The best way for gamers to get the most value from any ethernet cable is to first determine the needs. And then purchase a good ethernet cable. To do that, first know the speed of the current internet connection. There are many internet speed test tools available online. Use the most convenient one.
Then know how much data will need to be transmitted while different activities are happening. For example, games like Fortnite and Apex legends along with Call of Duty are intensive online games requiring lots of data to be transmitted at any given moment. On the other hand, games like online Chess (on Lichess or Chess.com) or Among US don't require that much data transmission per unit time. Again, match the cables with the needs.
Note:
As mentioned before, Cat8 cables may be overkill for a single gamer no matter what type of games are being engaged in. For most gamers, Cat7 might make the most sense. For those on a budget, even Cat6 provides more than enough data transmission and bandwidth levels.
WiFi Vs Ethernet for Gaming
WiFI vs Ethernet for gaming is a raging debate. Wifi connections for gaming are better because of the convenience factor and the fact that gamers can move around and still have access to games no matter the location. However, ethernet connections offer far more stability and performance.
The only way for gamers to even get close to the performance levels of ethernet connections via WiFi is to use the
best wireless routers
.
Apart from that, preference for one type of connection over the other really comes down to one's circumstances. Gamers who don't like to deal with wires, want the freedom to move within a given room or house, and want instant connections for multiplayer games regardless of place, should go with Wifi connections.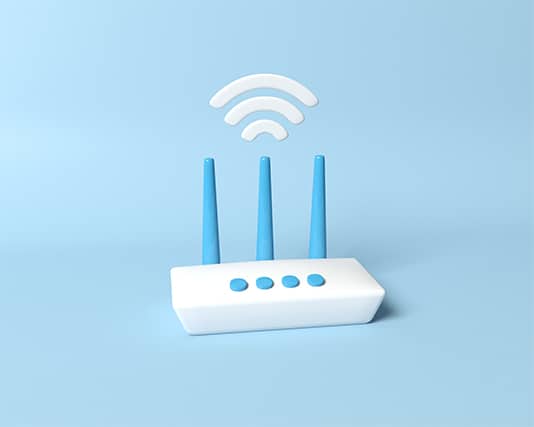 However, gamers who want the maximum speeds possible, faster updates, newer games and the best bang for the buck (i.e the money paid to the ISP) should go with an ethernet connection.
Is Cat7 or Cat8 Better For Gaming?
Compared to Cat8, Cat7 is better for gaming. In fact, for the average gamer, Cat6a may be a better choice than both Cat7 and Cat8. The two primary reasons for that are cost and requirements. More specifically, most gamers do not yet need the kind of horsepower that Cat7 and Cat8 cables offer. To some, Cat7 is considered over the top while Cat8 is even more of an overkill.
This is important:
Readers should also understand that the longer the ethernet cable gets, the more the chance of interference, signal loss, physical damage, and management issues.
In terms of performance, Cat7 cables are closer to Cat6a cables than Cat8 cables. Then there is the problem of older computer systems and consoles not having support for Cat8 cables. In such cases, Cat7 is better than Cat8.
In terms of raw power though, Cat7 and Cat8 are pretty much neck and neck. But gamers usually give the budget a good weightage as well when making ethernet cable decisions. Since Cat8 cables are newer with better materials, they are more expensive.
Cat7 ethernet cables have a maximum recommended length of 100 meters. The maximum data transmission speed supported by Cat7 cables is 10 Gbps. Cat8 cables offer 40 Gbps data transmission speeds close to 30 meters only. In terms of shielding, cat8 and cat7 are suited to gamers as well as office employees.
Cat7 cables are also more widely available than Cat8 cables.