G
oogle Chrome is the most versatile web browser on the market today, with a thriving extensions ecosystem. Using VPNs via Chrome extensions instead of dedicated apps has become a trend recently. The main reason for this being the robustness of Chrome VPNs. Chrome VPNs offer all the features of a dedicated VPN app such as location changing, encryption, content unblocking, and IP address switching.
Of course, not all Chrome VPNs are worth installing. Some are even dangerous to install. With so many options available via the Chrome Web Store, no wonder Chrome users find difficulty selecting the best VPN extensions for Chrome. VPNs by definition create a virtual private network with the help of a VPN server and encryption which protects user data and keeps all communication anonymous. The main usage of VPNs is to protect sensitive information, however, VPNS can be used for a variety of other purposes, including unblocking Netflix, accessing blocked services, and getting the best prices on certain products. VPNs have many benefits too, such as faster internet (in some cases), access to encryption, and infinite location changes. But the main function of a VPN extension remains the same: to encrypt user data, change IP addresses and enable a more private internet experience. VPNs have recently become very important in a world where surveillance programs are becoming ever more pervasive. User identities have also become commodities for marketing companies big and small.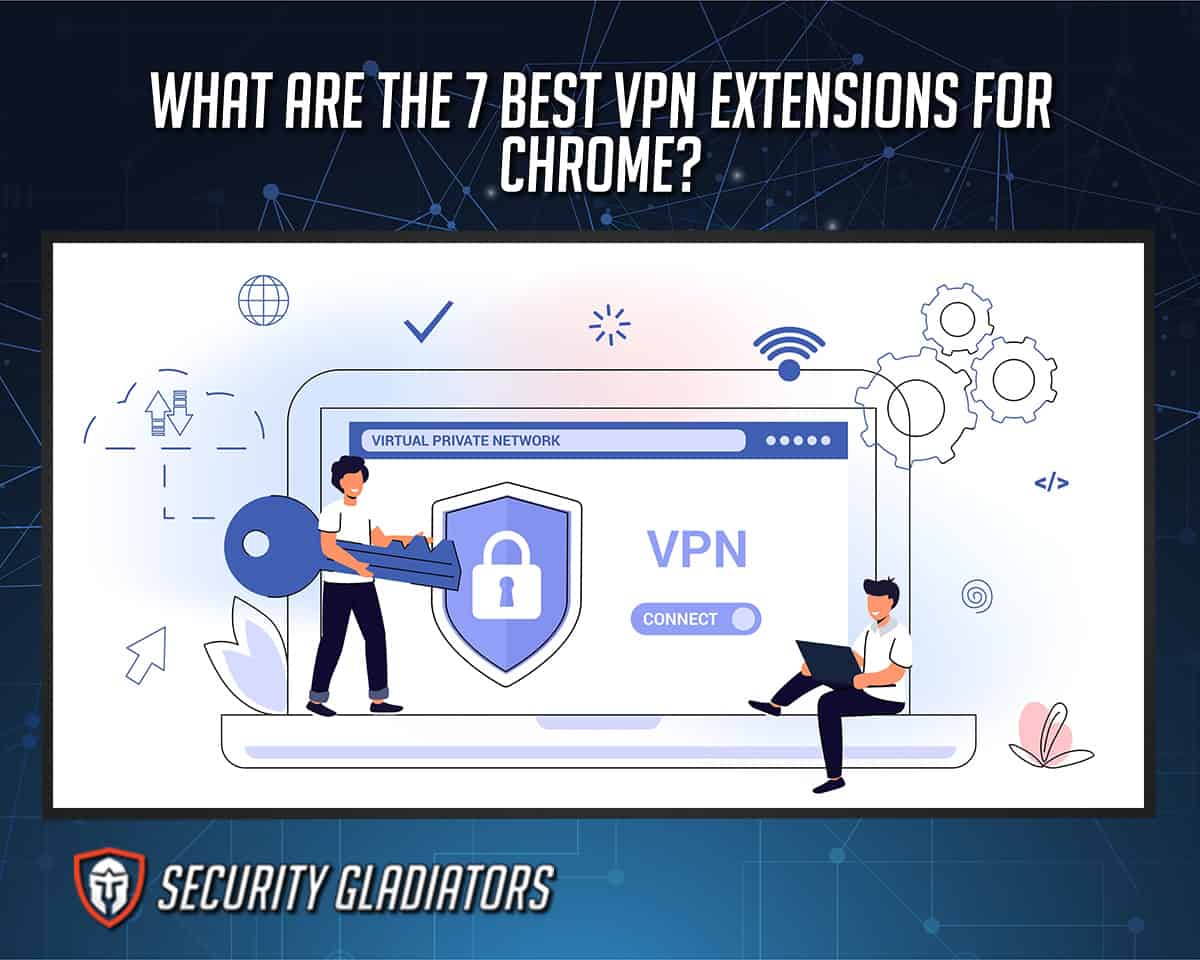 The best VPN extensions for Chrome are given below:
NordVPN
ExpressVPN
Private Internet Access
Surfshark
ZenMate
CyberGhost
Hide.me
1. NordVPN
NordVPN, which is owned by Nord Security, is the leading VPN service to not just enhance privacy and anonymity but also detect and remove malware. The main usage of NordVPN is to protect WiFi and other internet connections from snooping and surveillance. The advantages of NordVPN include a comprehensive kill switch, fast live chat support, zero logs, and the ability to unblock Netflix and Amazon Prime Video in any country consistently. The disadvantages of NordVPN include somewhat average performance on the Android platform, slower browser extensions, and some user interface (UI) issues on smaller screens. NordVPN offers advanced features such as threat protection, double VPN, DNS leak protection, Tor over VPN, and SmartPlay for better streaming experiences. From a security perspective, NordVPN uses AES 256-bit encryption for all connections and RAM-only servers for extra data security. With zero logs audited by independent companies, lots of servers, a straightforward privacy policy, and a dedicated IP address, NordVPN delivers on privacy as well. As a company, NordVPN is located in Panama, which is a great place for hiding user activity as the region does not have any data-sharing agreements with any western countries. All NordVPN packages come with a 30-day money-back guarantee.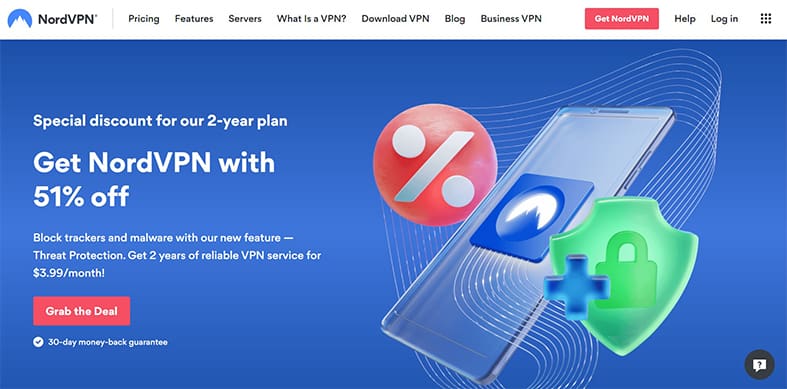 | Duration | Price | |
| --- | --- | --- |
| 2 years | $2.99 | Price changes after the first 2 years |
| 1 year | $4.49 per month | Price change after the first year |
| 1 month | $11.99 per month | No price change after 1 month |
For more information on the pros and cons of NordVPN, read the full
NordVPN review
.
---
2. ExpressVPN
ExpressVPN is one of the leading trustworthy VPNs in the industry right now. The VPN service is owned by Kape Technologies and the main usage of ExpressVPN is for users who want secure access to the internet from anywhere in the world. The main pros of ExpressVPN include a simple and modern user interface on all apps, the split tunneling feature, and fast VPN servers. Some key disadvantages of ExpressVPN include expensive monthly packages, the lack of huge discounts on longer packages, ties to companies with sub-par privacy records, and a lack of multi-hop features on any apps.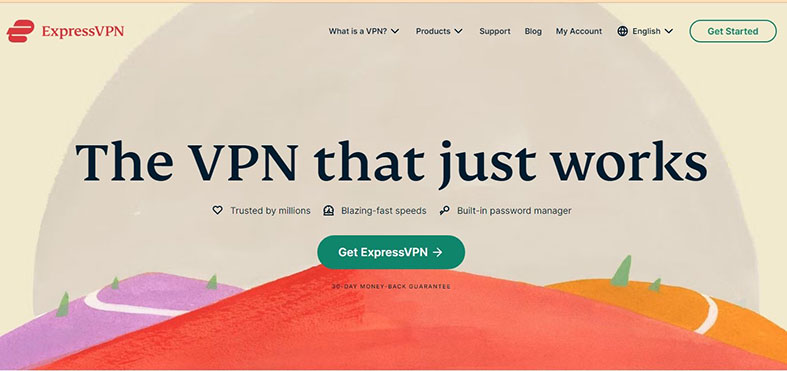 As far as key features of ExpressVPN are concerned, the list includes the ability to unblock streaming services regularly via MediaStreamer, multiple audit reports, a threat manager component, task-specific servers, and torrent support. Further, ExpressVPN uses AES 256-bit encryption and an SHA 512-bit hash function for authentication. For better privacy and anonymity, ExpressVPN also supports some of the most powerful protocols available today in the form of IKEv2, OpenVPN, and Lightway (the company's proprietary protocol). To ensure maximum privacy, ExpressVPN has a zero-logs policy, independent audit reports validating the company's privacy claims, and a headquarter based in the British Virgin Islands for better data security. All ExpressVPN packages offer a 30-day money-back guarantee.
| Duration | Price |
| --- | --- |
| 12 months | $8.32 per month |
| 6 months | $9.99 per month |
| 1 month | $12.95 per month |
---
3. Private Internet Access
Private Internet Access (PIA) is owned by Kape Technologies and offers many benefits, including lots of VPN configuration options, an advanced kill switch that works at all times, torrent support, and a large server network. Just like any other VPN service, Private Internet Access also has some downsides to be aware of, these include the service's headquarters being located in the US, awkward apps, and average server speeds. Key features, on the other hand, include a dedicated Linux app, lots of payment methods, up to 10 simultaneous connections per account, and lots of server locations.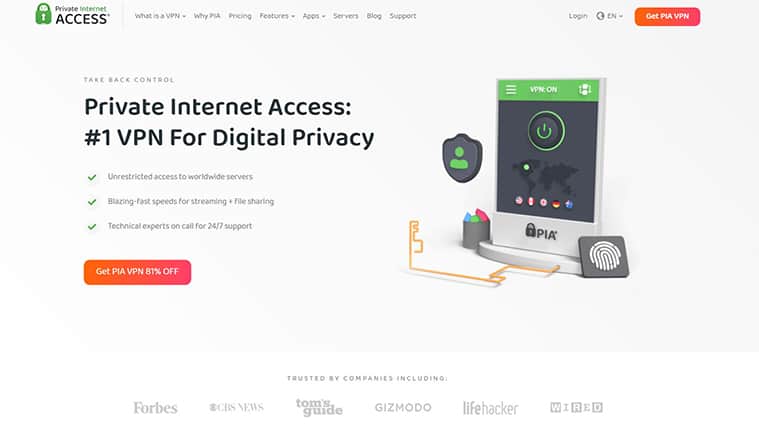 PIA takes care of security by offering advanced VPN options such as multi-hop connections and split tunneling. By default, PIA uses AES 128-bit encryption, however 256-bit AES is also available. Protocols supported by PIA include WIreGuard, OpenVPN, and IPSec. For privacy, PIA offers open-source apps, zero logs, and its own encrypted DNS servers. The PIA browser extensions offer additional security and privacy tools including anti-trackers and an ad blocker. There is also a bypass list option that users can enable to whitelist websites from VPN protection. All PIA packages come with the industry standard 30-day money-back guarantee.
| Duration | Price |
| --- | --- |
| 3 years + 3 months for free | $2.03 per month |
| 1 year | $3.33 per month |
| 1 month | $11.95 per month |
---
4. Surfshark
SurfShark is the VPN service of choice for many to secure one's digital life whilst on a budget. The main usage of SurfShark is internet security on a budget, especially for users of public WiFi connections.
SurfShark is owned by Nord Security who owns a couple of other mainstream VPNs as well. The advantages of SurfShark include dedicated VPN apps for all platforms, a comprehensive browser extension for Google Chrome, fast live chat support, and unlimited simultaneous connections per account. As far as the disadvantages of SurfShark go, be aware of some missing features on iOS platforms, slight performance issues on mobile platforms and expensive monthly packages. The main features of SurfShark include bonus anti-virus protection, a private search engine, dark web monitoring, and private DNS. SurfShark also has a Pause VPN feature which allows users to disable VPN protection for a set amount of time before the VPN automatically forms a VPN connection again.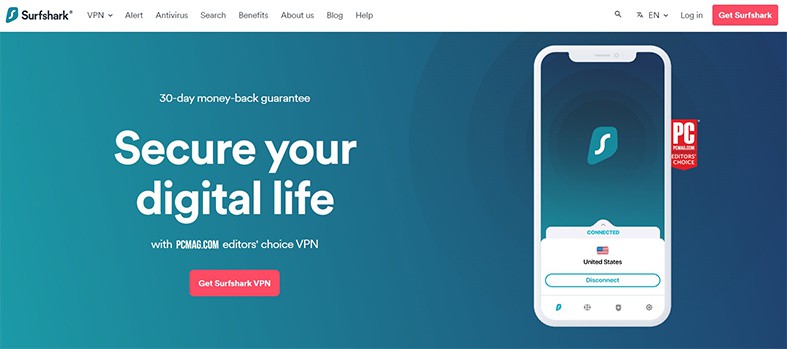 From a security perspective, SurfShark is all aces with support for all the latest protocols such as OpenVPN, IKEv2, and WireGuard. Additionally, SurfShark secures all connections with AES 256-bit GCM encryption. This VPN service goes beyond the standard set of security tools by also offering obfuscated servers, RAM-only servers, and two-factor authentication for more account security. Some privacy/security tools that all SurfShark apps carry include a Kill Switch, auto-connect, bypasser, CleanWeb, multi-hop and pop-up blocker.
With over 3200 servers to choose from, SurfShark is able to keep user activity neatly spread for added privacy. All SurfShark packages come with a 30-day money-back guarantee.
| Duration | Price |
| --- | --- |
| 24 months plus 2 months for free | $2.05 per month. The price per month does increase a lot after the initial 24 months. |
| 12 months | $3.99 per month. Price increases to around $5 per month after the first 12 months period is over. |
| 1 month | $12.95 per month. |
There are many other advantages and disadvantages to be aware of, all of which are covered in this full
SurfShark review
.
---
5. ZenMate
ZenMate is another budget VPN, owned this time by Kape Technologies. The primary usage of Zenmate is to provide a single-click solution to privacy and security issues online. The pros of Zenmate include task-specific VPN servers, torrenting support, live chat support, good Chrome extensions, many server locations, and importantly, unlimited simultaneous connections. The cons of Zenmate include a lack of extra features, lack of quality content on the official website, a slow update cycle, and a sub-par privacy policy.
The standout features of Zenmate are a free trial, the ability to unblock all major streaming services, including BBC iPlayer, Prime Video, and Netflix, and dedicated apps for all platforms.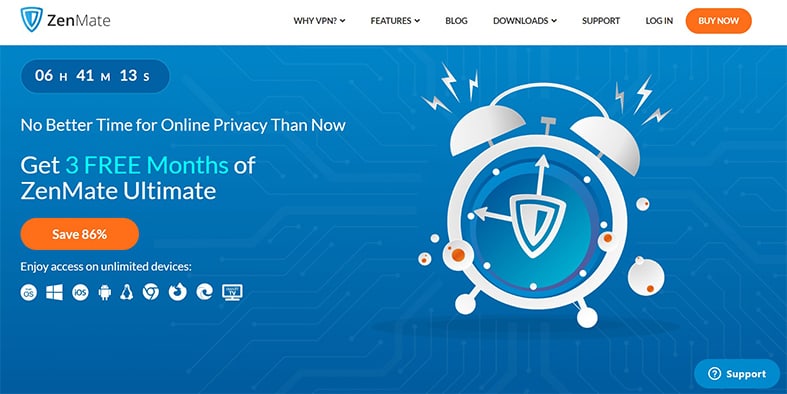 Zenmate is one of the most secure VPNs with security tools such as AES 256-bit encryption, SHA 256-bit for authentication, OpenVPN and IKEv2 protocols, as well as a kill switch.
From a privacy perspective, ZenMate has a zero-logs policy and lots of servers that always help to keep user activity distributed and hidden. The only problem is that Zenmate is based in Germany, who are a member of the 14 Eyes data-sharing alliance. So even though Zenmate has a zero-logs policy, the company will be required by law to hand over user information to law enforcement agencies should it be requested.
All Zenmate packages come with a 30-day money-back guarantee.
| Duration | Price |
| --- | --- |
| 3 years plus 3 months free | $1.51 per month |
| 1 year | $4.49 per month |
| 1 month | $10.99 per month |
---
6. CyberGhost
CyberGhost is also a top performer in terms of Chrome Extension VPNs, and in fact in the main VPN market. The company is owned by Kape Technologies and the primary usage of CyberGhost to provide users the opportunity to safeguard their digital footprint. CyberGhost hides internet activity and keeps government surveillance programs at bay.
The Pros of CyberGhost include anonymous payment methods like cryptocurrency, free trials, task-optimized VPN servers, the ability to unblock various streaming services, and a large server network.
The cons of CyberGhost include their association with Kape Technologies, some WireGuard implementation issues on a few platforms, and inconsistent performance when unblocking UK Netflix and Disney Plus.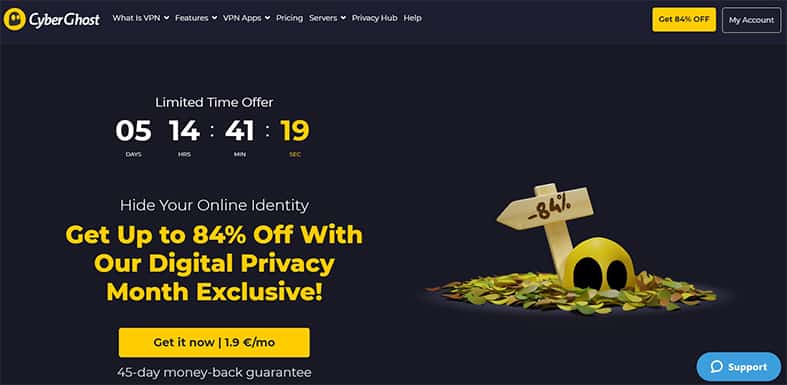 CyberGhost's salient features include provision of seven simultaneous connections per account, dedicated apps for all platforms, including gaming consoles and streaming sticks, fast servers, and a simple user interface.
Security-wise, CyberGhost is up there with the best VPNs in the world, offering 256-bit AES encryption, 2048-bit RSA keys, SHA 256-bit for authentication, and perfect forward secrecy. This is on top of other security tools such as WebRTC leak protection, IPv6 leak protection, DNS leak protection, and private DNS servers. For even more privacy and security, CyberGhost VPN comes with a Kill Switch, auto-connect capabilities, split tunneling, and an ad blocker.
Note:
Most of all, the CyberGhost VPN extension (which is somewhat of a proxy service) is free for users to install on Chrome and use without any restrictions.
Some privacy-specific facts about CyberGhost that users may be happy about include a zero logs policy, a somewhat straightforward privacy document, and the HQ location being based in Romania. Keep in mind, however, that CyberGhost is owned by Kape Technologies, who have a controversial privacy history. CyberGhost VPN also mentions on the official website that the service may disclose user data to other companies in certain cases.
All CyberGhost VPN packages come with a 45-day money-back guarantee, with the exception of the 1-month plan (which comes with a 14-day money-back guarantee).
| Duration | Price |
| --- | --- |
| 24 months plus 4 months of free VPN | $2.03 per month |
| 6 months | $6.99 per month |
| 1 month | $12.99 per month |
There is a lot more to CyberGhost than mentioned above. Find out all about it all in the full
CyberGhost review
.
---
7. Hide.me

Hide.me is a premium VPN service whose main usage is to provide a safer and faster internet experience without privacy issues. eVenture Ltd owns Hide.me. The main advantages of Hide.me include the availability of anonymous payment methods, torrent-friendly servers, fast server performance, many varied server locations, and bonus security features. Some key Hide.me disadvantages include a lack of task-specific servers, a slightly expensive monthly package and an awkward UI for selecting servers from the app.
Features that make hide.me different from other VPNs include a lack of megacorporation involvement as hide.me is 100 percent independent, complete IPv6 support, and simple apps available for all platforms and major web browsers, including Chrome and Firefox.
Security tools that make hide.me a good VPN extension for Chrome include split tunneling, WireGuard support, IPv6 implementation, IP leak protection, and Stealth Guard. Hide.me also offers SoftEther, OpenVPN, and IKEv2 as protocol options. All of this means that services and websites find blocking hide.me and the service's servers harder than the average VPN.
With over 2000 servers available to every user, along with 75 locations and 10 Gbps bandwidth, hide.me has the infrastructure to keep user activity anonymous and streamlined.
Note:
Features such as AES 256-bit not only ensure security but also data privacy. Hide.me also has a zero-logs policy. The official website mentions that hide.me removes connection logs on a daily basis.
Hide.me is incorporated as a company in Malaysia, who are known for implementing strict internet censorship laws. However, for now, VPNs continue to operate in the country without any problems. Hide.me also furnishes the ability to use static IP addresses which are better for users with more than a single internet-enabled device.
Hide.me has an official refund policy of 30 days for all packages.
| Duration | Price |
| --- | --- |
| Unlimited | Free |
| 12 months + 3 months of free VPN | $3.00 per month |
| 6 months | $5.82 per month |
| 1 month | $9.95 per month |
This VPN service has plenty more to offer, all of which can be found in the complete
hide.me review
.
---
Note:
Prices may differ from the ones shown as new plans and deals are launched on a regular basis. Please be sure to check the most current price on the official website.
What are the Benefits of Using a VPN with Chrome?
The benefits of using a VPN on Chrome are given below:
VPNs on Chrome are convenient: The primary benefit of using a VPN on Chrome (as opposed to via a VPN desktop application for Windows or Mac) is convenience. A browser extension can be easily installed within seconds and there is no need to keep up with the app updates.
VPNs on Chrome are light: Chrome extensions consume very few resources to work.
Fast access: Most VPN extensions on Chrome only require two clicks to establish a VPN connection and protect online privacy. In the case of dedicated VPN apps, the user first has to launch the app, sign in, and then connect.
Value for money: A lot of VPN extensions for Chrome are free. Some elite VPNs do require subscriptions but even in those cases, the user can use the VPN extension and the VPN app by paying for a single subscription package.
Access blocked content: VPN extensions, just like dedicated VPN apps, can unblock content on sites like US Netflix, Amazon Prime Video, Tubi, and Freevee. With the press of a single button, users can change the IP address and access content from any country.
Anonymity: VPN extensions for Chrome are a great way to get anonymous quickly.
More configuration options: Many VPN extensions allow users to protect connections to some websites with a VPN while leaving others. Dedicated VPN apps usually do not allow for such granular control.
Great for Remote Work: Professionals and freelancers need to work on the move more than ever. A VPN extension for Chrome means the user can access any computer, install Google Chrome, sign in and quickly protect the connection with the VPN extension.
What to Look For in a VPN Extension for Chrome?
Signing up for the best possible VPN extension for Chrome is very important, as with any other software or online product. Generally, paying attention to the fundamentals can make the process of selecting the best VPN extension easier. The features to look for in a VPN extension for Chrome are given below:
Interface: Without a simple and easy-to-use interface, there is little point in using a Chrome VPN extension. Elite VPNs always offer VPN extensions for Chrome which are easy to install and maintain. Most only require two clicks to form a VPN connection.
Accessible: VPN extensions for Chrome, by definition, are very accessible since Chrome is the most popular browser on any platform. However, the best VPN extensions come from VPN services that support more simultaneous connections. This means users can protect more devices via the extension for the same single subscription price.
Bonus Features: Be careful about signing up for Chrome VPN extensions that act only as glorified proxy services. A Chrome VPN must encrypt internet traffic and hide IP addresses. Use some IP leak tests to see if a Chrome VPN is really doing what is claimed on the official website. The best VPN extensions for Chrome not only offer the standard set of security features, such as IP changing and encryption, but also bonus features. Bonus features include split tunneling, ad blocking, and dark web monitoring.
Reputation: Only sign up for VPN extensions for Chrome that have a good reputation. Different software distribution platforms provide enough evidence if a Chrome extension is worth installing. Ideally, go for VPN extensions that offer a zero logs policy and AES 256-bit encryption, along with independent reports and a neatly filled out official website.
Server Selection: The best extensions offer the most number of servers and locations. More servers and locations means the user can always find a server nearby which reduces lag and internet speed reduction.
Speed: VPN extensions must be fast enough to allow for HD streaming, quick browsing and reliable torrenting. Slow VPN extensions really have no use.
How to add a VPN Extension on Google Chrome
The steps to take to add a VPN extension on Google Chrome are given below:
Launch Google Chrome.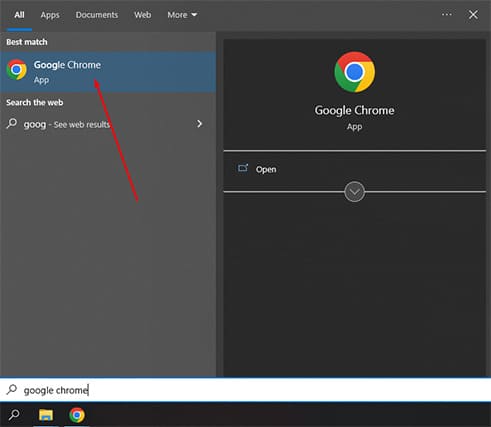 Go to the Chrome Web Store.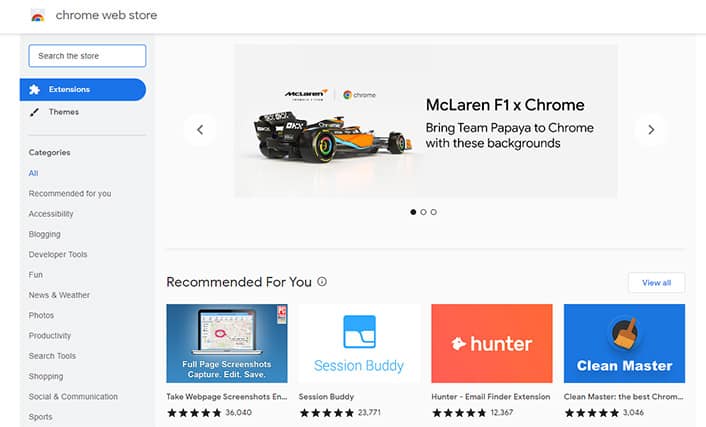 Search for the desired VPN service. Or go to the official website of the desired VPN, go to the Downloads section and then click on the Extensions link (a much safer way to actually get to the official VPN extension rather than just an imposter one).
Click on the relevant VPN extension.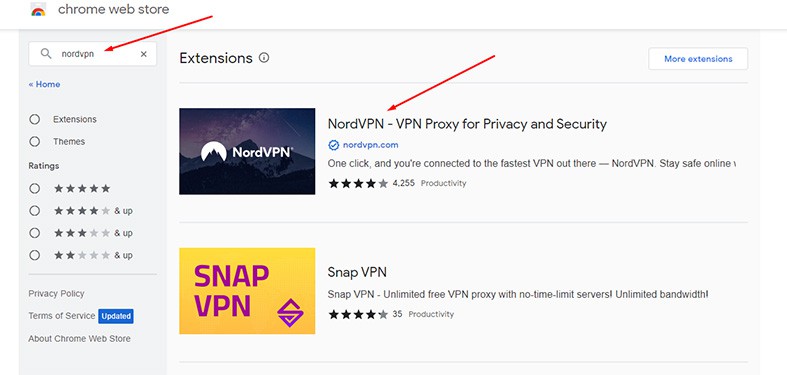 Click on Add to Chrome.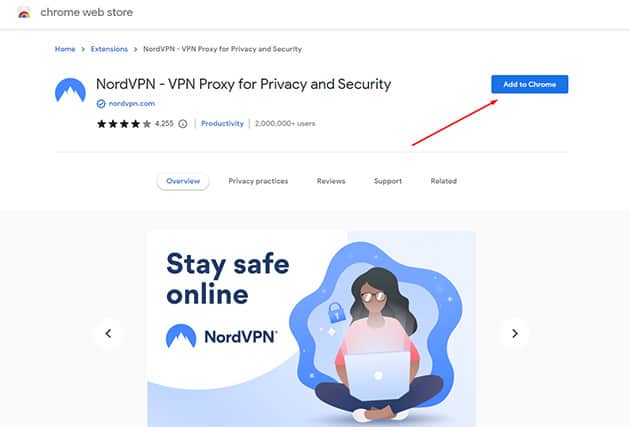 Once the download and installation process is finished, Google Chrome will automatically grant all the required permissions. A notification will be shown as well. Click Add Extension to agree to all the granted permissions and start the VPN extension.

How to Use a VPN Extension on Chrome?
The steps to take to use a VPN extension on Chrome are given below:
Once the extension is installed, look at the top right corner of the screen for a VPN extension icon. Click the icon.
Input login credentials.
Provide the necessary permissions.
Complete the setup.
Now, the user should be able to see the main menu of the VPN extension. In most VPNs, the extension shows a big Connect button in the middle. Users need to pick a server and then press the Connect button. Sometimes, the Connect button comes in the shape of a slider. The function remains the same regardless of the form.
Before connecting to a server, go to the Settings menu and make sure security settings such as HTTPS Everywhere, WebRTC protection and Location Spoofing are turned ON.
Choosing a location before connecting to a server is also a good idea. Most VPN extensions provide a search function that allows access to a list of all the available servers along with the load percentage. A Smart Location is also available sometimes that automatically picks the closest server with the lowest load percentage.
After selecting a server, click on the Connect button to finally connect and get protection.
This is important:
Keep in mind that some VPN extensions for Chrome require the full desktop application to be installed on the same system to start working. However, most work independently within the web browser.
Are There Any VPN Apps for Google Chrome?
VPN services today offer an opportunity for users to enhance privacy and increase data security. The primary way consumers make use of VPNs is via VPN apps. VPN apps are just regular applications that allow users to authenticate accounts and access the service's network infrastructure to gain anonymity.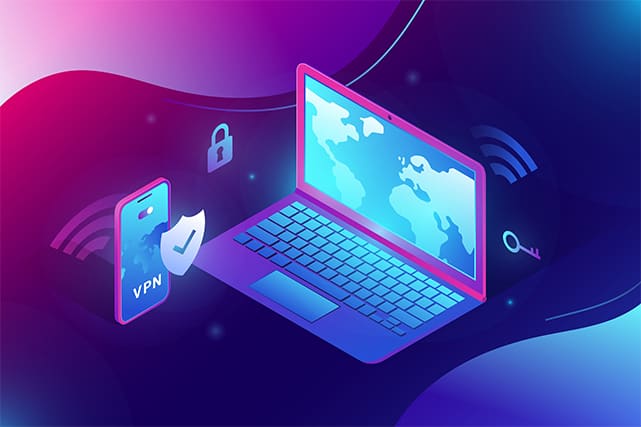 The logic behind VPNs and VPN apps is simple as well. VPN apps help form an encrypted connection from the user's device to a server that the user has connected to. The VPN apps help pick the server beforehand. And because the connection is encrypted, all of the user's data can be transmitted safely without any foreign interference. Such a setup also significantly reduces the chances of unauthorized access leading to stolen sensitive information.
The best part is how easy VPN apps are to use with Chrome. Users only need to download and install a Chrome extension once and the rest will be taken care of by Chrome and the VPN service in question. Clicking a single connect button usually results in a secure connection.
Since Google Chrome is the most popular web browser in the world on any given platform, developers have made sure there are plenty of VPN apps for Google Chrome.
Note:
Readers should note though that the term Chrome VPN may not be accurate strictly speaking. All VPN services mentioned before offer Chrome extensions that offer the same benefits as a VPN app. Chrome's extension system simply allows the user to control VPNs and VPN settings via the browser without the need for an external application.
What is the Difference between a VPN Extension and a VPN App for Chrome?
The difference between a VPN extension and a VPN app for Chrome is, VPN extensions run directly from Google Chrome without the need of any external application while VPN applications require separate installation and operation outside of Google Chrome.
VPN extensions provide a quick way to change IP address and unblock content. On the other hand, VPN apps take time to establish connections and users first have to launch VPN apps in order to connect to a suitable server. With that said, VPN apps are better at encrypting user traffic and unblocking content even on sites where VPN extensions do not work.
Most VPN extensions do not encrypt user traffic. Almost all elite VPN apps encrypt user traffic with great efficiency.
Another major difference between VPNs apps and VPN extensions is VPN apps protect all internet traffic. VPN extensions only protect internet traffic at the browser level.
The chances of the user finding working advanced security features on VPN extension are very low. For VPN apps, offering working advanced security features such as Kill Switch, Auto connect, auto reconnect, double VPN servers and dedicated IP address is pretty much standard.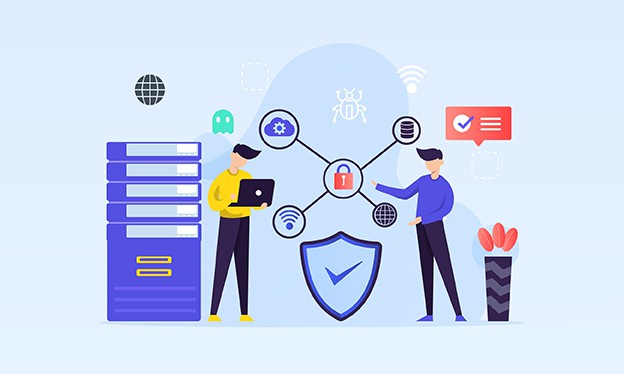 One area where VPN extensions are different from VPN apps but also offer advantages is the update cycle. First, users do not have to update VPN extensions. The Chrome browser does that automatically. Secondly, VPN extensions usually get more updates per cycle than VPN apps.
One other way VPN extensions are different from VPN apps is portability. Essentially, users have to install VPN apps on any system that requires VPN protection. With VPN extensions though, users only have to install the VPN extension on Google Chrome on time and that is pretty much it. Any device that has access to the user's Google Chrome account will also have access to the VPN extension. The best Chrome extensions even make the effort to require as few permissions as possible and update regularly automatically.
Does Chrome Have Its Own VPN?
No, Google Chrome currently does not have a built-in VPN component. The incognito mode on Google Chrome does provide some modicum of privacy. But apart from Chrome not recording the user's internet history in the History section, nothing really changes. Fortunately though, Chrome does support VPN extensions and works with almost all VPN apps to protect privacy and enhance data security. With Chrome Web Store's robust ecosystem, installing and maintaining VPN extensions is very straightforward. Chrome being the most widely used web browser does not have any compatibility issues with VPN apps and VPN extensions.
Chrome being popular is another reason why there are so many third-party VPN extensions for Chrome. Currently, there is very little need for the Chrome development team to have a separate VPN component built into the browser (similar to what browsers like Opera have done).