Ad blockers are browser extensions that hide adverts on websites. Ad-free pages provide a positive user experience and allow users to swiftly read the page's content without interruptions. Fraudsters use cunning fishing methods and dangerous downloads disguised as genuine adverts, and the best way to protect oneself is to use ad blocker extensions.
42.7% of all internet users use ad-blocking software today. Chrome users can use ad blockers for protection from third-party tracking, to avoid distractions and to block ads and other things. And many ad blockers come as Chrome extensions or programs that are effective and easy to install.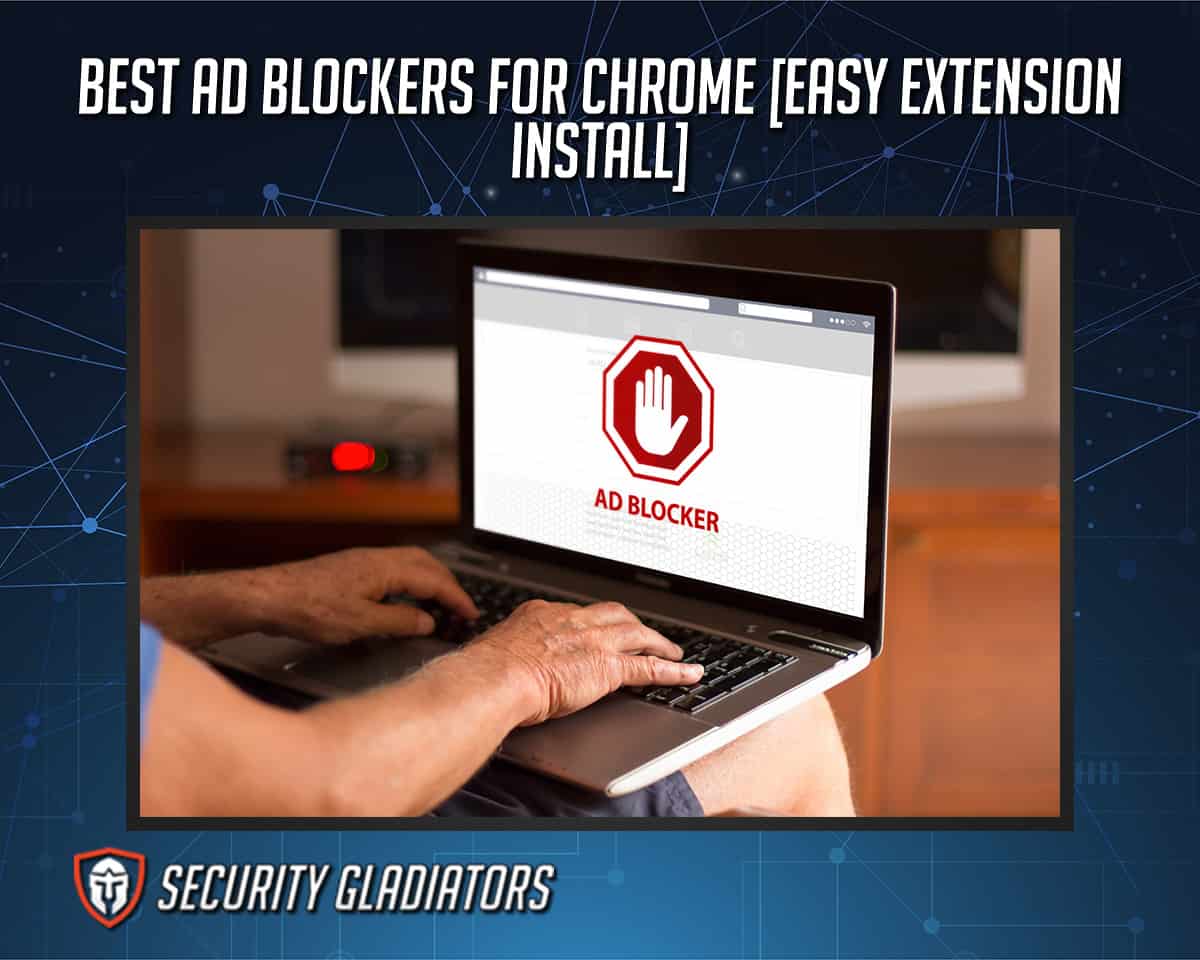 The ten best ad blockers for Chrome in 2023 are listed below.
AdLock
AdGuard
AdBlock Plus
uBlock Origin
TotalAdblock
Poper Blocker
AdBlock
Ghostery
Stands Fair AdBlocker
AdBlocker Ultimate
1. AdLock
AdLock is a lightweight, extremely effective system-level ad blocker that can protect browsers and various applications. AdLock is not a browser plugin but a standalone program that runs on your preferred device, with support for five devices on a single subscription with apps available for Windows, Mac, iOS, and Android (albeit not through the Play Store). To use AdLock, users must install the program on a smartphone or a PC running Windows or a Mac. AdLock safeguards not just Chrome but every program and browser on a device. The app can even prevent advertisements on YouTube! The primary drawback of AdLock is that there is no free version, but there is a free test period. Users can have more information in this AdLock review.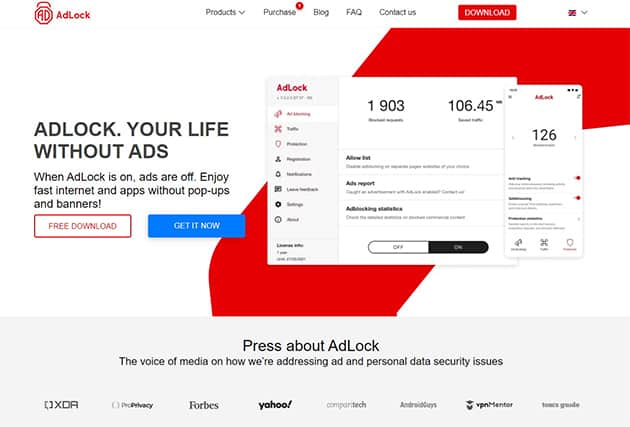 | Monthly | Yearly | Five years (up to five devices) |
| --- | --- | --- |
| $3.50/ month (before VAT) | $2.28/ month (billed annually at $27.30 before VAT) | $1.05/ month (billed at $63 every five years) |
---
2. AdGuard
AdGuard's Tracking Protection filter is designed to eliminate all forms of tracking and has an extensive filter list. AdGuard is available in various forms based on the user's needs. There is a standalone desktop version for macOS, Windows, and other operating systems and a browser extension that can be downloaded and used on an individual's preferred browser, such as Chrome! AdGuard's Stealth Mode gives a genuinely astonishing selection of settings for blocking not only advertisements and trackers but also a variety of other online options that can jeopardize a user's security. For example, users may hide search queries, so websites don't know what users typed and use that to locate such users, prevent WebRTC to protect an individual's IP address, hide referrer information, block or limit cookies and more. This versatility makes AdGuard one of the most robust Chrome add-ons available. A significant drawback is that the extension occasionally freezes.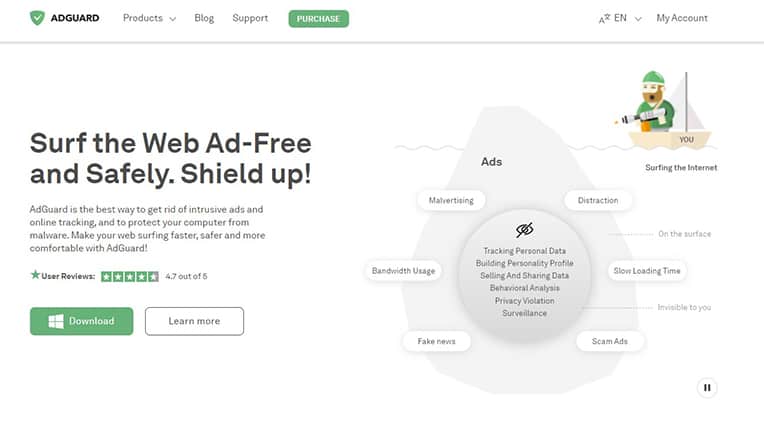 | Personal (up to three devices) | Family (up to nine devices) |
| --- | --- |
| $2.49 per month (billed annually) | $5.49 per month (billed annually) |
---
3. AdBlock Plus
Adblock Plus is an ad-blocking application that was one of the first available. The app is free and compatible with different web browsers. This ad blocker is one of the most popular ad-blocking solutions available. Adblock Plus also makes installation easy. Simply install the extension, and all is set and ready to go. But users may need to access the settings to modify the Acceptable Ads filter and begin whitelisting specific websites. Adblock Plus displays the number of adverts the program is blocking on the page, allowing individuals to easily assess how effective AdBlock Plus is in enhancing browsing experience.
---
4. uBlock Origin
uBlock Origin is a free, open-source privacy extension for Google Chrome that blocks advertisements, trackers, spyware and other privacy risks. The extension provides a statistical breakdown of how well the ad blocker has performed throughout the current session, which sets uBlock Origin apart from many competing programs. High-quality filter lists, such as the AdServer List, EasyPrivacy List and Malware Domains, are used to prevent intrusive advertisements, malware and trackers from reaching the user. uBlock Origin allows users to choose independently whether to block pop-ups, huge media items, cosmetic filtering, remote custom website fonts, JavaScript and more, all while remaining lightweight and barely hurting the device's performance. Unfortunately, the app is unavailable on iOS, which is a significant negative.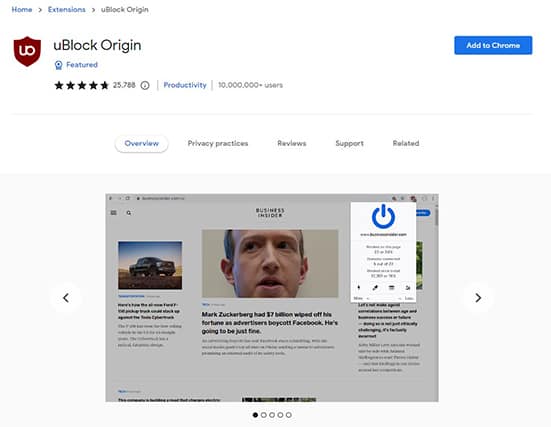 ---
5. TotalAdblock
TotalAdblock is the program anyone needs to enjoy an ad-free browsing experience. The program is well-known for automatically blocking all online advertisements and trackers. This ad blocker also can easily detect and delete advertisements on famous sites such as YouTube, Facebook, CNN and others.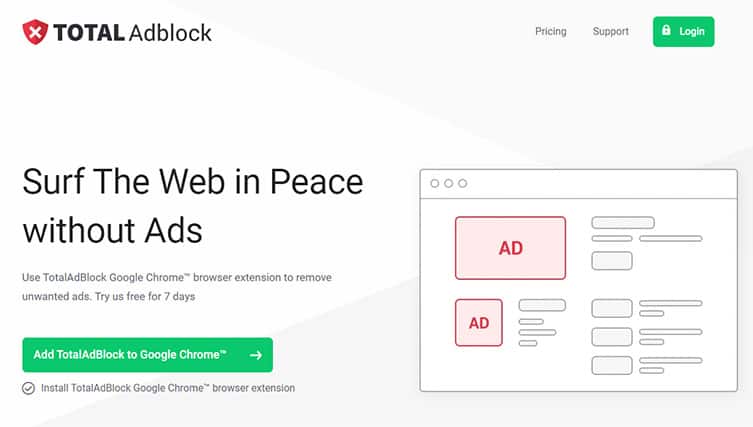 TotalAdblock is flawless at identifying and blocking advertisements and tracking servers. Among the features are ad blocking, page-loading speed improvement and the option to block trackers. The program supports Chrome, Edge, Firefox and Safari.
---
6. Poper Blocker
Poper Blocker, also known as Pop Up Blocker For Chrome, is an extension for Google Chrome that blocks advertisements and can be used in tandem with similar programs. Poper Blocker is a browser add-on that prevents intrusive adverts from appearing, including techniques such as scrolling, timing, overlays and pop-unders. Short alerts are shown whenever pop-ups are blocked. The software is free.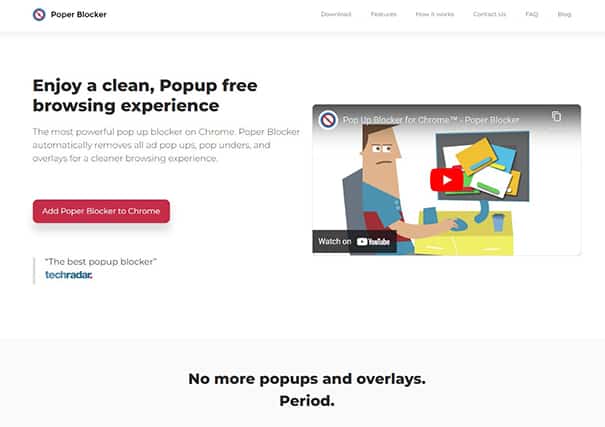 ---
7. AdBlock
AdBlock, a pop-up blocker, is open-source and available at no cost. The ad blocker supports most browsers and mobile operating systems, including Chrome, Firefox, Edge, Safari, iOS and Android, making the blocker one of the world's most widely used ad blockers. AdBlock employs filter lists that are set as the default for all users, but anyone can create a list or whitelist websites. AdBlock participates in the Acceptable Ads initiative, which filters out disruptive advertisements. AdBlock keeps users safe from malicious websites, intrusive adverts on YouTube and Facebook and the mining of cryptocurrencies. Users who want to eliminate advertisements completely must turn off Acceptable Ads first.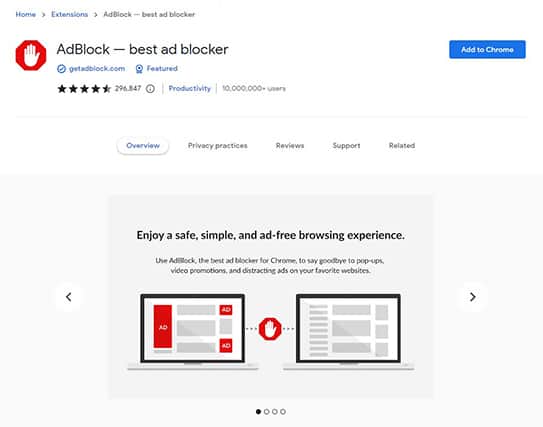 ---
8. Ghostery
Ghostery eliminates advertisements from web pages, allowing users to focus on the content and navigate more effectively. But Ghostery's true value lies in the ability to protect privacy. Ghostery permits the viewing of trackers, revealing who is attempting to acquire information about someone. Users can also avoid such tracking with Ghostery. If users are truly concerned about privacy, users can anonymize data with Ghostery's Enhanced Anti-Tracking. Ghostery is compatible with Microsoft Edge Firefox, Google Chrome, Safari and Opera. The company also provides mobile browsers that prioritize privacy for Android and iOS devices. Unfortunately, Ghostery is only compatible with browsers. Ghostery promotes the extension as a free ad blocker, although there is a payment option (given below) for those willing to contribute.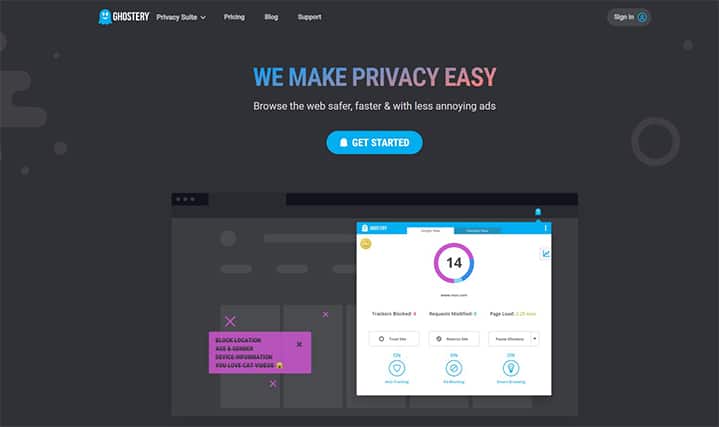 | Free | Option One | Option Two |
| --- | --- | --- |
| $0 | $4.99 billed monthly or $3.99/ month ($47.88 billed yearly) | $11.99 billed monthly or $8.99/ month (107.88 billed yearly) |
---
9. Stands Fair AdBlocker
The Stands Fair AdBlocker Chrome extension is a lightweight and efficient means of blocking advertisements. This free add-on blocks unwanted advertisements and pop-ups from loading in the browser and also protects users from being tracked. To prevent specific types of ads, down to the exact format, use Stands Fair AdBlocker. For example, Facebook ads can be blocked entirely if desired. Users can completely block all adverts or permit only certain types of advertisements, hence the "Fair" in AdBlocker. This ad blocker takes a more moderate approach than others on the market. The main drawback is that this ad blocker may only be used with the Chrome web browser.
---
10. AdBlocker Ultimate
AdBlocker Ultimate is an excellent ad blocker for Chrome. This extension will protect users from tracking and viruses when added to Chrome. This free Chrome add-on blocks ads and speeds up the browsing experience. It's one of the most effective tools for reducing browser slowdowns and pop-ups. The extension also blocks spyware and other monitoring. Unfortunately, the free version lacks certain key features. But the ability to improve a browser's efficiency and boost the page speed more than makes up for the disadvantage the free version brings.
| Free | Monthly (up to three devices) | Yearly (up to ten devices) |
| --- | --- | --- |
| Free at Chrome Store | $2.49/ month (billed annually) | $4.99/ month (billed annually) |
---
Note:
Prices may differ from the ones shown as new plans and deals are launched on a regular basis. Please be sure to check the most current price on the official website.
What Is an Ad Blocker? How Does It Work?
A
d blockers are a type of software designed to prevent or eliminate advertisements from websites. Ad blockers identify and prevent the code used to show advertisements on a website. This can block advertisements from displaying on the page, allowing users to navigate the site without interruption. Ad blockers can be installed on a computer as separate software or as extensions for a web browser, such as Google Chrome or Firefox. Once installed, the ad blocker will automatically prevent advertisements from appearing on the websites an individual visits. Some ad blockers may additionally allow users to tailor the prohibited advertising or the websites on which ads are blocked.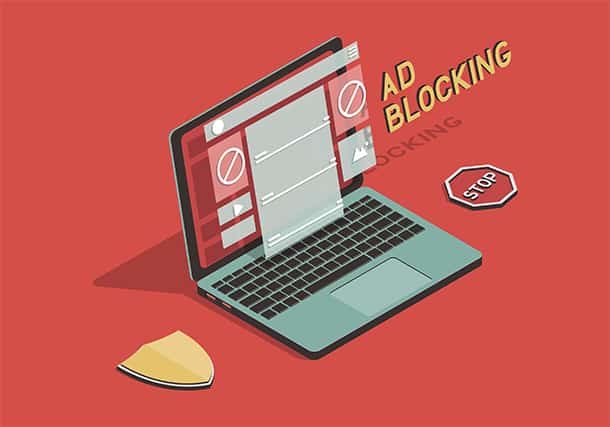 There are numerous advantages to using an ad blocker. Disabling advertising is one way to enhance the browsing experience by letting users concentrate on the content rather than on advertisements. By preventing ads from loading, individuals can protect devices from potential security risks like malware and other undesirable content. An ad blocker is a great tool for enhancing the browsing experience and protecting computers from potential security risks. By suppressing advertisements, an ad blocker can make web browsing more efficient and safe.
How To Choose the Best Ad Blocker for Google Chrome?
When choosing the best ad blocker for Google Chrome, there are a few key factors to consider. Below are some tips to help users choose the right ad blocker.
Compatibility: Make sure the ad blocker is compatible with the version of Chrome running on the device. Some ad blockers may not be compatible with newer Chrome versions or may not work properly on certain operating systems.
Features: Consider the features offered by the ad blocker. Some ad blockers may have more advanced features, such as blocking specific types of ads or blocking ads on specific websites.
Performance: Check the performance of the ad blocker. Some ad blockers may slow the browsing speed down or cause other performance issues.
User reviews: Read user reviews and ratings to see what other people think of the ad blocker. This can show the ad blocker's effectiveness and reliability.
Support: Make sure the ad blocker has good support. If there are any problems or issues, users will need to have access to help from the ad blocker's developers.
How To Use an Ad Blocker Extension on Chrome?
To use an ad blocker extension on Chrome, follow the steps below.
First, launch Google's Chrome web browser, then navigate to the Chrome Web Store.
Simply type the name of the preferred ad blocker or "ad blocker" into the search bar at the website's very top.
Browse through the list of ad blocker extensions and read the descriptions and reviews to find the best if there isn't a preference yet.
After finding an ad blocker extension, install the extension by clicking the "Add to Chrome" option.
The ad blocker plugin will immediately be downloaded and installed on the browser. When the extension is ready to be used, users will receive a notification.
To turn on the ad blocker in Chrome, click the icon in the toolbar labeled "ad blocker." This will cause the ad blocker to become active and begin blocking advertisements on websites.
To turn off the ad blocker, simply click the symbol again. This will disable the ad blocker, permitting advertisements to appear.
Users can change the preferences for the ad blocker by clicking on the icon for the ad blocker, then selecting "Options" from the menu that appears. This will open a settings page where users can customize the ad blocker.
Can You Block Ads on YouTube With a Chrome Ad Blocker?
Yes, YouTube advertisements can be blocked with a Chrome ad blocker. There are numerous ad blockers for Chrome, and most allow users to prevent advertisements on YouTube and other websites. To block advertisements on YouTube, download and install the extension for Chrome. Once installed, the extension will automatically block advertisements on YouTube and other websites. But remember that some ad blockers may not be able to filter all YouTube advertisements, and even with an ad blocker enabled, some advertisements may still appear on the site. Using an ad blocker for YouTube may interfere with certain site features or functionality.
Can You Block Ads on Twitch With a Chrome Ad Blocker?
Yes, users can block advertisements on Twitch with a Chrome ad blocker. Ads before and during a stream on Twitch can be very distracting, as anyone who has tried to watch a live stream knows. Users can disable ads on Twitch using the best ad blockers for Twitch.
Why Do I Need an Ad Blocker for Google Chrome?
There are several reasons why Chrome needs an ad blocker. For one thing, users can find adverts annoying, interfering with browsing. In addition, certain adverts may include malware or other types of dangerous content; therefore, removing these ads can help protect the computer from any security threats. Using an ad blocker may enhance the browsing experience of a person by enabling the user to concentrate on the content that is of interest.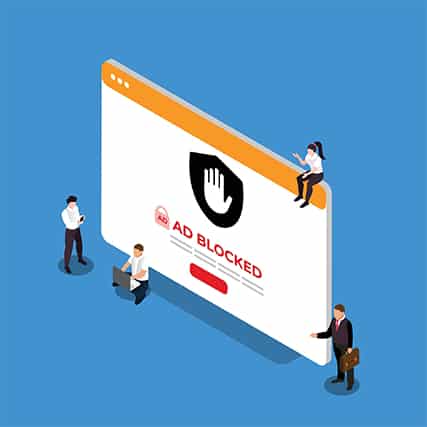 What Is the Best Free Ad Blocker For Chrome?
Many online ads are harmful, but few people know. Ads can download malware, track browsing and steal personal and location data. Fortunately, Chrome has many ad blockers, and below are the best ad blockers for Chrome.
Adblock Plus
AdLock
uBlock Origin
What Is the Best VPN With an Ad Blocker Included?
Ad blockers are software that block internet ads. Ad blockers became inevitable, as many websites and apps are monetized with adverts. The best VPNs with ad blocking included are below.