The Kansas City Chiefs is one of the most successful teams in the National Football League (NFL). In 2021, they won their second consecutive Super Bowl championship and look to build on that success this season. This article will help viewers find out where they can watch the Chiefs play live.
Kansas City Chiefs Schedule 2023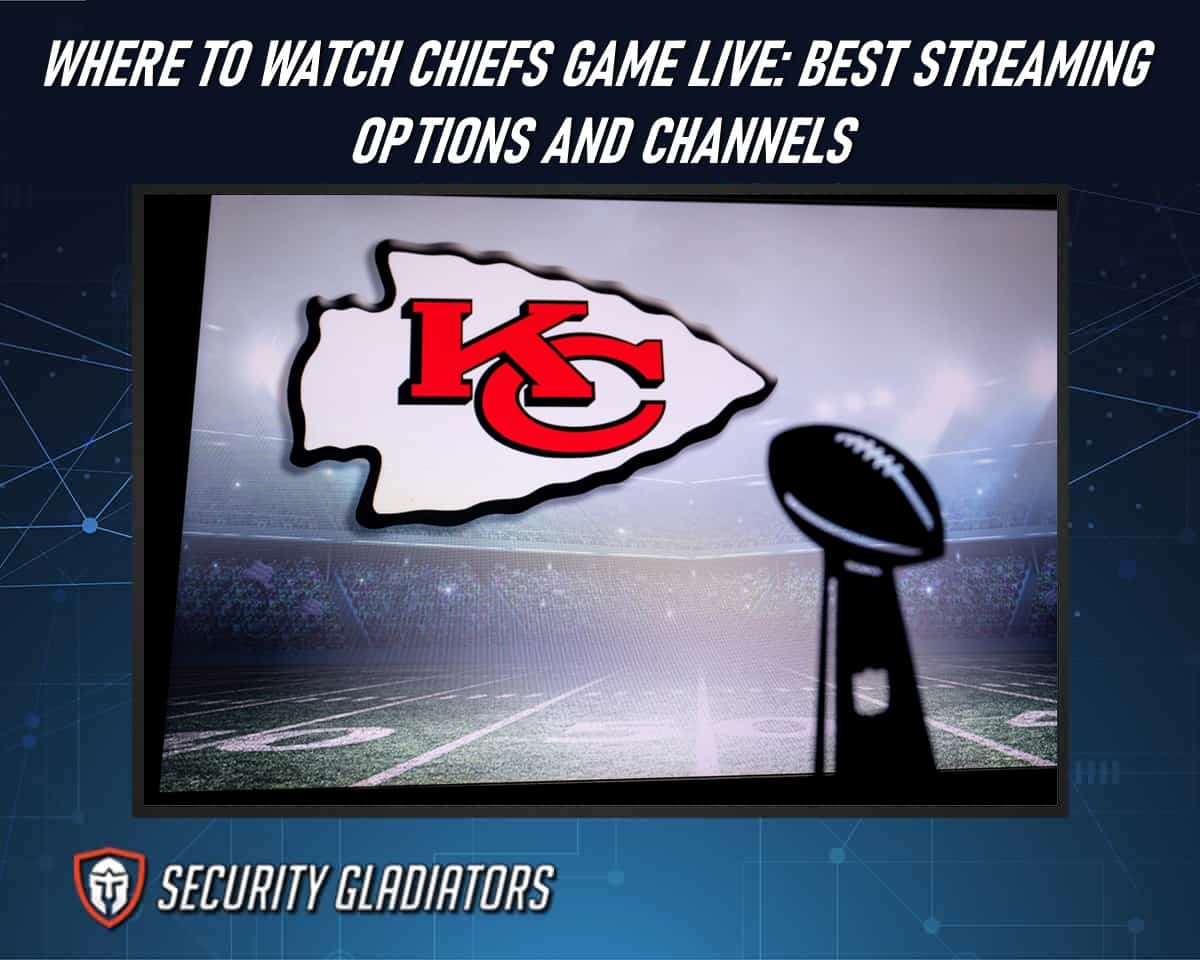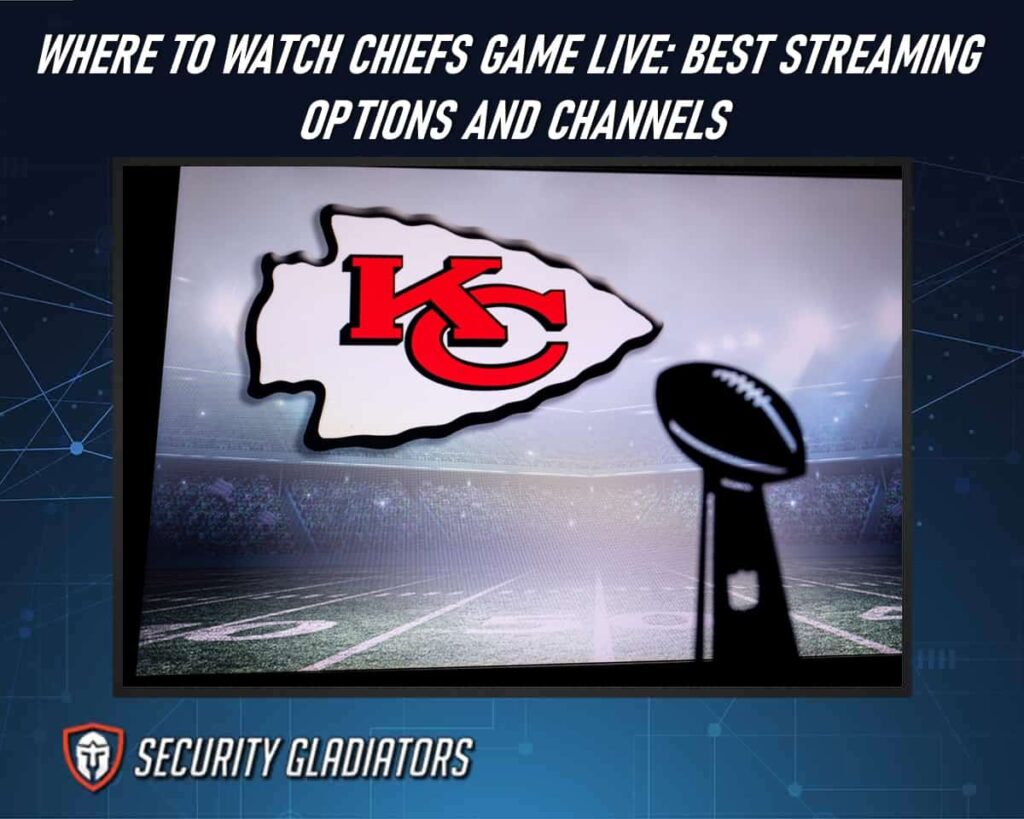 The TV Schedule provides information on the broadcasting of sporting events such as the Kansas City Chiefs. The NFL Network and local affiliates are responsible for most of these broadcasts, providing fans with access to watch Thursday Night Football games live. Fans can also access the NFL Network and other affiliates through streaming services such as Hulu with Live TV, DirecTV Stream, and others. Here is a compiled list of the Kansas City Chiefs' game schedule:
Preseason
Week 1: Kansas City Chiefs vs. New Orleans Saints on Sunday, August 13, at 12:00 PM CDT at Caesars Superdome.
Week 2: Kansas City Chiefs vs. Arizona Cardinals on Saturday, August 19, at 7:00 PM CDT at State Farm Stadium.
Week 3: Kansas City Chiefs vs. Cleveland Browns on Saturday, August 26, at 12:00 PM CDT at GEHA Field at Arrowhead Stadium.
Regular Season
Week 1: Kansas City Chiefs vs. Detroit Lions on Thursday, September 7, at 7:20 PM CDT at GEHA Field at Arrowhead Stadium.
Week 2: Kansas City Chiefs vs. Jacksonville Jaguars on Sunday, September 17, at 12:00 PM CDT at TIAA Bank Field.
Week 3: Kansas City Chiefs vs. Chicago Bears on Sunday, September 24, at 3:25 PM CDT at GEHA Field at Arrowhead Stadium.
Week 4: Kansas City Chiefs vs. New York Jets on Sunday, October 1, at 7:20 PM CDT at MetLife Stadium.
Week 5: Kansas City Chiefs vs. Minnesota Vikings on Sunday, October 8, at 3:25 PM CDT at U.S. Bank Stadium.
Week 6: Kansas City Chiefs vs. Denver Broncos on Thursday, October 12, at 7:15 PM CDT at GEHA Field at Arrowhead Stadium.
Week 7: Kansas City Chiefs vs. Los Angeles Chargers on Sunday, October 22, at 3:25 PM CDT at GEHA Field at Arrowhead Stadium.
Week 8: Kansas City Chiefs vs. Denver Broncos on Sunday, October 29, at 3:25 PM CDT at Empower Field at Mile High.
Week 9: Kansas City Chiefs vs. Miami Dolphins on Sunday, November 5, at 8:30 AM CST at Deutsche Bank Park.
Bye Week.
Week 11: Kansas City Chiefs vs. Philadelphia Eagles on Monday, November 20, at 7:15 PM CST at GEHA Field at Arrowhead Stadium.
Week 12: Kansas City Chiefs vs. Las Vegas Raiders on Sunday, November 26, at 3:25 PM CST at Allegiant Stadium.
Week 13: Kansas City Chiefs vs. Green Bay Packers on Sunday, December 3, at 7:20 PM CST at Lambeau Field.
Week 14: Kansas City Chiefs vs. Buffalo Bills on Sunday, December 10, at 3:25 PM CST at GEHA Field at Arrowhead Stadium.
Week 15: Kansas City Chiefs vs. New England Patriots on Monday, December 18, at 7:15 PM CST at Gillette Stadium.
Week 16: Kansas City Chiefs vs. Las Vegas Raiders on Monday, December 25, at 12:00 PM CST at GEHA Field at Arrowhead Stadium.
Week 17: Kansas City Chiefs vs. Cincinnati Bengals on Sunday, December 31, at 3:25 PM CST at GEHA Field at Arrowhead Stadium.
Week 18: Kansas City Chiefs vs. Los Angeles Chargers on a date to be determined at SoFi Stadium.
Note:
Please note that game times and dates are subject to change, so it's recommended to check the official Kansas City Chiefs' website or other reliable sources for the most up-to-date information.
What Channel Is the City Chiefs Game
Cheering for your team has never been simpler with the variety of channels available to stream and view their games. The Kansas City Chiefs have a wide selection of viewing options for fans across the United States, including Fox Sports, NFL App, Prime Video, and Local ABC. Fox Sports has a large network that covers many parts of the country and broadcasts every Chiefs game on its regional sports networks. With the NFL App, fans can watch their favorite team no matter where they are with just an internet connection. Prime Video also offers live streaming of select games throughout the season as well as highlights from previous contests.
Depending on your area code you may be able to watch every Sunday night football broadcast on your local ABC station. No matter how far away you may be from Arrowhead Stadium in Missouri or even if you're traveling abroad, it's easy to stay connected with the action in real-time wherever you are! As long as one has access to any one of these four platforms, you can always stay in touch with all things related to Kansas City Chiefs Games! The availability of the best sports streaming services means that watching live sporting events is now more accessible than ever before. Whether from home or office; regardless of where you are located; it is easy to catch up on news about Kansas City Chiefs Games at any time!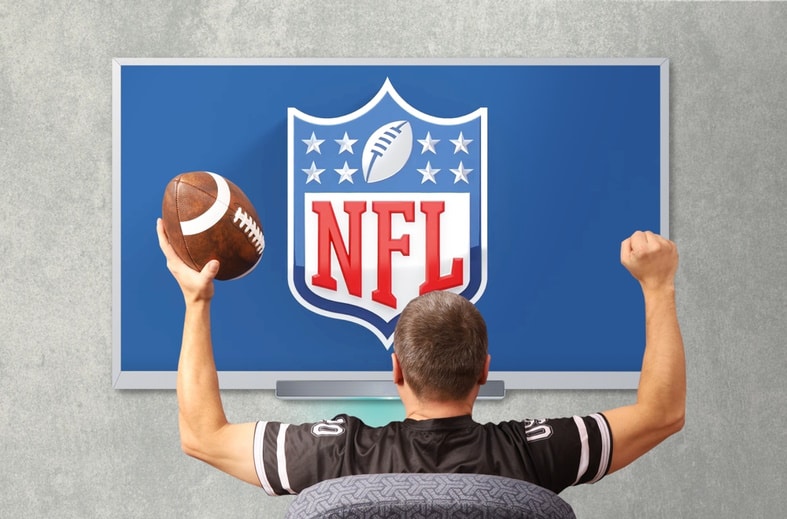 These services even offer packages that allow fans to enjoy all of the action without having to pay an additional fee for watching each game separately. With so many options available, Chiefs fans will find no shortage of ways to keep up with their favorite team throughout the season. For those unable to attend games in person or tune in via television, there are still plenty of options available online. The NFL's official website offers live streams of every Chiefs game free of charge, along with highlights and stats for easy viewing after the fact. Other websites like Reddit also provide a variety of streams that can be accessed for free, although they may not always be reliable or high quality depending on who is providing them. The NFL may have certain broadcasting agreements with networks and local stations. This may cause blackout restrictions in certain areas which may inconvenience some fans. However, with the best VPN for streaming users can bypass the imposed geo-restrictions by changing the IP address to appear as if in one of the areas without blackout.
How To Watch the Kansas City Chiefs Game Live Stream
Live streaming of Kansas City Chiefs games allows viewers to stay connected with the action in real-time, no matter where they are located. Viewers can access live broadcasts on their mobile and tablet devices, as well as on their Fire TV or other streaming service. This provides fans with a convenient way to watch the game from anywhere at any time. The quality of the stream is always dependable, making it easy for viewers to enjoy an uninterrupted stream of Kansas city chiefs games without having to worry about buffering or lagging. Live streams also provide fans with additional benefits such as up-to-date score updates, stats, highlights, and commentary. Additionally, many streaming services offer exclusive features such as interactive chat rooms and forums where users can discuss the game while watching it together virtually. This creates a unique sense of community that traditional television broadcasts cannot match and makes live streaming a great option for those looking to stay connected with their favorite team no matter where they are located. Below are the main streaming services where you can watch Kansas City Chiefs games:
1. FuboTV
FuboTV is a streaming service that offers exclusive access to Kansas City Chiefs games, offering viewers the chance to stay connected with their favorite team on any device. With FuboTV, fans of the Chiefs can watch Monday Night Football matchups against teams like the Los Angeles Chargers from Arrowhead Stadium or catch NFL Redzone for highlights and analysis. The service also allows users to customize their package by adding additional channels, such as Fox Sports Midwest, which broadcasts all regular season games in HD. Additionally, FuboTV provides cloud-based DVR storage so viewers can rewatch their favorite moments at any time.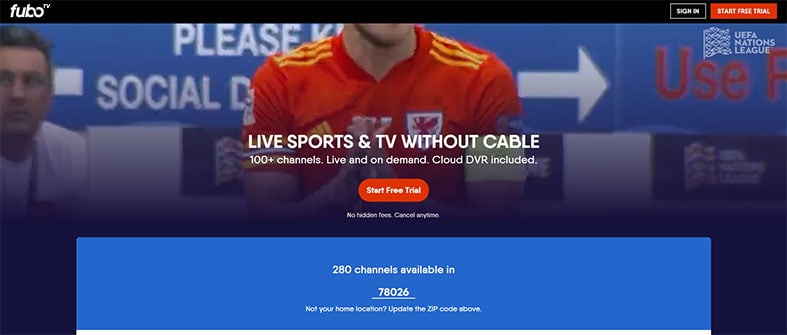 The platform also has an extensive library of classic Chiefs games available for those looking to relive past victories and defeats. Furthermore, subscribers have access to a wide range of other sports content including college football and basketball as well as international soccer leagues from around the world. For those who want more than just live coverage of KC's biggest games, FuboTV is an excellent choice for football fanatics.
Customers are given a 7-day free trial so they can test out all of its features before signing up for a subscription plan. This allows them to experience all that FuboTV has to offer without having to make a financial commitment immediately. Afterward, they can choose between several different plans depending on how much content they wish to watch each month and how many devices they need access to simultaneously.
FuboTV's standard subscription plan started at $74.99 per month and included access to a wide range of live TV channels, including sports, news, and entertainment networks. They also offered additional add-on packages and premium channels that could be added to the base subscription for an extra cost.
2. Hulu With Live TV
Hulu with Live TV provides subscribers with access to a range of live sports coverage, including Kansas City Chiefs games. With this streaming service, viewers can watch the NFL and other programming on ESPN and FOX Sports 1. Hulu with Live TV also offers access to local and regional sports networks depending on their location. Furthermore, it allows for up to six user profiles and two simultaneous streams so that everyone in the household is able to watch at once. Here are some key features of Hulu with Live TV: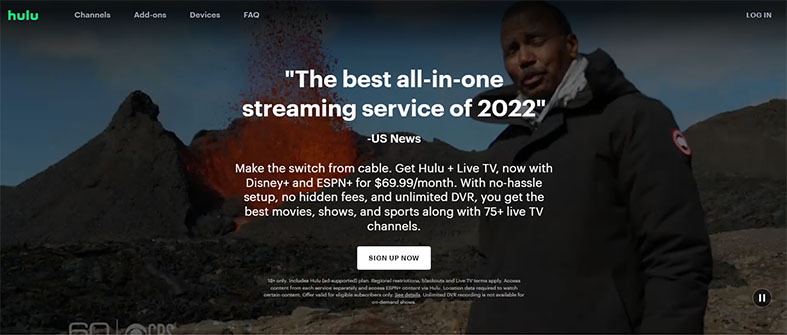 Access to live television, including NFL games featuring the Kansas City Chiefs
Watch local channels like NBC or ABC as well as regional sports networks
Create up to six user profiles per account
Stream on two devices simultaneously
Available on smartphones, tablets, and streaming devices such as Apple TV or Roku
Hulu Live TV
also includes a cloud DVR feature which allows users to save content for later viewing. Another perk is that subscribers have access to the entire library of shows available through Hulu's On Demand service – all included in the subscription price.
In live TV, you can choose the Hulu + Live TV plans. For $69.99 per month, the Hulu (With Ads) + Live TV plan gives you access to on-demand ad-supported content, along with live streams from your favorite sports, entertainment, and news channels. Additionally, you'll get all the additional content on Disney+ and ESPN+. The Hulu (No Ads) + Live TV plan is available for $82.99 per month, allowing you to stream almost all videos from our library without ads. This plan also includes the benefits of our Live TV plan, as well as content from Disney+ (No Ads) and ESPN+ (With Ads).
3. YouTube TV
YouTube TV provides access to live television streaming services with features such as cloud DVR storage, multiple user profiles, and access to the entire library of On Demand content. YouTube TV is an excellent option for football fans wanting to watch the Kansas City Chiefs play live. Those looking to stream the Chiefs can easily sign up for YouTube TV and gain access to all their games throughout the season. The service offers a 14-day free trial period so customers can see if it fits their needs before committing to purchase. Those who already have a YouTube account, won't have any trouble signing up and accessing YouTube TV right away. Once signed in, users can find all their favorite shows and channels and customize their programming experience by creating up to six user profiles with individualized settings like parental controls.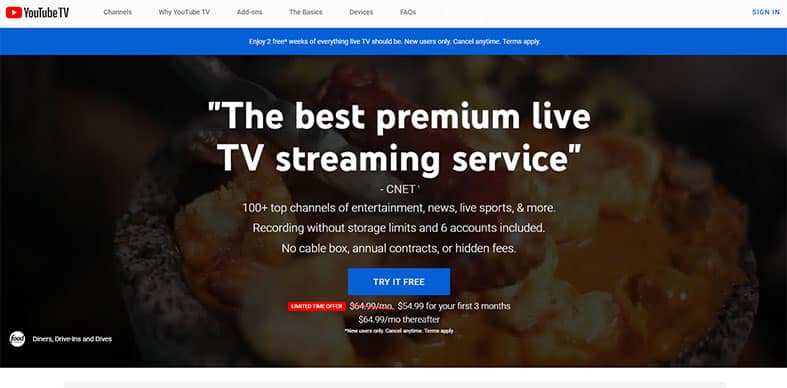 Additionally, all content on demand is included at no extra cost which makes it easier than ever before to catch up on shows you may have missed during the week or rewatch your favorite episodes anytime you want. The cloud DVR feature allows subscribers of YouTube TV to store as many recordings as they want without worrying about running out of space or having their recordings deleted after 21 days. They also get unlimited access so that they never miss another episode again, no matter what device they are watching from — be it a smartphone or tablet while away from home or a laptop while traveling abroad — viewers always have access to whatever show they're looking for whenever they need it!
YouTube TV offers a range of plans to cater to different preferences and needs. The YouTube TV plan starts at $72.99 per month and provides access to over 100 live channels. If you're specifically interested in Spanish-language content, there is a Spanish Plan available for $34.99 per month, which offers more than 28 channels. Additionally, if you have Frontier Internet, you can get a $10.00 per month discount on YouTube TV, resulting in plans ranging from $112.98 to $217.98 per month. With YouTube TV, you can enjoy a wide variety of live channels and find a plan that suits your requirements. It's always a good idea to visit the official YouTube TV website for the most accurate and up-to-date information regarding their plans and pricing.
4. DirecTV STREAM
DirecTV STREAM offers a subscription-based streaming service that provides access to live and on-demand programming from various television networks. This makes it possible for viewers to watch the Chiefs games or any other sports team live, as well as local channels such as CBS, NBC, ABC, and FOX. NBA TV is also available with DirecTV STREAM, giving subscribers even more entertainment options. In addition to all of these great features, DirecTV STREAM also offers a variety of streaming services like Netflix and Hulu Plus that can be added to the plan at an additional cost. All in all, DirecTV STREAM is an excellent choice for those who want to stay up-to-date with their favorite teams while enjoying the convenience of streaming services. It's easy to sign up for service and start watching the Chiefs right away. Plus, with a wide range of content available, there's something for everyone to enjoy.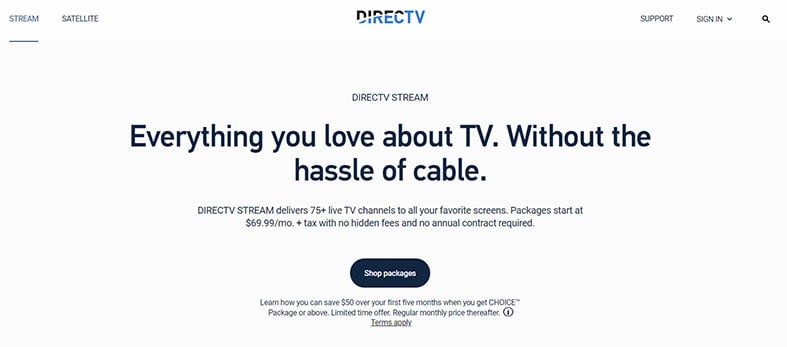 DirecTV offers a range of plans to suit different preferences and budgets. The DirecTV Stream Entertainment plan starts at $64.99 per month (plus tax), and there are higher-tier options available as well. The DirecTV Stream Choice plan is priced at $84.99 per month (plus tax), offering more features and content. For those seeking an even more extensive selection, the DirecTV Stream Ultimate plan is available at $109.99 per month (plus tax). The top-tier option, the DirecTV Stream Premier plan, provides the most comprehensive package, priced at $154.99 per month (plus tax). These plans offer various benefits and channels, allowing customers to select the option that best suits their needs
5. Sling TV
Sling TV is a popular streaming service that provides access to live television programming and on-demand content from various networks, allowing viewers to enjoy an extensive range of entertainment options. With Sling TV, you can watch nationally televised games at home or out and about – no matter where you are! Plus, you'll always be in the know when it comes to their latest news, stats, scores, and other important updates related to their games.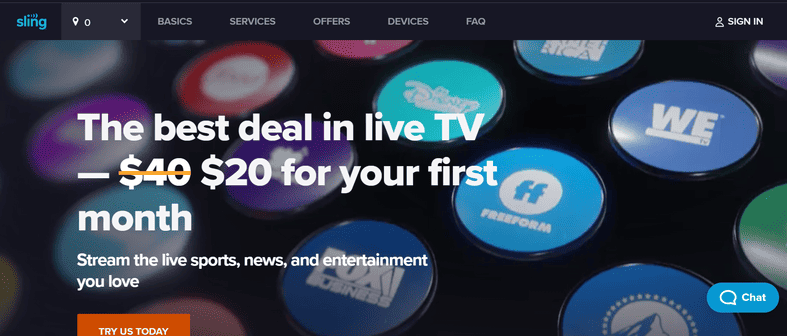 Sling TV provides two main packages: Sling Orange and Sling Blue. Sling Orange costs $40 per month and offers popular channels such as ESPN, Disney Channel, and CNN, with a focus on live TV and limited on-demand content. Sling Blue is also priced at $40 per month and features different channels like FOX, NBC, USA Network, and Bravo. It allows simultaneous streaming on multiple devices. By combining Sling Orange and Sling Blue for $55 per month, customers can access a wider range of channels and enjoy the best of both packages. This option includes channels from both Sling Orange and Sling Blue lineups. It's important to check Sling TV's official website for the latest pricing and channel information, as these details may be subject to change.
6. Paramount+
Paramount+ is a streaming service that offers a wide variety of live and on-demand content, enabling viewers to access a range of entertainment options. Paramount+ subscribers are able to watch Thursday night football games, MLB Network primetime games, as well as other popular sports events. The streaming service has apps available for Apple TV, Amazon Fire TV, and select gaming consoles allowing users to stream directly from their devices. Subscribers also have access to additional features such as the option to customize profiles with parental control settings, allowing parents more control over what their children view.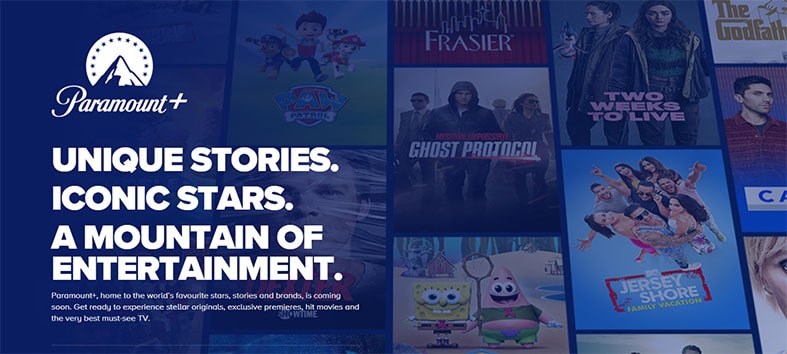 The Paramount+ app offers an interactive experience with up-to-date scores and highlights that can be accessed just by swiping through the menu bar which makes it easy for fans to stay updated on all the action in any game. Notifications can also be customized so you never miss an important play or update from your favorite team or player. In addition, the app provides exclusive behind-the-scenes footage including pregame shows and postgame interviews giving fans an inside look at their favorite teams and players. Paramount+ allows its subscribers access to a library of past seasons' games and classic matches dating back decades. This feature allows subscribers to rewatch their favorite Chiefs game from this season or go back in time to relive some of Kansas City's greatest moments in history. With the selection provided by Paramount+, Chiefs fans are sure to get all they need out of watching their beloved team no matter where they are located or when they want to watch a game.
There are four subscription plans available with different prices and features. The Essential plan, priced at $4.99 per month, offers over 30,000 hours of content in 1080p and 4K resolution. It allows streaming on up to three devices simultaneously. The Premium plan, available at $9.99 per month, provides the same content and video quality but without ads. It also allows streaming on three devices at the same time. Additionally, there are two plans that include SHOWTIME: Essential with SHOWTIME, priced at $11.99 per month, and Premium with SHOWTIME, which costs $14.99 per month. Both include the same features as their respective counterparts but include access to SHOWTIME's content.
7. NFL Game Pass
NFL Game Pass offers a more comprehensive package that allows fans unlimited access to all games, including the Super Bowl. With this service, viewers can watch every game, live or on-demand with DVR functionality and exclusive films and shows. The subscription also grants access to additional features such as condensed game replays and Coaches Film which provides an exclusive angle of the action on the field.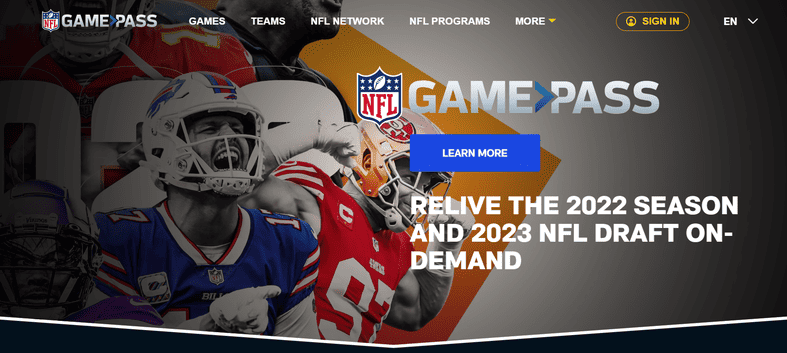 This makes it possible for fans to get closer than ever before in understanding how their team plays each week. For those looking for an even deeper dive into the action, there is a coaches film that displays all 22 players on one screen at once, allowing users to see exactly how plays develop in real-time. NFL Game Pass is a great way for Chiefs fans to stay up-to-date with their team's performance throughout the season and beyond. Whether you want to relive amazing moments from past games or catch up on any missed opportunities during current matchups, this service provides everything needed for an enjoyable experience with unlimited DVR capabilities and full access to NBC broadcasts of select games.
There are two services available for streaming NFL games with different pricing options. NFL+ is offered at a monthly cost ranging from $4.99 to $9.99, and it provides access to over 150 live games. On the other hand, NFL Sunday Ticket offers a seasonal subscription that ranges from $349.00 to $489.00. With NFL Sunday Ticket, you can enjoy access to over 200 live games throughout the season. These services give football fans the opportunity to catch live NFL action, but the pricing and availability may vary, so it's advisable to check the official websites or contact the providers for the most up-to-date information on plans and pricing.
Note:
Prices may differ from the ones shown as new plans and deals are launched on a regular basis. Please be sure to check the most current price on the official website.
Frequently Asked Questions
Is It Possible To Listen to the Chiefs Game on the Radio?
Yes, it is possible to listen to Kansas City Chiefs' games on the radio. The Chiefs Radio Network broadcasts their games on several radio stations throughout Kansas, Missouri, and neighboring states. One of the primary stations is 101.1 FM (WDAF-FM) in Kansas City. However, please note that specific radio stations and coverage may vary depending on your location. You can check the Chiefs' official website or local sports radio stations to find the radio station in your area that broadcasts Chiefs games. Additionally, there are also online platforms and mobile apps that may offer live streaming of the Chiefs' radio broadcasts, allowing you to listen to the games online or on your mobile device.
Do the TV Schedules Differ Depending on the Viewer's Location?
Yes, TV schedules can differ depending on the viewer's location. Television networks and providers may have regional variations in programming based on factors such as time zones, local affiliates, and licensing agreements. Local channels and regional sports networks often broadcast different content based on the geographical area they serve. This can include variations in live sports events, news broadcasts, and other region-specific programming. Additionally, some cable and satellite providers may offer different channel lineups or packages based on the viewer's location. Therefore, it's important to consider your specific location when accessing TV schedules and to check with your local TV provider or consult an online TV guide to get accurate information about programming available in your area.
Is There a Way To Watch the Game for Free?
Viewers may be able to watch the game for free depending on their local broadcast provider. Many cable, satellite, and streaming providers offer a variety of packages that allow viewers to watch certain games at no additional cost. Additionally, some sports networks will stream select games online for free without requiring registration or a subscription. Viewers should check with their local provider to determine what options are available in order to find out if they can watch the game for free.
Are There Any Other Specialty Channels Showing the Game?
There may be specialty channels or streaming services that offer coverage of specific games or events. These specialty channels can vary depending on the region and the league involved. For example, in the case of the Kansas City Chiefs game, specialty channels like NFL Network or ESPN may occasionally feature the game as part of their programming. It's worth checking the TV listings or consulting with your local cable/satellite provider to identify any specialty channels that may be airing the game. Additionally, some streaming services or online platforms may offer sports packages or add-ons that provide access to a wide range of sports channels, increasing the likelihood of finding the game you're interested in.
Conclusion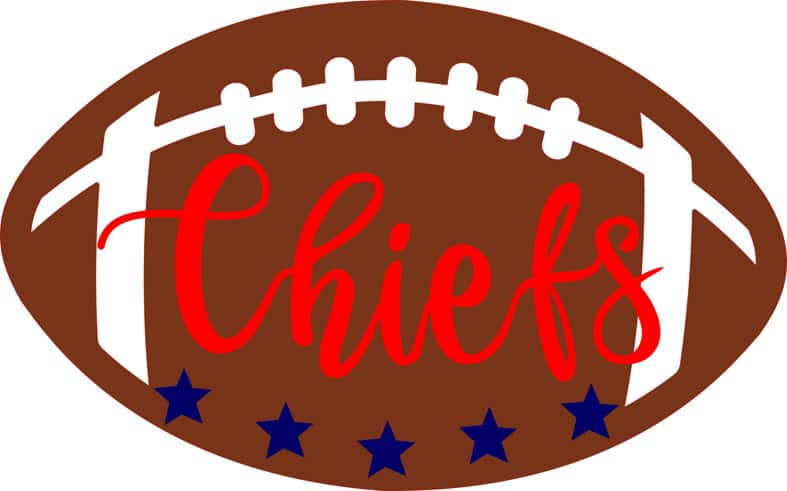 There are various options where to watch Chiefs game. These options include TV networks, local affiliates, streaming services, and specialty channels. While some of these services may require a subscription or payment, there are also occasional opportunities to watch games for free through promotions, free trials, or local establishments. It's important to consider your location, check local listings, and explore authorized channels and platforms to ensure a legitimate and reliable viewing experience. Whether through traditional TV broadcasts, online streaming, or specialty channels, sports fans have several avenues to enjoy the game they're interested in.