L
ive streaming services have become increasingly popular over the last decade, with more and more people opting to watch their favorite shows and movies through streaming platforms as opposed to traditional cable services. As such, many companies have developed live TV options offering up a variety of channels and content for viewers to choose from. This article will provide an overview of some of the best live TV streaming services available in 2023. Each provider's unique offerings, including packages, pricing plans, and channel lineups will be discussed in order to determine which service is the best choice for live streaming in 2023.
Overview
Comparing different audiovisual offerings requires an understanding of the features, pricing plans, and channel selections available to viewers. Live TV streaming services are a popular option for television consumers who want access to all their favorite channels without having to commit to expensive cable contracts. The landscape of live TV streaming services continues to evolve, providing viewers with an array of options to choose from.
Among the best live TV streaming services available are popular names such as Hulu + Live TV, YouTube TV, Sling TV, and FuboTV. Hulu + Live TV offers an extensive channel lineup, including major broadcast networks and a vast on-demand library, while YouTube TV provides a seamless user experience with unlimited DVR storage and a wide range of channels. Sling TV stands out with its customizable packages and affordable pricing, allowing users to tailor their channel selection to their preferences. FuboTV caters to sports enthusiasts, it is one of the best sports streaming services with a robust sports channel lineup. With the constant advancements in technology, these top live TV streaming services provide viewers with an excellent alternative to traditional cable and satellite subscriptions, delivering a variety of channels, flexibility, and convenience at competitive prices.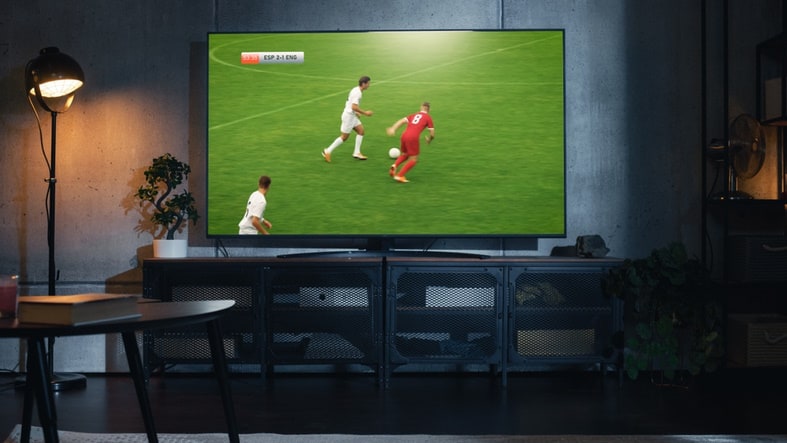 Some of the most popular streaming TV services offer high-quality video streams at competitive prices with access to major broadcast networks such as ABC, CBS, Fox NFL Network, and NBC in addition to premium movie channels like HBO Max or Starz Play. Video streaming services such as Hulu Plus Live TV and YouTubeTV also have extensive libraries of on-demand content which allows users more choice when it comes to watching their favorite shows or movies at any time from anywhere. Most of these Live TV streaming services are in the US. Users outside the US or regions where your preferred service is not available may need to use a VPN to unblock geo-restrictions. When choosing the best VPN for streaming, it is important to pick a reputable VPN service such as ExpressVPN, NordVPN, or Surfshak.
Factors To Consider When Choosing a Streaming Service
When choosing a streaming service, there are several factors to consider to ensure it meets your specific needs. Here are some key factors to consider:
Content Availability
The availability of specific content may vary based on your location. Certain services may have licensing agreements that restrict certain content from being available in certain regions. However, you can stream TV shows with a VPN by changing the streaming location to appear as if you are in regions without restrictions. Therefore, it's essential to check if the streaming service offers the content you desire in your specific location.
Content Selection
Look for a streaming service that offers the channels, shows, and movies you enjoy watching. Consider the availability of local networks, sports channels, premium channels, and on-demand content.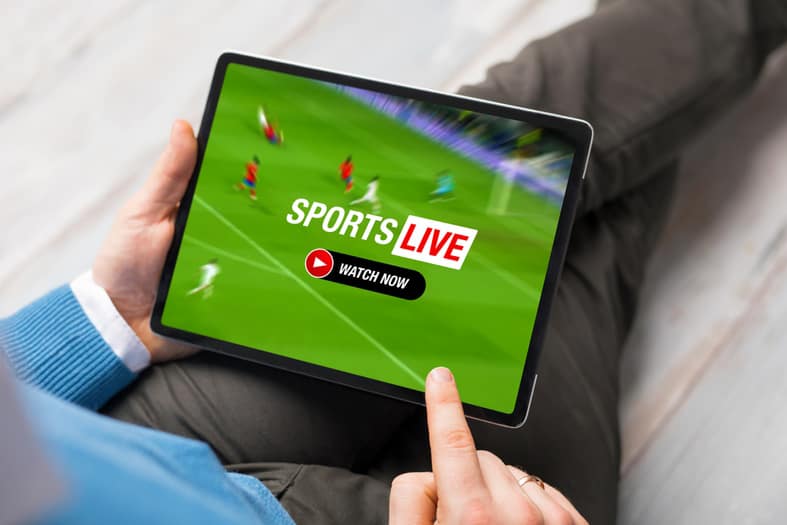 Pricing and Packages
Evaluate the pricing structure and packages offered by the streaming service. Look for transparent pricing, affordable options, and any additional fees or hidden costs. Consider whether the service offers a free trial period.
User Interface and Experience
A user-friendly interface can greatly enhance your streaming experience. Look for services with intuitive navigation, personalized recommendations, and easy-to-use features like search and browsing. Read reviews to assess the overall user experience.
Streaming Quality
Check the streaming quality and resolution offered by the service. Look for services that provide high-definition (HD) or even 4K streaming, depending on your device capabilities and preferences. Consider whether the service supports multiple streams simultaneously.
Device Compatibility
Ensure that the streaming service is compatible with the devices you plan to use, such as smart TVs, streaming devices (e.g., Roku, Fire TV), gaming consoles, smartphones, or tablets. Consider whether the service allows for multiple device activations or concurrent streams.
DVR and Playback Options
If you want to record and save live TV shows, check if the service offers a cloud DVR feature. Consider the storage capacity and any limitations on recording and playback, such as the ability to fast-forward through commercials.
Additional Features
Some streaming services offer additional features like offline downloads, parental controls, multiple user profiles, and customizable recommendations. Assess these features based on your specific needs and preferences.
Customer Support
Look for a streaming service that provides reliable customer support, such as live chat, email, or phone support. Check if there is an FAQ section or community forums to address common issues or concerns.
Contract and Flexibility
Determine whether the streaming service requires a long-term contract or offers month-to-month subscriptions. Consider the flexibility to cancel or change your subscription without penalties.
Reviews and Reputation
Read reviews and consider the reputation of the streaming service. Assess feedback from other users regarding the reliability, performance, and overall satisfaction with the service.
The Best Live TV Streaming Services
Below are the best live tv streaming services:
1. Hulu
Hulu is a popular video streaming service that offers an extensive library of on-demand content and access to major broadcast networks. It is one of the most well-known on-demand streaming services in the US, providing users with a wide range of TV shows, movies, documentaries, and more. Hulu also provides access to live TV channels which allow users to watch their favorite shows as they air in real-time. In addition, Hulu has various features such as an unlimited cloud DVR storage space so users can save up to 200 hours worth of recordings for later viewing. Furthermore, it offers live-streaming TV services which allow viewers to watch programs from multiple devices at once without any additional cost.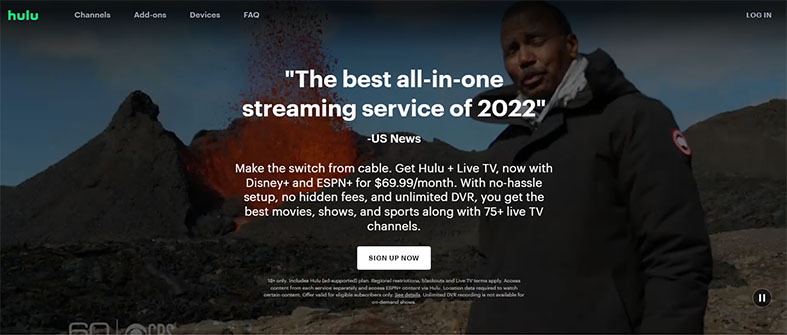 The user interface for Hulu is simple and intuitive which makes it easier for its subscribers to search for specific shows or genres quickly. It also includes useful features like Watchlist where subscribers can add their favorite shows or movies to a list that will be updated when new episodes are available. Additionally, Hulu has parental controls that help parents restrict certain types of content from being viewed by younger children or teenagers.
Plans and Pricing
Hulu + Live TV comes with two plans. The first one is ads supported and it includes ESPN and Disney all at $69.99 per month. The second plan costs $82.99 per month with no ads for Live TV and Disney, but ESPN is ads supported. Hulu offers a thirty-day free trial.
| With Ads | No Ads |
| --- | --- |
| $69.99 per month | $82.99 per month |
Wide selection of live TV channels
Access to the Hulu streaming library
Cloud DVR storage included
Simultaneous streaming on multiple devices
Option for ad-free streaming with a higher-priced plan
Higher cost compared to some other streaming services
Limited availability of local channels depending on your location
Limited DVR storage (2o0 hours) compared to some competitors
Limited offline viewing options
---
2. YouTube TV
YouTube TV provides an online streaming platform that offers access to a wide variety of live television channels and on-demand content. It is one of the most popular services for streaming live TV offering users the ability to watch many channels without cable or satellite subscription. Through YouTube TV's service, users can stream their favorite live sports events, news programs, movies, and shows from major networks including NBC, ABC, Fox, and local PBS stations directly onto their computers or preferred streaming devices. The service also allows users to have three simultaneous streams so multiple people in a household can watch different channels at the same time.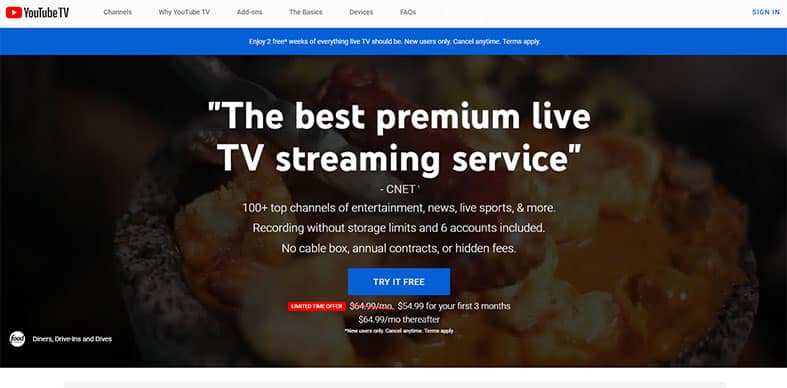 In addition to providing access to over 85 live television channels with unlimited cloud DVR storage for recording up to nine months of content, YouTube TV's main feature is its integration with YouTube. This allows viewers to log into their Google account and easily access all their favorite videos as well as being able to use voice search capabilities when watching through their smart TVs. Other features include personalized recommendations based on viewing history and improved parental control settings allowing parents to control what kind of content can be accessed by minors in the household.
Plans and Pricing
The base price for YouTube TV is $64.99 per month for the first three months and $72.99 per month thereafter. Spanish speakers enjoy a lower pricing of $34.99 per month. The plans come with a 7-day trial period.
Extensive channel lineup, including major networks and popular cable channels
Unlimited cloud DVR storage with the ability to save recordings for up to 9 months
Up to 3 simultaneous streams per account
User-friendly interface and easy-to-use features
Availability on a wide range of devices and platforms
Excellent streaming quality and stability
Relatively higher pricing compared to some other streaming services
Limited availability in certain regions
No option for offline viewing or downloading content
Lack of customization options for channel selection
Limited international channel offerings
---
3. fuboTV
fubo has emerged as one of the top contenders for live TV streaming services. fuboTV is a great choice for sports fans as it offers access to local or sports channels that are otherwise hard to find through other streaming services. With over 100 channels available and more being added constantly, fubo aims to offer customers the best selection of live TV. Additionally, with unlimited DVR storage capacity, users can record shows and watch them at a later time without worrying about running out of space. fuboTV also has some unique features not found elsewhere such as their cloud-based DVR which allows users to stream recorded content on multiple devices (10) simultaneously or even when offline. Moreover, their user interface is designed with ease of use in mind and provides an intuitive experience for viewers who want to quickly find what they're looking for.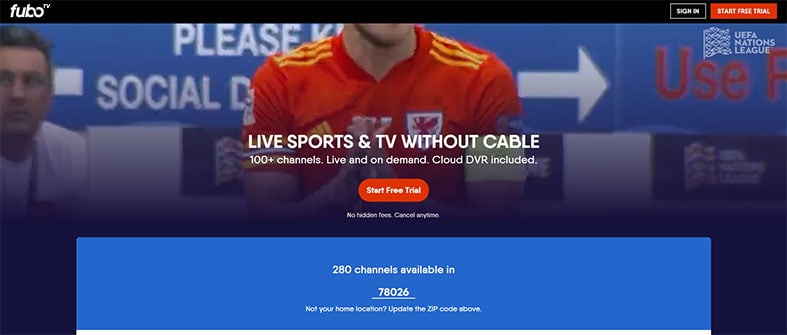 Plans and Pricing
fubo has three pricing plans. The first one costs $74.99 per month with over 150 channels and 1000 hours of cloud DVR storage. The second one is the Elite plan which cost $84.99 per month with over 210 channels and 1000 hours of cloud DVR storage. The third plan is the Premier plan costing $94.99 per month with over 220 channels and 1000 hours of cloud DVR storage. All plans come with a 7-day free trial.
| Pro | Elite | Premier |
| --- | --- | --- |
| $74.99 per month | $84.99 per month | $94.99 per month |
Wide range of sports channels and coverage
Extensive channel lineup with major networks and entertainment channels
Option for streaming in 4K resolution
Generous cloud DVR storage capacity
Multiple simultaneous streams allowed
User-friendly interface and navigation
Relatively higher pricing compared to some other streaming services
Limited availability of some local channels and regional sports networks
Some popular channels and networks may be missing
Limited offline viewing options
Lack of customization options for channel selection
---
4. Philo
Philo is a cost-effective alternative to traditional cable and satellite plans, offering an extensive library of on-demand content with no hidden fees or contracts. Philo provides users with access to more than 70 live TV channels, including popular networks like A&E, AMC, Discovery Channel, and HGTV. It also features the option to record up to 30 hours of content using its cloud DVR storage for up to 30 days. This allows users to save their favorite shows and movies for viewing at a later time.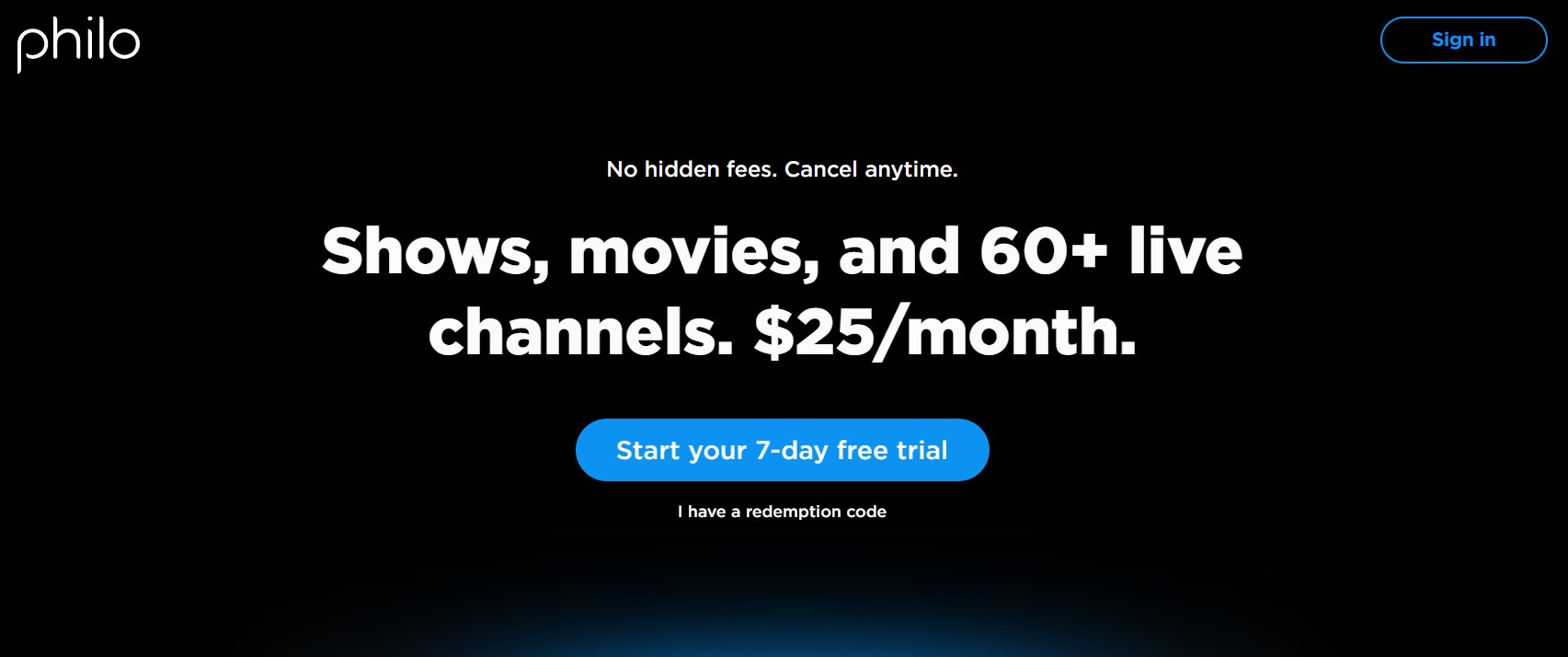 Plans and Pricing
Philo base pricing is $25 per month with over 70 channels. The subscription has a 7-day trial period.
Affordable pricing compared to many other live TV streaming services
Offers a good selection of popular entertainment and lifestyle channels
Simultaneous streaming on three devices
User-friendly interface and simple navigation
Does not include sports channels or local network channels
Limited availability of news channels
No support for streaming in high-definition (HD) or 4K resolution
Limited availability of popular cable networks and premium channels
No option for offline viewing or downloading content
---
5. Sling TV
Sling TV is an increasingly popular alternative for those seeking access to live television programming without the commitment of a traditional cable or satellite package. With Sling TV, customers have access to NBC channels, ABC CBS FOX, and other networks as well as on-demand content from a wide variety of streaming services. Additionally, customers are able to record shows on their DVRs or watch previously recorded shows through the service's cloud DVR feature.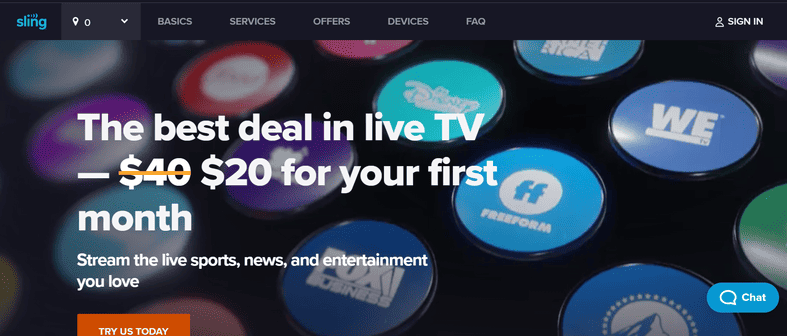 Sling TV offers over traditional cable packages is its flexibility in terms of pricing and features. Customers are able to choose from several different plans based on their needs and budget, including a single-stream plan (Orange) for those who only want one device at home or a multi-stream plan (Blue) for those who need multiple devices streaming simultaneously. Furthermore, the service offers add-ons such as premium channels like HBO and Showtime for an extra fee. Sling TV stands out for its wide selection of available programming options in addition to its affordability and customization features.
Plans and Pricing
Sling TV has three plans which are Orange, Blue, and Orange + Blue. The Orange plan cost $40 per month, the Blue $40 per month and the Orange + Blue is $60 per month. All plans have a 7-day trial period.
| Orange | Blue | Orange + Blue |
| --- | --- | --- |
| $40 per month | $40 per month | $60 per month |
Additionally, Sling TV offers various add-ons, called "Extras," that you can include with your base plan to enhance your channel lineup. These extras include options like Sports Extra, Kids Extra, News Extra, and more, each at an additional cost.
Affordable pricing options
Flexibility to choose between different channel packages
Customizable add-on options for extra channels and content
Ability to stream on multiple devices simultaneously
Availability of cloud DVR storage
Wide range of compatible devices for streaming
Limited availability of local network channels
No access to major broadcast networks like ABC, CBS, and NBC in some regions
Limited sports coverage compared to other streaming services
Streaming quality may vary based on the internet connection
Some channels or networks may not be included in the base packages and require additional add-ons
Lack of offline viewing options
---
6. DirecTV Stream
DirecTV Stream provides customers with access to a wide range of live and on-demand programming, allowing them to customize their viewing experience according to their preferences. DirecTV Stream is an online streaming service operated by AT&T that offers many of the same channels as traditional cable TV. It also allows for up to three simultaneous streams, making it ideal for households with multiple televisions or devices that require access to TV programming.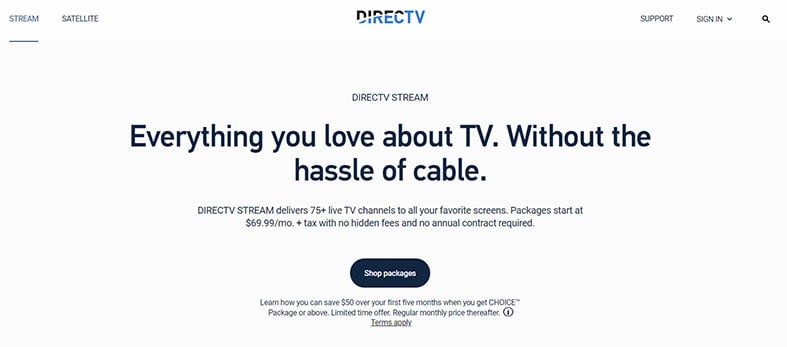 The service can be accessed via Smart TVs, Android TV devices, and other streaming media players such as Roku and Amazon Fire Stick. In terms of content selection, DirecTV Stream offers different packages with different numbers of channels including local networks in select markets along with sports channels like ESPN and regional sports networks. The streaming service also includes premium movie and entertainment channels like HBO and Cinemax as well as access to thousands of movies and shows available on-demand. Subscribers are able to record shows using the cloud DVR feature with no recording limit or expiration date for saved content. Overall, DirecTV Stream is a viable option for those looking for an alternative solution to traditional cable TV without sacrificing channel selection or features such as DVR recording capabilities.
Plans and Pricing
DirectTV Stream has four pricing plans. Entertainment Package: This package starts at $64.99 per month and includes over 75 channels, including sports, news, entertainment, and more; Choice Package: This package starts at $89.99 per month and offers over 105 channels, including additional sports, movies, and premium channels; Ultimate Package: This package starts at $99.99 per month and provides over 140 channels, including premium networks; Optimo Mas Package: This is for Spanish so, starting at $64.99 per month, and offers over 100 channels—over 55 en Español, over 40 in English.
| Entertainment | Choice | Ultimate | Optimo Mas |
| --- | --- | --- | --- |
| $64.99 per month | $89.99 per month | $99.99 per month | $64.99 per month |
Wide range of channel options, including local networks and premium channels
Cloud DVR storage included
Option for streaming on multiple devices simultaneously
Access to on-demand content and live TV channels
Compatible with various streaming devices
Contracts and equipment may be required
Availability may vary depending on the location
User interface and navigation can be complex
Potential for price increases after promotional periods
---
Note:
Prices may differ from the ones shown as new plans and deals are launched on a regular basis. Please be sure to check the most current price on the official website.
Frequently Asked Questions
What Live Streaming Service Offers Most Channels?
YouTube TV and Hulu + Live TV typically offer the most extensive channel lineups among live streaming services. Both services provide access to a wide range of popular networks, including major broadcast networks like ABC, CBS, NBC, and FOX, as well as cable channels such as ESPN, CNN, HGTV, and more. The specific channel offerings may vary based on your location, but YouTube TV and Hulu + Live TV generally offer a comprehensive selection of entertainment, news, sports, and lifestyle channels to cater to various viewing preferences. It's worth noting that the channel lineups of live-streaming services are subject to change, and new channels may be added or removed over time. Therefore, it's advisable to visit the respective service's website or contact their customer support for the most up-to-date information on their current channel offerings.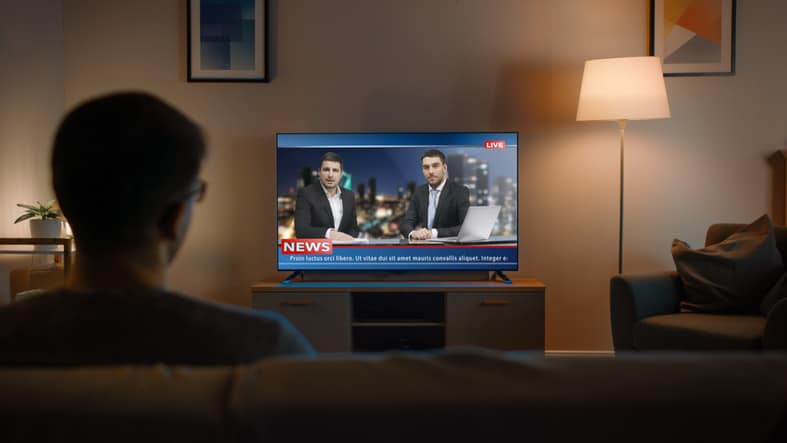 Is DirecTV Stream Available in All Areas?
Directv Stream is a live TV streaming service that is offered by AT&T in the United States. It is available in all areas of the country, except for those where AT&T does not have coverage. However, it may be limited in certain locations due to local restrictions or incompatibility with other services. Customers should consult their local providers for more information about availability and coverage before subscribing to Directv Stream.
Is There a Way To Test Out the Different Streaming Services Before Committing to One?
Many streaming services offer free trials, allowing users to test out their features and determine if it is the right fit for them. Different providers have different trial lengths, some as short as seven days while others may last up to a month. During the free trial period, subscribers are able to access all of the same content available to paid subscribers, giving them an opportunity to take advantage of everything the service has to offer before committing to a plan. Additionally, users can cancel at any time before the end of the trial period without incurring additional costs or fees.
Do Any of the Live Streaming Services Offer DVR Recording Capabilities?
A number of streaming services have begun to adopt this feature, allowing users to record and store their favorite programs. However, the quality and availability of these services vary across providers. Some allow users to store a limited amount of content for a certain period of time, while others provide more robust options such as unlimited storage space or extended recording times. Additionally, some providers may charge extra fees for DVR recordings or limit access to certain shows and channels. As such, it is important for consumers to be aware of each streaming service's offerings before committing to a subscription plan in order to ensure they are getting the features they desire.
Which Streaming Services Have Local Channels?
Streaming services like YouTube TV, Hulu + Live TV, Fubo TV, and DirecTV Stream (formerly AT&T TV) generally offer access to local channels such as ABC, CBS, NBC, and FOX in select areas. The availability of local channels can vary depending on your location and the agreements that streaming services have with local network affiliates. It's recommended to visit the respective streaming service's website or contact their customer support to check the availability of local channels in your specific area. Additionally, some streaming services may provide a tool on their website where you can enter your ZIP code to verify the availability of local channels in your region.
What Is the Difference Between on-Demand Streaming Services and Live Streaming Services
The main difference between on-demand streaming services and live streaming services lies in the nature of the content and how it is delivered. On-demand streaming services, such as Netflix, Amazon Prime Video, or Disney+, provide a library of pre-recorded TV shows, movies, documentaries, and other content that can be accessed and viewed at any time. Users have the flexibility to choose what they want to watch and when they want to watch it, as the content is available for on-demand playback. In contrast, live streaming services, such as YouTube TV, Hulu + Live TV, or Sling TV, offer the ability to stream live television channels in real time over the internet. These services typically provide access to a range of live broadcast networks, sports channels, news networks, and more. Users can tune in to live events, sports games, news broadcasts, and shows as they are being broadcasted, simulating the experience of traditional cable or satellite TV.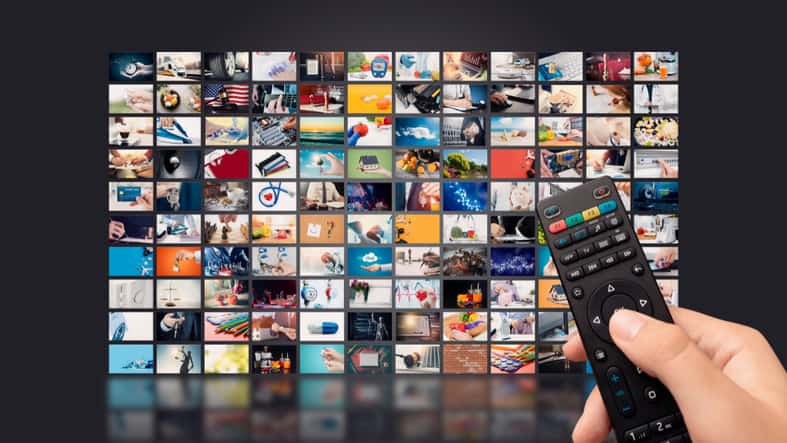 Conclusion
Live TV streaming services offer a convenient way to watch television without the need for expensive cable subscriptions or bulky hardware. Each service has its own range of features with varying subscription costs that may appeal to different audiences and needs. It is important to evaluate the available options carefully before making a commitment to a particular service. By taking the time to research each platform and consider your budget and preferences, you can make an informed decision about which live TV streaming service best meets your needs in 2023.