VPNs are no longer a luxury cybersecurity product. Cybercrime has seen a rapid rise since the pandemic began and enterprises have been slow to catch up. Every minute, a network or a computer becomes a target of a cyberattack. For both businesses and individual users, VPNs are the most straightforward solution to keeping away from many types of cyberattacks. VPNs encrypt all sorts of online traffic, which is usually enough to ward off hackers from intercepting, stealing and selling sensitive information. Businesses benefit the most from cloud VPNs. Cloud VPNs, just like regular VPNs, can hide employees' sensitive information, such as ID and username/password combination, and keep all other activities in a safe environment.
Modern VPN service providers have improved to a point where big and small users don't even need to know answers to questions such as "what is VPN"' to fully benefit from VPN products. The obvious follow-up question becomes "what are the best VPNs for cloud storage?" Generally, the best VPNs for cloud storage offer the fastest servers, lots of servers and locations, along with strong security and a generous money-back guarantee.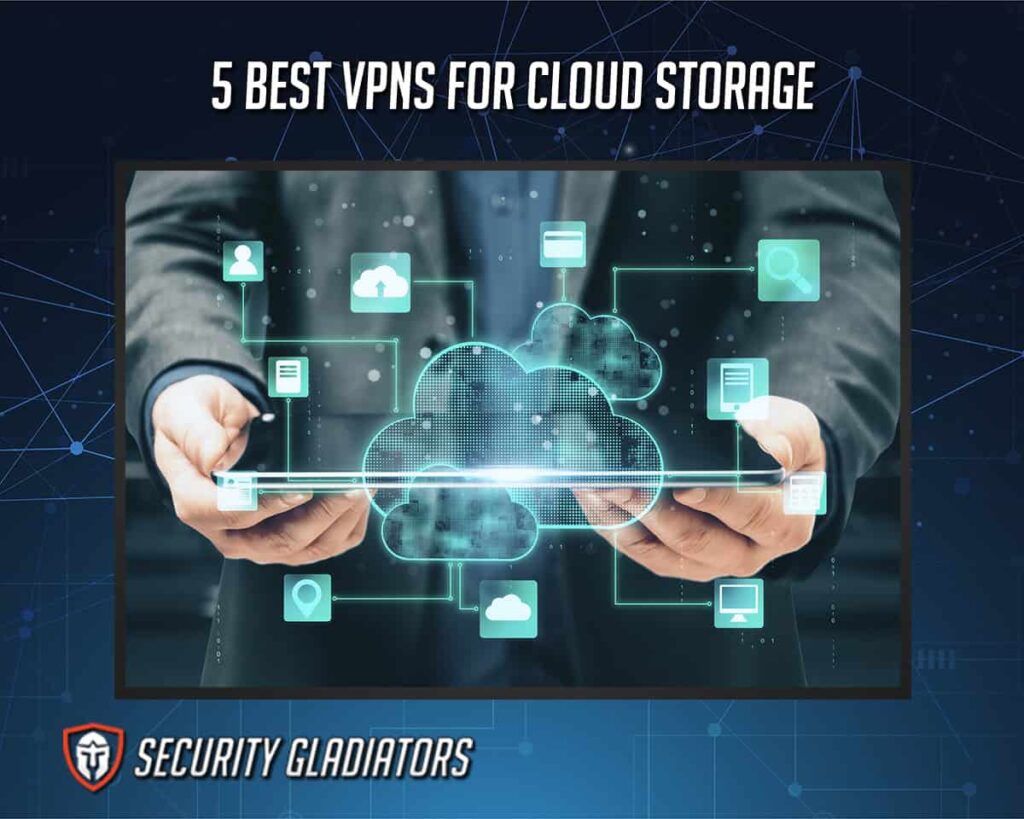 The best VPNs for cloud storage in 2023 are given below.
ExpressVPN (Best Overall)
Private Internet Access (Best for Performance)
CyberGhost (Best for Extra Features)
NordVPN (Best for Security)
ProtonVPN (Best for Extra Privacy)
1. ExpressVPN
The key features of ExpressVPN that make the service the best VPN for cloud storage include powerful AES 256-bit encryption, the ability to unblock many types of blocked content and DNS leak protection.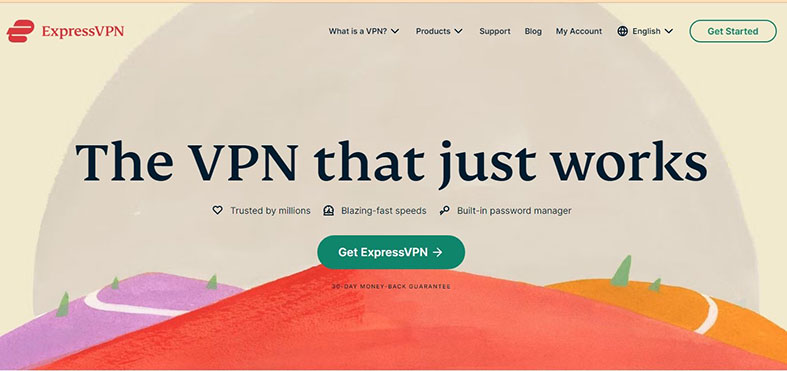 | | |
| --- | --- |
| Number of Servers: | 3000+ |
| Number of VPN Server Locations: | 150+ |
| Price of the Yearly Plan: | $8.32 per month at a 35% discount |
Great security features such as the kill switch, Lightway protocol and RAM-only servers in addition to split tunneling.
Slightly expensive subscription packages and ties to companies with questionable privacy records.
ExpressVPN is considered the best VPN for cloud storage because of high-performance VPN servers, a relatively big server network, lots of locations, power encryption (AES 256-bit) and a 30-day money-back guarantee.
---
2. Private Internet Access
Private Internet Access is another VPN service that is known for fast servers and multiple encryption options. The service has added many advanced security features in the last couple of years, along with some important bandwidth upgrades. Private Internet Access has dedicated applications for all major platforms, such as Windows, macOS, Linux and Android. Users are allowed to connect up to 10 simultaneous devices per account. All apps have an intuitive interface and subscription packages are affordable enough.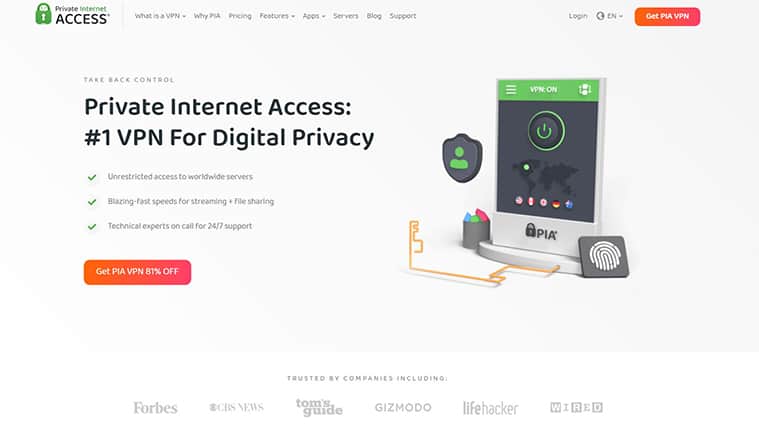 | | |
| --- | --- |
| Number of Servers: | ~35000 |
| Number of VPN Server Locations: | 130+ |
| Price of the Yearly Plan: | $3.33 per month |
Advanced security features such as DNS leak protection and multiple encryption options available, open source applications, lots of experience in the industry and a large customer base.
The user interface may be a problem for some advanced features. The number of locations in terms of countries can be increased.
Private Internet Access is considered one of the top VPNs for cloud storage because of a 30-day money-back guarantee, up to 80% discount, a large server network (including virtual servers) and AES encryption.
---
3. CyberGhost
CyberGhost is one of the most popular VPN services that not only offers unrivaled anonymity tools but also huge discounts. The key features of CyberGhost are an automatic kill switch, DNS leak protection, unlimited bandwidth and advanced NoSpy servers. CyberGhost has dedicated apps for both mobile and desktop computers and allows users to connect up to seven devices simultaneously per account.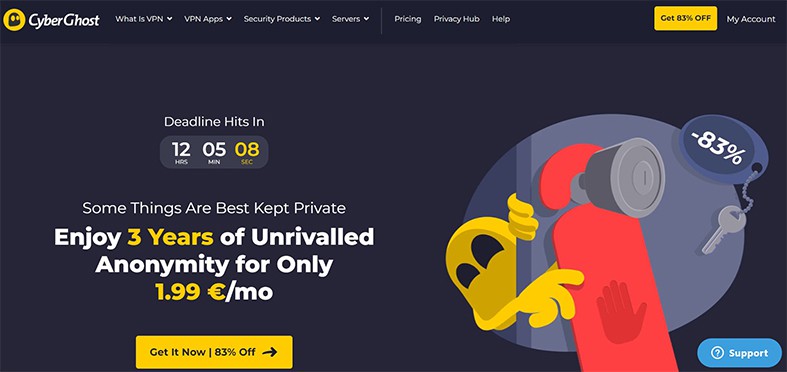 | | |
| --- | --- |
| Number of Servers: | 9000+ |
| Number of VPN Server Locations: | 117 |
| Price of the Two-year Plan: | $2.03 per month |
Availability of advanced servers with more secure hardware and privacy policies, kill switch, cryptocurrency payment methods, one-day free trial, strong protocols and the ability to unblock all streaming services.
Links to Kape Technologies, awkward Linux client, slower WireGuard performance on some operating systems and lack of audit reports from independent firms.
CyberGhost is one of the top VPNs for cloud storage services because of an intuitive and fast user interface for both mobile and desktop applications, a huge server network, lots of locations (over 100), a lengthy money-back guarantee (45 days), zero logs and AES 256-bit encryption for added security.
---
4. NordVPN
NordVPN is another top-of-the-line high-performance VPN tool with lots of purposeful features. The service can compete with any other VPN service in the world with features such as double-hop servers, DNS leak protection, kill switch, Tor servers, Onion over VPN connections, unlimited bandwidth and dedicated apps.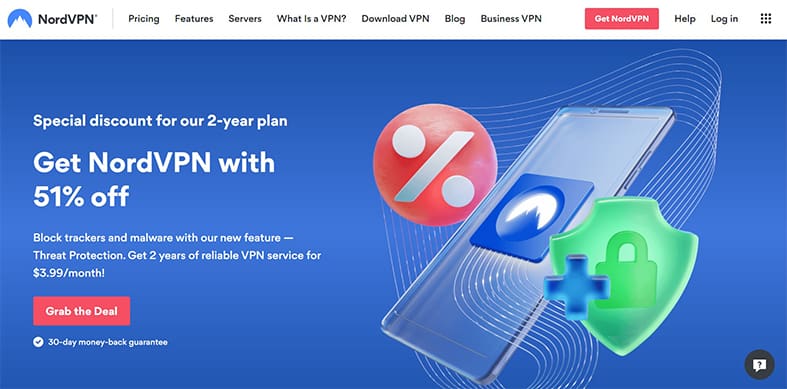 | | |
| --- | --- |
| Number of servers: | 5000+ |
| Number of VPN Server Locations: | 60+ |
| Price of the Yearly Plan: | $4.99 per month |
Free trial for mobile users for a period of seven days, straightforward and effective money-back guarantee, fast customer support, huge discounts on longer subscription packages, the ability to unblock in-demand streaming services such as U.S. Netflix and Amazon Prime Video, multiple independent audit reports over multiple years, high-performance apps and speedy servers.
Few connection issues on web browser extensions and a lack of dedicated Linux apps.
NordVPN makes the list of the best VPNs for cloud storage because of a 30-day money-back guarantee, AES 256-bit encryption with support for some of the most powerful protocols, such as WireGuard and OpenVPN and servers in lots of locations.
---
5. ProtonVPN

ProtonVPN is a very good option for cloud storage services. Some of the notable features of ProtonVPN include a free version, the ability to unblock U.S. Netflix from any location, great torrenting support and other P2P activities and a trustworthy team of professionals working behind the scenes.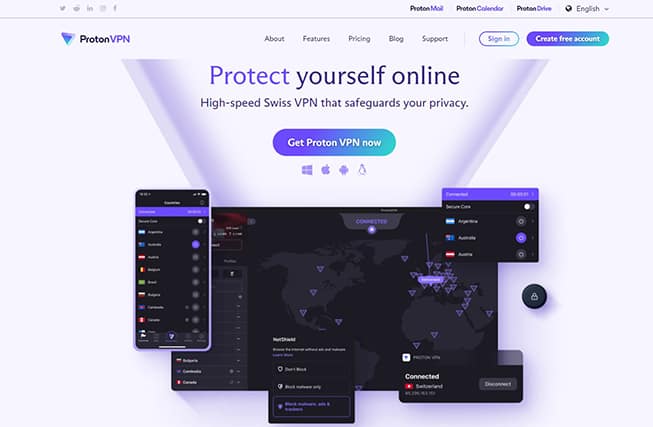 | | |
| --- | --- |
| Number of servers: | 1800+ |
| Number of VPN Server Locations: | 67+ |
| Price of the Yearly Plan: | $5.99 per month |
ProtonVPN is based in Switzerland (a country with strong data privacy laws) and has open source apps, zero logs, high-speed servers, a comprehensive Mac app, user-friendly mobile apps and quick connection times.
The free tier comes with lots of restrictions and overloaded servers, less than impressive discounts for users who sign up long term and slower response from customer support when compared to other elite VPN services.
ProtonVPN is a great choice for accessing cloud storage services from any place in the world because of a great server network, a reasonable number of locations, powerful privacy and security features (kill switch, auto-connect and SecureCore), money-back guarantee lasting 30 days and AES 256-bit encryption.
---
Note:
Prices may differ from the ones shown as new plans and deals are launched on a regular basis. Please be sure to check the most current price on the official website.
What Is a VPN?
A VPN is a tool that connects internet users and the devices used to access the internet to remote servers owned by VPN services, and hence enables internet surfing using the remote server's internet connection. Such a setup allows users to bypass content blocks, access streaming services from any location in the world, protect user data when connected to Wi-Fi hotspots, anonymize internet activity and hide torrenting from internet service providers.
What Is Cloud Storage?
Cloud storage enables internet users and companies to store files and any other type of data in a remote location different from the physical location of the user's device. Individual users and companies can access the data stored on a remote server either via a private network or public internet connection. The service offering cloud storage capabilities is responsible for safeguarding the data and making sure there are proper backups available. Cloud storage services also offer services such as hosting, securing, managing and maintaining data stored on the company's servers.
How To Select the Best VPNs for Cloud Storage?
The factors to take into consideration to select the best VPNs for cloud storage are given below.
Price: A VPN can offer many features, but if the service is not affordable, consumers won't stay with the VPN in the long term.
Compatibility: The core principle behind cloud storage is mobility and accessibility to data at any time and from any location. If a VPN does not offer dedicated apps for as many platforms as possible, the overall cloud storage experience gets degraded. Users looking to upload documents and other media from mobile devices should go with a VPN that offers mobile apps and not just a web browser experience. The best VPNs for cloud storage offer dedicated apps for operating systems from desktops, laptops and mobile devices. Dedicated apps will also ensure the user-friendliness of the service.
Servers: Users should go with VPN services with a large server network. The obvious advantages of having access to many servers are the lack of overloaded servers, quick upload and download of documents and other types of data and high performance. VPNs with a low number of servers usually drop connections, leave downloads and uploads incomplete and serve a frustrating experience. A bigger number of servers also allows users to circumvent any georestrictions.
Advanced security features: Users should prefer VPNs that offer features such as split tunneling and kill switch. Users should not have to turn off VPN services every time there is no need for added protection. The best VPNs ensure, via split tunneling, that users can only protect desired apps and services. Split tunneling inevitably improves performance and usability. The kill switch feature ensures the user's data is never exposed to hackers or government departments, even when the VPN connection drops.
Bandwidth: Most elite VPNs offer unlimited bandwidth. Users who take part in data-heavy activities such as streaming, uploading/downloading huge files and torrenting have to sign up for a VPN with unlimited bandwidth.
Speed: Slow VPNs are more likely to force users to wait for ages when uploading and downloading files. Almost all VPNs slow down the internet by a small margin. But good VPNs slow down the internet the least.
Security: Modern cyber threats require users to have good security. Cloud storage protection would count for little if the VPN cannot provide adequate security. Any VPN that uses AES 256-bit encryption is‌ considered safer. AES 128-bit is good too, but elite VPNs stick to 256-bit AES. Features such as a kill switch, DNS leak protection and auto-connect are nice add-ons.
How To Set Up a VPN on Cloud Storage?
The steps to follow to set up a VPN on cloud storage are given below.
Sign up for a good cloud computing service account.
Click on the option along the lines of "Programmatic Access" then save settings by clicking the relevant button. Then click the option "Attach existing policies directly," after which input "admin." Find the option that says "Administrator Access" and then enable the option (a tick mark should appear in the shown checkbox). Click "Next" and then "Download CSV." The information contained within the CSV file will be used later. Close the window and move on to the next step.
Install a VPN that supports cloud setup. Many of these VPNs are free to use but require a bit of manual work. Assuming the user is on a Windows platform, the first subsystems for Linux will need to be installed. To do that, go to Windows Settings. Then, click "Update and Security." After that, "For Developers" and then "Developers Mode." Change the value of Developers mode to "ON." Then go to the "Control Panel" and then "Programs." From there, select "Turn Windows Features On or Off." From the same window, click on the box right next to Windows Subsystem for Linux. Click "OK" and allow the Windows machine to restart after the installation process.
At this point, users should have a Linux Bash on a Windows 10 machine. Launch the Bash via the start menu and input commands "sudo apt-get update && sudo apt-get install python-pip python-setuptools build-essential libssl-dev libffi-dev python-dev python-virtualenv git -y". In the next step, users need to clone a repository via the relevant commands. Most of such commands should be available on the official website of the VPN in question. Otherwise, check the GitHub page of the desired cloud VPN service.
Open the relevant configuration file and input the new user via a text editor.
Go to the terminal again and input the command to install the VPN in question. That should allow the machine to begin VPN installation. During the installation process, the terminal may ask which cloud platform to choose. Choose one and then provide the name and a server location.
Open the CSV file downloaded at the end of Step Two. The terminal should ask for several Access Keys and Secret Keys. Each time the terminal does that, input one Access Key and Secret Key from the CSV file using the copy/paste function.
The terminal may ask whether or not to auto connect to the new VPN. Select "Yes."
Input "Yes" to all other feature implementations.
The VPN has finally been installed on the desired cloud server. Now, the user's device must be connected to the newly created VPN service. To do that, the user needs to create a profile and/or get a certificate. Different devices will have different procedures to get the required information. This section will only deal with Windows devices. First, locate the master directory in a folder called "configurations" of the newly installed VPN.
From the configurations folder, make duplicate copies of PS1, P12 and PEM files in a different location from the master directory.
Select the PEM file and double-click to start the Import process. The PEM file needs to reach the Trusted Root certificate store.
Launch Windows PowerShell.
Go to the new location where the three files mentioned in step 11 were copied.
Input command "Set-ExecutionPolicy Unrestricted -Scope CurrentUser".
Press the return key.
Input the PowerShell script name.
Press the return key again. The name of the PowerShell script should be along the lines of "windows_$usernamechosenbytheuser.ps1".
Once done, the user should follow the on-screen instructions.
After all the steps have been completed, input the command "Set-ExecutionPolicy Restricted -Scope CurrentUser".
Press "Enter" to finish the process.
If all steps have been followed correctly, the VPN should be protecting the device.
How To Use a VPN on Cloud Storage?
To use a VPN with cloud storage is to use a commercial VPN and install the relevant apps. The steps to use a VPN on cloud storage are given below.
Go to the official website of the desired VPN service.
Sign up for a subscription package. The longer the subscription package, the more the discount.
Download the appropriate VPN app. For Windows, the file should have a .exe extension, while Android and iOS VPN apps should be easily available via Google Play Store and Apple App Store, respectively.
Install the VPN app. For mobile platforms, the download and installation process are simultaneous. For desktop machines, users will first have to download the app, then go to the Downloads folder (or wherever downloaded files are stored), double-click the downloaded file and go through the installation wizard (this generally means clicking the "OK" button till the "Finish" button shows up) to get the app on the device.
Launch the VPN app.
Input login credentials. Such credentials are either emailed to the user using the registered email address or created by the user during the registration process. Some VPNs may also require the user to input an activation code sent to the registered email address.
Providing the correct credentials should allow the user to see the main menu of any VPN app. Users need to select a server.
Once the server is selected, click the "Connect" button to form a secure and private connection.
Then go to the official website of the cloud storage in question (such as Google Drive or OneDrive).
Log in via the username/password combination.
Start accessing files and folders via an encrypted connection.
What Are the Best Free VPNs for Cloud Storage?
Free VPNs may not offer the best cloud storage experience, but there are certain situations where free VPNs are the only alternative. The best free VPNs for cloud storage are given below.
(Best Overall): ProtonVPN (paid and free) is a uniquely trustworthy VPN service because of the team working behind the scenes. The free tier of ProtonVPN does not have any bandwidth or data transfer limits. ProtonVPN is also very secure and usually connects to a server, even for free users, on the first try. Some limitations users will have to deal with while using ProtonVPN include one simultaneous connection, overloaded servers, only three locations and disabled advanced security features (available to those who subscribe via premium ProtonVPN packages).
(Best for Changing Location): TunnelBear is one of the few trustworthy free VPN services for cloud storage. The availability of independent audits, a user-friendly app design and good privacy policies make TunnelBear hard to beat as a free VPN. TunnelBear offers plenty of locations to users. Hence, there is always a server nearby. The only problem with TunnelBear free tier is the 500MB per month data cap.
(Best for Multiple Devices): Atlas VPN offers one of the most generous data consumption limits of any free VPN after ProtonVPN. All free users can consume up to 5 GB per month. All users are allowed to connect an unlimited number of devices per account, even on the free version. But since AtlasVPN is a free VPN, there are some limitations. Free users can only connect to servers in New York, Los Angeles and Amsterdam. The 5GB limit per month applies to all devices combined rather than a single device per account.
Is a VPN Required for Cloud Storage?
A VPN is not strictly required for cloud storage. But there are many benefits of using a VPN for cloud storage. Users who opt for VPN usage with cloud storage can secure and encrypt all connections on all devices, which keeps hackers away from stealing data and exploiting the user. A VPN can also get rid of any firewall configurations that may block access to cloud storage at a location. VPNs can anonymize the use of cloud storage, since the IP address of the user will be hidden. Even the cloud storage service provider would not know the real IP address of the user or keep track of how a particular user is accessing cloud storage services.
Of course, cloud storage users have to think about the downsides of using a VPN for cloud storage as well. The number one reason why someone would not want to use a VPN with cloud storage is that VPNs are also services. Using one for cloud storage services provides the VPN service with direct access to user data.