Urban VPN is a free virtual private network service that aims to offer 100 percent anonymity to users all over the world. Being completely free, Urban VPN does not offer any subscription packages but decreases internet speeds by 10-20 percent. Urban VPN covers all major platforms including Windows, web browsers, Mac OS, Android, and iOS. With potentially a large number of servers and close to 80 different locations, Urban VPN offers a good 'server' network. Urban VPN makes use of the OpenVPN protocol by default when users download and install the app.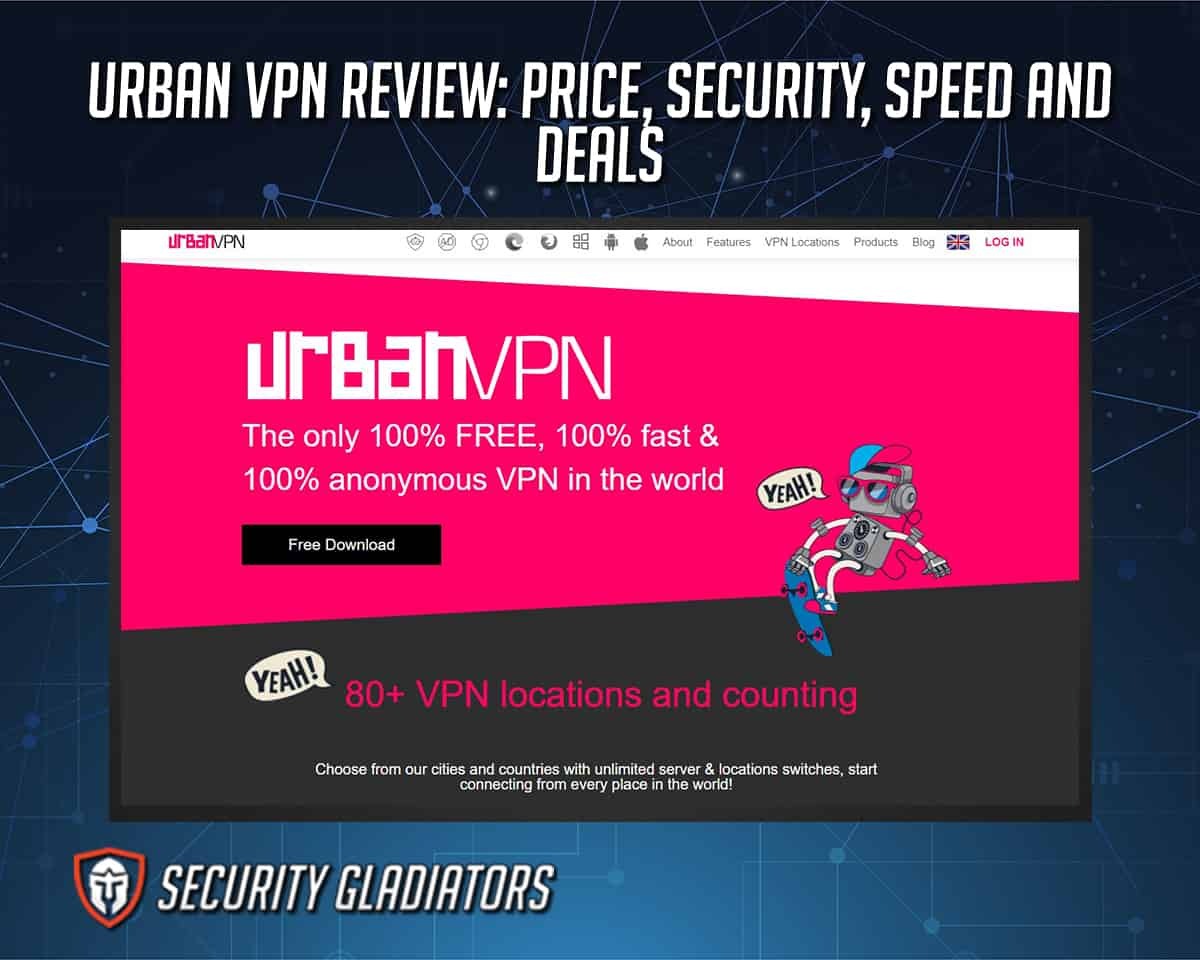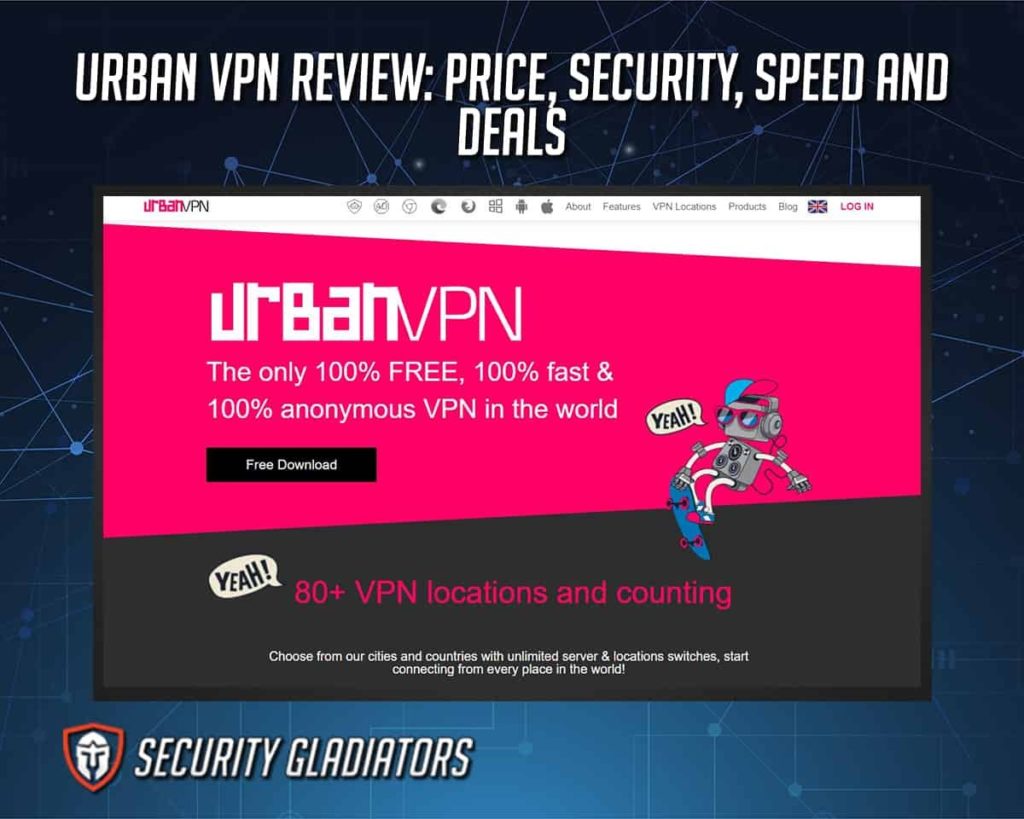 Given how Urban VPN works and the technologies the company leverages to offer a VPN experience for free, Urban VPN's main usage is unblocking content, particularly for streaming purposes and providing anonymity online. Urban VPN scores highly on usability as well since the apps are simple and enough platforms are supported to make the VPN ready for use within two or three clicks. Based on the number of reviews, downloads, and visitors to the official website, Urban VPN appears to have close to 2 million users. The main purpose of Urban VPN is to anonymize internet activities on the internet while changing the device's IP address to unblock content.
What is the cost of Urban VPN?
Urban VPN is marketed as a free service and for the majority of platforms, this is the case. However, Urban VPN does offer a premium version of the software. For example, both the Android and iOS apps are free to download, install and use. But to have access to premium VPN servers, better locations, and avoid P2P bandwidth sharing, a monthly subscription is required.
How much does Urban VPN cost per month?
The monthly package costs $4.02 per month for the first three months but then the price rises to $7 per month.
The yearly Urban VPN package costs around $2.50 per month which increases to around $4 per month after the first year. A 7 day free trial is offered for both Android and iOS platforms. All Urban VPN packages come with a 30-day money-back guarantee. This makes Urban VPN one of the few VPNs on the market today that offers a free tier, a free trial, a money-back guarantee, and a premium subscription package.
The main factors impacting the price of Urban VPN are the subscription time period, premium location access, bandwidth limitations, and P2P network participation. Nevertheless, Urban VPN is one of the most affordable VPNs available. The free Urban VPN package is also popular, despite the following limitations: limited bandwidth, limited speeds, limited access to premium locations, and mandatory P2P network participation.
Note:
Prices may differ from the ones shown as new plans and deals are launched on a regular basis. Please be sure to check the most current price on the official website.
What are the deals of the Urban VPN Service?
The deals available with Urban VPN are given below:
Free: The Free Package allows users to experience Urban VPN in an unrestricted way having access to all servers, locations and features. Its cost is zero.
1-Month Package: The 1-Month Package allows users access to premium locations, has no P2P-network participation, and unlimited bandwidth. Its cost is $9.99 per month with iOS and $7 for Android users.
6-Month Package: The 6-Month Package allows access to the same benefits as the 1-Month package such as premium locations, fast servers, and no P2P involvement. Its cost is $38.99 which converts to around $6.49 per month. The 6 month package is only available on iOS.
1-Year Package: The 1-Year Package essentially offers everything the previous two packages do but lasts longer. Users get access to all the premium locations, unlimited bandwidth, and no P2P network participation. Its cost is $59.99 which equates to approximately $4.99 per month. On the Android platform, the pricing is a bit different where the 1-Year package costs $25.69 for the first year and then $41.88 onwards. The final Android price comes to around $3.50 per month.
Urban VPN offers good VPN discounts but readers should be reminded that the most popular Urban VPN package is the free package where users do not have to buy any subscription package and use the service for free.
What are the advantages of Urban VPN?
The advantages of Urban VPN are given below:
Free: The biggest advantage of Urban VPN is that there is a full version of the software available for free. There are also paid version available.
Unlimited bandwidth: Whether or not users pay for a subscription package, all users get unlimited bandwidth. So if the user's internet connection speed is 100 Mbps, Urban VPN has the infrastructure to offer 100 Mbps speed while browsing.
Locations: For a free VPN service, Urban VPN offers servers in a surprisingly diverse set of locations all over the globe.
Unblocking Ability: Even though Urban VPN is less consistent at unblocking major streaming websites than some of the other premium VPN services, Urban VPN can still unblock Amazon Prime Video and US Netflix from time to time.
What are the disadvantages of Urban VPN?
The disadvantages of Urban VPN are given below:
Lack of Customer Support: Despite what the official website states, Urban VPN does not offer a live chat feature.
Lack of Connection Security Information: Urban VPN does not mention the encryption used or the protocols available.
P2P Network: Perhaps the biggest disadvantage of Urban VPN is that users have to share resources with other users on the network.
What Features does Urban VPN Provide?
Urban VPN offers only a limited number of the standard features expected of VPN services. Firstly, good speed. Urban VPN competes with other fast connection VPNs, making for efficient web browsing (assuming their internet connection is fast enough). The connections are fast enough to stream content from various popular streaming services. In terms of security though, a lack of information regarding security and privacy makes urban VPN a poor competitor relative to other VPNs with high security. For example, Urban VPN provides very little information on what encryption technologies it uses. There is also no information on advanced leak protection. Finally, Urban VPN does not offer a kill switch feature.
Note:
As there is no information on DNS privacy, it is reasonable to assume that Urban VPN does not offer DNS privacy, especially given that it is a P2P VPN. Since Urban VPN is free, users are free to install the VPN service on an unlimited number of devices. Urban VPN does not specifically state that unlimited simultaneous connections are possible but it can be assumed.
Is Urban VPN safe to use?
Urban VPN is only safe to use for some specific functions, such as changing IP addresses and accessing local versions of international websites. Other than that, since Urban VPN is a P2P VPN and the service does not mention much about the security infrastructure, neither through the official website nor the app, security-focused users should avoid this VPN. With this said, Urban VPN has high ratings on both the Google Play store and the App store and is usable for basic purposes that aren't security sensitive.
How is the speed of Urban VPN?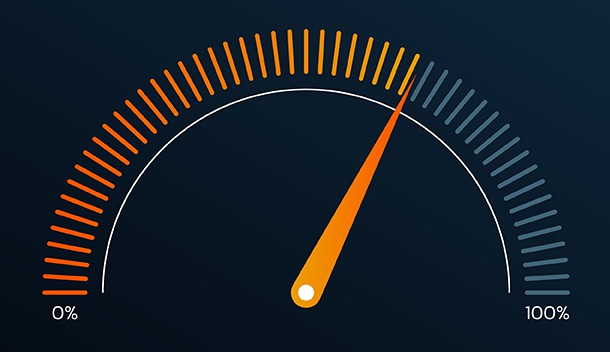 The speed of Urban VPN is great, especially for a free VPN. Urban VPN decreases download speed by just 15 percent and the maximum download speed should be around 90 to 93 percent of the user's internet connection without a VPN. The minimum download with Urban VPN speed can be around 60-70 percent of the user's internet connection with no VPN activation.
However, Urban VPN performs less well in terms of upload speed. Urban VPN can decrease upload speeds by an average of 66 percent. The maximum upload speed can be around 50 percent of the user's internet connection while the minimum upload speed can reach just 25 percent of the user's internet connection when there is no VPN installed. Urban VPN, on average, increases ping rates by 10000% which may seem like a lot but this figure is actually quite close to the industry average.
This is important:
As always, the final speed results depend on a variety of factors which include the server connected to, the load on the server at any given time, the conditions of the user's internet connection, whether or not other apps are consuming bandwidth, the speed test tool used for measurement, the time of day and general ISP network conditions, as well as the protocol used and advanced features enabled.
Overall, Urban VPN can compete with the best in the business provided the right conditions (and acceptance on part of the user to share resources via the P2P network). Industry heavyweights like CyberGhost (reduces download speed by 15 percent on average), NordVPN (reduces download speed by 20 percent), ProtonVPN (reduces download speed by 15 percent), and IPVanish (reduces download speed by 30 percent) offer similar performances to Urban VPN. A key difference though is that none of the VPNs listed above are P2P VPNs.
What encryption technologies does Urban VPN use?
Urban VPN does not provide any information on what encryption technologies the company uses. Neither the official website nor the official apps mention encryption details. This does not instill confidence in the service as it is relatively commonplace for VPNs to provide these details.
Not mentioning the type of encryption used to secure connections is a critical mistake on part of Urban VPN. Strong encryption is no longer a luxury but a necessity for online users as more and more tasks move to the online world. Without encryption, data cannot be secured. And without data security, online users cannot have privacy.
That's aside from the fact that one of the major reason users sign up for VPN services is to benefit from encryption (apart from content unlocking abilities). Regrettably, Urban VPN does not take advantage of all the benefits the service can offer to users looking for privacy and security in the online world.
What are the Privacy Policies of Urban VPN?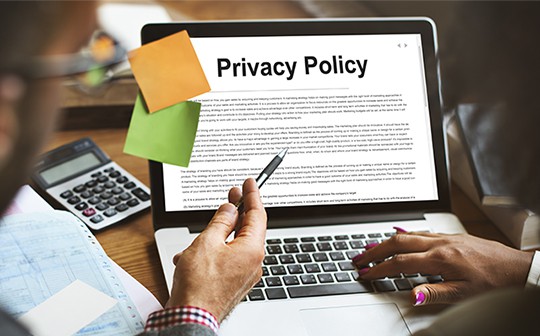 Being a free VPN for the most part, no one should be surprised to know that Urban VPN does keep some logs. The privacy policy of Urban VPN states that the service collects data such as web browsing history, personal information such as email addresses, PII, and other types of information such as web browser used, type of device used to access the VPN services, access time, and dates.
With that said, Urban VPN does say that the service complies with GDPR rules and regulations. Of course, almost all VPNs collect some data for administrative purposes. But Urban VPN collects slightly more than what is generally considered acceptable in terms of online privacy.
Generally speaking, the privacy policy document of a given VPN service mentions how the VPN collects user data and how the collected data is stored, accessed, processed, and shared.
Note:
Since Urban VPN is a P2P VPN (a bit like Hola VPN) that means that all Urban VPN users (once connected) have to allow other users' traffic to pass through the device being protected by Urban VPN. Although this approach improves speed, the privacy of the user is almost always compromised.
Urban VPN also does not give much information to explain how many of the collected resources it will use. Overall though, the privacy policy document is well developed and detailed.
Does Urban VPN provide DNS Privacy?
DNS Privacy refers to the privacy of DNS queries and responses that a user's internet activity generates. Without DNS privacy, various actors can correlate DNS queries with network activity to then invade user privacy.
Given the information on the official website, Urban VPN likely does not offer DNS privacy. As mentioned before, Urban VPN is a P2P VPN which further gives credence to the fact that there is no DNS privacy feature on offer.
DNS Privacy is important because without DNS privacy hackers can launch MiTM attacks in addition to spoofing attacks and phishing attempts. DNS Privacy also makes sure that ISPs along with other actors are not able to collect user data regarding DNS queries and then use the data for targeted advertising.
Since Urban VPN provides no information on whether there is DNS privacy available, users should assume there isn't. The VPN apps also do not give any options to use encrypted DNS servers/resolvers. However, as far as any type of DNS leak is concerned, Urban VPN apps do provide sufficient protection.
What operating systems are compatible with Urban VPN?
The operating systems compatible with Urban VPN are given below:
Supporting the four most popular operating systems is very important for a VPN service like Urban VPN that relies on speed. Urban VPN does not offer any advanced security features. Hence, anyone using Urban VPN is most likely looking to stream content. Since most users stream content on a multiple number of devices, supporting more than one major operating system is almost critical for a VPN like Urban VPN.
Does Urban VPN have a browser add-on?
Yes, Urban VPN does have a Chrome extension that works equally well as the desktop and/or mobile apps.
Can I use Urban VPN on My Router or Internet Switch?
No, Urban VPN does not provide any support for router or internet switches, even though there is a section available on the official website. Once the router page is accessed, there are no instructions on how to set up a given router with Urban VPN. The Free Download button, when clicked, takes the user to the Chrome extension page.
What Purposes can Urban VPN be used for?
The purposes Urban VPN can be used for are given below:
For gaming: Using Urban VPN for gaming may increase ping times but can get rid of gaming blocks and bandwidth throttling on part of the internet service provider. Using Urban VPN with Fortnite, for example, is definitely possible, assuming the internet service provider speeds allow this.
For Torrenting: Urban VPN users can unblock any popular torrent site if, for example, the government or the internet service provider has restricted access. Keep in mind that doing so may be illegal. Users should always check the local laws in the country before unblocking websites that have been blocked.
For Viewing Local Content: Many international news websites such as NYTimes and Washington Post and streaming sites like YouTube and Twitch change the placement of specific content based on the location of the user. With a VPN, users can view the US-version of the above-mentioned websites (or indeed, the version of the content specific to any of the VPN locations available).
For Unblocking Content: Urban VPN can unblock restricted content such as streaming sites. While users shouldn't expect Urban VPN to unblock streaming sites like US Netflix or US Amazon Prime on a regular basis, Urban VPN can unblock some of the lesser known streaming sites like Tubitv and Crackle.
Is Urban VPN Good for Streaming Services?
VPNs for streaming services not only need speed but also diversity in the location of servers. Urban VPN offers both. However, Urban VPN is not consistent enough at offering high speeds (there are periods of slow internet speed when using Urban VPN) or unblocking streaming services (Urban VPN does work with US Netflix but not 100 percent of the time).
Overall, yes, Urban VPN is good for streaming services. Just try not to use Urban VPN with in-demand streaming services like US Netflix.
How many Simultaneous Connections can be created with Urban VPN?
Urban VPN allows users to create an unlimited number of simultaneous connections for free. The number of simultaneous connections allowed by a VPN service has become very important. That's because most online users now own multiple internet-enabled devices. Online users also want the convenience of using the same VPN for all devices rather than buy protection for devices individually.
Offering several simultaneous connections has become a necessity for VPN services, as it is increasingly offered at the basic subscription rate of many services. As many users own several devices, or share their VPNs with, simultaneous connections are essential to make sure a single subscription package can cover all devices. The number of simultaneous connections that are possible depend primarily on the chosen subscription, but also the VPN service provider and general network infrastructure.
Where are the Urban VPN Locations?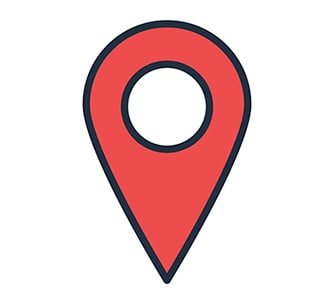 Currently, Urban VPN offers over 81 VPN locations. The most prominent regions that Urban VPN covers include the US, Canada, France, Argentina, and Belgium.
Covering the entire globe sufficiently has become a very important feature for streaming VPNs as users want to access streaming services in a greater variety of countries.
Note:
Urban VPN provides some variation in the way its servers are set up in different countries. Rather than offering the same number of servers in each country, Urban VPN offers more servers in countries that users prefer to connect to.
For example, Urban VPN offers 46 servers in Argentina, 88 in Belarus, and 39 in Denmark but offers 237 in China, 110 in France, 121 in Germany, 401 in India, 355 in the US, and 189 in the UK.
Does Urban VPN have geo-restrictions?
No, Urban VPN does not have a georestriction. Users can access Urban VPN from any country in the world. However, if the government has banned the official Urban VPN website or has disabled extension download on web browsers like Firefox and Chrome, then users will not be able to download the VPN in the first place.
As far as circumventing geo-restrictions is concerned, Urban VPN can help with that as the service has a wide server network and unblocks many streaming services. With that said, users should take care that no laws are broken and that terms of service are complied with.
How to download Urban VPN to your computer?
The steps users need to take to download Urban VPN to their PC are given below:
Go to the official website of Urban VPN.
Click on Products (located in the upper right corner of the screen).
From the Products section click on the VPN app that is appropriate for the device's operating system.
Install the VPN app. For mobile Urban VPN users, go through the Google Play Store for Android and the App Store for iOS.
Launch the VPN app.
Click the Play button to connect.
There are no extra steps to take to log in to Urban VPN apps as the apps do not require a username/password combination for use unless the user is a premium member.
The steps to download and use Urban VPN on web browsers are given below:
Ensure the web browser is either Google Chrome (or a Chromium-based web browser such as Vivaldi, Opera, or Brave), Mozilla Firefox, or Microsoft Edge. Urban VPN does not support other browsers.
Go to the official website of Urban VPN and click on Products.
Select the relevant extension option, which leads to either the Google Chrome store or the Mozilla Firefox extensions page.
Click Add. Doing so should complete the download and installation process.
If the installation is successful, an Urban VPN extension icon should appear in the top right corner of the given web browser. Chrome sometimes hides icons for new extensions, these can be enabled by clicking on the puzzle icon.
Once the icon is clicked, Urban VPN should show a connect or play button.
Click the button to connect as Urban VPN does not require login details.
Urban VPN Company Information?
Everything a potential customer of Urban VPN wants to know as far as the company behind the service goes, is given in the table below.
Company Information
Company information provides an overview of the company and its objectives, often including the company mission, sourcing of the available products, foundation year, objectives, and goals.
Importance of Company Information
Company information is important because businesses can attract more customers, investors, and better staff by being clear about the products on offer and their ethos. Company information provides this with an opportunity to tell a great story and attract more business.
CEO Name
Currently there is no information on the CEO of Urban VPN.
Company Address
501 Fifth Avenue, New York, NY, 10036
Company Phone Number
Currently not available.
Foundation Date
2018
Country of Registration of Urban VPN
The United States
Owner of Urban VPN
Urban Cyber Security Inc.
Urban VPN Headquarters
New York, USA
Number of Employees
> 30
Social Media Accounts
Facebook: Urban VPN
Twitter: @urbanVpn
Urban VPN Logo
The logo of Urban VPN is just the word (stylized) UrbanVPN. The part 'Urban' is written in red while 'VPN' is written in black.
What Possible Problems lead to Urban VPN not Working?
Some of the possible problems for Urban VPN include Urban VPN not working and Urban VPN connection failed.
The most common issue encountered by Urban VPN users is a failed connection, preventing use of the VPN and potentially preventing internet access all together. There are several other potential issues, namely, the device's screen may turn black for some users when the Urban VPN app is launched. This problem is mostly faced by users on the Android platform. The Urban VPN app may also crash or push an error message before crashing.
To fix the black screen problem for Urban VPN, simply re-launch the app. If that does not work, restarting the device may help. To perform a hard reset on most mobile devices, press the Power and Home buttons at the same time for 10 seconds. After that, the power button should be pressed until the device powers on. Sometimes simply draining the battery until the device switches off can fix the black screen problem. Failing this, try uninstalling the Urban VPN app and then reinstalling it. Installing an older version of Urban VPN may also fix the black screen problem.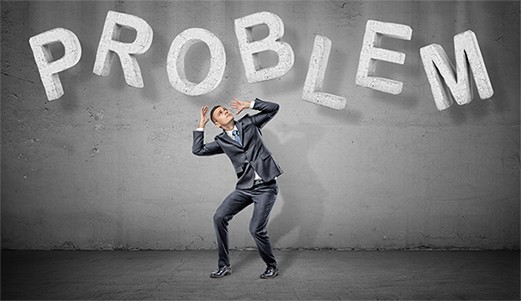 Another common problem with Urban VPN is the failing or inconsistency of notifications. To fix this, first go to Settings, Urban VPN, and then enable notifications.
If Urban VPN is not connecting, first check the device is connected to the internet and then check if there is sufficient space on the device to run Urban VPN. Finally, check if the Urban VPN app supports the operating system version of the device.
Finally, it has been reported that there is sometimes no internet connectivity despite Urban VPN being connected to the server. There are many causes for this problem. Most of the time, the Urban VPN servers are overloaded or have encountered an unexpected connection error. Regardless, the solution is to disconnect from the current server, change the server location and then connect to a different server. After that, if internet connectivity is restored, it is usually possible to reconnect to the original server.
What are the alternatives to Urban VPN?
The alternatives to Urban VPN are given below:
NordVPN
SurfShark
CyberGhost
IPVanish
Private Internet Access
What are the alternative browser VPNs to Urban VPN?
The alternative browser VPNs to Urban VPNs (which depends on the web browser) are given below:
ExpressVPN
SurfShark
NordVPN
CyberGhost
IPVanish
ExpressVPN
Hotspot Shield
Windscribe
Private Internet Access
Surfshark
Which is best, Urban VPN or CyberGhost?
The Urban VPN vs CyberGhost VPN debate is short as CyberGhost is clearly the better choice. While UrbanVPN is totally free on all platforms, CyberGhost has plenty of other features (such as a kill switch, larger server network, ability to consistently unblock streaming services, and a longer money-back guarantee) giving the service the edge over Urban VPN. Importantly, CyberGhost also offers a free web browser extension.
Which is best, Urban VPN or ExpressVPN?
When discussing Urban VPN vs ExpressVPN, privacy-minded users should keep in mind that ExpressVPN is a fully-fledged, experienced, and established VPN service provider with third-party audit reports. Urban VPN essentially has none of those advantages since the service offers barebones VPN features, is newly formed, and has yet established a reputation in the industry.
Urban VPN is free though and the service does offer better speeds. But ExpressVPN offers much more developed VPN apps, advanced security features, and a better privacy policy. Despite this, the clear winner is ExpressVPN.
Which is best, Urban VPN or Surfshark?
Settling the Urban VPN vs Surfshark comparison is fairly easy for the simple reason that Surfshark is an elite-level VPN service with great features, tremendous performance levels, and a good reputation. The only advantage Urban VPN has over SurfShark is the free tier. SurfShark wins against Urban VPN for a vastly superior VPN experience plus the fact that SurfShark supports unlimited simultaneous connections.
Which is best, Urban VPN or NordVPN?
The Urban VPN vs NordVPN match is also easy to call. NordVPN is many leagues above Urban VPN in all measurable quality metrics except for price. The only other aspect where Urban VPN gives some competition to NordVPN is speed. NordVPN is not slow by any means but Urban VPN, for a free VPN service, can be very fast depending on the connection on a given day. Otherwise, NordVPN has vastly better apps, privacy policy, security features, server network, and reputation.