Laptops require the same degree of protection from cyber threats as all computers. However, some laptops ship with security tools that protect the user from various types of threats, including offline ones. This is helpful as it prevents users from having to invest a lot of time and money enhancing their protection against malware and viruses.
Even though both mobile devices and laptops are portable, the true definition of a laptop is a notebook computer that is either AC-powered or battery-powered and is easily transported to places such as libraries, coffee shops, meetings, and remote offices.
The most secure laptops of 2023 come with a standard set of security features such as a camera with a cover and/or a fingerprint sensor. A closed camera can be used to stop hackers from compromising the laptop's camera and spying on the user while the fingerprint sensor can be used to access sensitive content on the laptop without using a password.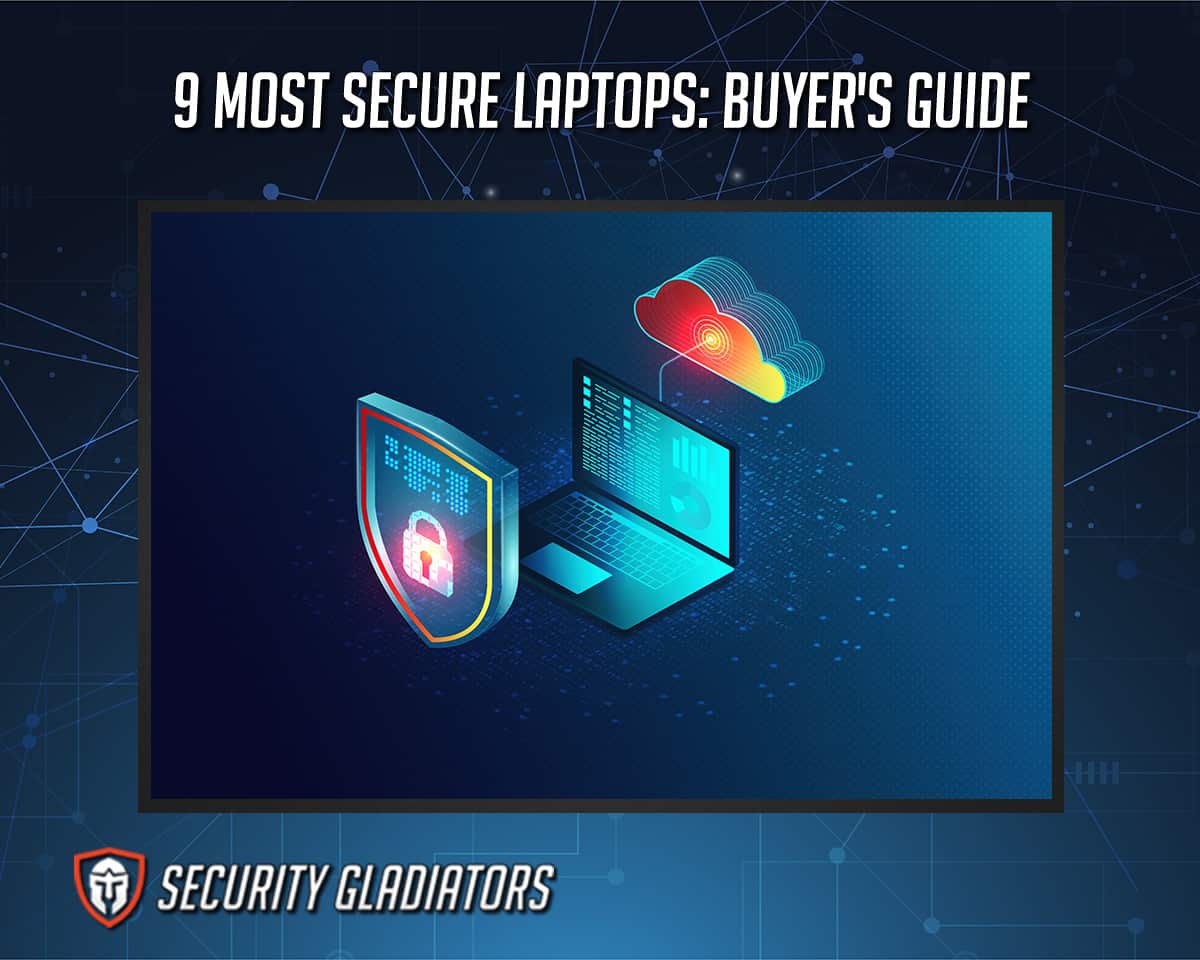 Such security measures are considered hardware measures but of course, modern laptops also need software security measures in order to be secure. Software security measures usually work in the background while the user is busy getting work done. A truly secure laptop offers both hardware and software-based tools to keep data safe.
The 3 most secure laptops of 2023 are given below:
Dell XPS 13, 15 (Most Secure Laptop)
MacBook Pro (Best for speed and a streamlined experience)
HP 17-cn-0020nr (Most Secure Laptop Under 500)
1. Dell XPS 13, 15 (Most Secure Laptop)
represent some of the best and most secure laptops available, providing high performance but also long battery life, lightweight hardware, and security.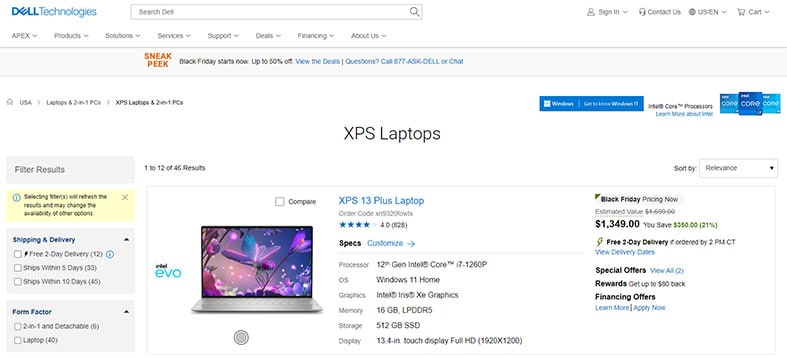 In terms of general security features, Dell XPS 13 comes with a brand new fingerprint reader that is very accurate when logging in users via Windows Hello. The high-end Dell XPS models also come with facial recognition which more or less makes using passwords to log in at the start screen redundant.
Depending on the version of Dell XPS 13 and/or 15, the user may also get a Security Suite Enterprise. The security suit offers various software-based solutions that protect users against hackers, viruses, and malware. Other versions of Dell XPS 13 come with a 12-month subscription to the very highly rated McAfee antivirus. There is also Dell Power Manager and Dell Customer Connect for times when users need help with any security or non-security related issue.
Dell XPS 13 comes with 8GB RAM (users can pay more to get 16 GB of RAM), 256 GB SSD hard drive, and battery life of around 14 hours (although battery life reduces to around eight hours for 4K resolution models).
Note:
Currently, the Dell XPS offers a couple of options in the processor department with the 11th Gen Intel Core i5 being the budget option and the more expensive option of the 11th Gen Intel Core i7 processor. For the Dell XPS 9310, options expand even further with processors such as 11th Gen Intel Core i3, 11th Gen Intel Core i7-1185G7, 11th Gen Intel Core i7, and the 11th Gen Intel Core i5 becoming available.
Generally, the Dell XPS weighs around 2.8 pounds with the laptop offering colors such as Sky (or light blue) and Umber (dark burgundy). Depending on the lighting of the surroundings, the Burgundy version can look a bit black.
At the core, the Dell XPS 13 model is for business use because of the low weight and great performance. Gamers will have to look elsewhere though because even though Dell XPS 13 has good hardware, gaming requires a little something extra with a larger screen.
The price of the Dell XPS 13 ranges from $1119.99 to $1719.99, depending on the customization options chosen at checkout.
Coming to Dell XPS 15, the machine is built for work and play as the hardware can deliver some powerful results along with a sufficiently large display. As far as security features are concerned, Dell XPS 15 (similar to Dell XPS 13) offers login in options with fingerprint or facial recognition. All models come with a McAfee subscription as well. Some enterprise security features include a Trusted Platform Module for BitLocker data Encryption, asset tagging, static imaging, and ProSupport. The RAM options for the Dell XPS 15 are 8GB, 16 GB, and 32 GB while storage can reach up to 2TB SSD with 512 GB and 256 GB variants available as well, subject to the user's physical location at the time of purchase.
Dell XPS 15, on average, gives a battery life of around 10 hours (of course the actual battery life will depend on the activities the user engages in when the laptop is running on battery).
Dell XPS 15 offers a ton of options in the processor department, with many different configurations available for different users. The most common configurations come with the 12th Gen Core i7 12700 H processor. But users can go with Core i5-12500H as well. There is also the more expensive option of equipping a Core 19.12900HK along with the RTX 3050Ti.
The weight of the Dell XPS 15 is around 4.31 pounds while the color options are Arctic White and Black (or Platinum Silver). Dell, with the XPS 15 model, is mainly targeting heavy-duty business users and people who like to watch a lot of movies. The Dell XPS 15 2023 model may be used for gaming but the design of the laptop is not made for massive heat production for long periods of time.
The Dell XPS 15 costs anywhere between $2253 to $3037.
---
2. MacBook Pro
The 2023 is the latest edition of Apple's high-performance laptop machines that already have a great history of consistent performance and great battery life. In terms of security features, the MacBook Pro comes with a custom built in antivirus software that guards against viruses and known malware. This component is known as XProtect. Apple also pushes updates and malware infection patches via XProtect on a regular basis. The XProtect component also has the ability to block software if suspicious behavior is detected.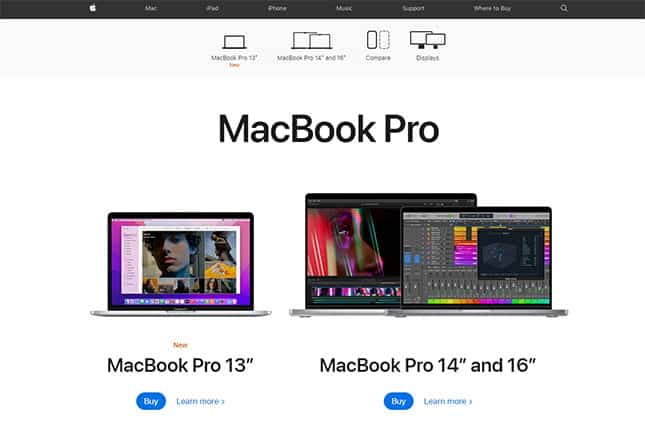 Another feature is GateKeeper. The Gatekeeper component protects users from installing malware and also checks apps downloaded from the internet for verification and malicious code. Some consider the Mac App Store as a security feature as well since users who stick to apps from the Mac App Store usually don't get infected. Apple's own web browser Safari comes with other security features which protect users against malicious websites and processes from consuming device resources. Apple also ditches Flash to further protect MacBook Pro users. Additionally, Mac protects user passwords via monitoring and notifications if the user's information has been compromised in a data breach. There is also iCloud KeyChain to protect users' passwords on multiple Apple devices.
The MacBook Pro also comes with hardware security features such as the Apple T2 Security Chip. As confirmed by Apple and various media outlets, the new chip is able to block software apps without the proper authorization to load when the MacBook Pro boots up. MacBook Pro can also boot from a secure recovery partition in case a malicious app is on the device and can automatically take corrective actions. Other security features include Startup Security Utility, Secure Boot, Time Machine, and Secure Storage. The MacBook Pro RAM options include 8GB, 16GB, and 24 GB. For SSD storage, the most common configuration is 256 GB. As always, users can pay more to increase the SSD storage up to 2TB.
Determining an accurate number for battery life is always difficult because of the different circumstances during which the battery life was measured. Generally, though, users can expect the MacBook Pro battery to last anywhere between 18 to 20 hours of normal use. In terms of the battery's lifespan, the consensus figure seems to be 5 or 6 years.
Unlike other Laptop brands, the MacBook Pro offers the proprietary Apple processor brands in the form of an M2 chip. Some versions of the MacBook Pro, like the 14-inch model, also come with the M1 Pro chip which is more powerful than the M2 chip.
The latest edition of the Macbook Pro weighs 3.0 pounds or 1.4 kg. As for colors, the MacBook Pro 2023 comes in two colors, namely, Space Gray and Silver. There are no other officially available colors for the MacBook Pro.
Traditionally, the MacBook Pro is for users who need a lot of CPU performance. Activities for which the MacBook Pro is a great choice include simulating OS apps, playing virtual instruments, and video production/rendering. The MacBook Pro is also a good choice for anyone looking for a more aesthetically pleasing and streamlined user experience than what is on offer via Windows laptops.
The MacBook Pro price is $1299 and $1499. The actual price will vary based on the customization options the user opts for.
---
3. HP 17-cn-0020nr (Most Secure Laptop Under 500)
The HP 17 laptop is a Windows-based laptop that aims to provide a comfortable experience while offering sustainable high performance. Some of the most prominent security features of the include a fingerprint reader, a backlit keyboard, McAfee LiveSafe, and a new intel Integrated SoC chipset.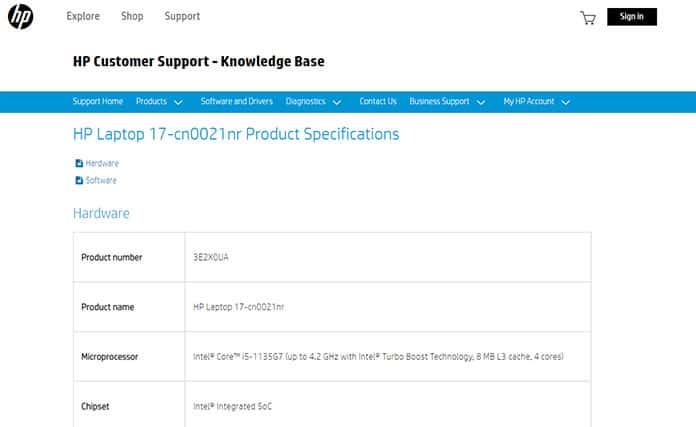 The standard configuration for RAM on the HP 17 cn 0020nr is 8GB DDR4 but users can pay more to upgrade the RAM capacity. The HP 17 default configuration for storage is 256 GB of SSD which, again, is upgradable to 512 GB. With normal usage, users should expect a battery life of close to 8 hours. With heavy usage, the battery life is likely to come down to 5 to 6 hours because of the 17-inch screen. The standard HP 17 cn 0020nr comes with an 11nth generation Core i5 processor. HP has also listed the official weight of the HP17 cn 0020nr at 5.25 pounds. The HP 17 cn 0020 nr comes in natural silver.
The HP 17 series is generally for daily office use that requires consistent (not necessarily high) performance day in and day out. With features such as a Lift Hinge design and quick recharge, the HP 17 is ideal for professionals who work on the move. The costs of the HP 17 cn 0020nr is around $575, depending on the exact configuration.
---
4. MacBook Air M1 (Most Secure MacBook Under 1000)
The is a powerhouse of a laptop with a long battery life that aims to revolutionize the way people complete resource-heavy tasks offline and online. As with almost all Apple high-end laptop machines, the MacBook Air M1 is laden with security features such as a custom rescue system that protects user data automatically. The Mac M1 chip also comes with file-level encryption options that third-party providers can take advantage of to secure sensitive data without affecting system performance that much. Apple also rolls out the Secure Boot feature with MacBook Air M1. With Secure Boot, the M1 chip is able to check the system for any software that loads while the machine is starting up. If the software does not have proper authorization then the M1 chip blocks any execution. This stops all types of malware that take effect during the boot process. For more data security, the MacBook Air M1 comes with Sealed Key Protection which disables any functions that may be used to copy encrypted data to another device. Other security features include Current Secure Enclave, a memory protection engine, Face ID, hardware controlled on and off switch for the microphone, Secure Startup, Secure Storage, System Integrity, and data protection via Touch ID.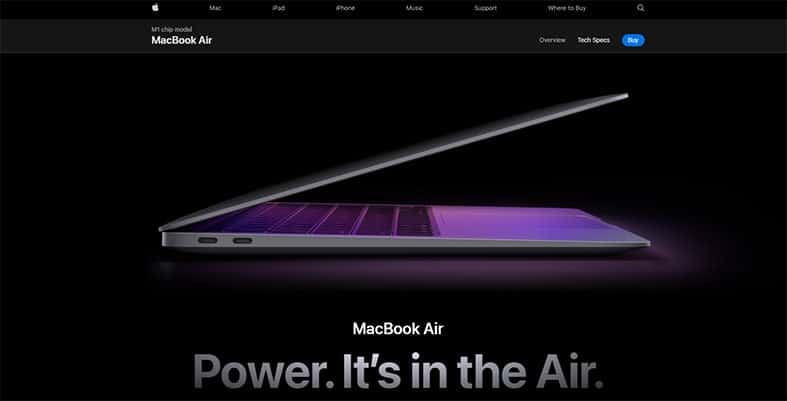 The default setup for the MacBook Air M1 includes 8GB of memory, which is upgradable to 16 GB along with 256 GB SSD storage that is upgradable up to 2 TB. In terms of battery life, the MacBook Air M1 can reach 15 hours. As mentioned earlier, the MacBook Air M1 comes with the Apple M1 chip which is essentially an 8-core CPU with 4 efficiency cores and 4 performance cores. The M1 chip is an ARM-based chip. Remote workers and professionals who travel a lot will be glad to know that the MacBook Air M1 weighs 2.8 pounds or 1.29 kg. In total, the MacBook Air M1 comes in three colors, namely Space Gray, Silver, and Gold.
Apple is targeting a very specific market with the MacBook Air M1. A market that wants endurance machines with great speed and long battery life. The MacBook Air M1 is perfect for anyone already invested in the Apple ecosystem and anyone interested in consuming less energy while powering through everyday office work. With a powerful processor, the Macbook Air M1 is also best for video editors, casual gamers, and streamers.
The price of a Macbook Air M1 starts at $999 and can go upwards of $1249, again, depending on how much the user configures options such as SSD storage and RAM.
---
5. HP SPECTRE X360 15T (Most Secure Laptop with 4k Display)
The is a laptop with a fantastic design, a big display, and above-average performance. Starting things off with security features, the HP Spectre x360 15T comes with a fingerprint reader as well as facial recognition hardware and tools. Additionally, the laptop also comes with a privacy shutter installed on the HD webcam. The privacy shutter acts more like a kill switch in the sense that when users switch off the webcam the laptop is no longer able to detect the webcam. The integrated IR camera in itself provides a layer of security as the owner can use photo recognition in many different scenarios. There is also an option available for an integrated privacy screen. The HP Spectre comes with a 1-year subscription to McAfee LiveSafe.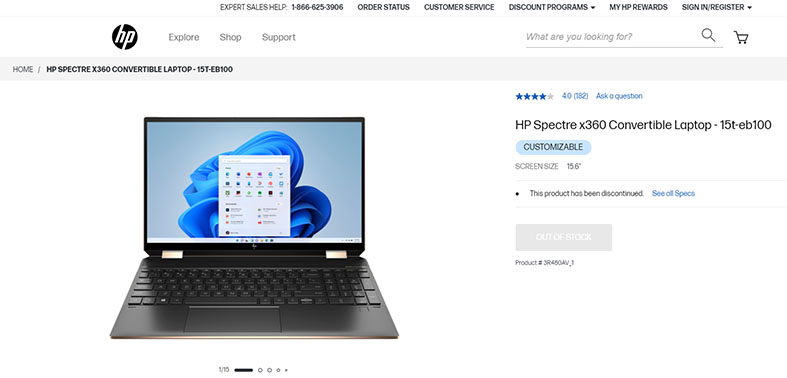 The HP Spectre x360 15T comes with 16GB of DDR-4 RAM and 1TB of SSD storage. Moderate use should give a battery life of around 7 hours. The processor mostly commonly found on the HP Spectre x360 15T is the Intel Core i7-10750H. Some versions of HP Spectre x360 15T also come with the 10nth Gen Intel i7-10510U. The HP Spectre x360 15T weighs around 4.23 pounds. The colors available for the HP Spectre x360 15T are Copper Luxe, Nightfall Black, Poseidon Blue, and Pale Brass.
The HP Spectre x360 15T is best for users who prioritize an excellent screen. With that said, the HP Spectre x3650 does come with enough security features, audio quality, and quality hardware to make office tasks a breeze. Gamers will need a more powerful laptop though.
Depending on the version that is available in a given location and the actual model with all the configurations the user opts for, the HP Spectre 360x 15T can cost $1649.99. Higher-end versions of the same model can cost up to $200 – $300 extra.
---
6. Lenovo Ideapad Flex 5 (Budget Friendly Secure Laptop)
The is a very flexible offering from Lenovo, with the ability to handle lots of different types of tasks both offline and online. To start things off, the mention-worthy security features of Lenovo include a fingerprint reader, a physical shutter for the webcam, a secure boot, support for Windows Hello, an IR camera, and support for an external one for more secure logins. The Lenovo Ideapad Flex 5 supports memory up to 16 GB and storage up to 512 GB SSD. The battery life of the Lenovo Ideapad Flex 5 is around 12 to 13 hours depending on use. As far as processors are concerned, the Lenovo Ideapad Flex 5 comes in a lot of flavors such as an Intel core 13 1005G1, Intel Core i5-1035G4 quad-core, Intel Core i7-1065G7 quad-core, AMD Ryzen 3 4300U, AMD Ryzen 5 4500U, and AMD Ryzen 7 4700U. The Lenovo Ideapad Flex 5 weighs around 1.55 kg for the 14-inch model and 1.8 kg for the 15-inch model. In total, the Lenovo Ideapad Flex 5 comes in various colors including, platinum gray, light teal, and charcoal gray.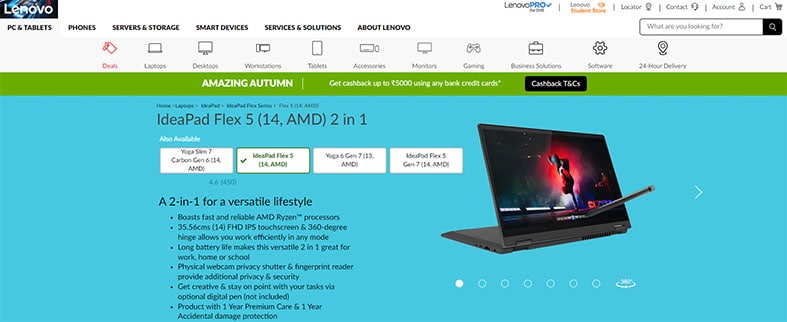 The Lenovo Ideapad Flex 5 tries to find the perfect balance between battery life and high performance. Since the laptop also comes with lots of ports, the Lenovo Ideapad Flex 5 is best for graphic designers, business users, and any other user involved in creative work on the go. The Lenovo Ideapad Flex 5 is not for hardcore gamers as the hardware is more likely to support casual gaming.
In terms of price, a standard configuration of the Lenovo Ideapad Flex can cost anywhere between $450 to $1399.
---
7. ASUS ROG ZEPHYRUS S15 (Best Gaming Secure Laptop)
The is one of the few gaming laptops that also focuses on security from the ground up. Users can enjoy a plethora of security features, such as password protection, a Kensington Security Slot, and BIOS administrator password.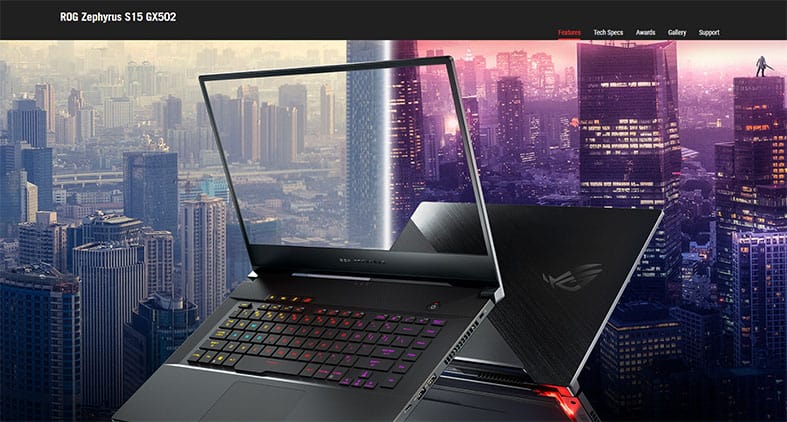 Users can expect to get 32GB of RAM and 1TB of SSD storage. Running video games and HD videos via YouTube and other streaming platforms can consume battery very quickly. ASUS ROG Zephyrus S15 is also able to give close to 11 hours of moderate activity which is great for any gaming laptop. A standard edition of the ASUS ROG Zephyrus S15 comes with a powerful Intel Core i7-10975H processor. The laptop also weighs around 4.2 pounds and is available in brushed black and black.
As for the target audience, the ASUS ROG Zephyrus S15 is clearly aimed at heavy gamers. The laptop supports a dual screen and the keyboard/touchpad are built for extended heavy use. Because of the design of the keyboard on the ASUS ROG Zephyrus S15, the laptop may not be suitable for writers or people who have to use the keyboard a lot.
The ASUS ROG Zephyrus S15 costs around $3000.
---
8. Razer Blade 15 (Best Secure Laptop Under 2000)
The is the premium high-performance laptop from Razer that doesn't just offer great hardware but also an optimized screen for visual excellence.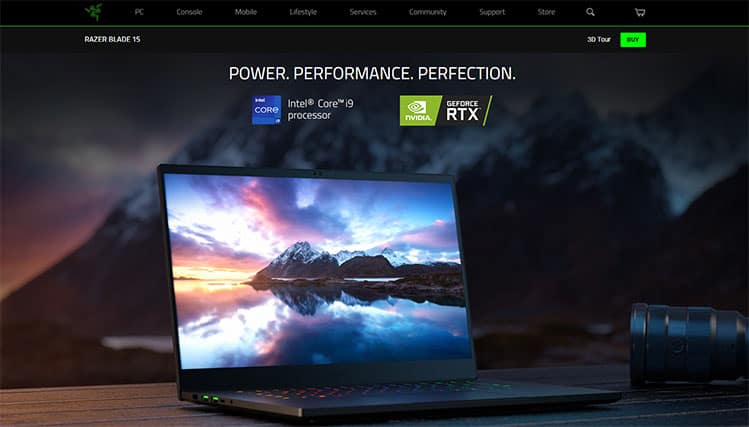 Starting with security, the Razer Blade 15 offers a programmable keyboard, enabled via Razer Synapse 3, fan control, backlighting, Windows Hello, an IR HD webcam, support for Intel Platform Trust Technology, Kensington Security Slot, and a sturdy chassis. The standard Razer Blade 15 configuration offers 16GB of RAM that users can upgrade to 32 GB. By default, users have access to 1TB of storage, which is upgradable to 2TB. With a bit of video streaming and other light-to-medium tasks, the Razer Blade 15 gives users a battery life of just over 5 hours on a 360 Hz display. With some optimizations, the Razer Blade 15 may reach close to 6 hours but nothing beyond.
Processor options for the Razer Blade 15 include multiple 12th-generation Intel H series units. The base configuration offers an Intel Core i7-12800H while a slightly more expensive version comes with an Intel Core i9 processor chip. The latest edition of Razer Blade 15 weighs about 4.4 pounds and is available in white and black.
With all its heavy-duty performance components, the Razer Blade 15 is clearly designed for gamers, streamers, video editors, and graphics renderers. The Razer Blade 15 starts at $1910 and based on the options chosen can go upwards of $3000.
---
9. Librem 14 by Purism
The by Purism is a road warrior of a laptop, whose main function is to offer privacy and safety to the owner's digital life. The most prominent security feature of the Librem 14 by Purism is the kill switch. This laptop comes with multiple kill switches that can disconnect components such as the mic, camera, Bluetooth, and WiFi physically in the sense that the computer can no longer detect the said component/s. Additionally, the Librem 14 also comes with the Librem Key and PureBoot along with the default setting of a disabled Intel Management engine. The Librem 14 also disables manufacturer backdoors along with blob firmware. With help from hardware switches, Librem also enables EC chips and write-protected BIOS. The Pureboot and Librem Key are used to detect any tampering with the hardware or software of the Librem 14 laptop. Librem 14 also offers anti-interdiction services. Because of such services, the Librem 14 ensures the product remains untampered even during the shipping period. Librem 14 by Purism also installs PureOS which is a Linux distribution with an extra focus on stability, security, and privacy. Some of the other security defaults that help users include HTTPS everywhere, anti-tracker software, ad-blockers, open source software, Librem Key and PureBoot integration services, as well as the ability to sandbox Flatpak and debs.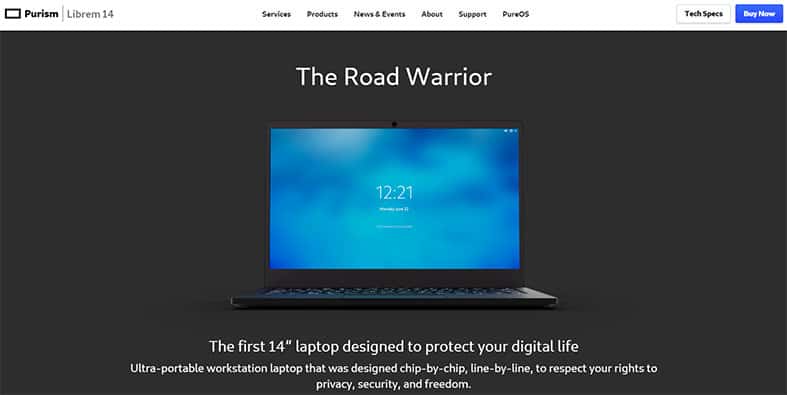 In terms of hardware specification, Librem 14 comes with 16 or 32 GB of DDR4 RAM that users can upgrade to 64 GB. The default storage capacity is 250 GB SSD which is upgradable to 4 TB. Depending on use, Librem 14 can offer a battery life that lasts close to 9 hours. The standard package comes with an Intel core i7 10710U which has 6 cores and 12 threads.
The Librem 14 weighs around 1.4 kg and is available in Black as the only color.
Without a doubt, the Librem 14 laptop by Purism is for users who want extra privacy and security. More specifically, professionals working in the fields of cybersecurity and digital journalism. Anyone looking to finish office tasks with added security should get the Librem 14 but this isn't for hardcore gaming or running software that requires proprietary drivers.
The starting price for the Librem 14 is $1100.
---
What is a Laptop?
A laptop is a computer that is portable and is able to offer everything that a traditional desktop computer does, but in a single, portable casing. Laptop computers are also different from other computing devices as laptops can run on rechargeable batteries installed within the laptop's casing. Unlike desktop computers, laptops can be easily transported to places such as coffee shops, airports, libraries and offices. A laptop may be physically smaller than a desktop computer but in terms of performance, many laptops today can perform to a very similar standard to the average desktop computer. Laptop computers support the same type of software applications, apps, and everything else that desktop computers do.
What Makes a Laptop Secure?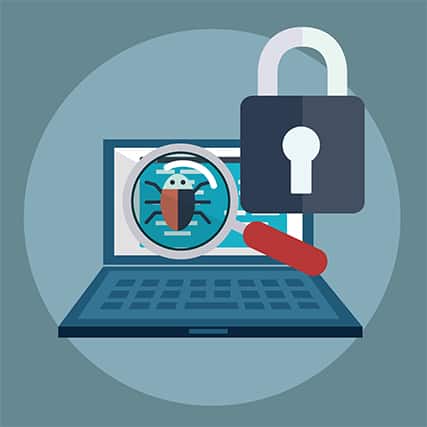 The features that make a laptop secure can be hardware-based or software-based. Software features include antivirus applications and secure boot applications, whereas hardware features include facial recognition ability, a fingerprint scanner, and a webcam kill switch or shutter.
This is important:
Generally, a laptop is considered secure if there are secure boot options available. Secure boot tools include all the mechanisms that a given secure laptop has to stop hackers from infecting a laptop while the laptop restarts. Both HP laptops and Apple MacBooks have some form of secure boot options to protect users.
Secure laptops usually also have facilities to encrypt laptop drives. MacBook devices were probably the first ones that started offering drive encryption for more security. Drive encryption keeps data safe even if hackers somehow steal data from the laptop. Laptops running the Windows operating system have manual facilities to encrypt specific storage drives. Later when there is a need to access encrypted data, users can provide a simple password.
A key software-based feature which brings significant security to laptops is pre-installed antivirus applications. In the case of laptops running Windows, all users get Windows Defender at the very least. Secure laptops from HP can sometimes come with a McAfee antivirus subscription which is equally effective against viruses and malware.
How to Choose a Secure Laptop?
The most basic question to answer when choosing a secure laptop is the question of necessity. Exactly how much security is required? And similarly, what is the nature of the data that needs protection? Having a clear idea of what type of data one will be storing on the new laptop can go a long way in selecting the right secure laptop. Researching as many secure laptop models as possible is a great way to choose a secure laptop that delivers on all promises. Moreover, a good way to choose a good secure laptop is to first try out a demo of the product. Many laptop sellers allow potential customers to demo laptops at display centers. To choose a secure laptop the potential owner should test out all the features and ask questions.
Pro Tip:
To choose the best secure laptop make sure the laptop model comes with the standard security features of facial recognition and a fingerprint scanner. The fingerprint scanner has become a vital feature for laptop security as fingerprint scanners enable biometric authentication which is considered more secure than a simple password. The facial recognition feature also helps secure authentication and some tests have shown facial recognition is better at securing a laptop than a fingerprint scanner.
Another feature to aim for when purchasing a secure laptop is a lock slot. The lock slot is used to secure user data in the case where a malicious actor physically tries to steal a laptop. The lock slot comes in the form of a small hole in the outer chassis of the laptop. The most popular version of the lock slot is the Kensington lock slot. With a Kensington lock slot, owners of a secure laptop can chain the laptop to a sturdy object like a desk or a cupboard using a cable. Similar to other types of physical locks, the Kensington lock slot can only be opened with a four-digit passcode.
Encryption is another feature that should be kept in mind when choosing a secure laptop. Technologies such as encryption make sensitive data unreadable to anyone who does not have the associated decryption key. Many secure laptops come with third-party software that offer encryption services such as Microsoft BitLocker. TPM, or Trusted Platform Module, is the chip that helps encrypt user data. The secure laptop's motherboard specifications can indicate if a given secure laptop supports TPM.
Finally, a smart card reader slot can also be considered an excellent feature for choosing a secure laptop. When features such as biometric authentication and/or password are not available, users can use a smart card to log in. A Smart card comes in the form of a physical security card. Once inserted into the laptop a pin is required to unlock it. Most smart card readers can communicate with the laptop via WiFi.
What Benefits Can a Secured Laptop Offer?
The benefits that secure laptops offer are given below:
Using a safe laptop, data will be encrypted.
Alerts regarding security.
Strong defense against Malware, Phishing, Trojan horses, Viruses, and other Threats.
1. Using a safe laptop, data will be encrypted.
Some secure laptops come with encryption software. When data is encrypted, no one can access the data except for the user who has the decryption key. The ability to encrypt data is the single most important security feature a secure laptop can have. Encryption protects against data theft and all types of cyber attacks. Almost all laptops allow users to set passwords for added security but the added benefit of security-focussed laptops is guaranteed protection via encryption.
Note:
Keep in mind that hackers, without enough resources, can compromise a laptop's login screen and can also, sometimes, steal the HDD physically. With encryption, the contents of any file and/or folder are obscured. Without the help of a supercomputer and other resources, no hacker group can break encryption and access the sensitive content stolen before.
2. Alerts regarding security
If there is something wrong with the security mechanisms of a laptop then a quick pop-up alert or notification is a great way to inform the user about the problem. The owner can then take prompt action depending on the severity of the security problem. Secure laptops usually come with software that can alert the user if too many apps have not been updated in a while or if a file is demonstrating suspicious behavior.
Outdated apps and operating systems are a huge security risk. Not to mention all the newly discovered cyber threats that can bypass applications that can't detect zero-day attacks. Secure laptops usually have systems in place to guard for zero-day attacks and any service that may require an action. More specifically, secure laptops offered by HP usually have McAfee pre-installed on the system which can greatly help with the issues mentioned above.
3. Strong defense against Malware, Phishing, Trojan horses, Viruses, and other Threats
Web security threats such as malware, phishing, trojan horses, viruses, and various other threats (including worms and ransomware) can break down a laptop fairly quickly if proper defenses are not put in place. Secure laptops have the benefit of protection against all cyber threats as most already come with a security application such as a VPN, antivirus, and firewall. Secure laptops that go a step beyond even change the default configurations to stop reboot attacks and hardware-based attacks. The most advanced secure laptops even disable certain management engines installed by manufacturers which might become problematic for certain users. Secure laptops also offer physical hardware-based kill switches to turn off features such as Bluetooth, WiFi, mic, and webcam which further protect against malware, phishing attacks, and viruses.
Why is Laptop Security Important?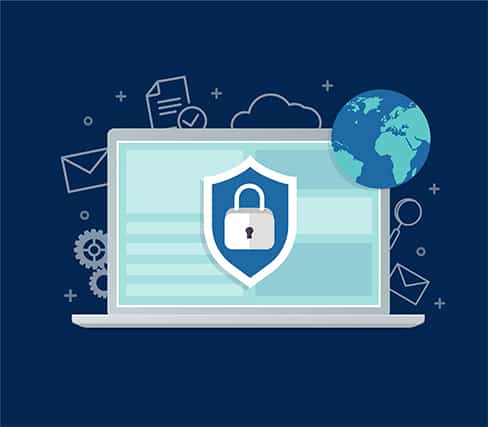 A laptop is simply a computer that is portable and has rechargeable batteries that enable full functionality, even without a power outlet. But similar to other devices, laptops have a connection to the internet.
Because the world is moving more towards digitization and cloud services with every passing year, the opportunities for causing harm via cyberattacks have become common. A recent study done by the Cybersecurity and Infrastructure Security Agency mentioned that almost 600,000 Facebook accounts get compromised every 24 hours. Computers now form a critical part of any organization, big or small, company, government department, or any entity in the services industry.
Laptops form a significant portion of devices that enable the whole online ecosystem to function, both on and offline on a daily basis. This is the number one reason why laptop security has become so important.
Another reason why laptop security has become important is data theft. Laptops now contain business documents, health records, and company secrets among other data. Such important data makes laptops an enticing target for hackers. If the owner of a laptop has not made proper arrangements to secure the laptop then using various cyber attacks, hackers can access private data and other assets, steal and sell on the dark web or use the data for blackmail.
Another critical reason why laptop security has become important is because of banking facilities. Physical banks may or may not serve a function in modern society but online banking services are definitely a necessity. With more users managing financial tasks via banking websites, apps, and services, laptops are responsible for a lot of online transactions. Hackers getting access to such devices can hurt the owner of the laptop financially in a significant way.
Other factors that have necessitated laptop security include an increase in remote work, online e-commerce, IoT devices, and the associated ecosystem and an increase in the number of identity thefts.
How can I Secure my Laptop?
The steps needed to secure a laptop are given below:
VPN
AntiVirus
Password Manager
Disc Encryption
Firewall
2FA on accounts
Webcam Cover
Use the most secure OS
1. VPN
VPNs are the most straightforward and simplest tools to increase laptop security. The great thing about modern VPNs is that users do not need to answer the question what is a VPN to benefit from a VPN service. VPNs enhance user privacy in places where there are unsecured Wifi networks such as airports and libraries. VPNs also block ISPs and government agencies from monitoring, recording, and selling user data.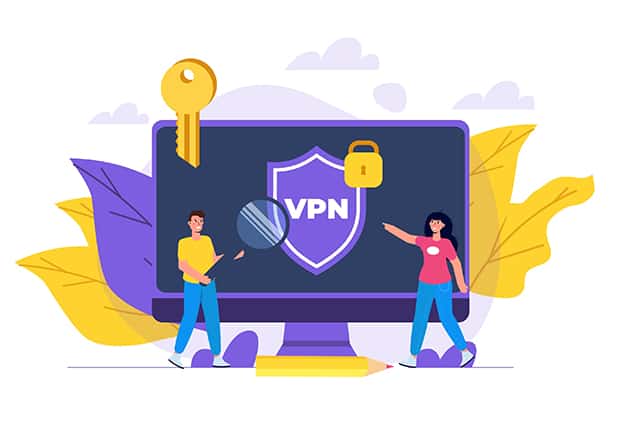 In order for VPNs to work, the app must be downloaded on the device that needs protection. The VPN then works by encrypting all of the user's traffic and sending it to its final destination via a secure and private tunnel. This arrangement stops cyber criminals from listening in on the user's activities online. Additionally, VPNs also ensure no tracking takes place by the VPN service itself by offering zero-log policies and a lengthy clear privacy policy.
Most modern VPNs come with a 30-day money-back guarantee so users do not have to take any risks while trying to secure a laptop via a VPN. Currently, the best VPNs to increase laptop security are NordVPN, ProtonVPN, Mullvad VPN, SurfShark VPN, and AtlasVPN.
2. AntiVirus
Antivirus tools are just regular software applications that protect devices from all cyber threats at all times. To increase laptop security, users should start with a free antivirus app and then move forward to premium antivirus products for added and more complete protection.
Laptops, old and new, need
antivirus
applications to prevent cyber threats such as malware, viruses, worms, and ransomware from infecting the device. Similar to VPNs, antivirus products add an additional layer of security to enhance the given system's defense and keep user data safe.
The antivirus products market has matured quite a bit more than the VPN market and hence there are antivirus companies that are a cut above the rest. The best antivirus products for increased protection against cyber threats usually offer additional components such as firewalls, secure browsers for online banking and medical record checking, vaults for sensitive information storage, and VPNs. With that criterion in mind, the best antivirus products are BitDefender, Trend Micro, Norton 360, and Avast. It is recommended to try out the free editions before purchasing an expensive all-around protection package.
3. Password Manager
Using complex passwords has become critically important in a world where data breaches happen on a monthly basis. Strong passwords are considered the best defense against unauthorized network instructions. The harder the pass is for the hacker to guess, the more secure the network/device is against cyber attacks. And there is no better way to generate an infinite supply of complex and lengthy passwords than by using a password manager.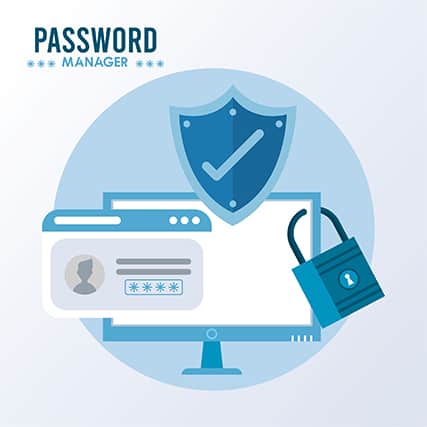 Modern password managers, just like VPNs and antivirus products, try to stay out of sight while performing critical functions behind the scenes. Password managers come with web extensions that automatically generate a strong password on any new site that requires an account. Password managers also store critical information for the user and supply the password amongst other information whenever there is a need automatically. The user doesn't have to do much to remember any passwords except for a master password to unlock the password manager.
Password manager
applications increase laptop security by removing the need to set the same password for multiple accounts (which is bad for security). The best password managers of today are BitWarden, LastPass, Dashlane, and Sticky Password.
4. Disc Encryption
Encrypting the network connection via a VPN is beneficial. But encrypting hardware takes laptop security to another level. When a laptop's hard drive is encrypted, hackers cannot access sensitive data, even if they gain access to the laptop. Encryption, in the context of disc encryption, means to change the data that is present on a given hard drive from plaintext to ciphertext. Once the encryption process is complete, the data becomes gibberish to anyone without the proper decryption key. Most encryption facilities for hard drives make use of complex algorithms and/or ciphers to make the entire physical disk unreadable.
Note:
A unique benefit of disc encryption is that even if the owner of the laptop loses access to the laptop (the laptop is lost, left somewhere, or gets stolen), the encrypted data remains safe from unauthorized access. Only the owner of the data has access to the decryption key.
As for the best encryption software programs, a lot depends on the operating system of the laptop in question. The vast majority of laptops run the Windows operating system and the best disc encryption application is BitLocker. For Mac users, FileVault is the most popular choice.
If a user encrypts data present on the disc, uses a VPN to connect to the internet, and encrypts any external portable USB drive, hackers won't be able to find a weak spot for a potential attack.
5. Firewall
Standalone firewall products are not as important as before. But users looking for that extra bit of security should use firewalls. To understand how firewalls enhance laptop security, one needs to understand how cyber threats work. Cyber threats such as Trojans and others have the ability to open ports on laptops. Then, the opened ports can be used to send data stolen from the laptop. A compromised port also allows hackers to discover vulnerabilities in the user's network connection. Once a vulnerability is found, hackers then search for the best cyberattack for the network and then launch an attack.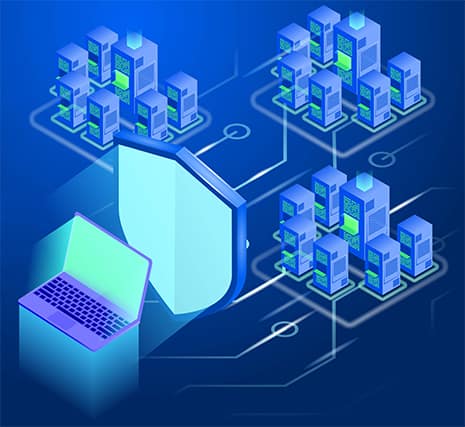 As mentioned before, the advancements in anti-malware and antivirus technologies and products have taken care of threats such as trojans and malware. However, all laptop users should still get a firewall product. Firewall products don't have to be separately purchased either.
For example, the best firewall products for people running Windows on laptops are Norton 360 Premium, Avast Premium Security, and Bitdefender Total Security. All three of the mentioned products are internet security suites rather than standalone firewall products and that's because these three are the best. Though not as essential as for Windows users, Mac users also need a firewall for taking control of app permissions and which app is able to connect to the internet and when. For Mac users, the best firewall options are Vallum, Murus, and Lulu. The Linux operating system also comes with a built-in firewall but is not very user-friendly and is restricted to only the laptop with the Linux operating system. For more options and wider control, the best Linux firewalls are OPNsense, pfSense, and IPFire. There are many best free firewall options as well but some don't offer enough customization tools.
6. 2FA on accounts
2FA or two-factor authentication adds an extra layer of security on top of a password. After setting a difficult password, depending on availability, the user should enable two-factor authentication which requires another method for verification to complete the sign-in process. Most of the time, the two-factor authentication comes in the form of a password and a passcode which is either sent to the user's email address or phone number. Some services allow users to confirm a message via an authenticator app downloadable via the Google Play Store or the App store.
Accounts protected via 2 FA only allow access when the user inputs the correct password and the associated passcode (via an authenticator app, SMS, call or email address) within the specified time frame.
Cybersecurity experts recommend that the best combination for 2-factor authentication is a password and a physical security key (that needs to be inserted into the laptop via USB A and/or USB C ports). This combination offers the maximum protection when compared to a text code or authentication apps. And the best physical security keys are Yubico Security Key, NitroKey, and Kensington VeriMark Guard Fingerprint Key.
7. Webcam Cover
There is nothing paranoid about covering the laptop's webcam. Hackers now have the technology available to use worms to compromise a target laptop's webcam. Even if there is a single outdated software on a system, hackers can exploit the weakness to access the device's webcam. Users can always stay up to date on all the latest patches and security fixes but hackers may still be able to get through via other means. The most straightforward solution to webcam hacking is to use a webcam cover. Webcam covers may not sound like a permanent fix but compared to other means of disabling and enabling the webcam (via software-based solutions or kill switches), webcam covers offer a cheap way to take full control of the device's webcam.
Webcam covers are small enough to attach permanently to a laptop's webcam. Once attached, the webcam cover physically blocks the laptop's camera lens. After that, no matter how much hackers try, the webcam can't give any content of value. When the user wants to use the webcam again for zoom meetings and other online activities, webcam covers offer a simple sliding mechanism to uncover the webcam and start video chatting.
Not all webcam covers are compatible with all laptops though and the price/quality ratio can differ a lot between different brands. The best webcam covers have durable adhesive but are easily removable, and support a wide range of laptops (some even support other devices such as phones, desktops, and tablets). The best webcam covers are Supcase Webcam Cover six-pack, Coolo Webcam Cover, Targus Spy Guard, and Trobing Webcam Cover.
Note:
Note that webcam covers are different to webcam stickers, which must be removed completely in order to use the camera.
8. Use the most secure OS
Online users tend to ignore the possibility of using a less-popular operating system for more laptop security. There is also a misconception that it is not possible or wise to use a different OS to the one the laptop came with. Of course, laptops support operating systems just like desktop computers. For enhancing the security of any laptop, users can opt for the most secure operating systems. The most secure operating systems may not keep out all cyber attacks but at least provide a basic line of protection against common threats.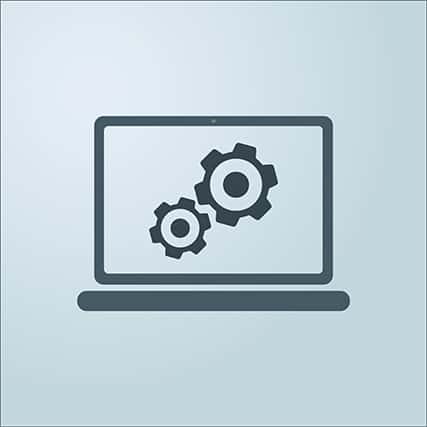 Yes, the Windows operating system is the most popular laptop operating system. But that doesn't mean moving away from Windows can't provide certain benefits. Microsoft has invested a lot of resources in the security department of the Windows system. Now the update schedule is regular enough to keep most cyber threats at bay. Microsoft Windows now comes with a default antivirus software system, a sandbox architecture, and a comprehensive firewall.
However, the main problem remains that Windows is the most popular operating system. Consequently, hackers have more interest in attacking the operating system with the largest user base. But just like cybersecurity professionals and individual users, hackers are also evolving to attack less popular platforms such as macOS X as well. Hence, the clear winner for the most secure OS is Linux. Linux is open source, has a vibrant tech community that continues to check the code for any possible backdoors, updates regularly, has better default administrator settings, and has a small user base which makes Linux unattractive for hackers to target.
In terms of rankings, Linux should be the top choice for a secure laptop over macOS or Windows. Within the Linux ecosystem, the best Linux distributions are MX Linux, Manjaro, and Mint.