W
ebsite builders are ready-to-use technologies that make website creation easy for people without prior coding knowledge. These website builders are adaptable, versatile and equipped with innovative features that simplify the process of maintaining a business's online presence. There are two kinds of website builders: offline and online. The former is a website design application that users can customize to construct a personal or company website; this demands more than a basic understanding of technical or coding concepts. Online website builders are more frequently referred to as content management systems and are widely available online.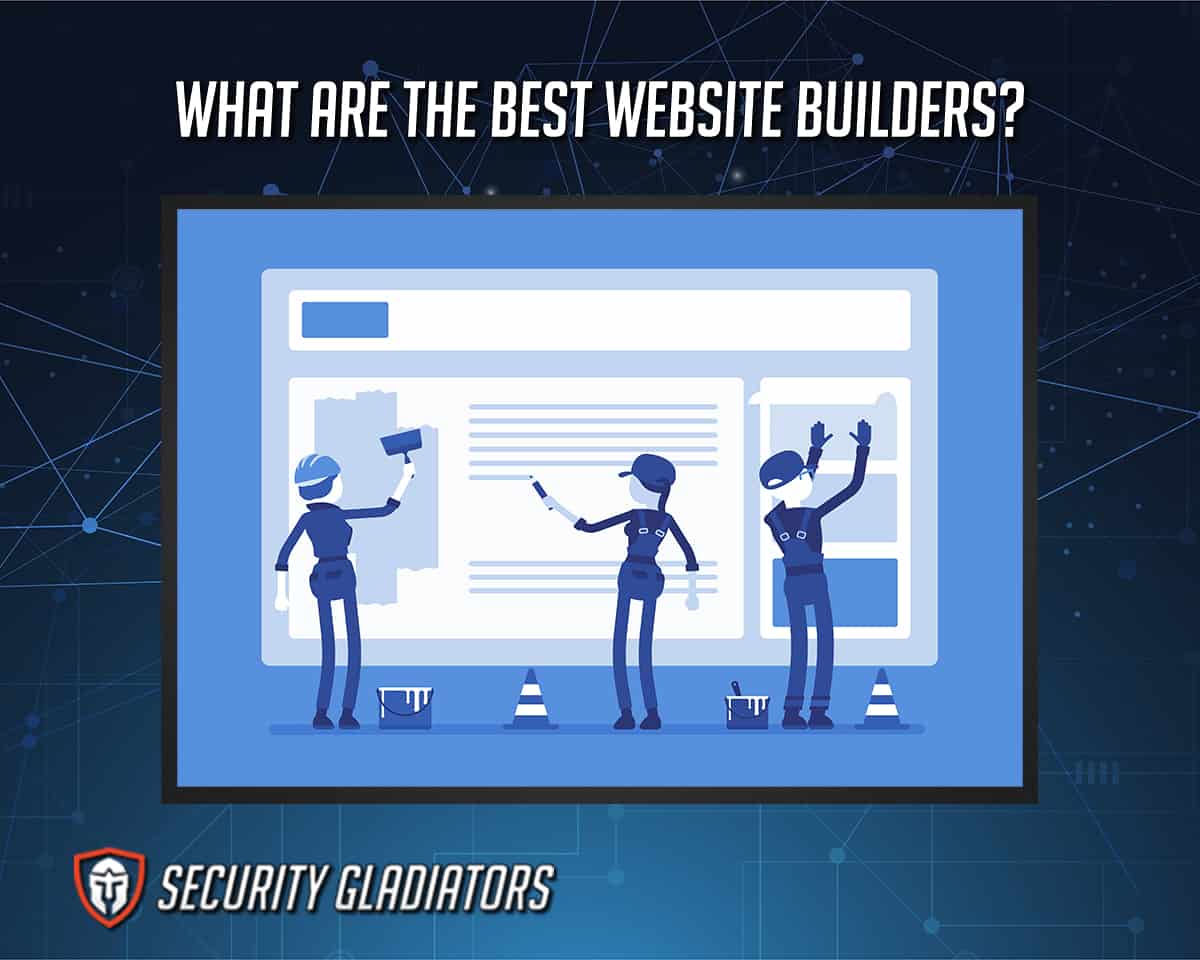 One of the advantages of website builders is that such tools enable businesses to have an impressive online presence without technical knowledge or coding. Other benefits include easy usage, premium 24/7 customer service, affordability and accessibility for people without coding skills. Most website builders have additional features that enhance the website's usability. SEO tools, analytics, business email, custom domains, templates, web hosting and a built-in editor are just a few of the features available.
There are numerous website builders available for users to experiment with. The best website builders on the market are listed below.
Weebly
Wix
Web.com
Duda
Squarespace
GoDaddy
BigCommerce
Gator
Zyro
Elementor for WordPress
1. Weebly
Weebly is a simple-to-use website builder for businesses. Businesses may easily customize this website builder to increase online visibility and brand recognition.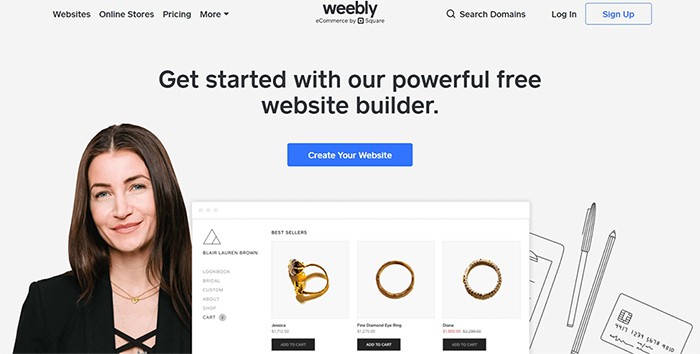 Weebly's advantages include ease of use, simplicity for beginners, a reasonable subscription plan, easy integration and add-ons, responsive themes, excellent website builders and mobile applications, and support. While this website builder is intuitive, there are several drawbacks, like a premium benefit, limited or unavailable functionality, Weebly advertisements on cheaper plans and limited configuration. Another significant problem is the geographical restriction of Square, Weebly's digital payment channel. Square is mostly available in the United States, the United Kingdom, Australia and Japan.
Weebly's unique features include the ability to create an online store and download site files for use on another host. Weebly also offers a free plan, boosting the tool's affordability. This website builder's strength is the ease with which users may implement digital marketing strategies.
Note:
Weebly is a safe platform that encrypts user data using Let's Encrypt. Additionally, users can secure any website by obtaining an SSL certificate. The website provides DDoS (distributed denial-of-service) attack prevention to mitigate cyber threats.
Weebly offers a tiered pricing structure so that users can choose between websites and online stores. The pricing ranges from free to $5, $12 and $25 for websites, and from $12, $25 and $38 for online businesses. Block International is the parent company of this website builder.
The simplicity of this website builder involves using drag and drop templates to build an appealing website from scratch. Users do not need coding experience to do this, but Weebly still provides a tutorial to assist users in completing the procedure.
---
2. Wix
Wix is a cost-effective and user-friendly professional website builder. Wix's 800-plus design templates make designing simple and enjoyable. Wix provides an eye-catching web platform for bloggers, small enterprises and other professional services.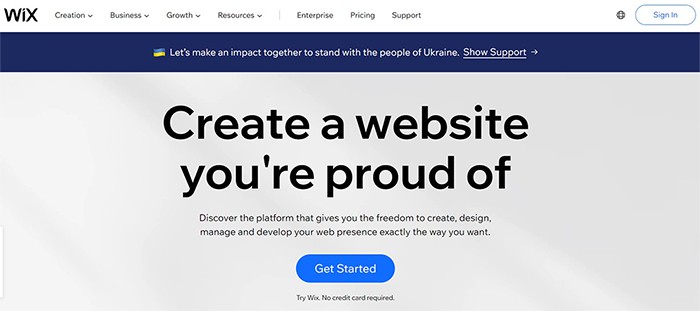 Wix's advantages include a free plan, over 800 modern template designs, app integration, 24/7 customer service, eCommerce functionality, ease of use, built-in analytics and SEO, the availability of AI-assisted site creation and a high level of customization. Despite the ease of use, Wix has certain drawbacks, including storage limitations, limited free plan capabilities, the inability to modify templates once a website is live, the requirement to pay for a custom domain name, an expensive ecommerce option and analytics requiring a premium plan.
Wix's distinctive features include secure web hosting, a logo creator, SEO tools, the Wix ADI for quick website creation, and a plethora of functionality and design flexibility.
This website builder's strong points include creating and scheduling social network posts, business administration, quick customer assistance and professional design templates.
Similarly, Wix is a secure website builder that, by default, enables HTTPS website building. SSL certificates are also used to validate the websites. Wix also uses robust encryption to safeguard users' data. While Wix offers a free plan, users can get more out of the premium options.
Pricing for this website builder covers both website and ecommerce plans. Website plans are available for $4.50, $8.50, $12.50 and $24.50, while business and ecommerce options are available for $17, $25 and $35. Avishai Abrahami, Nadav Abrahami and Giora Kaplan are the brains behind Wix.
As with other website builders, Wix is very customizable. Users have the option to select and customize a favorite template. Additionally, users can leverage the builder's AI to expedite web design. Then, after the website is complete, users can publish and analyze website performance using analytics.
---
3. Web.com
Web.com is a viable alternative and a complete do-it-yourself (DIY) website construction option. The website builder is user-friendly and appropriate for businesses of all sizes. Additionally, Web.com includes an ecommerce component and useful recommendations for creating an excellent website.
The benefits of this website builder include affordability, good ecommerce choices at an affordable price, a free hour of website design guidance, over 150 professionally designed templates, pre-made content sections, SEO tools and services, Google Workspace support and high security.
On the other hand, this pre-designed website builder's downsides include the lack of a free plan and a limited level of customization.
Simultaneously, Web.com offers a variety of unique features, including cost-effectiveness, increased website security, integrations and add-ons. Additionally, this website builder's strong points include web building features tailored to specific business needs, integrated website hosting, access to social media tools for ecommerce, Google AdWords credit, social media analytics, pay-per-click advertising and technical support.
Note:
Web.com also offers paid cybersecurity capabilities, such as risk management, identity protection, secure browsing, identity theft prevention and device monitoring. However, this website builder includes an SSL certificate with every website established on the platform by default.
The website builder's pricing structure includes a first-time fee of $1.95. Then, monthly hosting costs $5.95 for essential hosting, $7.95 for professional hosting and $9.95 for premium hosting. Web.com's parent company is Newfold Digital International.
Like many other website builders, Web.com is a drag-and-drop website builder. Users can select from various professionally designed templates and build a high-quality website from scratch.
---
4. Duda
Duda is one of the best website builders on the market and was created with web designers in mind. The website builder is a good choice for professionals who run more than one firm/service and require multiple websites. There is Duda for agencies, Duda for SaaS and Duda for hosts.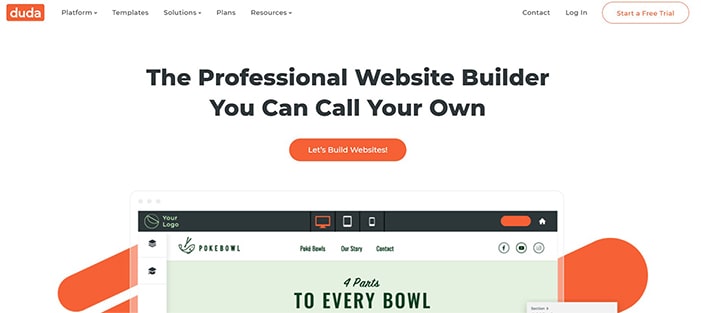 The advantages of using Duda include a high degree of customization, an intuitive editor, over 100 professional templates, data analytics, user customization, multilingual support, client management systems, website personalization, collaboration and a free ecommerce option. However, the downsides of using Duda include high-priced offerings and the absence of an API for lower-tier plans.
Duda's distinguishing characteristics include an intuitive content library, mobile customization, analytics, personalization and comprehensive SEO analytics. The website builder's additional strong points are the flexible mobile design, an infinite storage capacity and powerful collaboration tools.
The Duda website builder is a safe website hosted on Amazon Web Services (AWS), one of the most secure cloud computing platforms available. The servers used by this website builder are protected against viruses and intrusion detection systems. These safeguards are intended to prevent unwanted access to users' data.
The website builder provides monthly and annual payment choices. The pricing packages are as follows: "Basic" is $14, "Team" is $22, "Agency" is $33, and a custom pricing order is available upon request.
Itai Sadan is the brain behind Duda's website builder. Duda offers a range of features, which vary depending on the pricing plan. Users must select a pricing plan for a specific purpose and start customizing the platform for business-specific goals.
---
5. Squarespace
Squarespace is a popular website builder for small and medium-sized enterprises. Squarespace's website interface is attractive and features a drag-and-drop editor. Although the platform is equally user-friendly, beginners must comprehend the user interface to create a functional website.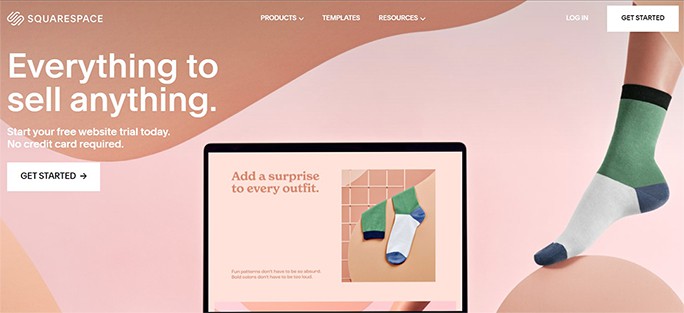 Squarespace's advantages include visually appealing and trending designs, a powerful picture editor, 24/7 customer service, blogging capabilities, an intuitive user interface and a responsive website editor.
On the other hand, Squarespace's downsides include high prices, limited customization options, limited SEO capabilities and the lack of a free plan.
Squarespace's distinctive features include support for accelerated mobile pages (AMP), website templates for various uses and the ability to speed up page load times by lowering picture sizes. Additionally, this website builder's strong points include bold and visually stunning websites and mobile-responsive websites. This website builder is secure and provides SSL certificates for each website.
Squarespace offers four different pricing tiers. The personal edition is priced at $14, the "Business" edition costs $23, the "Commerce" edition is $27 and the "Advanced Commerce" edition is priced at $49. Anthony Casalena is the founder and CEO of Squarespace.
Squarespace usage begins with a visit to the website to create an account and make a payment. Then, users can choose from over 100 templates and customize the templates to specific needs. By dragging and dropping, users can modify the colors, text, fonts and other elements.
---
6. GoDaddy
GoDaddy is a well-known web hosting provider that provides users with website creation tools. This website builder enables users to design websites from scratch or templates via a drag-and-drop feature.

GoDaddy's benefits include responsive templates, an easy-to-use interface, free marketing tools, free plans, an add-on, 24/7 customer service and integration support. However, the drawbacks of this website builder are the lack of SEO capabilities, the high cost, the absence of an app store and the risk attached to switching themes.
The unique features of GoDaddy include an SSL certificate with all plans, custom domains, 24/7 support, analytics and one year of business emails. The simplicity of use is another selling point. This website builder adheres to strict security standards. The GoDaddy Website Security software program monitors and protects users' websites against malware and other potential security breaches while maintaining the site's performance.
Users can take advantage of a free offer from GoDaddy. The pricing structure of this website builder is as follows: "Basic" ($9.99 per month), "Standard" ($14.99 per month), "Premium" ($19.99 per month) and "Ecommerce" ($24.99 per month). Robert Ralph "Bob" Parsons started GoDaddy in 1997.
Additionally, GoDaddy has an intuitive drag-and-drop website builder allowing users to design websites with a single click or drag. The website building process begins with the entry of critical information that will guide people through creating a personalized website in minutes. For beginners, this strategy simplifies the process of website construction.
---
7. BigCommerce
BigCommerce is one of the top website builders for businesses of all sizes, including B2B, wholesale and multinational enterprises. Most big corporations, including Toyota and Fitbit, use BigCommerce to build a strong online presence with a visually appealing interface and functionality.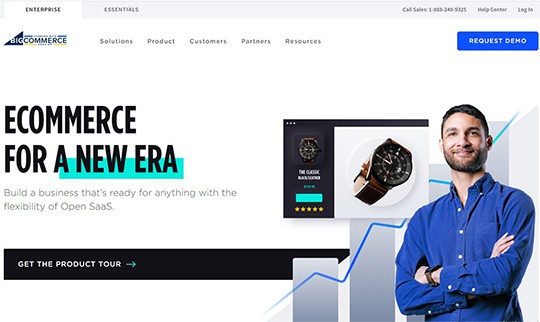 BigCommerce offers several benefits, including SEO tools, a plethora of features, ease of use, responsive templates, mobile optimization and a free trial. BigCommerce is well-known in the industry as a major ecommerce website builder. However, there are drawbacks: The negatives include not being suitable for startups with fewer than 15 pages, requiring some technical knowledge, overwhelming customization for beginners, a yearly sales upgrade, a non-flexible editor and difficult free templates.
BigCommerce's unique qualities include multichannel selling flexibility, standardized reporting features, a step-by-step guide for web design, suggestions and mobile accessibility. This website builder's strong points include excellent customer service, enough tools for business growth and product administration.
Note:
The BigCommerce website builder is a security-conscious platform. As a result, the platform is certified to Level 1, ISO/IEC 27001:2013 and PCI DSS 3.2. Other security mechanisms, such as file integrity scanners, intrusion detection and firewalls, are also in place.
The website builder provides a 15-day free trial. The paid plans are divided into four levels: the "Stand" plan, which costs $29.95, the "Plus" plan, which costs $79.95, the "Pro" plan, which costs $299.95, and the "Enterprise" plan, which has customized pricing. Eddie Machaalani and Mitchell Harper co-founded BigCommerce in 2009.
BigCommerce is best suited for large organizations that require robust web stores. The website builder is designed so that users can customize any template to business preferences.
---
8. Gator
Gator is a business solution that offers an easy-to-use, professional-looking website. The website builder is ideal for blogging, ecommerce, commercial websites and personal portfolios.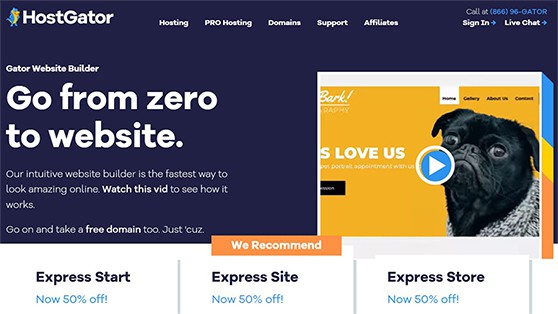 Gator's benefits include an easy-to-use platform, excellent page performance, appealing and professional templates, a reasonable starting price plan, 24/7 customer assistance and the ability to switch themes without losing data. However, the website builder's disadvantages include the absence of a free plan, a limited photo editor and the inability to schedule blog entries.
Gator's unique features include limitless storage, simple image editing, an online store, a Google Analytics integration and full ecommerce functionality. Similarly, pre-built portions, 24/7 customer assistance and a high uptime rate are also strong points of Gator. Gator recommends SiteLock's proactive security solution to guard against cyberattacks. SiteLock assists in detecting malware and other potential security risks on a website.
Gator offers three plans: "Express Start," "Express Site" and "Express Store," with $3.84, $5.99 or $9.22 upfront monthly fees. The company behind the Gator website builder is HostGator.
The Gator website builder is intent-driven since users can select a preferred template and create a website in a matter of minutes. Users can start by answering a few questions, selecting a logo, uploading photographs and customizing fonts, color and text, among other options. Then, users can launch the website after everything is in place.
---
9. Zyro
Zyro is a cost-effective professional website builder with modern and aesthetically pleasing themes suitable for any type of business. This website builder is reasonably priced.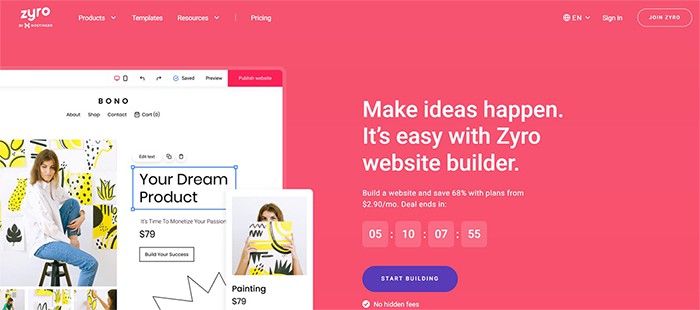 Zyro's benefits include a highly effective AI content generator, SEO tools, lightning-fast page speeds, a free domain, tracking visitor behavior, customizable templates and customer support. However, there are a few disadvantages, such as the lack of fundamental features and tools, design limitations and the lack of a free plan.
Zyro's unique features include an SEO engine that automatically generates product-specific content for users, free hosting, a 30-day money-back guarantee and discount offers. Zyro's strength is the functionality enabling users to create content that ranks for relevant keywords. Zyro is a secure website creation platform, as the platform's plans include an SSL certificate.
Users can choose from one of four website builder plans provided on Zyro's website. Zyro currently offers discounts on the regular prices, including "Website" at $2.61 monthly, "Business" at $4.41 monthly, "Online Store" at $8.01 monthly and "Advanced Store" at $14.31 monthly. Hostinger is Zyro's parent firm.
Zyro is a drag-and-drop website builder that comes pre-loaded with professional layouts. Users can select from various templates and customize the templates as desired.
---
10. Elementor for WordPress
Elementor is the best website builder for WordPress, allowing users to create eye-catching websites quickly. This is another website builder that requires no coding knowledge.
The advantages of this WordPress website builder include highly responsive designs, fast-loading websites, 24/7 customer support, easily customizable professional templates, an easy-to-use interface, a free plan, community support, affordability, dynamic content, and extensive integration with plugins and themes.
While many people choose this open-source software for developing WordPress, there are numerous drawbacks. The drawbacks include a slow website experience with Elementor and a need for development in the SEO tools.
Elementor is unique in that the tool simplifies creating websites for businesses by providing easy-to-use professional templates for any business type. Additionally, the website builder includes a drag-and-drop live editor and a library of over 300 design themes. Elementor's strength is the ability to create an attractive website using high-quality templates without requiring any coding skills. Additionally, the website builder provides a 30-day money-back guarantee.
Note:
The Elementor website builder is ISO 27001 certified and supported by security professionals for greater security. However, Elementor website builders may be subject to cyberattacks. To avoid security threats, users must verify that each website created includes an SSL certificate.
Elementor is a cloud-based website builder with accompanying plugins. The cloud website is available for $99 per year. The plugins come in four different subscription plans: "Essential" for $49, "Expert" for $199, "Studio" for $499 and "Agency" for $999 per year.
The Elementor editor is a more advanced version of the standard WordPress editor. With Elementor, users can quickly design any website.
---
Which Website Builder is Easiest to Use?
The majority of the website builders mentioned above are easy to use. However, a user's technical knowledge may also play a role in determining how simple a website builder is to use. Another consideration is the purpose for which the device is being used.

In addition to the factors above, an easy-to-use website builder features an intuitive interface, flexible layouts and a variety of business-specific templates. Among the features are tutorials on website creation, SEO tools and analytics, a beginner-friendly interface for all levels of users and a time-saving web-building experience.
How Much Time Do You Need to Invest in Building a Website?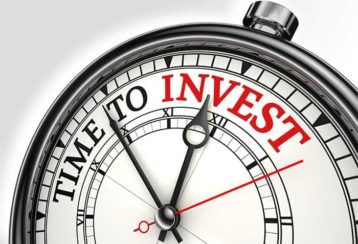 Developing a website from the ground up using coding might take months. In comparison, building a website using a website builder may take a few hours, a week or two weeks. However, other factors affect how quickly a website is completed. The complexity of the website, the site's functionalities and the project's plans are all factors to consider.
Do Website Builders Help with Time Management?
Yes, website builders help with time management. One of the primary benefits of using a website builder is to avoid a lengthy coding period. The templates are critical elements that allow users to customize the websites swiftly. Additionally, several website builders incorporate artificial intelligence to assist users in rapidly creating a website.
What Features do Website Builders Let You Add to Your Site?
Website builders include a variety of intriguing and adjustable features. One of the important features is themes, a set of pre-designed templates businesses use to design and represent unique brands. Users may rapidly create an attractive website using these themes. Various themes are available, each with a unique set of characteristics. However, users must select the ideal theme for the brand.

Additionally, extensions or plugins are significant features. Users can utilize add-ons to enhance the functionality of the newly constructed websites. SEO tools, Google Workspace, Google Analytics, Joomla and SEMRush are just a few examples of add-ons.
Is the Theme of the Website Important for Choosing Website Building Tools?
Yes, a theme is necessary when using website builders to create a website. A theme is the appearance of a website and what visitors see when visiting a website. However, visitors will abandon the site if the theme is unappealing or if users cannot locate essential information quickly. Additionally, a website with an unintuitive theme may have a negative impact on the conversion rate.
Pro Tip:
Selecting a heavy theme may slow down the page load time, eventually damaging the website's indexation by search engines. However, users must select a theme that is basic, mobile-friendly, appealing, responsive, quick to load and cross-browser compatible.
Similarly, users will require extensions or add-ons to customize a theme's design and functionality.
Are Website Builders Compatible with all Web Hosting Services?
Yes, most website builders provide web hosting services, which allow users to store any data securely. Because website builders provide users with the tools to create from pre-designed templates, web builders also provide a space on the internet to showcase content. As a result, every activity is hosted on the servers of the website builders.
Furthermore, a site builder that provides web hosting services enables organizations to provide a high-quality service online while improving performance and security. People who understand the importance of good web hosting choose the best web hosting services to store website files and make content available to users worldwide.