W
Web hosting is a service that allows websites on the internet to make content easily accessible to visitors. Every organization with an online presence needs web hosting for storage, security, and accessibility. Web hosting essentially refers to a specific virtual location where website files are housed.
Aside from online storage, the benefits of a reputable web hosting service are significant. Web hosting benefits include improved site performance, technical support, file management, security, adequate bandwidth, etc. The primary goal of web hosting is to make websites available to searchers. However, every online brand aiming to provide an exceptional user experience must choose a suitable web hosting service. Web hosting also enhances the website's response time, which can help index web pages.
Web hosting is a vital business approach for providing an exceptional online user experience. With the tools offered, web hosting also boosts website traffic and security. Web hosting services are available in a variety of forms. This article focuses on carefully selected and researched web hosting programs tailored to business growth.
The best web hosting services for 2023 are listed below.
SiteGround
GoDaddy Web Hosting
DreamHost
Ionos
GreenGeeks
InMotion Web Hosting
HostGator Web Hosting
Bluehost Web Hosting
AccuWeb Hosting
A2 Web Hosting
1. SiteGround
SiteGround is a WordPress-recommended web hosting service trusted by over 2 million domains. SiteGround supports both web building with WordPress and web transfer from WordPress. SiteGround also offers cloud hosting, Woocommerce hosting, email hosting, shared hosting, and domain registration.
Using SiteGround is relatively straightforward with quick server setup, high reliability, high-end security, speedy websites, compatibility with WordPress, web building capacity, excellent customer support, and a money-back guarantee. Despite the many advantages, SiteGround has a few distinct flaws. These include limited storage for shared hosting plans, the lack of a free subscription plan, and high subscription and renewal prices.
The unique features of SiteGround include compatibility with WordPress, affiliate hosting opportunities, a free SSL security certificate, and unlimited emails. Also, the strong sides include the highly dedicated support for the WordPress site, daily backups, automatic upgrades, and the 30-days money-back guarantee.
SiteGround, as a dedicated web hosting provider, maintains high-security standards. Strong IDS/IPS systems are in place at the web hosting provider to thwart harmful bots and serve as intrusion detection and prevention systems. ModSecurity is installed on all shared servers, and SiteGround guarantees that security rules are updated regularly.
SiteGround web hosting is priced in three tiers: StartUp is $3.99 per month, GrowBig is $6.69 per month, and GoGeek is $10.69 per month. TIvo Tzenov owns SiteGround. Users have the option to choose a hosting type and price bracket, as well as the preferred data center to host their website(s). SiteGround web hosting works as a virtual location providing shared hosting, cloud hosting, enterprise solutions, email hosting, and domain registration. With a reasonable price tag, web hosting makes hosting accessible to anyone.
---
2. GoDaddy Web Hosting
GoDaddy's web hosting service is a popular and cost-effective option for businesses, providing web design services with a wide range of options. The advantages of the GoDaddy hosting service include great usability, helpful guidance during set-up, fast loading times, excellent page speeds, multiple data centers, free features – such as webmail and a domain – and 24/7 customer support. The disadvantages of GoDaddy Web Hosting include limited basic plan features, increased prices at renewal, in-app purchases for extra features, and site limitations on all plans.
The unique features of the GoDaddy web hosting service include a 30-day money-back guarantee, customer support, one-click domain name setup, an easy-to-use navigation bar, and server centers with global coverage. Additionally, the strong sides of this web hosting service include security against DDoS attacks, a 99% service uptime guarantee, a special Linux plan and features, and one-click purchase.
GoDaddy Web Hosting is safe and secure, protecting its users' data from cyber-attacks. By acquiring an SSL certificate, users can also enhance website security. GoDaddy's pricing is divided into four tiers, enabling users to select a plan that provides high quality. Economy costs £3.99 per month, Deluxe £4.99 per month, Ultimate £7.99 per month, and a Maximum of £9.99 per month for a three-year subscription. Bob Parsons founded this outstanding web hosting business.
This web hosting service is tailored to the needs of its subscribers. Users can choose from various plans to find one that meets their business needs. Some plans cater to high-traffic websites. Users can select between shared and dedicated hosting options and with one-click purchase options, users may also pay for extra features.
GoDaddy is a user-friendly, dependable, and quick web hosting solution for beginners. On all plans, GoDaddy includes a free domain and a web building component. Users must, however, select a site type and industry type before creating a website on GoDaddy. GoDaddy might launch a website within 24 to 48 hours of completing the setup.
---
3. DreamHost
DreamHost is one of the most user-friendly web hosting services available for various companies. Shared, dedicated, and cloud web hosting solutions are available through this service. Users can also effortlessly switch to DreamHost without disrupting the current site.
The main advantage of DreamHost is that it is a fast and reliable service. DreamHost also includes various features, is relatively easy to use, provides email hosting, Google workspace, an easy-to-understand control panel, and flexible hosting for various enterprises. The disadvantages of using DreamHost include the extra cost of some features, limited customer support, and a lack of email hosting on the shared plan.
However, the unique features of DreamHost include security features such as 2FA, sFTP, its open-source nature, and 100% uptime guarantee. The strong sides of DreamHost are migration compatibility and WordPress support.
Note:
DreamHost has security engineers known as Nightmare Labs to assure uncompromised security as a security-conscious service. DreamHost also offers security services such as free domain privacy, malware cleanup, Let's Encrypt, HTTP/2, etc.
The DreamHost pricing plan comes in three forms: Shared (starter) for $2.95 per month, DreamPress for $16.95 per month, and VPS (1GB Basic) for $13.75 per month. New Dream Network, LLC is the firm behind this hosting web service.
Like other web hosting services, users can choose a preferred hosting plan. Users can also purchase extra features to have a full-package experience of the service. With various hosting kinds and plans, DreamHost serves as a web hosting platform for various enterprises, including blogs, portfolios, personal/business websites, and other websites. In addition to being transparent, the service is also friendly to the environment. When using DreamHost, it is possible to transfer existing registrations and point the DNS servers to DreamHost.
---
4. Ionos
Ionos, formerly known as 1&1 IONOS and 1&1 Internet, is one of the best affordable web hosting services with numerous features. The service offers domains, hosting, and cloud computing. Ionos has a consistent reputation of 25+ years with 90000 servers. Also, Ionos has robust privacy and security, enabling users to trust and rely on the web hosting service.
The advantages of using Ionos include a user-friendly interface, SSL security for all plans, exceptional uptime, 24/7 customer service, a 30-day money-back guarantee, a free domain for all plans, and affordability. On the other hand, the drawbacks include the lack of free website migration, registration restrictions in some regions, and a hefty renewal price.
The unique features of Ionos are provision for support for agencies and resellers, quick and scalable performance, good page speeds, web building facilities, continuous backups, DDoS protection, and cutting-edge technology. Also, the strong sides include hosting packages for all business types, great plugins, and users' guides.
Ionos is a secure web hosting provider that provides free SSL certificates to all users. DDoS protection is also included in the service, protecting against incoming attacks. Malware protection and site scans are also available to protect users' websites from cyber threats and infiltration.
Ionos offers three affordable hosting plans, each including a 12-month starter discount. The essential plan costs $4 per month, Business costs $5 per month, and Expert costs $8 per month. These prices do increase after renewal though, when the 12-month starter discount expires. United Internet is the firm in charge of this web hosting service.
The primary goal of using the Ionos web hosting service is to make web pages accessible to online searchers. Ionos, on the other hand, allows users to register a domain and then use the hosting provider's server as a content accessibility channel. As a result, getting started with using Ionos is a simple and easy process.
---
5. GreenGeeks
GreenGeeks is a reputable and environmentally friendly web hosting provider that offers various hosting alternatives. With data centers in Chicago, Phoenix, Toronto, Montreal, and Amsterdam, the business provides WordPress, Shared, Reseller, and VPS hosting.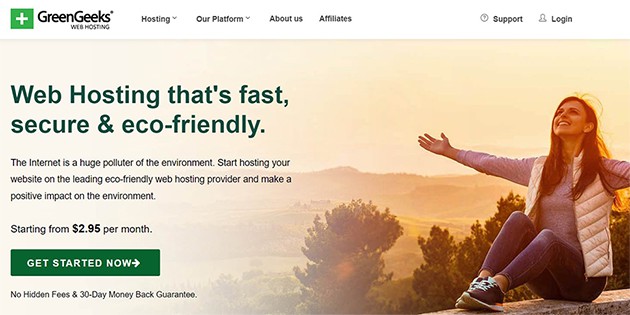 The advantages of using GreenGeeks include environmental friendliness, good customer support, free SSL and backups, reliable security, free site-building, a 30-day money-back guarantee, and unlimited features. Likewise, there are some disadvantages attached to using this eco-friendly hosting service. These include limited availability of phone support, no Windows server hosting, expensive dedicated and VPS hosting, and long-term subscription plans.
The unique features of GreenGeeks are automatic backups, free site migration, maximization of natural resources, built-in flexibility, top quality speed technologies (LiteSpeed, LSCache, MariaDB, HTTP/2, PHP7), free CDN, and SSD storage for speedy loading. The strong sides of this service include renewable energy usage to maximize resources, 99.9% uptime, business-class data centers, and a lightning-fast web hosting service.
Note:
GreenGeeks is a super-secure eco-friendly website solution. The service offers sophisticated security with a free SSL certificate, DDoS protection, malware detection, etc.
GreenGeeks offer three web hosting pricing options: Lite at $2.95 monthly, Pro at $5.95 monthly, and Premium at $10.95 monthly. Trey Gardner, an IT expert from California, owns GreenGeeks.
GreenGeeks is a secure, fast, and ecologically friendly platform. Web, WordPress, VPS, and Reseller hosting are available with this service.
GreenGeeks is an environmentally friendly platform that focuses on speed, scalability, and security. GreenGeeks provides users with a large enough virtual storage space for all website files. To use GreenGeeks, select from one of the subscription plans and download the necessary files and extensions.
---
6. InMotion Web Hosting
InMotion is a secured web hosting provider that is reliable with an exceptional money-back guarantee policy. This service is available as Shared, WordPress, VPS, and Dedicated hosting. Users can choose suitable plans that cater to the business needs.
The advantages of this service include a 90-day money-back guarantee, fast web loading time, wordPress web building, a free domain, SSL certificates for all plans, free website migration, great customer support, and well-structured price plans. The notable disadvantages are the fact that servers are only available in the US, extra payments are required on backups, and the lack of a monthly plan.
The unique features of InMotion Web hosting are flexible pricing, strong security, reliable web server solutions, US-based customer support, eCommerce web hosting, and unlimited bandwidth. The fact that users can get refunds for 30 to 90 days is one of InMotion's strong points. However, there is no refund on addons.
InMotion makes website security available to all users with the free SSL certificate. The service also ensures server security and reliability. Users can choose from four tiers based on the business or website needs. There is no monthly plan available though; only the 1, 2, and 3-year plans.
For the 2-year plan, the Shared hosting starts at $2.99 monthly, WordPress hosting at $3.99 monthly, VPS hosting at $19.99 monthly, and Dedicated hosting at $139.99 monthly. The owner of Inmotion web Hosting is Sunil Saxena.
InMotion web hosting offers web hosting for different kinds of businesses globally. This service offers more than just data storage and works by maintaining a stable and secure functioning system for the web. Also, with the available pricing options, more useful features are available with easy maintenance and access by online users.
---
7. HostGator Web Hosting
HostGator offers beginner-friendly web hosting for businesses of all sizes. The service is cost-effective, with over 2.5 million websites managed globally. HostGator offers a variety of website hosting services and a 99.9% uptime guarantee, simple WordPress installs, and a one-year free domain. Shared, Website builder, WordPress, VPS, and Dedicated hosting are all available with HostGator.
The advantages of using HostGator include easy usability, a money-back guarantee, 24/7 customer support, affordability, free site transfer, a free domain, one-click app integration, and unlimited bandwidth. The disadvantages include additional add-on costs, higher renewal costs, servers only available in the US, and extra fee for backups.
Nevertheless, HostGator exhibits amazing unique features such as user guides in live chat, phone calls, social media chat on Twitter, the knowledge base, and blogs with helpful articles. The service also offers a 45-day money-back guarantee, eCommerce tools, $150 Google ads, and data safety. Also, the strong sides of using HostGator are the user-friendly design and amazing features.
HostGator offers free SSL certificates and server-level firewalls on all plans. The web hosting service also offers additional security at an extra fee. HostGator partners with SiteLock for an extra layer of security to protect users from any form of cyber threat. However, users need to sign up for $5.99 monthly.
This flexible web hosting offers three pricing levels: Hatchling, Baby, and Business plans, at an introductory offer of $2.75, $3.50, and $5.25 monthly, respectively. Newfold Digital is the firm that owns the HostGator web hosting service.
HostGator works by providing users with adequate file storage, excellent uptime, data centers, domain registration, security, and other features. These features are standard across the board for all web hosting packages. As a result, users can choose pricing plans with additional features to get the most out of HostGator Web Hosting.
---
8. Bluehost Web Hosting
Bluehost web hosting is one of the most effective, cost-effective, and dependable web hosting services available for online business. Bluehost provides dedicated, shared, and virtual private server (VPS) hosting. The web hosting service is based in the United States and offers various hosting-related services, including domain names and dedicated servers.
The advantages of using Bluehost include excellent security features, high-performing servers, ease of use, free SSL, unlimited storage, top quality themes and plugins, 24/7 support, and a customizable cPanel Interface. The disadvantages of Bluehost are the fact it has only one data center, the lack of an uptime guarantee, frequent adverts, starter plan limitations, and insufficient backup options.
The unique features of Bluehost include easy website creation, a domain manager, adequate security, SSL certificates for all plans, and Google ads. Likewise, the strong sides of the web hosting service include eCommerce hosting, unlimited bandwidth, and a website builder option for all plans.
Bluehost servers are secure with built-in security features. Also, the service offers free SSL certificates and dedicated IP addresses to protect every custom domain and subdomain with HTTPS. Users can also optimize security levels by regularly scanning websites for malware or possible threats.
Bluehost has various hosting plans, each with a different price. Monthly fees for shared hosting are $4.95, VPS is $19.95, and dedicated hosting is $79.99. Users can, however, select various packages and a longer duration plan for each of the hosting options to save money and gain access to more features. The Endurance International Group owns Bluehost.
Every website needs a reliable hosting service to operate effectively online. As a result, Bluehost stands in the gap between website owners and online searchers. BlueHost works by offering several different packages to choose from. After visiting the Bluehost website, users must create a hosting account and determine what type of hosting will work best for the site. Then after setup, users can relax to enjoy a fast loading and easily accessible website with high performance.
---
9. AccuWeb Hosting
Accuweb hosting is a superb web hosting provider that offers a large range of features, outstanding customer care, and reliable backups on all plans. The service is both inexpensive and simple to use. Web, WordPress, VPS, Forex VPS, Windows, Linux, and cloud hosting are all available through AccuWeb.
The advantages of using AccuWeb hosting include daily backups, free site hosting migration, support for Windows and Linux OS, affordability, rapid and prompt customer service, trustworthy data centers, and a reliable and dedicated IP. The drawbacks of using AccuWeb hosting, on the other hand, include offers that may be confusing to beginners, the inability of the cheapest plan to handle significant data traffic, and the lack of a monthly plan for shared hosting.
AccuWeb hosting stands out for its diverse hosting options, extensive features, excellent customer service, 99.9% uptime, 7-second chat, and 11-minute ticket response times. Strong points are additional features such as a business email account, an unlimited domain, interoperability with key platforms, a money-back guarantee, and additional technological features.
Note:
AccuWeb is a fantastic hosting platform that addresses all website owner's primary concerns. AccuWeb comes with a slew of security features to keep users safe online. The service includes security patching, a server firewall, an antivirus, and frequent site audits on all plans.
AccuWeb provides scalable shared web hosting with the option of SSD or cloud storage for a three-year beginning package. Personal SSD storage costs $5.49 per month, Small Business costs $7.49 per month, and Enterprise costs $12.49 per month. Personal cloud storage costs $6.49 per month, Business cloud costs $14.49 per month, and Enterprise cloud costs $20.49 per month. AccuWeb is a web hosting service of Vaghasia Group of Companies.
AccuWeb, like other web hosting services, is based on the preferences of its users. Users can choose a suitable package from the AccuWeb website as it is versatile enough to satisfy major business demands. Users' websites can benefit from using a sturdy and trustworthy web hosting service after registration and setup.
---
10. A2 Web Hosting
A2 web hosting is a unique website solution that boasts 20x website speed performance. The service strives to help website owners beat the competition with higher index and ranking rate on search engines. A2 web hosting offers shared web hosting, WordPress, VPS, Dedicated, Reseller hosting, and domain management and registration.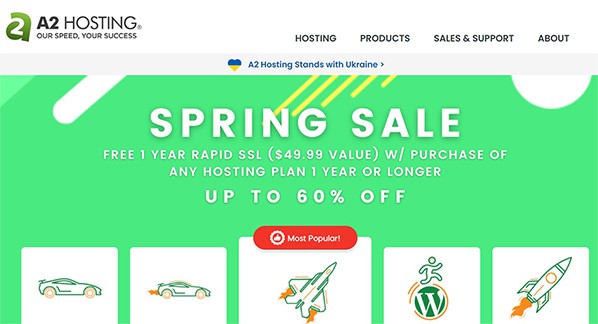 The advantages of using A2 web hosting include lightning fast page loading speeds, 99.9% uptime, free site migration, an A2 web builder, user friendliness, technical expert support, a money-back guarantee, websites with better SEO ranking, improved security, and easy integration with content management systems (CMS) and developer's tools.
Some of the disadvantages of this web hosting service include the need to pay for a domain name, expensive renewal prices, significant limitations on the cheapest plans, and limited data centers.
The unique features of A2 include high speed loads, responsive customer support, environmental friendliness, a money-back guarantee, WordPress hosting, and maximum security. Similarly, the web hosting service has several strong aspects that are primarily concerned with business performance, such as security and fast websites.
A2 web hosting places a high importance on security and offers all of the necessary security solutions to its customers. Every package comes with a free SSL certificate. Not only that, but A2 has some security safeguards in place to counteract any potential cyber threats. HackScan, KernelCare, DDoS protection, a dual hosting firewall, brute force defense, virus scanning, and other security features are always available.
A2 web hosting has four distinct shared web hosting plans to choose from. Startup is $10.99 per month, Drive is $12.99, Turbo boost is $15.99, and Turbo max is $22.09 per month for shared site hosting. Users can, however, opt for a 12- or 36-month bundle to save money. Bryan Muthig owns A2 Hosting, which is an independent firm.
A2 web hosting is a fantastic hosting service that is dedicated to ensuring the success of its customers. A free CDN, solid-state drives (SSDs), and other features are included in the service. It is also possible to select a preferred data center for the optimal web visitor service.
---
How does a Web Hosting Service Work?
Web hosting services are an essential component of a successful website. Web hosts ensure that the users' files are properly and securely stored on the web server and function to enable web visitors to view web pages quickly and smoothly.
In this instance, when visitors type a web URL into any web browser, the web page appears instantly. In addition, when using any browser to view business websites, the user's computer connects to the website's host server to make requests. The server then transfers the requested file to the web visitor's browser, stored in a host's data center.
All websites require a reliable hosting service to function adequately. Websites may become unreachable without a web hosting service with proper maintenance, storage, and security. Businesses also lose visitors due to poor web experiences, resulting in low conversion rates. Web hosting services aim to make website content easily accessible to all users.
What are the Types of Web Hosting?
There are different types of web hostings offered by the best web hosting services. The types of web hosting services are listed below.
Wordpress hosting
Shared hosting
VPS (virtual private server) hosting
Dedicated hosting
Cloud hosting
Reseller hosting
Which Web Hosting is the Best for Beginners?
For beginners, the best web hosting services have a user-friendly design, quick customer service, modest functionality, a simple pricing plan, user instructions, and other adaptable features. Most of the best web hosting services listed above are user-friendly and have a simple interface.
Advanced or difficult features are not required for beginners. Beginner-friendly web hosting services must provide lightning-fast speeds and a quick response team, and other important features.
Can You Have a Website without Web Hosting?
Yes, it is possible for websites to exist and function without web hosting, however, online searchers will not be able to access the website. For every live website on the internet, web hosting is important because web hosting is one of the crucial factors that determine user experience.
Note:
Alternatively, users can use a PC instead of a web server. However, this strategy may be ineffective because there will be no domain name, and the website may not always be online.
What is the Difference between Web Hosting and Web Building Services?
Web hosting is a virtual place where all website content and files are stored for quick internet access by visitors. A website building service involves the creation of websites using pre-designed templates. A website builder provides all of the tools and materials needed to create a website without the requirement for HTML, JS, CSS, or other technical experience. Once the website has been successfully created, the website owner needs to make the website available on the internet.

As a result, web builders will need web hosting service to make a created website available to users online. Some of the best web builders also offer web hosting services which enables users to publish websites on the internet. Likewise, some web host services offer web building features as an extra service.
Finally, every website needs web hosting after building to become live on the internet.