W
atching movies online can provide a convenient and cost-effective way to access film content. There are a number of free applications available for users to explore, each with its own unique features and advantages. This article will discuss the best free movie apps to watch movies online. It will also explore the different ways in which these apps can be used safely and securely while still delivering quality viewing experiences. By understanding the various features and strengths of the different services available, viewers should be able to make an informed decision about which app best suits their needs.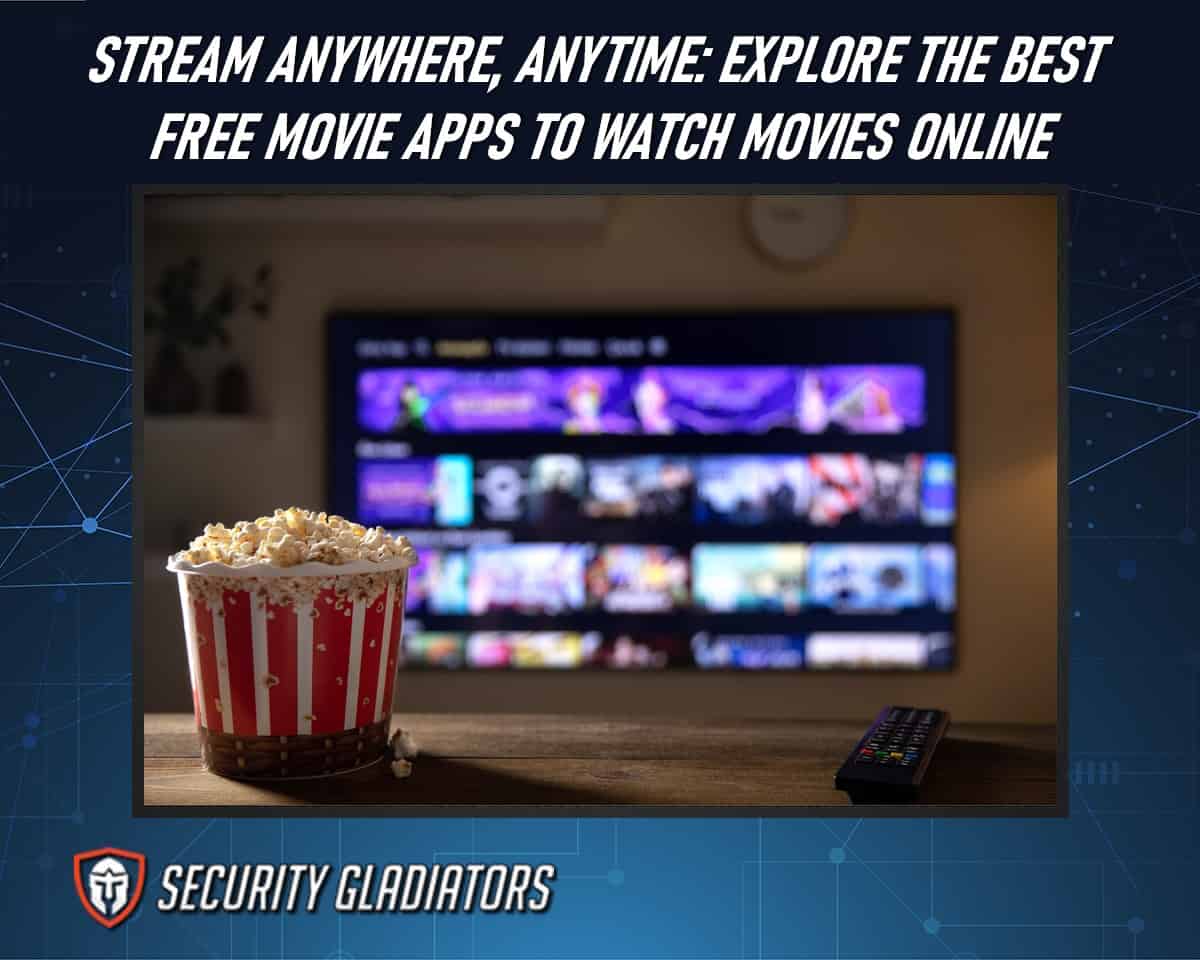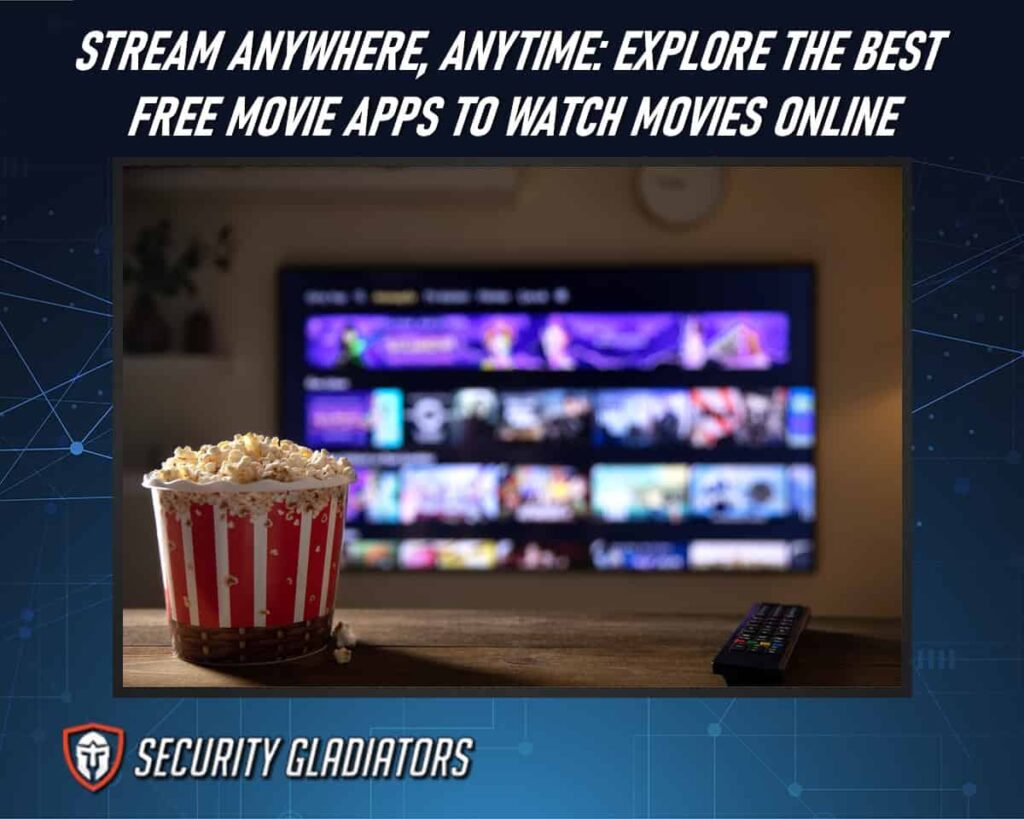 Safe Streaming With Free Apps
Streaming movies online can be a safe and convenient option, however, it is important to consider the source before accessing content. It is possible to find free streaming apps that allow users to legally stream movies with good streaming quality. When looking for these free streaming apps, users can use search engines or websites that are dedicated to helping people find free movies. Movie fans should also consider if the movie they wish to watch is available for free in their country, as some countries have more limited access than others.
It can sometimes be difficult to determine which streaming services or sources are legitimate and provide high-quality streams of films and television shows without requiring a subscription fee or payment of any kind. To ensure safety when using a free streaming app, users should look into reviews from other users on the platform and check out what other online resources say about the service before downloading it. Additionally, users should pay attention to the permissions requested by the app upon installation; if anything seems suspicious or too intrusive then it may be best to avoid downloading it altogether.
Pro Tip:
In order to get the most out of their experience when watching movies online, users should make sure they have an adequate internet connection speed that will not lead to buffering issues while streaming films or TV shows. Furthermore, they may want to look into investing in a VPN service if they are worried about privacy as this could help protect them from potential malware attacks and other malicious activities associated with accessing certain websites where illegal content might be available for download or viewing.
Best VPNs for Streaming
Utilizing a Virtual Private Network (VPN) can provide a secure connection to stream content. A VPN establishes an encrypted tunnel between two or more devices, allowing them to communicate securely over the internet. It offers privacy and security for users when streaming free movies online using apps. By connecting via a VPN, data packets are routed through an intermediary server, which masks the user's IP address and keeps their identity anonymous while streaming on these free movie apps. This helps protect against malicious actors from obtaining personal information or tracking activity online.
When it comes the best VPNs for streaming, there are both paid and free options available. Paid services offer greater reliability with regard to speed, bandwidth, features, and privacy protection than their free counterparts. However, if budget is an issue then free services can still be used in order to watch free movies online with minimal risk of compromising confidential information or being exposed to malware attacks while using certain smart TVs or apps for streaming movies. Free VPNs must be properly researched prior to use due to the potential risks associated with low encryption protocols or lack thereof altogether.
Best Free Apps For Streaming
1. CloudStream
CloudStream is a streaming service that provides users with access to various content through the use of cloud technology. CloudStream offers a variety of free movies, allowing users to access their favorite films and TV shows without paying any fees. The service also provides high-quality video streams, making it an ideal option for streaming movies. Additionally, the app allows users to easily search for their desired titles and create custom playlists based on their preferences.
Furthermore, the platform is available as a free movie app on both Android and iOS devices, making it one of the top free movie apps available today. Using CloudStream's app, users can quickly find all the best free movies they are looking for in just a few taps. They can also filter results according to genre or year released so they can easily find what they are looking for without having to scroll through hundreds of titles. Moreover, since CloudStream's content is streamed from the cloud rather than downloaded directly onto devices, it requires no additional storage space on mobile phones or other connected devices.
This makes it possible for users to watch streaming movies at any time without worrying about using up data or slowing down device performance due to large downloads. CloudStream's user experience has been designed with simplicity in mind; allowing users to quickly and easily access their favorite content with minimal effort required. Overall, its accessible interface combined with its vast selection of free movies makes CloudStream an excellent choice for anyone looking for an easy way to watch movies online without spending money on subscription fees or purchasing expensive DVDs/Blu-rays.
Note:
CloudStream may have limitations in terms of scalability and performance when dealing with extremely high volumes of data or concurrent user requests. Additionally, it may have restrictions on certain advanced features or integrations, depending on the specific cloud provider or service being used.
2. Netflix Mod
Netflix Mod offers an alternative streaming experience, providing users with access to a variety of content through the utilization of cloud technology. Netflix Mod is an app that allows users to stream Movies and TV Shows for free in HD quality. The app also has a feature that enables users to download Movies and TV Shows to watch them offline. This means that even when the user is not connected to the internet, they can still enjoy their favorite movies or television shows.
Furthermore, Netflix Mod provides its users with a large selection of movies from different genres including comedy, drama, action, and horror as well as documentaries and other special features like interviews and behind-the-scenes footage. Additionally, the app also includes reviews from other users which can help potential viewers decide if they want to watch a particular movie or show before buying it or renting it out.
The interface of Netflix Mod is easy to use so those who are not very tech-savvy will find no difficulty using the app. It is available on both Android and iOS platforms making it accessible for many people around the world. Moreover, new updates are regularly released allowing for more user-friendly features such as faster loading times and improved streaming quality. Additionally, its customer service team is always available should any technical issues arise while using the app.
Using a mod or modified version of Netflix may have several disadvantages, including potential security risks such as malware or unauthorized access to personal information, as these mods are not developed or verified by Netflix. Additionally, using a mod may violate Netflix's terms of service and could result in the suspension or termination of the user's Netflix account.
3. Prime Video Mod
Prime Video Mod provides users with an additional streaming experience, giving access to a variety of content through the use of cloud technology. The app is a replica of the Prime Video with, but with added features. It is available on both Android and iOS devices, allowing for free account registration. Prime Video Mod enables users to watch movies online as well as popular TV shows online. Also it is one of the best sports streaming services as users can enjoy access different sports channels with this app. Additionally, it allows them to download HD videos for offline viewing. Users can easily register for a free account and get access to all the features of Prime Video Mod. Since it is a modified version of Prime Video, which is among the best Live TV streaming apps, users can watch live TV channels with Prime Video Mod app.
Amazon Prime Video is one of the
best movie apps
available and using its modified version provides easy navigation options and a user-friendly interface that helps users explore various categories quickly and efficiently without any hassle or confusion. Moreover, the app comes with parental control options that allow parents to keep their children safe while using the service by blocking certain age-inappropriate content from being shown on their device's screen or television set.
Using a mod or modified version of Prime Video may come with its own set of drawbacks. These can include security risks, such as downloading malicious software or exposing personal information, as the mods are not developed or endorsed by Amazon. Additionally, using a mod may violate Amazon's terms of service, potentially leading to the suspension or termination of the user's Prime Video account.
4. Cinema HD APK
Cinema HD APK offers users access to a wide range of movies and television shows. The service is available for both Android and iOS devices, making it accessible to a wider audience. Cinema HD APK also provides users with an extensive library of content that they can stream directly from their device or download for later viewing. Furthermore, the app offers features such as parental control settings and the ability to watch multiple streams simultaneously.
The interface of Cinema HD APK is well-designed and easy to navigate, providing users with an enjoyable experience when watching movies online. Users are able to filter results according to genre or language preferences in order to quickly find their desired content. Additionally, there are different subscription plans available in order to make sure that users get access only to the type of content they desire.
Note:
Cinema HD APK, as a third-party streaming application, has limitations in terms of content availability, as it relies on various sources that may not offer the latest or high-quality content. Additionally, it operates in a legally gray area, potentially violating copyright laws and exposing users to legal risks. Furthermore, the application may lack the stability, updates, and customer support provided by official streaming platforms.
5. Bee TV
Moving away from Cinema HD, Bee TV is another free app available to watch movies online. This particular app provides users access to a wide variety of content such as new movies, live TV shows, and other streaming options. It is available on Android and Firestick devices and offers easy navigation along with quality streaming for an enjoyable user experience.
Bee TV also has several unique features that make it stand out among other free movie apps. Firstly, the app includes a "Request Movies" section which allows users to request any movie they want and the developers will try their best to include it in the library. Additionally, this app offers frequent updates for new content as well as bug fixes so users can enjoy an uninterrupted streaming experience. Bee TV also supports both Real-Debrid and Trakt integration which provides even more content than what is offered normally.
Bee TV, an online streaming platform, has limitations in terms of its content library, which may not be as extensive as other established platforms. Additionally, it may have limited availability in certain regions, restricting access for potential viewers. Lastly, Bee TV may not offer the same level of original programming or exclusive content compared to larger streaming platforms.
6. MovieBox
MovieBox is another streaming option that provides access to a variety of content, including new releases and live TV shows. It is one of the best free movie apps available for online streaming and can be downloaded on most mobile devices. MovieBox also offers free streaming for Hollywood movies, Bollywood movies, and TV shows from around the world.
The app has a user-friendly interface with an extensive library of content to choose from. Additionally, users can watch videos in HD quality without any buffering or lagging issues. The app also allows users to create their own playlists by selecting videos they wish to watch later or want to save in their favorites list. Moreover, MovieBox has unique features such as subtitle support and offline mode which allow users to download their favorite videos so they can watch them even when there's no internet connection available. Furthermore, it also offers parental control settings in order to restrict access for kids who are not allowed to view certain types of content.
Note:
MovieBox, being a third-party app, poses potential risks such as malware or viruses as it bypasses official app stores' security checks. It may also be subject to frequent app crashes or instability due to its unofficial nature and lack of consistent updates. Furthermore, MovieBox's content may not always be legally obtained, raising concerns about copyright infringement and supporting piracy.
7. Crackle
Crackle provides users with a vast selection of films and television shows to choose from, offering an array of streaming content for viewers to explore. With its free streaming service, Crackle offers users the opportunity to watch their favorite movies and tv series without any additional charges. It is one of the most popular movie streaming apps that allow users to access its online streaming server and view free content. The app also gives users the ability to create customized lists of their favorite movies or TV series so they can easily find them in the future.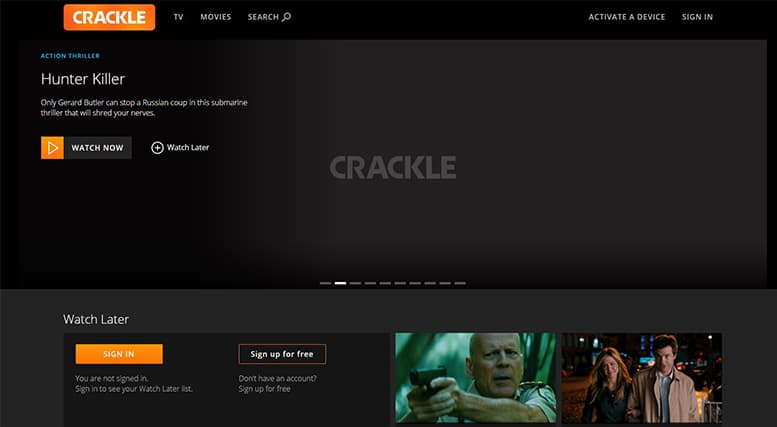 Crackle's programming includes both independent productions as well as those produced by major Hollywood studios. Its library contains a wide variety of genres including comedy, drama, action, horror, animation, and sci-fi. In addition to traditional films and television shows, it also offers exclusive original programming such as dramas, comedies, and webisodes created specifically for the platform.
Crackle has a limited content library compared to other major streaming services, resulting in fewer options for users. It also includes frequent advertisements during the streaming experience, which can disrupt the viewing experience. Additionally, Crackle may have limited availability in certain regions, restricting access for potential viewers outside of supported countries.
8. Tubi TV
Tubi TV offers a wide variety of genres and content from which users can choose from. The platform also allows users to rate the content they view so that other users can benefit from their experience. In addition, it has an Android app that provides access to thousands of free movies available for online streaming, making it one of the most convenient and accessible ways to watch films. Tubi TV's expansive library includes various titles ranging from classic black-and-white films all the way up through more recent releases in both English and Spanish language formats. It also features exclusive documentaries and children's programming not found on other apps or platforms. Moreover, its user interface is intuitive and easy to navigate with no ads or subscription fees required for watching any movie offered by the service.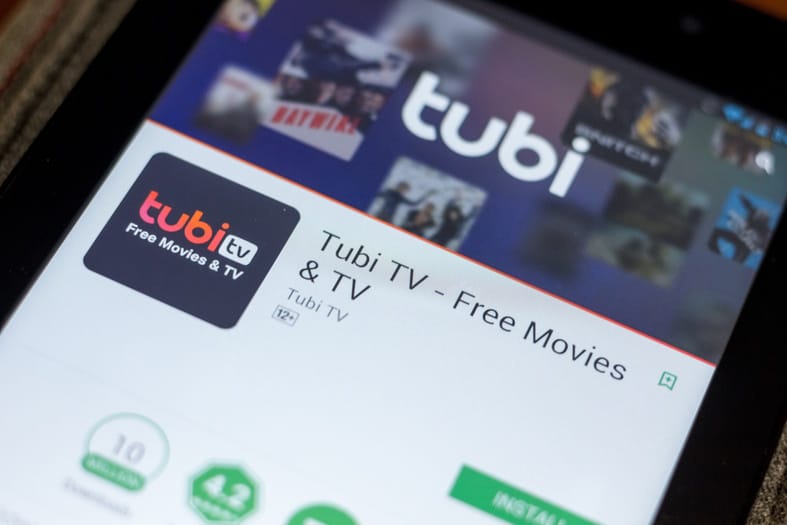 Tubi TV primarily offers older and lesser-known titles, so it may not have the latest or most popular shows and movies. Secondly, it is ad-supported, meaning you will encounter advertisements during your viewing experience. Lastly, Tubi TV's content library may vary depending on your geographic location, so some titles may not be available in certain regions.
9. Popcorn Time
Providing a unique alternative for streaming movies, Popcorn Time offers an expansive library of titles to choose from with no subscription fees necessary. The app is available on various platforms (including Windows, macOS, Linux, and Android) as well as offering movie apps for iOS and Android devices. It allows users to stream TV shows in addition to interesting movies that can be downloaded for offline viewing.
The library offered by Popcorn Time contains a vast selection of movie titles including Hollywood blockbusters, classic films, cult favorites, and independent projects. Furthermore, the platform also provides a search bar that helps users locate specific films quickly and easily.
Popcorn Time takes pride in its user-friendly interface which makes navigation simple and straightforward. It eliminates the need to rent or purchase digital copies of movies by providing access to them free of charge. Moreover, the app does not require any signups or registrations making it ideal for those who are seeking quick entertainment without needing to log into an account every time they want to watch something new.
10. Kodi
Kodi is a free, open-source media player that can be used to watch movies online. It is available on many different platforms and devices such as the Play Store, Amazon Fire TV, Android TV, and Smart TVs. Kodi functions by allowing users to access a wide variety of streaming services and sources for their entertainment needs.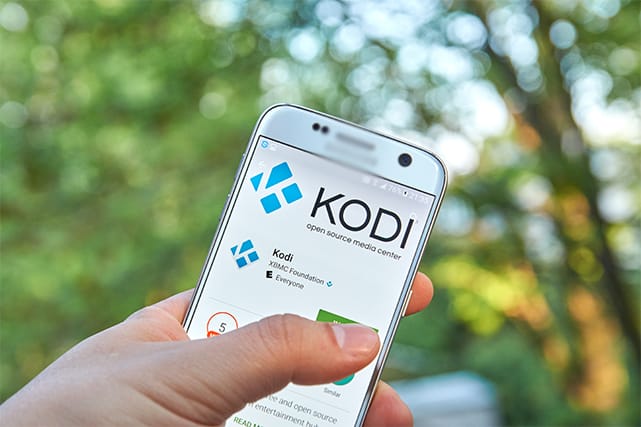 This allows users to create personalized libraries of their favorite films, shows, music videos, podcasts, and more. It also allows users to customize their experience with various add-ons that offer additional content or features.
The main advantages of Kodi are its versatility and customization options which make it suitable for almost any user's preferences. Additionally, Kodi's open-source nature means that developers can continually improve the software through updates or develop new add-ons to expand its capabilities even further. The fact that it is free makes it accessible to anyone who wishes to use it without having to spend money on monthly subscription fees or purchase expensive equipment for streaming services like Netflix or Hulu Plus.
Kodi's user interface can be complex and overwhelming for beginners, requiring some time to learn and customize. Secondly, while Kodi itself is legal and legitimate, some third-party add-ons and plugins can provide access to pirated or copyrighted content, which may lead to legal issues if used improperly. Lastly, Kodi lacks official customer support, so if you encounter technical issues or need assistance, you'll have to rely on community forums and online resources.
DISCLAIMER:
Security Gladiators in no way encourages or condones any kind of copyright violation or circumvention of restrictions. That includes streaming illegal content as some services can host both legal and pirated content. You need to do your own research to see if these services and content are legal in your own country. We suggest to always use a VPN while streaming or downloading anything from the web.
Factors To Consider When Selecting Free Movie Apps for Watching Movies Online
When selecting free movie apps for watching movies online, there are several factors to consider:
Legitimacy and Legalities
Ensure that the free movie app you choose operates legally and does not distribute copyrighted material without proper authorization. Using illegal streaming apps can lead to legal consequences and compromise your online safety.
Content Library
Check the app's content library to see if it offers a wide range of movies and TV shows that align with your preferences. A diverse selection and regular updates can provide a better viewing experience.
User Interface and Experience
Look for a free movie app with a user-friendly interface, intuitive navigation, and smooth playback. A well-designed app enhances your overall experience and makes it easier to find and enjoy movies.
Advertisements
Many free movie apps rely on advertisements for revenue. Consider the frequency and intrusiveness of ads within the app. Excessive or intrusive ads can interrupt your viewing experience and be frustrating.
Streaming Quality
Check if the app offers streaming quality options. While free apps may not always provide high-definition (HD) or 4K streaming, ensure that the quality is acceptable and doesn't compromise your enjoyment.
Device Compatibility
Consider the compatibility of the free movie app with your devices. Ensure it is available for your preferred operating system (iOS, Android, etc.) and compatible with the devices you intend to use for watching movies.
Reviews and Reputation
Research the app's reviews and reputation to gauge user experiences. Look for positive feedback, reliability, and a good track record in terms of security and privacy.
Additional Features
Some free movie apps may offer extra features such as subtitle support, offline viewing, or personalized recommendations. Assess these features to determine if they enhance your movie-watching experience.
Frequently Asked Questions
What Is the Best Free Movie App for Downloading Movies?
The selection of the best free movie app for downloading movies depends on several factors, including user requirements, device compatibility, and available content. A thorough review of the features offered by different apps must be completed to determine which is most suitable.
Are Free Movie Apps Compatible With Chromecast?
Not all free movie apps are compatible with Chromecast, as it depends on the specific app and its features. While some free movie apps have built-in Chromecast support, allowing you to cast the content to your Chromecast-enabled device, others may not offer this functionality. It's best to check the app's description or user reviews to determine if Chromecast compatibility is mentioned. Additionally, you can try using the Google Home app to cast your device screen to Chromecast if the app itself doesn't have direct support.
Is There an Age Restriction for Using Free Movie Apps?
The use of free movie apps to watch movies online is subject to age restrictions, which vary depending on the app. Users must be at least thirteen years old in order to access any type of streaming content through such services. Some apps may require additional age verification or parental permission for those under eighteen years of age. For further information regarding a specific app's requirements and policies regarding age restriction, users should consult the respective terms and conditions of service offered by the provider.
Are Free Movie Apps Legal?
The legality of free movie apps can vary depending on several factors. While there are legitimate free movie apps that offer legally licensed content, there are also illegal streaming apps that provide copyrighted material without proper authorization. It's essential to research and uses reputable apps that comply with copyright laws and licensing agreements to ensure you are accessing content legally.
Conclusion
Streaming movies online can be a convenient way to watch the latest films without leaving your home. Although there are potential risks associated with using these services, it is possible to stream safely if precautions are taken such as using secure networks and reliable VPNs when streaming content. Ultimately, choosing which app works best for you depends on the type of content you wish to view as well as personal preferences in terms of ease of use and quality.