Sometimes when sharing a file through online services is not possible, USB flash drives are the only reliable way to do so. The fact that USB flash drives do not have access to the internet does not mean they can't get infected with viruses or malware. In this guide, readers will learn about the best tools to protect computers from infected USB flash drives. Then, readers will learn what type of threats USB security tools detect and how to know if a given USB has malware. Finally, steps on how to remove malware from a USB drive will be mentioned and whether formatting a USB drive helps with disinfection will be discussed.
USB security is about keeping USB drives clean and away from any kind of hidden malware that may not only damage the user's machine but also any other machine the USB is plugged into. USB security tools are specialized tools that can stop the spread of malware with USB drives. The main usage of USB security tools is to scan USB drives looking for anything suspicious including, but not limited to, malware. USB security tools also keep the machines used by the USB safe. The main benefits of USB security tools are safer file sharing, protection from malware, and reliable communication. Just like with any other cybersecurity product, as long as users stick with reputed and somewhat popular USB security tools, safety doesn't become an issue. USB security tools are still important, especially in office spaces and environments where online means of sharing information are either not private or available.
The best tools to protect computers from infected USB flash drives are given below:
USB Disk Security
McAfee VirusScan USB
USB Immunizer
Panda USB Vaccine
Ninja Pendisk
USB Guardian
Autorun Virus Remover
The USB Program
UsbFix Free
USB Threat Defender
1. USB Disk Security
The USB Disk Security application protects against malware that infects PCs via the USB flash drive. The main advantage of USB Disk Security is protection against accidental personal information leakage and protection from viruses. The disadvantages of USB Disk Security include the fact some features are only available in the premium version, lack of support for platforms other than Windows, and an outdated official website.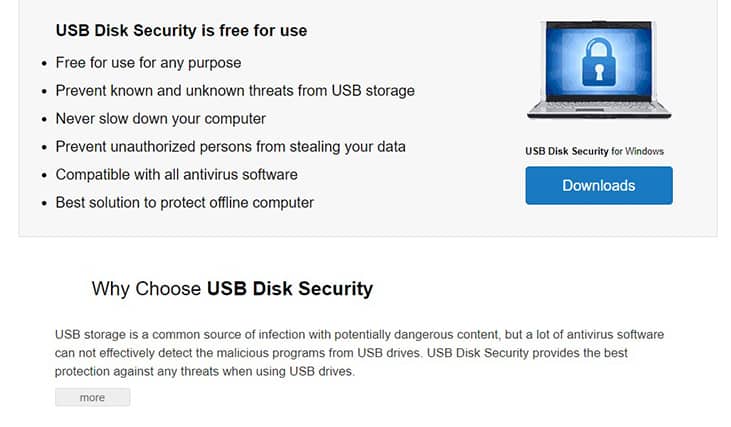 A unique feature of USB Disk Security is its auto-scan and repair tool and a particularly strong point is its compatibility with other security software, despite low overall resource usage. From a security point of view, USB Security offers a high level of protection against malware and other types of infections and comes with an antivirus component as well as a password protection feature. USB Disk Security is completely free to use. The software did have a premium version before but that seems to be phased out now. Zbshareware Lab owns USB Disk Security.
To use USB Disk Security, first go to the official website and download the installer for USB Security, run the installer, finish the installation process, launch the application and then choose from a list of multiple options on the home screen.
2. McAfee VirusScan USB
The McAfee VirusScan USB's main usage is to keep the user's computing device safe while cleaning potentially infected USB devices without interrupting workflow. The advantages of McAfee VirusScan USB include protection from infected USB devices, quick scans, and timely alerts. The main disadvantages of McAfee VirusScan USB are the unusual system requirements the software specifies and the fact the company often sends emails advertising upgrades. McAfee virusScan is unique in that it includes a One-click scan and One-click Update option, as well as automatic updates. Strong sides of McAfee VirusScan USB include active protection, on-insertion scanning, on-demand scanning, and file protection. Security-wise, McAfee VirusScan USB is one of the best options on this list as it is connected with the highly reputable company, McAfee. McAfee VirusScan USB comes as part of the McAfee antivirus package, which costs $34.99 per year.

As the name suggests, McAfee VirusScan USB is owned by McAfee, a computer security company. McAfee VirusScan USB works similarly to the other tools mentioned on this list. Users first have to install one of the McAfee security products and then go to the Virus and Spyware Protection, after which, click on the Real-Time scanning option and then Check Removable Media Drives.
3. USB Immunizer
USB Immunizer is another reputable USB security tool whose main usage is to provide a shield to USB devices so malware can't infect the devices in the first place. Advantages of USB Immunizer include protection against different types of online threats, multi-lingual support, and good online chat support. Disadvantages include the fact that users have to sign up for a whole security package with the company offering USB Immunizer. A unique feature of USB Immunizer is the ability to detect and block autorun malware. USB immunizer regularly checks the user's USB devices and launches a clean up procedure if necessary. This makes it a particularly strong protective tool. In terms of security, USB Immunizer is one of the best options on this list with a very reputable security company from the antivirus industry backing the service.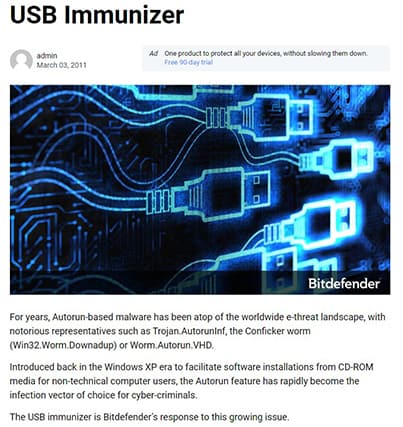 The final price users may have to pay to use USB Immunizer will depend on the package chosen. The most popular package starts at around $25. The company behind USB Immunizer is Bitdefender, which introduced a separate USB scanning component due to the rise of auto-run malware infecting machines via USB devices.
USB Immunizer works by first requiring the user to download and install one of the security product offerings from BitDefender. Once the Bitdefender app is downloaded, go to the Protection tab from the home screen of the application and then to Antivirus, then Settings, then Flash Drive Scan and then click Ask or Auto-Scan in the drop-down menu.
4. Panda USB Vaccine
Panda USB Vaccine is a USB Security tool that aims to keep USB flash drives clean and the user's PC safe. The main advantages of Panda USB Vaccine include malware protection, support for multiple USB drive formats, and reliable performance. On the other hand, the latest version of the software was released in 2009 and users receive a lot of offers advertising new protection.
Panda USB Vaccine is unique in that it permanently disables auto-run malware and usage via the command line. A particularly strong feature of Panda USB is that it disables infected USB Flash devices from moving, deleting, or copying files. From a security point of view, Panda USB Vaccine is both good and average depending on whether the user gets USB protection via the newer packages or the 2009 standalone application respectively.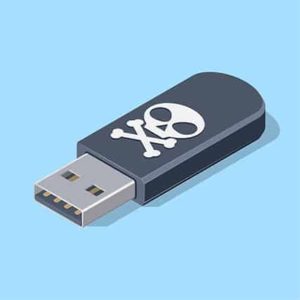 The standalone USB Vaccine standalone application (last updated in 2009) is free to use. However, the latest version of USB protection comes as a component of a larger security package from the company behind Panda USB Vaccine. A popular subscription package costs close to $20 per year. The company behind Panda USB Vaccine is Panda, a cybersecurity firm that also offers antivirus products, VPNs, and password managers.
Panda USB Vaccine works by disabling the Windows autorun feature either for a given USB drive or for the whole of the user's system. To use Panda USB Vaccine users first have to download the standalone application or the latest version of any of Panda's security products, then install and run the app.
5. Ninja Pendisk
Ninja Pendisk's main usage is to protect users from viruses that infect systems via USB drives. Advantages of Ninja Pendisk include low resource usage, device monitoring, and blockage of autorun.inf. Disadvantages of Ninja Pendisk include an outdated and sometimes inaccessible website, a lack of customer support, and a lack of support for major operating systems. Unique features of Ninja Pendisk include auto-scanning and virus protection. The ability to work without the user having to install the software and the small size of Ninja Pendisk are both strong and noteworthy features. In terms of security, Ninja Pendisk is average. Even though the software has a reputation for removing viruses, the official website has not been updated for a long time which is a concerning sign for prospective users. NInja Pendisk is, however, free to use and owned by SoftFamous.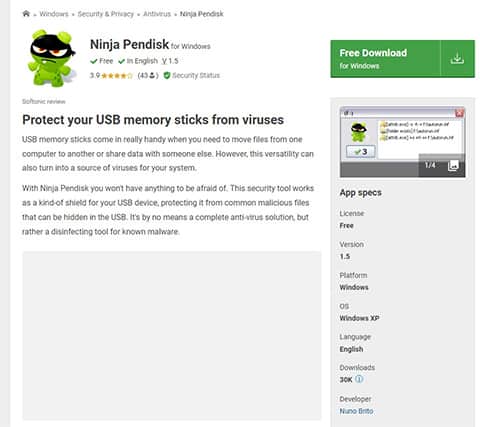 Ninja Pendisk works just like any other USB security tool. To get Ninja Pendisk working, users first have to download the installer from the official website, install the app, launch the app and then click on the system tray icon to access advanced functions.
6. USB Guardian
USB Guardian is a special USB security tool that stops viruses from infecting the user's machine from a USB drive. Advantages of USB Guardian include multiple scans, low resource consumption, and the ability to detect many types of USB flash drives. However, the official website is outdated and there is limited support for non-Windows operating systems. USB Guardian is unique in that the user interface is clean and malware protection is good. However, the auto-scanning is a particularly strong feature. Security-wise, USB Guardian is one of the better USB security tools, being able to guard against many types of malware and giving users the option to lock or unlock a given file on a USB drive.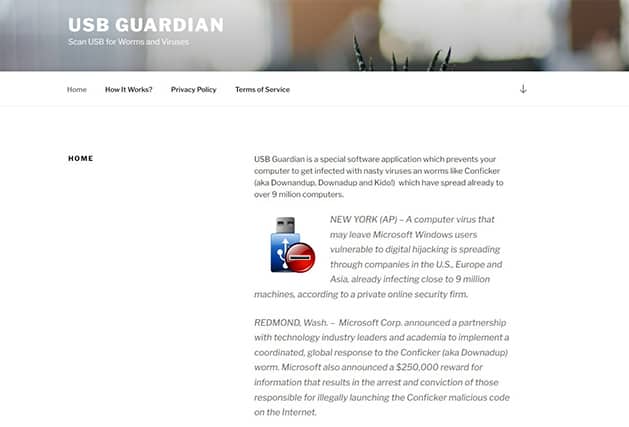 USB Guardian is free to download and use and is owned by Guardian LLC. USB Guardian works slightly differently to other USB protection tools. After install, users can expect USB Guardian to constantly scan the device's USB ports looking for removable media. USB Guardian locks all suspicious files on a given USB drive, allowing the user to keep using the USB drive without fear of malicious executable files.
7. Autorun Virus Remover
The Autorun Virus Remover's main usage is to block any virus that exploits autorun.inf. The main advantages of Autorun Virus Remover are the many options via the home screen of the app, the ability to scan more than just thumb devices, and the ability to work offline. With this said, the official website and user interface are both very outdated. Autorun Virus Remover does, however, function offline and is compatible with other antivirus products, making it unique in this sense. Autorun Virus Remover is particularly strong in preventing USB drive data leaks and the user interface is simple and effective.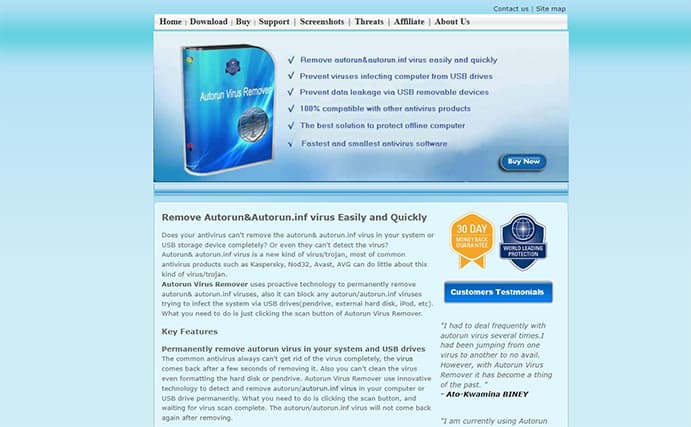 Autorun Virus Remover is free to download and use, however, there is a premium version of the software which enables future updates for free. The 1-year license costs $27.95 while the lifetime upgrade costs $99.95. Autorun Virus Remover is owned by AutoRun Remover International Inc.
Autorun Virus Remover takes the same approach to work efficiently, which is to simply remove autorun& autorun.inf from an infected USB drive. To use the program, download the Windows installer from the official website, install and launch the app and then hit the scan button. Once completed, Autorun Virus Remover gets to work and blocks USB-specific viruses that may attempt to infect a system.
8. The USB Program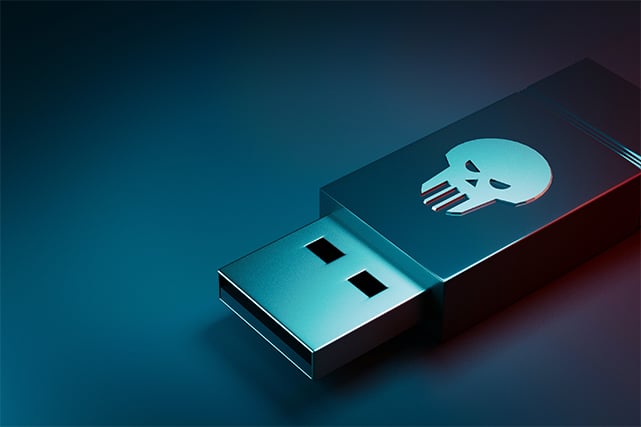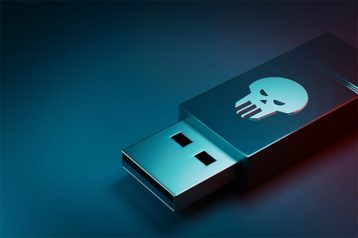 The main usage of The USB Program is to stop viruses that leverage vulnerabilities via the autorun feature from infecting the user's computer. Advantages of The USB Program include low resource usage, minimal user interface, and a separate actions menu. Disadvantages of The USB Program include a very outdated official website, and outdated software. Unique features of The USB Program include the ability to turn off CD-ROM, Flash drive, and FDD functionality and scan hidden files/folders on the USB drive. Strong sides of The USB Program include the ability to run via the command line and protection against spyware as well as worms. From a security point of view, even though The USB Program claims to protect against viruses, spyware, and worms (the developer even has some badges to show on the official website), the fact that the software has not been updated in the past 13 years is a huge problem.
The USB Program is free to download and use. Alexey N is the owner of The USB Program. This USB security tool works by loading into the device's memory and renaming the autorun.inf files once a user connects a removable device to the computer. To use The USB Program users only have to go to the official website, download the application, install and then launch the program. From there, the options can be accessed via the system tray menu.
9. UsbFix Free
The USBFix Free USB security tool essentially removes viruses and other types of malware from USB devices. The advantages of USBFix Free include the ability to remove and clean up USB devices, compatibility with other security programs, and a comprehensive scan mode. Disadvantages of USBFix Free include advertisements in the free version and a lack of real-time protection. A unique feature of UsbFix Free is the research and vaccinate function – which enables the app to scan USB cables for infection. Strong sides of USBFix include the ability to remove viruses and malware from a given machine as well as external hard drives while being fast. Security-wise, USBFix offers a lot of security-specific features such as disk scanning, an anti-virus component, auto-launch, device status, and monitoring of active users on the current device.
The great thing about the USBFix offering is that it is free to use. There is a premium version though, which costs a reasonable $11 per year. SOSVirus is the company behind USBFix, distributing the USB security tools for all Windows versions as far back as Windows XP.
USBFix Free works by scanning the USB devices connected to the user's computer, deleting any found infections, repairing the registry or files that have malware or are damaged, and backing up user-specified files and folders. As is the case with all modern USB security tools, USBFix also works by creating an autorun.inf file on USB devices to stop auto-launch malware types.
To use USBFix users only have to download the .exe file from the official website, install the app and after launching the app, click scan or Run an Analysis.
10. USB Threat Defender
USB Threat Defender's main usage is to keep USB devices and computers safe from viruses. Some advantages of USB Threat Defender include the ability to work with third-party antivirus programs, an advanced virus detection component, and a scanning component. Disadvantages of USB Threat defender include outdated software and inconsistent performance against certain keyloggers and rootkits.

Unique features of USB Threat Defender include proactive scan technology, definition-based scan tests, system health restoration, and multiple analysis tests. Strong points of USB Threat Defender are real-time and integrated resident shield, and a quarantine option. From a security point of view, USB Threat Defender is not good, however. This is because even though there are a lot of security features present in the software, the developers haven't put out an updated version. This means the software will be close to useless against modern cyber threats that infected USB devices may pose.
USB Threat Defender costs $39.95 and comes with a 30-day trial period. ArzooSoft Solutions is the company behind USB Threat Defender. In terms of workings, USB Threat Defender works pretty much like any other USB Security tool – by disabling autorun.inf. However, USB Threat Defender also offers a combination of definition technology and proactive protection to offer more protection. Users only have to install the software from the official website. Once installed, users should launch the app and then hit the Scan Now button. There is also a Heal It option to fix existing problems.
What Threats can be Detected by USB Security Tools?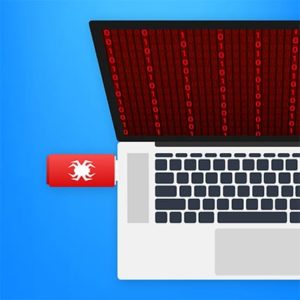 The threats that can be detected by USB Security Tools are given below:
Worms
Certain types of Malware
Spyware
Data leaks
Unauthorized access
Some types of viruses
How do I know if my USB has Malware?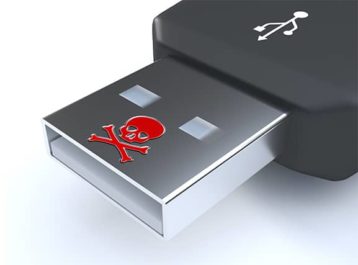 The simplest way to know if a USB has malware is to run a scan on the USB drive. Users can scan the USB device either via a standalone USB Security tool, several of which are mentioned in the list above, or use the USB scan component available in many modern antivirus products.
Another way to know if a USB has malware is if the USB drive registers as another device like a keyboard or a mouse or a CD-ROM. This method isn't always guaranteed to indicate malware though. If a USB registers as anything but a USB drive, it likely has malware, however, a USB that registers as a USB may have malware. As such, this method can not be relied on in isolation.
Operating systems such as Linux provide command-line tools to monitor system logs and kernel logs which can also help identify if a given USB drive has malware. If the USB drive registers as a network device and demands full network access with UPnP servers then that is a concern.
Note:
Similarly, if a USB device asks the system for too many different drivers then that is another sign that it has malware. A USB drive without much malware should only load one driver which would help the USB drive act as a storage device.
One method of detecting malware on USB that does not require external tools is to check the saved folders on the USB drive. If the copied folder (any folder that the user may have copied on the USB for transfer) is not showing up then that is a sign there may be malware on the USB drive. Another method that does not require external tools is to right-click and open the context menu on the USB drive. If the context menu shows suspicious options such as AutoPlay or Browser then that is a sign there may be malware. If a suspicious number of files and folders on the USB device are .exe then that is also a sign of malware.
USB drives taking a long time to show up as a storage device on the user's computer can also sometimes indicate something malicious on the USB drive.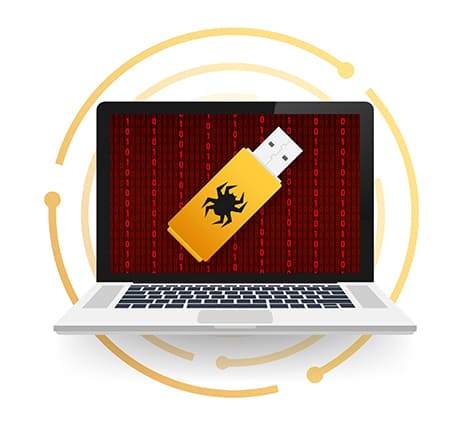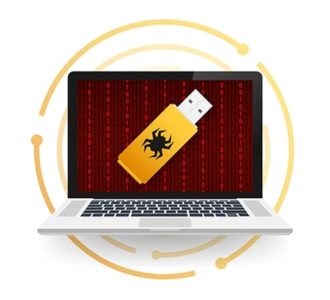 If the USB appears to store many files with unconventional names, this may also be a sign of malware. Another simple way to get started on detecting malware on a given USB device is to try and copy some files on the USB. If the USB drive rejects copying or moving files then that is another sign there is something malicious on the USB drive.
Finally, if there are lots of shortcuts on the USB drive and relatively few actual files (only shortcuts to the files that were supposed to be present on the USB) then that is a sign a malware has transferred legitimate content into a hidden folder and replaced the files with shortcuts to malicious code.
How can I Remove a Virus from my USB?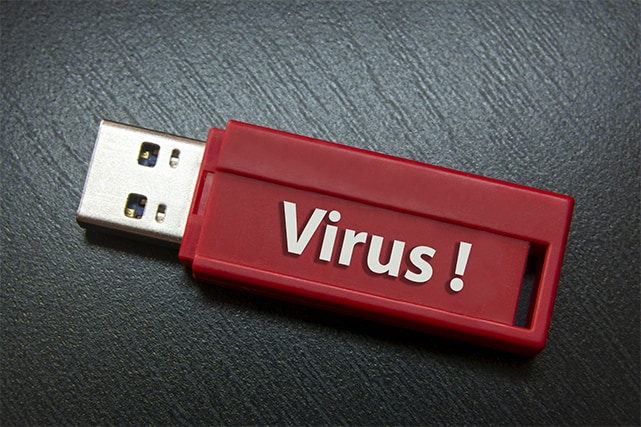 There are several ways to remove viruses from USB devices. The simplest way is to use one of the USB Security Tools mentioned above and run a scan. Another way, just like before, is to use an antivirus tool to scan the USB device or a specific content on the USB device to see if there are many viruses. The antivirus product should automatically either delete malware or put the malicious content in quarantine.
Newer versions of the Windows operating system come with the Virus and Threat Protection component which can assist users in launching a custom scan that only checks the USB Drive. This method is useful for users who do not want to use a third-party tool to perform a scan and remove a virus from a USB.
Another method is to plug the USB into the computer, run the command prompt, type the letter of the USB drive (from My Computer note down the USB drive's letter. E.g E) into the command prompt followed by ':' So if the USB drive letter is F, the user should type 'F:' into command prompt, press Enter, type 'dir /w/a', press Enter, and check for suspicious .exe and .inf files. Suspicious files will have .exe and/or .inf in front of the file names. To Disable suspicious files type 'attrib -r-a-s-h' and press enter. Delete the suspicious files by typing 'del' followed by the name of the suspicious file.
Similar methods can be used to handle other USB viruses such as the Autorun virus and Shortcut virus.
In the end, though, some of the best antivirus tools in the business can take all the complexity away from removing a virus from a USB. Hence, online users should try to use a good antivirus program to run a scan and then delete items according to the results shown.
Does Formatting a USB Remove the Virus?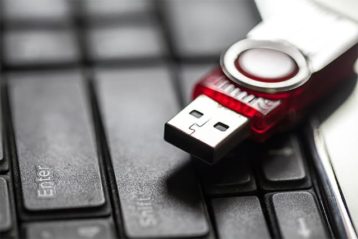 Yes, formatting a USB can remove the virus, but not always. Users have to make sure to perform full format rather than a quick format to make sure the virus is really gone.
With that said, the recommended way is to first use an antivirus product to run a scan on the infected USB, remove any malware found by the antivirus or USB security tool and then format the USB drive.
Keep in mind that formatting the USB drive will remove all files and folders from the USB. To format a given USB flash drive, Windows first go to My Computer, then perform a right-click on the USB drive and then select the option that says Format.
A new window should show some more options. This is where it is possible to select the File System and an option labeled Quick Format. Make sure there is no checkmark beside the Quick Format option. Clicking the OK button as the button shows up on the screen should format the USB and remove any malware/virus.