The best torrent clients are ideal for downloading large files, including videos and software, because torrenting platforms are super fast and easy to manage. Downloading large files directly from a server will slow down the download process, more so if other people are also trying to download the file at the same time. However, a torrent client allows users to download different pieces of a file from various sources, thereby leading to fast downloads.
This article discusses the best torrent clients in 2023 and highlights the platforms' purpose, usage, functions, pros, cons, affordability and reliability. The article also delves into the legality of using torrent clients, the effects of VPNs on torrent clients, as well as the safety and security concerns relating to the use of torrent clients.
Torrenting refers to the act of uploading and downloading files via the BitTorrent network. Rather than depend on a central server for storing files, pieces of data acquired from larger data are stored in partaking PCs (peers) in a network (swarm) to enable the file-sharing process. A peer-to-peer communication tool such as BitTorrent then breaks down the files into smaller bits and takes the files from the uploaders (seeders) to the downloaders (leechers) through a torrent client, which is a different software program that converts torrent files to readable and useable contents.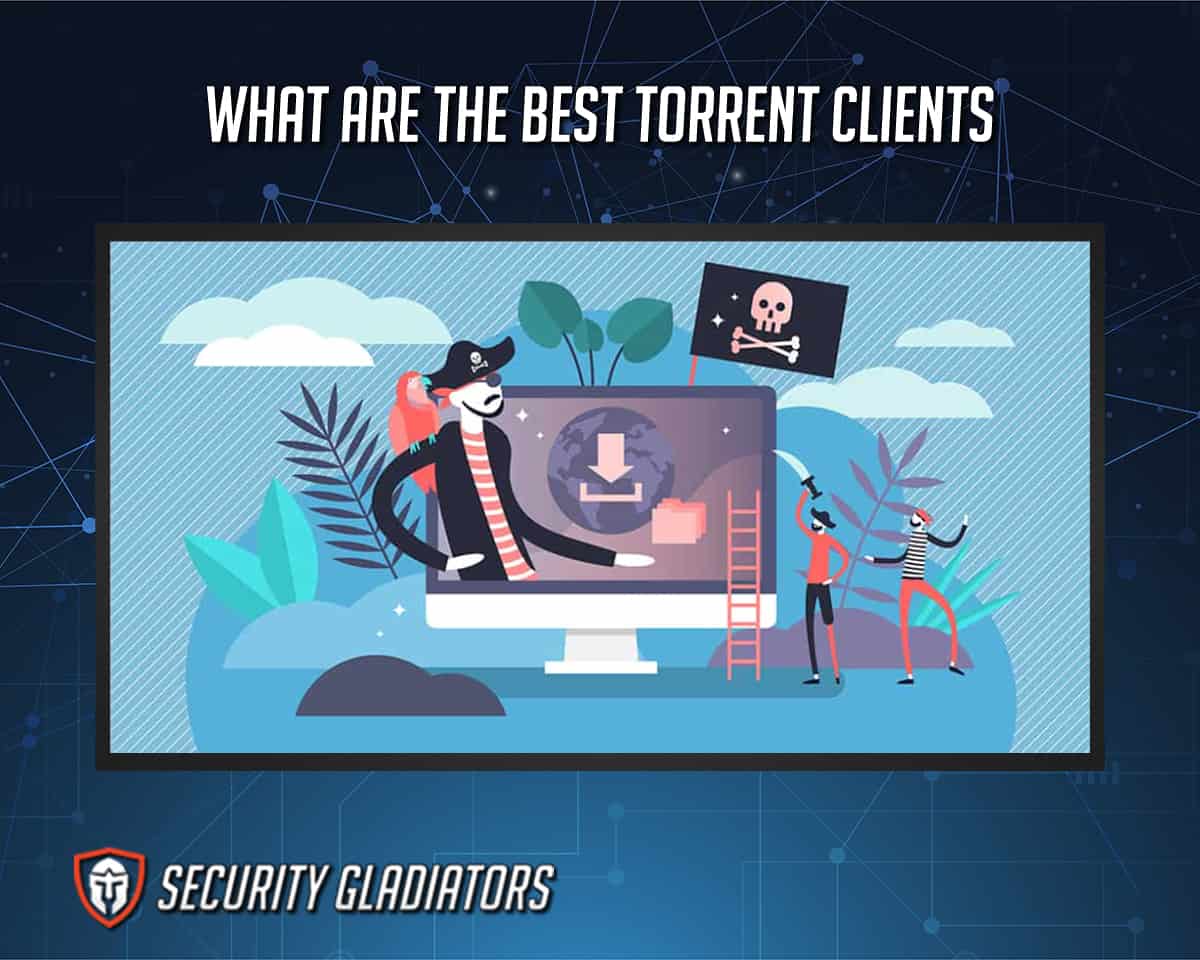 The top torrent clients in 2023 are outlined below.
BitTorrent: Best Torrent Client
BiglyBT: Best Torrent Client for VPN
WebTorrent Desktop: Best Torrent Client for Windows
Transmission: Best Torrent Client for Ubuntu
qBittorrent: Best Secure Torrent Client
Vuze: Best Torrent Client for mac
uTorrent: Best Torrent Client for Android
Tixati: Best Torrent Client for Selection
Deluge: Best Torrent Client for NordVPN
Bitport.io: Best Torrent Site for TV
FrostWire: Best Torrent Site for Movies
Bitcomet: Best Torrent Client for Speed
1. BitTorrent
BitTorrent is a torrent client that helps minimize the network and server impact of sharing large files. Instead of having users download files from one source server, the protocol allows users to join a swarm of other hosts to download and upload from one another simultaneously.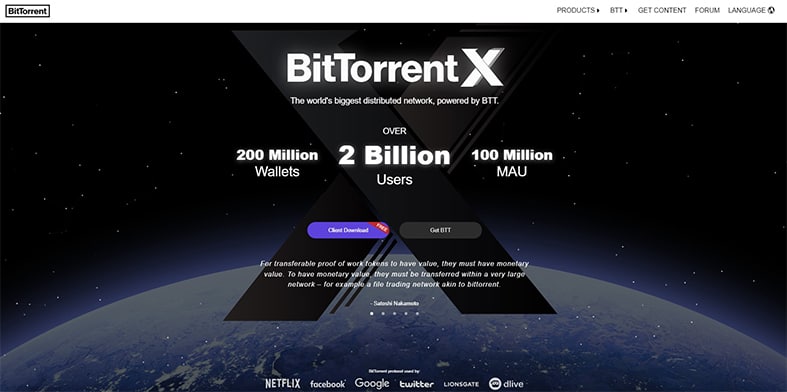 The function of the torrent client is to allow for the distribution of electronic files and data over network traffic in a decentralized way. Users send or receive files through BitTorrent clients on internet-connected PCs.
While BitTorrent is one of the oldest torrents to hit the market, the client also features flaky files as a result of the client's popularity. Also, BitTorrent has previously been criticized for birthing several subsidiaries that are no different from the client.
The BitTorrent client was designed by programmer Bram Cohen in April 2001 and was first implemented on July 2, 2001. The client is currently operated and maintained by BitTorrent, Inc.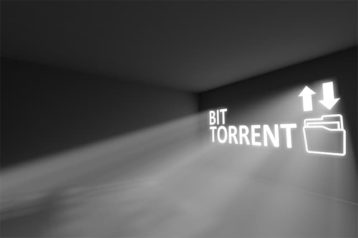 BitTorrent is available in over 70 languages and suits users seeking an easy-to-use torrent client with an interface that can be configured to be as simple or complex as the user's wishes. Also, BitTorrent does not consume up to 20% CPU all the time, hence the client does not slow down devices. The client has a drag and drop feature that users will find convenient. This client is listed as the best torrent client overall for convenience, ease of use, and clean torrents devoid of malware and spyware.
The torrent client contains an impressive range of features, including a built-in bandwidth booster that enables users to set upload and download speeds. With this, torrents can be downloaded faster. BitTorrent also contains magnet links and stream torrents and allows users to schedule torrents and manage paired devices remotely. With BitTorrent's intuitive search bar, users can search for desired torrents without heading to the torrent site, thus reducing the chances of downloading malware and spyware from malicious sites.
There are many advantages to using the BitTorrent tool. First, the torrent client is highly efficient. Also, BitTorrent makes file-sharing easier and faster and prevents broken or tampered files from being distributed. With the BitTorrent client, users can upload and download files quickly and also provide free downloads and uploads.
On the downside, BitTorrent seeder can only seed one of two files simultaneously. Also, if the seeder departs from the swarm prematurely, users won't be able to use the file. There have also been reports of computer performance dropping when using the client. Furthermore, the program's torrent files are too flaky as a result of the client's over-popularity.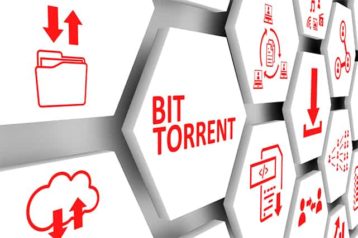 BitTorrent is quite fast, with an average torrent speed of 75 kbps, a faster rate than most competitors, including uTorrent.
BitTorrent is quite affordable, with the cheapest plan priced at $4.95 per year. Others include the Pro Secure Torrenting plan, which goes for $19.95 per year, and the PRO+VPN plan, costing $69.95 per year.
The BitTorrent client is one of the most reliable torrent clients available. The client's long-standing performance is a testament to BitTorrent's commitment to ensuring ease of downloading and uploading files. Also, the client features many features that cater to both experts and amateurs. The tool enables users to limit bandwidth usage, set speed limits and search files based on software, movies and music categories.
While BitTorrent does provide a paid version, a free version is available as well. However, note that the free version contains lots of disruptive ads.
---
2. BiglyBT
BiglyBt, one of the best torrent clients for VPN software, is an open-source and feature-rich file-sharing platform. BiglyBt is an offshoot from Azureus torrent client and is the program's latest addition. BiglyBT makes use of the decentralized distribution system (DHT). The torrent client is ideal for downloading torrent files, including movies, music, TV series, documentaries, eBooks, games and more.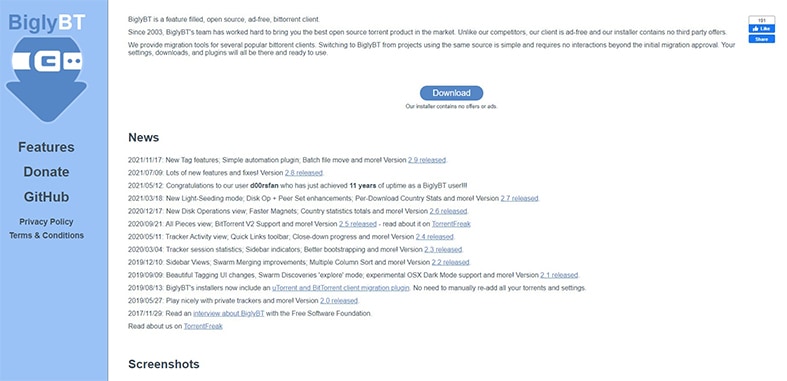 The BiglyBt torrent client has a clean and intuitive interface and is easy to use. Regardless of the client's simplicity, BiglyBT is by no means a basic torrent client. The torrent tool allows users to set limits on an internet connection, downloads by tags and individual peers (a feature needed for specific content selection). Ultimately, BiglyBT has the same function as other torrent clients—the program enables users to share and download content online quickly and easily.
BiglyBt has been criticized for the simplicity of the program's features. The torrent client lacks entirely robust features such as DVD-burning ability. Also, despite claiming to be ad-free, BiglyBT is filled with disruptive advertisements.
BiglyBT is a product of the Azureus/Vuze open-source project founded in 2003. However, the torrent client came into the market in 2017, becoming one of the newest open-source additions.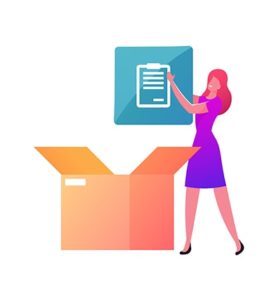 The torrent client is ideal for users who wish to download content off the internet. Since BiglyBT has a simple and easy-to-use interface, the torrent client will come in handy for users seeking an easy way to download torrent files. The client's Android apps can be used as a remote control so that users who are always on the go will find the client handy. BiglyBT is also suitable for users who are security conscious since the platform features top-notch security mechanisms such as VPN detection to provide enhanced proxy searches and integration.
BiglyBT is a feature-rich torrent client. For starters, the client contains a swarm merging across torrents with the same files. The client automatically detects similar files across several torrents at once and then merges swarms to make downloading files fast and easy while also fixing any incomplete torrent found. BiglyBT offers web torrent support and allows users to create and tag categories. The torrent client also has an RSS feed subscription and enables users to rate and comment on torrents before the files are added to the client.
Furthermore, BiglyBT contains a decentralized anonymous and public chat, while the tool's VPN detection improves the integration of virtual networks. The torrent tool offers I2P support and also supports subscriptions, proxy search results and browser extensions. Other features include media playback, DLNA support, UPnP Media Server and media conversion.
There are pros and cons to BiglyBT. For one, the client has settings allowing users to personalize the experience on the platform. Also, the software enables visitors to schedule downloads, filter search results, set bandwidth limits, give prompt information on a downloaded file and facilitate smooth integration with third-party and first-party plug-in support.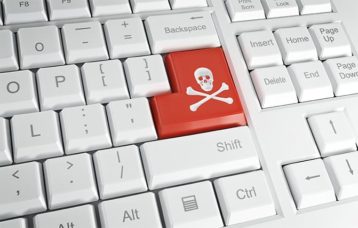 The drawback of this torrent client is the lack of robust and extensive features that improve performance (such as DVD-burning capability) and the existence of ads despite advertising otherwise.
The speed of BiglyBT is often dependent on the type of device being used, the size of the torrent file and the network. However, torrents should download almost instantly or within a few minutes.
BiglyBT is free so that users can download files or share files without being required to pay a fee.
Overall, the BiglyBT torrent client is a reliable tool for downloading and sharing torrent files. The client has VPN detection for better integration and is ad-free, thus preventing hackers from accessing a user's device and injecting adware. Again, the torrent client is a freemium client, one that offers great services at no cost.
---
3. WebTorrent Desktop
WebTorrent Desktop is the best torrent client for Windows, Linux or macOS devices. The peer-to-peer streaming torrent client connects to both WebTorrent and BitTorrent peers and enables visitors to play or watch content without having to wait for the download to finish. Also, the software program is able to communicate with peers running on uTorrent, Transmission or web pages. WebTorrent is ideal for streaming torrents.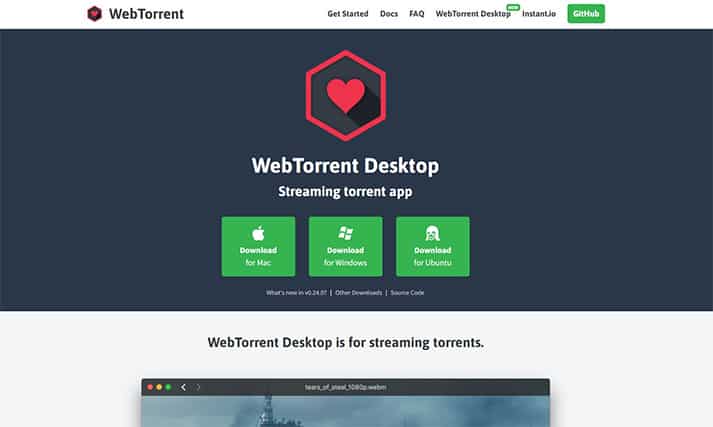 The WebTorrent Desktop torrent client enables users to share files from browsers without having to install or configure extra software. Users can utilize the client to share anything from tutorials to documentaries and TV shows to Linux distributions. The torrent client was built for the web and is written in JavaScript, the web's language. Also, the software uses WebRTC to achieve authentic P2P transport. The client does not feature a browser plug-in but requires extension and installation.
There's not much to criticize about WebTorrent Desktop. While the torrent client is an alternative to a controversial torrent client (PopCorn Time), WebTorrent does not feature pirated TV series and movies known with the latter. However, unlike many torrent clients that are available in several languages, WebTorrent is only available in English, another limiting factor for the program's global popularity.
WebTorrent Desktop was produced by Feross Aboukhadijeh, a computer security expert known for working with JavaScript. Aboukhadijeh's WebTorrent Desktop product was first released on Oct. 22, 2013, while a stable release was recently done on May 21, 2021.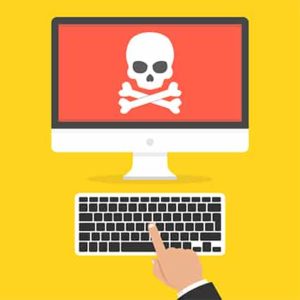 The torrent tool is ideal for people with an excellent internet connection so that users can livestream the content while the file is still downloading. WebTorrent Desktop is generally suitable for an impromptu session and will work well on Mac, Linux and Windows devices. However, the torrent client can cast to a Chromecast, DLNA TV or an Apple TV.
WebTorrent Desktop contains advanced torrent capabilities, including protocol extension API for new extensions, peer discovers through ut_pex, DHT and tracker, magnet URI support through ut_metadata. The torrent client also features magnet links and a drag-and-drop tool for creating and adding torrents easily. Recently, the tool included YouTube-style hotkeys and toggle sound notifications.
WebTorrent has many great features with little downsides. First, the torrent client is super fast so that several torrents can be downloaded simultaneously in no time. WebTorrent Desktop is an open-source torrent client, and the developers have the files saved on GitHub. Also, WebTorrent has a beautiful, intuitive and easy-to-use interface. The platform supports WebRTC peers, a feature that increases swarm and allows for websites to stream content. Furthermore, WebTorrent Desktop operates completely offline, making the program fast and reliable. The torrent program also ensures a seamless switch between rarest-first and sequential selection. Additionally, the torrent client is ad-free.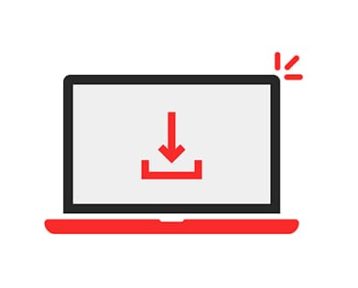 But for all WebTorrent's rich features, the torrent client lacks some extra advanced control tools.
The speed of WebTorrent is dependent on the user's internet speed, as this will determine how fast or slow downloading torrent files will be. Also, the speed and performance of the computer are crucial to the speed of the torrent client.
WebTorrent Desktop is one of the most affordable torrent clients available, and this is because the software costs nothing. The app can be downloaded from the developer's website with no fee required.
Overall, WebTorrent Desktop is a reliable, lightweight, open-source and easy-to-use torrent client with many in-demand features on offer. As stated, WebTorrent Desktop is completely free.
---
4. Transmission
Transmission is the best torrent client for Ubuntu. This lightweight torrent client allows users to upload torrent files and download files from several peers on the internet. Users can create a queue of files to be uploaded and downloaded by including torrent files through the client's user interface.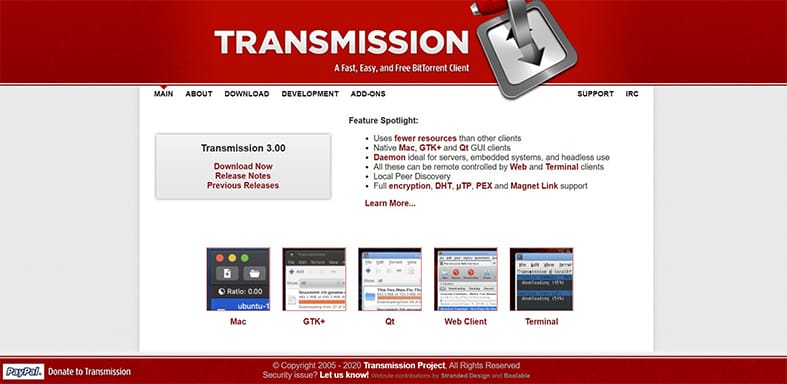 The feature-packed platform features almost every function a torrent client needs. With Transmission, users can download and upload multiple files in no time. The performance is enhanced by an extensive range of features, while the client availability across multiple platforms, including macOS (10.10 or later) and Windows 7, 8 and 10. The torrent client is also available for all main Linux distros including, Fedora, Ubuntu, Mandriva, OpenSuSE, CentOS, Puppu Linux, Debian, Slackware, Arch Linux, FreeBSD, Pardus, OpenBSD, Gentoo and NetBSD. The client also features a well-functioning native app.
The Transmission torrent client has been criticized in the past for unknowingly sharing and distributing malicious installer files through the client's website. Though the developers were quick to remove the harmful client, the action has marred the otherwise near-perfect torrent client.
Transmission was released on Sept. 15, 2005, and was originally designed for Linux and macOS. In 2016, though, the torrent client became available for Windows operating systems.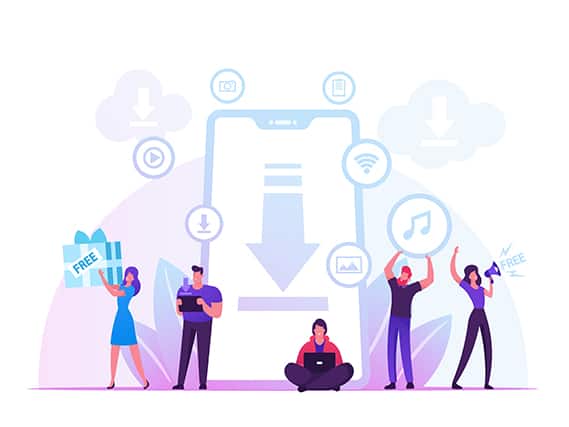 This torrent client is ideal for users seeking a minimalistic but powerful client as the software is very lightweight. Transmission is visually appealing and provides customization settings and a range of features that many visitors will love.
The Transmission client contains all the features that make up an ideal torrent client. The tool's main capabilities include download scheduling, encryption support, IP filtering and remote management. Unlike other torrent clients, Transmission goes further to support embedded systems such as personal servers, NAS, Raspberry Pi and HTPCs.
Transmission also has plenty of advanced features and offers both local and remote access. Besides, the availability of command-line tools, web interface and Daemon support makes Transmission a very capable torrent client. Also, the client offers super-fast download speeds and enables users to download files from various peers while also allowing for self-upload.
Furthermore, the torrent client contains lots of add-ons, supports the RSS feed and Kodi plugin. macOS users get to experience a few additional Mac-specific features such as Growl notifications, Dock, and automatic updates using Universal binary and Sparkle.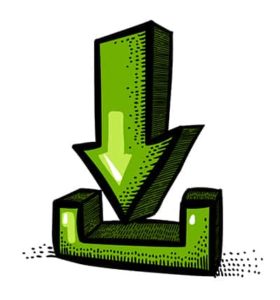 There are several advantages of Transmission. The most obvious is the tons of features the client provides, most of which have been highlighted. But beyond these, the client's app has a clean, appealing interface and cross-platform compatibility. However, the client lacks a built-in search engine and does not support proxy servers.
Transmission has a fast download and upload speed if all the necessary criteria are met. The speed could vary anywhere between 450 KB/s and 1 KB/s.
The torrent client is quite affordable; Transmission is a free and open-source client that operates on multiple systems while also being available in several languages.
Note:
Transmission's reliability lies in the open-source nature of the tool, which ensures transparency while keeping away adware, malware and other malicious threats.
To reiterate, Transmission is completely free. To support the platform, the developers accept donations via PayPal.
---
5. qBittorrent
qBittorrent is a cross-platform and open-source torrent client that enables users to download content from the internet. The torrent tool aims to offer an open-source alternative to clients such as uTorrent. Available in over 70 languages, the program runs on major devices including Windows, Linux, FreeBSD and OS/2. The torrent client is based on the libtorrent-rasterbar library and the QI toolkit.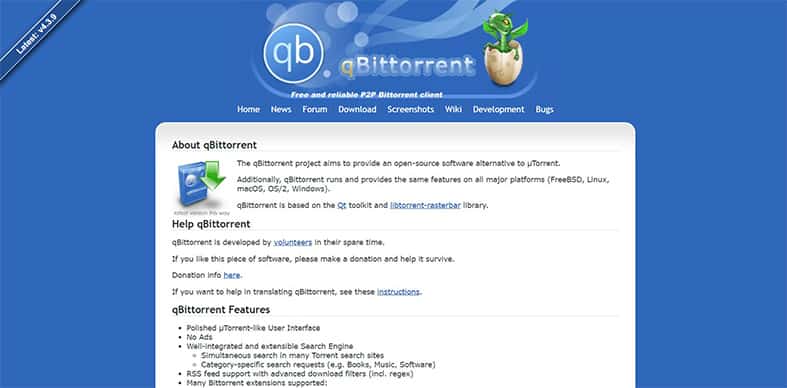 While some torrent clients provide all the imaginable functions, some keep things very simple. The qBittorrent function is somewhere in between. The torrent client balances simplicity and speed, striving to meet users' needs, while using as little memory and CPU as possible. The client's major function is to ensure users are able to download files, including music, movies, TV shows and other content, quickly and easily.
The qBittorrent torrent client is not without criticism. Although the client does not feature ads, the program isn't the most robust on the market. For one, qBittorrent lacks extensive extensions and has no extra handy tools. Also, some files do not automatically download, even when configured to do so. And the torrent client takes after uTorrent, rather than having a unique look and feel.
qBittorrent was released on May 16, 2006, and since then, the torrent client has grown exponentially.
The torrent client has a user-friendly interface ideal for those seeking a client that covers the basics without becoming overly complicated. Also, qBittorrent is ideal for use when multiple files are being searched at once. Privacy-centric users will find qBittorrent handy as the tool features a UI lock to keep unauthorized persons from accessing the software. The torrent client is great for downloading files including movies, TV shows, documentaries, games, TV series, music, eBooks, anime and more content.
qBittorrent contains a media player, an integrated torrent search engine for instantly locating the user's desired content, IP filtering, encryption, torrent creation, bandwidth scheduling, sequential downloading and RSS feed support. These features ensure users can download torrents easily and manage files better.
qBittorrent is among the best torrent clients for many reasons, but top on the list is the client's ad-free feature. qBittorrent does not also contain malware. The client is frequently updated, thus preventing glitches and bugs. Also, the torrent program is easy to use, has customized settings for flexibility and is compatible with all operating systems and devices.
But where the client falls short is the lack of plugins or extensions, which limits users' customization. Furthermore, qBittorrent has a dated-looking website and doesn't offer mobile apps.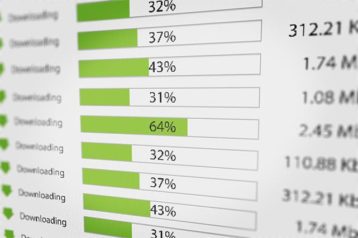 The speed of qBittorrent is not fixed as this is dependent on the network and type of device used. Yet, users can achieve as much as 95 KB/s. However, the speed can be improved by setting the download speed of the client to 80% of the users' optimal download speed.
qBittorrent is developed and maintained by volunteers and, seeing as the client is an open-source program, fees are not demanded. So, qBittorrent is not just affordable; the client is free.
Users can rely on qBittorrent to offer great torrenting services. The torrent client is equipped with all the features needed, including an extensive and well-integrated search engine, remote control via the web user interface, a torrent creation tool and more. Also, the torrent client is free, with no fee demanded. In fact, qBittorrent is arguably one of the best free torrent clients.
---
6. Vuze
Vuze is one of the latest torrent clients to hit the market. The torrent client is a descendant of the now-defunct Azureus and was designed to allow users to search and download torrent files in a seamless and easy manner. The torrent client prioritizes simplicity and ease of use and has a basic UI. The torrent client not only enables users to download tons of content, but Vuze also features several add-ons to make the client stand out.
The Vuze torrent client, which is one of the best torrent clients for macOS, functions as a one-stop JavaScript BitTorrent tool for Mac devices. The torrent client functions as a gateway to accessing endless data and files and serves as a playback device and file converter.
Vuze claims to be one of the most powerful clients to exist. While this could be true, the client is closed-source software, giving room for distrust and suspicion as determining the client's safety isn't straightforward. Also, the torrent client has been criticized for featuring too many disruptive ads.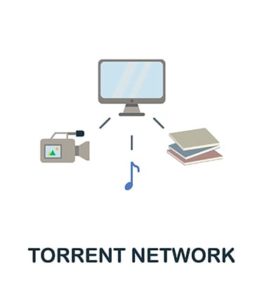 According to Vuze's website, the torrent client is said to have been released in 2017. The torrent client can be used on all major operating systems, including Windows 7, 8 and 10, Linux and macOS. However, since the tool's debut in 2017, no new version has been released.
Vuze is ideal for users who want to download, stream and share all types of content, including movies, TV series and shows, music, documentaries and eBooks. The torrent client also serves power users and those who own new versions of Linux, Android, Windows and macOS devices.
Many aspects make the Vuze torrent client unique. The torrent client has a metasearch or torrent search along with a Yahoo-powered website search so that users can download torrents and check details on the downloadable content. There's also RSS feed support, enabling automatic downloads for new content when available. This is especially needed when downloading episodes or series. The client also features a remote app that enables users to control desktop torrent clients using a mobile device. Furthermore, since the client supports the BitTorrent protocol, visitors can install extensions including Speed Scheduler, RSS Feed Scanner, Country Locator, 3D View and more. Vuze also supports plugins such as SafePeer and Torrent Guard, which add an extra layer of security and ensure users have a safe torrenting experience.
Note:
The torrent tool also contains a built-in HD video player that enables users to watch videos without needing to open a third-party video player. This video player supports formats such as XVID, AVI and QuickTime. Other features include a built-in antivirus function, along with a "Play Now" feature.
There are many reasons why Vuze is liked and well-accepted. One of Vuze's main selling points is a squeaky-clean interface, which is able to get through the jargon and make even the most complicated features available for amateurs. Besides, the program is feature-rich, while the Pro version has an antivirus capability.
On the downside, unlike most torrent clients which are open-sourced, Vuze is a closed-source torrent client. Moreover, the software program features ads and consumes a lot of resources. Vuze isn't suitable for use with older computers as the client tends to slow down the operations of older systems. Vuze is designed for power users.
Users can attain a speed of 1 MB/s with Vuze. In cases where this isn't achievable, users can open a port and open the Vuze settings. Doing this will significantly increase the speed of the torrent client.
Vuze is quite affordable, priced as low as $3.99 per month for a yearly subscription. There's also a six-month plan that costs $4.99 per month, while the one-month plan goes for $9.99 per month.
Vuze is very reliable. The torrent client is not only rich in features but is also available in two flavors: the Vuze Plus and Vuze Leap, both of which have media playback, offer torrent downloads and provide magnetic links. The torrent client has a built-in IRC-powered chat, a community forum and Wiki for easy contact and support.
While Vuze offers paid versions, the torrent client also features a freemium version, although this contains lots of ads.
---
7. uTorrent
Available in 67 languages and with more than 100 million users, uTorrent (μTorrent) is a lightweight torrent software program that enables users to download large-sized files in a file distribution environment. uTorrent app has an organized and simple interface that makes the client ideal for amateurs and experts.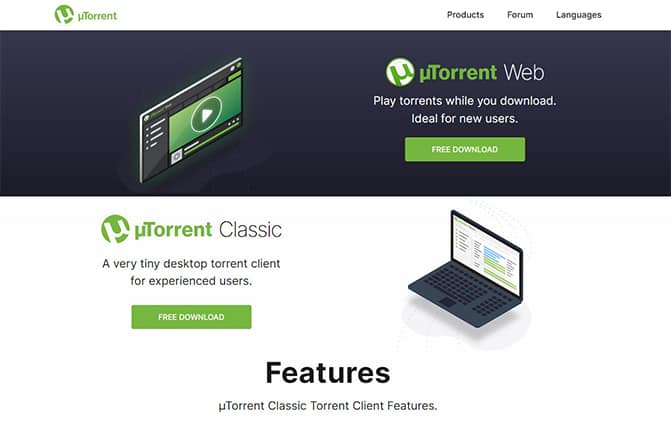 When P2P files such as torrents are downloaded, the original files are composed of thousands of tiny parts from seeders all over the globe. Hence, the file can't be downloaded like a regular file. This is when torrent files such as uTorrent are used. uTorrent collates all the bits of files, which are then merged into a single, high-quality and usable file. The torrent client functions in the background, while using very minimal resources to avoid lags ensure smooth operation on the computer.
While uTorrent is arguably one of the best torrent clients for Android and other devices, the program has also faced some criticism. The tool has a record of security issues; in uTorrent's recent security lapse, there was the potential for cybercriminals to gain control of the client's key function and spy on users' downloads.
The torrent client was first released on Sept. 18, 2005. However, on Dec. 7, 2006, μTorrent was bought out by BitTorrent, Inc. This makes μTorrent one of the oldest torrent clients.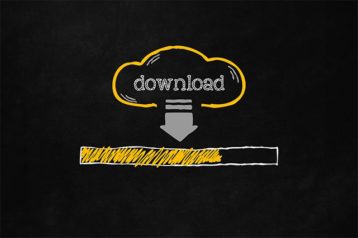 The torrent client is ideal for downloading TV shows, software, movies and other large files quickly and easily. The torrent client is also great for users looking for the best free torrent client. The tool requires no setup to get started, hence μTorrent is ideal for users who wish to start downloading without going through many protocols.
uTorrent contains several features that make for a unique and great program. The torrent client supports RSS feeds so users can automatically download new movies and shows. μTorrent also enables users to schedule downloads for times of unavailability. Besides, the client features detailed stats, including upload speed, download speed, size of the torrent file, seeds/peers, and the estimated time of download.
The torrent client has several pros and some cons. On the plus side, μTorrent is easy to use, owing to the tool's streamlined interface. Also, μTorrent has a good number of options and features that enable users to have control over downloads. μTorrent is incredibly lightweight, only occupying 2MB while only needing about 6 RAM for operation. Moreover, the torrent client is always improving as there's always an update.
On the other hand, μTorrent contains disruptive and frustrating ads, while these ads can be turned off without having to pay, many users aren't aware. While downloading, the client can introduce adware into a user's device if careful attention is not paid. Besides, unlike other clients, μTorrent does not provide add-ons or plugins for increased functionality.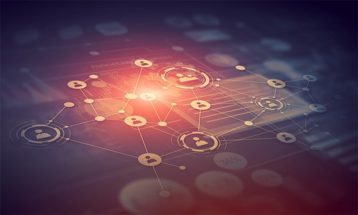 The client's speed is dependent on the user's connection. While some users may get a download speed of 81 KB/s and an upload speed of 112 KB/s, others may get less or above the figure.
μTorrent has various subscription plans to suit different pockets. There's the Pro plan, which goes for $19.95 per year, as well as the ad-free plan, which goes for $4.95 per year. There's also the PRO+VPN plan, which costs $69.95 per year.
There's no doubting the reliability of μTorrent. The client runs on the web and wouldn't gobble too many resources. Besides, the client is compatible with iOS, Linux, macOS, Windows and Android. Moreover, μTorrent has millions of users, a testament to the client's widespread acceptability and reliability.
μTorrent is not just free; the torrent client is one of the best free torrent clients available. There are also paid plans for users who want more features.
---
8. Tixati
Tixati is a fully featured torrent client that supports many functions seen in a modern client, such as magnet links and event scheduling. The client is compatible with Windows and Linux systems and is known to provide comprehensive information on the peers that the user is connected with.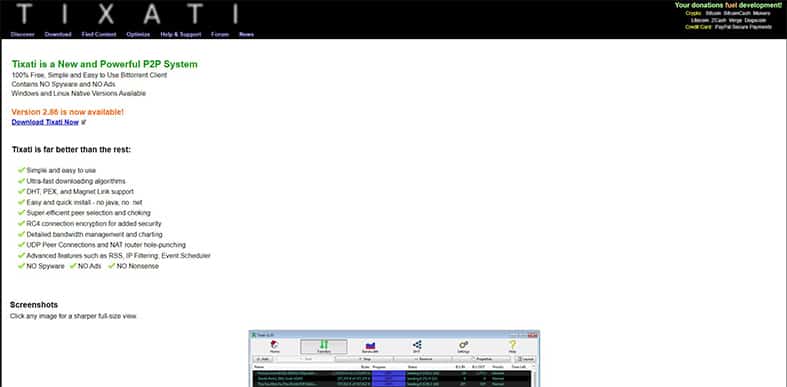 Tixati is a fully packed torrent client, providing users with information on bandwidth usage and amount of data shared with fellow peers, and likely locations based on IP addresses. The client also helps users keep track of activities and the chosen torrents, and provides an encrypted chat and messaging system to facilitate communication among users.
However, this torrent client has also received criticism. For example, the software has been criticized for being closed-source, and several cases of crashing have been reported by users. Also, Tixati does not automatically detect the user's operating system, so the user has to manually select the version of the client compatible with the system.
Tixati was founded in 2009 by developer Kevin Hearn, who is also known for WinMX. Standalone and portable versions of the client are included with each new release. Tixati has undergone several upgrades and updates since launching, adding new features and staying up-to-date with the latest trends in the world of torrent clients. The most recent version of the client is the 2.81 version.
Because Tixati offers a wide range of features, the client can be used whenever users want to download torrents on Windows and Linux operating systems while enjoying other features. Unfortunately, this software cannot be enjoyed by Mac users. Another limitation is that the client is only available in English.
As stated, Tixati is loaded with features such as an encrypted chat and messaging system that facilitates the exchange of information among users. The client also allows tracking of the client activities and event scheduling.
Note:
Tixati stands out from other torrent clients by providing in-depth information on the peers users are connected with, in addition to bandwidth usage data. The torrent client also boasts a peer selection system where users can choose from the many local peers available, thereby boosting download speeds.
Tixati has many advantages, including an easy-to-navigate interface, customizable settings and configuration options. The encrypted chat rooms featured in the client can also be seen as a huge advantage over other torrent clients.
Furthermore, Tixati does not support ads and is free from spyware. The client depends on donations, giving users an ad-free experience. The torrent client also allows automatic downloads with an RSS support feature.
In spite of all these advantages, Tixati comes with a few downsides, namely that the client cannot be used with macOS. Also, Tixati is a bit time-consuming because the client does not automatically detect the user's operating system, so the user must manually choose the compatible version.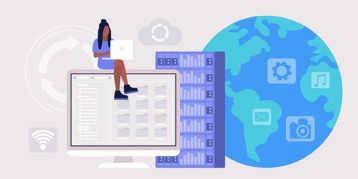 Tixati is said to be one of the fastest torrent clients in the market. However, the forced RC4 encryption and SOCKS5 proxy supported by Tixati has adverse effects on the client's speed. The peer selection system also allows users to increase download speeds by choosing peers that offer faster downloads.
Tixati is completely free of charge, so anyone can enjoy the loads of features boasted by the client without paying a dime.
Frequent crashes and downtimes have been reported by many Tixati users, raising concerns about the client's reliability. However, this problem is counteracted with the help and support section on the client's website, which contains guides on how to troubleshoot such problems.
Tixati is completely free of charge and requires no payment to download or use the client.
---
9. Deluge
Deluge is a customizable torrent client that can be as powerful or as simple as the user wishes. This torrent client has been around for a long time and is the best torrent client for NordVPN. Deluge enables users to download and share torrent files over the P2P network, which depends on visitors having files hosted on torrents to upload through seeding.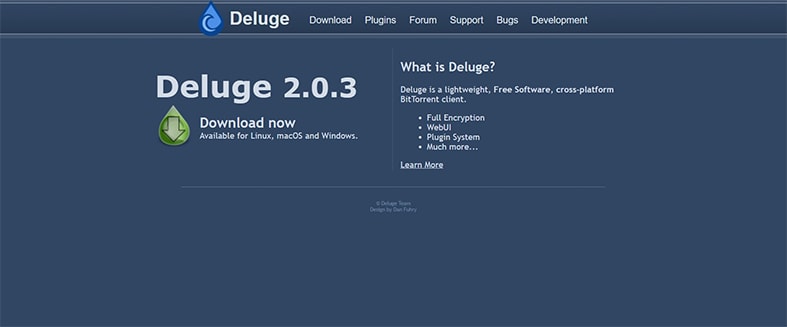 Deluge torrent clients can function as a standalone app or as a client-server, meaning the client can operate in the background or be controlled remotely. The software also functions well on old devices as the client only uses about 25% CPU.
Deluge's user interface is unusual for a typical torrent client; the software isn't the easiest to use, and that can pose a problem for new users. Also, the client's interface is lacking in details, which has drawn criticism from users.
The Deluge torrent client has been in existence for more than 15 years and was first released on Sept. 25, 2006, before having a stable release in 2019.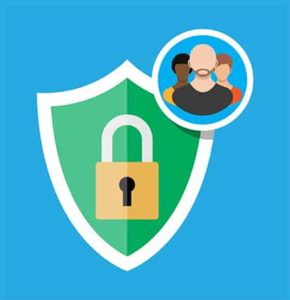 Deluge is ideal if the desire is a torrent client that downloads torrents quickly. The program offers movies, music, documentaries, eBooks and more content. Also, Deluge serves privacy-conscious users as an open-source tool that's transparent and efficient.
The Deluge software contains a large number of first and third plug-ins. With these features, users can fully customize the client by including unique features to help increase security, speed and performance. Such adjustable features include bandwidth adjustments, Firefox or Chrome integration, appealing graph creation, alphabetical downloading and IP blocking. The tool also contains robust encryption and torrent statistics and is able to discover remote peers to facilitate faster downloads. Besides, Deluge enables users to set per-torrent and global torrent bandwidth limits. Also, the torrent client contains other features such as UPnP, web seeds, NAT-PMP, peer exchange and DHT, and the software uses the libtorrent library occasionally.
Deluge has some pros and cons. For one, the torrent client is free, cross-platform and easy to use once understood. Also, visitors can improve the software's functionality by installing several plug-ins.
On the downside, the client's interface is sparse, with an outdated look. New users may have to spend some time learning the plugin suitable for use, which is time-consuming. Also, the Deluge is not a good fit for users seeking a feature-rich torrent client.
Note:
Like most torrent clients, Deluge's speed depends on the size of the torrent file to download, the user's network and other significant factors. However, users have complained of slow download speed with Deluge.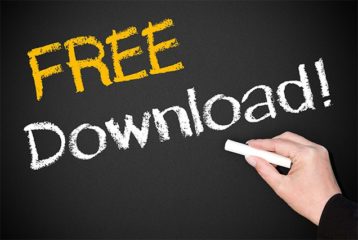 The Deluge torrent client is not just affordable; the software is free to use. This is perhaps because the program does not have many features as most paid torrent clients.
The software is very reliable. First, Deluge is compatible with most operating systems, including macOS, Linux and Windows but is not available on mobile devices. Also, the torrent client provides three functionalities: Users can either use the software on browsers, desktops or with console UI through the command line feature of devices. Deluge's code is subject to public scrutiny due to its open-source status, hence users can always rely on the client to offer great services.
Overall, Deluge is a free and open-source torrent client that offers all the necessities of a torrenting platform.
---
10. Bitport.io
Bitport.io, also known as Bitport, is a cloud-based torrent client that allows users to stay unnoticed while using the software. Bitport users do not need a private connection because the seeding and leeching of files are handled by the client servers.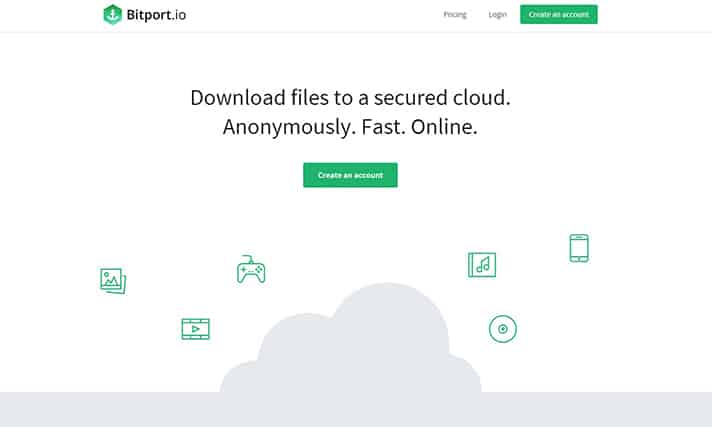 Staying anonymous is one of the major challenges torrent users face. Bitport addresses this by routing downloads through its servers. This disconnects their users from the torrent network, allowing them to stay unnoticed.
Bitport has been criticized for having a limited free plan. The torrent client offers a free trial period, which is usually followed by various paid plans that the user can choose from. This means that Bitport users have to pay for the platform's services after the trial period has elapsed.
Bitport was released in November 2014 by Cool Sheep Technologies, a Czech company located in Prague. The client has gone on to provide users with reliable and secure cloud-based downloads.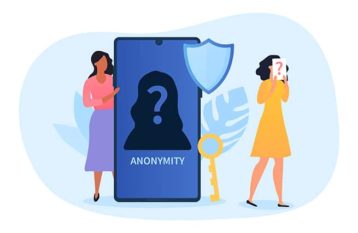 Bitport offers users anonymity and is available in English, Portuguese, Spanish, German, Russian, French and Czech languages.
Bitport allows users to download torrents into the account created on the client's cloud storage. The software's servers are used to download torrents, thereby hiding the user's IP address and providing anonymity. Premium users of the client are also offered SSL encryption services, making downloads only viewable to the user. Bitport also offers a fast and reliable hub for torrent downloads, as well as streaming services.
Note:
Bitport has many strong points compared to competitors, namely that the client offers secure torrenting to keep users anonymous. Files are also downloaded onto a secure and private cloud space and scanned for viruses, providing additional security for users' systems. Bitport is fast and easy to use and also accepts Bitcoin payments.
The main weak point of Bitport is that, unlike most torrent clients, Bitport offers a limited free plan. The program also collects personal data from users and does not offer a 24/7 chat service.
Bitport offers double downloading services. Firstly, the torrents are downloaded into the Bitport cloud by the client servers. The speed of this download is affected by the number of seeds available at the time of download. The second download refers to downloading the file from the cloud into the user's phone.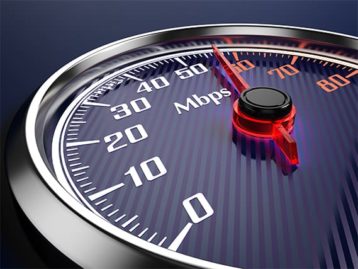 The speed of this download is determined by the connection speed of the service providers, but this is handled by Bitport's worldwide network of servers, allowing users to access unlimited download speed anywhere.
Bitport offers a free trial, after which users can choose from four paid plans (limited, small, standard and big), with prices ranging from $5 to $15.
Bitport is reliable for downloading torrent files because of the high level of anonymity the client provides for users.
As stated, Bitport is not free. The client offers a limited free trial period. After this period, the user can choose from four paid plans.
---
11. FrostWire
FrostWire is a torrent client that allows downloads from cloud sources and various torrent search engines. The program also has a built-in media library that allows users to share files and play downloaded files. The client is supported across the Windows, Android and macOS platforms.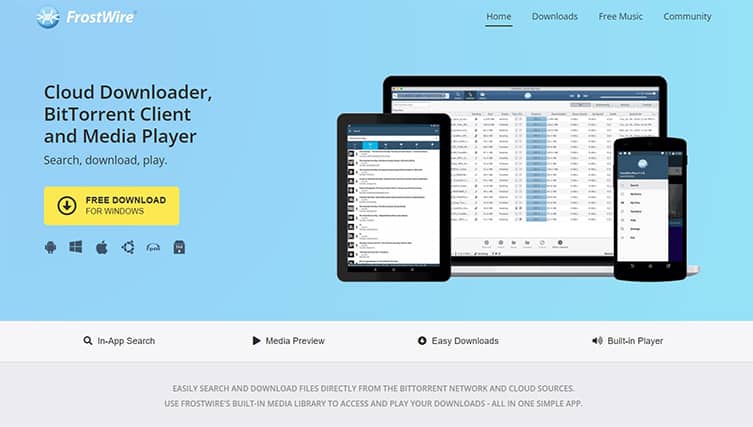 FrostWire is originally a file-sharing app that also functions as a torrent downloader. As such, the client can be used for the exchange of files. The easy-to-use interface allows users to search for and download various files from the software, and users can play downloaded files in the media player.
FrostWire has been criticized for not having a VPN, which makes users vulnerable to monitoring. Users must download a VPN before the software is used to maintain anonymity.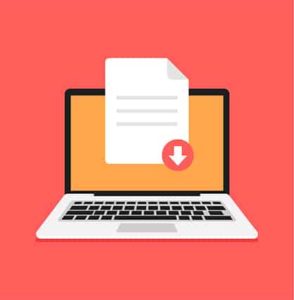 FrostWire was released in 2004 and has since been revamped and updated to include the latest features. Twelve updates have been made since the first release, with the latest being version 6.9.5.308.
FrostWire has a simple interface that does not require any form of configuration or expertise. As such, the software can be used by anyone looking to download videos, music and app files. FrostWire can also be used by peers who seek to share files among themselves. The client is available in a host of languages, serving a global audience.
FrostWire has an easy-to-use search bar that allows users to download files with a single click. The software features a user-friendly interface and does not come with annoying ads or pop-ups. The client also has a search filter feature that allows users to select what appears in the search.
FrostWire also includes a massive library of download links pulled from various torrent sites. There are no download limits, and users can choose to download individual files from a host of downloads available. The torrent client also has a file-sharing feature allowing users to share files through WiFi.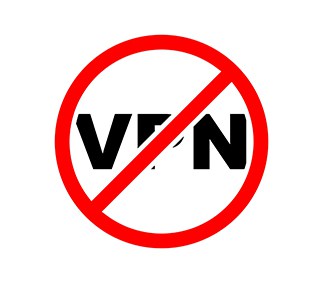 FrostWire has a host of advantages, including a user-friendly interface, a massive library of links, no download limit, and a built-in media player. The client takes up a maximum of 24MB, making the software very lightweight. The major disadvantage of FrostWire is the fact that it does not come with a VPN, so users will need to download a VPN before use to protect their identities.
FrostWire has an internet speed control feature that allows users to control data usage and increase download rates. The free music streaming services also allow users to further control bandwidth usage.
FrostWire is completely free and, as such, is very much affordable. Various files can be downloaded and played with the software at no cost. FrostWire also guards against viruses, malware, spyware and other threats.
FrostWire is completely free of charge, meaning users can enjoy the host of features mentioned above at no cost.
---
12. Bitcomet
Bitcomet is a torrent client known for long-term seeding, preview while downloading and support for various protocols. The software allows users to share torrents while enjoying a host of other features.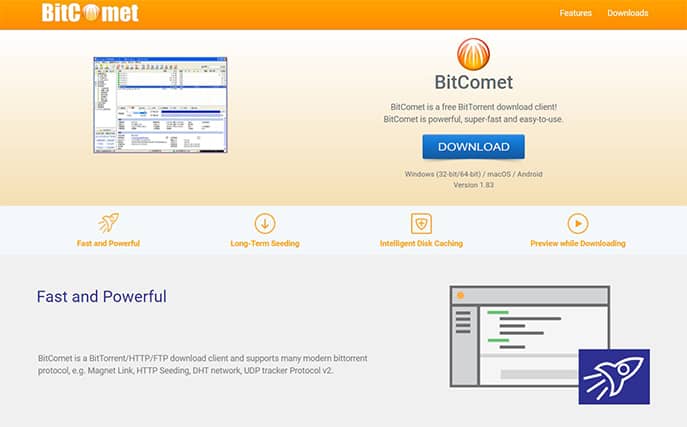 Bitcomet provides a fast and powerful means of downloading torrents without damaging users' hard drives with large amounts of data. Bitcomet has an intelligent disk caching system to store this data, thereby reducing the amount of data stored in the user's hard drive and increasing download speed.
However, Bitcomet has been criticized for stat-tracking features. This means that the client sends information such as the torrent hash to the bitcomet.com servers. The software was also removed from FileHippo in 2008 due to copyright controversy but was later reinstated in 2015.
Bitcomet was founded in 2003. The torrent client was first released publicly with version 0.28 and has since been updated to date. Bitcomet was initially named Simple BT client. The current logo for Bitcomet has been in use since version 0.5.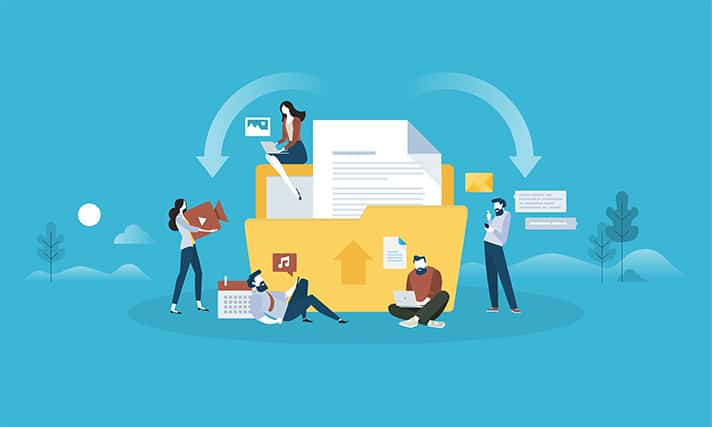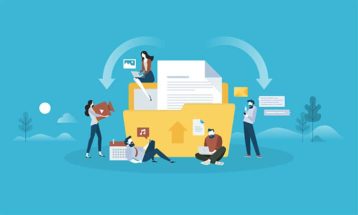 Bitcomet comes in over 52 languages, yielding global accessibility. The client is a good option for users who want to save hard drive space while experiencing fast torrent downloads. The torrent client also shows previews while files are downloading.
There are a few reasons why Bitcomet should be preferred for torrenting. The torrent client supports various client protocols such as BitTorrent, HTTP and FTP. The software also has a long-term seeding feature to search for as many seeders as possible for a particular download, thereby eradicating the issue of unfinished downloads while also increasing the download speed.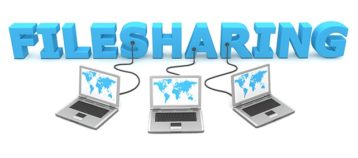 Also, the Bitcomet torrent client possesses an intelligent disk sharing feature which reduces the amount of data stored in users' hard drives and the number of times the data is accessed. This improves the security of users' hard drives while downloading. Bitcomet users can share files through the "torrent exchange" feature, allowing many tasks to be performed simultaneously. There's also an embedded Internet Explorer window users can utilize to search for preferred torrent files.
The few cons to Bitcomet are that the client has been said to be too basic and annoying to use.
Note:
Bitcomet has high download speeds facilitated by the intelligent disk caching feature. The software also downloads files across several seeders and client-server protocols, boosting download speeds.
Bitcomet is free, so users can download videos and other files at no cost.
Overall, Bitcomet is a very reliable software program for torrenting. The intelligent disk sharing feature secures users' hard disks and prevents damage.
---
Is It Safe to Use Torrent Clients?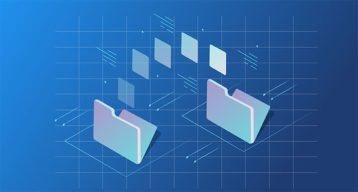 Yes, it is safe to use torrent clients. Torrenting clients are file transfer tools or protocols, which are legal as long as the files to download or upload are equally legal. However, the use of torrent clients to download or share pirated or copyrighted materials such as new movies, TV shows, music or other videos without the permission of the copyright owner is termed illegal.
That said, torrent clients pose some security concerns to users. According to research by an international body of security researchers, some of the most popular torrent clients can expose a user to different types of legal issues, one of which could involve the use of a user's PC to carry out a cyberattack without consent. Torrent clients often contain vulnerabilities that enable hackers to increase the bandwidth loads on certain targets. Already, this is said to have affected Vuze and uTorrent.[
Also, there are concerns around monitoring and throttling by internet service providers (ISPs). By default, most torrent clients use the same UDP and TCP ports, and if the ports are left unchanged, ISPs can block these ports and reduce the user's speed. But even when the ports are changed, if the torrent traffic isn't secured with a proxy or VPN, ISPs will detect that the bandwidth being used is that of a torrent client and will eventually throttle the user's network. While this is a big concern, the major concern is ISP monitoring, as ISPs can monitor and save files downloaded or visited. This is easily avoidable with the use of a VPN.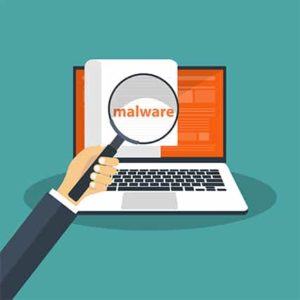 Another security concern is the presence of viruses and malware. Users often are not aware of the true source of the files being downloaded. Files shared over a university or business network are mostly safe, but not when users are downloading content that has been distributed globally. These files usually had trojans, malware and viruses implanted in the installation code of other software. Cybercriminals and hackers can access these free programs and inject viruses that can cripple users' firewalls when shared through torrent clients.
Furthermore, there's the concern of hacking and cyberattacks. Although many users are not aware, every "peer" a user connects to in a torrent client "swarm" can view the user's IP address. Hackers and cybercriminals can easily use this IP address for mischievous purposes, such as stalking, data leaks, blackmail and other dangerous activities.
Is It Legal to Download Torrents?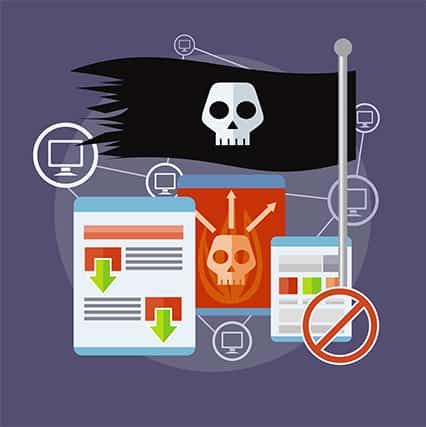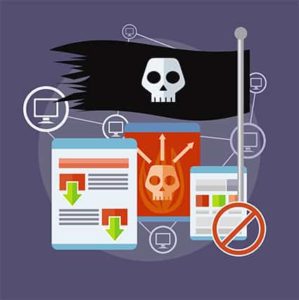 Yes, it is legal to download torrents. There is nothing inherently unlawful about downloading torrents. However, the download and sharing of unsanctioned copyrighted materials and content is illegal and may be a punishable offense.
Copyright infringement is considered illegal in most countries. What differs is the extent to which countries take the illegality seriously and what measures are put in place to curb the activity. In most countries, copyright infringement done for personal purposes is considered a civil offense, so copyright owners can sue offenders and obtain damages for losses incurred. While the amount paid is often very expensive and can ruin the offender, copyright infringement does not result in a criminal conviction.
However, in countries like the U.K., copyright infringement is considered a criminal offense. So, offenders will not only have to pay but may face criminal prosecution as well. In areas outside North America and Europe, copyright laws are generally in line with international laws. This usually means that these laws exist and are considered civil offenses. But oftentimes, there is little or no political will to uphold and implement these laws, thereby leaving copyright holders to go after more lucrative markets where legal action can be more successful and profitable.
Are There Any Torrent Clients that Work on Android?
Yes, there are several torrent clients that work on Android devices. Some of these torrent clients are given below.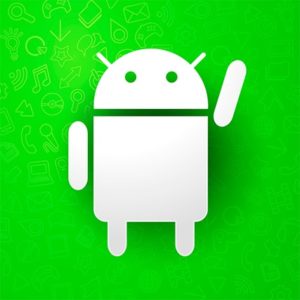 BitTorrent
uTorrent
FrostWire
Checketry
LibreTorrent
tTorrent
Transdome
TorrDroid
Torrnado
Nbz360
Flud Torrent Downloader
Are There Any Torrent Clients that Work on iPhone?
No, there are no torrent clients that work on iPhone devices. But while Apple does not support torrent iOS clients on the Apple App Store, other means can be deployed to download torrent clients on iPhones. For example, iTransmission torrent clients allow users to download and transfer torrent files.
Can Torrent Clients be Affected from a VPN?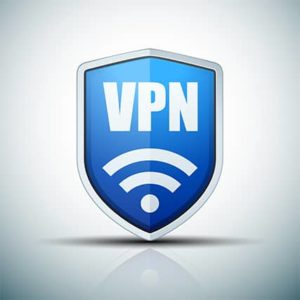 VPNs may vary, but the VPN definition remains the same. VPNs (virtual private networks) are software programs that provide online security and anonymity. VPNs affect torrent clients in many ways, mainly in terms of security. VPNs can protect users by preventing ISP throttling. When internet connections are not protected, everything done online is visible to ISPs. These ISPs do not like large file torrenting, so when such activities are noticed, ISPs may throttle the user's internet connection. But VPNs block online activities from ISPs, thus preventing throttling. Also, in downloading torrents with torrent clients, the user's location, IP address and identity are on display for anyone who cares to know, opening the user to potential malware, cyberattacks and hacks. However, with the use of a VPN, all these can be prevented. VPNs conceal users' personal deals, cloak IP addresses and encrypt data, keeping users safe and secure.
On the other hand, a VPN can negatively impact the performance of a torrent client. Most times, the torrent transfer speed is reduced when a VPN is used. This is because when a user connects to the internet through the channel provided by the VPN, the same internet connection channel is shared by many other users with the same VPN provider. For this reason, the speed of connection is often reduced. This is worsened if the distance between the user and the VPN server is far apart. However, while a drop in speed is expected, such a drop should be within 10% to 20% when compared to the connection without a VPN.