Cricket fans all over the world know that Hotstar is the best place for premium cricket content. However, Hotstar offers a tremendous array of content in other categories as well. With a recent partnership with Disney+, Hotstar has truly become the best all-around streaming service in the market today. The only problem with HotStar is that, just like US Netflix or Amazon Prime Video, Hotstar has different content libraries for different countries. So a user in India may be able to watch all the greatest football and cricket matches but a user in the US won't. Even people from India who are traveling to other countries such as Canada, the UK, the US, and/or Australia (among others) cannot view HotStar content outside India.
To solve the content restriction problem, users must use a VPN service. Modern VPNs come in the form of tools that end users install on streaming devices and unblock content. However, as efficient and mature as the VPN industry has become, not all VPNs work with HotStar. Some VPNs that claim to work with Hotstar actually don't. The best VPNs for HotStar 2023 are given below:
SurfShark (Best Overall)
ExpressVPN (Best for Streaming)
PIA (Best for Security)
1. Surfshark
SurfShark VPN was founded by Vytautas Kaziukonis and is now owned by Nord Security. SurfShark is based in the Netherlands, but before came under the jurisdiction of the British Virgin Islands. The company moved the business to the Netherlands in October of 2021.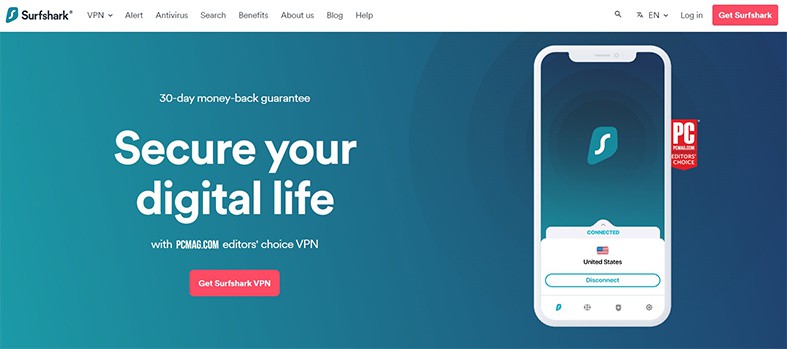 The primary usage of SurfShark is when users want to secure any device's digital existence while on a budget. Surprisingly, SurfShark's infrastructure can also be used to unblock streaming services like HotStar and others (such as US Netflix, BBC iPlayer, Tubi, Freevee, and Hulu).
SurfShark has a number of key features including, huge discounts, free trials, fast customer support, and the GPS spoofing feature.
| Package Duration | Package Price Per month |
| --- | --- |
| 24-months | $2.49 |
| 12-months | $3.99 |
| 1-month | $12.95 |
SurfShark currently offers over 3200 servers in over 100 countries. As far as SurfShark advantages go, the list includes great network infrastructure at all levels, security features beyond that of a VPN such as a search engine, data breach monitoring, ad blocking, unlimited simultaneous devices per account so the whole household of the office can get protection with a single SurfShark subscription.
SurfShark disadvantages include less than straightforward subscription package pricing, a slightly expensive monthly package, missing iOS features, and some disconnections on the Android platform.
SurfShark is considered one of the best VPNs for HotStar because, first and foremost, SurfShark works with HotStar consistently. There are very few VPNs can unblock HotStar at all times), has fast servers (RAM-only servers for even greater speeds), and a huge server network consisting of thousands of servers (which means less overloaded servers), unlimited bandwidth (some servers support 2 x 10 Gbps bandwidth), zero logs (with independent audit reports to prove the claim), advanced security features (WireGuard support, multi-hop servers, static IP servers, AES encryption, kill switch, Incognit, IP rotator, and auto-connect) and finally, plenty of servers in India (over 20 virtual servers in 3 locations).
Note:
Because of new data laws in India, SurfShark shut down all physical servers in India. However,
SurfShark
still offers virtual servers located in India.
---
2. ExpressVPN
ExpressVPN was founded in 2009 by Peter and Dan. The company has grown to have over 3 million users. Recently, ExpressVPN was acquired by Kape Technologies. The company now relies on over 500 employees. As a VPN service, ExpressVPN operates out of the British Virgin Islands, which is great for privacy.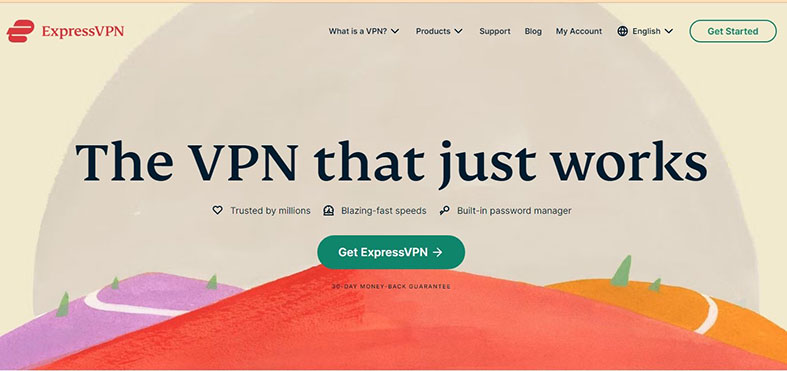 The main usage of ExpressVPN is when users want enhanced privacy and anonymity in a straightforward manner. ExpressVPN eschews complexity in every step of the process that the user has to go through to get protection.
The key features of ExpressVPN include easy-to-use applications, a fast set up process, a reliable 30-day money-back guarantee, and sleek dedicated apps for all major platforms including routers. Other notable features include private DNS, a 30-day money-back guarantee, fast customer support, great uptime percentage, unlimited server switches, and the split tunneling tool.
ExpressVPN currently offers over 3000 servers in over 94 countries and 160 locations. In short, no matter where the user tries to stream HotStar content, ExpressVPN will always have a server nearby.
| Package Duration | Package cost per month |
| --- | --- |
| 12-months | $8.32 |
| 6-months | $9.99 |
| 1-month | $12.95 |
ExpressVPN advantages include a threat manager, infrastructure for unblocking all major streaming sites, task-specific servers, torrenting support, and fast speeds.
The disadvantages of ExpressVPN include the lack of bonus features when compared to other elite VPNs, lack of huge discounts, ties with Kape Technologies, and limited port forwarding facility.
ExpressVPN is considered a great VPN for HotStar as the service has ultra-fast RAM-only 10 Gbps servers with unlimited bandwidth, the ability to consistently work with Hotstar, plenty of virtual servers in India for reduced buffering and streaming-specific tools such as MediaStreamer.
---
3. Private Internet Access (PIA)
Private Internet Access is a popular VPN tool for securing data, making personalized online privacy rules, and staying anonymous. Private Internet Access is owned by Kape Technologies and employs close to 100 people. The VPN is based in Michigan, United States. Andrew Lee founded the Private Internet Access VPN service back in 2010. Private Internet Access has been providing top-notch VPN service for over 10 years and has a user base of about 15 million worldwide.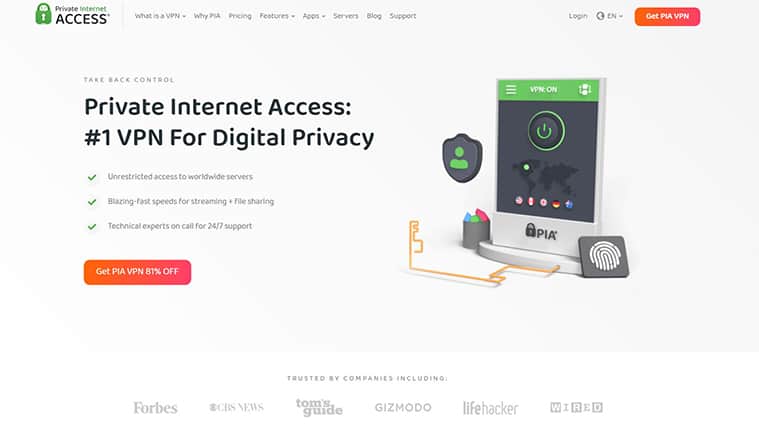 Generally, Private Internet Access is used for privacy protection (where PIA protects the user's IP address from discovery and hence exploitation techniques), data security (via encryption), and access to blocked content on the internet.
Key features of Private Internet Access include live customer support available 24/7, open source apps, zero logs policy, fast servers, a dedicated IP address, an antivirus component, and a separate Corporate VPN offering.
Currently, Private Internet Access is offering over 30,000 servers in 84 countries (estimates do vary considerably as there are no official numbers available). Some of the servers are virtual servers though.
| Package Duration | Package Cost per month |
| --- | --- |
| 36 months (with additional 3 months for free) | $2.03 |
| 12 months | $3.33 |
| 1 month | $11.95 |
The advantages of Private Internet Access include a dedicated Linux application (very rare in the industry), privacy-friendly online payment methods, advanced security features on all supported operating systems, and great torrenting support.
Private Internet Access disadvantages a slightly expensive monthly package, lack of a free version, US-based company, owned by Kape Technologies, and less-than-stellar performance on some protocols.
Overall though, Private Internet Access (PIA) is a good VPN for HotStar because PIA has a huge server network (over 12,000 servers though estimates vary from 500 to 30,000), lots of servers in India (PIA is one of the few VPNs still offering servers in India via virtual locations), the ability to unblock Hotstar consistently, good security tools (AES 256-bit encryption, private DNS, DNS leak protection, kill switch, browser extensions, ), great privacy (zero logs and a fresh seal of approval via an audit from a top independent auditing company), unlimited bandwidth and no data consumption caps (10 Gbps servers are available).
---
4. CyberGhost
CyberGhost VPN is now considered a veteran of the business with Kape Technologies owning the VPN service outright and headquarters in Bucharest, Romania. CyberGhost, as a VPN service, was founded by Robert Knapp in 2004. The main usage of CyberGhost happens when users want complete digital privacy from the get-go. Apart from securing the digital footprint of online users on all major devices, CyberGhost is also very adept at unblocking sites like HotStar (and thus making the list of best VPNs for Hotstar).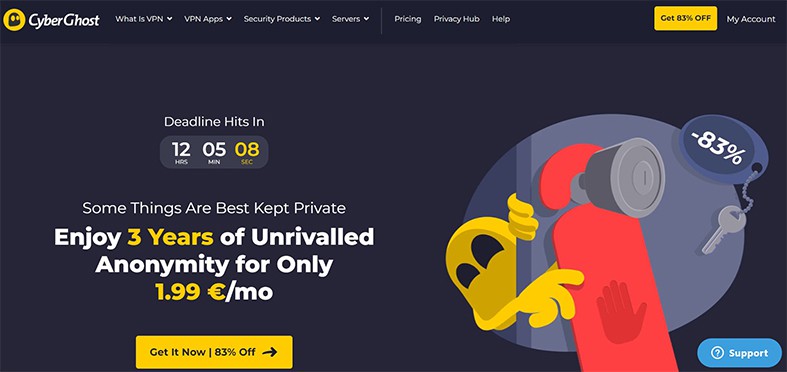 As far as key features are concerned, CyberGhost has a long money-back guarantee (45 days), zero logs (independent audits available), fast live chat, and support for all major platforms. Currently, CyberGhost offers close to 8000 servers in over 90 countries. The number of locations, however, is 115 at the moment. Depending on the time and the conditions in the market, CyberGhost can reach up to 9500 servers.
| Package Duration | Package cost per month |
| --- | --- |
| 24 months (with 2 months of extra VPN for free) | $2.19 |
| 6 months | $6.99 |
| 1 month | $12.99 |
The pros of CyberGhost include huge discounts on long-term subscription packages, good customer support options including live chat, consistency in unblocking other in-demand streaming services like BBC iPlayer and Disney Plus, great OpenVPN speeds, and lots of servers. CyberGhost cons include a lack of independent audit reports, being owned by Kape Technologies, and the Windows app taking a lot of time to establish a connection.
CyberGhost is considered a great VPN for HotStar as the service has fast servers (streaming-specific servers along with RAM-only servers and 10 Gbps servers), powerful security tools (kill switch, AES encryption, WireGuard, and IKEv2 support,), zero logs (there are no audit reports though), ability to work with HotStar at all times, servers in India (almost all are virtual servers because of the new Indian data law), and a huge server network (thousands of servers).
---
5. PrivateVPN

PrivateVPN was founded by Martin Mullerin in 2009 after which PrivateVPN was acquired by Miss Group. PrivateVPN operates out of Sweden.
PrivateVPN offers privacy and anonymity when users want military-grade protection while maintaining fast browsing speed. Other use cases of PrivateVPN include access to blocked content and protection against surveillance programs of hackers as well as governments.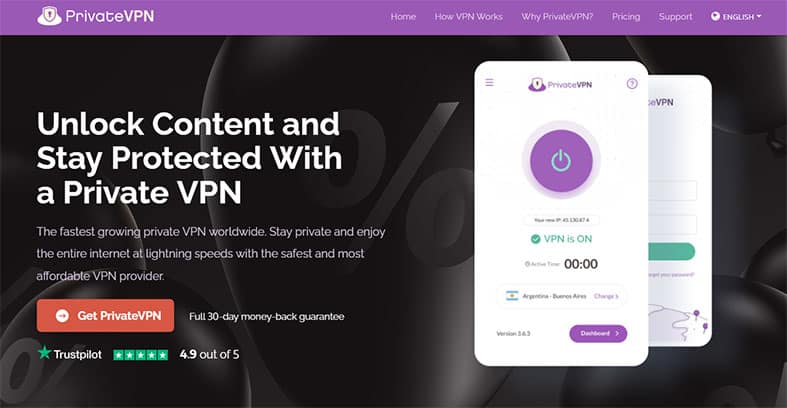 The key features of PrivateVPN include the ability to unblock streaming services such as US Netflix, Tubi, Disney+, and Prime Video, neatly spread out server network, the ability to work in restrictive countries such as China and Iran, extra security tools, well-developed apps and huge discounts on long term subscription packages.
PrivateVPN has over 200 servers in 63 different countries and even more locations. As mentioned just now, PrivateVPN may not have the biggest server network or even close to the average number of servers elite VPNs offer, but the network is very strategically laid out to offer maximum coverage.
| Package Duration | Package cost per month |
| --- | --- |
| 36 months | $2.00 |
| 3 months | $6 |
| 1 month | $9.90 |
PrivateVPN advantages include a free trial lasting seven days, 10 simultaneous connections per account, sleek apps on all major platforms, several encryption options, good torrenting support, an advanced kill switch, and a free tier. The disadvantages of PrivateVPN include sub-optimal protocol implementation, lack of independent audit reports, small server network, and lack of support for WireGuard on all platforms. Moreover, to use the free tier, users have to go through the registration process.
After everything, PrivateVPN is still a top-notch VPN for Hotstar as the service works with Hotstar, has physical Indian servers even after the recent Indian data law, has unlimited bandwidth and 10 Gbps servers, fast speeds, power AES encryption and kill switch, and zero logs.
---
6. ProtonVPN

ProtonVPN is based in Switzerland and employs less than 10 people. ProtonVPN was founded in 2014 by Wei Su, Sushil Kuman, Jason Stockman and Andy Yen. Currently, ProtonVPN is owned by Proton AG which in turn is an employee-owned company. The main usage of ProtonVPN is for people like activists and journalists that require the highest level of freedom and privacy on the internet. Combined with other services from the same provider, ProtonMail and Proton Drive, people in sensitive industries can safely manage information and keep everything private. ProtonVPN is also great for privacy and keeping surveillance programs at bay. The key features of ProtonVPN are a 30-day money-back guarantee, the company's Swiss HQ, open-source applications, and a great logging policy. Other features of ProtonVPN include the physical security of data centers where ProtonVPN houses VPN servers. All Secure Core servers are physically protected by biometric authorization requirements. ProtonVPN is also one of the handfuls of VPN companies that owns all critical VPN infrastructure. Another key feature of ProtonVPN is full disk encryption which protects ProtonVPN servers from all sorts of surveillance and cyberattacks.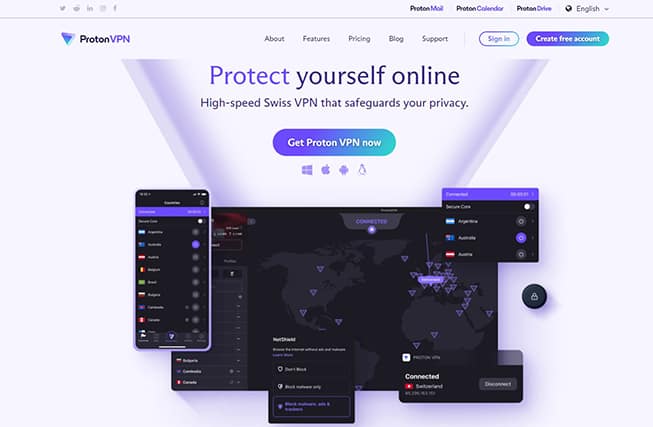 The number of servers of ProtonVPN is 1820 while the number of locations of ProtonVPN is 64.
| Package Duration | Package cost per month |
| --- | --- |
| 24 months | $4.99 |
| 12 months | $5.99 |
| 1 month | $9.99 |
| Free tier | Free |
The pros of ProtonVPN include great WireGuard and OpenVPN performance on all apps, the ability to unblock not just HotStar but also in-demand streaming platforms such as Prime Video, Disney+, and US Netflix, open source apps for all platforms including Linux, and genuine free plan. Paid members also get access to VPN accelerator, Stealth servers, and NetShield.
ProtonVPN disadvantages include overloaded servers on the free plan, lack of huge discounts, intimidating content on the official website, and slight inconsistent performance on mobile apps.
In the end, ProtonVPN is a fantastic VPN for HotStar as the service has over 1800 servers worldwide, virtual servers in India for HotStar, AES 256-bit encryption along with kill switch, auto-connect, and Secure Core to keep information safe, independently audited and verified zero-logs policy, trusted backroom staff including scientists and engineers, unlimited bandwidth with some 10 Gbps servers, and no data limits on the paid plans.
---
7. Hotspot Shield VPN

HotSpot Shield is owned by Pango Inc. dba Aura which is a firm based in the US. The main offices of HotSpot are in Seattle, Washington, USA but the VPN comes under the jurisdiction of San Francisco, California, USA. Currently, HotSpot Shield employs less than 10 people. The founders of HotSpot Shield are Jeff Ames, Jasjit Singh, and Jared Jones who created the for-profit service in 2013.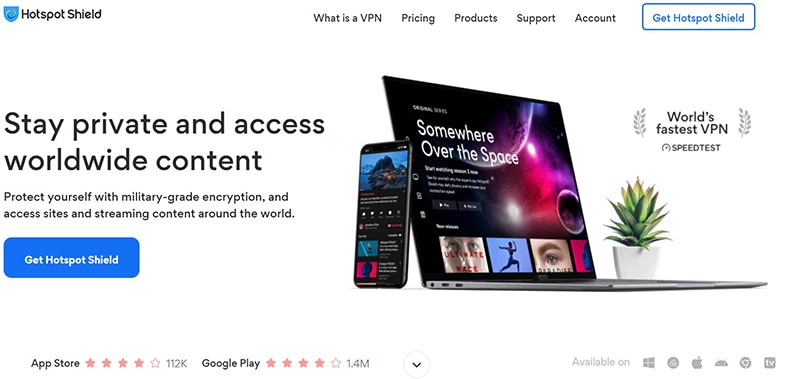 The main usage of HotSpot Shield is private and safe access to content worldwide. Other usages of HotSpot SHield include gaming, downloading of large files, and streaming content. Each HotSpot Shield VPN comes with an offer of 5 simultaneous connections in which case the usage may change to using a single VPN for the entire household.
The key features of HotSpot Shield VPN include SmartVPN (which can play the role of the split-tunneling feature), and extra security components such as Aura antivirus, Hiya, 1Password, spam call blocker, and IP leak protection. In total, HotSpot offers over 1800 high-speed servers located in over 80 countries.
| Package Duration | Package cost per month |
| --- | --- |
| Free tier | Free |
| 12 months Premium | $7.99 |
| 12 months Premium Family | $11.99 |
| 1 month Premium | $12.99 |
| 1 month Premium Family | $19.99 |
As far as the pros of HotSpot Shield are concerned, the list includes a large number of locations, user-friendly VPN apps especially on mobile platforms, advanced security features like split tunneling, and effective add-ons. HotSpot Shield is also ranked amongst the fastest VPNs in the world with the ability to unblock many streaming services on all major platforms.
Disadvantages of HotSpot Shield include less-than-ideal WireGuard protocol implementation, some logs, lack of clear transparency reports, expensive long-term packages, slow free tier, and inconsistent apps.
HotSpot Shield is still considered one of the best VPNs for HotStar. The primary reason is HotSpot's ability to work with HotStar and virtual servers in India when other VPNs have completely pulled out of the country due to the recent privacy-invading data laws. HotSpot also has a good-enough privacy policy. Even though HotSpot went through an audit by AV-Test, the malware testing lab did not test HotSpot's privacy policy compliant or privacy protection in general. But HotSpot does release transparency reports on an annual basis which is great for privacy. HotSpot Shield uses AES 128-bit encryption which, even if not the strongest, is still considered unbreakable. Finally, the premium versions of HotSpot shield have unlimited bandwidth, no throttling, and fast 1Gbps servers.
---
Note:
Prices may differ from the ones shown as new plans and deals are launched on a regular basis. Please be sure to check the most current price on the official website.
What is VPN?
The simplest way to understand what is a VPN is to think of the VPN as a secure, encrypted, and private tunnel between the internet and the user's device. All of the user's internet traffic goes through the secure tunnel. Such an arrangement protects users from all sorts of modern problems for online users such as content censorship, snooping, and data collection without consent.
Generally, VPNs hide the user's real IP address and assign a new IP address which is the IP address of the remote VPN server the user connects to via a VPN app. Using encryption, VPNs ensure that even if a hacker is able to download the user's SSL/TLS connection when trying to access a service or a website, the data remains unreadable.
How to Choose the Best VPN for Hotstar?
Hotstar is a popular streaming service in South East Asia and hence employs mechanisms to keep VPN users away. Hence, users should only go for the best VPNs for HotStar, the factors to consider when choosing the best VPN for HotStar are given below: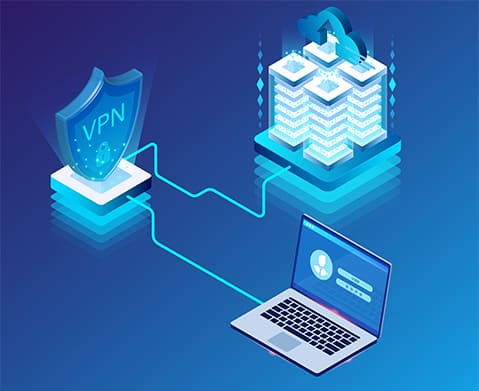 Speed: Without speed, even the best VPN with the greatest security tools and unblocking ability becomes more or less useless. To ensure that the VPN is quick enough users should look at the number of servers in the desired region, the locations, the server capacity, and whether or not there are RAM-only servers.
Bandwidth: The overwhelming majority of the content on HotStar is video content. Video content consumes a lot of data and bandwidth. Make sure that the VPN to use for HotStar doesn't have low bandwidth limits. Ideally, the VPN should have unlimited bandwidth and unlimited data. Low bandwidth can throttle the user's internet connection which in turn would give rise to buffering during streaming.
Zero-Logs: Any VPN worth the money either should not keep logs or at the most keep minimal logs. The best VPNs for HotStar have zero logs as the associated servers are located in countries where not keeping user records is permissible.
Good security: The best VPNs for Hotstar have advanced security features such as DNS leak protection, auto-connect, kill switch, double-VPN, rotating IP address, and AES encryption to keep the data anonymous and secure at all times. VPNs should also have the same set of features on all platforms.
A large number of servers: Especially in India. VPNs suitable for HotStar must have multiple servers and locations in India. With the recent news about data laws passed in India, many VPN services have stopped offering physical VPN servers in India. However, good VPNs for Hotstar have started to offer virtual servers (via Singapore) in India.
Unblocking ability: VPNs that work well with HotStar consistently unblock HotStar in multiple countries regardless of the user's device or connection. Many VPNs are able to unblock HotStar. Only a few unblock HotStar consistently and reliably.
Fast Customer Support: Any good VPN for Hotstar should have multiple customer support options including live chat, email contact, online contact form, and/or ticket system. Using a VPN with Hotstar can give rise to some unique problems that users may not know how to solve. Hotstar VPNs offer competent and quick customer support to solve customer complaints.
Dedicated apps: VPNs for HotStar must enable modern users to stream content on all devices in all situations. Most online streaming services support platforms such as Android, iOS, Windows, macOS, and even Linux.
Why is a VPN Important for Hotstar?
A VPN is important for Hotstar because Hotstar premium content is not available to users outside India (Hotstar is available in countries such as Thailand, Malaysia, and Indonesia but the content library is different). Even if someone lives in India but is traveling to another country, most Hotstar premium content becomes unavailable. VPNs become important for unblocking Hotstar content no matter the location of the user.
How to Install a VPN on Hotstar?
The most likely way users will consume HotStar content is by installing and accessing HotStar apps on mobile and desktop devices. The steps for that are very simple. Android users will have to go to Google Play Store to search for HotStar (and the appropriate VPN) while iOS users will have to get the official HotStar app and VPN from the App Store. For PC and Mac users, the official website of HotStar and the desired VPN will be enough to get the required software.
The steps Windows and Mac users have to take to install VPN on Hotstar are given below:
1. Go to the official website of the desired VPN.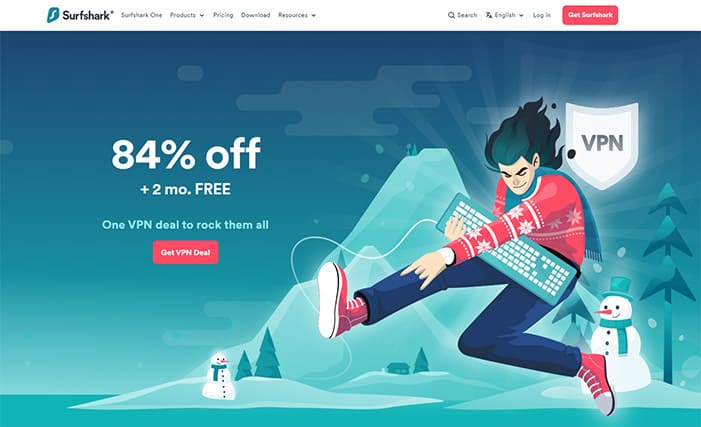 2. Sign up for a subscription package.
3. Sign in by clicking the Log In or Get Started button.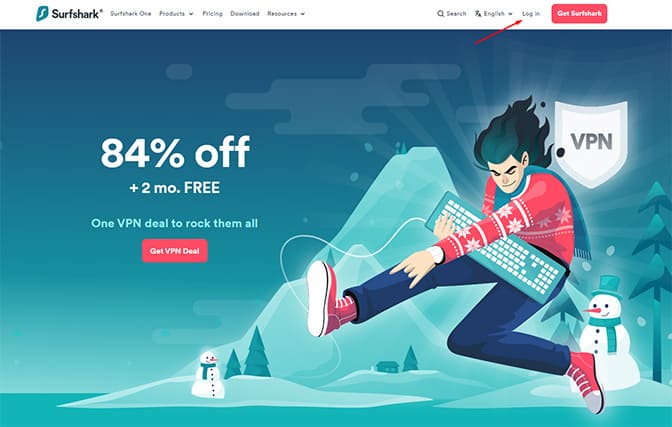 4. Go to the Downloads area.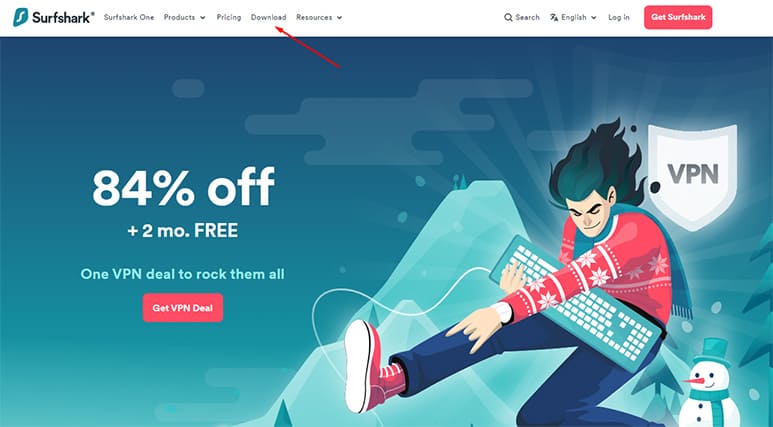 5. Download the VPN app.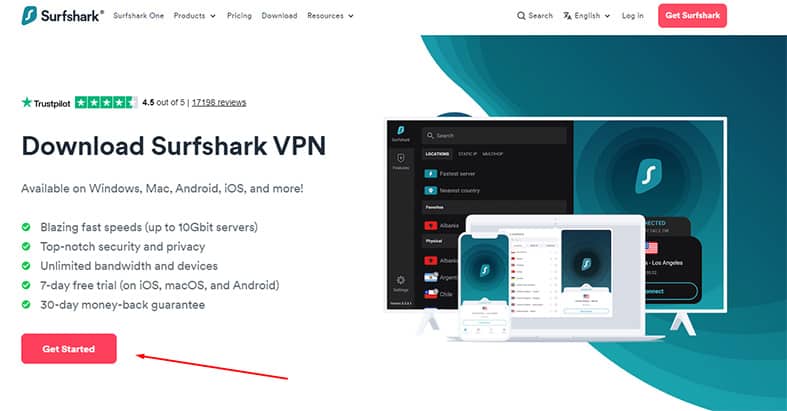 6. Install the VPN app. Double-clicking the .exe file on Windows should launch the installation process.
7. Launch the VPN app.
8. Input credentials to sign in.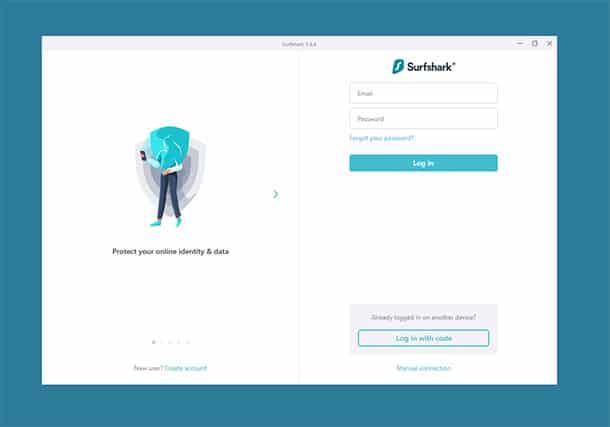 9. Open a web browser of choice.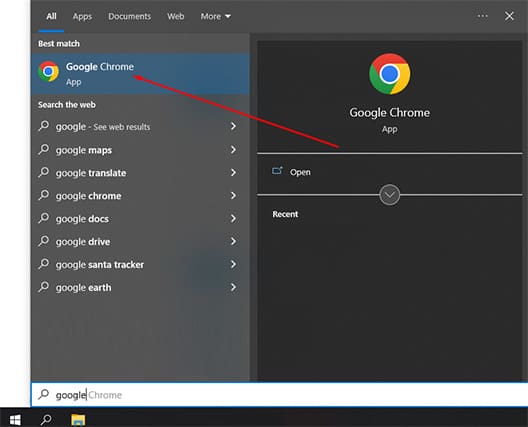 10. Go to the official website of Hotstar.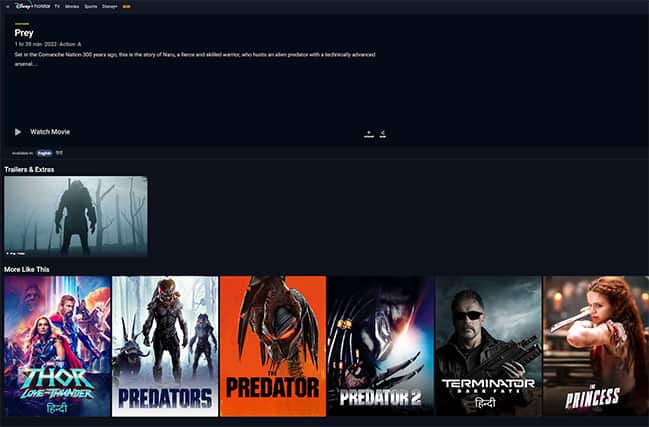 11. Sign up for a package.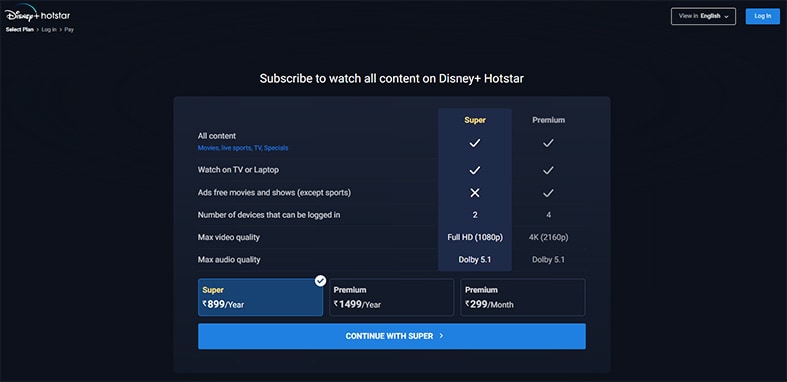 12. Sign in.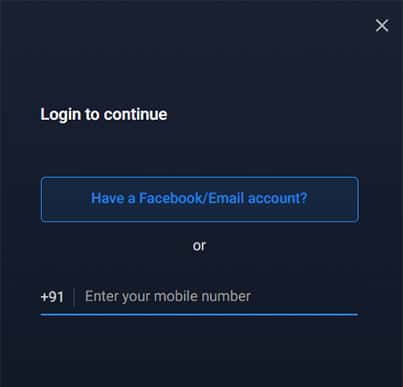 How to Unblock Hotstar with a VPN?
The steps users need to take to unblock Hotstar with Surfshark VPN are given below:
Start VPN: Starting up a VPN is as simple as launching the VPN app, signing in, and allowing the app to show the main menu page.
Connect to a server in India: Depending on the type of VPN signed up for, the main menu of the VPN app should either have a huge connect button in the shape of a power logo or a button that says Connect. Most VPN apps either have a separate page for the list of servers or have a map that users can scroll through to select the desired server. Since the aim here is to unblock HotStar, users should either find a server in India via a map or input India in the search box to get to the right server. Once found, pick the server and hit the connect button.
Change the system time to Indian Time Zone: The best practice is to change the time zone of a given device to India for the best results. Each operating system has a different set of steps to change time. Android users usually have to open the Clock app, go to the Settings menu, click on Change Date and Time, turn off the Network provided time and click on the manual time to change time to any other country. IST (Indian Standard Time) is GMT +5:30 hours. Manually enter the Indian time and change the date as well if the new time warrants the previous or the next day. Android devices also have a System app that offers a Date and Time option. As before, disable the network-provided time, enable manual time, and then input Indian time. Some devices come with a Time Zone and Region option. Both should be changed to India. Windows users can change the time by going to the Settings menu. Click the Time and Language option and then Date and Time. After that, turn off Set Time Zone automatically. Windows also provides the Time Zone option. The options are usually hidden in a drop-down menu button. Other more involved methods to change the time zone to India include using command prompt and PowerShell.
Delete the Cache and Cookies on your browser to remove location information from previous sessions: Go to the Settings menu and then applications. Each smartphone device is different but generally, the applications menu should list all the installed applications. From the list pick the web browser to be used for streaming or the HotStar app and then clear data as well as cache. Windows users only have to go to the Settings menu by clicking the three vertical dots in the top right corner of the web browser's window. Then click on Settings. Hit Privacy and Security in the left-sided panel. Then click Clear Browsing Data. Make sure to checkmark all items and change the option from 'the last hour' to 'all time'.
Go to the Hotstar site on the browser if on PC/Mac: With an Indian IP address, Hotstar requires Windows and macOS users to open a browser and access the official HotStar website.
Download the Hotstar App from the Google Play or Apple App store if on a Mobile device: Simply launching the app distribution software, searching for HotStar, and clicking the Download/Get button should install the HotStar app.
Find your stream and play: Finally, pick the desired movie title or sports content and start consuming.
How does a VPN function on Hotstar?
The main function of any VPN is to encrypt the user's internet traffic, pass the traffic through an encrypted secure tunnel and change the IP address of the device under protection. Hotstar, like most services, records the IP addresses of users. Using the IP addresses, the streaming platform is able to change the content. VPNs, try to counteract that problem by providing users with VPN servers in locations where a streaming service like HotStar offers the best content library. By connecting to the desired VPN server (in the case of HotStar, India), users can route all of the internet traffic through an Indian IP address. More concretely, when the user connects to a server in India, all of HotStar's apps and the official website will now register an Indian IP address when monitoring the VPN user's device. Hence, a user could reside in a different continent, turn on a VPN, and access HotStar as if the device is present in India.
Is a Free VPN Compatible with Hotstar?
Yes, a free VPN may be compatible with Hostar. The VPN market offers a lot of free VPN products for various purposes. Not having to pay for a VPN service and still unblocking Hotstar sounds like a great deal. But free VPNs come with some disadvantages that not all users may want to put up with. For example, free VPNs do not have the necessary infrastructure to offer servers that can not only bypass HotStar mechanisms to detect the real IP address of the device but also do so consistently and without compromising speed. Hardly any free VPN service has servers optimized for blazing speeds which are usually required to stream content from HotStar smoothly.
Another problem is that free VPNs usually do not encrypt the user's data and an internet connection to an acceptable degree. Such free VPNs use weaker encryption technologies, weaker protocols, and incorrectly implemented standards to jeopardize the user's safety.