F
irestick users can benefit a great deal from installing a free VPN directly onto their firestick devices. The Amazon Fire TV stick is a device that plugs directly into a TV's HDMI port, allowing users to stream content from a variety of apps.
While there is plenty of content to watch online, a great deal of the available content is restricted based on the location (IP address) of the device. Consequently, a VPN, even a free one, can improve the viewing experience dramatically, facilitating access to vast amounts of otherwise restricted content. A Virtual Private Network, or VPN, is a type of software designed to protect the connection to the internet. The connection is encrypted and routed through a secure server that masks the device's location and, subsequently, the user's identity. The key factor here is that the user can choose which server to connect to, allowing them to bypass the content restrictions on apps like Netflix, Disney+ and many more.
Unlike other websites, we recommend trying out VPN services that are completely free. The VPN services we'll mention in this article can be used continuously without having to pay. These services do not require a sign up for a limited 30-day trial period. The VPNs we'll cover are also guaranteed to be fully compatible with the Amazon Firestick. This means that there may be some free VPNs that have been excluded from the list because they could not stream videos reliably through the Firestick device.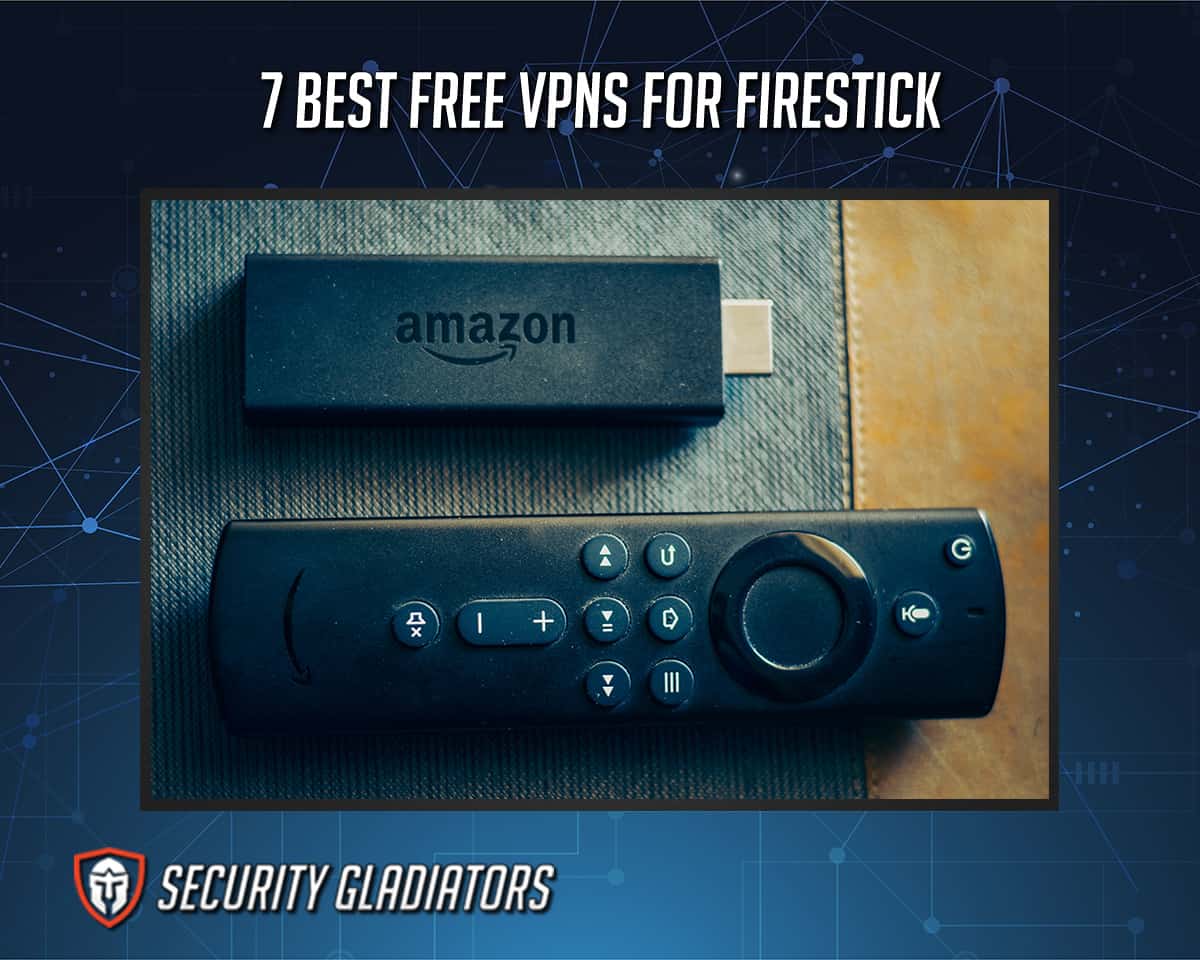 While there are many free VPNs available, not all of them are particularly compatible with the Amazon Firestick. Some free VPNs are slow, unreliable, and can even be dangerous. The following list has been carefully researched in order to provide only the most reliable and secure free VPN services on the market today.
Here are our top picks for the best Free VPNs for the Firestick:
ProtonVPN
Hotspot Shield
Hide.me
TunnelBear
VPN Gate
The Best Free VPNs for Firestick
1. ProtonVPN

ProtonVPN is a free and open-source VPN service provider that offers a free tier for users. The service is headed by the team behind ProtonMail, a secure email service headquartered in Switzerland.
ProtonVPN's free tier has no data or speed limits. The service also follows a strict no-logs policy. This means that ProtonVPN will not track the user's online activity while connected to the service. On top of that, the company itself is protected by Swiss privacy laws which make it difficult for third parties to request data.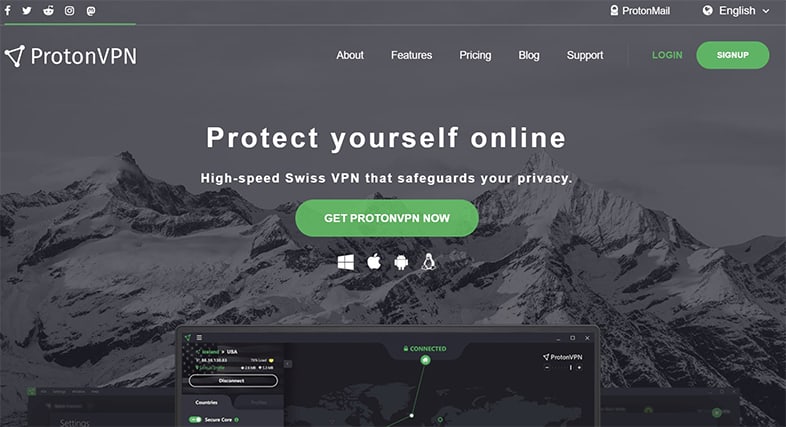 Here are some other things you need to know about ProtonVPN:
ProtonVPN includes P2P Support for sharing files with other users.
The service is compatible with most major platforms such as Windows, macOS, iOS and Android.
ProtonVPN offers free access to their VPN servers in the United States, Netherlands, and Japan.
The ProtonVPN application can be installed onto the Firestick by searching for "ProtonVPN" on the Amazon app store. Once installed, simply create an account or login following the in-app instructions.
After logging in, it is possible to connect to any of the available free VPN servers. The application will then run in the background while content is streamed on other applications.
One of the main disadvantages of the free plan is that there is a limited number of server locations/ countries to connect to. This can be an issue if content is desired from a specific country.
A major benefit of ProtonVPN is that it is one of the few VPN providers that offer a truly free tier of service. If you are looking for a competent free VPN Firestick option, ProtonVPN is a great choice.
Here's a breakdown of the differences between the free and paid plan:
| | | |
| --- | --- | --- |
| Plan | Free | Proton VPN Plus |
| Price | $0 | $5.44/ month |
| Servers | 100+ in 3 countries | 1700+ in over 60 countries |
---
2. Hotspot Shield VPN

Hotspot Shield is another high quality VPN service, offering a free Basic plan with unlimited bandwidth and data. This makes it a great choice for a free Firestick VPN.
Firestick users can install Hotspot Shield VPN by first searching for the app in the Amazon app store. Then click on the first result and select the "Get" button to download the application.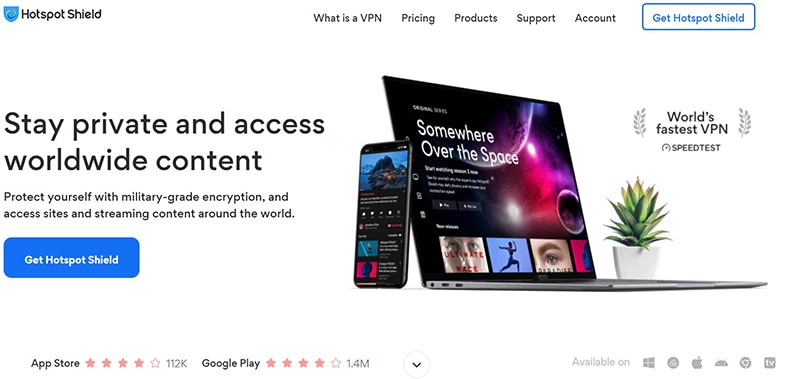 Users must sign in through a second device such as a mobile phone. The Hotspot Shield application will provide a URL and QR code which provides access to the Sign In page on the second device. The user must then enter their login details on their phone to activate their account on the Firestick device.
According to their Privacy Policy, Hotspot Shield does not log any information that associates the user's account credentials with the VPN session activity. The company also does not maintain records that show what websites were accessed through the VPN connection.
For users interested in using VPNs for P2Ps, Hotspot Shield does not offer any features specifically for handling P2P programs. However, from basic reports, users seem to have no problem downloading torrents using the program.
An advantage of the Hotspot Shield VPN is that it has unlimited data, even in its Free plan. The service is also compatible with platforms such as Windows, Mac, iOS, and Android. As mentioned previously, the VPN service also provides a native Firestick application that makes it easy to use for Firestick users.
Here's a breakdown of the differences between the free and paid plan:
| | | |
| --- | --- | --- |
| Plan | Free | Premium |
| Price | $0 | $8.71/ month |
| Servers | 800+ | 800+ |
| Virtual locations | 1 | 125+ locations |
| Streaming Mode | No | Yes |
| Device connections | 1 | 10 |
---
3. Hide.me

The Hide.me VPN service is another service to consider when looking for a free VPN service to work with Firestick.
The Hide.me service is a certified zero-log VPN. The Hide.me team claims to never log payment information, personal information or usage.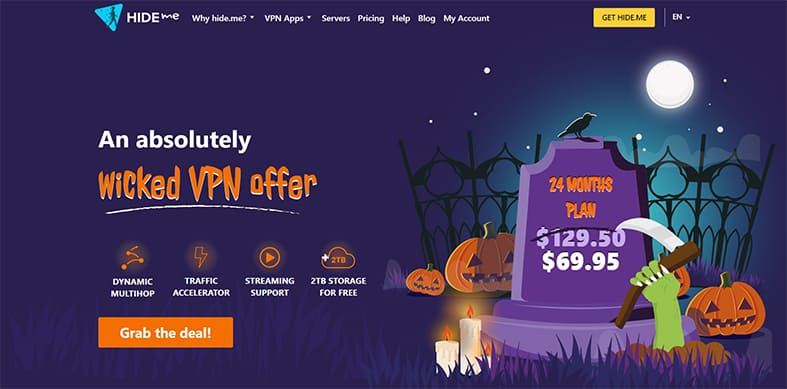 The Hide.me service offers a native Amazon Fire TV application that can be installed directly onto the user's Firestick.
Users can install Hide.me through the Amazon app store. After downloading the app, simply tap on "Get Your Free VPN" and then click "Enable VPN." Afterwards, the user may now use other apps while the VPN runs in the background.
An advantage of the Hide.me free plan is that it includes a kill switch feature which can be useful when working with P2P programs.
A disadvantage to the free plan is that there are only a limited number of locations available. The free plan also has a data limit of 10 GB per month.
Here's a breakdown of the differences between the free and paid plan:
| | | |
| --- | --- | --- |
| Plan | Free | Premium Plan |
| Price | $0 | $3.00/ month |
| Servers | 5 locations | 75 locations spread over 2000 servers |
| Number of Connections | 1 connection | Up to 10 simultaneous connections |
| Data Allowance | 10 GB per month | Unlimited |
---
4. TunnelBear

Tunnelbear is a VPN service that offers a free plan with limited usage. The free usage plan allows up to 500MB of data.
The TunnelBear VPN is available as an Android application. Currently, the user will have to use a third-party installer to install the application in their Firestick.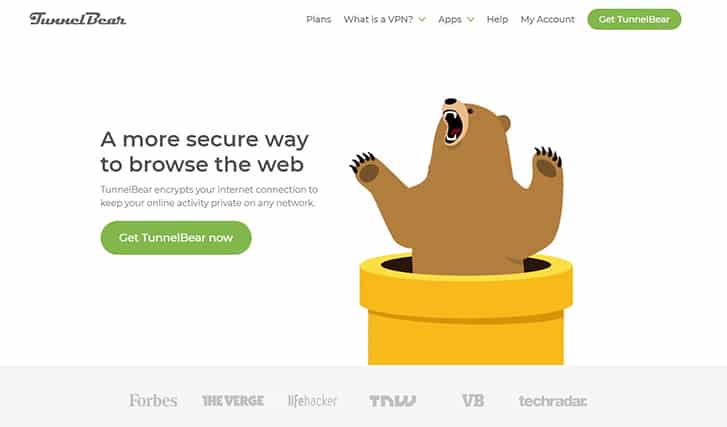 Users with the Downloader app can use the application to download the TunnelBear app installer directly to the Firestick app. After installing the app through a third-party installer, the user can sign in with their account and choose which VPN server to connect to.
According to the TunnelBear team, the company does not keep logs. This means that Tunnelbear does not collect any information on what websites the user visits while connected to the VPN.
A downside of the TunnelBear application is that the Free plan has a very limited data cap. The data cap is reset monthly which is likely not enough for users who plan on streaming content often on their Firestick device.
Users may also require the use of P2P services. There is currently no mention of P2P on their website, which may lead users to consider other services with more robust features for peer-to-peer file sharing.
Here's a breakdown of the differences between the free and paid plan:
| | | |
| --- | --- | --- |
| Plan | Free | Unlimited |
| Price | $0 | $3.33/ month |
| Data Cap | 500MB of secure browsing | Unlimited secure browsing and unlimited devices |
---
5. VPN Gate
VPN Gate is a VPN service provided by the Graduate School at the University of Tsukuba, Japan. VPN Gate is completely free of charge and does not require any registration.
Each VPN server uses a dynamic IP address and may change at random periods.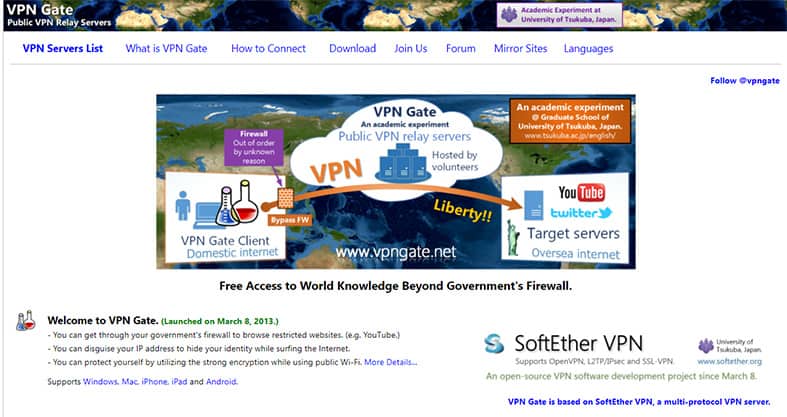 To use VPN Gate with Firestick, a connection must first be established with the VPN Gate Public Relay Server through another device. For example, with an Android device, a VPN profile can be set up through the Settings app. The user must then specify one of the VPN servers listed in their servers list and specify "0.0.0.0/0" as the forwarding route.
Once the Android device is connected to the VPN Gate server, a hotspot can be enabled on the Android device, which the Firestick can then connect to.
The logs policy for VPN Gate is not as secure as other services. The website claims that VPN connection logs will be kept for three or more months. These log entries contain log records of destination HTTP/HTTPS hostnames accessed through VPN sessions. Packet logs are also kept for at least two weeks.
Note:
There are currently no data limits for any of the servers available on VPN Gate. Users can access the server through multiple platforms including Windows, Mac, iOS, and Android.
Users who plan on using P2P programs may encounter difficulties with most servers since many server owners block P2P traffic.
The main advantage of VPN Gate is that it is free to try. However, the service includes several disadvantages related to usability and security. Server owners, for example, are allowed to log user data and the VPN itself does not have a native application, making it difficult for non-technical users to install and use.
---
How to Choose The Best Free VPN for Firestick?
There are certainly a wide number of free VPNs available on the market. It can be difficult to know which one to choose. In this section, we'll look into some key factors to consider when choosing the best free VPN for Firestick.
First, consider how much data the free VPN allows for streaming. Since streaming geo-restricted content is the primary reason most Firestick users use VPNs, this is a key factor. A VPN with a generous data allowance is likely essential. Where possible, choose a VPN with unlimited bandwidth.
Note:
Besides data allowance, speed is also important. A slow VPN will make it incredibly difficult to stream high quality content through the Firestick.
Another factor to consider is compatibility. Ensure that the free VPN is compatible with the Firestick device. Another benefit of VPNs that work in multiple different devices is that you can use these services on all other devices that connect to the network.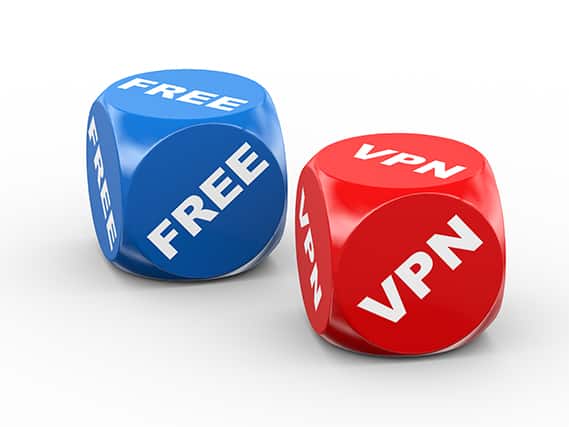 When choosing a free VPN, it is also important to consider the features that come with the service. For example, investigate how many server options are available and whether the VPN supports P2P programs.
The overall user experience, or UX of the service is also relevant. Since in this case, the VPN will be used via Firestick, an easy-to-use application is essential. Specifically, the VPN should be easy to navigate with a basic remote control.
Lastly, consider the overall privacy status of the VPN and the company it is associated with. A no-logs policy is a basic privacy requirement, as well as an encrypted connection. User reviews can be consulted to determine if a VPN provider is legitimate and reputable. This is key as some free VPNs are simply adware or even malware that can be potentially harmful to the devices they are installed upon.
What are the Benefits of a Free VPN for Firestick?
VPN services can offer many benefits for users of the Amazon Fire Stick.
VPNs allow users to unblock geo-restricted content on the Firestick. Connecting to other servers will allow users to access content that may not be available in their home country.
VPNs may improve the streaming service by providing access to faster servers.
Using a VPN may also allow you to access cheaper international prices for certain apps, games, and platform subscriptions.
VPNs also keep browsing history private and prevent the internet service provider (ISP) from intercepting what website is being visited.
What are the Disadvantages of a Free VPN for Firestick?
While adding a free VPN is certainly helpful for Firestick users, there are still some downsides to them.
One of the biggest disadvantages of using a free VPN is that they are noticeably less secure than most reputable paid VPNs. Free VPNs also often offer limited services since it is expensive to provide access to a server for free. Some free VPNs may even sell user data to third-party brokers without the consent of the user, often in an attempt to make up for the lack of revenue.
Another disadvantage of free VPNs is that their service may be unreliable. Some free VPNs do not offer customer support or 24/7 server maintenance. This may lead to situations where the VPN disconnects periodically or does not work entirely without any warning.
What are the Best Paid VPNs for Firestick?
Users who are looking for the best VPN for firestick can't go wrong with either ExpressVPN, CyberGhost VPN, or NordVPN. All three of these VPNs offer excellent speeds, robust security, and a host of features that make them perfect for streaming content.
ExpressVPN is considered one of the fastest VPNs on the market currently. This means buffering, or general lag times are rarely an issue when streaming content online. The service also includes a secure connection with military-grade encryption that maintains data security, including from the ISP. ExpressVPN is also known for its reliable customer service that is available 24/7.
CyberGhost VPN is another excellent option for Firestick users. It offers fast speeds and strong security, and it's very easy to use. CyberGhost includes access to over 9000 servers and does not require a credit card to try out their trial period. Even when you try out a paid plan, unsatisfied users can get a full refund with their 45-day money-back guarantee policy.
NordVPN is another great choice for Firestick users who want a VPN that's both fast and affordable. NordVPN has a reputation for being one of the best VPNs around, and it's perfect for streaming. NordVPN's 30-day money-back guarantee also allows users to try out the service before committing to a monthly or annual plan.