A
mobile virtual private network (VPN) is an application that keeps people's connections stable at all times without interrupting any other apps or changing sessions. Beyond the concept of a VPN for smartphones, a mobile VPN allows users to seamlessly transition from one internet connection to another, from WiFi to mobile data or between WiFi hotspots.
A mobile VPN is the way to go for consistent internet security and privacy. VPNs also allow users to bypass geo-restrictions and enjoy uninterrupted streaming. The service differs from a standard VPN in that a mobile VPN persists through changes in physical connectivity, point of network attachment and IP during sessions. Because of the continuous security and uninterrupted sessions, people can use mobile VPNs in a variety of settings, including homes, offices, hospitals and public safety facilities, and while traveling, working remotely and streaming, among other activities.
Many travelers, remote professionals and online streamers use mobile VPNs to take advantage of the numerous advantages these apps offer. As a result, the VPN market is swamped with various mobile VPNs, each with unique capabilities. Likewise, selecting the best mobile VPNs might be difficult, considering time-consuming market research and compliance with personal or corporate objectives. As a result, this post highlights and explains the best mobile VPNs in today's market.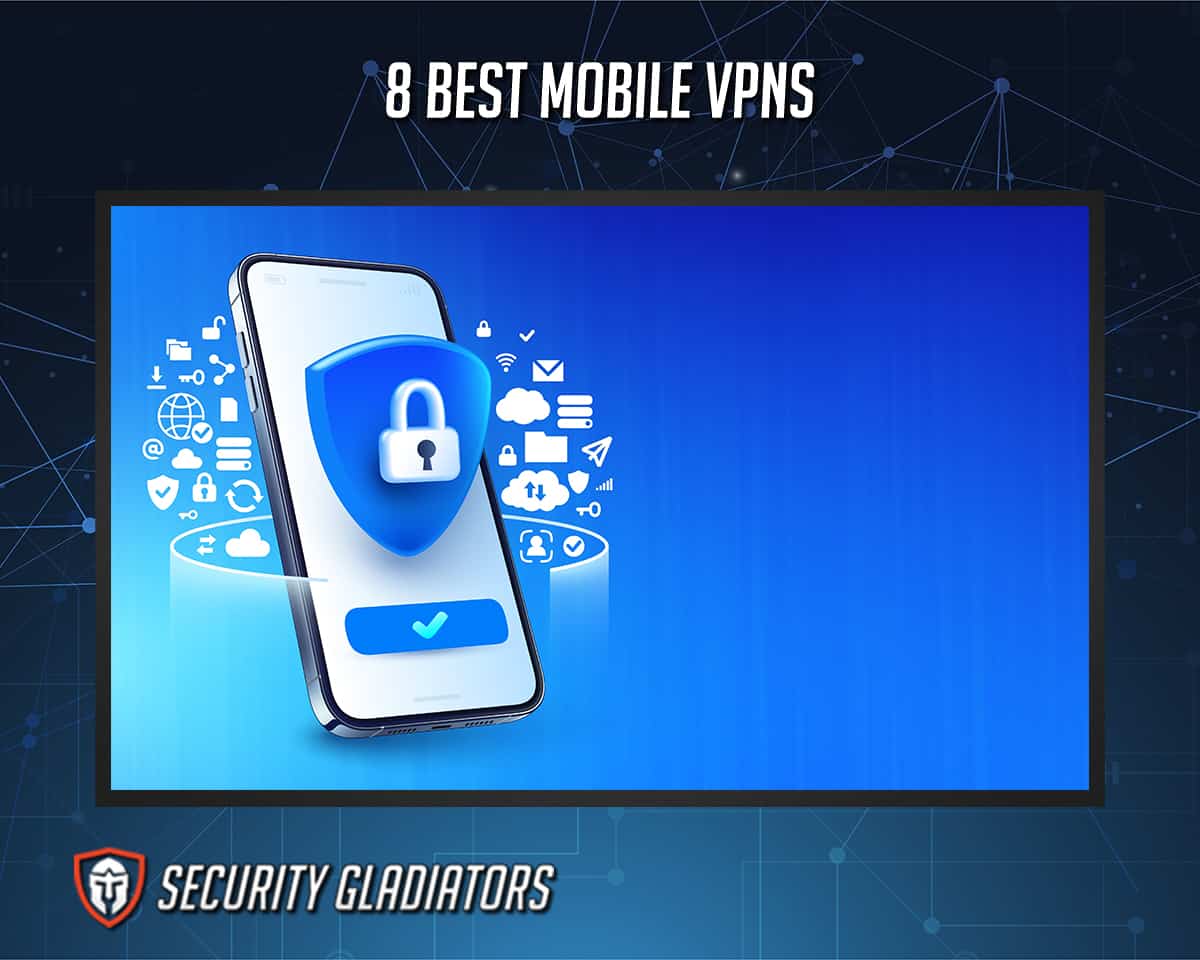 The best mobile VPNs of 2023 are listed below.
CyberGhost
ProtonVPN
Surfshark
NordVPN
IPVanish
ExpressVPN
Hotspot Shield
Private Internet Access
1. CyberGhost
CyberGhost is a popular mobile VPN service that prioritizes security, privacy and anonymity. This service does not sacrifice quality performance for any other crucial characteristics. The VPN unblocks major streaming services and permits torrenting with ease.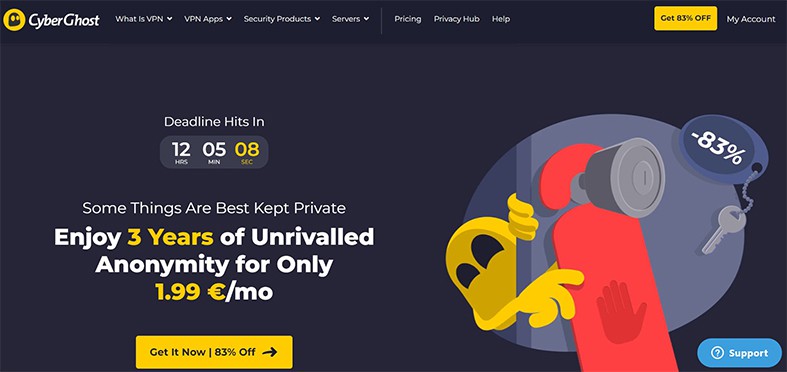 CyberGhost's benefits include an optimized streaming server, 8,000 servers across 91 countries, a strong privacy policy, strong security, simultaneous connections, a kill switch, a fair refund policy and 24/7 live chat support. However, one of the drawbacks of using CyberGhost is the VPN's ownership. The parent company, Kape Technologies, recently acquired several VPNs and has a history of not protecting users' data. Another downside is that the company has not had any independent audits to assess the VPN's data privacy processes.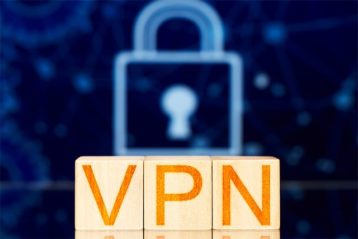 CyberGhost has some unique features, including apps for major platforms, DNS and IP leak protection, an automatic kill switch, a 45-day money-back guarantee, a no-logs policy and fast performance. CyberGhost's strong points are limitless bandwidth, split tunneling, superb streaming performance, industry-standard encryption and simultaneous connections for up to seven devices.
On all devices, CyberGhost values users' security and privacy. As a result, the VPN employs industry-standard AES 256-bit encryption, an automatic kill switch, OpenVPN, IKEv2 and WireGuard protocols, all of which adhere to a stringent no-logging policy. And, as was covered in Security Gladiators' full CyberGhost review, this VPN also protects against IP and DNS leaks, ensuring that the user's real IP address is never shown online.
CyberGhost provides users with a variety of price levels from which to choose. The plans come in three packages, with monthly fees of $12.99 for one month, $3.25 per month for two years and $2.29 per month for three years. The longer plan is more cost-effective and allows users to save money.
Overall, CyberGhost is a mobile VPN that hides users' IP addresses and prevents spoofing. The VPN provides apps for most mainstream platforms, including smartphones and tablets running Windows, macOS, iOS, Android, Linux, smart TVs and routers. Users can connect to the VPN via various WiFi, LTE, 4G and 3G connections.
2. ProtonVPN
ProtonVPN is a mobile VPN that prioritizes privacy and comes with advanced features and customizations. Users can customize the VPN functionality to match individual needs using the configurations. ProtonVPN's varied features will appeal to beginners and tech-savvy individuals, particularly the free plan, which allows new users to test the VPN before committing.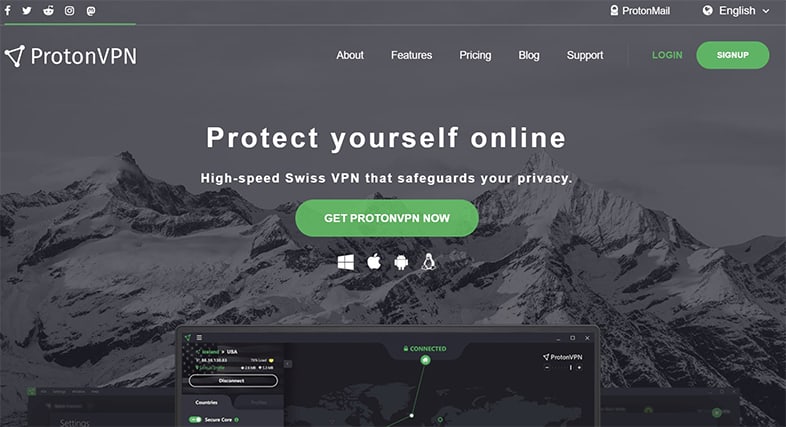 The benefits of utilizing ProtonVPN include a free subscription with unlimited bandwidth, streaming support, remarkable speed, audited mobile apps, over 1,700 servers across 63 countries, and solid security and privacy. The VPN also has a user-friendly interface, good customer support, and compatibility with major platforms such as Android, iOS and macOS. The drawbacks, on the other hand, include no refund policy, restricted payment choices, somewhat complex features for novices and restrictions on free plans.
The unique features of ProtonVPN are 10 simultaneous connections, a free plan, an ad-blocker, torrenting support, a Tor feature and a no-logs policy. Likewise, the strong sides are affordable plans and quality security and privacy functions.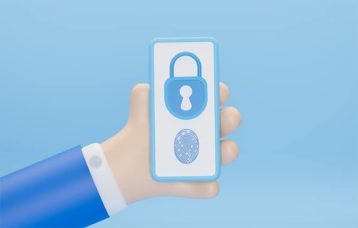 ProtonVPN prioritizes security and depends on robust security features. The VPN protects users' internet connections while on public WiFi, keeps IP addresses private and unblocks censored content. Other security features are secure core servers, safe file sharing, secure streaming, a Tor over VPN option and a kill switch. Furthermore, the VPN complies with Swiss privacy legislation, encrypting communications with OpenVPN or WireGuard and using cryptographically secure AES-256 or ChaCha20 encryption methods.
Aside from the free plan, ProtonVPN's prices are divided into four categories: The "Basic" plan costs $4 per month, "Plus" costs $8 per month and "Visionary" costs $24 per month. ProtonVPN is run by Proton Technologies AG in Switzerland.
As the full ProtonVPN review explains, this VPN works by encrypting people's internet traffic, ensuring that passwords and confidential data remain safe even while using public or untrusted internet connections. An intruder cannot snoop on users' connections thanks to ProtonVPN's sophisticated security protections. ProtonVPN can also be used to access geo-restricted websites.
3. Surfshark
Surfshark is a well-known mobile VPN with an easy-to-use interface. Many internet users who want to make security and privacy a mobile asset would appreciate Surfshark's features and capacities. Users may get unrestricted streaming, anonymity, access to geo-blocked content and internet security for a reasonable price.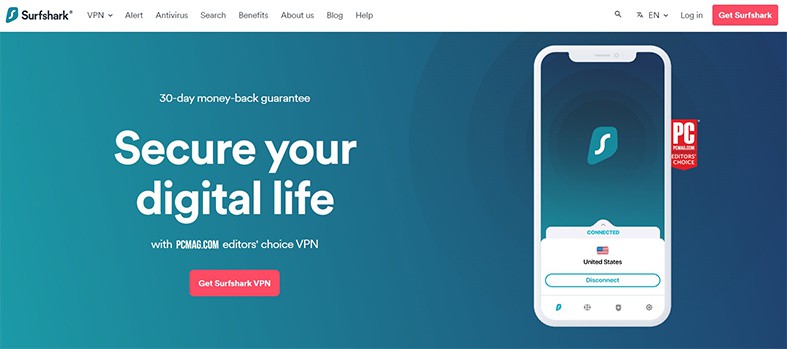 The advantages of Surfshark include unlimited simultaneous connections, a strict no-log policy, a kill switch, support for major devices, a cost-effective long-term subscription option, a free trial, a money-back guarantee, enhanced security features, and excellent customer service and speed. However, Surfshark has some drawbacks, such as the lack of a free plan and a limited number of peer-to-peer (P2P) servers.
Per the complete Surfshark review, some of the unique aspects of this VPN are the 30-day money-back guarantee, unlimited simultaneous connections, high speeds, flexible pricing plans and the antivirus and ad-blocker features. The VPN's additional strong sides include real-time notifications, search functionality, military-grade encryption and strong protocols.
Surfshark is a private VPN that runs on RAM-only servers and has a strict no-logs policy. The VPN's headquarters are in the British Virgin Islands, which isn't subjected to strict data retention laws, ensuring that all users' information is kept private. The security features include a kill switch, DNS leak protection, malware protection, ad-filtering with CleanWeb, AES-256-bit encryption and use of the WireGuard, IKEv2 and OpenVPN protocols.
Surfshark is a low-cost VPN with various price levels to choose from. A one-month subscription costs $12.95, while a 12-month subscription costs $3.99 per month and a 24-month subscription costs $2.49 per month. Cybersecurity firm Nord Security, which also owns NordVPN, merged with Surfshark in 2021.
Surfshark VPN encrypts users' online browsing history and works with key platforms like Windows, iOS, Linux, Android and Mac. Instead of going through the user's internet service provider (ISP), Surfshark sends the device's internet connection through private VPN servers. As a result, the VPN alters users' IP addresses and makes people appear to be in a different location.
4. NordVPN
NordVPN is a reputable VPN known for strong security, impressive performance, unblocking georestrictions and intuitive mobile apps. The VPN offers full package features similar to desktop clients. Some of NordVPN's special features are Onion over VPN and Double VPN, which ensure that users' internet privacy is safeguarded everywhere.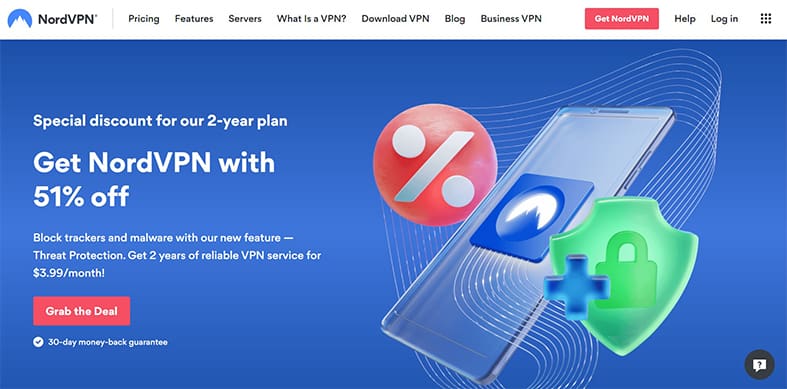 The advantages of NordVPN include 5,400 servers in 60 countries, speedy performance, advanced security features, uninterrupted streaming experience, excellent privacy policy, customizable features, obfuscated servers, good customer support and consistent quality performance. However, there are a few disadvantages, such as few P2P servers and no router applications. More specifics on the pros and cons of this VPN service are detailed in a separate NordVPN review.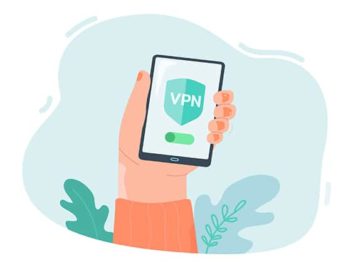 The unique features of NordVPN include an anti-malware feature, support for multiple devices with a single login, split tunneling, multi-factor authentication, dedicated IP and double protection functions. Likewise, the strong sides of NordVPN include easy usage, leak protection, uninterrupted streaming, private DNS, a dark web monitor, browser extensions and advanced encryption.
NordVPN's security features include authentication, a kill switch, double IP protection and threat protection. NordVPN uses an AES-256-GCM encryption algorithm with a 4096-bit DH key, ensuring users' sensitive data is safe.
NordVPN's pricing structure exists in four plans: A one-month package for $11.99, a one-year plan for $4.99 per month, a two-year plan for $3.99 per month and a custom price for a business plan. The company behind the operation of NordVPN is Nord Security.
NordVPN is another mobile VPN that routes a user's internet traffic through a remote server run by the service, hiding the user's IP address and encrypting all incoming and outgoing data. The VPN assigns different IPs and locations from a list of available servers.
5. IPVanish
IPVanish is a highly customizable mobile VPN that works on various devices. With over 2,000 servers in 75 locations, this VPN prioritizes security and anonymity. IPVanish also uses unbreakable security to keep the user's internet connection stable irrespective of location.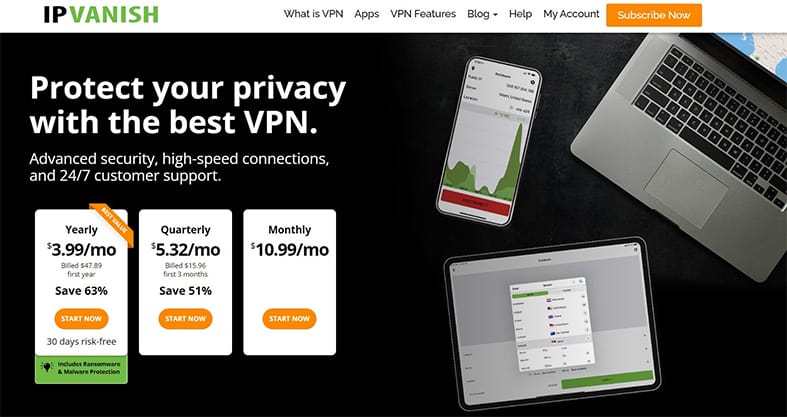 Some of the advantages of IPVanish are unlimited connections, superior encryption, a verified no-log policy, user-friendly applications, malware protection, a 30-day refund policy for yearly plans, 24/7 customer service and high-speed performance. IPVanish has a few drawbacks, though, including a limited refund policy and an antiquated desktop interface. The company is also headquartered in the United States, which has a strong surveillance apparatus and few data privacy protections for consumers.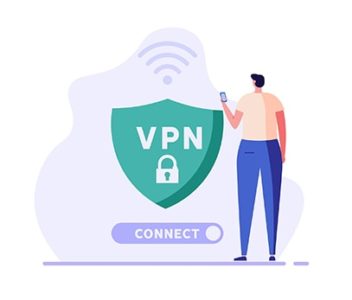 IPVanish's standout features are an advanced antivirus tool, malware scanning and removal, advanced encryption, secure access to prohibited content, high speeds and a decent privacy policy. The VPN's strong sides are the advanced security features, including SOCKS5 proxy, DNS leak prevention, split tunneling, a kill switch, automatic startup on iOS and numerous VPN protocols.
As was explained in the full IPVanish review, this VPN service offers encrypted browsing with various VPN protocols, including WireGuard, OpenVPN, IKEv2, L2TP and IPSec. The VPN also encrypts users' data with AES 256-bit VPN encryption, the industry standard for data encryption. There's also a kill switch that disables all internet activity if the VPN connection drops out unexpectedly.
The per-month cost of IPVanish's monthly, quarterly and annual plans are $10.99, $5.32 and $3.99, respectively. The quarterly and yearly plans are discounted. J2 Global is the company behind IPVanish.
IPVanish works similarly to other mobile VPNs, using secure servers and encryption protocols. Users will be connected to a secure server with an anonymous IP address after users download IPVanish VPN on an iPhone or Android device, making any WiFi connection safe to use.
6. ExpressVPN
ExpressVPN is a premier VPN service providing users with incredible speed, an appealing user interface, excellent security and an uninterrupted streaming experience. The VPN's server network is spread over 94 countries, allowing most users to choose the desired location quickly.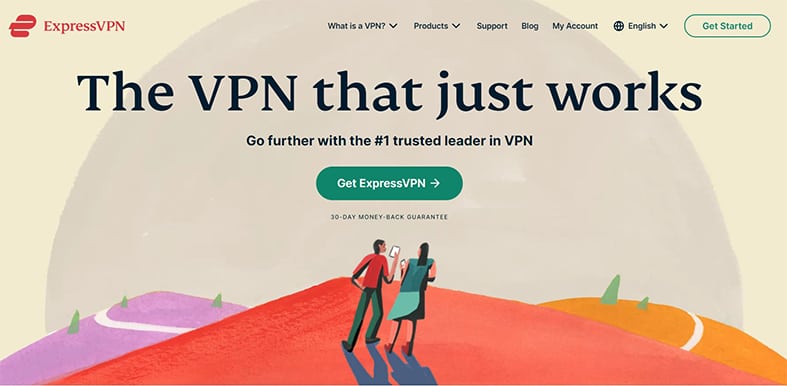 ExpressVPN has several advantages, including easy-to-use mobile apps, compatibility for streaming platforms, excellent customer service, fast speeds, broad device coverage, simultaneous connections with up to five devices, a no-logs policy and robust security. The shortcomings of ExpressVPN, on the other hand, are the high cost compared to competitors and the unavailability of free options.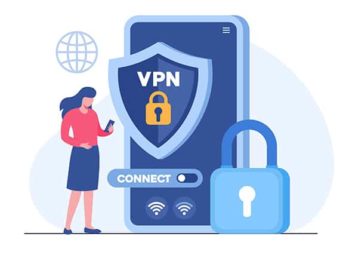 Nonetheless, ExpressVPN includes many distinguishing features, like an appealing user interface, industry-standard security, ultra-fast servers, a 30-day refund policy, a solid privacy policy and ease of use. ExpressVPN also offers one year of free unlimited cloud backups from Backblaze when users sign up for a 12-month plan. Also, the strong sides of ExpressVPN are fast browsing, high security and privacy, data protection and multi-device compatibility with a single ExpressVPN login.
Speed, security and privacy are all hallmarks of ExpressVPN. ExpressVPN's security features include military-grade AES 256-bit key encryption and powerful protocols like IKEv2, OpenVPN and L2TP/IPsec. Also included are security features such as a kill switch, DNS protection and a no-log policy.
ExpressVPN has three pricing plans: $12.95 for one month, $9.99 per month for six months, and $8.32 per month for a year. Kape Technologies, a company situated in the United Kingdom, owns ExpressVPN. The firm has been the subject of privacy concerns in the past, which may turn off some users.
ExpressVPN serves as a reliable source of privacy, as Security Gladiators covered in the full ExpressVPN review. After signing up for a subscription plan and downloading/installing the app, users can connect up to five devices at once and browse anonymously while enjoying high-quality security. ExpressVPN hides all internet data traveling to and from the user's device after selecting a server.
7. Hotspot Shield
Hotspot Shield is a top-rated mobile VPN with an easy-to-use interface, fast speeds and a secure privacy policy. Hotspot Shield provides over 2,000 servers across more than 80 countries, allowing users to browse the internet without interruption. Hotspot Shield also unblocks streaming platforms such as Netflix, Hulu and BBC iPlayer.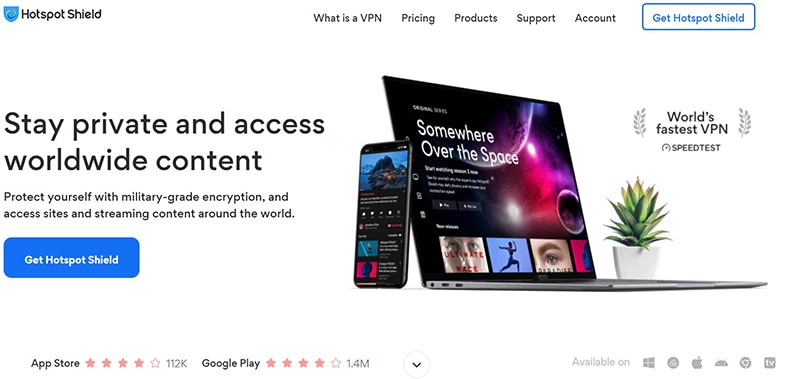 Hotspot Shield's advantages include impressive speeds, the ability to unblock major streaming platforms, strong encryption, a good privacy policy, the proprietary "Hydra" protocol for better speed, numerous simultaneous connections, free plans, good customer support and an anti-malware feature. On the other hand, Hotspot Shield has disadvantages such as limited free plan features, a costly plan and no security audit.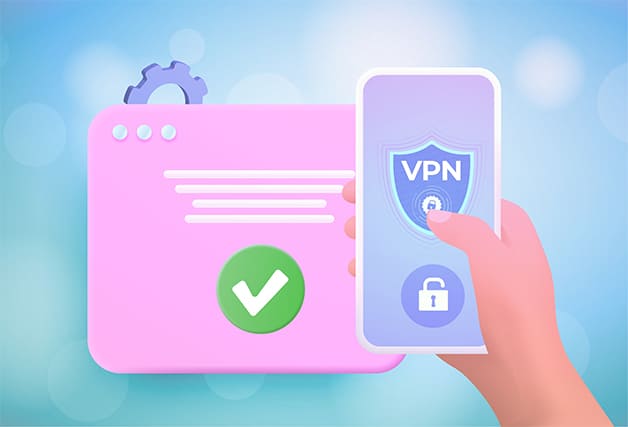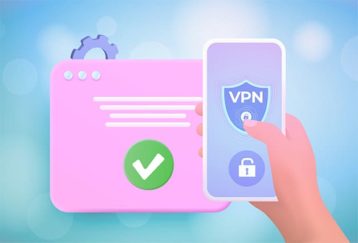 Hotspot Shield boasts a rigorous no-logs policy, superior security features, anti-phishing and smart DNS features, a kill switch, a 45-day money-back guarantee and reliable performance. Hotspot Shield's strong points are excellent customer service and the Hydra protocol, which enhances users' gaming, streaming, P2P and other activities quickly and safely.
Hotspot Shield is a VPN that offers powerful and dependable security. These features work together to enable secure communication on any device. Military-grade encryption, the VPN's own Hydra protocol, IPSec (IKEv2), OpenVPN UDP/TCP and WireGuard are all used by Hotspot Shield. Additional features include a kill switch, anti-phishing and DNS leak protection.
Hotspot Shield's pricing is divided into two packages, with customers opting to pay monthly or yearly. If paying yearly, the "Hotspot Premium" and "Premium Family" plans cost $7.99 and $11.99 per month, respectively. The company in charge of Hotspot Shields activities is AnchorFree, Inc.
As Security Gladiators covered in the full Hotspot Shield review, this mobile security software program is both stable and reliable. The VPN also offers a user-friendly interface that is uncomplicated for beginners. Before making a full financial commitment, users can test out Hotspot Shield VPN with the "Basic" free plan. On the other hand, paid plans include complete privacy and security protections to prevent users' information from being leaked online.
8. Private Internet Access
Private Internet Access is a high-performance mobile VPN that ensures security and lightning-fast streaming and file-sharing capabilities. BoxCrypto, a technology exclusive to PIA, encrypts users' cloud files from virtually any cloud storage provider. Not only that, the VPN has a server network that spans over 80 countries.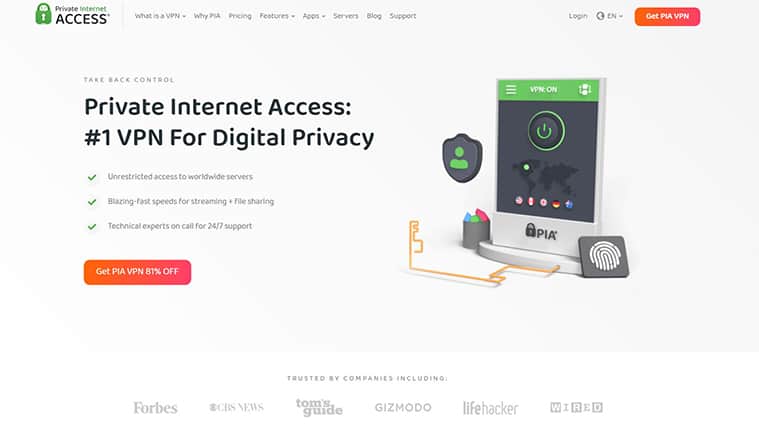 The advantages of PIA are 10 simultaneous connections, a kill switch, limitless bandwidth, a strict no-log policy, ultra-fast browsing speed, robust encryption, an antivirus tool, 24/7 customer service and a good refund policy. The lack of a free version, the VPN's headquarters in the U.S. and the lack of an independent audit are all downsides of this VPN.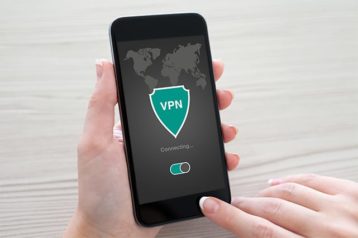 The unique features of Private Internet Access are multiple connections with a single login, dedicated IPs, advanced security features, split tunneling, a 24/7 live chat, transparency, a kill switch and a built-in ad-blocker. The VPN's additional strong sides are impressive performance, high configuration, fast and reliable servers, open-source transparency and a 30-day money-back guarantee.
PIA has state-of-the-art security features such as 128-bit or 256-bit AES encryption ciphers and WireGuard protocols. This VPN also includes DNS and IP leak prevention, a kill switch, an antivirus tool and other features.
Private Internet Access' price is flexible, with three tiers: The monthly rates start at $11.99 for one month, $7.50 for six months and $2.19 for two years. Kape Technologies manages Private Internet Access' operations. As mentioned above, the company owns several VPNs and has a history of privacy issues.
Per the full Private Internet Access review, this VPN provides various unique features that allow users to access the web safely. PIA is a reliable tool for online security, privacy and anonymity.
Note:
Prices may differ from the ones shown as new plans and deals are launched on a regular basis. Please be sure to check the most current price on the official website.
How Can You Use VPNs on Mobile?
Before choosing a VPN for mobile use, users need to consider a few criteria. Users should think about the VPN's location, security and privacy features, ease of use, compatibility with the user's device, and the availability of a free trial, among other factors. Using a VPN on mobile devices is now simple once users have examined all of these factors with the intended use in mind.
To utilize a VPN, users must first visit the VPN's website to select a package, pay and log in. Next, the user should choose a VPN server location when the VPN has been set up on the device, connect to the server and then begin browsing with VPN protection.
What are the Benefits of Using a VPN on a Phone?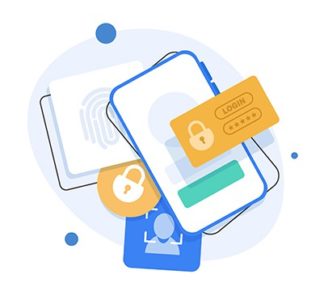 The benefits of VPN usage on phones are listed below.
Internet security
Privacy
Uninterrupted streaming
Unblocking geo-restricted websites and services
Torrenting
Protection while using public WiFi
What Makes a Great Mobile VPN App?
The factors that define a great mobile VPN app are given below.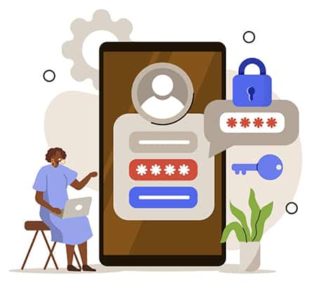 Security: A good VPN should have robust security features that ensure the privacy of users' data. A high percentage of internet users utilize mobile devices to access the internet. As a result, a shoddy VPN exposes users' information to cybercriminals, third-party trackers and surveillance programs.
Privacy: One feature that distinguishes a good mobile VPN is the privacy policy. Some VPNs claim to have a strict no-log policy, while the location of the VPN contradicts this claim. In this circumstance, people must thoroughly investigate the VPN before committing.
Unblocking Streaming Platforms: One of the main reasons why most internet users use VPNs is for entertainment. A VPN that cannot access geo-restricted content from other regions may not be ideal. The user may perhaps be traveling and require access to online services and websites that are only available in the person's home country/region. As a result, users must select a VPN that enables access to geo-restricted websites. This is also beneficial for streaming, as VPNs can access region-exclusive movies and shows on sites like Netflix, which offers different content libraries in the U.S. and U.K., for example.
Appealing and Intuitive Interface: A superb mobile VPN must have an attractive and intuitive UI that captures users' attention. To provide an outstanding user experience, the interface should also be simple to browse.
Kill Switch: Users' anonymity is jeopardized when the VPN connection is interrupted for any reason. A solid VPN should have a kill switch in this instance to protect users' data during the disconnection.
What Can be Done with a Mobile VPN App?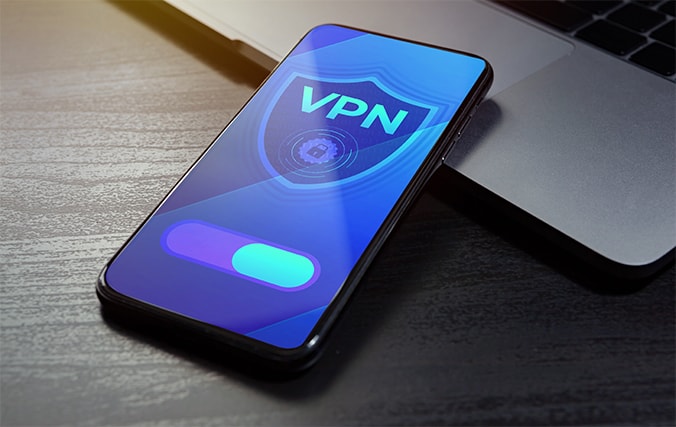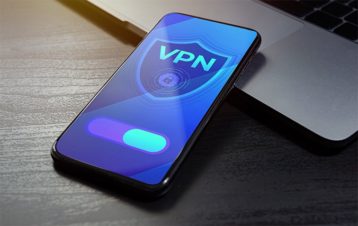 VPNs are noted for unique characteristics such as privacy, security, speed, uninterrupted browsing and streaming, many server locations and IP address encryption. People use mobile VPNs for uninterruptible connections because of all these unique qualities. A mobile VPN app can be utilized in offices where employees require a stable connection to protect company data. Likewise, mobile VPNs can be used anywhere globally; however, users need to consider usage purposes to determine the particular mobile VPN to choose.
Online gamblers can also use a mobile VPN to maintain a stable connection when betting. People can also use a VPN to watch shows or movies in any country/region without experiencing latency.