VPNs are great for two main reasons: online privacy and data safety. But since there are so many VPNs in the market today, users may find difficulty separating the best ones from just the good ones. Almost all VPNs make boastful claims of protecting user data, not keeping logs, and encrypting communications to keep surveillance states away. But many VPNs do not follow through and actually expose user information to the public. Online privacy is all about individuals being in control of the level of privacy each bit of data has during transmission when connected to the internet. Online privacy is not just about personal information. The term encompasses financial data, medical records, and all types of communications. With online privacy, the aim is to cater to different user preferences.
There are many ways to improve online privacy. Most users opt for tools such as password managers, ad blockers, anti-trackers, and antivirus applications to enhance online privacy. But the best tool to enhance online privacy is via a VPN. The term VPN stands for Virtual Private Network. And the basic principle behind VPNs is simple enough: VPNs use encryption to safeguard the user's internet traffic which in turn keeps the user's online identity safe. VPNs also change the IP address of the user which further enhances privacy and anonymity. VPNs essentially keep the likes of government agencies, hacker groups, and third-party marketing companies away from stealing the user's data.
The best VPNs for Privacy are:
NordVPN
ExpressVPN
ProtonVPN
CyberGhost VPN
Ivacy VPN
VyprVPN
FastestVPN
1. NordVPN
NordVPN is the top VPN service for enhancing privacy. The main usage of NordVPN is when users don't just want anonymity and privacy but also protection from other issues such as trackers, ads, and malware.
The advantages of NordVPN are given below:
A high number of VPN servers and VPN locations.
Six simultaneous connections per account
Ability to unblock content and general websites even in countries like China and Iran.
Very fast server performance
Ability to work with US Netflix and Amazon Prime Video amongst other in-demand streaming sites with consistency.
Powerful security tools.
The disadvantages of NordVPN are given below:
Making the Kill Switch work on Android takes some work
Some performance issues on Android.
Complicated organization structure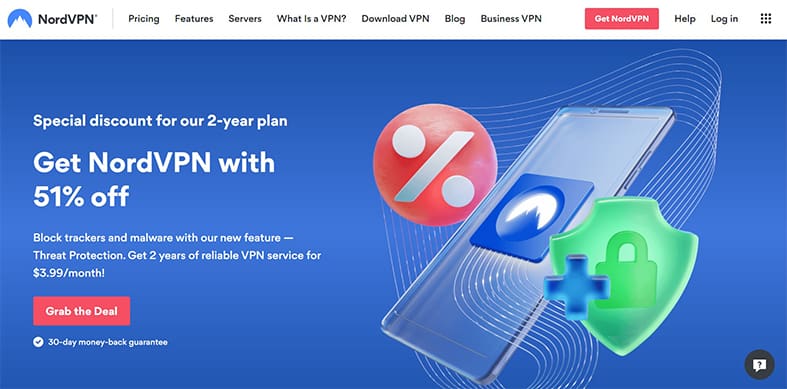 Unique features of NordVPN include:
Threat Protection: With Threat Protection, NordVPN becomes more than just a VPN. Even without a VPN connection, NordVPN increases browser safety, load times , and makes the whole internet experience smoother by blocking trackers.
Meshnet: With Meshnet, NordVPN enables remote users and company employees to connect to remote devices via encrypted private tunnels.
Dedicated IP: With a dedicated IP address, NordVPN users are in much more control of what internet traffic passes through a given server.
Dark Web Monitor: When users subscribe to the Dark Web Monitor, NordVPN systems search the web for leaked credentials. If there is an item found that may harm the user, NordVPN puts out a notification.
Multi-Factor Authentication: Very few VPN services offer the multi-factor authentication feature. However, once enabled, users have to provide a password and an additional piece of credential to unlock the NordVPN account. This increases security.
In terms of privacy, NordVPN is ranked right up there with the best VPNs with zero logs, HQ based in Panama (not part of the Five Eyes country). NordVPN does accept cryptocurrencies such as Bitcoin via BitPay.
From a security perspective, NordVPN is aces again with AES 256-bit encryption, double VPN, Tor over VPN, auto-connect, Kill Switch, split tunneling, IP masking, browser extensions, and IP leak protection.
| Duration | Price |
| --- | --- |
| 24 months + 3 months free | $2.99 per month |
| 12 months + 3 months free | $4.49 per month |
| 1 month | $11.99 per month |
NordVPN also has separate subscription packages for users who want to go beyond just a VPN product.
Nord Security currently owns NordVPN and is located in Berlin, Germany.
The full
NordVPN review
has more information on the pros and cons of NordVPN.
---
2. ExpressVPN
ExpressVPN is a veteran of the industry with the main usage arising when users need a trusted VPN for the job and secure access from any location in the world.
Advantages of ExpressVPN are given below:
Unique bonus features like Aircove and Keys
Great customer support
Powerful protocol support
Lots of locations
Lots of servers
Disadvantages of ExpressVPN are given below:
Discount options are disappointing
A low number of simultaneous connections per account
Ties to Kape Technologies
Browser extension requires the desktop application installed and running as well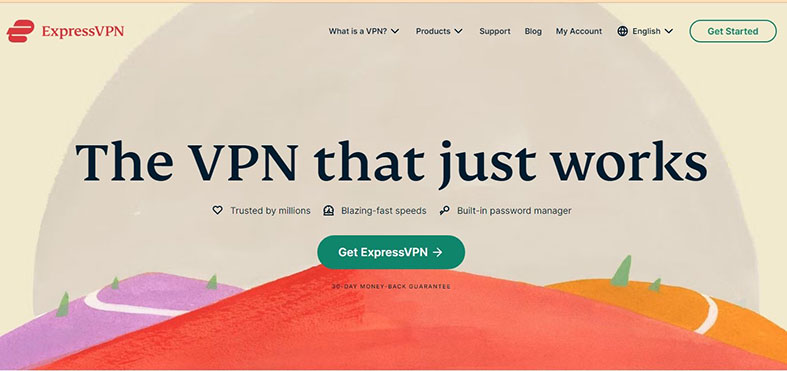 ExpressVPN unique features include:
Aircove: A router with built-in VPN
Keys: A password manager
The Lightway protocol: A proprietary protocol developed by ExpressVPN engineers and is based on WolfSSL. The codebase of Lightway is open source and available on GitHub.
From a privacy perspective, ExpressVPN delivers with a zero logs policy (verifiable via independent audits), HQ based in the British Virgin Islands (great for privacy as no threat of 5, 9, or 14 Eyes alliance), and the availability of anonymous payment methods such as Bitcoin.
ExpressVPN is a leading VPN in offering security tools as well. The list of prominent tools include an encrypted DNS server, AES 256-bit encryption, DNS leak protection, IP leak protection, Kill Switch, 100 percent RAM-only servers, and secure apps on every major platform.
| Duration | Price |
| --- | --- |
| 12 months | $8.32 per month |
| 6 months | $9.99 per month |
| 1 month | $12.95 per month |
ExpressVPN is owned by Kape Technologies. Kape Technologies is a digital security software provider based in London, United Kingdom.
---
3. ProtonVPN

ProtonVPN is one of the most reputable VPN services in the market today. The main usage of ProtonVPN arises when users want privacy and security before other features such as the number of locations or unblocking potential of the given VPN.
The advantages of ProtonVPN are given below:
Fast server performance
Dedicated apps even for platforms such as Linux
Sleek design
Regular updates
Good privacy policy
Extra privacy tools
Free tier with no significant limitations
Good support for torrenting
The disadvantages of ProtonVPN are given below:
Subscription plan prices are not clear
The Chrome OS app still has some issues.
Limited Customer support
Lack of deep discounts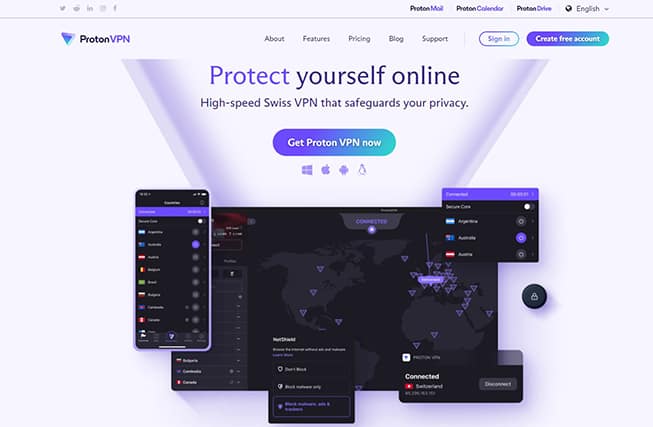 Features that make ProtonVPN unique include:
Free tier: A fully-fledged free tier that does not come with any bandwidth or data restrictions. The only noticeable restrictions are the limited number of locations and servers when compared to premium members.
Secure Core: ProtonVPN's very own security architecture that protects users against many network-based cyber attacks.
NetShield: ProtonVPN also offers a DNS filtering tool that functions as a DNS filter. NetShield, in a way, also protects against website trackers and some forms of malware.
Stealth: The Stealth feature enhances the ability to stay undetected even when websites and services have employed advanced VPN blocking measures and firewalls.
VPN Accelerator: ProtonVPN has developed VPN Accelerator which acts as a tool to increase server speeds by up to 400 percent. This tool redesigns the code underlying VPN protocols to get rid of inefficiencies and CPU limitations.
ProtonVPN has a watertight zero logs policy. With that said, ProtonVPN does mention certain data that the service does collect such as timestamps and others. As a VPN service, ProtonVPN is based in Switzerland. That's somewhat encouraging as far as data privacy is concerned since Switzerland is not part of any data alliances like five eyes, nine eyes, or 14 eyes. With that said, law enforcement agencies in Switzerland have been known to cooperate with 14 eyes countries. ProtonVPN does offer cryptocurrency payment methods such as Bitcoin.
ProtonVPN may be the best VPN when talking about security. With AES 256-bit encryption, support for all modern protocols, open source applications, and NetShield, ProtonVPN is a very safe and secure VPN.
| Duration | Price |
| --- | --- |
| 24 months | $4.99 per month |
| 12 months | $5.99 per month |
| 1 month | $9.99 per month |
As a VPN service, ProtonVPN is located in Geneva, Switzerland. Unlike almost all VPN services, ProtonVPN is still partly employee-owned. The name of the company that owns ProtonVPN is Proton AG which is located in Switzerland.
---
4. CyberGhost VPN
CyberGhost is another leading VPN tool for safeguarding one's digital footprint. The main usage of CyberGhost VPN is when users specifically want to hide internet activity from third-party actors such as ISPs, government agencies, advertisers, and , of course, hackers.
The advantages of Cyberghost VPN are given below:
Lengthy money-back guarantee
Great value for money
A large number of servers and locations
Consistently unblocks streaming services like Amazon Prime and BBC iPlayer
The disadvantages of CyberGhost VPN are given below:
Slightly slower server speeds in some locations
Some features don't work as intended
Mobile apps need work
Long connection times on Windows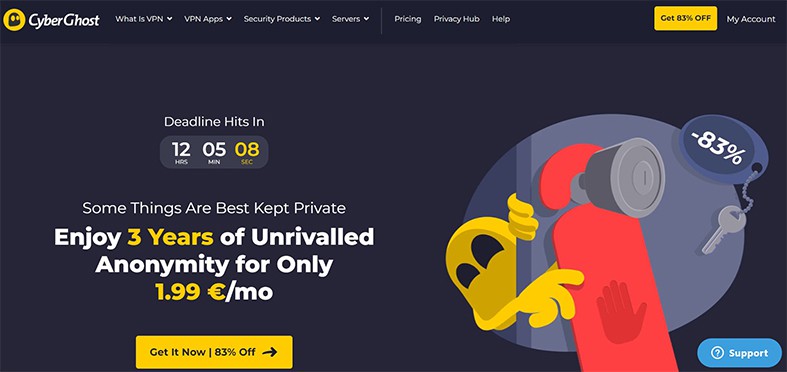 Features that make CyberGhost VPN unique include:
Free Browser Extension: CyberGhost VPN offers a robust browser extension for Chrome that is completely free to use and comes with minimal restrictions.
A 45-day money-back guarantee: A full 15 days more than the industry average.
Dedicated apps: Even for less popular devices and platforms such as smart TV sets, routers and gaming consoles. Some streaming sticks are also supported.
Seven simultaneous connections: Each subscription grants users 7 simultaneous connections which can lead to big savings for households and teams.
Huge server network: While estimates vary, CyberGhost can offer up to 8900 VPN servers in 91 different regions around the world.
CyberGhost is a very private VPN service. While encryption is great for security, AES 256-bit encryption also helps keep everything private. As for the apps, CyberGhost keeps everything transparent with no suspicious code. A zero logs policy means that CyberGhost does not collect any browsing history data. CyberGhost has even undergone complete audits from independent organizations to verify the service's claims about privacy. The service does allow payments made through cryptocurrencies. As a VPN service, CyberGhost is based in Romania, a region that is not a part of any of the three big data sharing alliances, mainly five eyes, nine eyes, and fourteen eyes.
Similar to other elite VPNs, CyberGhost uses AES 256-bit encryption which ensures top-of-the-line data security. SHA 256-bit encryption is used for authentication and supports all the modern protocols including IKEv2, WireGuard, OpenVPN over TCP and UDP. Apart from that, CyberGhost offers extra security features such as Kill Switch, Smart Rules, Adblocker, dedicated IP, IP Guard Monitoring tool, and task-specific servers.
| Duration | Price |
| --- | --- |
| 24 months plus 4 months free | $2.03 per month |
| 6 months | $6.99 per month |
| 1 month | $12.99 per month |
Currently, Kape Technologies owns CyberGhost. Kape Technologies is based in London, United Kingdom.
---
5. Ivacy VPN
Ivacy VPN is another reputable VPN service for protecting online communications. The main usage of Ivacy VPN is when users want to access foreign content and protect multiple devices with a single subscription package.
The advantages of Ivacy VPN are given below:
Legitimate extra features that offer value
10 simultaneous connections per account
Huge discounts on some long-term packages
Very good at unblocking streaming services like Netflix.
P2P support
Live chat
Decent performance
The disadvantages of Ivacy VPN are given below:
Lack of dedicated apps for platforms like Linux
Missing features on Apple devices
Problematic Jurisdiction
Lack of audit from an independent organization
Ivacy VPN's unique features include:
Cloud Storage: Subscribers can pay for a 2TB cloud storage facility.
Smart Purpose: The smart purpose feature allows users to select a purpose e.g streaming, unblocking, and/or downloading. Based on the selection, Ivacy VPN optimizes the VPN connection.
DDoS Protection: Ivacy VPN claims to protect against DDoS attacks that can disrupt services and internet traffic.
Secure Downloading: With Secure downloading, Ivacy can scan files being downloaded and check for viruses and malware.
Ivacy VPN mentions on the official website that the service does not keep any logs on users. Moreover, the VPN apps don't monitor the user's internet traffic either. The privacy policy document is acceptable. The only problem is that Ivacy hasn't undergone a complete audit yet to verify the zero log claims. Ivacy is registered as a company in Singapore. While Singapore is not a member of five eyes or nine eyes, the country is a member of the fourteen eyes data sharing alliance. That should be a problem for users who want more privacy. Ivacy VPN does accept anonymous payment methods such as BitBay.
All Ivacy VPN subscribers get AES 256-bit encryption protection which is the strongest possible encryption available at the moment. In terms of protocols, Ivacy VPN has support for OpenVPN, IKEv2, L2TP/IPSec, and WireGuard. Apart from these, Ivacy VPN offers all the usual advanced security features such as Kill Switch, WiFi security tool, dedicated IP, split tunneling, secure DNS, IPv6 leak protection, and secure VPN apps for all major platforms.
| Duration | Price |
| --- | --- |
| 70 months | $1.00 per month |
| 12 months | $3.99 per month |
| 1 month | $9.95 per month |
Ivacy is owned by PMG Pte Ltd. PMG Pte Ltd is based in Singapore.
---
6. VyprVPN

VyprVPN is another reputable VPN service that promotes privacy as a human right. The main usage of VyprVPN is when users want a VPN built by experts and streamlined security that doesn't require much setup.
The advantages of VyprVPN are given below:
VPN apps have plenty of features
Server network good enough to unblock popular streaming services like Disney Plus and BBC iPlayer.
Strong protocol options
Good discounts
Lots of locations
Modern VPN technology
The disadvantages of VyprVPN are given below:
Monthly subscription packages are expensive
Inability to work with US Netflix consistently
Performance issues on some servers
Some features don't work as advertised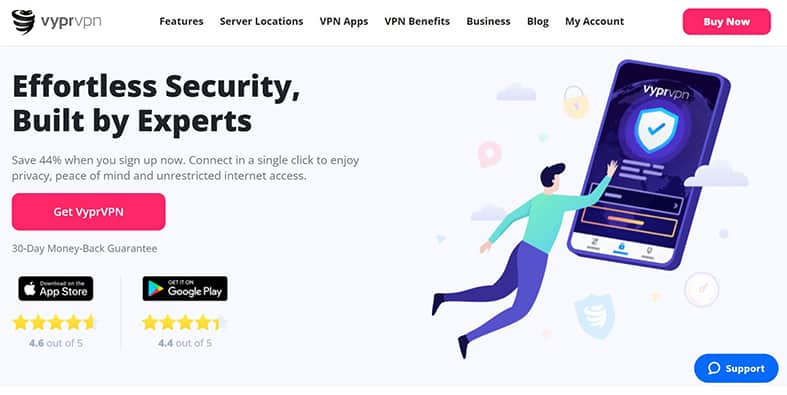 Features that make VyprVPN unique are given below:
Chameleon 2.0: An updated version of the older Chameleon protocol that allows VyprVPN to work in conditions other VPNs can't. This means, VyprVPN is good for use in China.
VyprDNS: VyprDNS offers a customized DNS server that keeps the user's data safe and away from hackers.
NAT Firewall: VyprVPN does a good job of enabling NAT firewalls by default. Because of the NAT firewall setting, users automatically get protection from DDoS attacks.
Infrastructure ownership: VyprVPN owns all hardware and servers that are used to provide VPN services to subscribers. There are no third-party companies involved.
From a privacy perspective, VyprVPN keeps everything steady with powerful encryption and Perfect Forward Secrecy. The company has a zero logs policy and is one of the few VPNs to have undergone independent audits multiple times over the last years. VyprVPN is based in Switzerland. As mentioned before, even though Switzerland is not part of any data alliances such as Five, Nine, or Fouten Eyes, there is a slight problem. Law enforcement agencies in Switzerland have been known to cooperate with other countries sharing data and transferring records. VyprVPN does not support any cryptocurrency payment method at the moment.
Subscribers to VyprVPN can enjoy top-notch security with AES 256-bit encryption, support for OpenVPN and WireGuard protocol, and SHA 284-bit HMAC. VyprVPN also has a proprietary protocol Chameleon 2.0 that even works on the iOS platform. Apart from the encrypted DNS service, VyprVPN also has other security tools such as DNS filtering, Kill Switch, and DNS leak protection.
| Duration | Price |
| --- | --- |
| 12 months | $5 per month |
| 1 month | $10 per month |
Golden Frog GmbH owns VyprVPN and is located in Switzerland which is great for privacy.
More information on VyprVPN features can be found in the full
VyprVPN review
.
---
7. FastestVPN
FastestVPN is a relatively less popular VPN whose main usage is when users want to remove any limitations while browsing the web. The service is specifically aimed at WiFi users accessing unsecured WiFi connections in public places.
The advantages of FastestVPN are given below:
Fast live chat support
Huge discounts
Ability to unblock websites in China
Easy to use apps for all platforms
Torrent support on all servers
Decent privacy policy and security tools
Ability to unblock streaming services like Hulu, Disney+, Amazon Prime Video, and BBC iPlayer.
The disadvantages of FastestVPN are given below:
Some connection issues
Lower number of servers
Inconsistent performance when connected to servers in some locations
FastestVPN's unique features list includes:
Great Compatibility: FastestVPN supports over 20 devices. If there is a device that can access the internet, FastestVPN has an app for it.
Smart Connect: FastestVPN can automatically pick the best server from the lot once this option is enabled.
NAT Firewall: Very few VPNs offer the NAT firewall. FastestVPN offers an extra layer of protection on top of the already substantial security arrangements.
FastestVPN has a zero logs policy. However, reading the privacy policy document, FastestVPN does mention the systems keep information such as login attempts and passwords to minimize abuse. Now, the only problem with the FastestVPN privacy policy is that there is no mention of any independent audits. Without an independent audit, there is no way to verify FastestVPN's claims about zero logging.
FastestVPN is registered in the Cayman Islands. For privacy, that's great since the Cayman Islands are not a part of any data alliance agreements such as Five Eyes, Nine Eyes, and/or Fourteen Eyes. FastestVPN does accept payments via cryptocurrencies which further enhances privacy.
Security wise FastestVPN is all aces with AES encryption double VPN, kill switch, split tunneling, RAM-only servers, an ad blocker, malware protection component, DNS leak protection, support for IKEv2 PPTP, and Open protocols.
| Duration | Price |
| --- | --- |
| 60 months plus 3 months free | $0.66 per month |
| 36 months plus 3 months free | $0.7 per month |
| 1 month | $10 per month |
The parent company of FastestVPN is Fastest Technology Limited.
---
Note:
Prices may differ from the ones shown as new plans and deals are launched on a regular basis. Please be sure to check the most current price on the official website.
What to Look for in the Best VPN For Privacy?
VPNs are great at protecting one's privacy and securing communications. When properly configured, VPNs ensure no third party is able to see what the user is doing online. But not all VPNs are good for privacy. Yes, a No-logs VPN can certainly help but there are many other factors to look into as well. The critical factors that need to be taken into consideration when looking for the best VPN for privacy are given below:
No-Logs Policy
Location of Company
Payment Methods Accepted
Strong Encryption Protocols
Privacy Features
No-Logs Policy
Any VPN that claims to protect user privacy must keep minimal logs. The term used in the industry is zero logs. The only problem is that almost all VPNs claim to have a zero logs policy. However, a lot keep connection logs which are necessary to improve services and keep operations running smoothly. A VPN that collects information about the user's browser history is definitely a service to avoid. Always go through the privacy policy document of the VPN in question. If a VPN doesn't have a privacy policy document then that is another red flag. Try to verify privacy claims from multiple services. Another way is to check for independent audit reports from reputable organizations. Almost all elite VPNs provide links to independent audit reports on official websites.
Location of Company
The location of a given company can give a pretty good idea of how the VPN service will go about protecting user privacy. Because VPNs of today operate as legitimate businesses, some government laws have to be followed. The laws that a VPN service will follow will depend on where the HQ is located. If a country's law mandates that VPN services collect, store and share user data with law enforcement agencies, VPNs have to comply. And once VPNs comply, user privacy is compromised. On the flip side, if there are no laws and regulations regarding the safety of collected data and the data's transmission, VPN services can simply cut corners in protecting that data. That can also lead to privacy issues. Always ensure that the VPN in question does not have headquarters or offices in five eyes, nine eyes, and/or fourteen eyes countries.
Payment Methods Accepted
Perhaps the most ignored factor in considering a good VPN for privacy is the payment method. VPN services generally accept debit cards, credit cards, PayPal, UnionPay, and others. But such methods compromise privacy as the user is providing financial and personal information to the VPN service at checkout. Even if a VPN is practicing zero-logs, the moment the user inputs financial information, a record will be created with information such as billing address and account number stored as items. That is bad for privacy. While some VPNs claim to not have any link between the user's account, activity, and payment details, no guarantees can be given. In such situations, payments via cryptocurrencies grants the VPN extra points in the privacy department. Examples of anonymous payment methods include Bitcoin, Gift Cards, Altcoins, and payments via physical money.
Strong Encryption Protocols
A VPN cannot simply ensure privacy or security if the associated apps offered do not support strong encryption protocols. Encryption is how VPN services protect user data and keep communications safe from hackers and government agencies. There are different types of encryption such as symmetric key, public key, handshake encryption, and secure hash algorithm. In addition to encryption technologies, VPN apps for privacy must also support the most secure and fastest protocols such as SSL TLS, OpenVPN, IKEv2/IPsec, L2TP/IPsec, SSTP, WireGuard, and PPTP. OpenVPN is considered to be the best along with WireGuard. After the protocols come the ciphers. Ciphers simply represent the formula used to encrypt user traffic and data. Currently, AES is considered the best cipher but there are other options as well such as Blowfish, and Camellia. The best VPNs for privacy are able to offer the best mix of encryption, ciphers, and protocols with lots of configuration options and fast implementation.
Privacy Features
Generally, if a VPN service is offering good encryption protocols and a privacy policy, the VPN is good for privacy. But the best VPNs for privacy offer privacy-specific features that others don't. So after AES 256-bit encryption, the standard privacy feature is malware and ad blocking. Both ads and malware can compromise user privacy via phishing attacks and drive-by virus downloads. If a VPN is able to block such ads and website links then user privacy is enhanced.
Another privacy feature only the best VPNs offer is the automatic VPN connection once an unsecured Wifi connection has been detected. Mobile users have long outnumbered desktop users. That means, most people now connect to public WiFi connections while on the move. A VPN that is able to automatically provide protection once a problematic connection is detected is definitely better than one that doesn't.
A related feature is auto-reconnect. The inherent nature of the internet means VPN connection drops. The best VPNs are able to reconnect the user as soon as possible to avoid privacy issues. Other features such as obfuscation servers, DNS leak protection, Ipv6 leak protection, double VPN, kill switch, and split tunneling are also very important.
Apart from these, other less popular but equally effective privacy features include Tor Over VPN, VPN over Tor, GPS spoofing, Dark Web monitoring, and RAM-only servers.
A zero logs policy will ensure good privacy. The privacy features mentioned above will ensure great privacy.
How to Set Up a VPN For Maximim Privacy?
Installing VPN tools is one thing, installing VPN tools correctly is quite another and can ensure maximum privacy. The steps to complete to set up a VPN for maximum privacy are given below:
The step most VPN users miss when setting up a VPN for maximum privacy is during the registration process. Simply put, always use a new email address. Burner email addresses are great if the VPN service in question accepts anonymous email addresses. Even better is to use the mainstream email services but with new addresses. That way the user will have the opportunity to go back if there is ever a need to reset the password. That helps to keep the personal information of the user out of any potential harm's way in the future in case the VPN systems get compromised. Services such as 10minutemail and Gorilla email are good anonymous email services that work with popular apps.
Try to pay with cryptocurrency whenever possible. Most VPN services accept debit cards, credit cards, PayPal, and Google Pay. But for maximum privacy, go with Altcoins, physical paper money, or cryptocurrencies such as Ethereum and Bitcoin. Keep in mind that paying via cryptocurrency doesn't make one completely anonymous. But at least users can stay away from banks and traditional financial institutions by paying via crypto. The great thing about paying with crypto is that there is no extra charge for using an unconventional payment method.
Once a new email address has been used for registration and payment made via crypto, then the user should install the VPN app. Installing the VPN app is as simple as going to the official website of the VPN service and downloading the right app file. Mobile users can gain more privacy points by not downloading/installing VPN apps from Google Play Store but via .apk files. A lot of VPN services have started to offer .apk files to bypass Google Play Store.
The next step is to test for leaks. There are many IP-checking tools available online. Use any. Once the new IP address is confirmed, go to the Settings menu of the VPN app and turn on DNS leak protection and IPv6 leak protection.
Then turn on Kill Switch. The Kill Switch feature will ensure that even if the VPN connection is dropped, the user's data remains safe. The kill switch feature essentially cuts internet connection to all apps so no internet traffic can leave or enter the user's device when there is a lack of VPN protection.
Turn on the auto-connect feature. Generally, VPN services will not reconnect after a disconnect. That can be risky especially if one forgets to turn on the VPN service in the first place after a disconnection. Some VPN services even allow apps to launch as soon as the system starts. That setting leads to maximum privacy.
From the Settings menu, enable options such as IPv6 protection and DNS leak. A few VPN services even allow users to use Custom DNS. Custom DNS has the added benefit of blocking malicious websites and ads when compared to unencrypted DNS services.
Turn off the feature that sends crash reports when apps show erratic behavior. There is nothing wrong with sending crash reports. Except, doing so can open up the user to future privacy issues. The chances may be small but when talking about privacy, better be safe than sorry holds.
Enable 2-factor authentication. Sometimes hackers can take unconventional methods to take over devices and steal user data to compromise privacy. VPN apps protect the user's internet traffic. But apps don't affect the security levels of VPN accounts. Enabling 2FA ensures hackers cannot access the user's VPN account even if the password is guessed somehow.
Double-check to see if the strongest protocol is being used. WireGuard is the strongest option currently available but OpenVPN is fine as well.
Enabling split tunneling so that access to apps that block VPN connections remains open.
The final step would be to not use any of the mainstream browsers such as Google Chrome and Firefox. Instead, go with Tor and/or Brave. The Tor browser has a tendency to not work with modern websites and online services. So for average online users, Brave browser is the best choice for maintaining maximum privacy.
Pro Tip:
General tips like not opening up random links, sharing personal information on social media and going to shady websites always help to enhance privacy online.
Why do you Need a Privacy Focussed VPN?
Privacy-focused VPNs are needed to stop actors such as internet service providers, snoopers,, and government agencies from eavesdropping on online communications. Internet service providers have an interest in tracking what customers are doing online. Such data helps to monetize traffic and give better reports to law enforcement agencies when a need arises. HTTPS connections are great but ISPs can still see the sites being visited. Privacy-focused VPNs specialize in implementing better encryption, protocol, and cipher combination to keep traffic hidden from all actors and not just ISPs.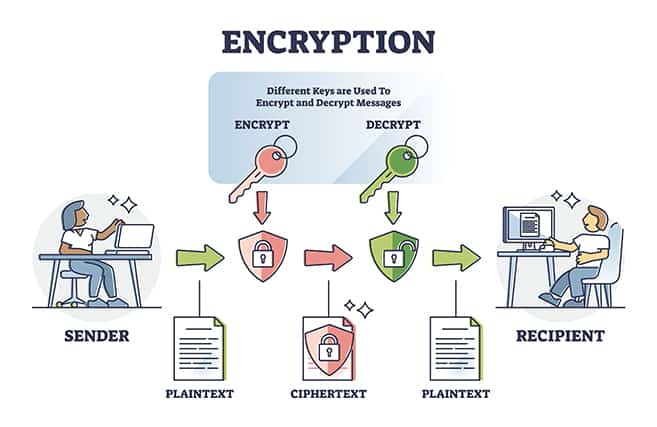 Another reason why a privacy-focused VPN may be needed is to gain protection on shared WiFi connections. Especially when users on the network share the same building. WiFi connections, however convenient, are inherently not secure. Landlords now do have the tools to monitor traffic on WiFi connections in their buildings. That's aside from the fact that a potential cybercriminal could be living next door using the same shared WiFi connection as an upright citizen. A privacy-focused VPN can solve such problems by randomizing the user's internet traffic to keep internet activity safe and anonymous.
Other reasons to use a privacy-focused VPN include enhanced security during remote work sessions and meetings, and increased access to blocked content across the internet. Privacy VPNs also make the traffic appear to come from another country (usually of choice), and protect users from malware and harmful ads.
Can you use a Free VPN for Privacy?
No, a free VPN cannot be used for privacy. Many free VPNs will claim to enhance privacy. But a deeper look at the business model of VPN companies should make it clear that free VPNs simply cannot enhance privacy. At least not for long.
Just like any other business, VPN services offer products to generate revenue. The primary way VPNs generate revenue is via subscriptions. Free VPNs do not have subscriptions. And hence have to generate revenue via other somewhat questionable means.
Note:
Without a presence of a subscription-based VPN product, free VPNs usually have to show ads to users. These ads are almost never vetted carefully. Because of that, users can come across ads with malicious code. Clicking on malicious ads is probably the best way to compromise one's privacy.
Another problem with free VPNs is the lack of network infrastructure. Free VPNs usually have a low number of servers and even the offered servers are not really owned by the free VPN. This brings third-party companies into the equation. Consequently, the user's privacy suffers as the free VPN cannot control the quality assurance programs of any third-party companies.
Free VPNs are also more likely to hijack web browsers rather than improve privacy. A while back, HotSpot Shield was accused of redirecting user traffic to unwanted websites without explicit permission.
Moreover, free VPNs are also more likely to submit to government coercion to give up customer data. Other reasons why privacy experts do not recommend free VPNs for privacy include chances of malware infection, tracking codes within free VPN apps, inability to unblock content, false claims, and even lack of encryption.