Cyberattacks, online threats, and hacking have continued to increase with the increasing expansion of information technology. While so much has been done to mitigate these threats and vulnerabilities, new threats are constantly being produced by cybercriminals. This is why organizations and individuals must stay one step ahead of these threats.
One way to stay updated is by following cybersecurity news, as well as cybersecurity experts, influencers, and professionals. These individuals have the experience and technical knowledge to provide useful information on cybersecurity issues. Cybersecurity news can also be found by browsing security-related social media posts. Attending live events such as conferences, workshops, sponsored meet-ups, educational courses, discussions, lectures, and networking events can help individuals get better insights and information on cyber security. In addition, checking vulnerabilities and risk advisory feeds, listening to podcasts, and customizing real-time alerts can help individuals and corporate originations get real-time updates on cybersecurity. The best news site for the cyber security industry include: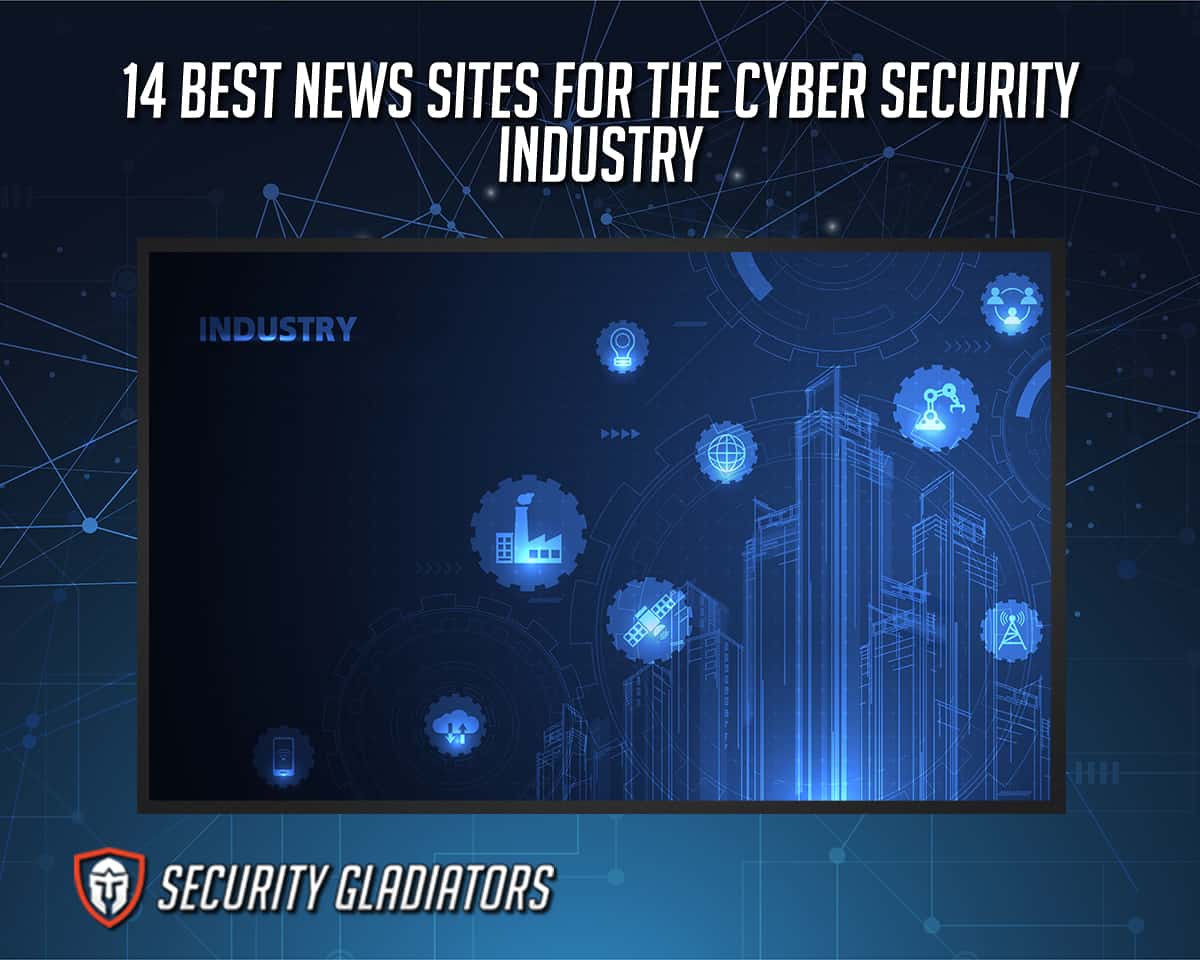 SecurityGladiator
Infosecurity Magazine
The State of Security-Tripwire
The Last Watchdog
Graham Cluley
Naked Security
CSO Online
Security Weekly
IT Security Guru
Cyber Magazine
Help Net Security
Dark Reading
Krebs on Security
The Hacker News
1. SecurityGladiators
SecurityGladiators is a cybersecurity blog reputed for publishing the latest news, reviews, and how-to guides on cybersecurity. This cybersecurity site also reviews lots of security tools and reviews revolving around online security and delivers information on cybersecurity through comparisons, reviews, market analysis, and thorough how-to guides.
Security Gladiators strives to be the one-stop place for everything relating to consumer technology, online security, gaming, and online streaming. As a news outlet, SecurityGladiators aims to make the internet a safer, more reliable, informed, and secure place for users.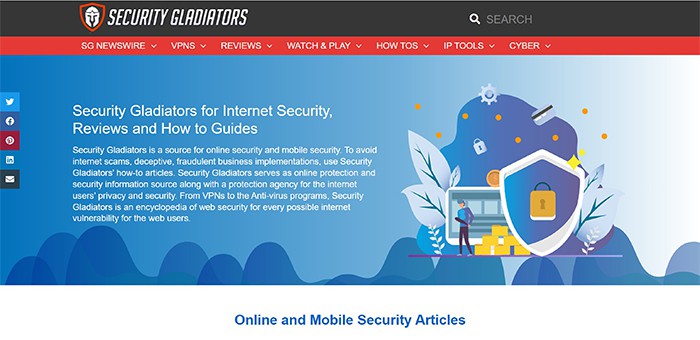 This security news site was established in 2014 as a site where tech experts from around the world could share experiences and knowledge, offer quality, unbiased security information and tools to ensure an enjoyable time for readers who visit the site. The Security Gladiators website was founded by Damien Mather but is owned and operated by Leading Edge Marketing, a duly registered company in Australia. Level 15, 440 Collins Street, Melbourne, Victoria 3000.
Note:
SecurityGladiators doesn't publish random news about security but makes in-depth research and carries out thorough tests on services and products related to cybersecurity, often before such information is published elsewhere. SecurityGladiators is unbiased; the website also publishes frequently, with over 1350 articles, guides, and reviews available, making the website the ideal place to get information and news about online security.
Also, Security Gladiators features top-notch researchers, talented writers, and professional editors with long-term experience in computer science, engineering, and journalism.
SecurityGladiators publishes cybersecurity news, how-to guides, and reviews. The site also reports security stories, reviews a wide variety of freedom and security tools as well as guides for a more private, secure, and fun time online. As stated, SecurityGladiators is filled with seasoned writers including Zohair A., Isa Oyekunle, Matthew Innes, Diego Asturias, Ali Qamar, etc.
The site is easy to navigate as the information is direct, concise, and unbiased. Also, the company constantly updates and builds the website to ensure maximum satisfaction of readers.
SecurityGladiators has an open-door policy that allows for feedback and complaints; the site can be contacted via the official contact page located on the site.
---
2. Infosecurity Magazine
Infosecurity magazine is a decorated magazine dedicated to insight, strategy, information, and technology of information security. The magazine, which has over 12 years of experience, delivers critical, technical, and business specific information for IT experts and security professionals.
The objective of this award-winning online magazine is to help individuals and corporate organizations discover everything that involves information security. Infosecurity Magazine was established over twelve years ago and is a part of the larger Infosecurity Group, a business unit that is operated and owned by Reed Exhibitions UK. The founder of Infosecurity Group is not known.
Infosecurity Magazine has won several awards, a testament to the site's integrity, consistency, and quality reporting. The magazine offers both online and print information that focuses on the latest trends and topics, opinion columns, and deep news analysis from industry professionals.
Also, Infosecurity is an important learning resource center for industry experts. This is because the magazine offers free educational content such as webinar channels, virtual conferences, and whitepaper syndication programs, all of which are endorsed by credible accreditation bodies.
This editorial magazine won the 2018 Best Corporate Security Blog from the European Security Bloggers Awards, is reliable and trusted by journalists and security experts, and is known for breaking cyber news. The magazine also serves as a forum where some of ESET's high-profile online security discoveries have been written.
Infosecurity is dedicated to publishing the latest IT and information security articles and news. The news publication provides the latest information security analysis, webinars, podcasts, and trends. The magazine features a robust team of writers and editors including Eleanor Dallaway, Benjamin David, James Coker, and Phil Muncaster. Others include Sarah Coble, and Rebecca Harper.
Infosecurity has a great user interface. Not only are news, reviews, and insights published frequently, this information is well written and in-depth. The site is easy to navigate and readers can find the current and latest information on the site.
As stated, Infosecurity Magazine is a part of the Infosecurity Group that is composed of other groups such as Infosecurity Europe and Global Executive Network; all of which work together to drive and support information security, both in print and online. The magazine also works together with the White Hall Ball, a charity event that raises funds for Childline NSPCC.
Infosecurity is all about providing exciting information both online and in print about hot trends and topics, publishing opinions from industry leaders, and detailed news analysis on cybersecurity.
---
3. The State of Security-Tripwire
The State of Security-Tripwire is a blog that covers threats, cybersecurity, incident detection, vulnerabilities, and regulatory trends and news. The blog site is a part of Tripwire, a cybersecurity platform that provides both onsite and cloud solutions to discover, monitor, and reduce risks to cyber insecurity.
The State of Security aims to provide a platform that enables those in the cybersecurity community to share resources, commentary, and news, all in one place.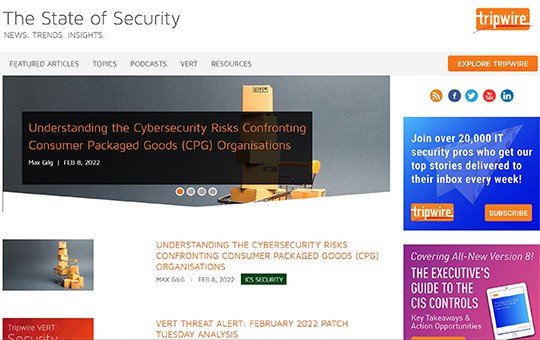 The parent company Tripwire, Inc. was established in 1997 by Gene Kim and has undergone many mergers and acquisitions since then. The blog site, The State of Security, was added as a platform to provide online news and information on cybersecurity, but there is no known date of establishment or founder.
Tripwire empowers employees to help protect businesses and individuals around the world by having these employees contribute to The State of Security blog site. The company leverages the experience and knowledge of these employees as well as enables the workers to share personal stories of the cybersecurity industry.
The news site also offers visibility to those that work in the cybersecurity industry while working with IT experts around the world.
Tripwire has been protecting the world against cyberattacks for more than 20 years and has evolved with the changing technological complexities around the world to continue ensuring cybersecurity.
The State of Security publishes the latest security news, insights, and trends. The infosec blog covers news, articles, and trends on incident detection, threats, cybersecurity, and regulatory compliance. The blog features contributors including Aaron Warner, Alex Bagwell, Amarjit Kalsi, Ana Luiza Ferrari Ribeiro, Andrew Swoboda, Andrew Wagner, Anirudh Chand, Babar Mahmood, Ben Jackman, Ben Layer, Bob Covello, John Salmi, John Walker, and John Wenning. Others include Thad Dharsi, Steven Tipton, Tim Erlin, Ted Rassieur, etc.
The blog site has a great user interface featuring news, opinions, articles, and views across a wide variety of cybersecurity fields. As stated, The State of Security enables individuals to share personal experiences and stories by becoming contributors. Also, individuals can join the 20000+ IT security experts who receive relevant and informative insights on online security delivered to personal emails weekly.
The State of Security news site provides the perfect platform for experts and industry leaders in the cybersecurity space to share information, news, views, and opinions on online security.
---
4. The Last Watchdog
The Last Watchdog is one of the best news sites in the cyber security industry. The news site publishes breaking news, videos, and pictures as well as special reports on cybersecurity. The site also features guest posts, has a column for questions and answers, personal opinions from industry experts, and other relevant information.
The mission of the blog site is to boost human understanding about new and emerging privacy exposures and cybersecurity threats. The site is constantly on the lookout for online threats and when discovered, informs the public promptly.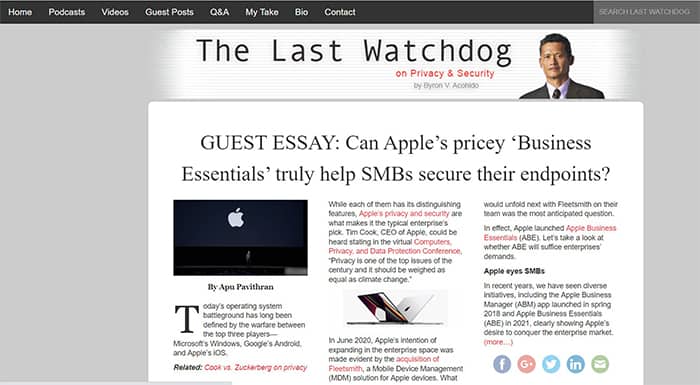 The exact date of establishment of The Last Watchdog is not known. What is known however is that the cybersecurity site is owned by Bryon V. Acohido, a Pulitzer-winning journalist who doubles as the executive editor of the online magazine.
The online cybersecurity news site features the latest news on digital security. Using pictures, podcasts, videos, and shared experiences, the site informs and educates the public about cybersecurity, and how to stay safe online.
The Last Watch Dog has also been recognized multiple times as a reliable source of information on privacy, online safety, and cybersecurity. Within the space of a few months, the news site was recognized four times.
Apart from Bryon V. Acohido, Last Watchdog also features several expert writers. Most of these writers and contributors are thought leaders and experts and they include Vytautas Kaziukonis, Rohit Sethi, Dima Gutzeit, Alexey Kessenikh, Julia Demyanchuk, April Miller, Bharat Bhushan, etc. However, these writers are only guest writers as all main articles, including videos, and podcasts are put together by Acohido.
This news site offers an excellent user experience, evident from the site's layout. The Last Watchdog has a well-organized page layout, thus ensuring readers can quickly peruse and read articles, listen to podcasts or watch relevant videos. The site has a Q&A section that enables readers to ask questions and receive answers. There's also a contact page where the email address, as well as the phone number of the founder, can be found. Besides, the podcasts, videos, and "My Take" section are well loaded, offering tons of information on cybersecurity and providing alternatives to individuals who prefer audio and visuals to text.
The Last Watchdog is all about providing timely, informative, and educational news and information on cybersecurity by constantly monitoring trends and happenings around the world and bringing this news to the public.
---
5. Graham Cluley
Graham Cluley is a computer security blog that provides excellent advice, news, and opinions from Graham Cluley, an award-winning public speaker, cybersecurity analyst, and podcaster. The site publishes daily news, articles, and information on online security.
The security blog aims to protect computing assets and data against threats and cyberattacks by bringing relevant news, opinions, advice, and information on cybersecurity.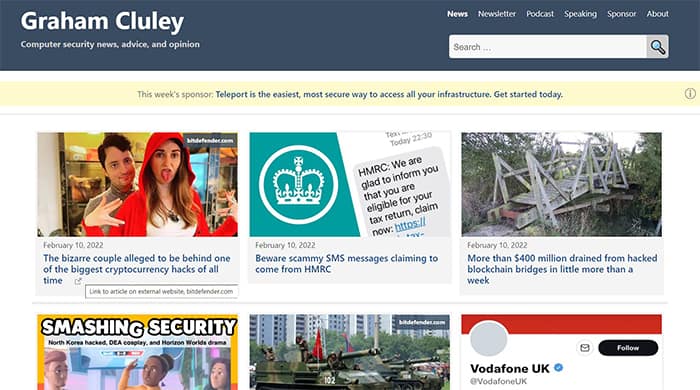 Graham Cluley was fully established in 2013. Graham Cluley cybersecurity is named after the author and founder Graham Cluley, a cybersecurity expert with decades of experience.
The news site is considered one of the best because the site publishes daily news on cybersecurity, sends newsletters to subscribers, and gives advice, opinions, and information relating to computer security. Also, the blog site is owned by a reputable cybersecurity expert with many years of experience, awards, testimonials, recognition, and fame. The cybersecurity site keeps up with the latest happenings in the cybersecurity industry and brings these happenings to the public.
Graham Cluley brings the latest cybersecurity news and also features opinions, advice, and general information on cybersecurity. The security site also features podcasts and public speaking by Graham about online security. The news commonly published includes the latest security threats, data breach warnings, how-to guides, etc.
All articles and opinions are written by Graham Cluley. However, individuals are allowed to send personal story ideas or tips. The site also has an ideal user interface that is easy to navigate. The site features daily posts and news about cybersecurity, and the author can be hired to speak publicly. The site also has a column for sponsorship and allows for corrections and complaints. The author and owner can be easily reached via email or through a phone call.
Graham Cluley brings breaking news regarding cybersecurity, offers opinions and advice, and features podcasts and public speaking on cybersecurity, all to ensure a safer online space for everyone.
---
6. Naked Security
Naked Security is an award-winning threat news site that brings the latest opinions, news, advice, and research on the current and emerging online threats and security issues. The newsroom shares information and news from the best anti-virus experts. The site is also the news site of IT security company SOPHOS.
The objective of Naked Security is to enlighten the general public about cybersecurity, share information on new and emerging threats affecting online security, and keep the public updated on the latest happenings and trends in the world of cybersecurity.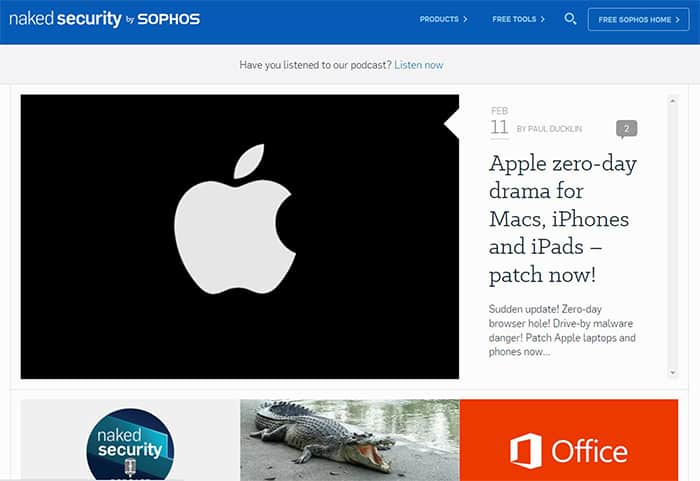 Naked Security came into existence on 28 October 2010. The parent company SOPHOS was founded by Jan Hruska and Peter Lammer and has its headquarters in Abingdon, England. However, the blog site is being run and managed by Mark Stockley, a writer and founder of Compound Eye, an independent web consulting agency.
The newsroom provides the latest news on cybersecurity and alerts people to new and emerging cyber threats. The site features top-quality experts and professional writers, bringing authentic and top-quality information to the public. What's more, Naked Security has won several awards. Some of the best writers include Paul Ducklin and Mark Stockley.
The website is easy to locate and comprehend and there are lots of news articles for readers to enjoy. Also, the platform enables individuals to send in news, opinions, and information. Readers can also subscribe to the site's newsletter.
Note:
As previously stated, Naked Security is the blog site of SOPHOS, a global leader in data protection and IT security. SOPHOS's effort is complemented by Naked Security, a blog site that brings news and information on cybersecurity, thus ensuring complete online protection for individuals and companies.
---
7. CSO Online
CSO Online is a digital news platform that offers data analysis, news, and research across a wide range of risk and security management subjects. The site focuses on areas such as business continuity, cyber security, information security, access and identity management, loss prevention, etc.
The online news site aims to cater to enterprise security leaders and users by providing crucial information that can be used to stay one step ahead of emerging threats. The incisive content from CSO Online addresses all security issues, from network defense and risk management to fraud defense and loss prevention.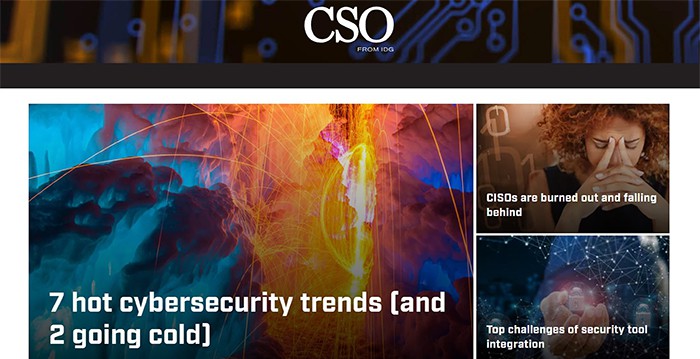 The online and digital magazine debuted in September 2002 and is owned, operated, and published by International Data Group (IDG Enterprise company), with the headquarters located in the Greater Boston Area, East Coast, New England, UK.
CSO Online is one of the top cyber security news sites. It provides full coverage of the cyber security industry, including interviews, analysis, product news, technical advice, and industry news. The security website also offers top-notch insight for industry leaders and security experts who require reliable information to make crucial decisions. CSO addresses all security issues including risk management, fraud, network defense, and prevention of data loss.
As previously stated, CSO Online publishes news and information about the best practices on data protection and business continuity, best practices for prevention of cybercrimes, hacks and scams, the latest cyber security and industry news, and so on. There are also hot topics, newsletters, and videos to explore.
CSO Online boasts competent and expert writers, including Lucian Constantin, Vicenzo Marsden, and David Weldon. Others include Jon Oltsik, Michael Hill, Susan Bradley, Cynthia Brumfield, Christopher Burgess, Peter Weyner, Mary K. Pratt, Andrada Fiscutean, etc.
Note:
CSO Online has an exciting web page. The website offers content in the UK, US, ASEAN, India, Australia, and Germany. The site also enables individuals to send in news, content, and opinions. In addition, users can subscribe and register to become members while companies can advertise products and services on the site.
CSO Online provides CSO daily news and helps individuals and businesses stay ahead of evolving threats and vulnerabilities while providing solutions and defense strategies against cyber-attacks. CSO Online also offers in-depth insight into cybersecurity with which companies and individuals can take decisive action.
---
8. Security Weekly
Security Weekly mainly uses podcasts to provide cybersecurity information. The website is a hub of completely free and informative podcasts on hacking, information security, data breaches, and more. Security Weekly aims to ensure that the internet is safe for individuals and organizations. This is done by providing podcasts on cybersecurity, covering news, trends, hot takes, opinions, and views on cybersecurity from industry leaders.
Security Weekly was established in 2005 by security expert and veteran Asadoorian. The podcast network is based in Warwick, Rhode Island, United States. This security newsroom is a CyberRisk Alliance Resource (CRA) which was created to enable cybersecurity experts to face obstacles and challenges that may threaten the success of businesses.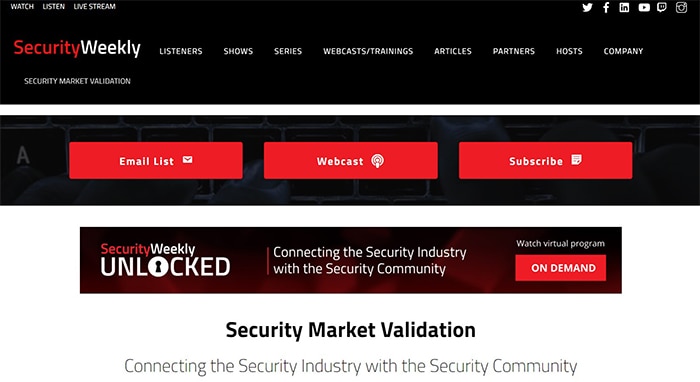 The cybersecurity podcast network is one of the best cyber security news websites for the security community because the news site connects the security industry with the community using market validation programs. The podcast site features Paul's Security Weekly, Enterprise Security Weekly, Security Weekly News, Application Security Weekly, Business Security Weekly, Tradecraft Security Weekly, Security & Compliance Weekly as well as Secure Digital Life. The network specializes in webcasts, information security, infosec, and cybersecurity. The podcasts are usually put together by cybersecurity experts.
While Security Weekly's primary means of communication is podcasting, the site also features regular articles and news on cybersecurity, focusing on emerging security trends, views, opinions, experiences and hot takes. Security Weekly also puts out weekly cybersecurity shows that users can listen to, watch, or live stream.
Security Weekly features many great writers including Paul Asadoorian, Deb Radcliff, Bill Brenner, Matt Alderman, and more. The website has a user-friendly interface to ensure maximum satisfaction. Users can choose to read the many publications on cybersecurity. Alternatively, clients can also choose to listen to podcasts, watch videos, or live stream events. In addition to shows and series, readers can subscribe to the blog.
Security Weekly is all about bringing information and news on the latest events in cyber security to the public.
---
9. IT Security Guru
IT Security Guru is another top cyber security website that publishes daily breaking news in the world of online security. The site covers news on ransomware, cybersecurity, privacy and also carries out in-depth product reviews. The cybersecurity website specializes in daily reports while providing news, features, and details of upcoming events. Overall, IT Security Guru is the home of cybersecurity news and IT Security in Europe.
IT Security Guru's mission is to make information security interesting and digestible through everyday news. This is done through two platforms called Cyber Bites and Insight; these two platforms provide an interesting and innovative approach to online security.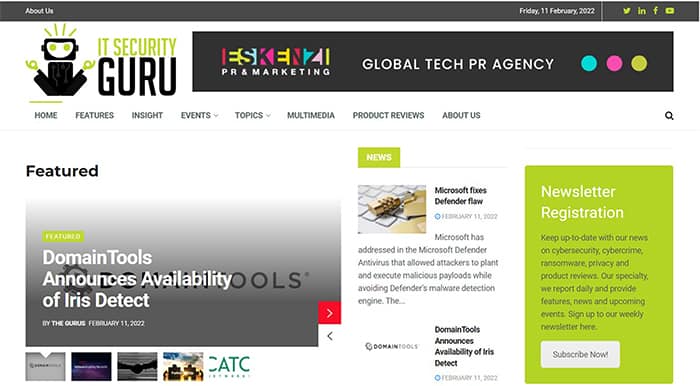 IT Security Guru has a physical address of 10 London Mews, London, LW2 1HY but has no known date of establishment. Mike Wright is the CEO and founder of IT Security Guru and has been running the site for over 23 years.
IT Security Guru features all cybersecurity news, updates, and information in one place. The site publishes daily breaking news, features interviews with security experts, and also top 10 stories on cybersecurity.
IT Security Guru not only publishes the latest cyber security news but also offers product reviews. Also, the security site publishes events, features, insights, and topics on online security. Also, there are multimedia, product reviews, and lots more.
IT Security Guru features the very best writers and researchers. Some of these writers include John Dunn, Sabina, and Daniel Tannenbaum. Other writers include Tom Parling, Michael Levanduski, Jason Hart, Triston Morgan, etc.
The security newsroom has a great and friendly web page that enables readers to easily read through news, articles, and writeups. The site is well structured, with concise platforms including insights, events, topics, multimedia, and product reviews. This way, readers can easily identify areas of interest and head straight to the section. While the blog does not support subscription, the site allows individuals to submit news, opinions, and experiences through the site's official channel.
IT Security Guru is keen on ensuring the latest news and updates on cybersecurity are brought to the knowledge of people. The security website publishes news and stories on cybersecurity in a fun and enjoyable way.
---
10. Cyber Magazine
Cyber magazine is a digital magazine for world cyber industry executives, aiming to provide users with the best digital experience. This award-winning website also provides newsletter services as well as video reports, webinars, podcasts, blogs, research rems, virtual events, and white papers. This digital magazine also offers an unusual mix of digital advertising, content syndication, and administrative thought leadership articles that generate maximum demand.
Cyber Magazine aims to provide a digital platform where executive members of global cybersecurity organizations can get the latest news on all cybersecurity-related events and activities, as well as giving them an excellent user experience.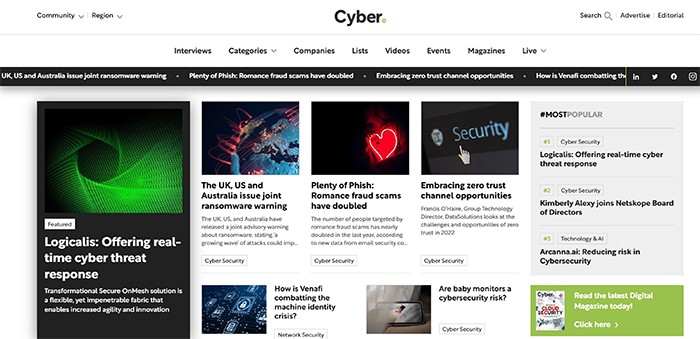 Unfortunately, the establishment date and founder of Cyber Magazine are not available to the public.
Cyber magazine provides top-notch news, reports, and insights to the world's leading CISOs and cyber security executives. The website also features a host of videos and podcasts on various cyber security topics and has an "exclusive magazine and website content" feature that allows registered users to get exclusive content directly into the users' emails.
Note:
Another striking feature of this website is the interview sessions with various leaders and cyber security executives of leading companies, offering expert views and knowledge on various cybersecurity issues.
Cyber magazine keeps users informed with news from various categories such as cloud security, cyber security, network security, technology, operational technology, and application security. This news often comes in the form of lists, articles, and podcasts. Examples of a news topic found on the site are "Top 10 best VPNs" and "How important are security measures to protect your Wi-fi?"
The site also features a blog where renowned writers such as Vikki Davies share valuable knowledge on various cybersecurity issues. Other Cyber Magazine writers include Tilly Kenyon, Sajana Samarasinghe, and Bizclik Admin. The site also features articles from cybersecurity experts such as David Sygula, a senior cybersecurity analyst at CybelAngel.
Cyber magazine provides users with the very best browsing experience. The website has various shortcuts lined up at the top and bottom area of the website, from which users can easily jump to different sections of the site, thus making navigation on the website easy for users. Also, the beautiful pictures of executives of global cyber security companies, coupled with the bold article topics give the site a very attractive appearance.
This digital magazine also features a search button and a host of links to social media handles at the top right-hand corner and bottom end of the website. Although the site offers advertising services, there are no interrupting ad pop-ups when browsing the site.
For Cyber magazine, the goal is to give users the best digital experience when surfing the website. This cyber security website aims to achieve this while also providing them with enlightening and insightful information on cyber security and other related fields.
---
11. Help Net Security
Help Net Security is an online media organization that focuses on information security. This website provides users with breaking news as well as a robust range of content on technical security problems, and management issues.
This website aims to provide readers with vital information regarding the security of user information as well as other related news. The website also seeks to provide users with the most genuine advice on security and management issues.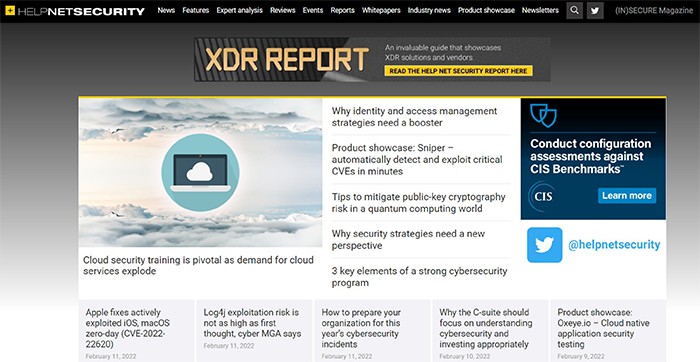 Help Net Security was founded in 1998. The online organization is made up of three members including Mirko Zorz.
Note:
This site features an "expert corner" where various industry leaders give expert opinions on various security issues for readers to benefit from. With a "what's new" and "latest resources" section, the site also keeps readers abreast with the latest news and information on various info security topics.
Furthermore, the site offers reviews of various security products, and also boasts of an "in case you missed it" section that allows readers to catch up on topics that were missed. The website also boasts of a feature that gives readers the privilege to get top stories directly into readers' inboxes and a host of relevant materials on cyber security.
On the Help Net Security website, readers can be sure of current and breaking news from the information security industry, alongside the latest developments, reviews, achievements, and various enlightening resources which can be found on this website.
This site boasts of top executives from global organizations including Almog Apirion, and Bill Harrod, Ivanti. Other writers include Helga Labus, and Zeljka Zorz.
Help Net Security has a website that is both attractive and easy to navigate, with several shortcuts that allow readers to jump to specific sections of the website. The website also contains a direct link to social media handles like Twitter and a search icon that readers can use to search for topics. The website also boasts an awesome array of pictures both of top cyber security executives and pictures attached to news topics that give the page a very nice visual appeal.
Help Net Security focuses on catering to the security needs of various enterprises by offering the best of breaking news on cybersecurity and other related news. The site also seeks to cater to the management concerns of various organizations by keeping them informed and updated with the views, ideas, and expert opinions of top executives from some leading industries.
---
12. Dark Reading
Dark Reading is an online community for security professionals, offering up-to-date news on cybersecurity globally. The website boasts of a rich arsenal of community members that are security professionals such as security researchers, CISOs, and technology specialists.
This cyber security news site provides resources for cyber security decision-makers, helping to improve business operations and protect business data by providing access to data that can assist in achieving these goals. The site also seeks to help information security experts balance data protection and user access.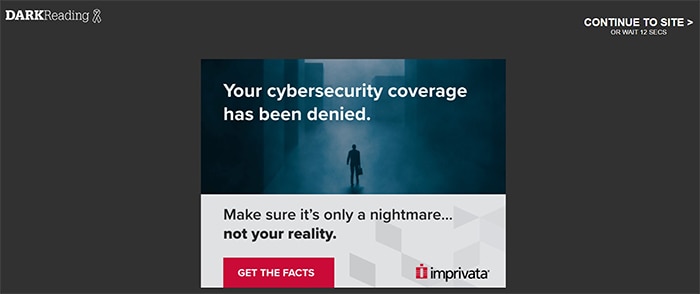 Dark Reading is a profit-making company founded in 2006 by Tim Wilson. With a staff strength of 11-50 members, the company's headquarters is located in New York, USA.
Being one of the most widely-read cyber security news sites, Dark Reading offers readers amazing features that make integration into the online community a seamless task. The site also allows readers to subscribe to getting daily or weekly newsletters.
Readers also have the option to register with the site and become a member of the online community or visit as a guest. Furthermore, with various social media handles, readers can stay abreast with current and trending news in the cyber security industry whilst integrating and connecting with the online community.
This cyber security news site serves as a hub for diverse security news on cyber security and other related fields. Readers can get expert advice on how to deal with various security issues encountered while learning of new happenings in the cyber world. The site also includes a comments section where cyber security professionals give expert viewpoints on various topics in the cyber security industry.
Dark Reading parades an array of writers including Elaine Lee, Gary Guseinov, and Keith Nelson. The company also has a writing crew consisting of Kelly Sheridan, Jai Vijayan, Robert Lemos, etc.
Dark Reading organizes news in chronological order from top to bottom so that readers can easily stay updated with the most recent cyber security news. The news is grouped on the page in different sections which are easily accessible to readers. Readers can also access news in various categories, resources and events easily from the line of shortcuts on the top end of the website. There's also a search icon that allows readers to search for specific news and information on the site.
Dark Reading is an IT-based news portal that provides news on cyber threats, vulnerabilities, and trending technology ideas to security persons from various enterprises. The site also provides answers to IT security questions and solves urgent security issues.
Dark Reading includes 12 sections that seek to cater to the IT security needs of enterprises. These sections are led by editors and subject matter experts who work together with a host of other experts to come up with informative articles that can be discussed.
---
13. Krebs on Security
Krebs on Security is a daily blog site that features various articles covering in-depth security news and investigative report of various stories on cybercrimes and internet security.
The mission of the news site is to continue to pass vital information on internet security issues across to an audience that comprises financial services industry executives, experts in the technology space, and experts in the field of security products and services.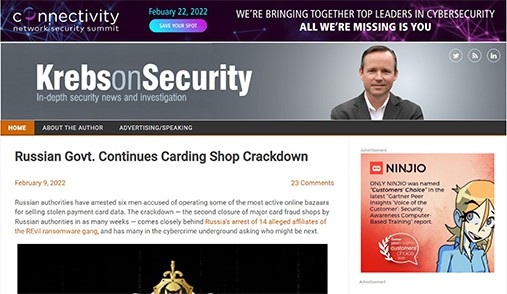 The blog site was founded in 2009 by a former reporter of the Washington Post and former author of the Security Fix blog, Brian Krebs. Since then, the blog has maintained an upward growth curve, boasting between 850,000 to 1.5 million page views monthly, and approximately 1 million visitors every month.
With a vast number of followers and members, Krebs on Security is a prime source for internet security news and various investigative reports on cybercrime. This is in addition to the influx of new members that continue to seek cyber security information from this blog.
Krebs on Security also offers advertisement services for cyber security organizations and firms, introducing readers to new products and services that can be employed to ensure the security of company data.
This blog site has a very simple interface, with the news and articles lined up from top to bottom in chronological order. Readers are also allowed to comment on the articles or news, voicing opinions and thoughts on featured topics.
Another important feature is the advertisements that are done on the site, keeping readers up to speed with new products and services in the cyber security industry. For Krebs, it's all about updating readers with current security news and reports in the cyber world.
---
14. The Hacker News
The Hacker News (THN) is a trusted and leading cyber security news platform that offers current cyber security news and in-depth reports on past and present information security trends and how the cyber world is affected.
This site dedicated to cyber security and hacking news aims to provide people with education on how to safely utilize the internet. THN also seeks to form a connection between a vast range of communities including businesses, geeks, security researchers, CISOs, and a multitude of security professionals.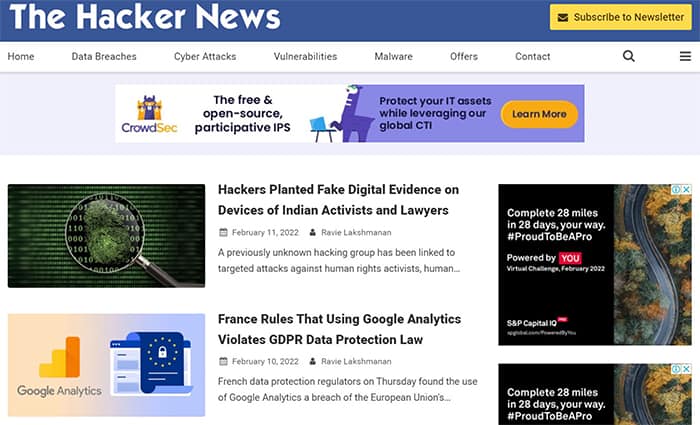 THN was founded in 2010 by Mohit Kumar. THN features the latest cyber security news and reports. The site boasts over 8 million users monthly, including IT professionals, researchers, hackers, enthusiasts, and technologists.
Note:
Another striking feature of this site is the presence of online courses and certifications on cyber security and related fields. The site also offers some mouth-watering deals on these courses for users to benefit from, in addition to the weekly newsletters which can also be subscribed to. Furthermore, the presence of an online community through various social media handles allows readers to interact with one another and with the site.
Containing a wide range of info security topics, THN covers areas such as reports, articles, and the latest news from the cyber security world. This site also parades a talented crew of writers including Mohit Kumar, Swati Khandelwal, Ravie Lakshmanan, Khyati Jain, and Giridhara Raam.
The THN site is very simple and easy to navigate, containing a few pictures alongside topics of featured news orderly grouped into sections for easy access. Readers can easily navigate to areas or sections of interest using the line of shortcuts at the top end of the site. The site also features a search icon that allows readers to search for specific topics, and a menu icon that gives readers access to resources, information about the site, etc.
At THN, the goal is to keep readers informed on the latest cyber security trends, to educate the public on how to deal with various security issues encountered in the cyber world, and to connect the various communities of tech and cyber security experts.
---
Why Should You Follow Cyber Security News Sites?
F
ollowing cyber security news sites is of utmost importance as these sites provide breaking news, latest updates and information on happenings in the cybersecurity security world. Thus, internet users are always up to date and can avoid cyber security issues before they occur.
Also, cyber security news sites provide how-to guides that can help users navigate difficult parts. There are videos and podcasts that clients can listen to or watch to stay informed if reading proves tiring.
Cyber security is very important to individuals, small and large organizations. Cyber security features everything that relates to guarding personal information from hackers and attackers who may want to steal people's data and use them for malicious purposes. Such data can include personally identifiable information (PII), personal information, industry information, intellectual property, etc. With knowledge of cyber security, these data are prevented from being stolen, leaked, or exposed.
This is important:
Cyber security also guarantees online safety, privacy, security, and anonymity using different tools and channels, such as VPNs. With cyber security, individuals and organizations can transact businesses online without fear of being duped, attacked, or hacked.
Who Manages Cybersecurity News Sites?
Cybersecurity news sites are managed and operated by cybersecurity experts and professionals. These individuals are usually cybersecurity analysts, security journalists, cybersecurity speakers, and so on. Also, most of these experts have many years of experience working in cybersecurity firms and industries and have gathered lots of knowledge which is then being shared through blogs and news sites.
Some of these renowned cybersecurity experts own blogs. They include:
Graham Cluley: Graham is a decorated blogger, researcher, public speaker, and podcaster with a special focus on cyber security. The award-winning cybersecurity analyst owns Graham Cluley, a cybersecurity news site that publishes the latest news and information on cybersecurity and has Graham as the site's key writer. Graham has previously produced other sites including Naked Security. Graham focuses on social media relations, blogging, computer security, pedantry, etc.
Bryon Acohido: Bryon is a Pulitzer-winning cybersecurity journalist and influencer who also owns The Last Watchdog and is the site's executive editor. The respected cybersecurity influencer specializes in privacy and security and the implication of digital commerce.
Brian Krebs: Brian Krebs is an American investigative reporter and journalist who is best known for exposing cybercriminals. Also a former Washington Post reporter, Brian is the author of "Spam Nation", and has appeared on The New York Times, Business Week, and Poynter.org. Brian Krebs is the founder of Krebs on Security, a cybersecurity blog that publishes news and information on cybersecurity.
Scott Schober: Scott N. Schober, is a cybersecurity professional, an author, a presenter, an inventor, and the founder of a leading wireless and security technology company. Scott also founded a cybersecurity blog called ScottSchober.com, a blog site focused on providing news on wireless technology, hacking, and cybersecurity.
Troy Hunt: Hunt is an Australian-born cyber security professional, analyst, and consultant popular for outreach and education on web security issues. Troy founded "Have I Been Pawned"; the security expert also owns Troy Hunt, a site dedicated to cloud development and online security.
What Type of News Can You Read on Cybersecurity Websites?
All kinds of cybersecurity news can be read on cybersecurity websites. This news includes:
Attacks: Cyber security news usually publishes news and information on cyber security attacks. Examples of cybersecurity attacks include malware, phishing, SQL injections, Cross-Site Scripting, Password Attack, Man-in-the-Middle (MitM) Attacks, etc. The news sites also publish information on how to prevent the attacks and resolve the attacks if the invasion does happen.
New protection programs: There are lots of new protection programs that ensure online safety and security for internet users. Some of these programs include network security management tools, antivirus software, firewalls, penetration testing, packet sniffers, encryption tools, network defense wireless tools, and PKI services. These news sites keep readers up to date with the latest advancements to ensure improved online safety and security.
IT Security: News sites also publish news, updates, and general information on information technology including the latest software of phones, computers, and other gadgets, latest video conferencing equipment, etc.
Can You Follow New Threats for Cyber Security?
Privacy-enthusiasts and cybersecurity experts can follow new threats for improved cybersecurity. Cybersecurity threats refer to malicious attacks that illegally seek access to a person's information, disrupt online operations, and destroy information. By following updates on new threats, users can be informed on how to identify the threats when they appear and tackle the threats before they become malicious. News sites feature experts who are constantly on the lookout for emerging threats and bring the issues to the knowledge of the public. Also, readers can gain insight into the effect, causes, and solutions to these threats by reading up on cybersecurity news.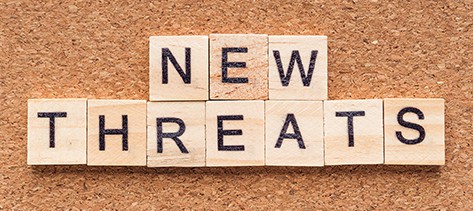 Can You Follow New Cyber Security Software and Programs?
Yes, new cyber security software and programs can be followed. Cybersecurity software and programs refers to necessary tools that ensure online privacy and security. While there are many existing softwares and tools, these are constantly being improved or replaced. Thus, individuals and organizations must constantly be on the lookout for these cybersecurity programs. One way by which this can be done is by constantly reading news and updates on cybersecurity news sites. These sites publish the latest additions and developments.
Can you be a Cyber Security Expert by Following News?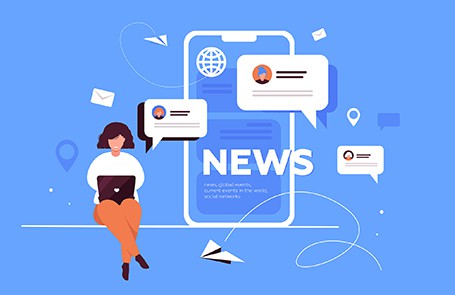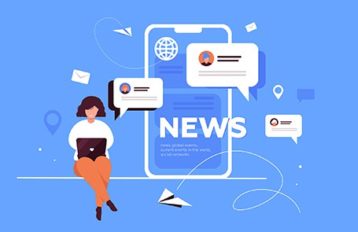 Yes, an individual can become a cyber security expert by the following news. A cyber security expert is someone who has extensive cybersecurity knowledge and practical skills. Becoming a cyber security expert requires having lots of knowledge and information, practices of procedures, processes, and methods all of which can be learned through security websites.
These sites publish news, how-to guides, product reviews, and lots of other useful information. Some news sites also organize workshops, conferences, seminars, and other events that can help people become cyber security experts. And with the knowledge gained, the individual can apply for cybersecurity jobs, train others and eventually become a thought leader in the industry.