A
VPN (virtual private network) is a service that enables users to browse the internet with greater speed, privacy and security. This privacy tool masks users' online identities even while connected to the internet via a public WiFi connection. Furthermore, a VPN hides users' browsing histories, IP addresses, streaming locations, internet activity and device information. In a world where cyber threats are increasing at an alarming rate, internet users need to consider the reality of cybersecurity. When a user browses the web without using a VPN, cybercriminals can easily spoof and steal the user's data. This data theft may be devastating to the users' reputations and may result in financial or emotional troubles. This is why cybersecurity via a robust VPN is critical.
Similarly, a VPN enables users to stream content without being restricted. Viewers of streaming platforms typically have varying experiences depending on the geographic location. Apple TV, for example, is a streaming platform that enables users to interact with popular movies, television series and other forms of entertainment. Thanks to the accessibility of Apple TV, travelers can watch entertainment content around the world. However, viewers may lose access to a portion of the content because of the originating location. In this instance, a VPN will be beneficial in concealing the user's location and providing access to georestricted entertainment. Numerous VPNs are available on the market, but only a few function well with Apple TV. Reliable VPNs allow users to watch content with Apple TV that normally would be unavailable due to georestrictions. This article identifies the best Apple TV VPNs that enable unlimited access to different entertainment at any time and from any location.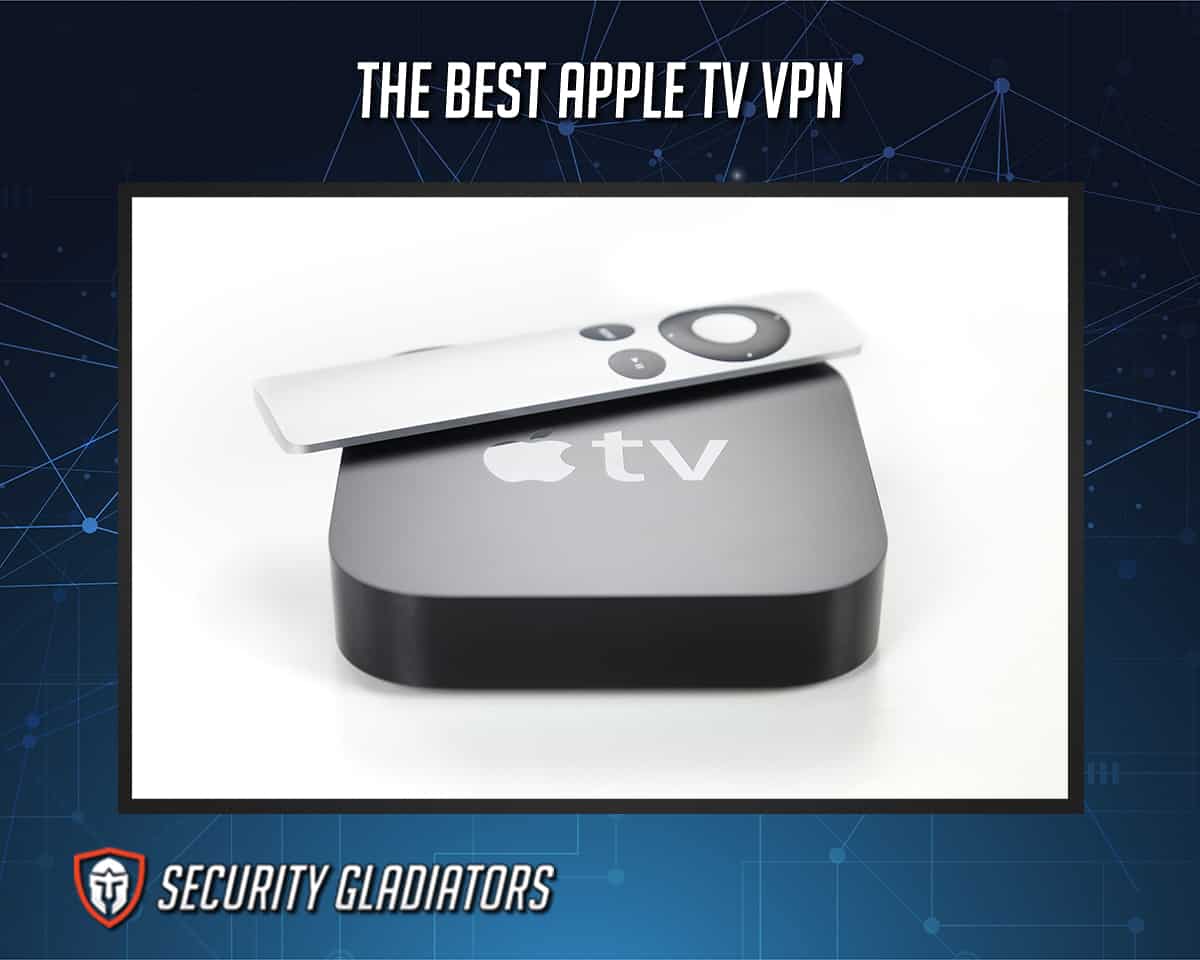 The best Apple TV VPNs are listed below.
NordVPN
Surfshark
VyprVPN
CyberGhost
IPVanish
PrivateVPN
HMA VPN
1. NordVPN
NordVPN is a reputable VPN provider that prioritizes security. Additionally, the VPN is efficient in streaming Apple TV. The VPN is simple to use and provides an exceptional streaming experience. NordVPN effortlessly unblocks streaming services like Netflix, Hulu, Amazon Prime and BBC iPlayer.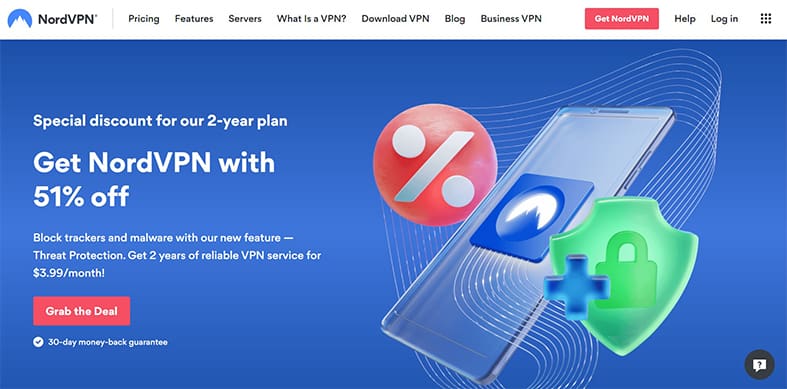 NordVPN's benefits include the ability to unblock popular streaming services, reliability, 24/7 live chat support, high security, lightning-fast speed, compatibility with major platforms and a solid privacy policy. On the other side, drawbacks include recent inconsistencies with unblocking Netflix, the lack of a dedicated router software, the absence of an IPSec protocol for macOS and an involved setup process.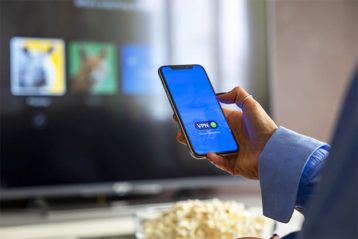 NordVPN's distinguishing features include smart DNS, Double VPN encryption, many servers in over 60 countries, outstanding speed, easy setup, solid unblocking capabilities and simultaneous connections on six devices. Additionally, the VPN's strong points are a dependable privacy policy, a kill switch, obfuscated servers, support for Windows, macOS, Linux, Android and iOS, exceptional server speeds, a privacy policy and industry-standard encryption.
NordVPN is a security-focused service that includes numerous security-related features. The VPN includes a Double VPN feature that encrypts users' internet data between two servers. The security is uncrackable due to the standard AES-256-CBC encryption and support for Perfect Forward Secrecy. Additionally, the VPN relies on protocols such as OpenVPN and IPSec/IKEv2 to balance speed and security.
NordVPN is reasonably priced, with one-month, one-year and two-year plans costing $11.99, $4.99 and $3.99 per month, respectively. Nord Security is the current owner of NordVPN.
NordVPN is a two-in-one solution that works with Apple TV. Depending on the user's preferences, the VPN may have additional capabilities other than streaming. Even though NordVPN is compatible with many devices, utilizing the VPN on Apple TV is a little more tricky. However, the Smart DNS feature enables users to connect the VPN to Apple TV without encryption. The primary difficulty here is that Apple TV does not allow VPNs. However, users can connect the VPN to Apple TV by sharing a VPN-secured internet connection with the Apple TV device or installing NordVPN on the router. Users can also check out the full NordVPN review for more information.
---
2. Surfshark
Surfshark is a reasonably priced VPN service with fast and secure servers in major countries that provides an excellent streaming experience on Apple TV. The VPN unblocks all major streaming services, such as Netflix, BBC iPlayer, YouTube, Hulu, HBO Now, Disney+ and Amazon Prime.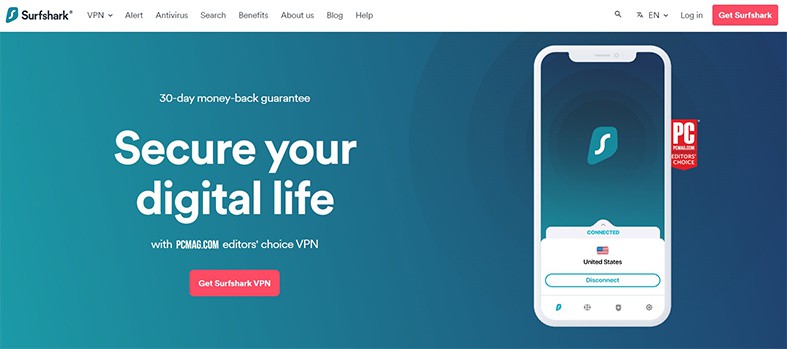 Surfshark's benefits include a strong privacy policy, torrenting, unlimited simultaneous connections, smart DNS, amazing speed, great security, responsive customer service and an absolute money-back guarantee. Despite the numerous benefits, there are drawbacks like restricted Mac functionality, the absence of the L2TP protocol, the inability to configure routers selectively and the lack of dedicated router software.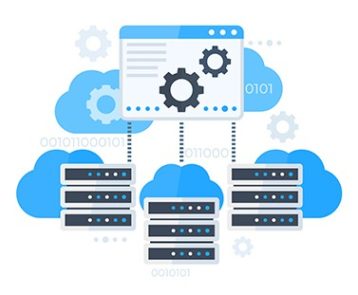 Nonetheless, Surfshark's distinctive features include smart DNS, useful setup guidelines, a no-log policy, great unblocking and streaming performance, security for all family members, affordability, regular discount offers, a free trial and device compatibility across a wide range of devices. This VPN's strong points include economical streaming, great security and privacy, fast speeds and prompt customer service.
Surfshark is a secure VPN with an audited no-log policy and uses industry-standard encryption and protocols. Surfshark VPN utilizes IKEv2/IPsec, OpenVPN and WireGuard encryption with AES-256-GCM. The VPN includes additional security features such as a kill switch, CleanWeb, antimalware and antivirus protection. All these features are covered in more detail in an extensive Surfshark VPN review.
The cost structure is as follows: one month is $12.95, 12 months is $3.99 per month and 24 months is $2.30 per month. The business in charge of the Surfshark operation is Nord Security.
Surfshark VPN ensures that users have access to infinite bandwidth for secure streaming. There are three primary methods for configuring the VPN for Apple TV. On any Apple TV, users can configure a router or smart DNS. The methods include configuring the VPN on a router, utilizing a virtual router and configuring the VPN via a smart DNS. The VPN service's website includes tutorials for configuring the VPN for Apple TV. However, users need to first select a preferred plan.
---
3. VyprVPN
VyprVPN is another inexpensive VPN service that offers fast streaming capabilities despite a low server count. This VPN comes with a specialized router app and supports a variety of Apple TV setup methods. VyprVPN unblocks streaming platforms such as BBC iPlayer, Netflix, DAZN, YouTube, Hulu, Amazon Prime and HBO with ease.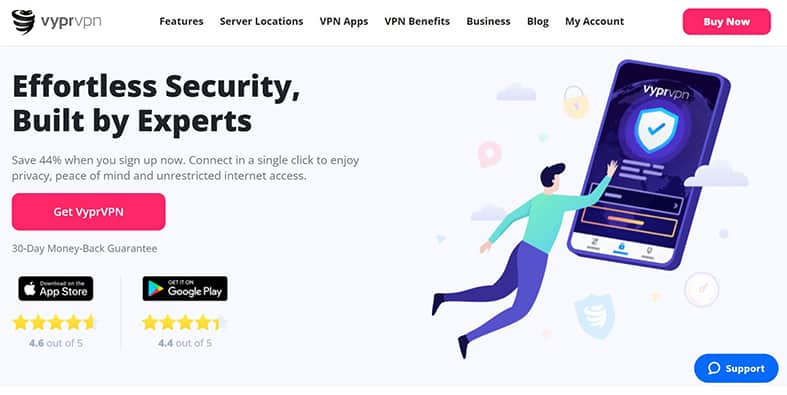 The VPN benefits include a concise router setup guide, affordability, unblocking major streaming platforms, a specialized protocol (Chameleon), fast speeds, no logs and excellent customer service. On the other hand, the drawbacks include a smaller server count and a higher price. Interested readers can check out the full VyprVPN review, which solely focuses on this VPN alone.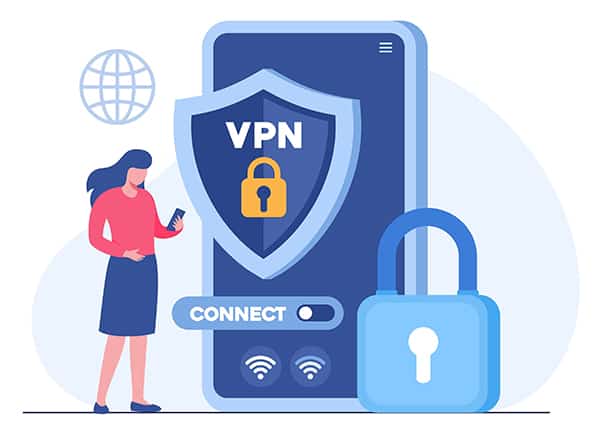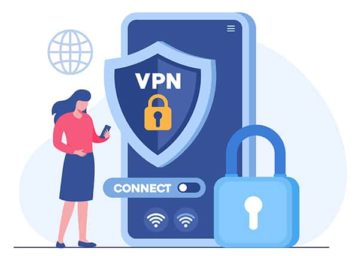 VyprVPN's distinguishing features include strong encryption, unblocking georestricted content, IP protection, a kill switch, simultaneous connections, a money-back guarantee, support for all popular devices and exceptional streaming capabilities. Similarly, the VPN boasts several strong points, including IP addresses in over 70 countries, the absence of third parties, a simple user interface, protection against public WiFi and an audited no-log policy.
VyprVPN's security features include IP protection, a kill switch, 256-bit AES encryption and support for the WireGuard, Chameleon, OpenVPN and IKEv2 protocols. The Chameleon protocol bolsters the VPN's privacy by disguising the VPN traffic as conventional internet traffic. This special feature allows the service to operate more effectively against firewalls. Additionally, the protocol enables users to access geographically restricted areas, such as China.
VyprVPN is reasonably priced, with a one-month subscription costing $15 and a 12-month subscription costing $8.33 per month. Golden Frog, a global service provider with premium online privacy, owns VyprVPN.
VyprVPN is a service that aims to protect all connected devices, including Apple TV. Users must select a payment plan and subscribe to the service to fully utilize the VPN. There are three methods for connecting to the VPN on Apple TV: via the VyprVPN router app, a shared internet connection from another connected device, or DD-WRT or Tomato router configuration.
---
4. CyberGhost
CyberGhost is a VPN service that combines an astounding number of servers and industry-leading security features. The VPN connects quickly and easily to Apple TV, unblocking georestricted content without sacrificing performance. The VPN's streaming servers are optimized for unblocking streaming services such as Netflix, Amazon Prime, Hulu, BBC iPlayer, Disney+, Sky Go, Comedy Central, Eurosport and ESPN.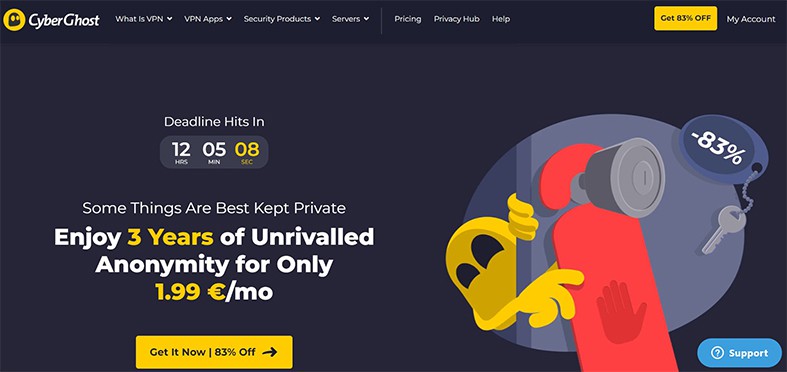 CyberGhost's features include torrent support, optimized servers for streaming, live chat support, incredible speed, affordability, ease of use, a strong privacy policy, numerous server locations and a money-back guarantee. Among the VPN's shortcomings are the absence of independent audits and the lack of a free trial.
CyberGhost is unique in that the VPN supports various platforms, including Windows, macOS, Android, iOS, Amazon Fire Stick, Android TV, Linux and Chrome. Other unique features are seven simultaneous connections, pre-installed routers, unlimited bandwidth, strong security features and Smart DNS. Similarly, the VPN has some strong points, like compatibility with Apple TV, a no-log policy, servers designed for specific uses, consistent speed and secure servers. Security Gladiators' full CyberGhost review covers these topics thoroughly.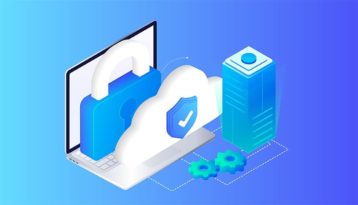 The security features of CyberGhost include AES 256-bit encryption, OpenVPN, IKEv2 and WireGuard protocols, an automatic kill switch, DNS and IP leak protection and a strict privacy policy.
CyberGhost prices are available in three bundles as an economical VPN. Monthly plans start at $12.99 for a one-month subscription, $3.25 for a one-year subscription and $2.29 for a two-year subscription. Kape Technologies PLC owns CyberGhost.
CyberGhost VPN functions with Apple TV in a range of methods. The methods include changing DNS settings, using a pre-installed CyberGhost VPN router and sharing a connection via a virtual VPN router. Due to Apple TV's lack of VPN compatibility, the methods mentioned above are the only ways to get the VPN working with Apple TV.
---
5. IPVanish
IPVanish is a sophisticated VPN service for Apple TV that is inexpensive, swift, unblocks georestricted content and provides great protection. Using IPVanish to access restricted content provides perfect and effortless viewing experiences. IPVanish is also capable of unblocking streaming services such as Netflix, Hulu and HBO Max without experiencing any slowdown.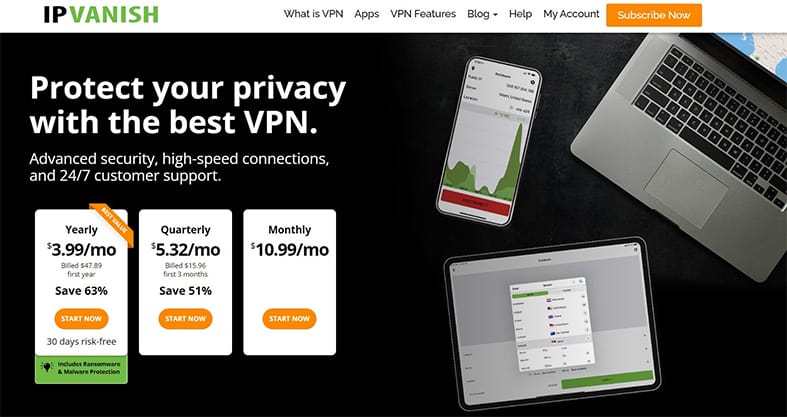 IPVanish's advantages include fast servers, unlimited simultaneous connections, over 2,000 servers for optimal performance, strong encryption, independent auditing, unlimited connections, powerful VPN protocols, a refund policy on yearly plans and superior antivirus security. The downsides include inconsistent server performance, lack of a free plan and an increased yearly price rate.
IPVanish VPN is distinguished by the ability to detect and remove malware, support an unlimited number of simultaneous connections, and have exceptional speed performance and industry-standard encryption—functioning great with Apple TV.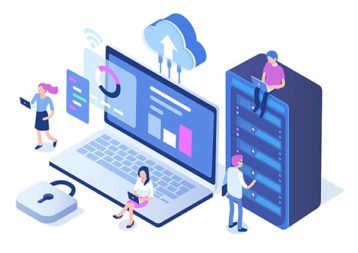 IPVanish is based on an open-source, security-first protocol that employs advanced cryptography more securely. Military-grade AES 256-bit VPN encryption and the WireGuard protocol are included in the security features. Additional security features include a kill switch, DNS leak protection and IP leak protection.
IPVanish provides monthly, quarterly and annual plans starting at $10.99 per month, $15.96 for the quarterly plan ($5.32 per month for three months), $47.89 for the first year ($3.99 per month) and $89.99 for the yearly plan after any discount periods. J2 Global owns IPVanish. Readers who wish to learn more about this particular VPN can also check out the extensive IPVanish review.
This VPN includes servers optimized for streaming and is compatible with Apple TV. Although Apple TV does not directly support VPN use, users can connect to IPVanish VPN in various ways. The methods are connecting the Apple TV to a DD-WRT, Tomato or IPVanish-enabled VPN router and sharing the VPN connection from an already VPN- secured device.
---
6. PrivateVPN
PrivateVPN is an outstanding solution for Apple TV. This VPN provides an exceptional level of speed and security. Additionally, the VPN is reliable and consistent with excellent customer service. Unblock streaming services such as Netflix, Amazon Prime Video, BBC iPlayer, Hulu, Disney+ and YouTube with little effort using PrivateVPN.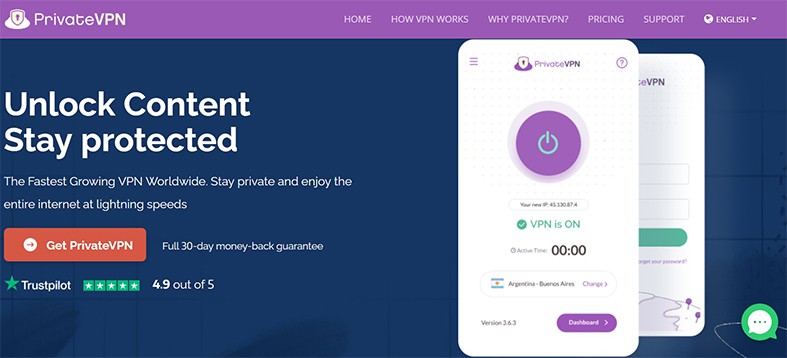 PrivateVPN's features, which are thoroughly covered in a dedicated PrivateVPN review, include 10 simultaneous connections, robust encryption, responsive customer support, compliance with Swedish privacy regulations, unlimited speed and bandwidth, apps for major platforms and a 30-day money-back guarantee. The downsides of this VPN include a limited number of servers and regions covered compared to other services.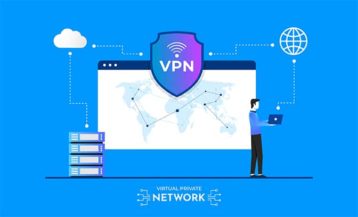 Private VPN's distinguishing characteristics include modest price, standard encryption, port forwarding, a 30-day money-back guarantee, no buffering while streaming, one-click setup and virtual assistive installation. The VPN's strong points include good service, fast browsing, HD streaming quality, a no-log policy, accessibility in China and the ability to torrent.
PrivateVPN has outstanding security features that safeguard users' privacy. The servers are protected by industry-standard AES 256-bit encryption and 2048-bit DH key exchange. The additional layer of security aims to ensure that users' data is always secure. Additionally, the VPN employs robust protocols to ensure data encryption between the VPN servers and the users' devices. PrivateVPN offers public WiFi protection, which encrypts users' data when browsing via a hotspot or public connection.
PrivateVPN has a competitive pricing structure that is comparable to others. The pricing structure is as follows: one-, three- and 36-month plans are available for $9.99, $6 and $2 per month. PrivateVPN Global AB is the company that manages PrivateVPN's operations.
Users can begin utilizing the VPN by selecting a premium package. Subscribers can employ PrivateVPN with Apple TV by configuring DNS on existing routers (DD-WRT, Tomato, Linksys, Asus RT models, Synology, QNap, or pfSense) to access georestricted streaming media from any location. To ensure that the VPN works properly on Apple TV, the VPN provider provides helpful tips on configuring a DD-WRT or Tomato router for the service.
---
7. HMA VPN
HMA VPN is a top-rated Apple TV VPN due to superior performance and 10 simultaneous connections with a single login. With HMA VPN, both pleasure and security become effortless. HMA also unblocks streaming services, including Netflix, iPlayer, Hulu and HBO.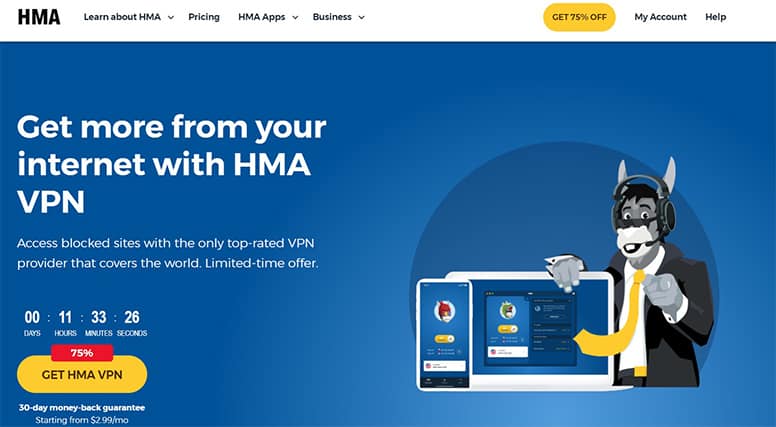 The HMA VPN's advantages include 160 optimized servers for streaming, affordability, easy router setup, leak protection, variable pricing options, a solid app for Android and iOS, an easy-to-follow guide, remarkable server speeds and responsive customer service. The disadvantages of utilizing this VPN include the unavailability of a kill switch on all applications, confusing pricing and the VPN's location in a "Five Eyes" region (where intelligence bodies agree to share surveillance data with international authorities).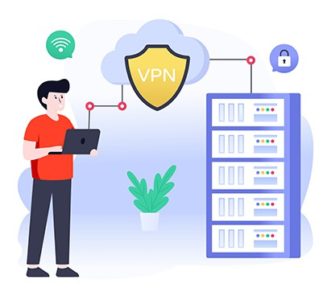 Nonetheless, HMA's distinctive features include dedicated servers for P2P and streaming, unlimited device installation, a no-log policy, IP shuffle, lightning connection to the fastest server, a kill switch, a seven-day free trial and a money-back guarantee. Similarly, the VPN provides many excellent points, including advanced functionality, fast streaming, flexible pricing, various payment channels and robust security.
HMA, as described in Security Gladiators' full HMA VPN review, focuses on advanced security to protect users from any assault. The VPN service utilizes Galois Counter Mode, AES-256-GCM encryption, 4096-bit RSA keys for handshakes and SHA256 authentication. Apart from the uncrackable 256-bit encryption, the VPN also protects against DDoS attacks.
HMA cost is determined by the number of connections the customer wants. Pricing for a minimum of five connections starts at $2.99 per month for the 36-month plan and $4.99 per month for the 12-month plan.
HMA operates similarly to other Apple TV VPNs. Users can purchase a pre-configured router from FlashRouters and immediately connect to Apple TV. This pre-configured router is the simplest way to get started with Apple TV. Alternatively, users can connect to the VPN via another router by following the setting instructions, which can be found on the official site. However, users must ensure that the device's IP address matches the router's.
---
What are the Benefits of Using a VPN for Apple TV?
VPN usage has grown to encompass more than just internet security. The majority of internet users utilize VPNs to enhance the overall entertainment experience. Generally, entertainment platforms operate on a georestriction basis, limiting users to a specific type of streaming experience based on location. Apple TV also does this by serving content based on regional variables. As a result, streamers utilize VPNs for Apple TV for various reasons. The benefits of VPN usage with Apple TV are listed below.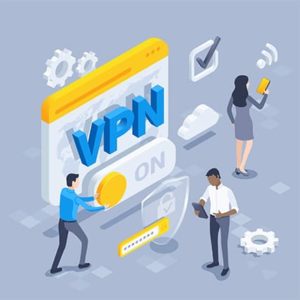 Security: All internet users should take a proactive approach to cybersecurity. Users need to prioritize internet security on all devices, including smartphones, laptops, tablets and routers. Using a VPN for Apple TV serves as a safeguard against cyber threats.
Blazing-Fast Connection: Users might benefit from increased speed opportunities using a VPN. Users can connect to multiple servers to get a faster streaming experience on Apple TV. For example, NordVPN uses a proprietary protocol called NordLynx to improve users' streaming experience.
Access Blocked Content: Due to content licensing regulations, most streaming services are georestricted. Several streaming sites offer different content depending on the user's location. However, users may wish to access additional information not available in the current location. As a result, users may subscribe to a powerful VPN service to unblock additional streaming content. Some of the more prominent geoblocked streaming platforms include Hulu, Spotify, Netflix, Crackle, BBC iPlayer, HBO Max and Showtime.
Experience More Valuable Content: Netflix offers diverse content in different regions. Subscribers in Canada have access to content libraries that differ from those in other countries. For example, the following TV shows are not available in Canada: Castle Rock, Meet the Press, The Last Post and Pure. As a result, a Canadian has the option to watch these shows using a VPN.
Can I Watch Apple TV with a VPN without Buffering?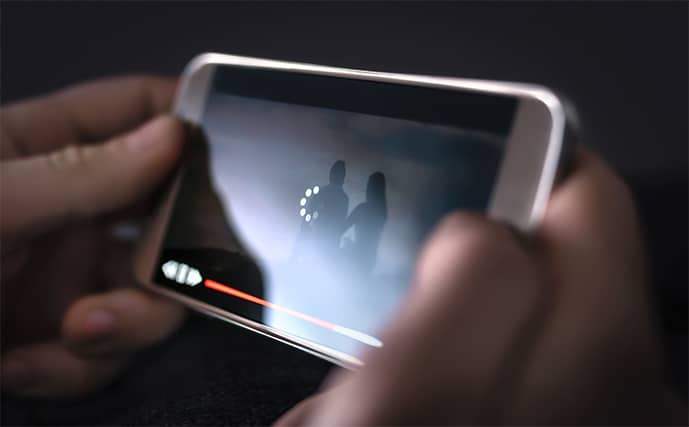 Users may watch Apple TV without experiencing buffering when using a VPN. Dealing with internet speed while utilizing a VPN is contingent upon the VPN's speed factors. However, most Apple TV viewers utilize VPNs for security and access to content not available in the user's current location.
Note:
A VPN can reduce internet speed for various reasons, including the VPN algorithm, encryption, server location, VPN protocols and server load. However, some VPN providers offer smart connection features that automatically connect customers to the quickest accessible server, thus improving the
VPN and internet speed
together. Therefore, users need to understand each VPN's performance capabilities before choosing the right one.
Does a VPN Help to Unlock Geo-locked Content on Apple TV?
A VPN enables access to georestricted content on Apple TV. A VPN changes the virtual location of a user to a part of the world where streaming providers are not blocking restricted content on Apple TV. Additionally, there may be some restrictions that are not location-specific. However, unblocking restricted content on Apple TV is simple. On Apple TV, navigate to "Settings" and then to "General." An interface will open, allowing users to scroll to and select "Restrictions." Enter the password and toggle the "Restrictions" toggle to the off position.
Can I Use Airplay with a VPN on My Apple TV?
Apple TV does not enable VPN use; however, users can connect to a VPN via other means. Viewers can use Airplay when a VPN is connected to Apple TV via routers or smart DNS.
Will Netflix Work on My Apple TV with a VPN?
Netflix is compatible with Apple TV connected to a VPN via a virtual router or Smart DNS. Although Apple TV does not support VPN use, connecting the device to a VPN via a router works flawlessly. However, users will prefer the best VPNs for Netflix that feature servers designed for streaming services.
Do VPNs Work on All Generations of Apple TV?
Most VPNs work on all generations of Apple TV. For example, Surfshark works on Apple TV 4K, Apple TV HD, Apple TV 3rd Generation, Apple TV 2nd Generation and Apple TV 1st Generation.