G
amers know how important the right VPN is when playing online games, including Call of Duty: Warzone. A good VPN (virtual private network) is essential for gamers to connect to fast servers and enjoy seamless gaming with no server overcrowding. This article will help readers find the perfect VPN for just that. Gamers find having a good VPN challenging, as most platforms are troublesome to install on consoles. Some VPNs also increase latency, which causes lag, and have a poor server network. Quality VPNs eliminate these problems and have various advantages, including protecting user identities, accessing georestricted games, speeding up matchmaking between players and reducing input latency. Good VPNs also protect gamers from DDoS (Distributed Denial of Service) attacks that may interrupt and crash a Warzone match mid-way.
Call of Duty: Warzone requires a lot of bandwidth. Using an effective VPN reduces the resulting in-game lag because the platform provides connections with lower latency. When gamers connect to the closest VPN server, data transfer becomes much faster, shortening the game's load times. Also, ISPs can't throttle the internet connection speed, as VPNs make users' internet traffic invisible. Therefore, finding the right VPN with all the premium features is a top priority for many gamers. This article helps make the right choice, listing the seven best VPNs suitable for the online game. The seven VPNs in this article are listed below.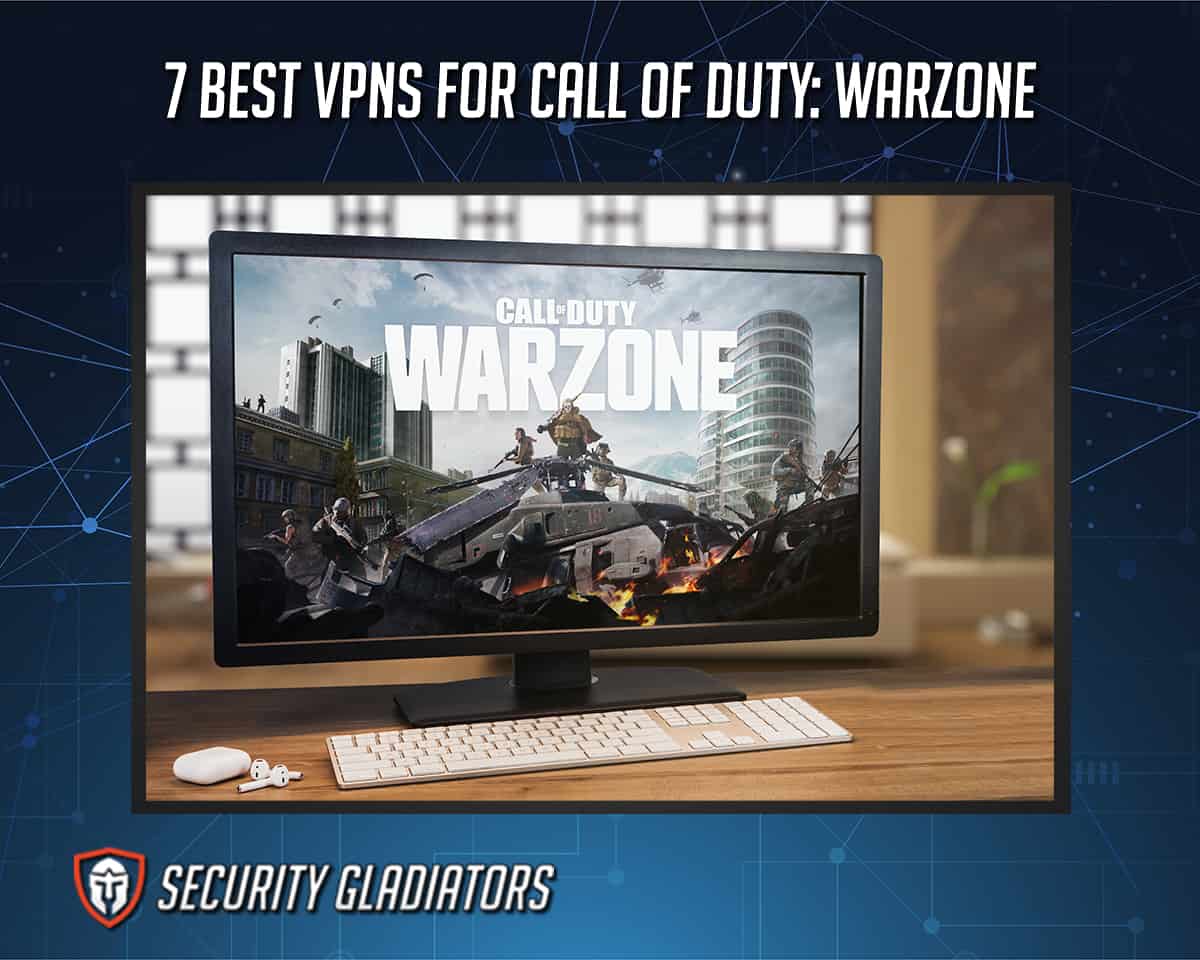 ExpressVPN
CyberGhost
IPVanish
Private Internet Access
PureVPN
NordVPN
Surfshark
1. ExpressVPN
ExpressVPN is one of the best platforms for individuals to play Call of Duty: Warzone. ExpressVPN suits great as a Warzone VPN because of the platform's consistent low ping and impressive speeds. Also, the VPN enables users to change gaming regions and play with any player globally from any remote location.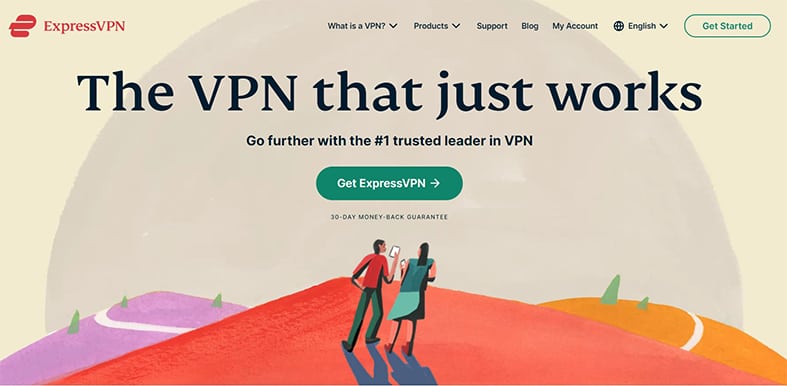 The most impressive side of this application is the rapid speeds that users enjoy when downloading updates. The updates are usually large and take several hours to download, but ExpressVPN reduces this time significantly. The platform also allows individuals to watch Netflix shows in High Definition while waiting for the updates to complete downloading. The average speed of ExpressVPN is 45 Mbps, which is exceptionally fast.
Another unique ExpressVPN feature is a built-in speed test tool. This tool gives users an up-to-date analysis of servers with the lowest ping time in milliseconds.
ExpressVPN also has a MediaStreamer feature. This feature enables the platform's users to use ExpressVPN on devices that aren't compatible with native applications. However, this feature doesn't encrypt user traffic, nor does the application let users choose locations. Despite this limitation, the application offers a native application for routers. This app lets users connect all home network devices to ExpressVPN, even game consoles.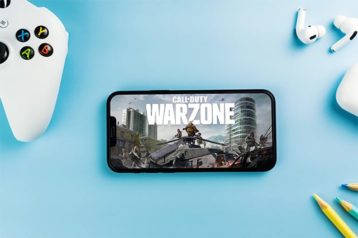 The VPN has several security protocols that users can pick from. The protocols include LSTP/IPSec, IKEv2 and ExpressVPN's Lightway protocol. Experts recommend users utilize the Lightway protocol because it has the most impressive speed and security combination. The top-notch security this platform offers protects players from hackers. Gamers who use this platform are assured of maintaining secure connections while playing the game without experiencing DDoS attacks.
The advantages of using ExpressVPN for gaming include the ultra-high speeds that no other VPN can offer users. These speeds ensure users don't experience lag while gaming. Another benefit is the provision of a dedicated router VPN app. With this application, users avoid throttling and stay protected even on consoles that naturally don't support VPNs. Also, users have the option of a 24/7 live chat that immediately assists with any issues while gaming.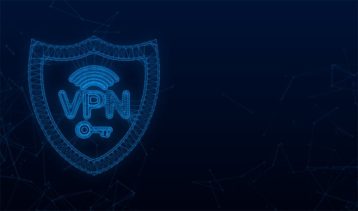 The downside of using ExpressVPN is the cost, which may be substantially high for some users. However, based on the premium features, the price may be well worth using ExpressVPN for playing Call of Duty: Warzone. Also, ExpressVPN only offers up to five simultaneous connections for users per plan. Users can overcome this downside by installing one connection on a router to share the VPN-secure connection to any device.
ExpressVPN is owned by Kape Technologies, a United Kingdom-based software company. Users can access ExpressVPN's services under three payment packages; one-month, six-month, and 12-month subscription plans. The one-month plan costs $12.95 per month, while the six-month plan costs $9.99 per month. The most affordable subscription plan is the 12-month plan, costing users only $6.67 per month.
Express VPN works by protecting the identity and security of users who use the platform for gaming. The application improves gaming experiences for users, including offering impressive gaming speeds. The platform is worth the cost offered to ExpressVPN's subscribers worldwide. A recent ExpressVPN review placed the platform as the top gaming VPN individuals should consider.
---
2. CyberGhost
CyberGhost is one of the most reliable VPNs for Warzone in 2023. This platform offers users gaming-enhanced servers with low latency. The servers also provide secure connections to enjoy games, including Call of Duty: Warzone, without experiencing lag. A recent CyberGhost review lauded the platform's good performance for gaming on Xbox One, PC or PS4. According to the reviewer, the average ping on the VPN was 95ms.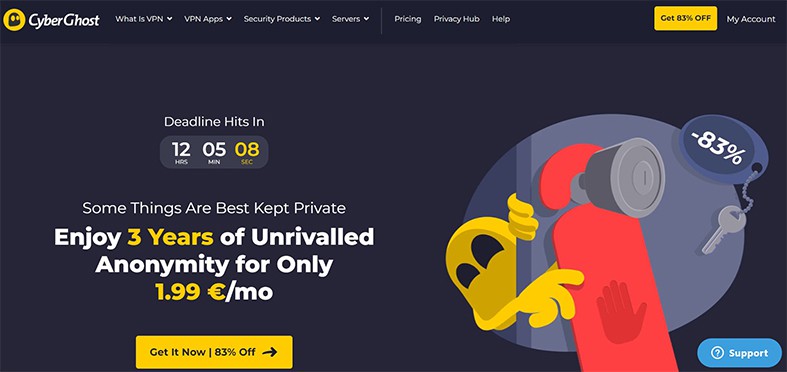 One of the strongest features attracting gamers to use CyberGhost VPN is the application's strong security. CyberGhost has 256- bit AES encryption on all servers to secure gamers' anonymity while playing Call of Duty: Warzone. The platform's security is reinforced with a built-in NAT firewall for extra security. Therefore, gamers are assured of protection from cybersecurity threats like DDoS attacks while playing.
The platform also offers gamers an automatic kill switch and committed IP/DNS leak protection. These features help protect from IP address leaks that compromise user security. Benefits are also the platform's multiple security protocols that deny important information from leaking to unwanted third parties. One of the most effective protocols is WireGuard, with a fast connection and top-notch security even when gamers rapidly change servers. Hackers will find it difficult to break into the platform because the VPN cuts off internet access when a user disconnects. The gamer's IP address and all relevant data are therefore kept secure from unwanted third parties.
CyberGhost has other attractive features, including fast download and streaming speeds while using the platform. Users can also access other entertainment services apart from gaming, for instance, streaming content from Amazon Prime, Netflix, Hulu and Disney+.
This VPN has many advantages for gamers, including compatibility with various gaming devices like Xbox One/Series and PS4 and PS5. The application is also compatible with Linux, Windows, Mac, Apple TV, many routers, Android and iOS.
Another CyberGhost advantage for users is the vast number of servers for gamers to use. The platform has over 8,000 servers in 90 countries, keeping gamers' locations hidden while enjoying a fast, lag-free experience. Also, the platform allows users up to seven simultaneous device connections to play various games, including Minecraft, Fortnite, Call of Duty Mobile and Call of Duty: Warzone.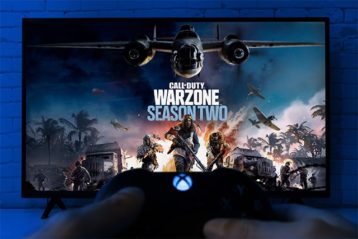 Despite the high-value features, the platform has some downsides. One of the cons of using this platform includes expensive short-term payment plans. Users can overcome this by signing up for CyberGhost's long-term subscription packages. Another downside of using CyberGhost is that the platform doesn't have an ideal user interface for gamers to use seamlessly. Finally, some streaming services aren't available on CyberGhost. Users should definitely make sure what services CyberGhost is compatible with before subscribing.
Kape Technologies PLC owns CyberGhost VPN. Users can access the VPN's services by subscribing to one of the four payment plans; the one-month, one-year, two-year and three-year plans. The cheapest plan is the three-year subscription package with three added months, which costs $2.29 per month. Users can access the platform with a one-month plan for $12.99 per month, a one-year plan for $4.29 per month or a two-year plan for $3.25 per month.
CyberGhost VPN works by rerouting gamers' internet traffic through an encrypted tunnel. The encryption protects users' data from being intercepted by malicious third parties. The gamer's internet service provider (ISP) will only see that the gamer has connected to a CyberGhost server and nothing else. Users should also note that connecting to the nearest server ensures the fastest connection speed.
---
3. IPVanish
IPVanish is another VPN that gamers can use while playing Call of Duty: Warzone. The platform protects users' devices while playing online games, supporting unlimited simultaneous device connections—an attractive feature for most IPVanish users who use multiple different devices/services simultaneously. IPVanish reviews laud the platform's lack of disconnects, interruptions or lag. Therefore, IPVanish is an excellent choice for playing online games without noticeable hitches.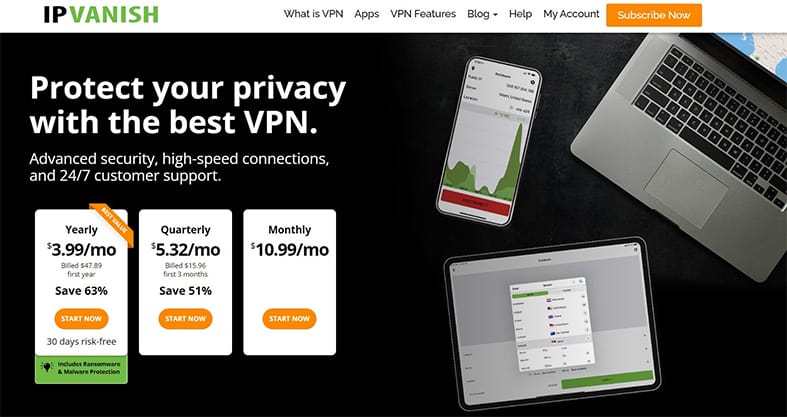 IPVanish has an app for users to find the closest and fastest server to connect to. Gamers find this feature alluring due to the ease of access provided. Finding the most beneficial server location is effortless with this function. Also, IPVanish has security protocols to guarantee users fast speeds while offering secure gaming sessions. These protocols include OpenVPN and WireGuard. Gaming experts prefer WireGuard over OpenVPN because the protocol has faster gaming speeds. IPVanish also has leak protection and standard 256-bit encryption to protect gamers' data from security leaks and spyware.
In a recent IPVanish review, one user claimed the platform took about two minutes to establish a reliable server connection for gaming. The reviewer noted playing against a new player base with IPVanish had a ping rate of 72ms. Also, there weren't any delays during the gamer's button inputs to prompt the on-screen action, securing a smooth gaming session for the individual.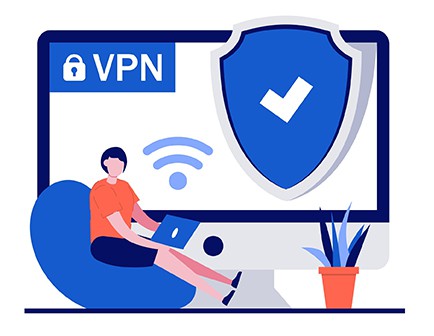 Some of the advantages of using IPVanish for gaming include the platform's compatibility with multiple gaming devices, including Xbox One/Series and PS4/5. Another advantage that draws gamers to this platform is the fast speeds that provide individuals with a smooth and enjoyable CoD gaming experience.
IPVanish has more than 2,000 servers in 70 countries. The gamers don't have to worry about connectivity since the platform's servers are always available for connection in many different locations. This advantage is used to play various games like Roblox, Fortnite and Call of Duty: Warzone. Moreover, IPVanish users enjoy the platform's unlimited concurrent device connections.
The downside of using IPVanish for gaming is that users aren't sure of complete identity protection. This platform is owned by a USA-based digital services company named J2 Global. The platform's headquarters in the USA raises eyebrows because the country does not provide the most privacy-friendly environment for any VPN. However, IPVanish has a strict no-logs policy, meaning the platform doesn't keep any logs that third parties can track down to an individual.
IPVanish encrypts device connections via a tunneling protocol. Therefore, gamers are confident of secure connections, as the gaming data, device information, and gamers' internet traffic will not be susceptible to security breaches. Gamers can subscribe to IPVanish's services via three subscription plans; monthly, quarterly, and yearly. The yearly plan costs $3.99 per month and the quarterly package costs $5.32 per month (three months). The monthly plan costs $10.99 per month.
---
4. Private Internet Access
Private Internet Access is also one of the more reliable VPNs for playing Call of Duty: Warzone. The platform offers users gaming-optimized servers. Therefore, users don't have to grapple with choosing the best servers from a list of the available gaming locations. Private Internet Access automatically configures the individual's location. The gamer will enjoy low latency and fast loading times when playing a thrilling CoD game.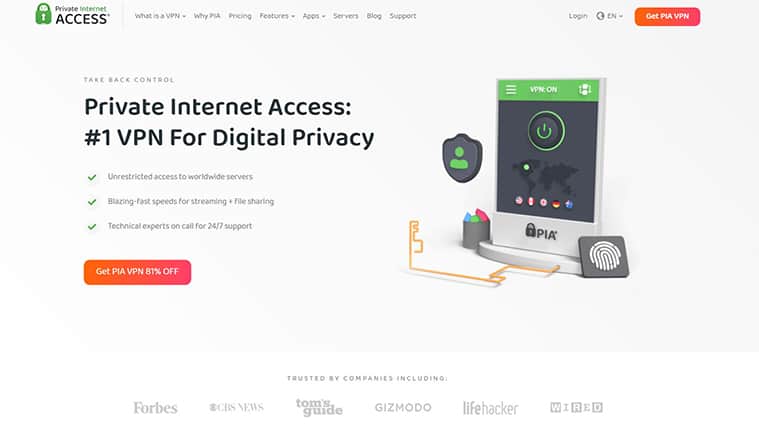 One of the strong sides of Private Internet Access is the platform's avoidance of placing users under the Skill-Based Matchmaking (SBMM) algorithm. When users search for Warzone games, this algorithm triggers, pitting players against others sharing similar gaming skills. However, some gamers find the algorithm inconvenient, preferring a regular experience with various skill levels in the match over an SBMM algorithm match. A recent Private Internet Access review lauded the platform as the best VPN for avoiding the SBMM algorithm due to the vast number of servers available for users to choose from.
One of the unique features of this VPN is the ability for users to customize the settings. When customizing the settings, gamers can optimize the internet traffic to suit gaming needs, a feature lacking in other VPNs. Also, users can lower latency and boost speeds in global Call of Duty lobbies by turning off data authentication and encryption.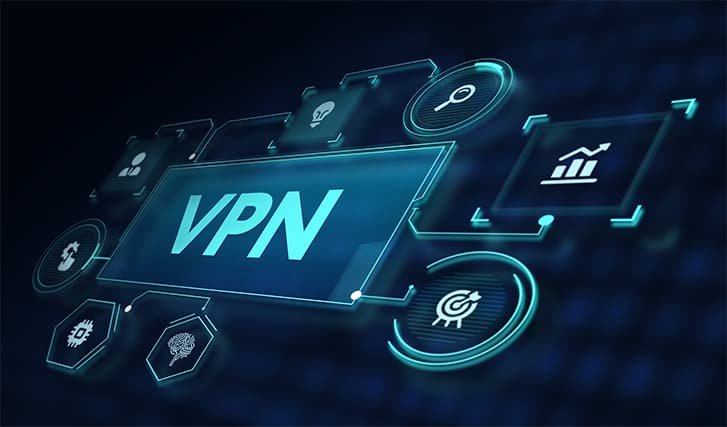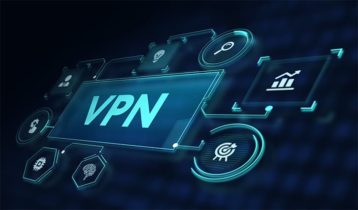 While looking to purchase downloadable content (DLC), users can switch to the 256-encryption to safely shop online. On the Private Internet Access VPN, gamers don't have to worry about losing valuable data, including payment details, when making purchases. The VPN's strong encryption makes gamers' traffic invisible to hackers and other third parties with malicious intent.
Private Internet Access VPN has more than 30,000 servers in 78 countries globally. Users can access many servers, including a choice to switch servers if the current one has speed or connection problems. Therefore, a gamer can enjoy playing Call of Duty (CoD): Warzone using a different location and even during off-peak hours when finding a match is difficult.
Another feature gamers enjoy on the Private Internet Access VPN's large number of servers is accessing geographically restricted games. No matter the gamer's location, this VPN can be used to unblock the games in restricted areas such as school, work or the gamer's country of origin.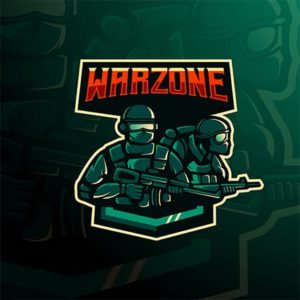 Once done gaming, gamers can easily switch to the 256-bit encryption to find downloadable content on the Activision store. On the Private Internet Access VPN, gamers don't have to worry about losing valuable data, including payment details when making purchases. The VPN's strong encryption makes gamers' traffic invisible to hackers and other third parties with malicious intents.
There are various advantages individuals can get by using the Private Internet Access VPN. For instance, gamers enjoy decent latency, stable connections, acceptable ping and minimum lag while playing CoD: Warzone. Another Private Internet Access VPN advantage is the fast speeds made possible by the platform's vast servers globally.
Also, users enjoy the VPN's convenience in avoiding the SBMM algorithm that may interfere with gamers' matchmaking. A large number of PIA's servers also help gamers unblock geographically restricted games that may prevent individuals from enjoying all the available games.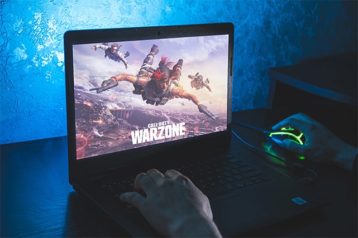 Private Internet Access is compatible with various platforms. The Warzone-compatible platforms include Xbox, Windows and PlayStation. Coupled with port forwarding for faster speeds and security measures like a kill switch to protect gamers from cybersecurity threats, Private Internet Access users have a lot to praise for the platform.
Despite all those advantages, Private Internet Access has limitations like any other VPN available. The downsides begin with the platform's higher ping than what the other top competing VPNs have. Another downside is the VPN's high packet loss percentage, which an independent reviewer observed at 3%. This makes Private Internet Access VPN considerably slower than other major VPNs.
This VPN establishes an encrypted tunnel between the Private Internet Access server and the gamer's device. The encrypted connection helps hide and secure the gamers' identities while playing online games.
Private Internet Access VPN has three plans, with monthly, yearly and two-year subscription options. The monthly plan costs $11.99 per month, while the annual plan costs gamers $3.33 per month. The cheapest plan, the two-year plan, costs $2.19 per month and comes with two free months as an added benefit.
---
5. PureVPN
PureVPN is one of the most secure VPNs gamers can use to play CoD: Warzone. The platform has attractive privacy and security features that gamers long for to avoid running into cybersecurity threats like DDoS attacks. With PureVPN, gamers can be confident that 0 data leaks happen and that all personal information remains uncompromised.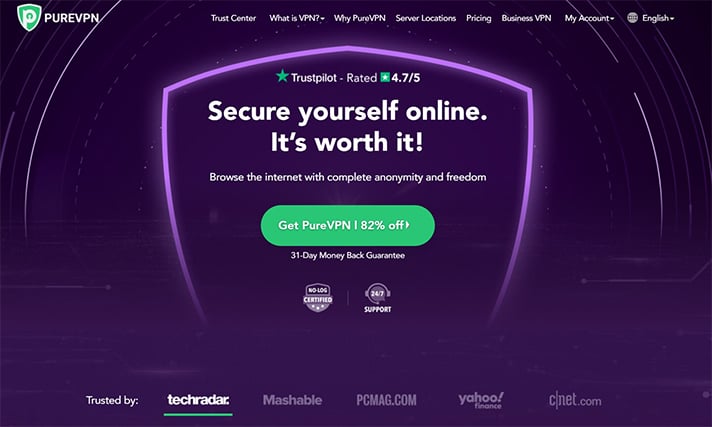 This VPN's strongest side is the protection of gamers from ISP throttling. ISP throttling is an internet service provider's attempt to throttle or slow down connection speed without the gamers' knowledge. The ISP will attempt to do this if there are high-traffic activities that may overwhelm the network. When there is throttling, lag occurs during the match. PureVPN masks gamers' internet action, ensuring that no connection speed throttling is possible.
PureVPN includes unlimited server switching. The feature is made possible by more than 6,500 servers in over 78 countries worldwide. The gamer doesn't have to worry about stopping their match to switch servers, either.
Another interesting feature is that the platform allows streaming content from major services like Netflix and Hulu. Gamers can stream content without restrictions.
PureVPN eliminates region restrictions for gamers from various territories. Some countries impose strict regulations preventing citizens from accessing certain content, for instance, CoD games. This VPN is the saving grace for individuals who want to bypass these restrictions. PureVPN connects gamers to thousands of the available servers worldwide, giving individuals instant access to georestricted games, downloadable content and pre-orders.
Port forwarding for gaming is another convenient feature. This feature is the perfect option for gamers who want to participate in multiplayer gaming but cannot do so due to common restrictions. The port forwarding function helps bypass this and allows for the user to play with other gamers from any region.
The platform also has DDoS protection, securing the user from any cyberattacks. These attacks have serious impacts and can go beyond ruining a match, even causing financial and reputational damage. PureVPN's DDoS protection helps mitigate any attacks and store all data safely.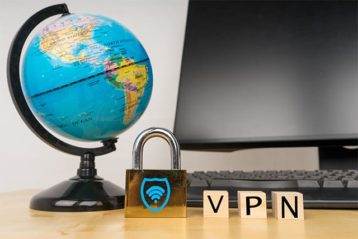 Some of the advantages of using PureVPN for gaming include the platform's ability to allow up to 10 simultaneous device connections. Another advantage of using this VPN is the fantastic latency to keep gamers' lobbies as smooth as possible. Also, the platform offers users a 31-day money-back guarantee in case the customer isn't satisfied with the service. Moreover, the VPN's added benefits include 24/7 support via email, live chat and a reliable call center.
Like any other VPN in the market, PureVPN also has some downsides. One disadvantage is that some users may find the app difficult to install on a Windows laptop. An extensive PureVPN review covers all disadvantages in detail. One user reported receiving multiple continuous error messages when installing PureVPN on a Windows laptop. However, the user had no problem installing the app on a router, Mac or a smartphone. Another downside gamers may experience is some lag in the pre-game lobby, especially if gaming in multiple lobbies.
PureVPN is owned by GZ Systems Ltd, a company based in the British Virgin Islands. Gamers can access the VPN's services by subscribing to any of the three subscription packages. A one-month plan costs $10.95 per month, a 12-month plan $3.24 per month and a 24-month plan $1.99 per month.
PureVPN operates by creating a VPN when users connect to the internet via cellular data or a home network. Therefore, the VPN acts as a middleman between the user and the ISP, preventing the ISP from snooping on gamers' online activities. The only activity the ISP will notice is the users connecting to PureVPN's servers.
---
6. NordVPN
NordVPN is arguably the most famous VPN available in the market today. The Nord Security-owned VPN is based in Panama and has convenient features for users to utilize the platform as a gaming VPN. NordVPN has a network of over 5,000 servers in 59 countries that gamers can easily connect to and play online games.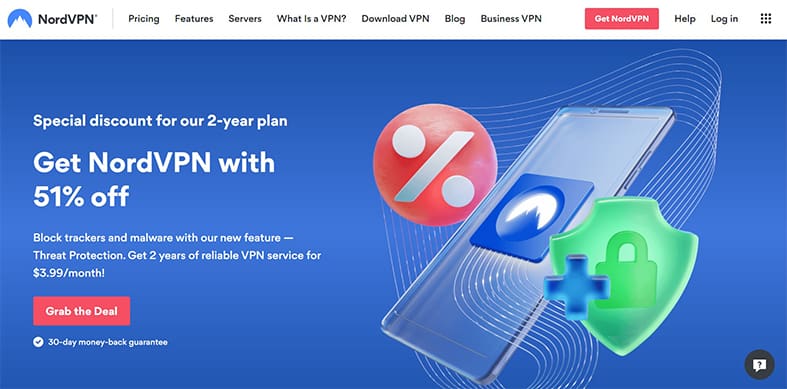 The strongest side of NordVPN is the product's reputation as the fastest virtual private network globally. A recent NordVPN review lauded the platform as one with the swiftest speeds among other competing VPNs. Therefore, the platform is the best VPN for gamers to bypass ISP throttling. Gamers also have the guarantee to have connections that perform great on any regular internet line, making NordVPN an ideal platform for gaming.
The VPN also features apps available on various gaming platforms, including Windows. Individuals can install and use NordVPN to play games, including CoD: Warzone, on up to six simultaneous devices. This feature allows for gaming at any location using any device. Gamers can also share a NordVPN account with family members, giving users great value for money.
NordVPN has many advanced security and anonymity features to protect gamers from suffering cybersecurity threats while playing CoD. The security features include obfuscation, Tor over VPN, a kill switch, double-hop connections and DNS leak protection. Also, gamers cannot access any website with malware, as NordVPN blocks devices from connecting to suspicious sites.
Another great NordVPN feature is the platform's protocol, NordLynx. NordLynx is based on the well-known WireGuard protocol and was rolled out to solve NordVPN's issues with marginally unreliable speeds. NordVPN no longer has those issues, topping the speed charts with a sensational 820 Mbps.
Split tunneling is another NordVPN feature that gives users more control over device connections. Some users may prefer to play Call of Duty: Warzone without a VPN, exposing the connections. In this case, gamers should use the split tunneling feature to exclude the game from a VPN tunnel while keeping other device connections secure. Also, gamers can choose certain games to connect to a VPN, making online apps and browsers unencrypted and connected to a local network. This feature places the VPN's control in the users' hands.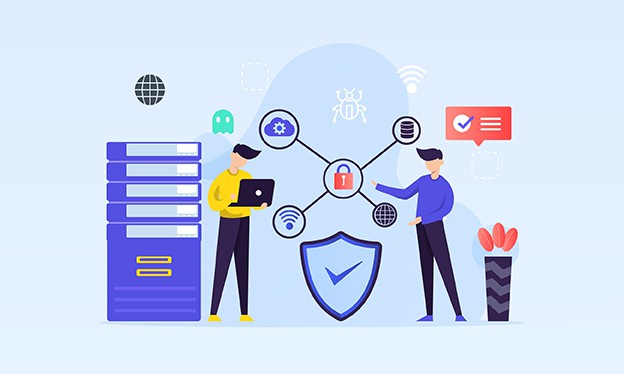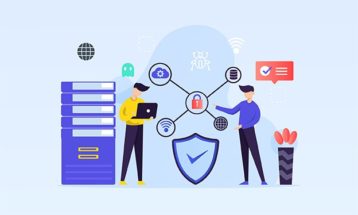 Some of the advantages of using NordVPN for gaming include the platform's strict no-logs policy. This policy means the platform is committed to securing users' anonymity while gaming using NordVPN. Another advantage is that gamers don't have to struggle to adjust NordVPN's applications. Users can also cover consoles by setting up NordVPN on a router.
NordVPN provides a fast global server network, making it easier for gamers to find Warzone lobbies. Also, the platform utilizes the speedy NordLynx protocol. Another NordVPN advantage is the many servers and advanced features optimized for torrenting. NordVPN has applications for various devices, including Android, macOS, Linux and iOS. CoD gamers can also enjoy 24/7 customer support if any problems occur while gaming.
Some of the downsides of using NordVPN include users experiencing slow server connections in the initial stages. Also, the platform may have some speed fluctuations while users are playing online games. The final disadvantage of NordVPN could be the lack of a router app, making the setup process a bit tricky for gamers.
NordVPN works by hiding gamers' data traffic from ISPs. The connections are encrypted, meaning the gamer won't experience bandwidth throttling from ISPs. Users can access NordVPN's services by choosing any of the three subscription packages. A one-month NordVPN subscription costs $11.99 per month, while a one-year payment plan costs $4.99 per month. The two-year plan is the most affordable for users, costing $3.99 per month.
---
7. Surfshark
Surfshark is a Nord Security-owned virtual private network whose headquarters are in the British Virgin Islands. This VPN is a gamers' favorite because it provides seamless connections that don't have network congestions. With Surfshark VPN, gamers are assured of finding easier CoD: Warzone lobbies from destinations abroad.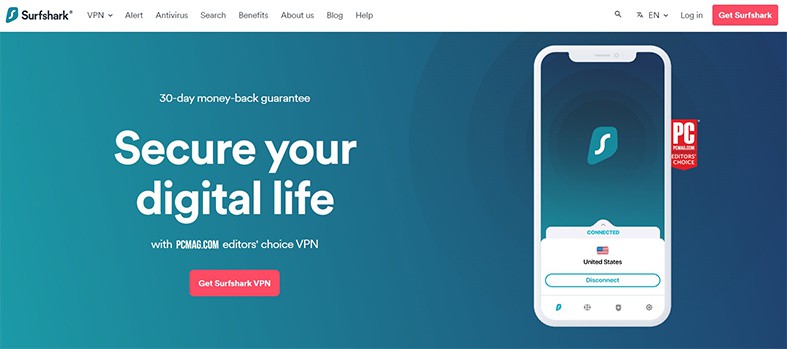 Surfshark has many attractive features for gamers, starting with strict security features in line with the platform's no-logs policy. The features include malware protection, a kill switch, DNS leak protection, strong AES encryption, ad blocking and a SOCKS5 proxy. The security features are in place for users to enjoy gaming and private torrenting from any location.
Surfshark uses OpenVPN and WireGuard protocols to secure users' data from malicious third parties. One Surfshark review lauded the platform as one of the fastest VPNs from a VPN test. This test reinforced the platform as a fantastic option for gamers to enjoy playing games like Call of Duty: Warzone, Fortnite and PUBG. With Surfshark, gamers can enjoy smooth gaming sessions while bypassing restrictions like ISP throttling. Aside from gaming, Surfshark is also ideal for HD streaming from popular platforms like Netflix.
The VPN boasts more than 3,200 servers in 65 countries. One unique feature synonymous with Surfshark is static servers, which users receive for free on subscriptions. The static servers allow gamers to play Warzone from the same IP address every time. Therefore, there is less risk of flagging gaming accounts when users switch IP addresses too frequently.
Surfshark is also enough to aid gamers' efforts to avoid Skill-Based Matchmaking (SBMM) on gaming platforms. Gamers can also access Call of Duty: Warzone in countries that have banned or blocked online games. Individuals can use Surfshark to set up all Warzone platforms, including Xbox Series X and S, Windows and PlayStation 4 and 5. Surfshark has PC and router setups for gaming consoles.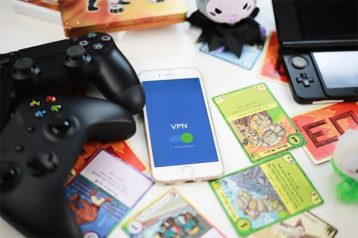 Some of the advantages of using Surfshark for gaming include the platform's unlimited device connections. Also, Surfshark provides gamers with low latency, stable connections, low ping and no lag while playing Warzone games. Another advantage of using Surfshark is the amazing gaming speeds made possible by the WireGuard protocol. Moreover, the platform is secure for gaming use, with DDoS protection and a reliable kill switch to protect device connections from cybersecurity threats.
Despite the fantastic features for gaming, Surfshark isn't without downsides. For instance, the VPN is slower than the top VPN providers. Also, the platform's coverage is limited to 65 countries, and the static servers are shared among users. Sharing of static servers means gamers are at risk of getting IP addresses banned if a user violates any terms of service. A higher ping than one of the most popular VPNs and a 1% packet loss are also some of the downsides Surfshark users can experience while gaming using the platform.
Surfshark has three subscription packages: one-month, 12-month, and 24-month payment plans. The platform's one-month plan costs $12.95 per month, while the 12-month plan costs $3.99 per month. The cheapest one, the 24-month plan, costs $2.49 per month.
---
How to Use a Warzone VPN to Get Easy Lobbies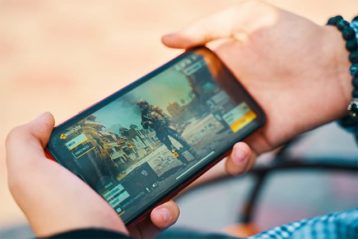 When a new gamer joins the Warzone game, the individual probably doesn't know how the game works and the mechanisms surrounding CoD. The game has a solution for this; putting players in lobbies to help individuals quickly understand how to play Warzone. In the lobbies, the majority of the players are bots, commonly referred to as bot lobbies.
Bot lobbies are made up of computer-generated players with preprogrammed sequences of gaming actions and modest kill and death ratio numbers. New gamers can easily spot and kill the bots, gaining Warzone experience in the process. Eventually, the gamers will move on to playing with other players of the same skill level.
Using a VPN to get easy lobbies in Warzone involves gamers choosing the most preferred VPN provider. Then, the gamer subscribes to any of the VPNs subscription packages, creates an account and logs into the VPN. When the gamer wants to play against easy lobbies, the player has to do some research and determine which location in the world has a particular time of the day or night that individuals don't play Warzone that much. Then, the gamer connects to a VPN server in the optimal location as determined by the research.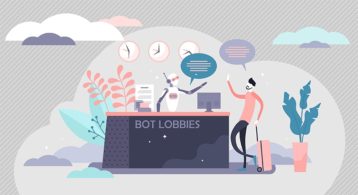 Aside from bot lobbies, VPNs have many advantages for users, including keeping gamers' connections secure. Gamers may experience DDoS attacks from tech-savvy but revengeful players keen on crippling opponents' internet connections. The interruptions lead to impossible lags that cause a player to lose progress in a Warzone game. An effective VPN hides gamers' IP addresses, evading traffic overload to a gamers' connection that may lead to DDoS attacks.
Another reason for using a VPN is to evade ISP throttling. ISPs may throttle gamers' connections because gaming has high internet activity, making ISPs suspicious of players' activities. Throttling leads to high ping, causing lag. A good VPN will help gamers avoid speed throttling without individuals changing ISPs ' addresses.
Conversely to the above point, VPNs are also useful in giving players higher ping. Some gamers want to have a higher ping to gain the upper hand over other players. The higher ping causes lag, letting gamers get an advantage before the opponents spot them. Therefore, a gamer experiences an easier time in Warzone.
Will a VPN Increase My Ping on Call of Duty: Warzone?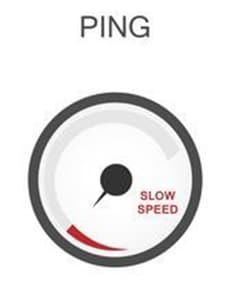 No, a VPN is unlikely to increase a gamer's ping unless that is the intention of the user. In contrast, VPNs decrease the ping gamers experience in online games. Players that love gaming frequently on Warzone understand how important low ping is. A lower ping than an opponent means the gamer has the upper hand in the game and is likely to boast a higher K/D ratio. The less ping for a gamer, the faster the individual can spot the mouse or keyboard input on display.
Gamers need to be careful of the various factors affecting ping. The factors include the quality of a gamer's internet and physical distance from servers. Most of the factors are beyond the control of gamers, leaving the players no option but to use VPNs to solve the high ping.
There are various VPN effects on internet speed. Hence players need to use VPNs to improve connection. First, the gamer needs to have the strongest no lag VPN Warzone connection. The gamers obtain this connection by choosing the nearest server. Gamers can try various servers to determine the one with the best connection speeds.
Choosing the best server offers a more reliable performance throughout a player's gaming session. Therefore, the gamer enjoys consistent speeds in Warzone. The player's alternative to choosing a strong server is relying on a network. The network may be faster, but the downside of using a network is that the ISP can throttle a gamer's connection.
VPNs eliminate ISP throttling for gamers. The best VPNs that solve this issue include Private Internet Access, NordVPN, Surfshark, CyberGhost, ExpressVPN, PureVPN and IPVanish.
Can You Get Banned for Using a VPN on Warzone?
No, using a trustworthy VPN will not trigger a ban from playing Warzone. However, the game's anti-cheat system sometimes may classify free or cheap VPNs as software that interferes with Call of Duty: Warzone. Using such VPNs may result in a ban from playing on the platform. In this case, using a reputable VPN is a good idea to prevent such misunderstandings.
Another important factor to note is Warzone's "Security and Enforcement policy," which states that gamers should not use any software to gain an unfair advantage over other gamers. Tampering with the game's statistics is also against the game's rules, and violating them could prompt a gamer's ban. Therefore, the policy doesn't state anything about VPNs being against Warzone's rules.
What to Look for in a VPN for Call of Duty: Warzone
Gamers need to consider various aspects when choosing the best VPN for Call of Duty: Warzone. Some of the important features to look out for include strong security, fast speeds and a large server network, as detailed below.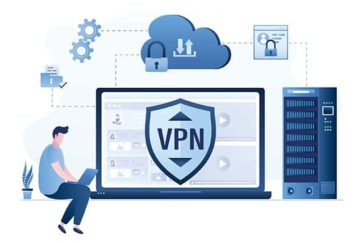 Security: The best VPNs for security should have features like IP/DNS leak protection, the military-grade 256-bit AES encryption, a reliable kill switch and a strict no-logs policy. When gaming on Warzone, these features protect gamers' devices from malicious third parties, including trackers and hackers.
A Large Server Network: The larger the server network, the less a gamer will experience poor and overcrowded server connections. An extensive server network allows gamers to log into the game in locations where Warzone is restricted.
Fast and Reliable Connection Speeds: Also, gamers need low ping to avoid in-game lag, a feature that a good VPN server will easily provide. The best gaming speeds should be 20 Mbps and above.