A VPN to play Rust that enables gamers to enjoy lag-free gaming experiences. Rust is a popular survival-based virtual adventure game in which players must overcome all odds to survive. Rust is a licensed game, and close to 300 players can explore the interesting virtual world on multiple servers together.
Rust is available to all online gamers globally. As a result, Rust players may require a VPN subscription for the optimal gaming experience. Maybe users will encounter unexpected slowdowns, which may cause the animations to appear unnatural and rigid. Once users connect to a VPN, ISPs can no longer monitor or slow down the networks.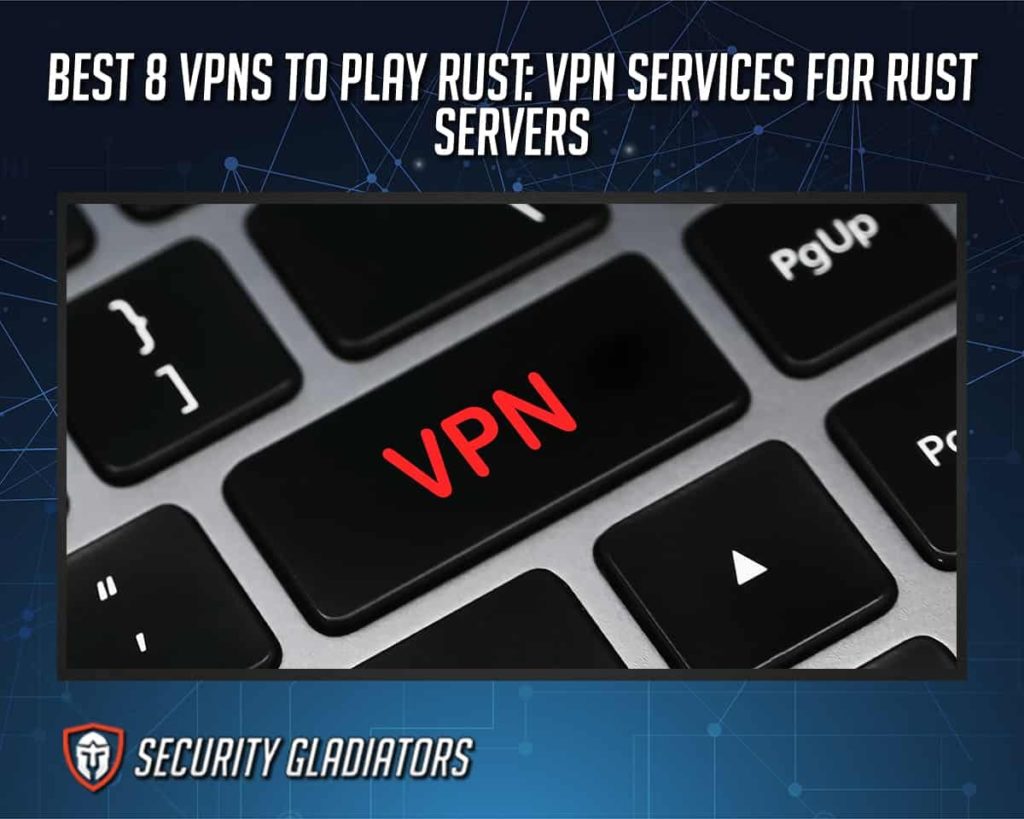 Unblocking geo-restricted content is another reason to use a VPN with Rust. Some participants may live in nations with strong internet usage restrictions. In this instance, a VPN can enable users to circumvent censorship and access Rust.
A reliable VPN for Rust must provide lightning-fast speeds, privacy, speed and content unblocking. This article highlights the best VPNs for playing Rust without interruption or distraction.
The best VPNs to play Rust are listed below.
ExpressVPN
CyberGhost
PureVPN
VyprVPN
NordVPN
Surfshark
Private Internet Access
IPVanish
1. ExpressVPN for Rust
ExpressVPN is a security-focused VPN for Rust with an intuitive interface. The VPN ensures that all user information, such as funds, accounts, achievements and others, is secure when gamers interact.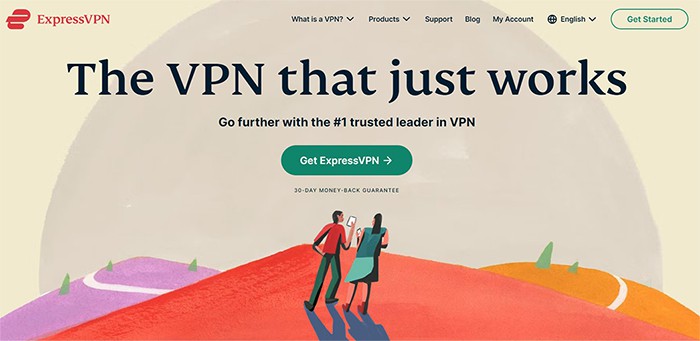 The advantages of ExpressVPN include fast and secure servers, robust protocols, a kill switch, a no-logging policy, multiple servers, a stable connection, the ability to connect five devices simultaneously, the ability to access restricted content, compatibility with popular devices, excellent customer support and the VPN's location. ExpressVPN's disadvantages include costly monthly rates, the absence of a free plan and uneven speed performance in certain locations.
Unique characteristics of ExpressVPN include a cost-effective one-year package, smart DNS, unlimited bandwidth, a better gaming experience, excellent customer support, a 30-day money-back guarantee and quick and dependable connections. The strong sides include lag-free gaming, extensive server coverage, many payment channels, support for routers, innovative encryption, robust protocols and split tunneling.
ExpressVPN does not compromise the security and privacy of users. The VPN is designed with robust security features, including powerful encryption with 256-bit keys and VPN protocols such as Lightway, OpenVPN, IKEv2, WireGuard, SSTP and others. The VPN also has DNS leak protection and a kill button to prevent online data leakage.
A detailed ExpressVPN review by Security Gladiators explained that ExpressVPN has three pricing plans with different pricing options. The monthly plan costs $12.95, the six-month plan costs $9.99 and the annual plan costs $8.32. This VPN offers flexible pricing to encourage users to make informed decisions. Kape Technologies supervises the operations of ExpressVPN.
ExpressVPN makes Rust games more engaging by circumventing ISP-caused lag. The VPN also uses many servers to allow users to play the game from any location without performance restrictions. The strong protocols also encrypt users' internet activity while playing the game.
2. CyberGhost for Rust
CyberGhost VPN is one of the most outstanding VPNs for Rust because of the support for a quick connection, top-tier security and anonymity. CyberGhost also offers dedicated servers that unblock popular streaming services such as Netflix, Amazon Prime, Disney+, HBO MAX, Hulu, BBC iPlayer, NBC and others.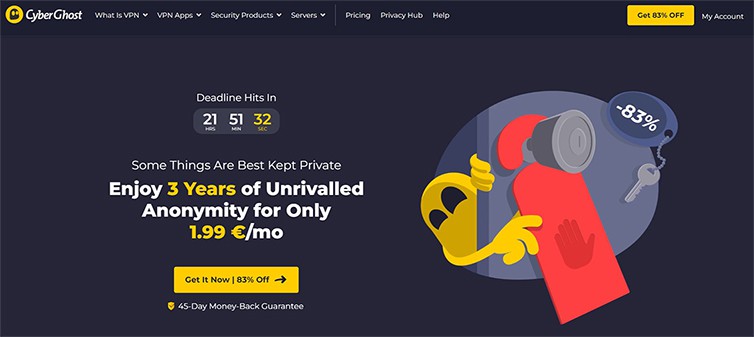 CyberGhost's advantages include automatic security, robust protocols, a kill switch, a dedicated IP address, DDoS protection, a quick and dependable service, a strict privacy policy, seven simultaneous device connections, uninterrupted streaming, excellent customer service and a money-back guarantee. The disadvantages include a costly monthly plan, additional fees for advanced services and the absence of a free plan.
CyberGhost's unique features include robust AES encryption, compatibility with popular platforms, unblocking of streaming sites, many servers, DNS leak protection and uninterrupted Rust gaming. CyberGhost's strong sides include the superior security measures, lightning-fast speed, money-back guarantee and anti-censorship capabilities.
AES 256-bit encryption and protocols such as OpenVPN, IKEv2 and WireGuard are the most robust security technologies employed by CyberGhost. The VPN also protects public Wi-Fi, a kill switch that stops data leakage during VPN interruption and DNS leak protection.
There are four pricing options for CyberGhost: a monthly plan for $12.99, an annual plan for $4.29, a two-year plan for $3.25 and a three-year plan for $2.29 a month. Kape Technologies also manages CyberGhost VPN.
CyberGhost VPN facilitates limitless and unrestricted access to Rust games anywhere globally. Users may select any available server to have a seamless gaming experience and a secure connection. People can also configure a VPN over a router to extend security coverage to additional devices.
CyberGhost can provide an exceptional experience because of the robust encryption and fast security features. In a CyberGhost review, Avira Phantom is better than Cyber Ghost because the latter got acquired by Kape Technologies. ExpressVPN, NordVPN and Surfshark are also better than CyberGhost.
3. PureVPN for Rust
PureVPN provides complete internet security and unrestricted website access regardless of the user's location. Rust players can therefore subscribe to PureVPN for an unrestricted gameplay experience. PureVPN also unblocks streaming services like Netflix, Hulu, Disney+ and HBO.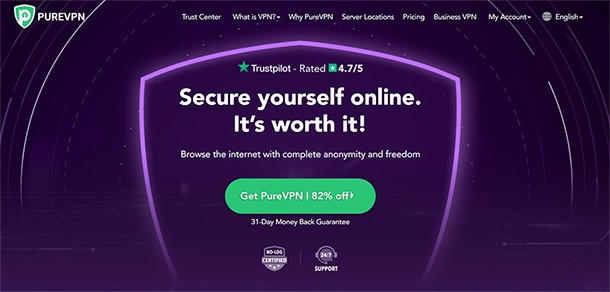 PureVPN's advantages include a kill switch, DDoS protection, quantum-resistant encryption keys, unrestricted access, AES 256-bit encryption, a money-back guarantee, quick surfing, split tunneling, an unlimited device connection and live chat support available around the clock. The VPN's disadvantages are a pricey monthly plan, lack of a free plan and additional fees for premium capabilities.
PureVPN's unique features include compatibility with all major operating systems, smart DNS, a kill switch, 10 simultaneous connections per login, a dedicated IP, a no-logging policy, port forwarding, Wi-Fi security and DNS leak protection. The strong sides include ultra-fast speeds, excellent usability, limitless bandwidth and P2P-optimized servers.
PureVPN protects user devices with the most advanced security features, including 256-bit encryption, secure Wi-Fi, a kill switch, DDoS prevention and IP leak protection.
PureVPN offers various pricing options. There are three price tiers, with one month costing $10.95, 12 months costing $3.24 per month, and 24 months costing $1.99 a month. GZ Systems Limited is a reputable organization that manages PureVPN's activities.
PureVPN allows Rust players to access the game from any location in the world. The VPN relies on prominent features such as Smart DNS to circumvent geo-restrictions, a stealth VPN browser for places with strict censorship, robust encryption uncrackable by third parties and dedicated streaming. Besides the high speed, the VPN prevents lagging. Security Gladiators' PureVPN review shows that PureVPN is better than PIA generally, but not for security and privacy. ExpressVPN is better than PureVPN in server coverage and streaming, but PureVPN is cheaper. Surfshark and NordVPN are also better than PureVPN.
4. VyprVPN for Rust
VyprVPN is a reliable and durable VPN for anonymous, secure and swift Rust gaming. The VPN has a moderate number of servers (about 700) in over 70 locations. This VPN is also solely responsible for the VPN's infrastructure, including the servers, to prevent unauthorized access to users' browsing data.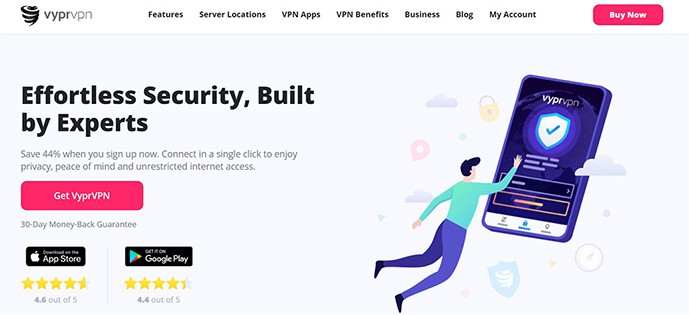 The advantages of VyprVPN for Rust include consistent performance, unlimited streaming, a generous refund policy, a kill switch, public Wi-Fi protection, 30 simultaneous connections, cutting-edge encryption and round-the-clock live support. The disadvantages include a lack of free plans, pricey monthly plans, few servers and few payment options.
Unique characteristics of VyprVPN include a steady connection, the absence of third-party interference, a 30-day money-back guarantee, robust security features, a publicly audited privacy policy, torrenting and the unblocking of streaming services. The strong sides are security, privacy, the absence of third parties and IP address protection.
VyprVPN's security features include Chameleon for circumventing restricted websites, VyprDNS for DNS protection and Vypr Cloud for an additional layer of security while connecting to cloud servers. VyprVPN also includes public Wi-Fi protection and a kill switch that blocks all network activity if the VPN connection is lost.
The monthly price plans for VyprVPN are $15.00 per month and $8.33 per month for an annual subscription. The activities of this VPN are governed by the company Golden Frog.
A VyprVPN review shows that the VPN operates at full capacity to offer every online gamer an unlimited Rust gaming experience. The VPN uses advanced encryption to eliminate unneeded incoming traffic and assigns each player a unique IP address to conceal the player's identity.
5. NordVPN for Rust
NordVPN is a highly secure VPN that all Rust players can rely on to circumvent censorship and enjoy lightning-fast speeds. NordVPN has over 5,000 servers in 60 countries, enabling users to connect to a server in a nearby area. Besides advanced streaming capabilities, the VPN is equipped with innovative functions.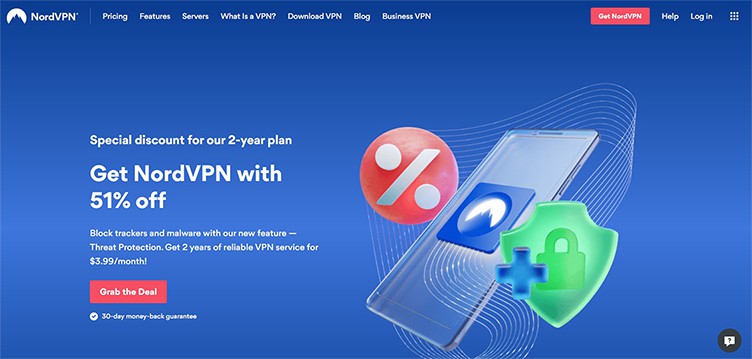 The advantages of NordVPN are six device connections with a single login, obfuscated servers, a dedicated IP, a zero-log policy, extensive server coverage, split tunneling, double protection, IP leak prevention and 24/7 customer service. The disadvantages of NordVPN are high monthly fees, lack of a free plan and fluctuating speeds in certain places.
NordVPN has unique features such as Tor network, dark web monitor, Private DNS, simple usage, uninterrupted browsing, data leak prevention, double protection to change IP twice, multi-factor authentication, split tunneling and a dedicated IP. This VPN's strong sides include comprehensive security features, a rigorous privacy policy, the ability to avoid censorship, a quick connection and protection against threats. This security helps users block internet threats such as malware, phishing and others.
Popularly regarded as a VPN with advanced security features, NordVPN is renowned for great credibility. The security features include next-gen encryption, CyberSec, kill switch, DNS leak protection, double VPN and others. The users' data is encrypted by NordVPN using AES-256-GCM with a 4096-bit DH key.
NordVPN is a VPN that is simple to use and that offers competitive pricing. One month is available for $11.99, a one-year plan for $4.99, a two-year plan for $3.99 per month and a business plan for $3.99 per month. Tefincom S.A. owns NordVPN, which Nord Security developed.
NordVPN works perfectly fine and without limitation with Rust games. The VPN has innovative technologies to ensure an uninterrupted gaming experience. Traffic is routed through two independent VPN servers with double VPN capabilities, enabling users' browsing to stay anonymous. In the NordVPN review, NordVPN is better than CyberGhost, IPVanish and Surfshark. But ExpressVPN is slightly better than NordVPN.
6. Surfshark for Rust
Surfshark is a fast and secure VPN service for Rust. The VPN is equipped with various capabilities that enhance users' streaming and gaming experiences. Sufshark offers approximately 3,200 servers in 65 countries that support quick connections and solid protocols and run exclusively on RAM. This VPN also unblocks popular streaming platforms such as Netflix, Prime Video, Disney+, Hulu, Sky, HBO Max and others.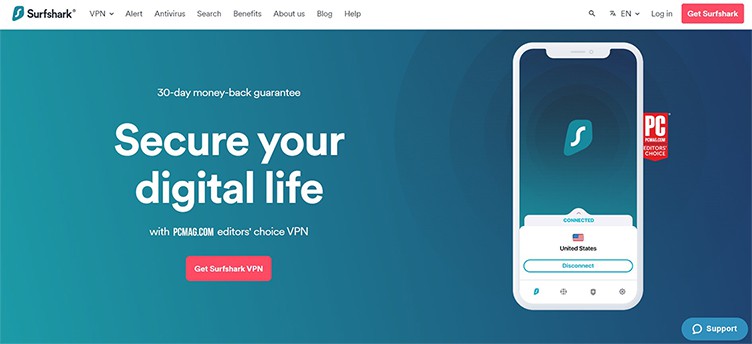 Surfshark's advantages include superior security, robust protocols, a kill switch, a rigorous privacy policy, DNS leak protection, outstanding customer support, CleanWeb, unlimited simultaneous connections and NorBorders mode for unrestricted Internet access. A disadvantage of Surfshark is that the monthly fee is costly.
Surfshark's unique features include Camouflage mode to secure online traffic, encryption, secure protocols, a no-log policy, unblocking of streaming platforms, WireGuard and an attractive UI. The strong sides include quick performance, a private DNS, P2P compatibility and the ability to function in China.
Surfshark is a VPN that prioritizes security. Some of the security elements of Surfshark include a no-log policy, military-grade encryption, modern protocols (WireGuard, IKEv2 and OpenVPN) and optimized servers loaded with robust protocols and composed entirely of RAM.
The longer-term plans of Surfshark VPN are particularly cost-effective. The three pricing plans are a one-month plan for $12.95, a 12-month plan for $3.99 per month, and a 24-month plan for $2.49 each month. Nord Security manages Surfshark VPN.
Surfshark's compatibility with Rust games enriches the whole gaming experience for users. Once a user has subscribed to Surfshark, the VPN employs AES-256-GCM for robust encryption to prevent unauthorized parties from discovering the identity of internet users.
Surfshark also permits users to connect an infinite number of devices to a single Surfshark account without affecting speed. No matter the user's location, Surfshark's NoBorder mode and Camouflage mode contribute to users' streaming freedom and anonymity. In the Surfshark review, Surfshark is as good as CyberGhost, ExpressVPN and IPVanish. NordVPN is superior to Surfshark in server coverage and monthly subscription, while Surfshark is better in device connections and long-term subscriptions.
7. Private Internet Access for Rust
Private Internet Access is a VPN that grants Rust users unrestricted access to worldwide servers with super-fast streaming speeds. Private Internet Access has close to 30,000 next-generation servers in 84 countries. PIA improves the entire experience of Rust game players and protects users' online data.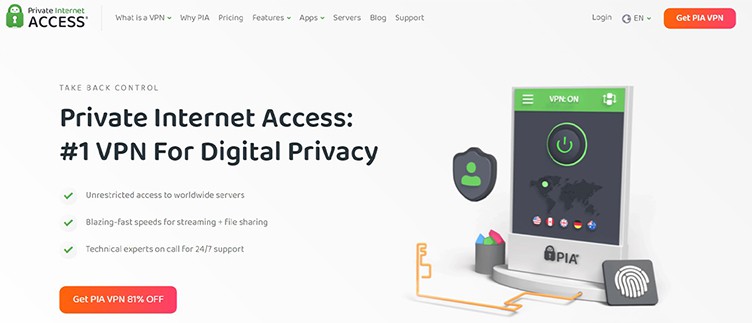 The advantages of Private Internet Access are a numerous server count, simultaneous connections with 10 devices, compatibility with popular operating systems such as Windows, iOS, Android and others, wide payment options, easy usage, DNS leak protection, dedicated IP, strong encryption, 24/7 live support and strict privacy policy. Despite the many benefits, PIA has some disadvantages, including a lack of free advanced features and a free plan, and a monthly plan that is too pricey.
PIA's unique features are strong protocols, an in-built ad blocker, anonymous payment choices, a 30-day money-back guarantee, lightning-fast speed, a free email breach monitor and antivirus. The antivirus is a premium feature that provides real-time malware prevention. Private Internet Access also has several strong sides, such as many servers, the ability to unblock prohibited content, encrypted transmission and a rigorous privacy policy.
Private Internet Access employs some security features like strong open-source protocols (PPTP, L2TP/IPSec, OpenVPN) and high-end flexible encryption. Users can opt between 128-bit and 256-bit AES encryption ciphers. In addition, the VPN has a kill switch, DNS leak protection and a no-log policy.
PIA offers three pricing options: a one-month plan for $11.99, a one-year plan for $3.33 monthly and a two-year plan for $2.19 monthly. Kape Technologies also owns Private Internet Access.
Private Internet Access efficiently allows several connections to improve Rust game performance. The VPN provides many servers from which players can choose to reduce Rust performance lags. PIA also employs a kill switch to secure users' identities and data in the event of a VPN shutdown. In a Private Internet Access review by Security Gladiators, ExpressVPN, Surfshark and NordVPN are better than PIA.
8. IPVanish for Rust
IPVanish is a fantastic VPN capable of improving the Rust game experience in terms of speed, privacy and security. Gamers can also use IPVanish to unblock and access Rust games in restricted countries like Egypt, the UAE and others. The VPN also unblocks streaming services like Netflix, BBC iPlayer and others.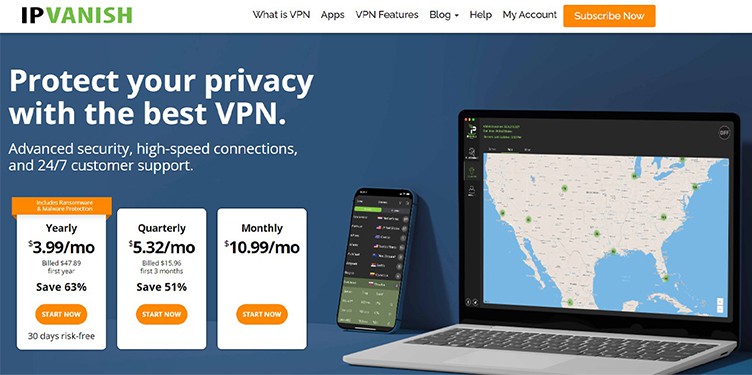 The advantages of IPVanish are excellent server coverage to avoid server overload, proprietary servers, excellent speed performance, money-back guarantee, no-log policy, robust encryptions, WireGuard for fast performance and 24/7 customer support. IPVanish's disadvantages include a lack of a free plan, an expensive monthly plan, the VPN's location (US) and a minimal server count.
The unique features of IPVanish are advanced encryption, over 40,000 IP addresses, an independently verified privacy policy, amazing speed performance, a 30-day money-back guarantee and 24/7 customer service. IPVanish also has strong sides, such as a kill switch, no-log policy, bypassing restrictions, split tunneling and excellent performance.
Users' digital privacy and security are important to IPVanish. As a result, the VPN implements WireGuard protocols to provide a faster connection, open-source security and stability. The VPN also uses industry-standard AES 256-bit encryption, which is usually impenetrable.
IPVanish has three different pricing packages. The price plans include monthly plans that cost $10.99 per month, quarterly plans that cost $5.32 per month, and annual plans that cost $3.99 per month. J2 Global is the company behind IPVanish's features.
By leveraging on the fast and secure servers available in 75 locations, IPVanish works satisfactorily with Rust. IPVanish protects Rust players from any internet restrictions or connectivity issues. The VPN uses military-grade encryption, standard protocols, a kill switch and DNS leak protection to safeguard users' actual identity online. In an IPVanish review, IPVanish is as good as CyberGhost. But NordVPN, Surfshark and ExpressVPN are better than IPVanish.
Note:
Prices may differ from the ones shown as new plans and deals are launched on a regular basis. Please be sure to check the most current price on the official website.
How to Set up a VPN for the Rust Server
Installing VPN services for the Rust server is a straightforward task. Follow the steps below to set up a VPN for the Rust server.
Choose a preferred VPN.
Visit the VPN website to choose a preferred plan.
Make payment and fill in the required details.
Choose any compatible device, such as Windows, iOS, Linux or others.
Start and complete the installation by following the on-screen prompts.
Start the VPN and choose a compatible server for Rust.
Connect to the server and start enjoying the improved Rust game experience.
What to Care while Using a VPN on Rust?
Users must ensure that the VPN chosen has an anti-tracking feature that disguises the VPN's IP address as a real one. One thing to keep in mind is that Rust forbids users from using VPNs on the site to reduce security risks. Therefore, anyone using a VPN needs to whitelist the Steam account through Rust's Discord bot or website.
Can Rust Detect the VPN?
VPN traffic can be detected using advanced techniques; hence, Rust can detect a VPN IP. To avoid increased cyber threats, Rust prohibits using VPNs when playing games. On the other hand, the game's administrators may implement special techniques to detect and prevent VPNs.
Do VPNs Increase Chances of Getting Banned from Rust?
According to Rustafied regulations, using a VPN may increase the risk of being banned from Rust. Rust administrators strictly prohibit players from using VPNs or proxies to prevent cybercrime. However, if a player must use a VPN, the player must whitelist the Steam account on the website at all times. As a result, any player who uses a VPN without doing so responsibly risks being blacklisted.
Rust admins also emphasized that any player caught bypassing a Rust game ban will have the new account banned unless the previous ban is lifted.