TikTok is one of the most popular social media platforms where users can view and share short videos between three and 60 seconds‌. This platform is accessible in almost every country, except certain countries, like India, which blocked access to the app. VPNs are a security solution that encrypt users' internet traffic and unblock geo-restricted content. Therefore, a VPN is required to use TikTok in these places.
TikTok is a Chinese-based application launched in September 2016 by ByteDance Limited. Currently, the platform for video-based entertainment has over a billion users. Countries such as India prohibit using the TikTok app and other Chinese software. The primary reason for this is the suspicion that the Chinese government will harvest user information. Even though this restriction is motivated by security and privacy concerns, users may still enjoy using the entertainment app. People can use a high-performing VPN to access TikTok and other geo-restricted apps. In addition, a VPN protects ISPs, government agencies and other third parties from eavesdropping on internet users. Regardless, any VPN chosen must be capable of protecting users and unblocking content.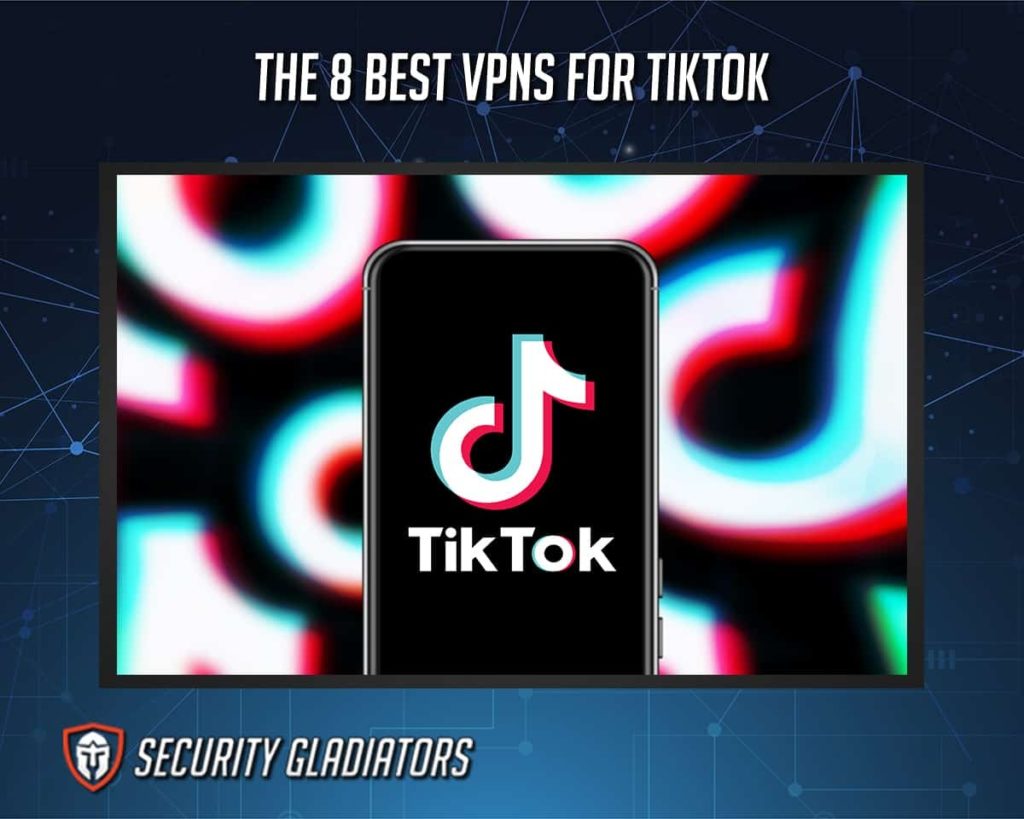 The best VPNs for TikTok are listed below.
NordVPN for TikTok
ExpressVPN for TikTok
Private Internet Access for TikTok
CyberGhost for TikTok
Surfshark for TikTok
PrivateVPN for TikTok
Flash VPN for TikTok
TikVPN for TikTok
1. NordVPN for TikTok
NordVPN is an ideal VPN for TikTok for a variety of reasons. The VPN is well-known for swift performance, unbreakable encryption, ability to unblock geo-restricted content and protection of user data. These factors indicate that users can have rapid access to TikTok and that users' data will be protected. NordVPN boasts over 5,400 servers with lightning-fast speeds in 60 countries.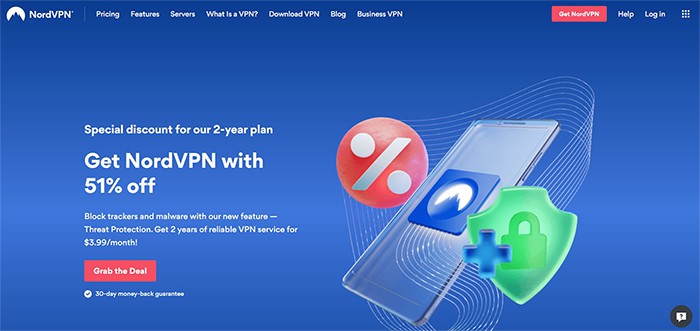 The advantages of NordVPN include user-optimized servers, widespread server locations, an audited no-log policy, impressive speed, obfuscated servers, a dependable refund policy, compatibility with popular devices, such as Windows, iOS, Android and macOS, DNS leak protection and unblocking of other platforms such as Netflix, TikTok, Hulu and others.
The disadvantages of NordVPN are the lack of a free trial, the high monthly cost and the inability to forward ports.
Unique features of NordVPN include customizable advanced features, private DNS, double VPN, 24/7 support, threat prevention to avoid cyber dangers, bypassing of internet restrictions, simultaneous connections on six devices, split tunneling and an economical long-term plan. These features can be seen in more detail in an extended
NordVPN review
.
The strong sides of NordVPN are dependable performance, unblocking capability, a focus on privacy, risk-free plans, superior entertainment support, a VPN server locator and a dark web monitor.
To protect users' data, the VPN employs industry-standard encryption. NordVPN's security features include NSA-recommended encryption, AES with 256-bit keys and security protocols, including IKEv2/IPSec, NordLynx and OpenVPN.
Users do not need to fret over security because NordVPN handles users' internet needs effectively. The VPN uses other security features such as a kill switch, DNS leak protection, threat protection to avoid malware and intrusive ads and the dark web monitor.
Regarding pricing, NordVPN offers users a range of options. The pricing options include an $11.99 per month plan, a $4.99 per month plan for one year and a $3.29 per month plan for two years.
Nord Security is behind the functioning of NordVPN to ensure internet security is available for all users.
NordVPN works effectively with TikTok. Users only need to subscribe to the VPN and find a country where the app works or the one where the user's audience is. Using the kill switch and DNS leak protection, the VPN protects users' data from leaking.
2. ExpressVPN for TikTok
ExpressVPN is a lightning-fast VPN that allows quick TikTok video uploading and streaming. ExpressVPN's servers are quick and safe, meeting the streaming requirements of users. The VPN unblocks major streaming platforms such as Apple TV+, Amazon Prime Video, BBC, iPlayer, Disney+, HBO, Hulu, Netflix and Showtime. TikTok users in restricted zones may rely on ExpressVPN for secure, rapid streaming.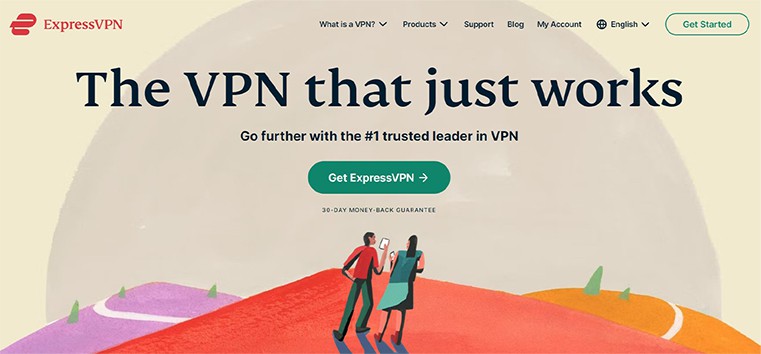 ExpressVPN's advantages include numerous servers in popular countries (3,000 servers in 94 countries), five simultaneous device connections, a 30-day money-back guarantee, compatibility with popular devices such as Windows, iOS, Android, macOS, Linux and others, support for browser extensions, torrenting, a trustworthy privacy policy and 24/7 live chat. Expensive short-term contracts and a lack of free plans are ExpressVPN's disadvantages.
ExpressVPN unique features include exceptional speed, robust encryption technology, 100% risk-free plans, IP leak protection, stringent privacy policy, independently audited security features by Cure53, adaptable pricing options and positive Trustpilot reviews.
ExpressVPN's strong sides include compatibility with popular user devices, rapid connectivity, secure global coverage, anonymous payment choices and effectiveness in bypassing georestricted content. Users can check more about the VPN in the ExpressVPN review.
This VPN safeguards users against security breaches while facilitating a fluid browsing experience. ExpressVPN, like other popular strong VPNs, is equipped with industry-leading encryption and TrustedServer technology to secure users' online data. ExpressVPN offers powerful AES 256-bit encryption, a network lock kill switch, threat prevention against online threats and the Lightway protocol.
Users can make flexible payment selections based on ExpressVPN's pricing plans. The price options are offered in monthly, six-month, and yearly bundles for $12.95, $9.99 and $8.32, respectively.
ExpressVPN is under the control of Kape Technologies, a global cybersecurity firm.
ExpressVPN is perfectly compatible with TikTok. ExpressVPN's blazing-fast speeds enable users to stream and watch TikTok without any buffering. ExpressVPN encrypts users' network traffic to prevent ISPs and the government from monitoring users' streaming behavior. Consequently, users can stream content from TikTok and other prohibited platforms.
3. Private Internet Access for TikTok
Private Internet Access is one of the best VPNs for TikTok. The VPN allows users to remain connected to TikTok on 10 devices without experiencing speed latency. Private Internet Access (PIA) offers close to 30,000 servers in 94 countries, ensuring that users will not face sluggish speeds or server overload. PIA also unblocks access to other streaming platforms such as Netflix, BBC iPlayer, Disney+, Hulu, HBO Max, Amazon Prime Video and Roku.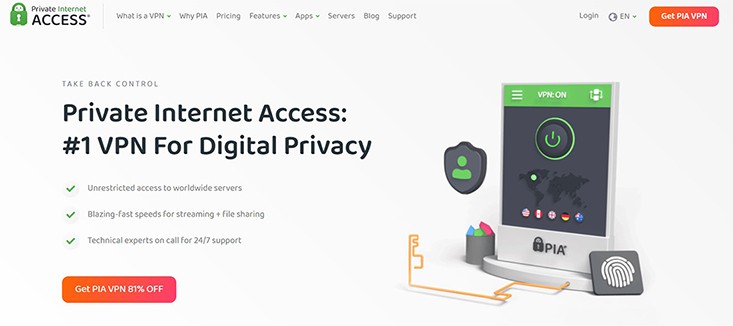 Private Internet Access' advantages include compatibility with all popular platforms, including Windows, iOS, Android, Linux, Chrome, Consoles and Firefox, fast servers, 10 simultaneous connections, a 30-day refund policy, strong encryption, a good privacy policy, a dedicated IP address and excellent customer support.
The disadvantages of PIA are the VPN's location (the United States), the lack of an audited no-logging policy, the need to pay extra for improved protection, the lack of a free plan and the lack of free plans.
PIA's unique features include extensive server coverage, next-generation servers in 78 countries, premium add-ons, such as antivirus and dedicated IP addresses, a 30-day money-back guarantee, split tunneling, a secure kill switch and limitless bandwidth. The strong sides include configurable settings, dependable protocols and cost-effective long-term strategies.
Private Internet Access employs AES 256-bit encryption to prevent unauthorized parties from reading the internet transmissions of subscribers. Users can choose between 128-bit and 256-bit AES encryption levels provided by PIA. High degrees of security are also provided by OpenVPN, WireGuard and IPSec, popular protocols that PIA VPN uses. PIA employs Shadowsocks, Socks5, kill switch and IP leak protection mechanisms to improve internet security.
PIA's pricing options are adaptable to facilitate user decision-making. There are three price plans available: a one-month plan for $11.95, a one-year plan for $3.33 per month and a three-year plan for $2.03 per month. Kape Technologies owns Private Internet Access.
Private Internet Access works with TikTok, does not log user data and provides rapid streaming. PIA prevents governments, ISPs, and hackers from spying on users' internet activities with built-in encryption. The Private Internet Access review offers more information about this VPN.
4. CyberGhost for TikTok
CyberGhost is an easy-to-use security program that enables rapid TikTok streaming. The program offers over 8,000 servers in 91 countries to provide users with easy access to fast servers. CyberGhost prioritizes security and the ability to access content online regardless of geographic location. CyberGhost unblocks TikTok and many other streaming services, including Netflix, Amazon Prime, Disney +, HBO Max, Hulu, BBC iPlayer and NBC.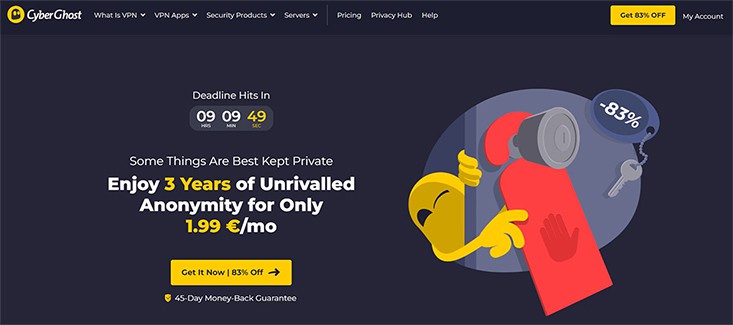 CyberGhost's advantages include lightning-fast speed, seven simultaneous connections, a unique refund policy, a free trial, the unblocking of restricted content, a reliable privacy policy, strong encryption, numerous servers, compatibility with popular operating systems, 24/7 customer support and protection for public Wi-Fi networks.
The disadvantages of CyberGhost include a lack of a free plan, a costly short-term plan and lack of a third-party audit.
CyberGhost's unique features include advanced features such as antivirus, exceptional speed performance, a 45-day money-back guarantee, a cost-effective plan with a longer length, a reliable VPN location and trustworthy security measures.
CyberGhost's strong sides include rapid streaming, circumvention of government censorship, extensive server coverage, a 100% risk-free guarantee and limitless bandwidth.
CyberGhost VPN has a strict privacy policy that prevents user information tracking. The VPN also uses built-in security mechanisms to encrypt users' browsing data. The security features include OpenVPN, IKEv2, WireGuard protocols, and military-grade encryption. An automatic kill switch safeguards user data during emergencies involving a sudden VPN disconnection. The VPN also includes DNS and IP leak prevention to prevent surfing data from leaking.
CyberGhost offers four pricing tiers. One month is $12.99, one year is $4.29 per month, two years is $3.25 per month, and three years is $2.29 per month. The longer duration provides more discounts, allowing people to save more money. Kape Technologies is the company that owns CyberGhost.
CyberGhost functions properly and quickly with TikTok. Users can enjoy internet freedom through CyberGhost's capabilities, which can be checked in the CyberGhost review.
5. Surfshark for TikTok
Surfshark is a VPN that optimizes TikTok streaming performance. User satisfaction with Surfshark is maximized by a rapid performance, unlimited device connection to TikTok, dependable security and reasonable privacy support. The server count of a VPN (over 3,200 servers in 65 countries) also prevents server overload and sluggish browsing speeds. Surfshark unblocks streaming services such as Netflix, Hulu, Amazon Prime, BBC iPlayer, SkyGo and others.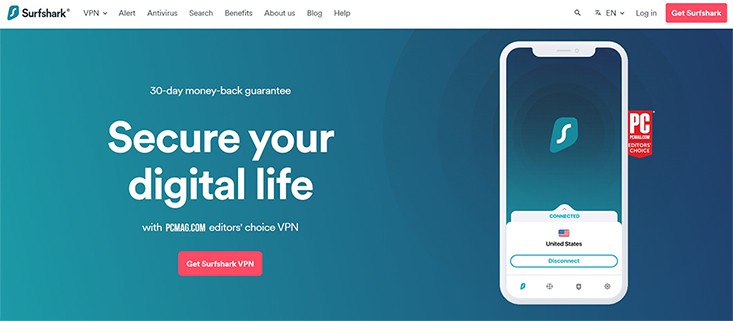 Surfshark's advantages include unlimited device access to the VPN with a single login, great speed, verified security, CleanWeb for secure browsing, torrenting support, no-log policy, split tunneling control, multi-hop, ad-blocking functionality, robust security protocols, 24/7 customer support and the ability to bypass geo-restrictions.
Despite the numerous advantages offered by Surfshark, there are downsides that users should know. The disadvantages of Surfshark include an expensive monthly plan, fluctuating speed performance, an additional fee for advanced security and the absence of a free plan.
Surfshark's unique features include unlimited simultaneous device connections, OS compatibility, multiple payment methods, a superb unblocking capability and a 30-day money-back guarantee. Surfshark's strong sides include flexibility of use, access to security, privacy and streaming on all user devices, exceptional customer service and innovative, exclusive features.
Surfshark is a security-focused VPN that uses multiple security features to provide the highest level of data security impenetrable by third parties. Surfshark employs the industry-standard AES-256-GCM encryption algorithm. The VPN also employs advanced technologies such as WireGuard, OpenVPN and IKEv2 to safeguard the connection of users.
Additionally, there are special features such as Camouflage Mode and NoBorders mode for everyone's internet privacy and internet freedom. Surfshark is a trustworthy VPN with positive feedback from users. The VPN has a great rating on Trustpilot, and the Surfshark review from Security Gladiators attests to the VPN's credibility.
The pricing structure is also adaptable, featuring three packages with monthly rates of $12.95, $3.99 and $2.49 for one month, 12 months and 24 months, respectively.
Surfshark VPN was developed by Vytautas Kaziukonis. But in February 2023, Nord Security announced the ownership of Surfshark VPN.
Surfshark works effectively with TikTok and ensures that users' network traffic is fully encrypted. The VPN enables access to TikTok and other geo-restricted content by masking the user's location.
6. PrivateVPN for TikTok
PrivateVPN is a highly flexible VPN that permits lightning-fast access to geo-restricted content, such as TikTok. Users can have a risk-free streaming experience with PrivateVPN. PrivateVPN has 200 servers in 63 locations and can easily unblock any streaming service, including Netflix, BBC iPlayer, Hulu, DAZN, Disney+, Hotstar, TikTok and others.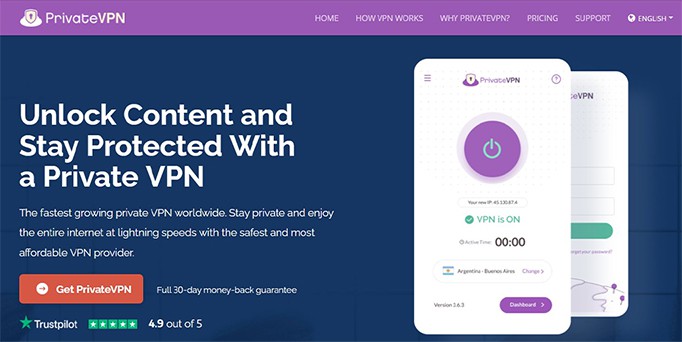 PrivateVPN's advantages include configurable encryption, simultaneous connections on 10 devices, unlimited bandwidth on every server, a zero-logs policy, a dependable refund policy, inexpensive pricing options, port forwarding, a free installation guide, excellent customer service and torrenting. PrivateVPN's disadvantages include the lack of a free plan, minimal features and a few servers.
Some unique features of PrivateVPN include compatibility with common platforms, less-priced plans than other VPNs, uncomplicated functionality, swift surfing and a trustworthy privacy policy. PrivateVPN's strong sides include robust encryption for user data security, a seven-day free trial, 24/7 customer assistance, a dedicated IP address and a secure server.
PrivateVPN employs the highest level of encryption used by government militaries to protect communication. Users can choose between AES-128 and AES-256 and CBC and GCM modes for a faster encryption algorithm. PrivateVPN also supports OpenVPN with UDP/TCP, L2TP, IPsec, PPTP and IKEv2 protocols. The PrivateVPN review has more information for users.
PrivateVPN offers more economical prices than competing VPNs. The price plans include a one-month plan for $8.99, a three-month plan for $6.00 per month, and a 36-month plan for $2.00 per month (paid $72.00 per year after 36 months). PrivateVPN is a VPN service launched in 2009 in Sweden and owned by PrivateVPN Global AB.
PrivateVPN is compatible with TikTok because of the VPN's integrated capabilities. PrivateVPN encrypts user traffic and offers each user a unique IP address to facilitate streaming. The VPN further safeguards users' browsing data.
7. Flash VPN for TikTok
Flash VPN is a free and lightweight VPN for TikTok on Android devices. The VPN has only a few servers in notable countries like the United States, Japan and the United Kingdom to access global information. FlashVPN unblocks geographically restricted websites, such as Netflix, Hulu and BBC from any location.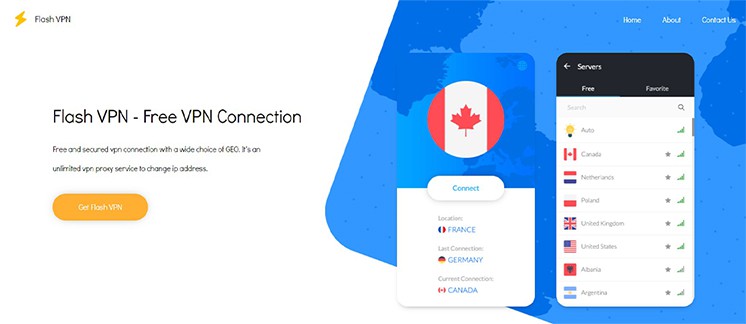 Some advantages of Flash VPN include free usage, servers in prominent locations, simple operation, unrestricted bandwidth and unblocking of streaming platforms.
Flash VPN's disadvantages include the absence of a website, obtrusive speed, questionable privacy policy, exclusivity to Android users, lack of advanced features, limited server count and lack of transparency.
Flash VPN for TikTok's unique features includes lightweight usage, mobile-friendliness, internet security, limitless gaming access, video calls, straightforward installation and free usage. Flash VPN's strong sides include user-friendliness, provision of online liberty, lack of configuration requirements and ample bandwidth.
This VPN provides safe double VPN encryption for internet surveillance and data security and avoids DNS breaches.
Note:
Flash VPN is a cost-free proxy that requires no financial commitment. The VPN is based in Hong Kong, while the VPN owner is undisclosed.
Flash VPN is an Android-exclusive proxy that permits unblocking of streaming platforms like TikTok. When using TikTok, the VPN conceals the user's IP address. ISPs, governments and hackers will no longer be able to track the users' internet activity.
8. TikVPN for TikTok
TikVPN is a VPN service that allows users to circumvent georestrictions on streaming sites such as TikTok. Basic features of TikVPN enable unrestricted internet access and seamless navigation. TikVPN supports Windows, iOS, Android and Mac. TikVPN provides over 2,500 servers in 70 different locations that support enhanced gaming performance.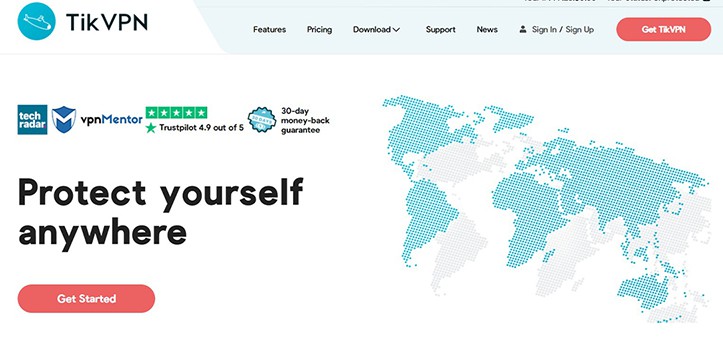 TikVPN's advantages include a high-speed connection, data security, uninterrupted streaming, simple usage, extensive coverage, private DNS, torrenting, 24/7 customer service, low packages, simultaneous connections for up to five devices and a 30-day money-back guarantee. TikVPN's disadvantages are a restricted device compatibility and unavailability of a free plan.
Unique features of TikVPN include ultra-quick servers, unlimited bandwidth, gaming-optimized servers, a kill switch and simple operation. TikVPN's strong sides include security at a basic level, a lower price, a good server presence in 70 countries, a fast connection and the ability to bypass geo-restricted content.
TikVPN provides fundamental security elements that suffice to suit customers' needs. The security features include bank-grade AES 256-bit encryption and a patented VPN connection mechanism. The VPN assures that users' devices do not leak data.
When compared to most VPNs, TikVPN's pricing is rather inexpensive. The price plans are offered in three packages: one month for $5.99, three months for $4.33 per month and two years for $1.25 per month. Tap Connect worldwide is responsible for creating TikVPN.
TikVPN is compatible with TikTok by securing users' network traffic against intrusion and monitoring. TikVPN guarantees that user data is encrypted and that third parties do not have access to user data. This VPN enables users to view streaming content globally without interruption.
Note:
Prices may differ from the ones shown as new plans and deals are launched on a regular basis. Please be sure to check the most current price on the official website.
Why Should You Use a VPN for TikTok?
People use VPNs for TikTok for a variety of reasons. Some governments restrict internet access. For example, TikTok is prohibited in India because of data security concerns. In this circumstance, visitors and residents alike will use a VPN to access TikTok and other geo-restricted material or websites.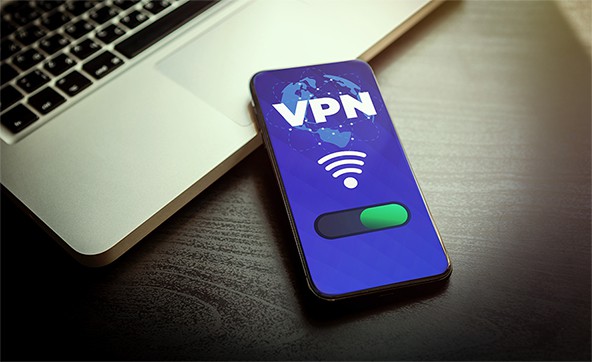 Another rationale for using a VPN with TikTok may extend beyond examining the application. A content creator may wish to reach a larger audience in a specific nation. A VPN will be the most effective tool for achieving this objective. Similarly, streamers may enjoy viewing more TikTok videos from a specific country.
Some people believe that because TikTok is a Chinese program, China stores subscriber data. However, a VPN can prevent TikTok from storing users' actual data for security and privacy reasons. The VPN will spoof the user's location by issuing users a different IP address.
What are the Risks of Using Free VPNs with TikTok?
Free VPNs provide an excellent opportunity to evaluate a VPN before making a financial commitment. Even if some free VPNs guarantee online anonymity and security, users should be cautious. Most free VPNs also have feature restrictions, such as limited bandwidth, absence of sophisticated capabilities, restricted access to many servers and others.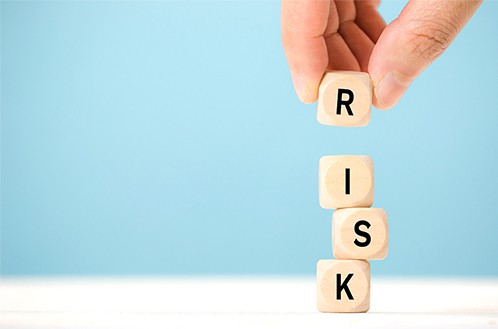 To access TikTok in restricted areas, users need a VPN that conceals user identity, making using a free VPN with TikTok extremely dangerous. The VPN must not leave any traces of VPN traffic. As a result, there is no assurance of the safety of free VPNs to provide the same level of security as a reputable VPN for TikTok.
People also claim that free VPNs may store and sell users' information to third parties in return for money. Obviously, this is the most dangerous situation because third parties may exploit the information for malicious purposes.
Can You Access TikTok Anywhere with a VPN?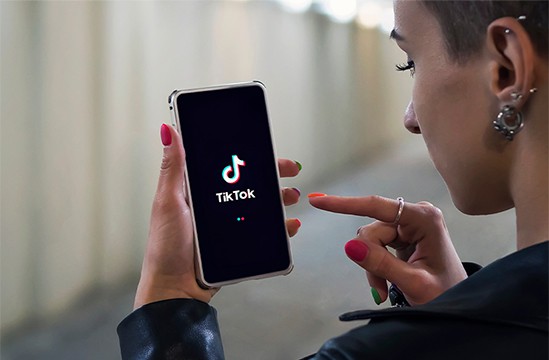 A VPN allows users to access TikTok from anywhere. A virtual private network (VPN) is the best software for establishing internet freedom. A VPN's unique characteristics guarantee security, privacy and unblocking access to restricted content. Some VPNs lag even when most VPNs circumvent limitations. Individuals must handpick the best VPN for TikTok.