C
runchyroll is a streaming service that provides access to live and on-demand TV programming, including theatrical releases, through PCs, smartphones, video game consoles, smart TVs and streaming media players. Crunchyroll's major differentiator from competitors like Netflix and Showmax is the network's concentration on Asian media, with most of the site's material being anime series and movies. Crunchyroll has a decent amount of live-action drama series from Japan, Singapore, South Korea, China and Taiwan and digital manga versions for users to read on smartphones and tablets. Crunchyroll is a legal anime streaming service with exclusivity agreements with several large Japanese companies, allowing broadcasting episodes of popular anime shows within a day after the original Japanese television premiere. The Crunchyroll website is hosted in the United States, but the platform is available to people in different parts of the world. However, Crunchyroll is geo-restricted, with the U.S. having the most titles in the catalog. As a result, certain anime content is not accessible from specific geographical regions. This is where a Crunchyroll VPN can be handy.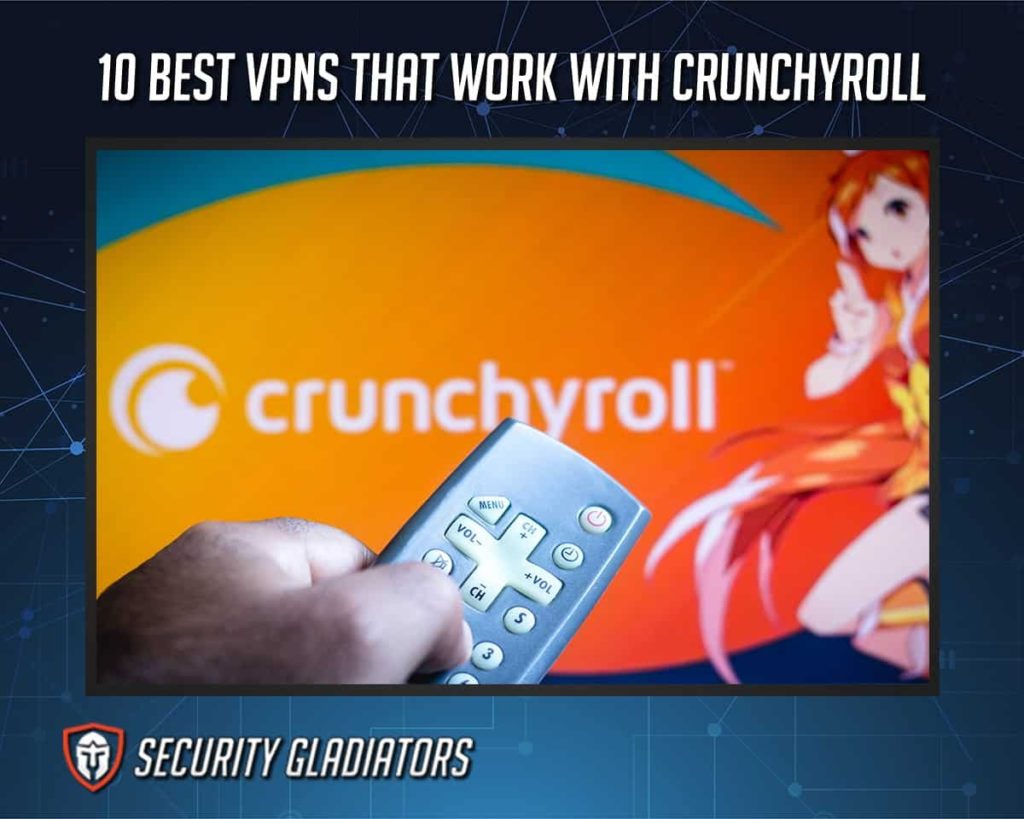 There are two main reasons why one might want to use a VPN (virtual private network) when streaming Crunchyroll content. First, finding shows and movies outside of those genres can be difficult because the service has such a strong focus on anime and Asian media. When looking for mainstream American programming to watch on Crunchyroll, users easily end up feeling inundated with titles that are difficult to understand. The second reason is that the site can be blocked in certain countries. For example, when watching Crunchyroll content from China, users will find that the site is inaccessible. A VPN can help users get around these geo-blocks and access any content, regardless of location. Additionally, a VPN can help improve streaming speeds and reduce buffering, providing a smoother viewing experience.
The 10 best VPNs that work with Crunchyroll are listed below, and each VPN will be covered in detail.
NordVPN
ExpressVPN
ZenMate
CyberGhost
VyprVPN
Hotspot Shield
IPVanish
PrivateVPN
Surfshark
Private Internet Access
1. NordVPN
NordVPN was founded in 2012 by a group of childhood friends, including Tom Okman. NordVPN is the creation of Nord Security, a firm that develops cybersecurity software and is formerly backed by the Lithuanian startup accelerator and business incubator Tesonet. By encrypting the user's data and routing the data through secure VPN servers, the NordVPN software keeps the user's IP address and online activity hidden from spies. All online activities are kept private and protected from third parties and any individuals who might want to examine what the user is up to on the internet.
NordVPN has servers in 62 countries worldwide, and the VPN will unblock popular services, including Crunchyroll, BBC iPlayer, Netflix, BBC, Hulu and other streaming sites. And by offering outstanding speeds, NordVPN ensures that users don't experience buffering or latency when watching videos or playing games.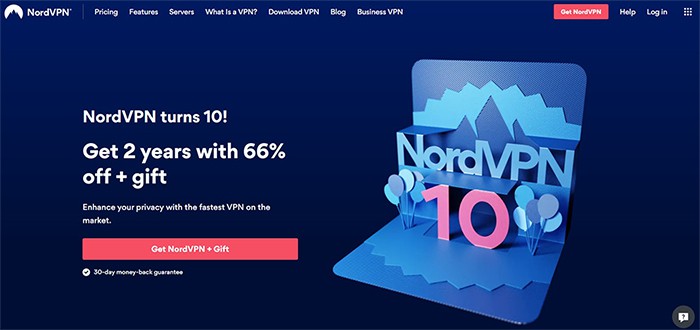 The advantages of NordVPN are that the service is fast, offers maximum privacy and security, is available in over 60 countries, comes with a premium design, provides a 30-day money-back guarantee and has a strict no-logs policy.
The disadvantages of NordVPN are that the software is not the cheapest provider on the market, the VPN does not provide services in China, and there have been some concerns about the company's customer service.
NordVPN costs $11.95 per month or $99 per year. The company advertises the yearly plan at a reduced price of $59, but users will be charged $99 when the introductory period expires. In certain cases, NordVPN offers alternative plans at various low prices. Nord VPN offers subscribers a seven-day free trial to test the services.
NordVPN is compatible with iOS, Android, Windows, macOS and Linux devices.
NordVPN does not impose any bandwidth or speed restrictions, but using a VPN may somewhat slow down the user's internet connection.
NordVPN is a highly recommended Crunchyroll VPN. This software has over 5,500 servers in over 60 locations around the world. The program can unblock multiple sites, including Amazon Prime Video and Disney, thanks to 256-bit AES encryption.
---
2. ExpressVPN
ExpressVPN is a VPN created by Express Technologies Ltd, a firm incorporated in the British Virgin Islands. The software is marketed as a privacy and security solution that encrypts users' online activity and disguises IP addresses. ExpressVPN is a high-quality yet affordable Crunchyroll VPN service to try. With over 3,000 servers spread across 94 nations and 32 locations in the U.S., ExpressVPN's network coverage is among the most extensive in the market. The VPN includes an internet kill switch, which cancels all web activity when the connection is lost.
ExpressVPN's service is not just for streaming; the VPN also unblocks censored content and lets users torrent files safely. ExpressVPN hides the user's IP address and mixes the online activity with other users. The VPN encrypts the data between secure VPN servers and computers, preventing reading by third parties such as internet service providers.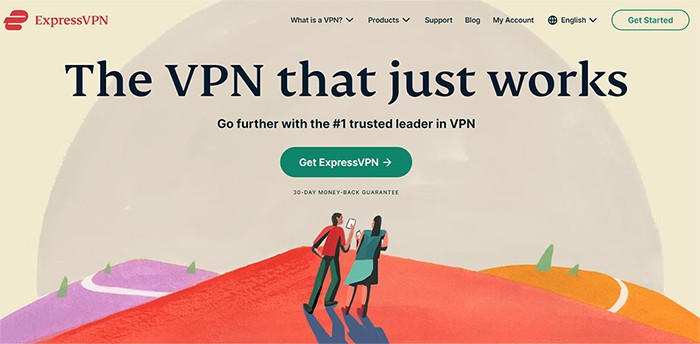 ExpressVPN uses AES with 256-bit keys, the same type of encryption that the U.S. government and security professionals worldwide use to safeguard sensitive data. When looking for the best VPN for Crunchyroll, ExpressVPN is ideal.
The advantages of ExpressVPN are that the VPN provides outstanding high-definition streaming services, is compatible with a variety of operating systems, and offers high-level encryption and anonymity. Some limitations of ExpressVPN are that the software is more expensive than the average VPN, only allows a maximum of five simultaneous connections and does not offer port-forwarding.
ExpressVPN offers three membership options: $12.95 per month, $59.95 every six months or $99.95 per year. Users may take advantage of ExpressVPN's 30-day risk-free money-back guarantee by subscribing for free for 30 days.
ExpressVPN's download speed is about 135 Mbps across all locations and times tested.
ExpressVPN is a great choice to use with Crunchyroll. If price isn't a major issue, one won't find a better all-around VPN in terms of performance, speed, security, unblocking region-locked pages, evading internet censorship, and customer service.
---
3. ZenMate
ZenMate is a VPN service provider founded in 2013 by Simon Specka and Markus. ZenMate has a larger server network and more stringent encryption standards than the VPN's free Chrome VPN extension. There's also a 30-day money-back guarantee, allowing new users to test the service out before committing.
There are 4,000 total VPN server locations, including many in the U.S., but the precise number isn't disclosed. ZenMate's server network spans 80 countries. To safeguard communications, ZenMate uses 128-bit AES encryption, 2,048-bit RSA keys, SHA 256 and an internet kill switch. Because servers are considered sufficient, users won't have to worry about ZenMate VPN.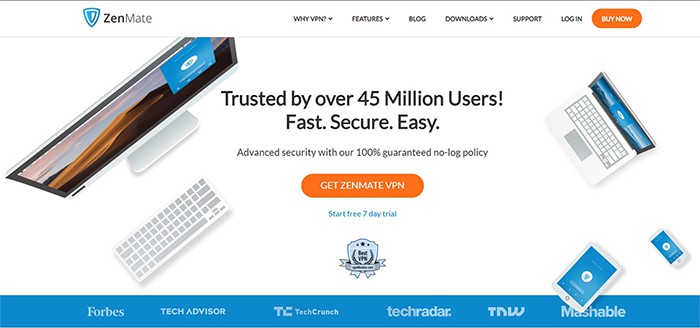 The advantages of ZenMate are that the VPN works with Crunchyroll and a few other prominent streaming services. Features such as automatic kill switches enhance online safety. In the U.S., there are plenty of trustworthy streaming-optimized servers. However, the limitation of ZenMate includes the fact that the VPN is an email-only support server and unblocks fewer U.S. streaming sites compared to providers in this list.
ZenMate offers a premium service for a monthly fee. The service provides users with faster speeds, more locations and access to the company's customer support team. ZenMate also offers a business plan with all premium service features but allows for an unlimited number of devices and a dedicated account manager. The pricing of ZenMate is heavily discounted from the previous $10.99 to $2.22 monthly. ZenMate's free trial is good for seven days. However, users may extend the free trial by purchasing ZenMate via the company's 30-day money-back guarantee.
ZenMate is compatible with Chrome, Firefox, Opera and Android systems.
ZenMate gives quick and consistent download speeds on nearby and long-distance servers. The VPN provides limitless bandwidth, so users won't be limited when downloading large items.
ZenMate is a straightforward and user-friendly VPN. The network will protect users when using public WiFi. The VPN server network is massive, with servers tailored for P2P and streaming services such as Crunchyroll.
---
4.CyberGhost
CyberGhost VPN is owned by Kape Technologies PLC. The VPN was founded on Feb. 2, 2011, by Robert Knapp. CyberGhost is a simple VPN for Crunchyroll that works well. CyberGhost offers access to more than 7,600 servers in 90 countries, with more than 1,100 based in the U.S. Therefore, there are a lot of options to unblock Crunchyroll.
CyberGhost is based in Romania, which puts the software beyond the reach of the United States and British authorities. Given that the VPN is cheap, CyberGhost includes premium security features like a kill switch and DNS leak protection, making the VPN ideal for keeping online privacy secure whether at home or on public WiFi.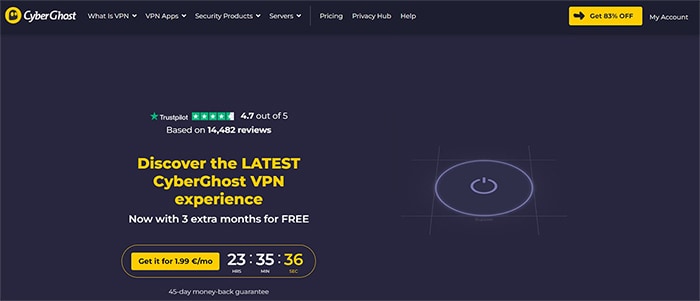 When utilizing CyberGhost VPN, all user traffic travels via an encrypted tunnel, meaning the data can no longer be intercepted. The VPN protects the user's IP address so that websites cannot track the user's activities.
The advantages of CyberGhost are that the software is affordable and user-friendly, has excellent customer service and flawless streaming, offers a 45-day money-back guarantee, supports a kill switch, offers tight privacy and security, and is easy to set up. The disadvantage of CyberGhost is that the VPN is not accessible in China and the United Arab Emirates.
The cost of CyberGhost comes with different plans: One can opt to pay $2.29 per month for 36 months, with a three-month free trial and 82% discount. Another option is paying $6.39 monthly for six months, with a 50% discount. The last option is $12.99 for a one-month subscription. CyberGhost gives a free trial of 24 hours to new users without payment information.
CyberGhost VPN is available for Windows, Mac, Linux, iOS and Android devices.
CyberGhost is not the quickest VPN on the list, but one will be able to enjoy more Crunchyroll material—and without annoying buffering problems—because of the VPN's solid network performance.
CyberGhost is an excellent VPN service that is well worth trying out with the 45-day money-back guarantee. Furthermore, the VPN may be used on up to seven devices simultaneously, which is higher than the industry average.
---
5. VyprVPN
VyprVPN was founded by Ron and Carolyn Yokubaitis. Golden Frog, the parent company of VyprVPN, is based in Switzerland, which is a favorable country regarding data retention laws.
VyprVPN is a great VPN for Crunchyroll because the platform provides fast speeds perfect for streaming HD video content. The company owns and operates the entire network of servers, allowing for tight control over performance and security. VyprVPN is one of the most reliable VPNs, thanks to the proprietary Chameleon technology. Chameleon scrambles OpenVPN packets to look like regular HTTPS traffic, allowing VyprVPN users to bypass restrictive networks and VPN blocks. The company also has a strict no-logs policy in place, meaning users' activities cannot be traced back. The VyprVPN Chameleon technology (stealth servers) allows the VPN to unblock many services and offer excellent applications for the most popular platforms. The OpenVPN encryption is used to secure all VyprVPN traffic, then encrypt the traffic with the AES algorithm.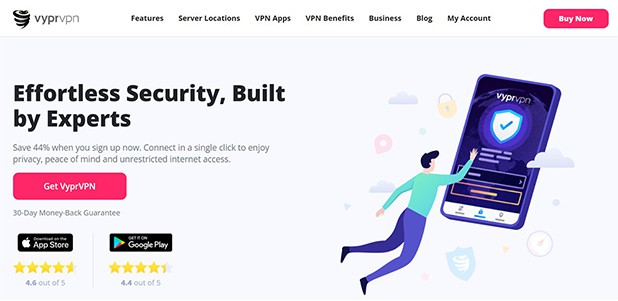 The advantages of VyprVPN are that the software is fast and secure, has excellent customer service, offers 30 simultaneous connections and follows a strict no-logs policy. The disadvantages of VyprVPN are that the speed is not as fast as some of the other VPNs, the service does not accept Bitcoin and the VPN has a relatively small network.
There are two payment plans for VyprVPN. The first plan costs $8.33 per month for 12 months with a 42% discount; In this plan, users can opt to bill $100 every 12 months. The other plan is $15 every month. Both plans come with a 30-day money-back guarantee. On iOS and Android devices, VyprVPN provides a free three-day trial. To use VyprVPN for free on other devices and for 30 days, users may take advantage of the service's 30-day money-back guarantee.
VyprVPN is compatible with Windows, Mac, iOS, Android and TV devices.
The average speed of VyprVPN is 44 Mbps, which is ideal for streaming videos.
VyprVPN's Chameleon technology is designed to evade detection systems, including those run by the Chinese government, with complete confidence. With more than 70 server locations worldwide, along with quick and ideal servers for high-definition streaming, Crunchyroll unblocking is simple with VyprVPN.
---
6. Hotspot Shield
Hotspot Shield VPN is a public server that AnchorFree developed in 2006. Hotspot Shield is a freemium VPN service that provides a secure connection for users. The company has 3,200 servers and operates in more than 80 locations.
Hotspot Shield is an excellent choice for Crunchyroll as one of the most affordable VPNs on the market. The server also has a large network of servers that can be used to unblock content from around the world. Hotspot Shield uses strong security features, such as 256-bit encryption, for keeping data safe and secure.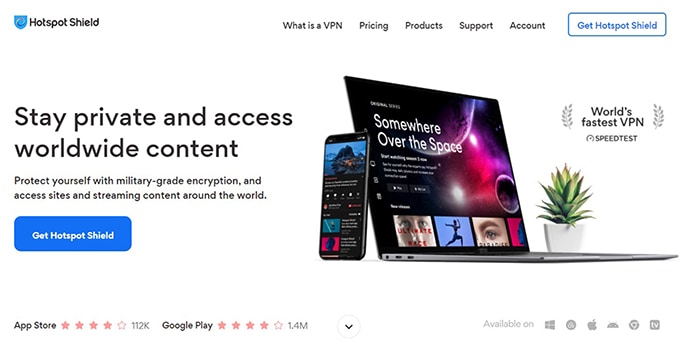 The advantages of Hotspot Shield include fast speeds, a seven-day free trial, a user-friendly interface and strong compatibility with many servers. The disadvantages of Hotspot Shield are that the software uses a lot of data, lacks independent audits and is relatively expensive compared to competitors.
There are three payment plans for Hotspot Shield. The first plan is "Basic," which is completely free and ideal for private browsing. "Premium" costs $7.99 per month and comes with three security apps, a password manager, an antivirus and a spam-call blocker. Finally, the "Premium Family" plan costs $11.99 monthly and comes with a VPN for the entire family, covering five-member accounts and connecting with 25 devices.
Hotspot Shield supports Windows, Mac, iOS, Android and Amazon Kindle devices.
Hotspot Shield's speed varies from place to place. For example, while high scores compensate for low ones in Germany with an average of 203 Mbps, U.S. speeds peak at 348 Mbps but average out at 183 Mbps in total.
Hotspot Shield is a fantastic VPN for Crunchyroll. All servers and device platforms are allowed to torrent. Users' IP addresses are hidden from internet service providers, and P2P activity is disguised. Aside from being a solid security solution, Hotspot Shield also delivers on quick download and upload speeds, making the VPN ideal for P2P file sharing.
---
7. IPVanish
IPVanish is a U.S.-based VPN provider established in 2012 by Mudhook Media Inc, a subsidiary of Highwinds Network Group in Orlando. The company has a strong focus on privacy and security, making IPVanish an excellent choice for users looking for a Crunchyroll VPN. IPVanish operates a large network of more than 2,000 servers in over 75 countries.
The company uses military-grade encryption to keep users' data safe and secure. IPVanish encrypts the data through 256-bit AES encryption, the industry standard for data security. The company also has a strict no-logs policy.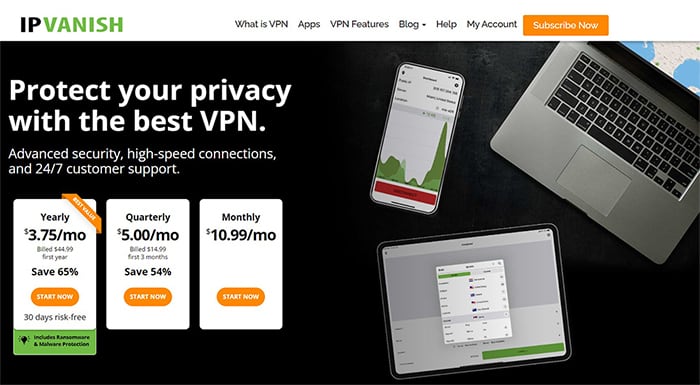 IPVanish is a top choice for Crunchyroll because the VPN offers a high level of security and privacy. The company also has a large network of servers that can be used to unblock content worldwide. IPVanish also offers quality security features, including a kill switch and DNS leak protection. The kill switch ensures that users' data is not exposed if the VPN connection drops unexpectedly. DNS leak protection ensures that the traffic is not sent to users' ISP if the VPN connection drops.
The advantages of IPVanish include extensive availability, tough security, great speeds, affordability, security features like a kill switch and the fact that the VPN can be used with almost any device. Some disadvantages are that the VPN does not have optimized servers, the service has controversial logging protocols, the customer support is poor and the VPN has privacy issues.
IPVanish has three payment plans: The yearly plan costs $3.70 per month for the first year, which is equivalent to $44.99 and $89.99 every year thereafter. The second plan is $5 per month for the first quarter, which equals $14.99 and $29.99 every quarter thereafter. The third is a monthly plan, in which the account holder pays $10.99 each month. IPVanish VPN has a 24-hour free trial and a 45-day money-back guarantee, allowing users to test the network before subscribing.
IPVanish works on most operating systems, including Windows, Apple, Google and Amazon.
IPVanish has a large number of server locations and is highly customizable. However, the VPN would benefit from a public third-party assessment.
---
8. PrivateVPN
PrivateVPN is a VPN provider located in Sweden. PrivateVPN Global AB, which was founded in 2009, owns the software. The company is one of the youngest VPN providers on the list of the 10 best VPNs that work with Crunchyroll but has quickly built a name for itself thanks to the firm's focus on privacy and security. PrivateVPN operates a small network of over 200 servers across more than 60 countries. With PrivateVPN, users may connect up to 10 devices to the network at the same time.
Military-grade 2048-bit encryption protects users with AES-256, ensuring the most secure and quick connection. Users can now do different things at high speeds, frequently faster than non-VPN connections. PrivateVPN servers are concentrated in the U.S., ready to get the greatest Crunchyroll catalog. Setting up and getting PrivateVPN up and running is easier. Installation just takes a few seconds, and there are sleek apps available for almost every platform, allowing users to take Crunchyroll streaming (and encryption) anywhere.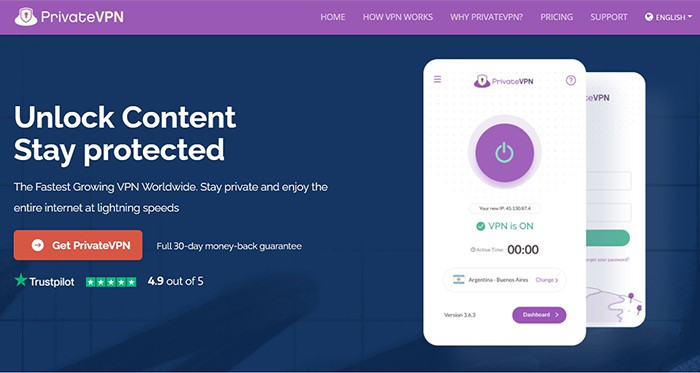 Some of the advantages of PrivateVPN are that the VPN focuses on privacy and security, offers fast speeds, allows torrenting, works in China, offers remote control support and allows users to connect up to 10 devices simultaneously. The disadvantages are that PrivateVPN is still young and has a small network of servers covering 60 countries, the kill switch is only available for Windows and the live chat is not 24/7.
PrivateVPN offers new users a seven-day free trial. The premium subscription comes in two plans: The monthly plan costs $9.99 per month, while the annual plan costs $2.50 monthly. In addition, PrivateVPN offers a 30-day free trial.
The VPN is compatible with several operating systems, including Windows, macOS and Linux.
Although PrivateVPN isn't the quickest VPN on the market, the software's speeds are still reasonable, considering the server network is small. The average speed of PrivateVPN is 94 Mbps.
PrivateVPN is a reliable and safe VPN service perfect for unblocking Crunchyroll content from different parts of the world.
---
9. Surfshark
Surfshark is a VPN company located in the British Virgin Islands. The firm was founded in 2018 and has expanded to running a network of servers in over 50 countries. Surfshark is a cheap Crunchyroll VPN. Even though the VPN is inexpensive, Surfshark maintains high standards of service with U.S. servers in 27 cities and unlimited usage on one subscription across multiple devices.
Surfshark has a zero-logs policy, keeping no records of what users do while connected to the service. This feature makes Surfshark perfect for users with privacy concerns. Surfshark also offers several anti-tracking and anti-censorship features, such as a kill switch and DNS leak protection. Such security features make this VPN ideal for streaming restricted media and downloading torrents on sites like The Pirate Bay.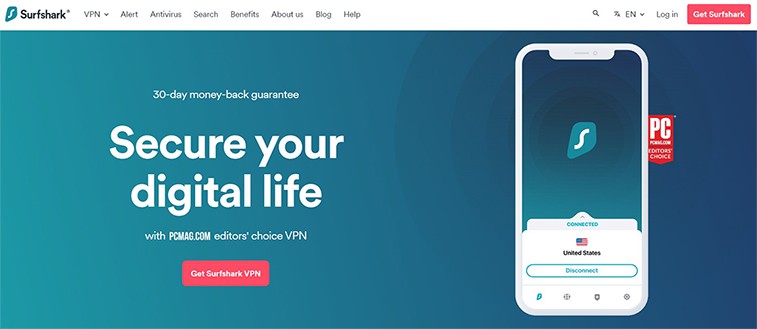 The advantages of Surfshark are that the VPN is located in a privacy-friendly jurisdiction, has a zero-logs policy and a 30-day money-back guarantee, offers great speed, is user-friendly, features a kill switch and DNS leak protection, and is inexpensive. The disadvantages, however, include poor customer service, annoying P2P behaviors and that the service has a smaller server network than competing VPNs.
Surfshark offers multiple plans: The monthly package costs $12.95 per month, the six-month plan costs $6.49 per month and the two-year plan is $2.49 per month. On Android, iOS and macOS devices, the VPN gives a seven-day free trial. In addition, there is a 30-day money-back guarantee for each plan.
Surfshark is compatible with Windows, macOS, iOS and Android devices. The VPN can be installed on routers using the provided firmware.
Surfshark provides exceptional performance in terms of speed. This means users won't experience any buffering difficulties when streaming on Crunchyroll. The average connectivity speed in the U.S. is 56.74 Mbps.
What's great about Surfshark is the VPN's CleanWeb technology, which functions as an adblocker (as well as a malware blocker). Users aren't bombarded with advertising when CleanWeb is switched on with Crunchyroll. Surfshark VPN performs well with military-grade encryption, which helps protect users' privacy further.
---
10. Private Internet Access
Private Internet Access (PIA) is a personal VPN service that enables users to connect to numerous locations. Mark Karpeles, the former Mt. Gox CEO, was named PIA's chief technology officer at London Trust Media in 2018. In November 2019, Kape Technologies acquired Private Internet Access. Private Internet Access is one of the most secure VPNs that work with Crunchyroll. With a host of other useful functions, the VPN is ideal for accessing Crunchyroll since PIA is based in the U.S. and has a lot of servers across the country.
Private Internet Access is a well-known VPN provider that has built up a stellar reputation for years. Despite being based in the United States, where the National Security Agency is known for extensive data collection, PIA has a zero-logs policy against monitoring users' internet activities. PIA's server network spans 78 countries, and the servers are quick, stable and simple to connect, making PIA an excellent choice for viewing HD anime on Crunchyroll.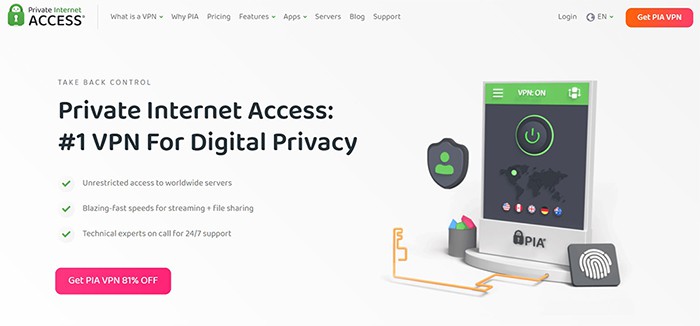 The advantages of Private Internet Access are the fact that the VPN is a zero-logs service, offers servers in 78 countries, is easy to connect, offers excellent security and privacy, features quality encryption via OpenVPN, and has fast connection speeds for streaming. Some limitations of Private Internet Access are that the VPN lacks obfuscation and the customer service could be improved.
Users can choose from three payment plans for PIA services. The first option requires a subscriber to pay $9.90 monthly. The second is a three-year plan costing $2.03 per month or $79 every three years. Finally, the yearly plan costs $3.33 per month or $39.95 annually. The PIA mobile apps for Android and iOS provide a seven-day free trial, during which users may test the PIA VPN before making a decision. Users dissatisfied with the PIA VPN service may also get a full refund within 30 days for any plan.
Private Internet Access VPN is accessible for Windows 8.1 and 10, macOS (64-bit only) 10.13 or latest, and Linux (desktop versions and 64-bit).
PIA provides a global network of VPN servers that have been tailored for 10 Gbps connection and loading speeds. PIA utilizes some of the fastest VPN technologies worldwide, which means no more buffering, stuttering, lagging or freezing.
Private Internet Access is a great VPN for unblocking geo-blocked streams while protecting users' privacy from government snoops. PIA is simple to set up and use, and the network won't take long to load streams. PIA used to be somewhat sluggish in the past. But the problem has now been addressed, allowing users to play games, stream anime and conduct video conversations on Skype or Zoom.
---
How to Use Crunchyroll With a VPN
The steps for using a VPN to unblock Crunchyroll are given below.
Step 1: The user needs to go to the website of one of the VPN services listed above, pick an ideal package and create an account.
Step 2: Next, the user should download a compatible app from the VPN's website.
Step 3: The user should clear cache and cookies to remove all available location identifiers. Restating the devices is also recommended.
Step 4: Choose a server located in the United States from the VPN app's menu.
Step 5: The user should wait until a connection is made. A green light should appear in the user taskbar or near the top of the screen.
Step 6: Now, the user can access Crunchyroll on a browser or smartphone with no issues.
Will a VPN Unblock the Crunchyroll App?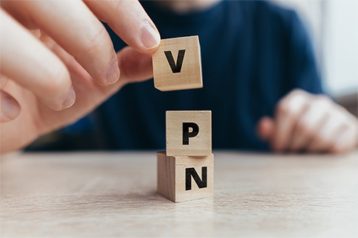 Yes, a VPN can unblock the Crunchyroll app. However, not all VPNs will work with the Crunchyroll app. Users should choose a VPN compatible with the Crunchyroll app to enjoy the software's full benefits.
The site is accessible in 170 countries except for Japan, China, France, Germany and Italy. Because some content on the Crunchyroll website and app is restricted to users in specific countries, a VPN can help users unblock the Crunchyroll website and app, bypassing geographical restrictions.
VPN technology encrypts a user's internet traffic, which is thereafter routed through an intermediary server in any location. VPNs allow users to appear located in a different country, which can be useful for bypassing censorship restrictions and accessing blocked content. Additionally, VPNs provide privacy and security by preventing users' online activities from being monitored by internet service providers or governments. When streaming HD content, such as anime, on Crunchyroll, a fast and reliable VPN is essential.
What Can You Unblock with a Crunchyroll VPN?
A Crunchyroll VPN can help individuals unblock geo-restricted content on the Crunchyroll website and app. With a VPN, users can access all of the content on Crunchyroll, including the latest episodes of different shows, without having to worry about geographical restrictions. Additionally, a Crunchyroll VPN will help keep users safe and secure online by protecting users' privacy and encrypting internet traffic. For the best experience when streaming anime on Crunchyroll, choosing a VPN compatible with the Crunchyroll app is important.
VPNs are useful for anime fans who have difficulties viewing Crunchyroll streams. The site has over 1,000 anime titles, 200 East Asian series and a huge manga collection.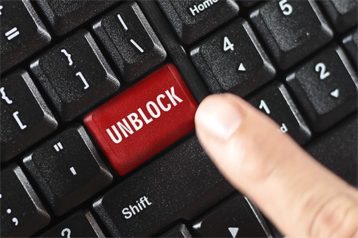 Crunchyroll service caters to both casual and dedicated anime fans. Popular titles from the West, such as My Hero Academia, Death Note and Neon Genesis Evangelion, and popular Japanese series like Black Clover and Gintama are all available. Crunchyroll is a San Francisco-based American distributor, publishing and licensing firm. The site was established in 2006 and now has over 35 million fans globally.
Crunchyroll also provides a free service that is unusual nowadays. Free accounts are subject to several limitations, such as fewer titles and the inclusion of advertisements. Fortunately, premium subscribers benefit from a high-quality service that provides a smooth, uninterrupted viewing experience. More than 1 million people now subscribe to Crunchyroll Premium, which removes advertising and enables high-definition streaming while providing complete access to all of the Crunchyroll titles offered in users' regions. Thinking that the amount of anime one may view is limited to the location can be frustrating; VPNs help bridge the location gap.
Will You Get Banned for Using a VPN on Crunchyroll?
Yes, getting banned for using a VPN on Crunchyroll is possible. However, the likelihood of this happening is relatively low. To avoid getting banned from Crunchyroll, one should opt for a VPN that is compatible with the Crunchyroll app and does not violate the site's terms of service. Additionally, users should be aware of the risks associated with using a VPN and use the service responsibly.
Note:
Reasons for the VPN ban on Crunchyroll can vary but usually involve violating the terms of service, using a VPN to access content that is not available in the user's region or using a VPN to download copyrighted content.

Many VPN users wonder about how to bypass a Crunchyroll VPN ban and continue using the service without any restriction. Bypassing a Crunchyroll VPN ban is possible through using a different VPN service, contacting customer care or using a proxy server.